Sicilian meatballs are a delightful alternative to traditional meatballs. Raisins and pignoli nuts are combined with ground chuck, Pecorino Romano cheese, garlic, parsley, and breadcrumbs and cooked in a tomato sauce until tender. These meatballs are perfect served alongside pasta and sauteed greens, and freeze well so they can definitely be made ahead!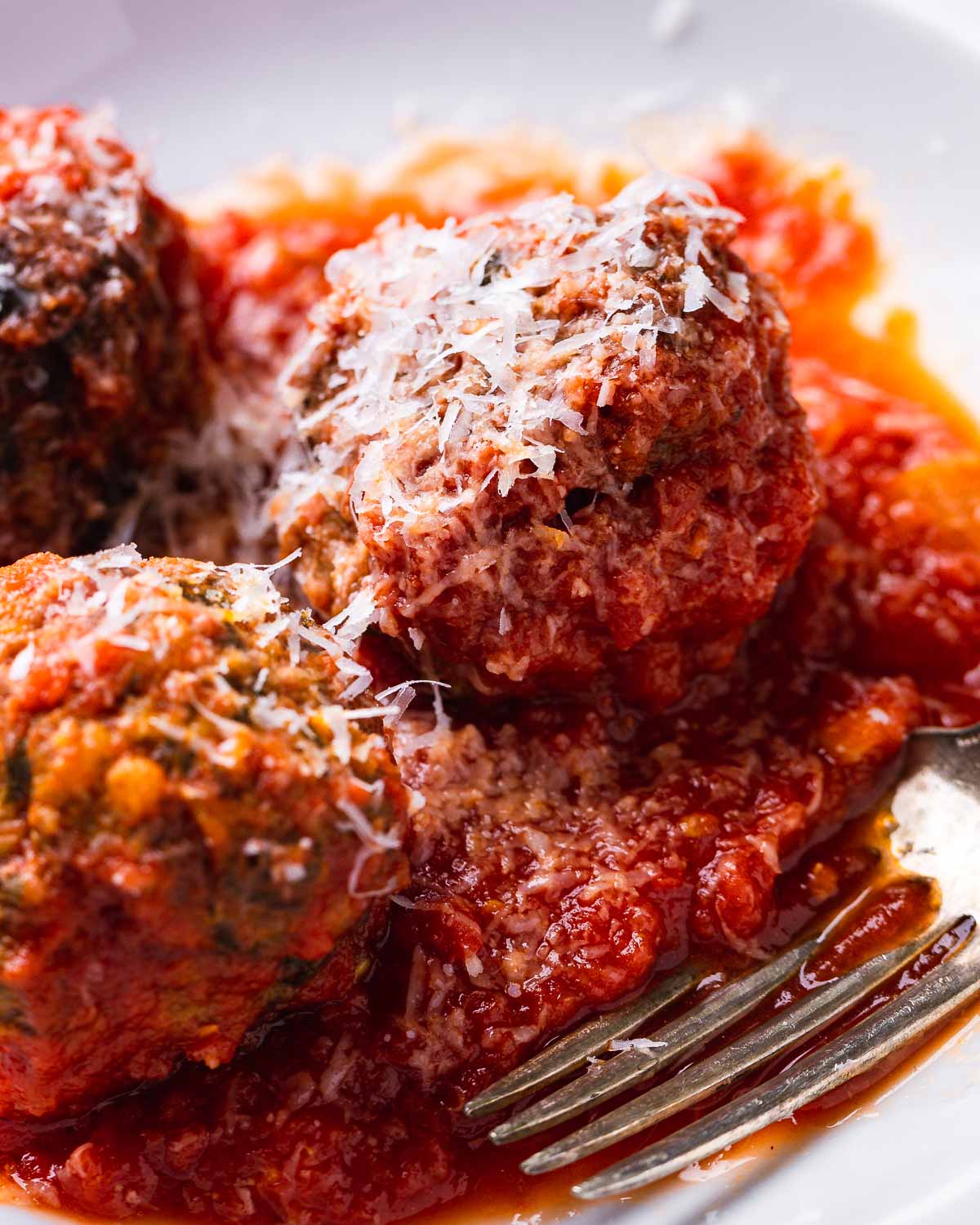 While I love traditional meatballs, every now and then I want something a little bit different.
These Sicilian-style meatballs are perfect for when I want to change up my meatball game.
The addition of Sicilian-inspired ingredients, like raisins (or currants) and pine nuts, give these meatballs the perfect sweetness and texture.
What do Sicilian meatballs taste like?
The first time I served these to my family they all agreed on one thing - that the flavor reminded them of braciole.
While I love braciole and make them frequently for Sunday dinner, they do involve a bit of work.
These Sicilian meatballs combine the great flavors of raisins and pignoli that I also use in braciole, but are a bit simpler to make.
I like to cook these meatballs in a tomato sauce after they've been fried. This allows them to absorb additional flavor from the tomato sauce.
I'll typically serve these with a side of pasta, and almost always with a green, like broccoli rabe or spinach.
One of my other favorite Sicilian-style sides that would pair well with Sicilian meatballs is orange and fennel salad. Perfect if you're looking to add additional Sicilian flavor!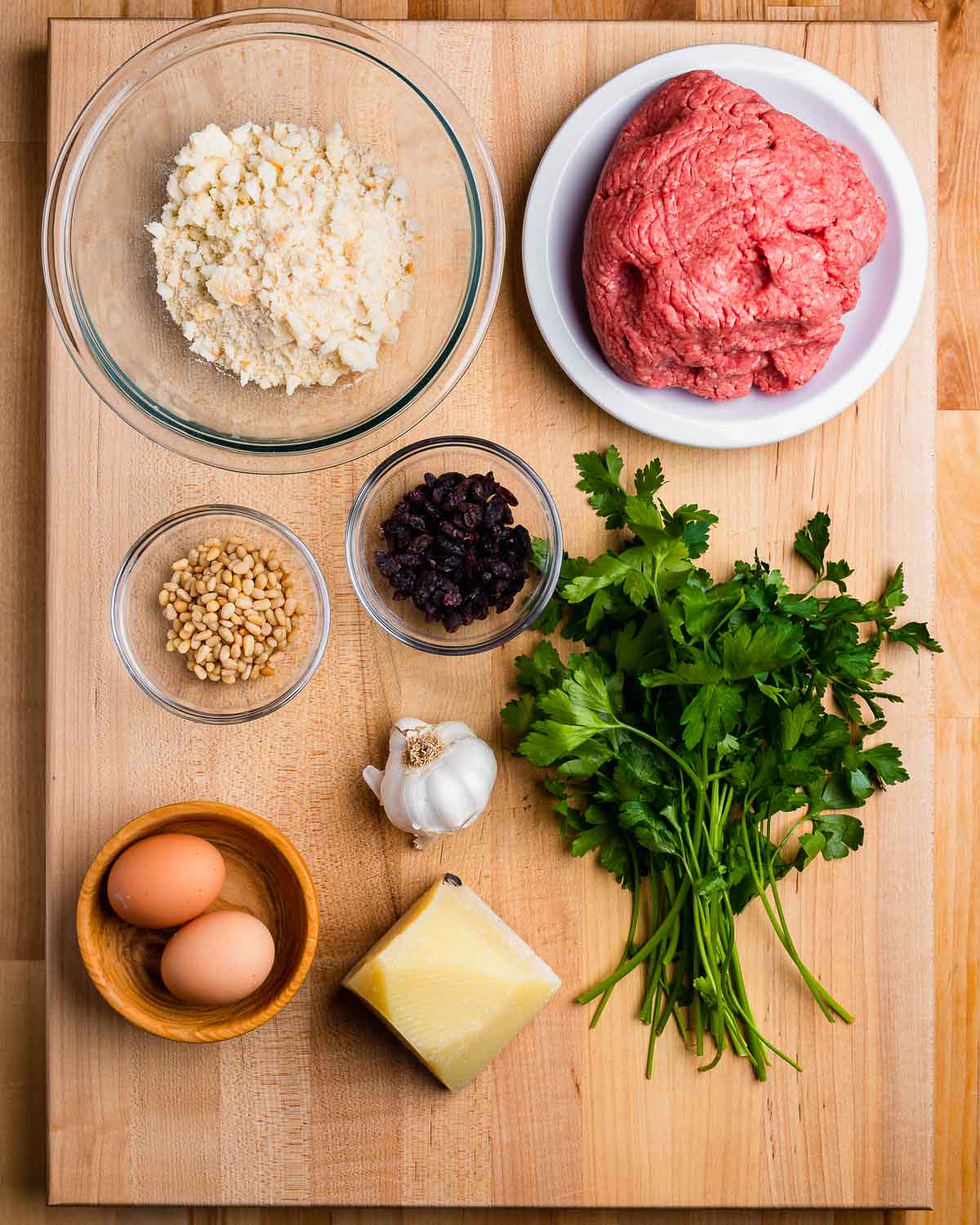 How to make it
Each number corresponds to the numbered written steps below.
Begin by soaking 1 ½ cups of fresh breadcrumbs in water or milk, then squeeze out the excess. Add those breadcrumbs along with 2 pounds of ground chuck, 2 eggs, ¼ cup minced Italian parsley, 1 ½ teaspoons kosher salt, ½ teaspoon black pepper, 1 cup grated Pecorino Romano, ¼ cup pine nuts, ½ cup soaked and drained raisins, and 2 cloves of grated garlic. Mix together well, but try not to overmix. Note: If using store-bought breadcrumbs add them into the bowl first then pour a ¼ cup of milk or enough to wet and let soak for 5 minutes before mixing in other ingredients.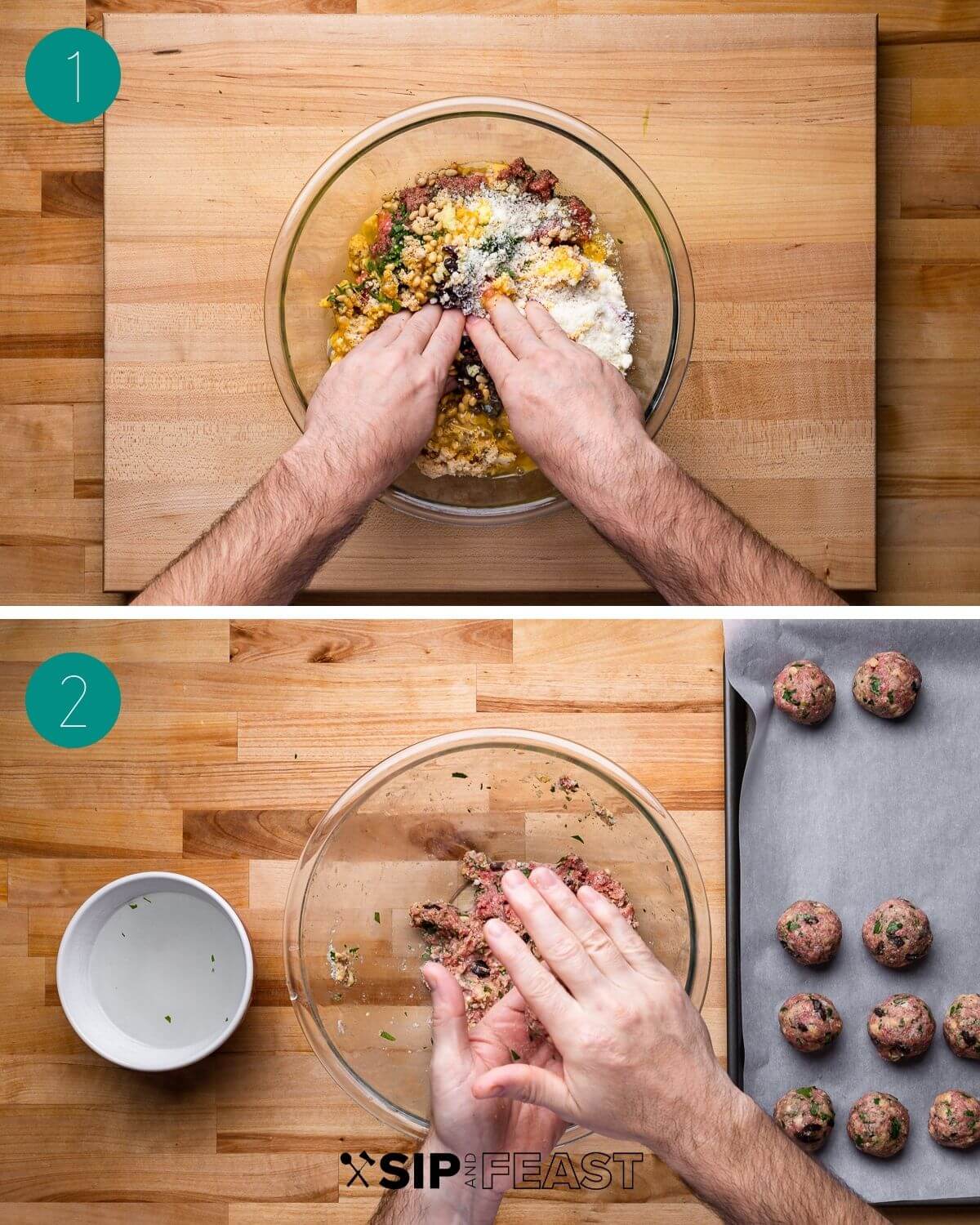 Dip hands into a bowl of water, then grab a golf ball size worth of mix and roll a meatball. Repeat the process of dipping hands in the water and rolling for a mess-free meatball rolling experience. Note: Placing the rolled meatballs onto a parchment paper lined baking sheet works well to prevent any sticking.
In a large heavy pan (cast iron works great) heat 1" high of olive oil or vegetable oil to 350-370f. Once the oil reaches frying temperature begin frying the meatballs. Turn the meatballs every couple of minutes to ensure that all sides get equally browned.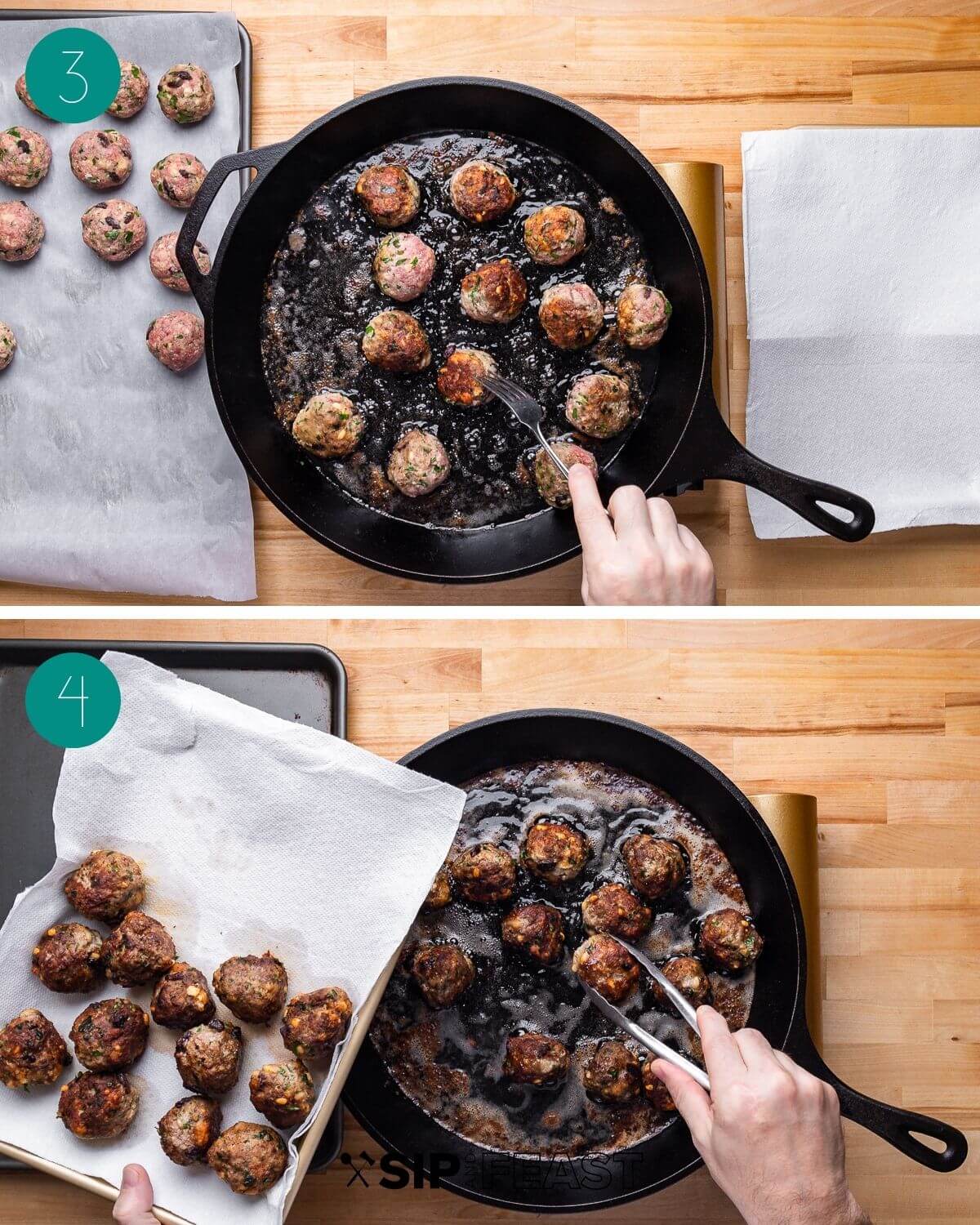 Place the fried meatballs on a paper towel lined dish or onto a wire rack to drain. Work in batches and do not crowd the pan when frying the meatballs.
Once all the meatballs have been fried heat a large pot or high walled pan with 6 cups or more of marinara sauce and add the meatballs in. Bring to a simmer.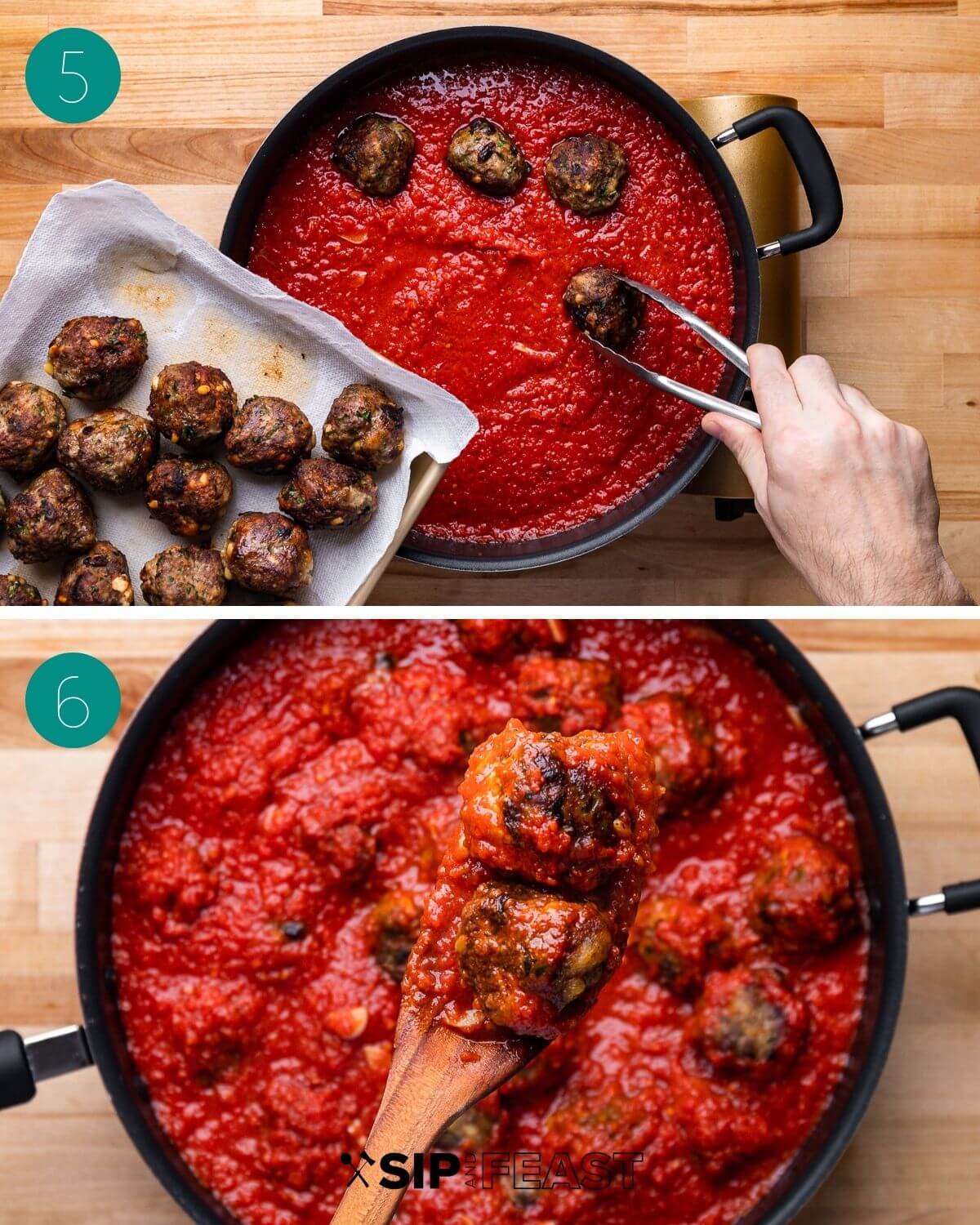 Once the Sicilian-style meatballs are tender and hot throughout (about 20-30 minutes) turn off the heat and serve. Serve with Italian bread, grated Pecorino, or pasta for a full meal.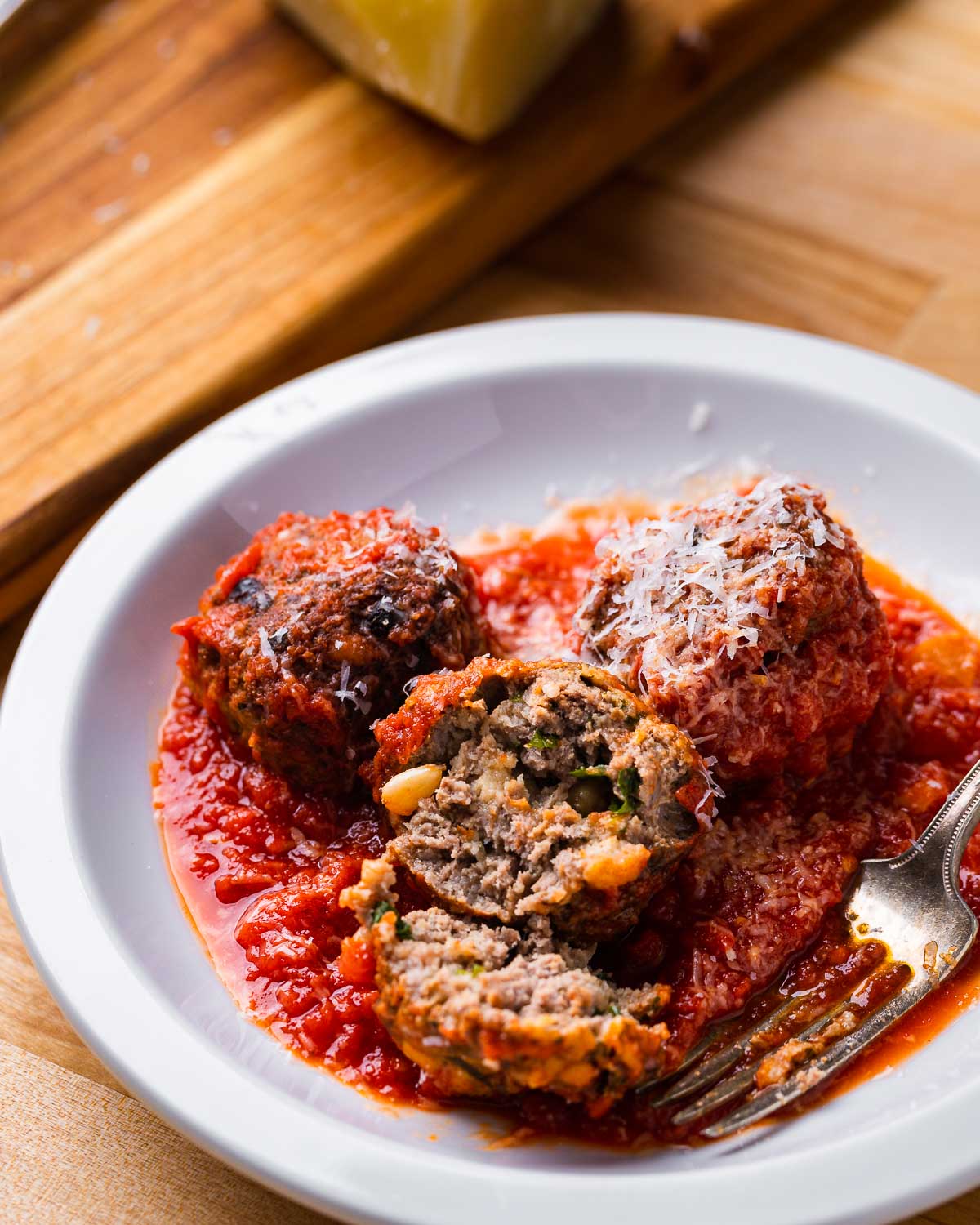 Tips for Sicilian style meatballs
My number one tip for making great meatballs of any kind, is to make sure you have a bowl of water to dip your hands when rolling the balls. The water helps to prevent sticking and ensures a better rolling experience for you.
Another tip is to use your best judgment with respect to the meatball mix. Depending on the type of breadcrumbs you use, you may need more or less breadcrumbs than stated in the recipe. If the mix is too wet, add a bit more breadcrumbs to thicken the mix. The meatballs should hold their shape after being rolled and placed onto the parchment paper.
Variations on Sicilian meatballs
If you'd like to up the Sicilian flavor on these meatballs, you may want to consider adding a few additional ingredients.
I love using mint when I'm making Sicilian inspired food, like roasted eggplant. Fresh mint would be an excellent addition!
I also love using ricotta salata or caciocavallo cheese when I can get my hands on it.
Ricotta salata is a hard cheese that is known for being used in Pasta alla Norma, one of the most widely known Sicilian pasta dishes. Consider grating ricotta salata or caciocavallo in place of the Pecorino Romano.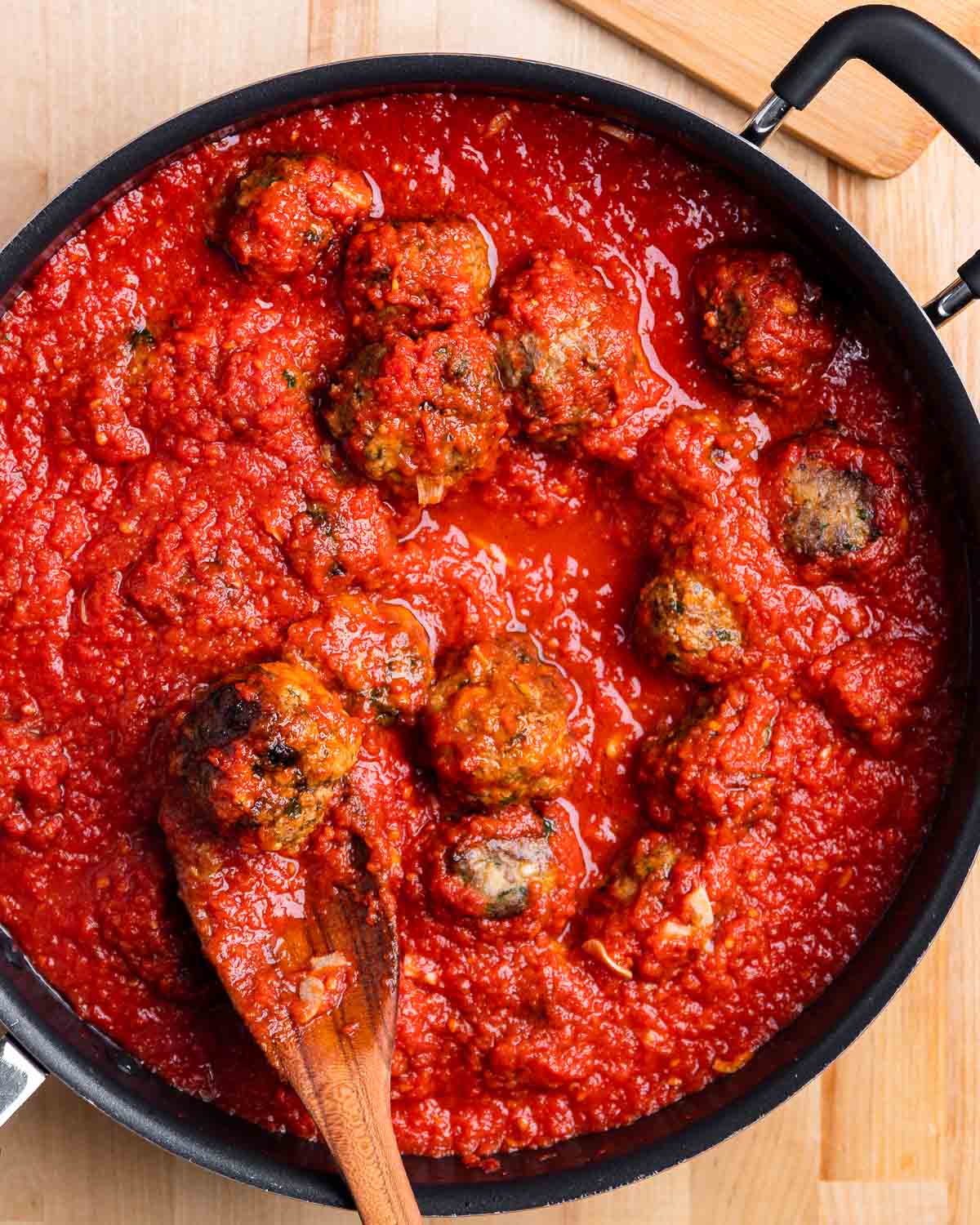 More meatball recipes
We've got your meatball recipe needs covered! Here are our favorites and there are a few vegetarian options!
If you've enjoyed this recipe for Sicilian meatballs or any recipe on this site, give it a 5-star rating and leave a review.
Some people learn by watching. If you're that type of person, you can find most of our recipes on YouTube and our Facebook Page.
Ingredients
Meatball mix ingredients
2

pounds

ground chuck

2

large

eggs

beaten

¼

cup

parsley

minced

1 ½

teaspoons

kosher salt

½

teaspoon

black pepper

1 ½

cups

fresh breadcrumbs

soaked in milk or water and squeezed out

1

cup

Pecorino Romano

½

cup

currants or raisins

soaked in water then squeezed out

¼

cup

pine nuts

2

cloves

garlic

grated
Remaining ingredients
1

cup

dry breadcrumbs

see notes below

6

cups

tomato sauce

see notes below

1 ½

cups

olive oil

or vegetable oil
Instructions
Add the meat to a very large bowl and sprinkle with the salt and pepper. Next add all of the remaining meatball mix ingredients.

Gently mix and distribute together the ingredients but try not to overmix.

Set up a bowl of water for rolling the meatballs. Dip hands in water and grab enough of the meatball mix to make a golf ball sized meatball. Roll with palms to form the meatballs then place on a parchment paper lined baking sheet. Repeat the process of dipping hands in water and rolling until all of the meatballs have been formed.

Heat a large cast iron or stainless steel pan with olive oil to 350-370f. Fry meatballs until brown on all sides (about 10 minutes total). Work in batches and don't overload the pan. Place finished meatballs on a paper towel lined plate or onto a wire rack.

Heat marinara sauce in a large pot to a gentle simmer. Cook the meatballs in the sauce for 20-30 minutes or until hot in the middle and tender. Serve with more sauce, Italian bread, and grated Pecorino Romano. Enjoy!
Notes
If the meatball mix is too wet add a bit of the extra reserved dry breadcrumbs to thicken the mix. The meatballs should hold their shape after being rolled and placed on the parchment paper lined baking sheet.
If using store-bought breadcrumbs add a ¼ cup of milk into the mix to help rehydrate the breadcrumbs.
Use this Sunday sauce or marinara sauce recipe. Or make your own!
Leftovers can be saved for up to 3 days or frozen for 3 months. Reheat in sauce over moderate heat on the stovetop or in the microwave.
Nutrition
Calories:
118
kcal
|
Carbohydrates:
8.7
g
|
Protein:
12.1
g
|
Fat:
4
g
|
Saturated Fat:
1.4
g
|
Cholesterol:
40
mg
|
Sodium:
465
mg
|
Potassium:
323
mg
|
Fiber:
1.1
g
|
Sugar:
3.9
g
|
Calcium:
46
mg
|
Iron:
7
mg