Italian roasted peppers seasoned with Parmigiano-Reggiano cheese, oregano, garlic, and olive oil. This recipe is really easy and is a go-to side in our house. Follow along as I show you just how easy this is to make - because sometimes the simple things in life really are the best.
Breadcrumbs on top of Italian roasted peppers
This simple, but versatile dish goes well with any type of meal, but pairs especially well with other Italian dishes.
For a dish like this, where there are very few ingredients, you want to make sure that you're using the best ingredients.
Skip the shelf-stable grated parmesan and go for the good stuff - you will thank me later. Seasoning the breadcrumbs with a good Parmagiano-Reggiano really elevates the dish and adds a slightly nutty flavor that is just out of this world.
The breadcrumb mixture is made by combining some fresh garlic, breadcrumbs, oregano, salt, pepper, red pepper flakes (optional), and olive oil together.
The mixture is excellent on these Italian roasted peppers, but they are equally good on roasted eggplant, baby broccoli, or broccoli rabe. Many different veggies could be used in place of the peppers with great results - be creative, and if you find a vegetable that you think pairs better than peppers, drop a comment below to let me know!
If you want to kick it up even more, slice up some cherry peppers and sprinkle them in with the bell peppers. That sounds awesome if spice is your thing.
Gorgeous bell peppers.
A little bit about Parmigiano-Reggiano - it really is the King of Cheeses. It's crazy good, and nothing out of a container can compare. If you're a cheese geek like me, you can learn more about the differences between the different Italian, and perhaps not-so Italian cheeses, here.
Process
This is a fairly straight forward roasting recipe. The only way to speed this up would be to broil the peppers, but I don't recommend it because of the potential to burn the peppers.
First, turn the oven to 450 degrees. This is a pretty good temperature for roasting the peppers efficiently.
Next, cut the bell peppers in half and remove all the seeds and the core of the peppers. Arrange the peppers in an oven-safe dish like I used or any type of roasting pan would also be perfect. Drizzle 2 tablespoons of olive oil over the peppers and place the peppers in the oven for 20 minutes.
While the peppers are roasting, prepare the seasoned breadcrumbs. Mince the garlic cloves and combine with ½ cup of breadcrumbs in a mixing bowl. Add the salt, cheese, red pepper flakes, oregano, and olive oil to the bowl and stir it all together.
Remove the peppers from the oven after 20 minutes of cooking. Pile the seasoned breadcrumbs onto each pepper as shown below. After 15 minutes more in the oven the Italian roasted peppers with seasoned breadcrumbs are finished. Enjoy!
This is how they will look at the finish. This would make a great side dish to our Beef Braciole, Broccoli Rabe Sausage Rolls, or our Spaghetti Amatriciana.
Other great sides
If you've enjoyed this recipe, or any recipe on this site, we want to know so tell us in the comments below. We would love to hear how you did and it's nice to show others as well. Thanks!
In the video below I peel the peppers after roasting. All of the ingredients are the same. Some people learn by watching. If you're that type of person, you can find most of our recipes on YouTube and our Facebook Page.
📖 Recipe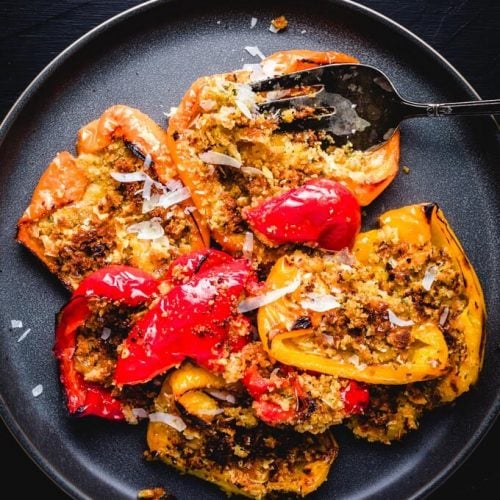 Ingredients
3-4

large

bell peppers

3

cloves

garlic

½

cup

breadcrumbs

½

cup

grated Parmigiano-Reggiano

6

Tbsp

olive oil

½

tsp

kosher salt

½

tsp

dried oregano

⅛

tsp

red pepper flakes
Instructions
Cut bell peppers in half, removing the seeds and pith and arrange in oven safe dish or roasting pan. Drizzle 2 Tablespoons of olive oil onto peppers. Place peppers in oven and set timer for 20 minutes.

While peppers are roasting, grate ½ cup of Parmigiano-Reggiano.

Mince 3 cloves of garlic.

Add cheese and garlic to a mixing bowl along with ½ cup breadcrumbs, ½ tsp kosher salt, ½ tsp oregano, ⅛ tsp pepper flakes, and 2 Tbsp of olive oil. Mix it all up.

Remove peppers from oven when timer goes off. Add seasoned breadcrumbs to each pepper. Drizzle remaining 2 Tbsp of olive oil on to each pepper.

Return peppers to oven and set timer for an additional 15 minutes. When timer goes off they are finished. Enjoy!
Notes
Use any color pepper you like, though I think red taste the best.
The red pepper flakes are completely optional.
Nutrition
Calories:
370
kcal
|
Carbohydrates:
18
g
|
Protein:
20
g
|
Fat:
38
g
|
Sodium:
600
mg