Sicilian eggplant caponata is one of the best ways to utilize eggplant. Caponata is a salty, sweet and sour appetizer, bursting with flavor. It's perfect by itself, on top of toasted bread or crackers, or used as a topping for sandwiches.
No matter how much we make, we never seem to have enough.
My love for caponata happened after I left my house, moved to the city, and started making many dishes on my own.
I have made it many different ways and have come to rely on this version. Down below I'll share a number of additions to this eggplant caponata.
For this recipe, the eggplant is roasted rather than fried. Frying it is great – it's the traditional way to do it, but too much olive oil is needed and too much of a mess is made.
And if you love eggplant, try my recipe for stuffed eggplant which has many of the great flavors found in caponata, or baba ganoush which is a smoky Mediterranean eggplant dip.
Eggplant caponata step-by-step instructions
Each number corresponds to the numbered written steps below.
Preheat oven to 425F and begin by cutting 2 pounds of eggplant into approximately 1″ cubes.
Place all the cut eggplant into a large glass bowl and toss with a 1/2 cup of olive oil, a tsp of kosher salt and a 1/2 tsp of black pepper. Use enough oil to coat all the pieces.
On a large baking sheet (line it with parchment paper to avoid sticking) spread out the eggplant. Keep the pieces from touching and if necessary use 2 sheet pans. Place the eggplant on the middle oven rack and roast for 25-30 minutes.
While the eggplant is roasting begin cutting 1 cup of celery into smallish pieces like shown.
Cut 1 cup of onion into half-moon strips. You can cut the onion and celery any way you want! Some people like a chunkier caponata while others prefer a smoother one.
Toast a 1/4 cup of pignoli (pine) nuts in a separate pan over medium-low heat for 5 minutes or so. Be careful, they burn easily. When finished toasting, remove the nuts and set them aside.
In a large pan saute the onion and celery for a few minutes in a 1/4 cup of olive oil over medium heat. Again this is a preference/textural thing. If you like crunchy vegetables in your caponata only saute them for a minute or so.
Add in one 6-ounce can of tomato paste and cook for 3 minutes longer, spreading the paste all around the pan.
After 25-30 minutes the eggplant will be nicely roasted as shown. Use a fork and make sure they are soft on the inside and fully cooked. If not, another 5 minutes in the oven is fine.
To the pan add 1 cup of pitted good quality green olives, an 1/8 cup of rinsed capers, and a 1/4 cup of raisins. Also, add 2 Tbsp of sugar and a 1/4 cup of red wine vinegar. Cook for 5 minutes stirring occasionally to avoid sticking.
Add in the eggplant and pine nuts and cook for 3 more minutes to ensure the caponata is well mixed. Be careful while mixing in the eggplant to avoid mashing it too much. A gentle stir with a wooden spoon is all that's required.
Finally, add a 1/4 cup of chopped fresh parsley, give it one more stir, and a taste test. Adjust salt, pepper, and sugar if necessary. If satisfied, let it cool, then place it in a container and refrigerate.
The flavors will meld together and it will be better the next day. Of course, it can be eaten right away too!
You will see Sicilian caponata sold in the Italian section of your supermarket.
It comes in jars that you keep refrigerated once open. The jars are small, processed, and mostly not that good.
Now you know how to make a much better one! And, you can do it in much larger quantities for way cheaper!
Substitutions and additions
Zucchini – Add some zucchini to this caponata for a nice twist. Pan roast 2 cups of the same size pieces as the eggplant for the last 20 minutes of cooking.
Peppers – Use 2 large bell peppers, cut up into bite-size chunks for added texture and flavor.
Carrots – Roast 1 cup of carrots with the eggplant for added flavor or just sear them in the pan with the onions and celery to introduce a crunchy texture.
Anchovies – It wouldn't be Sicilian cooking without talking about this ingredient. Saute 3-4 chopped anchovies until they melt with the celery and onion.
Herbs – Mint and basil are excellent additions!
Make a full meal – Chicken agrodolce is basically chicken with eggplant caponata plus/minus a few ingredients.
Top tips
Cooking process – Before roasting you can salt the eggplant pieces for 30 minutes. The salt will release moisture from the eggplants and allow them to cook quicker in the oven. Using a paper towel, pat dry the eggplants with a wiping action to remove some of the salt before roasting. I rarely salt the eggplants prior to roasting, but want to point out the option.
Texture – The texture of the caponata is really a personal preference. If you like it on the softer side, saute the veggies a little bit longer and/or cut them smaller. Conversely, just cook them for a few minutes if you want the celery and onion crunch.
Buying eggplant – Italian eggplants will be smaller than a large American eggplant. They look the same, but you will need about 4-5 of them versus 1-2 of the latter. I have come across Sicilian eggplants a couple of times in the supermarkets. They are round, a mix of purple and white, and delicious. If you can find them by all means use them!

More Italian appetizers and spreads
Eggplant Caponata with Raisins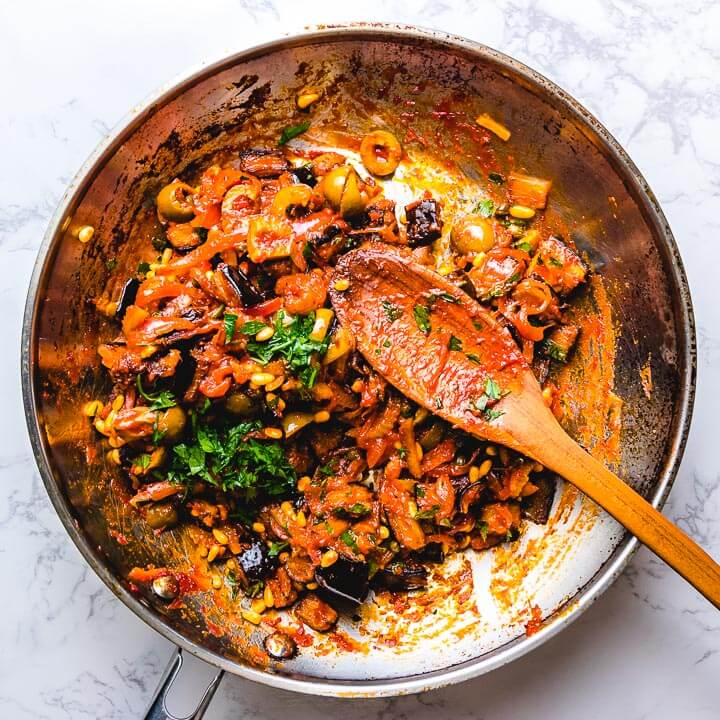 Sicilian eggplant caponata recipe with pignoli nuts, olives, capers, celery and raisins in a tangy sweet and sour sauce.
Ingredients
2

pounds

eggplant

1

cup

celery

1

cup

red onion

1

cup

pitted green olives

1/4

cup

pignoli nuts

1/4

cup

parsley

1/8

cup

capers

1/4

cup

raisins

1

6 ounce

can tomato paste

3/4

cup

olive oil

1/4

cup

red wine vinegar

2

Tbsp

sugar

1

tsp

kosher salt

1/2

tsp

black pepper
Instructions
Preheat oven to 425f and set rack to middle. Cut eggplant into 1" squares and mix well with a 1/2 cup olive oil, 1 tsp kosher salt and a 1/2 tsp pepper. Place eggplant on parchment paper lined baking sheet, making sure to not overcrowd the pieces. Roast in oven for 25-30 minutes until fully cooked through and soft in the middle.

Toast pignoli nuts in a dry pan over medium-low heat for approximately 5 minutes being careful not to burn. When toasted set aside.

Saute 1 cup of chopped celery and 1 cup of red onion in a 1/4 cup of olive oil for 2-3 minutes over medium heat. Add in 1 6 ounce can of tomato paste and continue to cook for 3 more minutes.

To the pan add the 1 cup of pitted green olives, 1/8 cup rinsed capers, 1/4 cup raisins, 2 Tbsp sugar, toasted pine nuts, and 1/4 cup of red wine vinegar. Cook for 5 minutes allowing the vinegar and sugar to cook through and incorporate.

Add the roasted eggplant to the pan and gently mix it all together being careful to not crush the eggplant. Taste test and make any last minute adjustments to salt, pepper or sugar. The last step is to add in the 1/4 cup of fresh parsley and to plate. Enjoy now or allow the flavors to better blend overnight in the refrigerator.
Notes
Caponata tastes better the next day. Store it in the refrigerator for up to 5 days.
Salt was kept to a minimum. The inherent saltiness of the olives and capers should be kept in mind.
Nutrition
Calories:
366
kcal
|
Carbohydrates:
26.6
g
|
Protein:
4.3
g
|
Fat:
29.8
g
|
Saturated Fat:
3.9
g
|
Sodium:
564
mg
|
Potassium:
807
mg
|
Fiber:
7.8
g
|
Sugar:
16.9
g
|
Calcium:
30
mg
|
Iron:
2
mg
Nutrition information is automatically calculated, so should only be used as an approximation.