Peperonata is the perfect condiment to use on just about anything, from crusty bread, to pasta, or even by itself. Sweet bell peppers, onions, fresh plum tomatoes, and garlic are stewed until tender, allowing the flavors to intermingle, then tossed with fresh basil. All the flavors of a summer garden are right here in peperonata!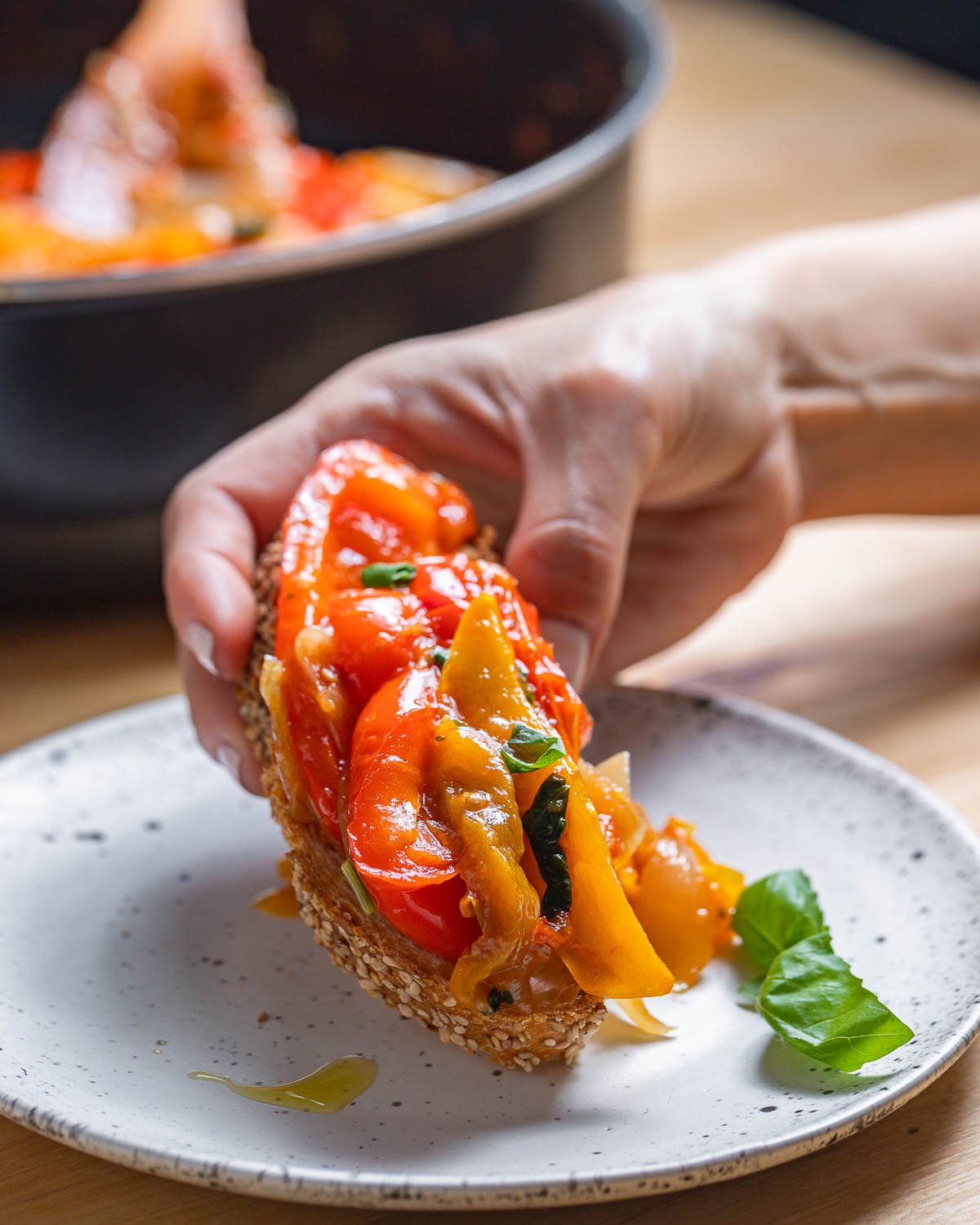 The first time I ever had peperonata was just as it is pictured above - layered on top of a slice of crusty, toasted, seeded Italian bread.
One bite and I was in love. I usually prefer to eat bell peppers raw, but peperonata convinced me otherwise.
I appreciated the fact that while the flavors in this dish married with one another, I could still taste each ingredient individually. It tasted of summer and gave a nod to the Italian-American garden which typically includes peppers, tomatoes, and basil, among others.
Serving ideas
As mentioned above, peperonata is a condiment or even an appetizer. It's considered such because it is best when accompanying something else, although I've definitely eaten it by itself many times.
Here are some ways you may want to consider:
Pasta - toss with some rigatoni and extra virgin olive oil
With burrata - there is nothing better than creamy burrata served with some extra virgin olive oil, and peperonata
On top of bread - much like its "cousin", caponata, peperonata is just perfect served on a slice of Italian bread, or baguette
With chicken - such as grilled chicken thighs, or chicken cutlets
What type of peppers for peperonata?
We use yellow and red bell peppers because they are sweeter than green bell peppers. I recommend you do the same in order to achieve the best possible results. You can also use orange bell peppers if they are available to you.
Essentially, you want to use the sweetest bell peppers you can find. Green peppers, while crucial in other dishes, such as pepper and egg sandwiches, are just not that sweet.
If you wanted to add a bit of heat to the dish, you could certainly add some cherry peppers or even some Calabrian chili paste.
How to make it
Each number corresponds to the numbered written steps below.
Note: For these pictures and processes, I used fresh Roma plum tomatoes. These instructions outline how they are blanched and peeled. Alternatively, you can use a 14 ounce can of whole plum tomatoes. Do whichever is most convenient for you.
If you are using fresh tomatoes, score the top of the tomato as shown in the picture below. This allows for easier peeling after the tomatoes have been blanched.
Slice the onions, and bell peppers into ¾" slices. Slice the garlic and chop the basil. Set aside.
Bring water to a boil in a saucepan. Add the scored tomatoes and cook until the skin starts to peel. Around 1 minute or so.
Once the skin starts to lift, remove from the boiling water and place into a bowl of ice water to stop the cooking. Once cool enough to handle, remove the skin and slice the tomato in half. Remove the core and seeds and discard.
Heat a large pan to medium-low heat and coat with a ¼ cup of extra virgin olive oil. Cook the onions and peppers for 15-20 minutes until softened, stirring occasionally. Move the peppers and onions to one side of the pan to make room and add the garlic. Cook until golden, around 3 minutes.
Add the tomatoes and bring to a simmer. Turn heat to low (a low simmer) and allow to cook for another 45-60 minutes to further soften the peppers and onions and allow the flavors to merge. If at any time the pan gets too dry add a couple of ounces of water and/or cover the pot and leave the lid slightly cracked open.
Add the vinegar and oregano. Season with salt and pepper to taste. If the peperonata isn't sweet enough, you may add a pinch of sugar, but do so slowly. Usually, the sweetness of the bell peppers is enough to balance the vinegar so sugar isn't always necessary.
Remove from the heat and add the basil, plus ¼ cup or more of extra virgin olive oil to the peperonata. You can serve it right away, however, the flavor is so much better when served the next day. It can be served cold, room temperature, or warmed through. Enjoy!
More goodness from the garden
If you're an Italian food lover, and you have a vegetable garden, you're probably growing eggplant, tomatoes, peppers, and of course, zucchini.
And if you like peperonata, I think you'll also love these other dishes using some of these glorious veggies.
If you've enjoyed this peperonata recipe or any recipe on this site, give it a 5-star rating and leave a review.
Some people learn by watching. If you're that type of person, you can find most of our recipes on YouTube and our Facebook Page.
Ingredients
½

cup

extra virgin olive oil

divided

5

cloves

garlic

sliced

2

medium

onions

sliced

6

large

red and yellow bell peppers

sliced

1

pound

peeled and deseeded plum tomatoes

alternatively, use 14 ounces of canned tomatoes

1

teaspoon

dried oregano

¼

cup

basil

chopped

2

tablespoons

red wine vinegar

salt and pepper

to taste

sugar

to taste, see notes below
Instructions
Heat a large pan to medium-low heat and add in a ¼ cup of extra virgin olive oil. Cook the onions and peppers for 15-20 minutes until softened, stirring occasionally.

Make a little room in the pan and add the garlic in. Cook until golden (about 3 minutes), then add in the tomatoes.

Bring to a simmer then cook on low heat for another 45 minutes to further soften the peppers and onions and bring all the flavors together. If at anytime the pan drys out, add a few ounces of water and/or partially cover with a lid.

A few minutes before turning off the heat, add in the vinegar, oregano, and season with salt and pepper to taste.

When satisfied with the taste, turn off the heat and add in the basil, and a ¼ cup of extra virgin olive oil. Peperonata is best served the next day (the flavors will come together far more) either cold or warmed through. Serve with crusty Italian bread or by itself. Enjoy!
Notes
Peperonata will taste better the next day.
A pinch of sugar can be used to balance out the vinegar. Go slow if using. Normally vinegar is used to balance out the sweet peppers with sugar being omitted.
Save in the fridge for up to a week.
Nutrition
Calories:
150
kcal
|
Carbohydrates:
9.2
g
|
Protein:
1.8
g
|
Fat:
12.9
g
|
Saturated Fat:
1.8
g
|
Sodium:
12
mg
|
Potassium:
280
mg
|
Fiber:
1.9
g
|
Sugar:
5.3
g
|
Calcium:
26
mg
|
Iron:
1
mg