The pepper and egg sandwich is beloved by Italian-Americans for its versatility, simplicity, and affordability. Green bell and/or cubanelle peppers are combined with onions, and scrambled eggs and piled on deli or hero rolls. The ultimate make-and-take sandwich, it can be prepared quickly, wrapped, and taken anywhere, or enjoyed at home.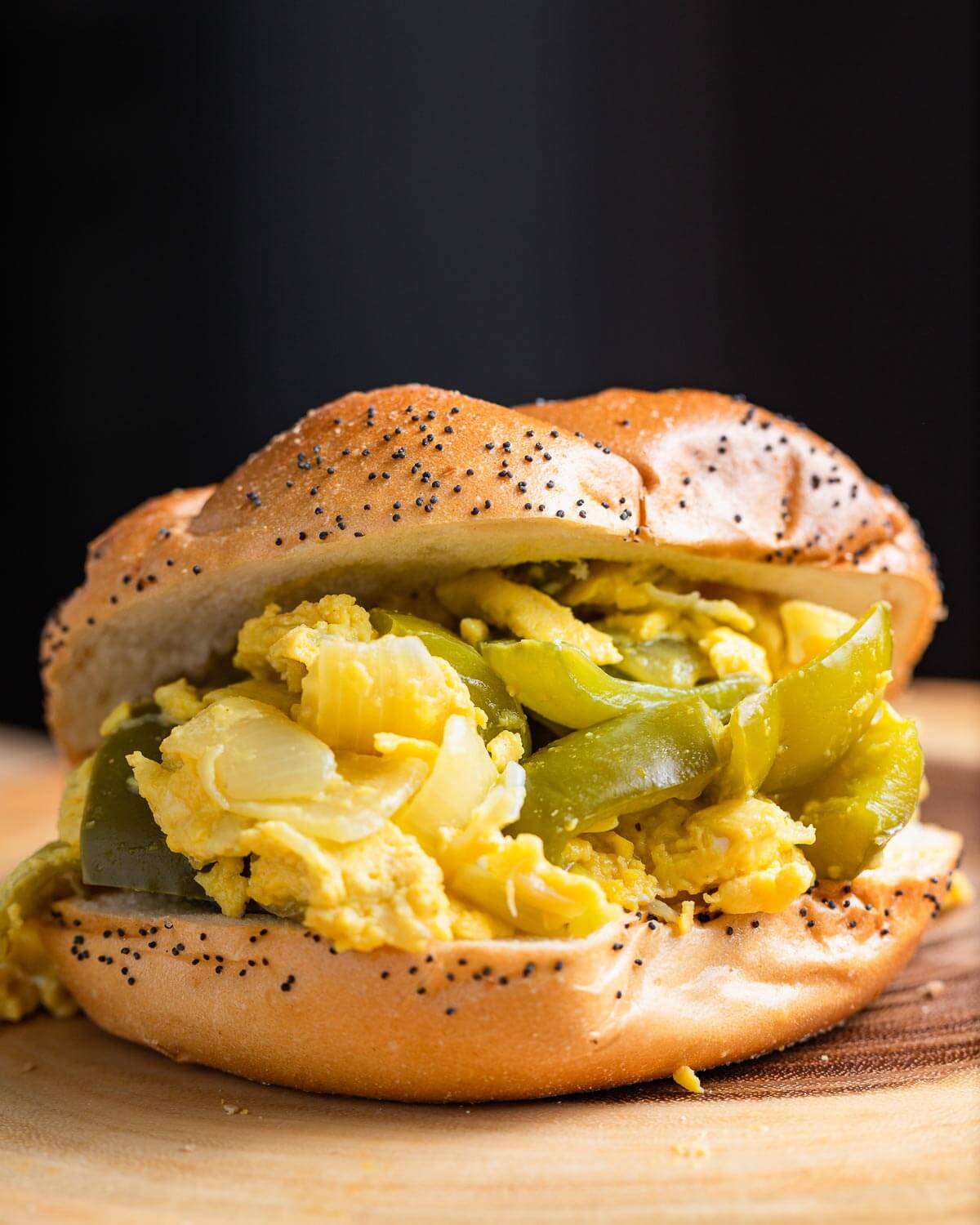 Walk into any pizzeria in the New York metro area and you're bound to find the pepper and egg sandwich on the menu.
This is the type of food my grandmother, my wife's grandmother, and probably every other Italian-American was raised on.
Affordable and perfect to eat any time of the year IMO, the pepper and egg sandwich sees an uptick during Fridays in Lent when most Catholic Italian-Americans choose meatless meals, such as homemade pizza, baked ziti, or pasta and peas.
But my favorite quality of the pepper and egg sandwich is its nostalgia.
Food, much like certain smells, has an uncanny ability to stir up memories, and with them emotions.
Every time I bite into a pepper and egg sandwich, I'm taken back to a simpler time where I'd find this sandwich, lovingly packed for me, at the beach, a ballgame, or even at school.
And I invite you to share with me what sort of nostalgia the pepper and egg sandwich rouses in you. Comment below and let me know!
Pro tip – If you're making this sandwich to take with you on the go, wrap it in foil and it will stay warm for hours. You can wrap the same way that's shown in our bacon egg and cheese sandwich recipe.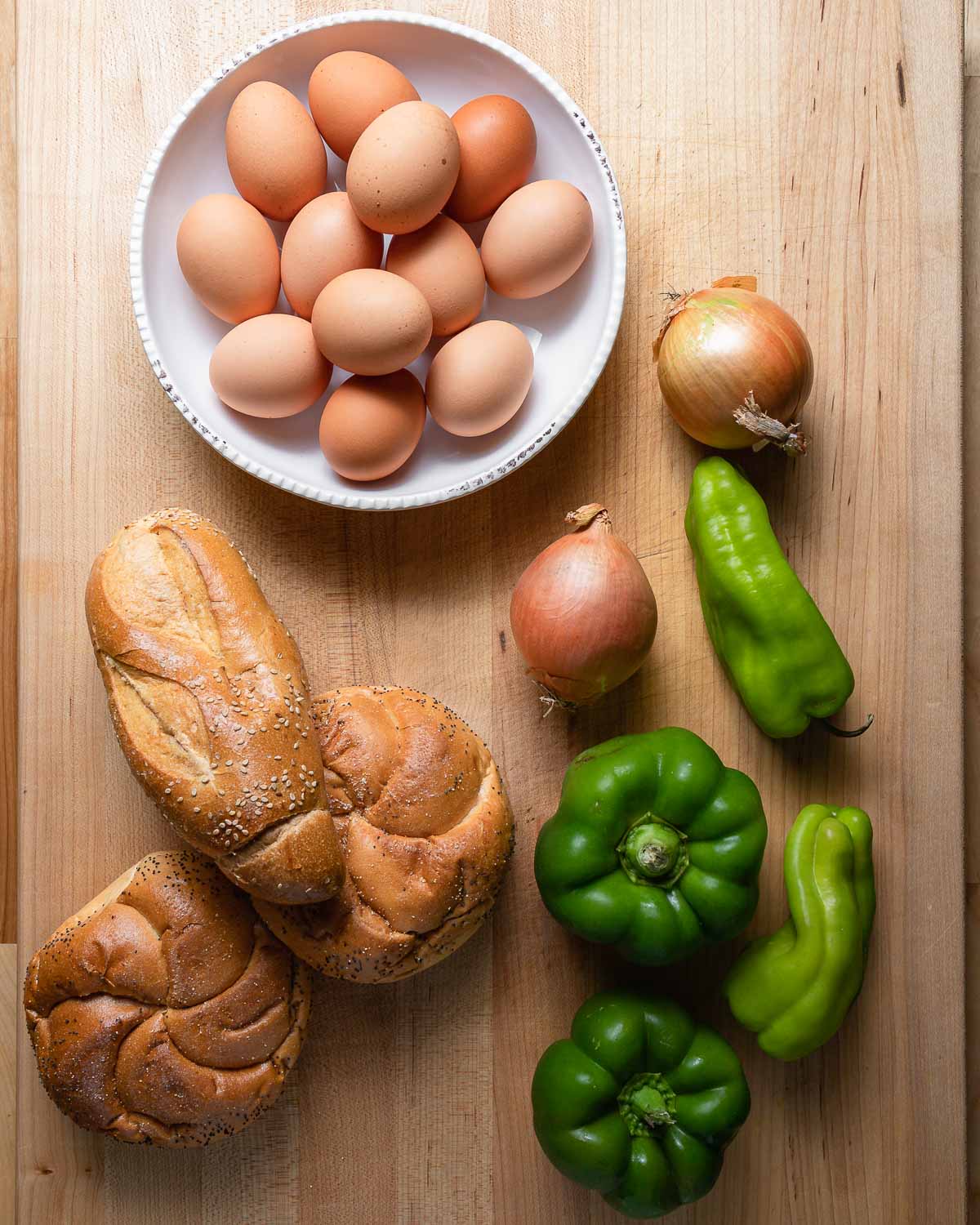 Tips from a pepper and egg guru
As you've gathered from my soliloquy above, I've eaten a few pepper and egg sandwiches in my day.
I've also made countless numbers of them. As a result, I've gathered some observations and tips to share with you so you can prepare an authentic pepper and egg sandwich:
The bread – the bread for pepper and egg sandwiches is important. My first two choices are a poppy seed deli roll, the kind you'd get if you order a bacon egg and cheese at a NY deli; and the hero roll. If these are not available to you, you can also use a half, or quarter, of a seeded loaf of Italian or Semolina bread.
The peppers – green peppers and cubanelles are my go-tos for this sandwich for their taste, and to keep the sandwich authentic. Red, yellow, and orange peppers are great, but I find them too sweet and mild for the pepper and egg sandwich. You really need the stronger flavor that comes from the green bell pepper. You can use either all green bell, all green cubanelle – also know as Italian frying peppers which are great stuffed!, or a combination of the two.
The eggs – they need to be kept soft for this sandwich, so cook them until they are just done and then remove from the heat right away.
Add ins – if you like some heat, add some sliced cherry peppers to your pepper and egg sandwich. If cheese is your thing, shred some block mozzarella and add it to the sandwich. So good!
Sandwich assembly – if you're making this for 1-2 people, use fewer eggs and peppers (this recipe is for 4 sandwiches), and consider wrapping the eggs around the peppers and onions, almost like an omelet. This will allow for easier placement onto the sandwich bread.
How to make it
Begin by seeding and chopping 2 large green bell peppers and 1 large Italian frying pepper, also known as a cubanelle. You can also use all of the same type of one pepper if you prefer.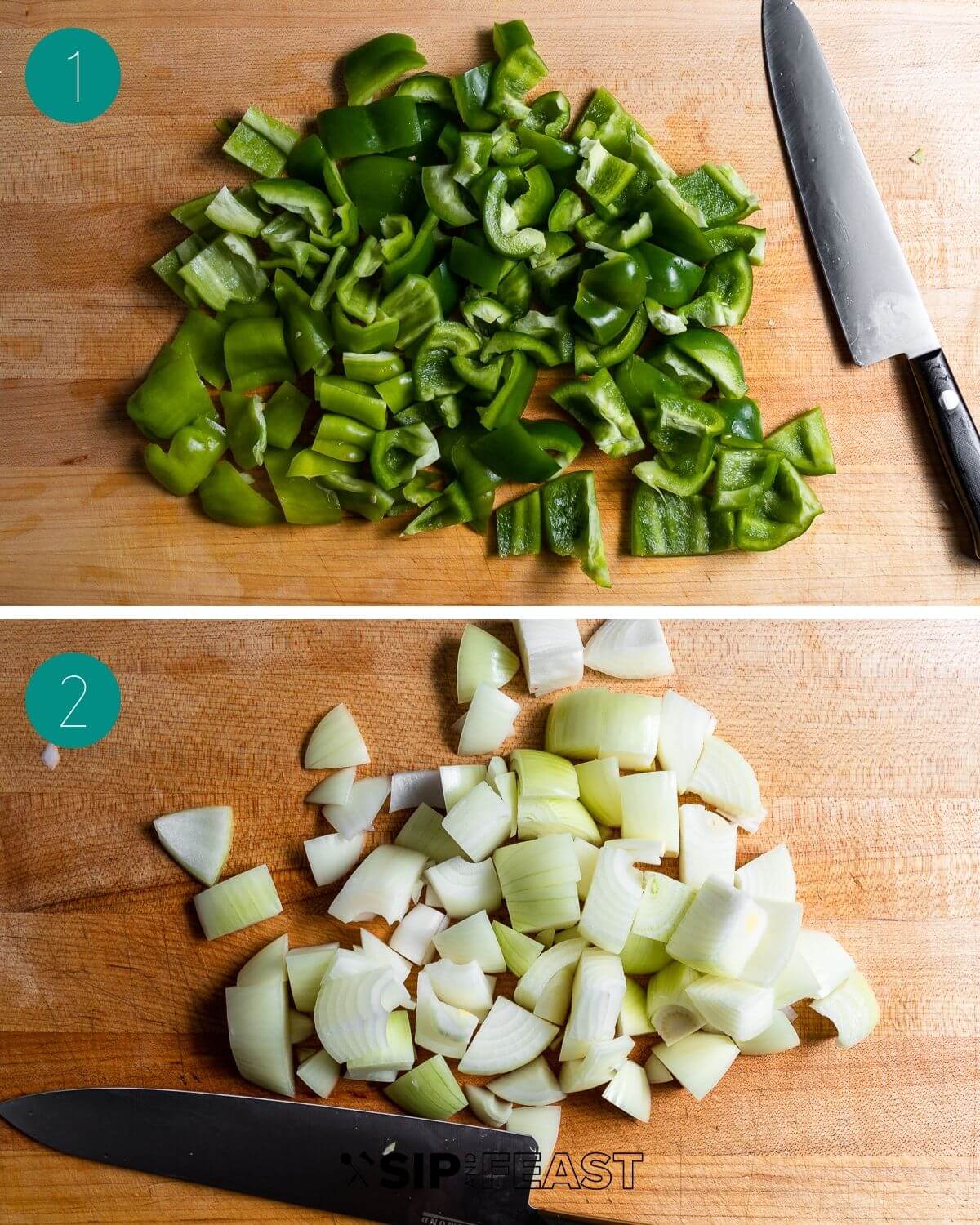 Chop 2 medium onions.
Heat a large pan to medium heat. Add a 1/4 cup of olive oil then the peppers and onions. Sautee for 2 minutes, stirring frequently to coat the onions and peppers with the olive oil.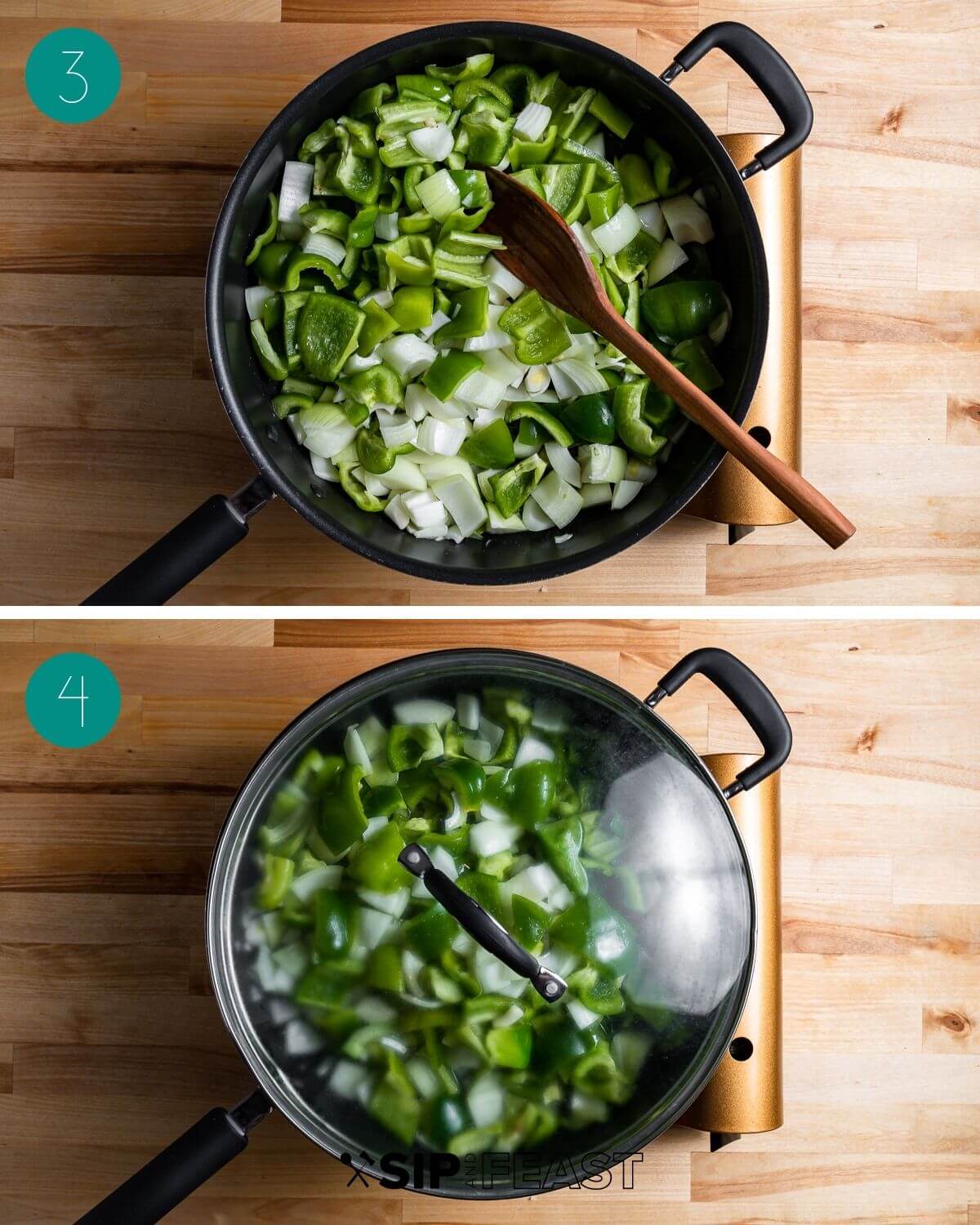 Add in the 3 ounces of water and cover. Cook the peppers and onions until soft (about 8 minutes).
Beat 10 eggs in a large bowl.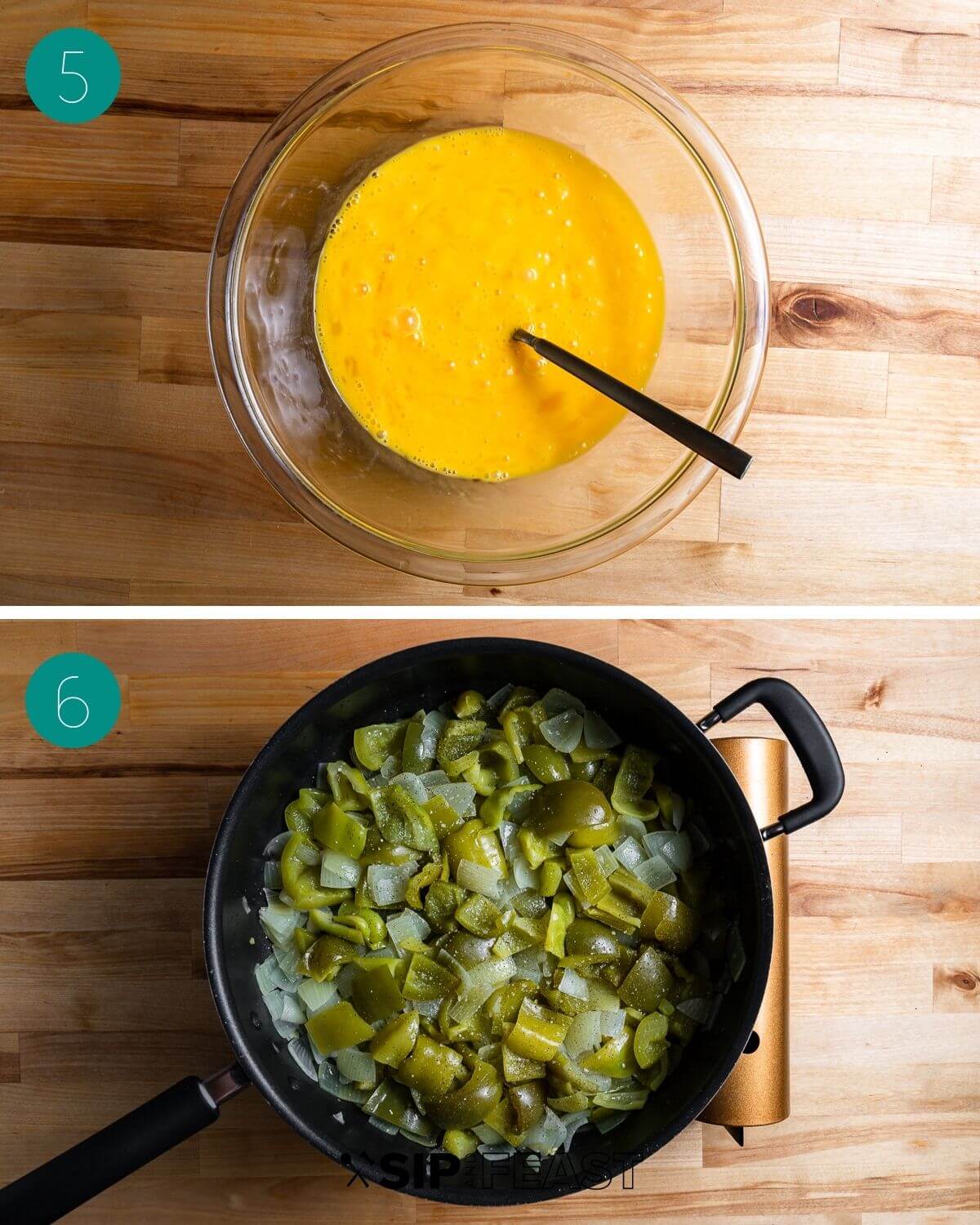 After 8 minutes, remove the lid. The peppers and onions should be quite soft. Cook the peppers and onions for 2 minutes longer, uncovered, to evaporate a bit of the water. Season the peppers and onions with 1 1/4 teaspoons kosher salt and a 1/4 teaspoon of pepper.
Turn the heat to medium-low and add the remaining 2 tablespoons of olive oil. Add in the well-beaten eggs.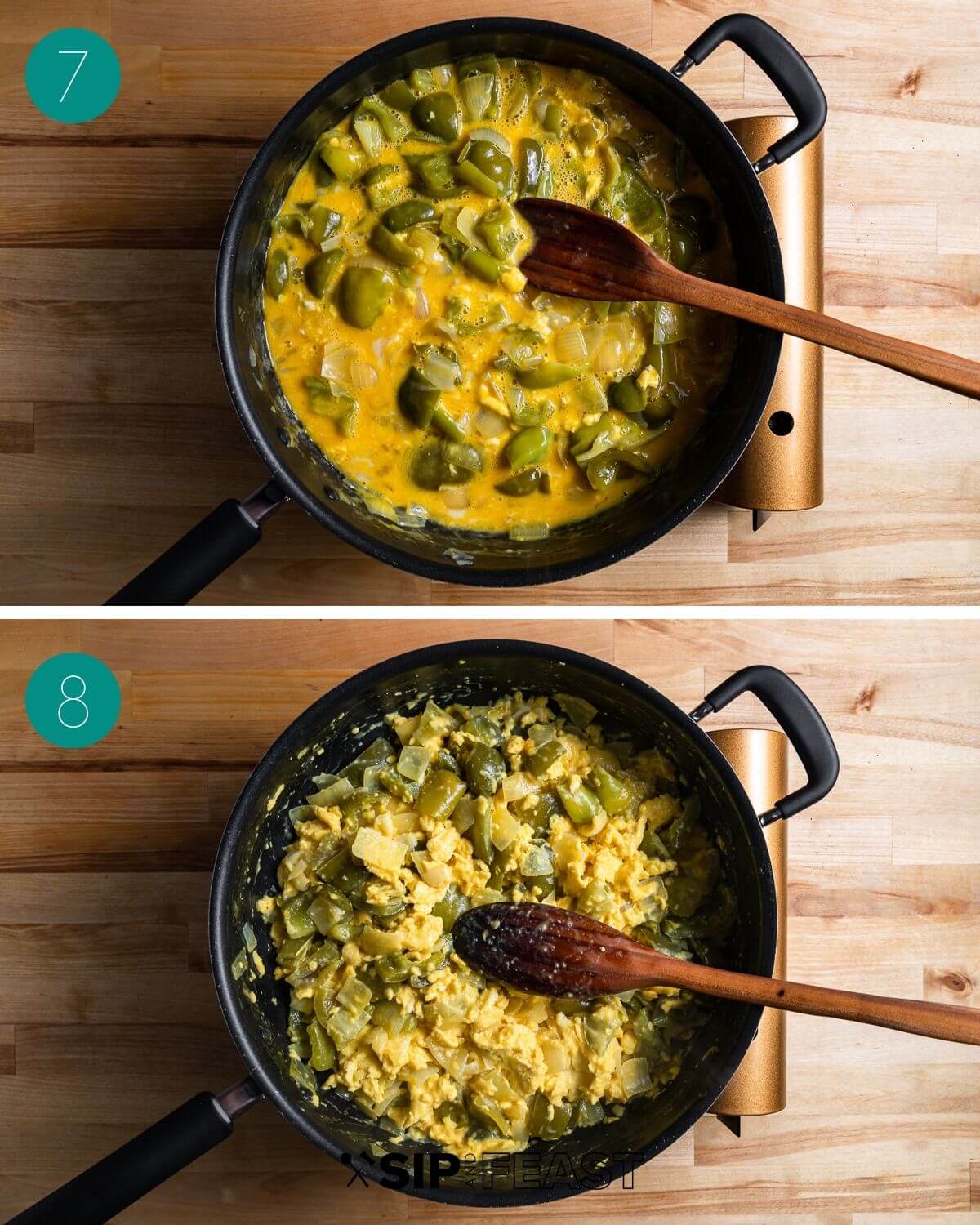 Depending on the size of your pan you might have to scramble them as shown in pic 8 above. If you're using a very large pan or fewer eggs you can fold and flip the eggs around the onions and peppers to create a pancake or omelet. Either way, make sure to not overcook the eggs. Taste test the pepper and eggs and make any final adjustments to salt and pepper if required. Once satisfied, serve immediately on hero or round rolls.
Note: If packing this for the beach, a game, or for any reason at all, wrap the sandwiches in foil to help them stay warm for hours until you're ready to eat and enjoy. If you're positive you'll be eating the sandwich hours later, cook the eggs on the even softer side. They'll firm up a bit while wrapped in foil.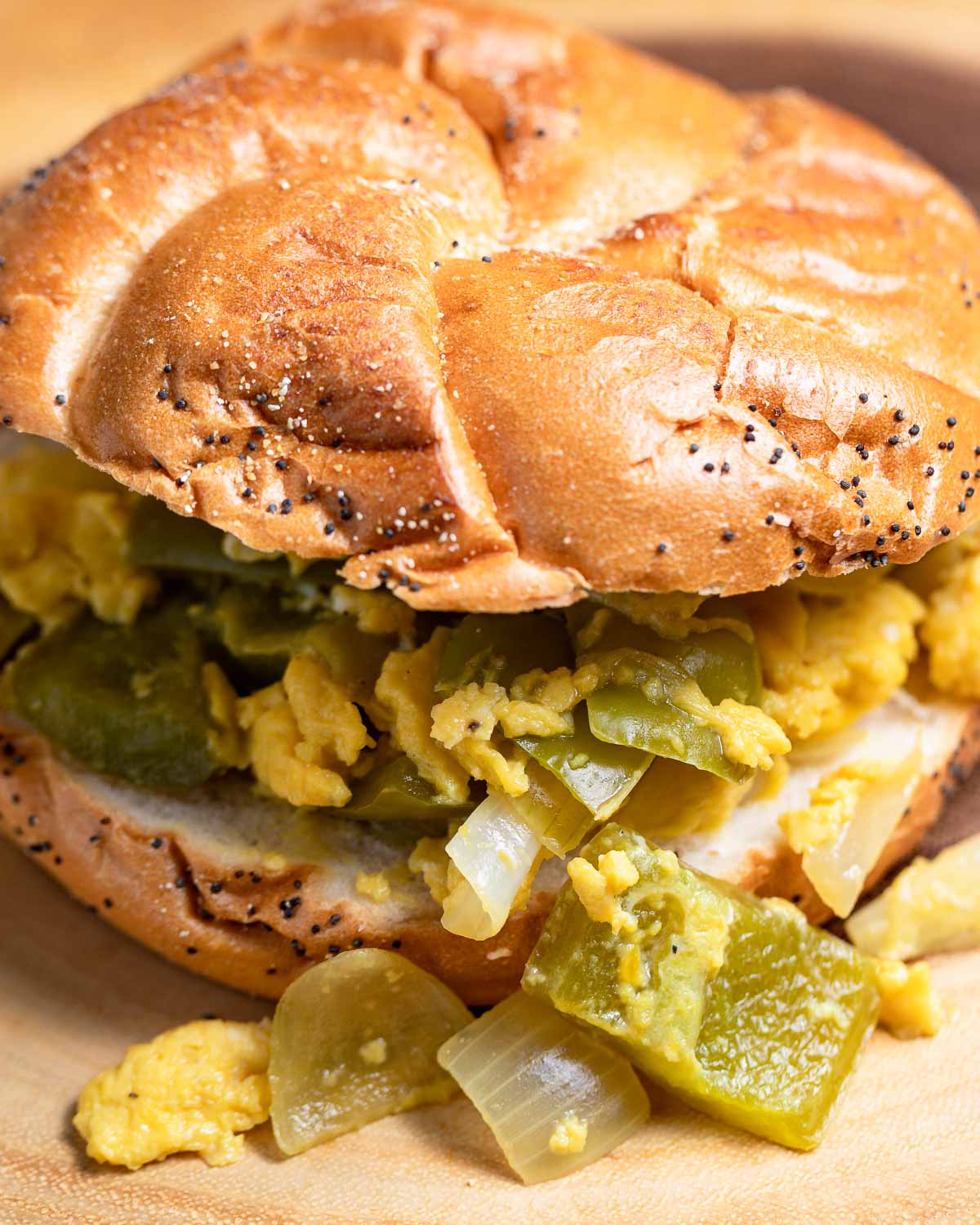 Pepper and egg sandwiches and other NY pizzeria staples
As I mentioned above, you will likely find this sandwich on the menu at most NY metro area pizzerias.
And if it's not on the menu, I'll bet any amount of money that they'll still make it for you if you ask.
It is that revered, and ingrained in the culture of Italian-Americans.
And I have made it my mission to curate some of the best NY-style pizzeria recipes here to share with you to make in your own home.
In addition to my homemade NY pizza recipe, check out some of these other favorites: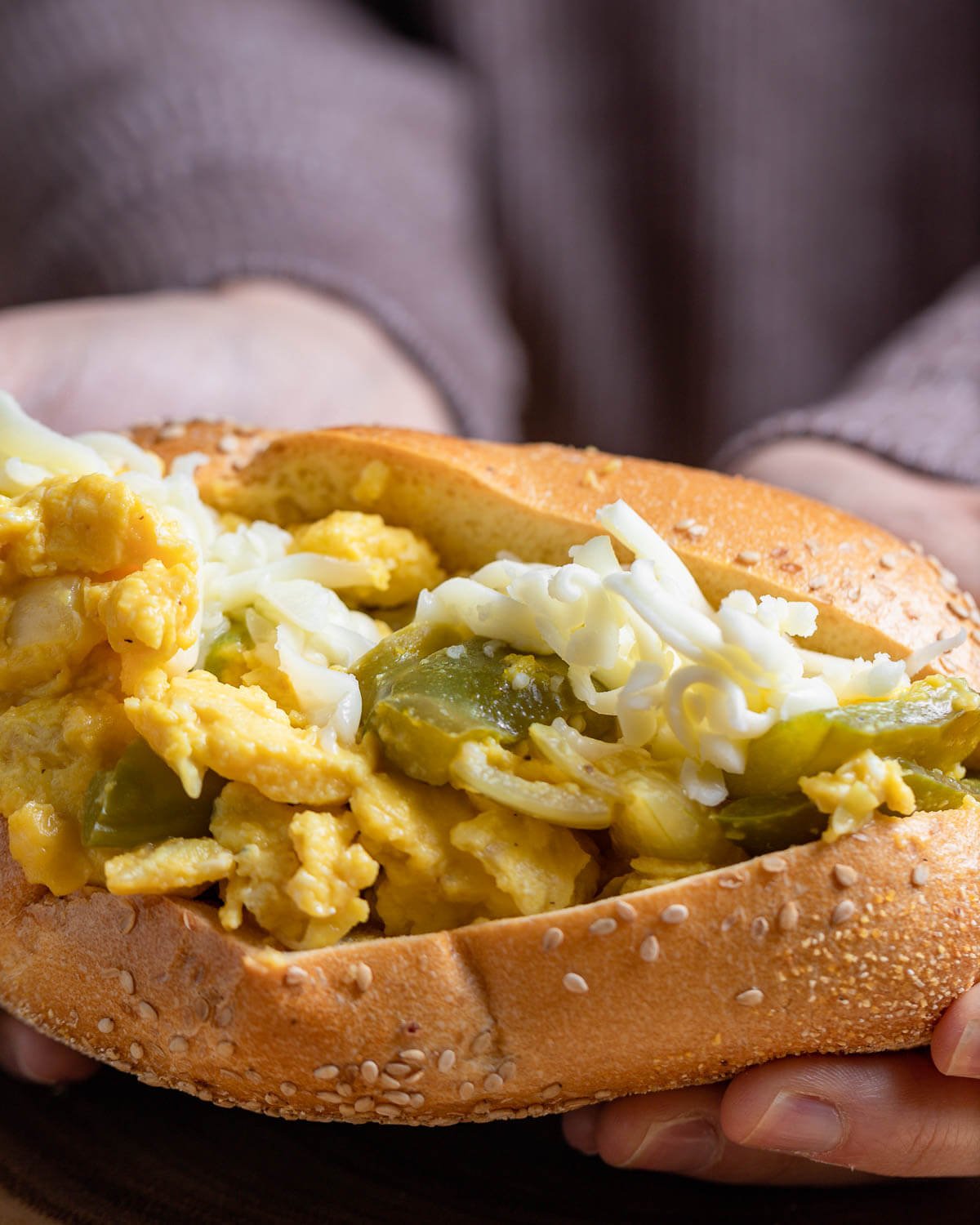 If you've enjoyed this pepper and egg sandwich recipe or any recipe on this site, give it a 5-star rating.
Also, check out our eggs in purgatory recipe and potato and egg sandwich which are other meatless favorites of ours.
Watch the video below where Jim will show you how to make this recipe with easy-to-follow instructions.
Some people learn by watching. If you're that type of person, you can find most of our recipes on YouTube and our Facebook Page.
Green bell and cubanelle peppers, onions, and scrambled eggs are piled on hero bread in this popular pizzeria sandwich.
Ingredients
10

large

eggs

beaten

2

large

green bell peppers

seeded and chopped, see notes below

1

large

Italian frying pepper

seeded and chopped

2

medium

onions

chopped

4

round

deli-style rolls

or 3 hero (sub, hoagie) rolls

3/8

cup

olive oil

3

ounces

water

1 1/4

teaspoons

kosher salt

1/4

teaspoon

black pepper
Instructions
In a large pan saute the peppers and onions in a ¼ cup of olive oil over medium heat for 2 minutes then add the water and cover. Cook for 8 minutes or until peppers and onions are soft.

Remove the lid and continue to cook the peppers and onions for 2 minutes more to evaporate a bit of the water. Add the remaining olive oil and season the peppers and onions with salt and pepper.

Turn heat to medium-low and add the well-beaten eggs into the pan. Scramble the eggs until just cooked. Turn off the heat and taste test. Adjust salt and pepper if required.

Once satisfied, pile the pepper and eggs onto round or hero rolls and eat right away. Enjoy!
Notes
Makes 4 round roll sandwiches or about 3 hero sandwiches.
Calorie info is for 1 round sandwich.
Green bell peppers or Italian frying peppers (cubanelle) are recommended over sweeter red or yellow bell peppers.
Traditionally this sandwich isn't served with anything but pepper and eggs, but you can certainly "upgrade" the sandwich with cherry peppers, Calabrian chili paste, or mozzarella cheese, and/or Pecorino Romano.
Leftovers can be saved for up to 3 days. Reheat in 350f oven or microwave until warm.
Nutrition
Calories:
530
kcal
|
Carbohydrates:
43.7
g
|
Protein:
21.4
g
|
Fat:
30.6
g
|
Saturated Fat:
6.1
g
|
Cholesterol:
409
mg
|
Sodium:
1227
mg
|
Potassium:
396
mg
|
Fiber:
3.4
g
|
Sugar:
7.7
g
|
Calcium:
79
mg
|
Iron:
3
mg
Nutrition information is automatically calculated, so should only be used as an approximation.