Making a New York Style Italian Sub (aka hero or hoagie) doesn't have to be difficult. It's all about the ingredients: crispy, seedy Italian bread, layers upon layers of paper-thin capicola, salami, pepperoni and ham, vinegar-drenched shredded lettuce, fresh tomatoes, sliced onions, and cherry peppers. Plus some [not so] top-secret deli hacks to tie it all together. Bookmark this recipe – it's a good one!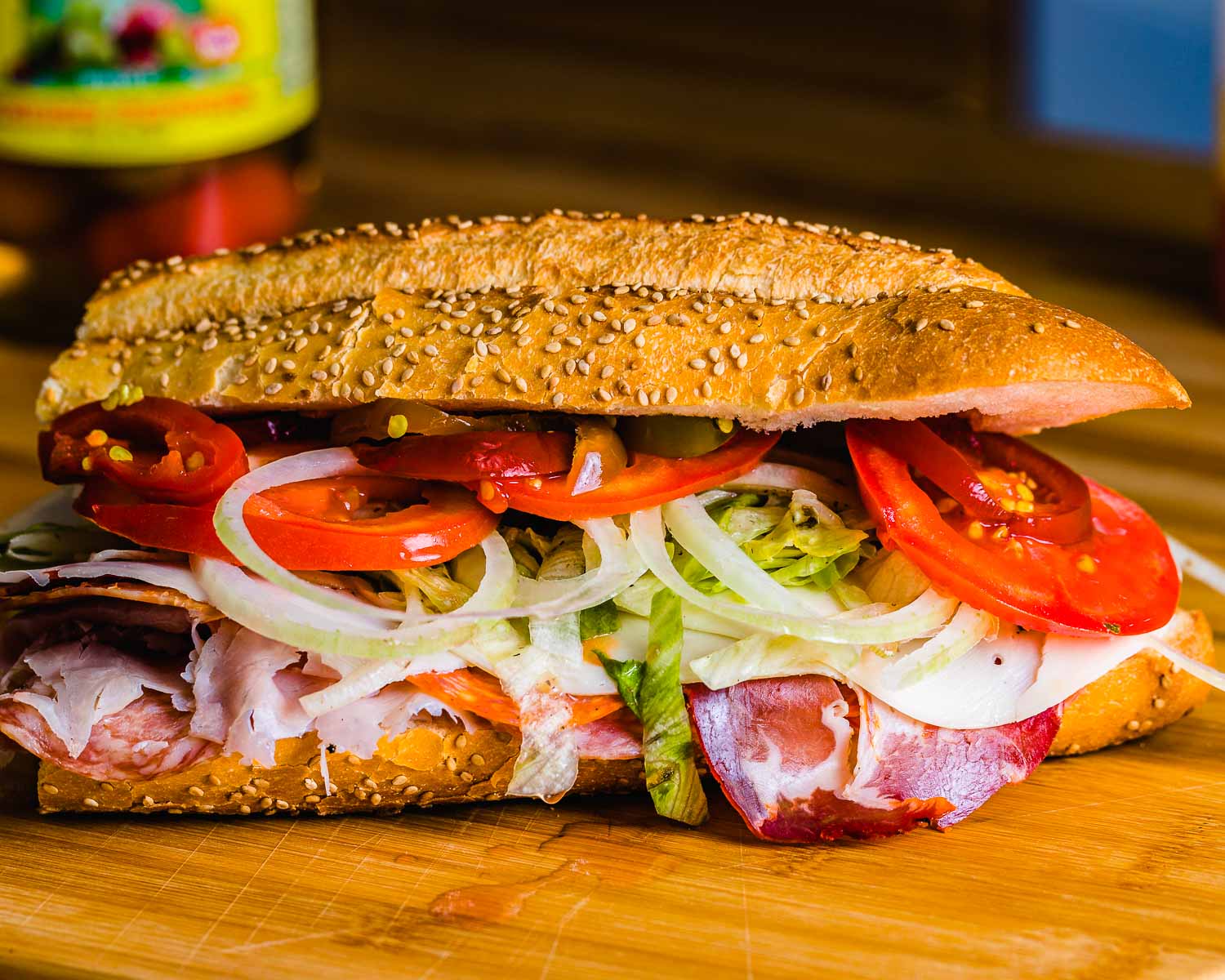 There is nothing quite like unfolding a parchment-wrapped Italian hero from a NY deli. Well except for maybe a New York pizza.
The heavenly smell hits you even before you take your first bite.
And when you finally do, the combination of flavors and textures come alive, beckoning you to continue eating, even long after you're full.
As you take your last bite, wiping the oil from your lips, you ask yourself, "how do they do it?"
After working in NY delis for years, and having made (and eaten) hundreds of Italian heroes, I'm here to help demystify the many nuances of the beloved Italian Sub.
Although let's be honest here, if we're in the NY metro area, we're calling it a hero!
Quality Cold Cuts
The type of cold cuts you use may vary. I prefer to use a few different types.
For this recipe, I used Boar's Head boiled ham, imported capicola (the deli meat Tony Soprano lovingly referred to as "gabagool"), Genoa salami, and pepperoni.
All sliced ultra thin. You can also throw mortadella into the mix, though most places will use the first 4 I mentioned above.
I also used provolone cheese. Provolone is non-negotiable. You simply cannot use American, cheddar, muenster, or really any other type of cheese on a NY-style Italian sub.
The only cheese that might be an alternative is sliced mozzarella, and that is really a "break in case of emergency" type situation.
Let's Talk Lettuce
Ok, so you may think lettuce is the least important ingredient in an Italian sub, and while it probably isn't as important as the cold-cuts, you certainly can't have an Italian sub without it.
But there are a few things you should consider doing with your lettuce.
First off, it needs to be iceberg lettuce. Romaine, arugula, and other green leafies are all wonderful, but they have no business being in an Italian hero.
The success of the Italian sub depends not just on the type of lettuce, but how you prepare it.
Pro tip: You need to shred the iceberg for this sandwich. Then, you need to toss it in vinegar, olive oil, salt, and pepper. I also like to add dried oregano to the mix. Toss the lettuce right before assembling the hero so that it doesn't get soggy. I discovered this nugget of information years ago, and trust me – it is worth your while.
Best Condiments for an Italian Sub
In addition to the iceberg lettuce, any proper Italian hero or sub will also have onions, sliced paper thin.
Pro tip: To take the bite out of your onions, soak them in water for a bit. This will help if you like your onions less pungent. Just be sure to dry them very well so they don't add water to your sub. Most of the time I like my onions just fine without soaking in water.
You'll also need tomatoes, sliced thin.
Pro tip: When layering the ingredients, do not place the tomatoes next to the cheese. Both are very slippery and once combined, there is a chance that one or both ingredients will wind up sliding right off.
I love adding peppers to my Italian subs. I like heat, so I will typically use sliced cherry peppers or Cento's hoagie spread as pictured below. Tuscan peppers can also add a nice kick.
If heat is not your thing, you can definitely add some roasted red peppers.

What Bread to use for an Italian Sub
If you order an Italian hero in a NY deli, you are going to get it on an Italian hero roll, which is a 12-inch oblong-shaped roll. It will either be seeded with sesame seeds or plain.
While these are the gold standard, they aren't readily available in many parts of the country.
You could use a baguette, but I'm afraid it might be too crusty and dense. Another option is to buy a full loaf of Italian bread and use a portion of it for your sub.
Alternatively, you can also make the bread yourself. I will have a recipe up on how to make Italian bread very soon.
Pro tip: After slicing your hero loaf, if there is too much bread, scoop some of it out so the meat can easily nestle within the cavity. This is common practice here in New York. Many customers will request the bread be scooped out. They have been asking for this long before carbs and gluten were a public concern. I think many people just want more meat on their sandwich!
How to make it
Begin to prep your condiments, including slicing your onions, tomatoes and decide which cherry (vinegar) peppers you plan to use. Note: prepared hoagie spread is basically just chopped up cherry peppers and perfect for when you're in a rush.
Remove the seeds and stems from the whole cherry peppers and slice. If soaking your onions, now is a good time to do that.
Mix your olive oil and vinegar in a shaker bottle. Shred your lettuce and season with oregano, salt, and pepper, to taste. Drizzle a bit of the oil and vinegar mixture onto the lettuce and give it a quick toss, reserving most of the vinegar mixture for the sandwich (see step 7).
If needed, scoop the bread out to create a cavity within which the meat and other ingredients can nestle.
Begin to layer the meat, starting with the thinly sliced ham.
Pile on your salami, pepperoni, capicola (gabagool), and provolone.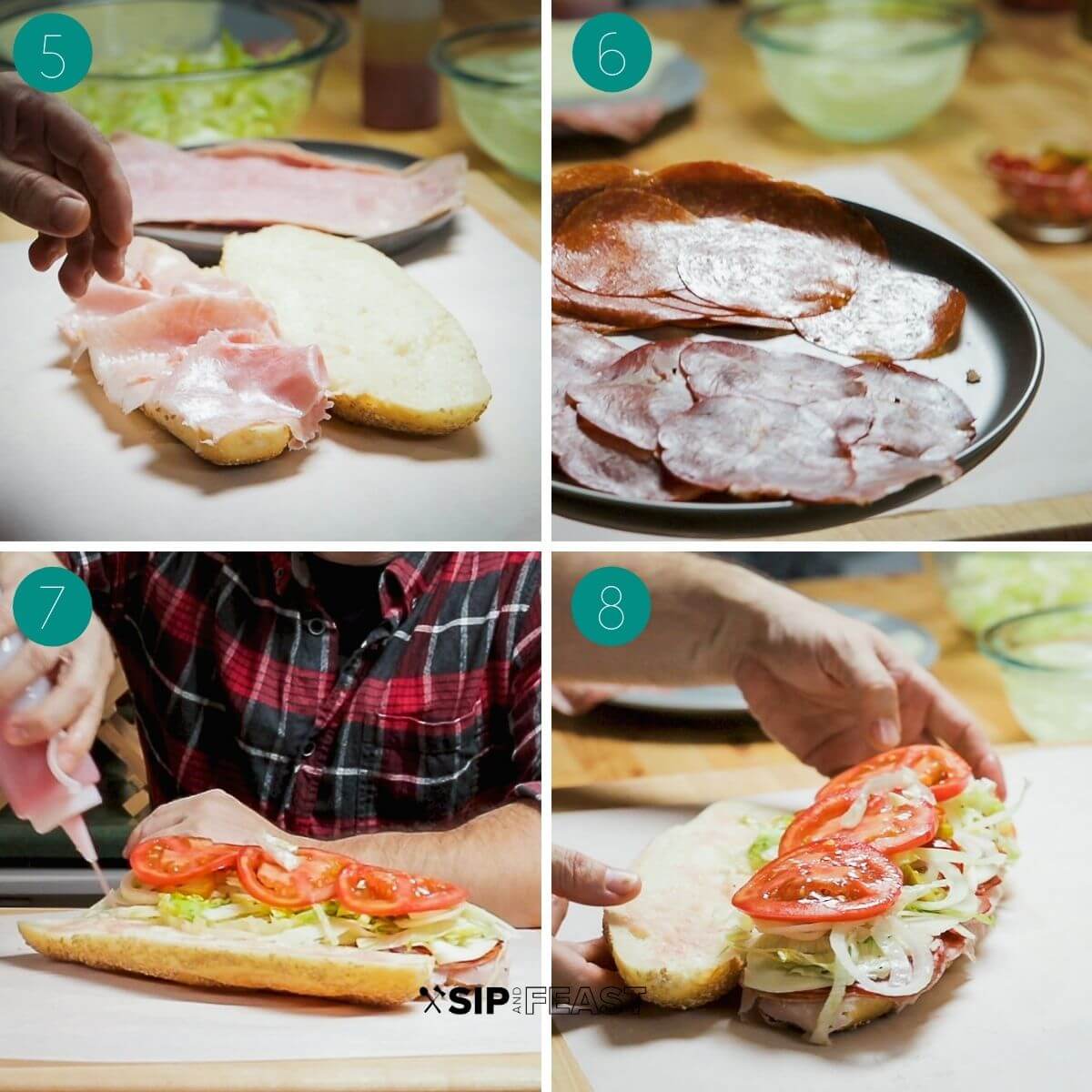 Add your condiments, including the lettuce/oil/vinegar mixture, cherry peppers, onions, and tomatoes, taking care to not layer the tomatoes on top of the cheese, unless you enjoy slippery ingredients. Add a healthy dose of the oil and vinegar to the bread to further dress the sub.
To close the sandwich, lay your knife, length-wise, on top of the ingredients and press down. While applying pressure fold over the top layer of the bread to close it all together. If you want to make this really legit, wrap in parchment paper before slicing half-way. Eat immediately!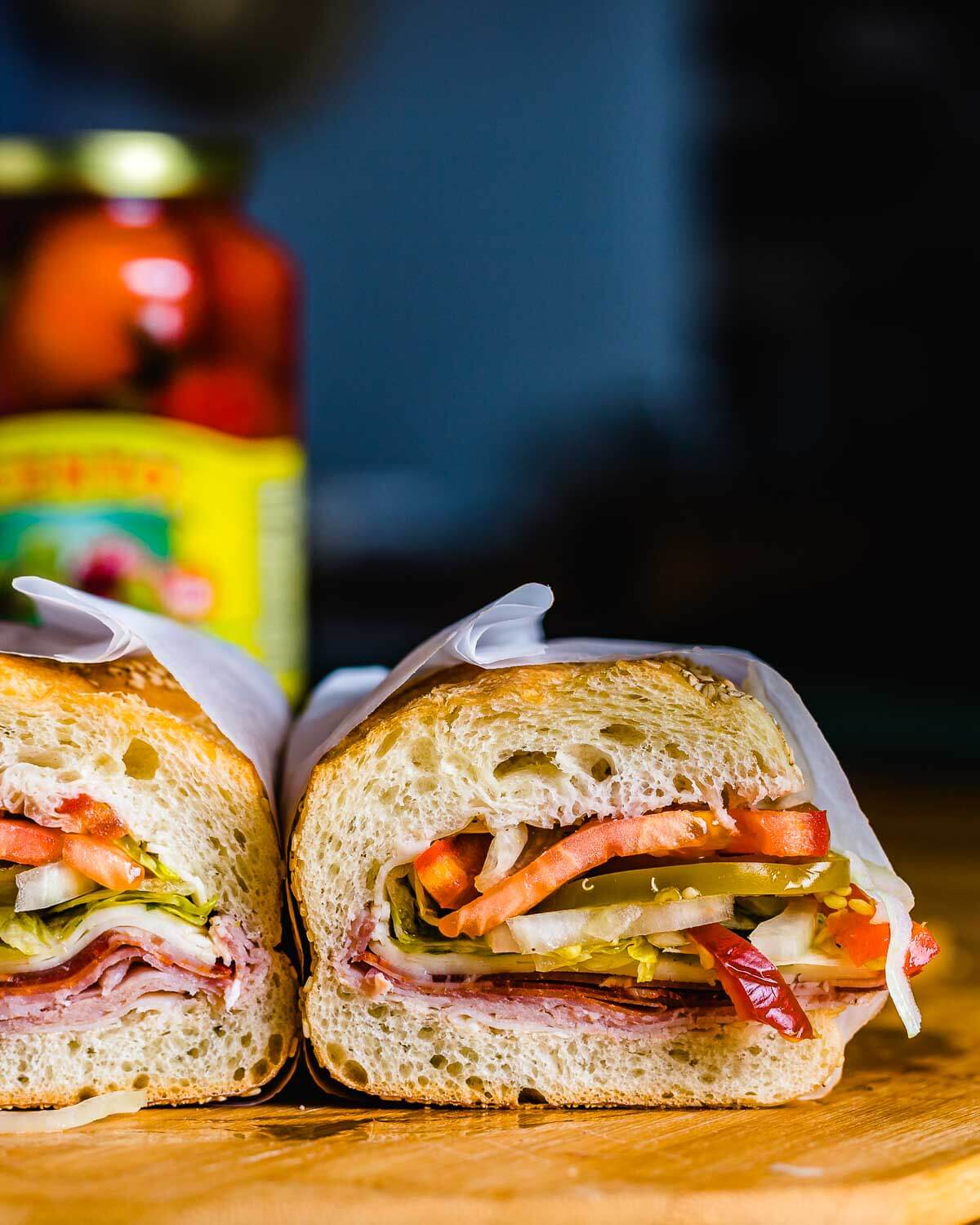 Why You Should Make this Italian Sub
A better question is why shouldn't you make this?
This is the iconic Italian hero that is found in every NY deli, and for good reason: it showcases each of the ingredients, is full of flavor, and beloved by many!
It's super easy to make for a weeknight dinner.
It's filling! And since it basically has a salad on top, you don't really need to serve it with anything.
Other Amazing Sandwiches
Much like that kid in Bad Santa, I have a thing for sandwiches. Working in delis for many years, I've made many.
Some of my favorites I've already shared here on the blog. Others will eventually make their way here. There are more sandwiches on the YouTube channel. Here is a full Italian sandwich playlist.
What are your favorite sandwiches, and what would you like me to make here on the blog, or on the YouTube channel? Drop me a comment below and let me know!
If you've enjoyed this New York Italian hero recipe, or any recipe on this site, we want to know so give it a star rating and tell us in the comments below.
We would love to hear how you did and it's nice to show others as well. Thanks!
Watch the video below where Jim will show you how to make this recipe with easy-to-follow instructions.
Some people learn by watching. If you're that type of person, you can find most of our recipes on YouTube and our Facebook Page.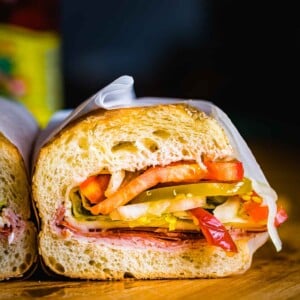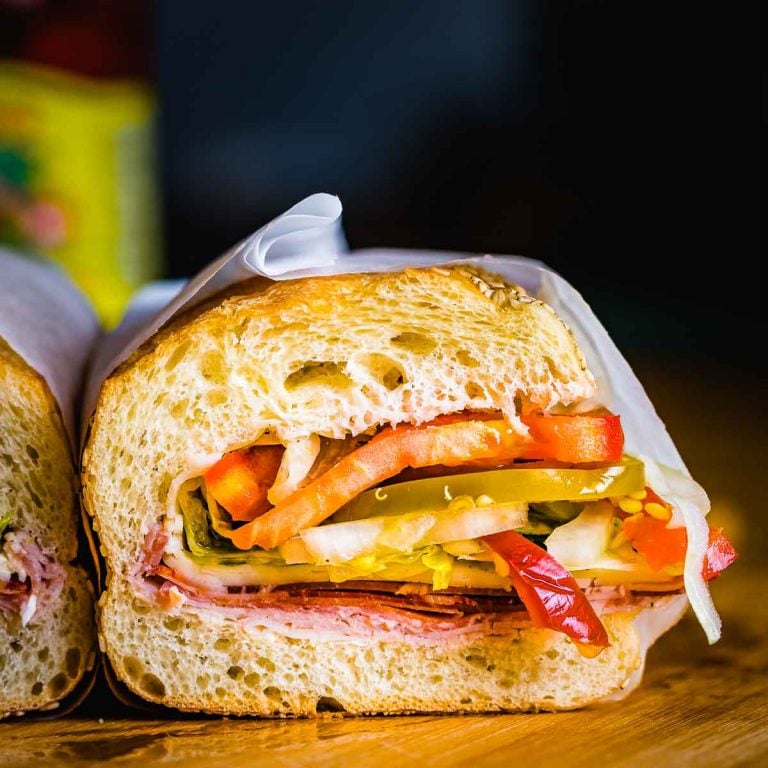 New York Italian Hero with capicola, ham, salami, pepperoni, provolone, lettuce, tomato, onions, and cherry peppers topped with tangy red wine vinegar and olive oil.
Ingredients
1

large

sub roll

1/10

pounds

capicola

thin sliced

1/10

pounds

Genoa salami

thin sliced

1/10

pound

boiled ham

thin sliced

1/10

pounds

pepperoni

thin sliced

1/5

pound

provolone cheese

1

medium

tomato

sliced

1

medium

onion

sliced

4

medium

cherry peppers

destemmed, seeded, and sliced

1 1/4

cup

iceberg lettuce

shredded

4

ounces

red wine vinegar

3

ounces

olive oil

3/4

teaspoon

dried oregano
Instructions
Mix the oil and vinegar in a shaker bottle. Shred the lettuce and season with the oregano and salt and pepper to taste. Drizzle a bit of the oil and vinegar (save most of it for the sandwich) onto the lettuce and set aside.

Layer the meat, then the cheese onto 1 large hero (sub, hoagie) roll.

Top with the seasoned lettuce, cherry peppers. Add as much sliced tomato and onion as you like.

Soak the bread and meats with the oil and vinegar mix.

Eat quickly so the sandwich doesn't become too soggy. Enjoy!
Notes
Ingredient amounts are for one large (approximately 12" hero/sub/hoagie) roll.
Just increase the ingredient amounts for the number of sandwiches you need.
A typical New York style hero uses 1/3 to 1/2 pound of deli meat and a thin layer of cheese. Round deli sandwiches typically have a 1/4 pound of meat and one thin layer of cheese. Use these amounts as a general rule.
Combining the oil and vinegar in a plastic squeeze bottle makes it easy to distribute just the right amount to each sandwich. Pass the bottle around to let individuals add as much oil and vinegar as they like.
Nutrition
Calories:
963
kcal
|
Carbohydrates:
42.9
g
|
Protein:
61.9
g
|
Fat:
61.8
g
|
Saturated Fat:
29.4
g
|
Cholesterol:
180
mg
|
Sodium:
3200
mg
|
Potassium:
467
mg
|
Fiber:
2.6
g
|
Sugar:
6.8
g
|
Calcium:
769
mg
|
Iron:
7
mg
Nutrition information is automatically calculated, so should only be used as an approximation.