The bacon egg and cheese sandwich is the quintessential New York-style breakfast. Quite simply, it includes crispy bacon, fried eggs, yellow American cheese, all piled onto a poppy seed sandwich roll. As simple as it is, it's often hard to find anywhere outside of the New York metro area. Our recipe walks you through how to make this on your own.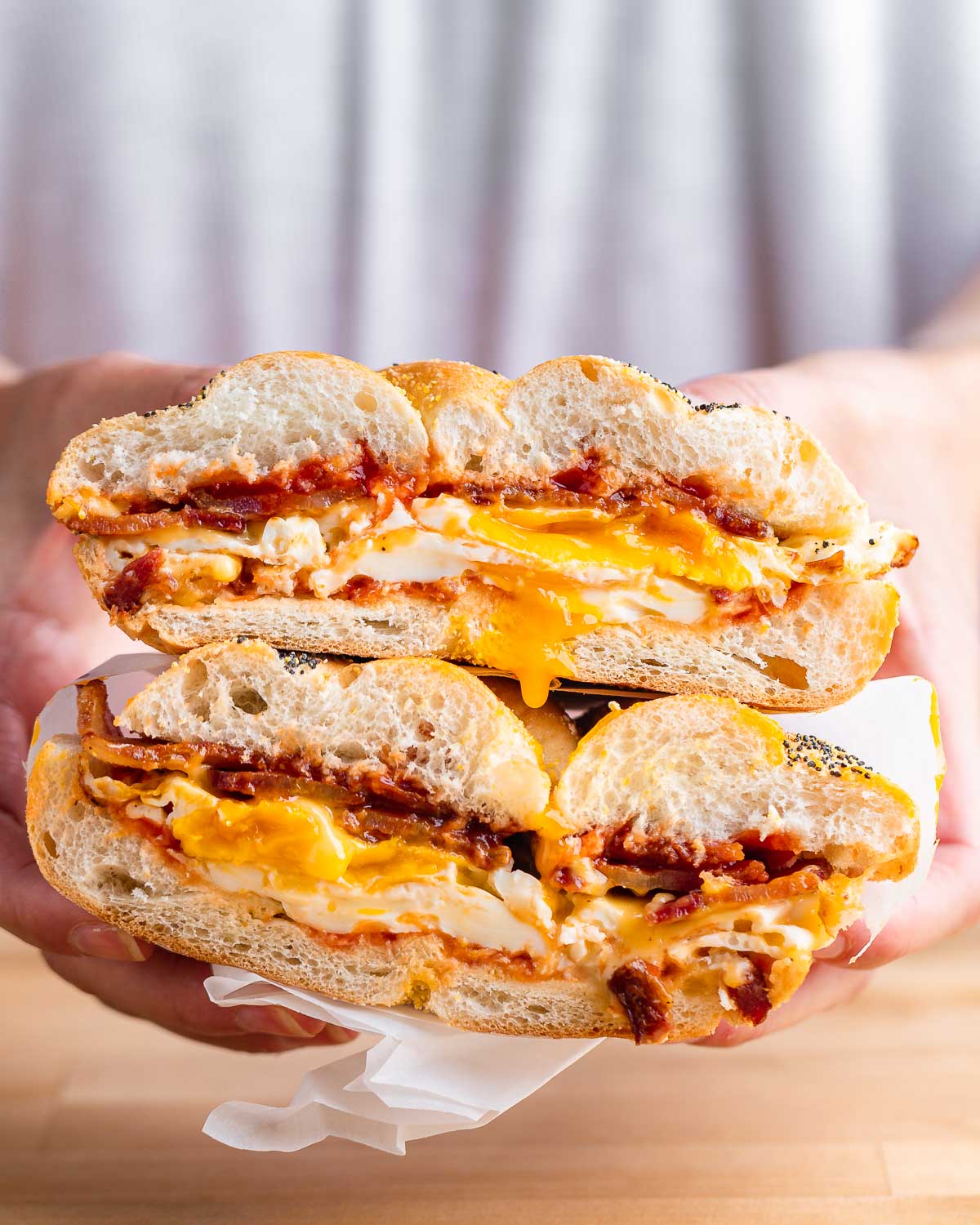 Walk into any deli in the New York area, and you'll hear guests ordering "baconeggandcheesesaltpeppaketchup". As if it were one long glorious word.
In a matter of minutes, they'll be handed a paper-wrapped sandwich with "BEC SPK" scrawled on top.
They'll leave with an abundance of napkins that the cashier has lovingly tucked into a brown bag, their cheap cup of deli-urn coffee in a large cup, and a smile because they know they're about to experience something special.
The bacon egg and cheese sandwich is how many New Yorkers start their day.
And how those who've left New York still want to start their day.
This version is the closest you'll get to making an authentic New York bacon egg and cheese sandwich at home.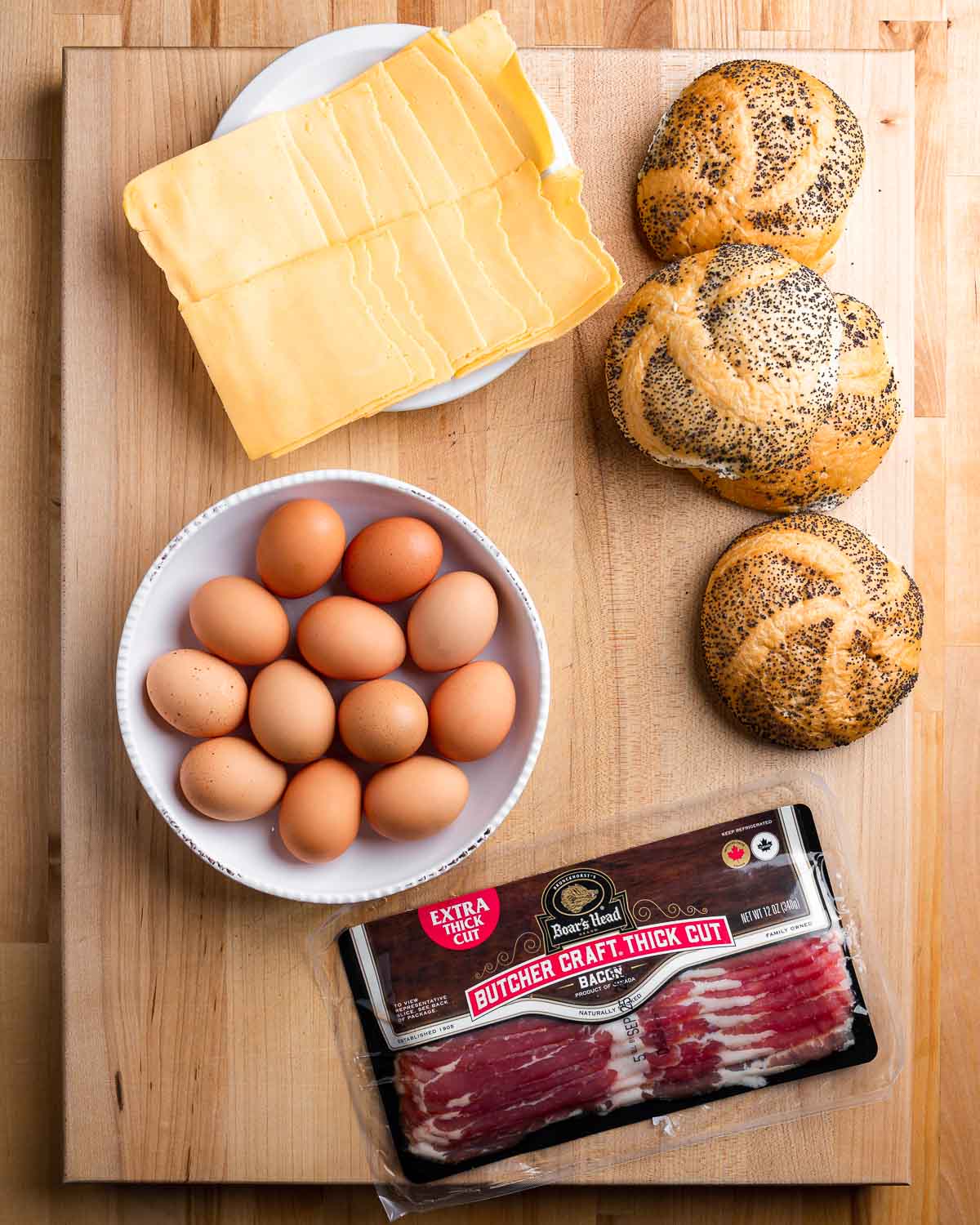 How to make it
Each number corresponds to the numbered written steps below.
Preheat the oven to 400f and set the 2 racks in the center of the oven. Place wire racks on foil-lined baking sheets (foil is not necessary but GREAT for easy cleanup) and lay the bacon out. Bake the bacon for approximately 25 minutes at 400f. Note: Cooking time will vary based on the thickness of the bacon. I'm using thick-cut Boar's Head bacon. Thinner bacon can take as little as 12 minutes to cook. Just keep an eye on the bacon and check frequently.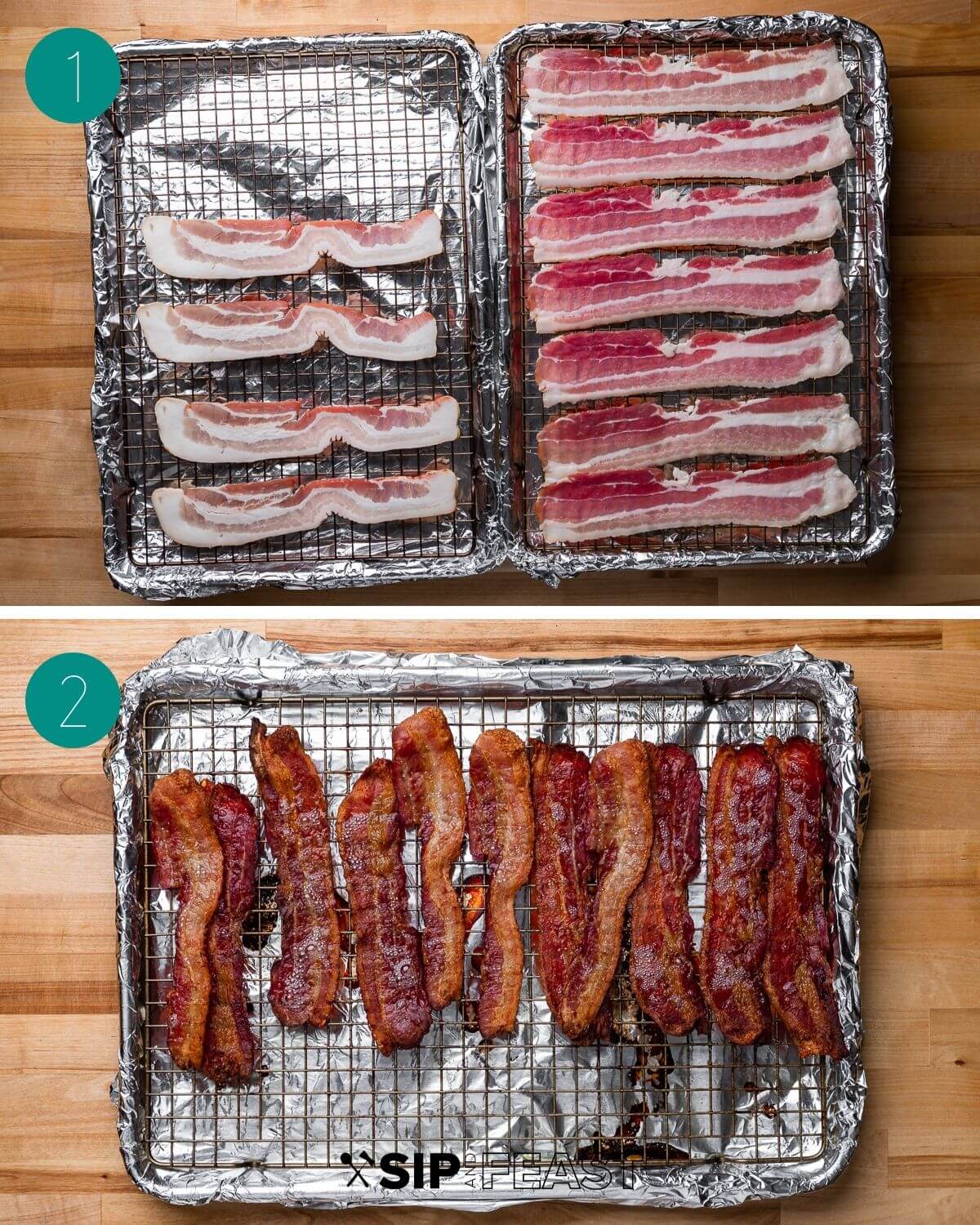 Once the bacon is cooked to your liking place it to the side and keep tented with foil to keep warm. You can also keep it in the oven at 170f to keep warm. Cut the 4 deli rolls now and place each one opened up on a piece of parchment paper large enough to completely wrap around the sandwich.
Heat a nonstick pan to medium heat and add a teaspoon of butter.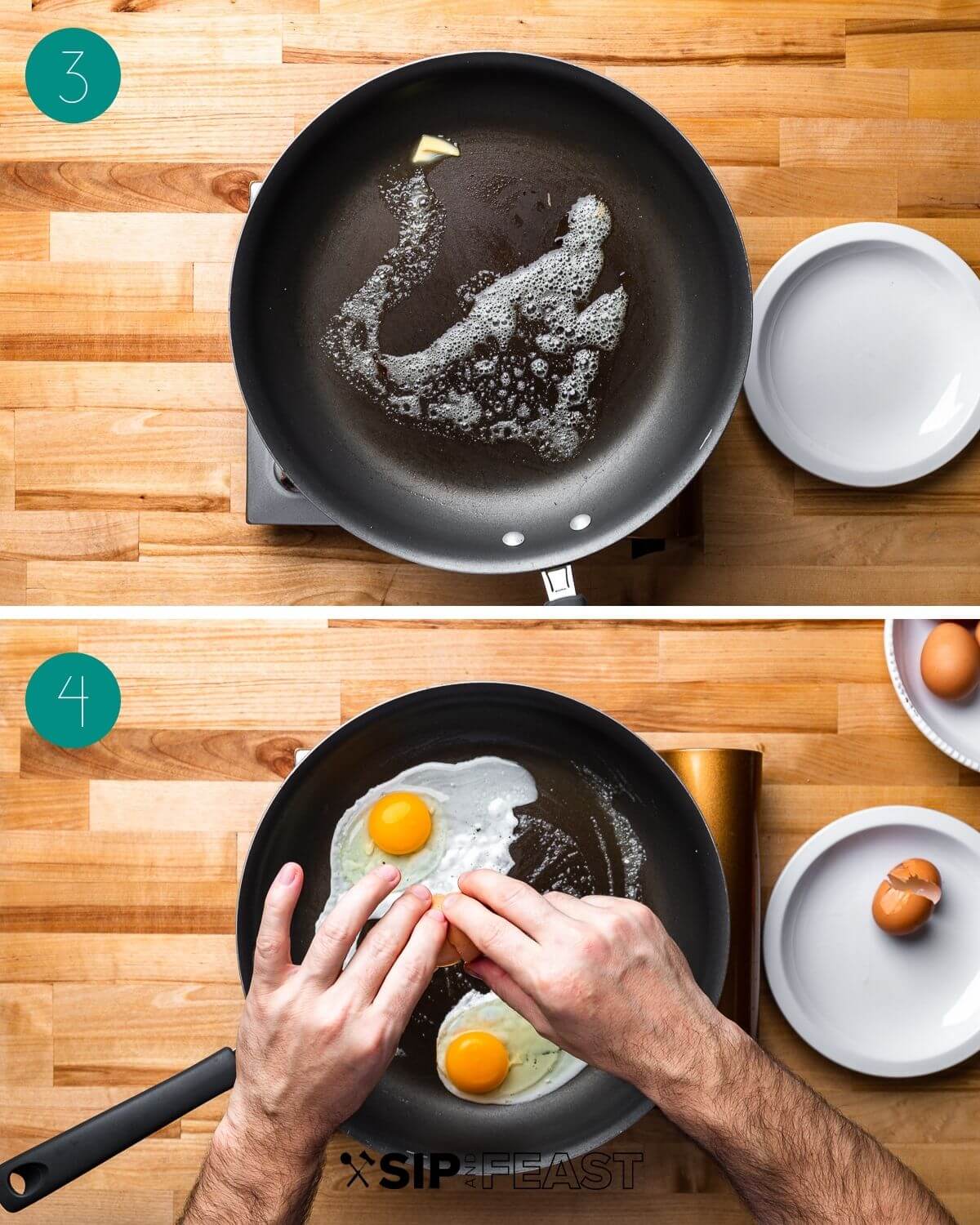 Crack two eggs into the pan. If you don't want over-easy eggs crack the yolk with your spatula tool. Tip: Cracking the eggs on a flat surface like a plate is better than using the side of the pan. Most of the time the yolks won't break and you'll get no shells in the pan.
Turn the eggs after about 2 minutes or once they harden up enough so that they can be easily flipped.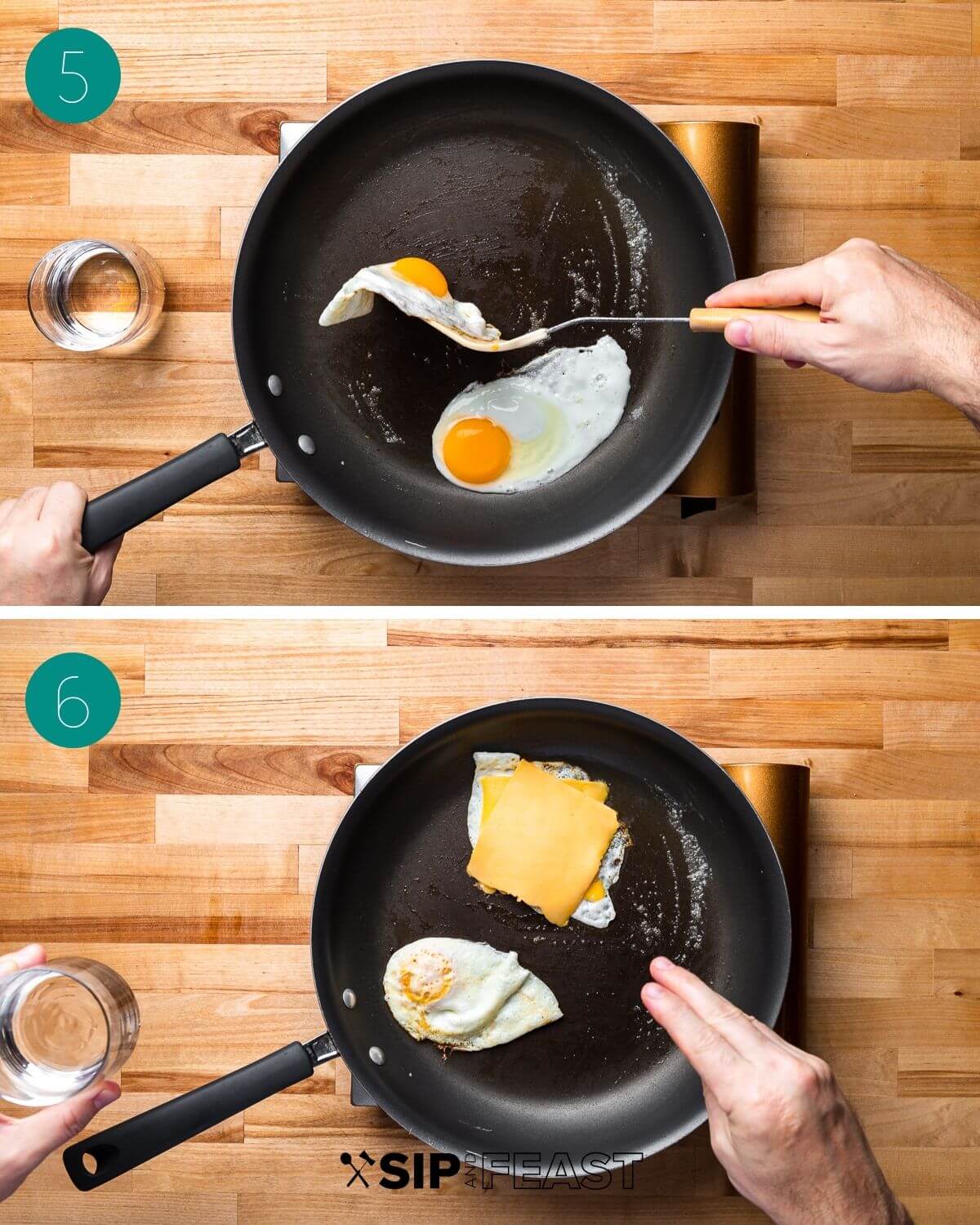 Place two slices of cheese onto one egg and sprinkle about 1 teaspoon of water into the pan. Cover the pan with a tight-fitting lid. Tip: This is the easiest way to create steam and melt the cheese fast. I used this trick often working at delis when I was young.
Once the cheese melts (should only take about 15-30 seconds) remove the lid.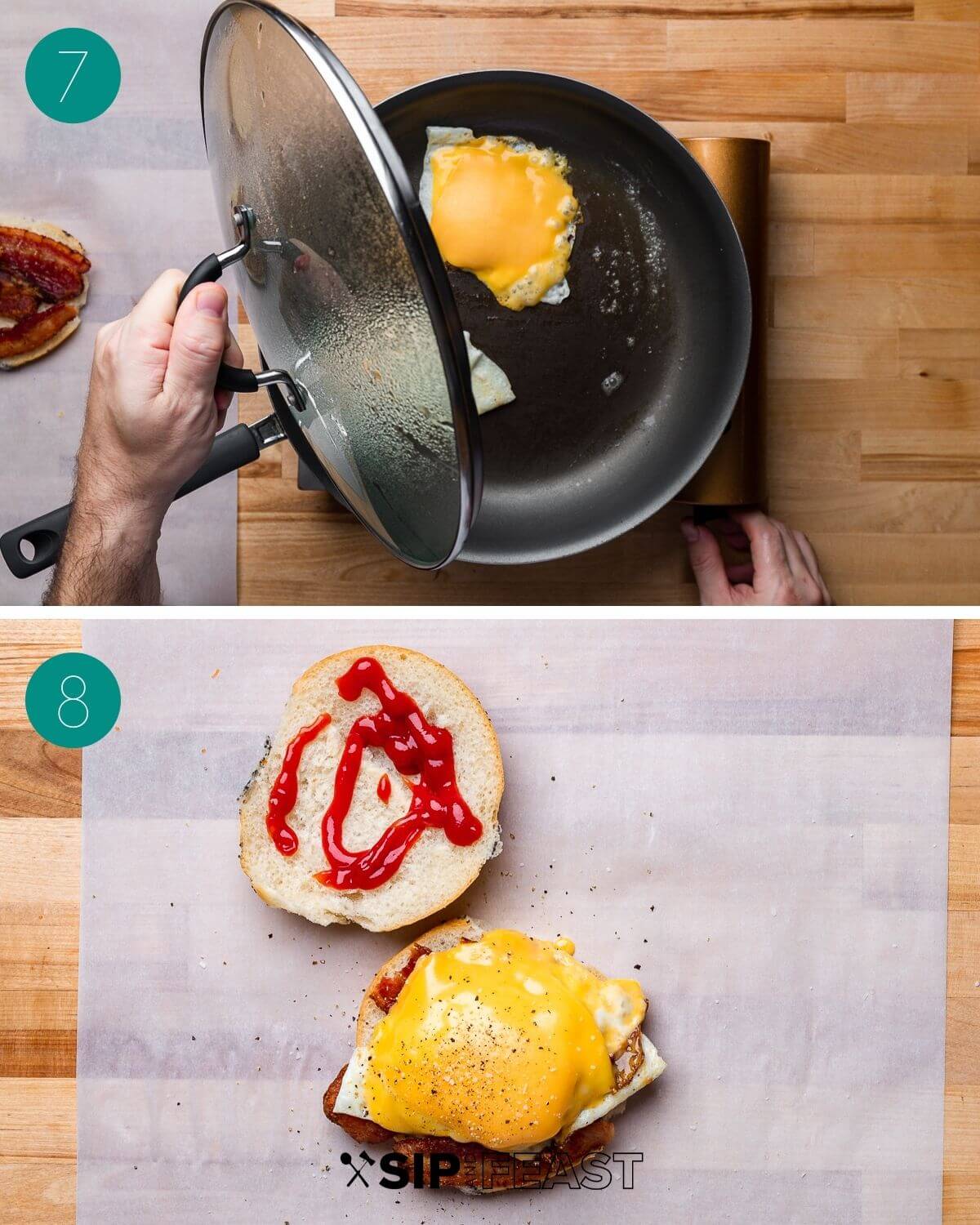 If you want ketchup, add it to both sides of the roll now. Place the egg without cheese down first then the egg with cheese. The bacon can be layed down first or last. It doesn't really matter. Sprinkle with salt and pepper to taste. Eat right away or follow the directions directly below on how to wrap it.
How to wrap a New York deli sandwich
This helps keep the sandwich warm for quite a while.
Wrap the paper around the sandwich and create a seam by folding the paper together. Wrap the sides in a triangle.
Fold the triangle sides under the paper and you now have a wrapped sandwich. Note: I'm using parchment paper. Delis use a thicker paper specifically made for wrapping sandwiches and heroes.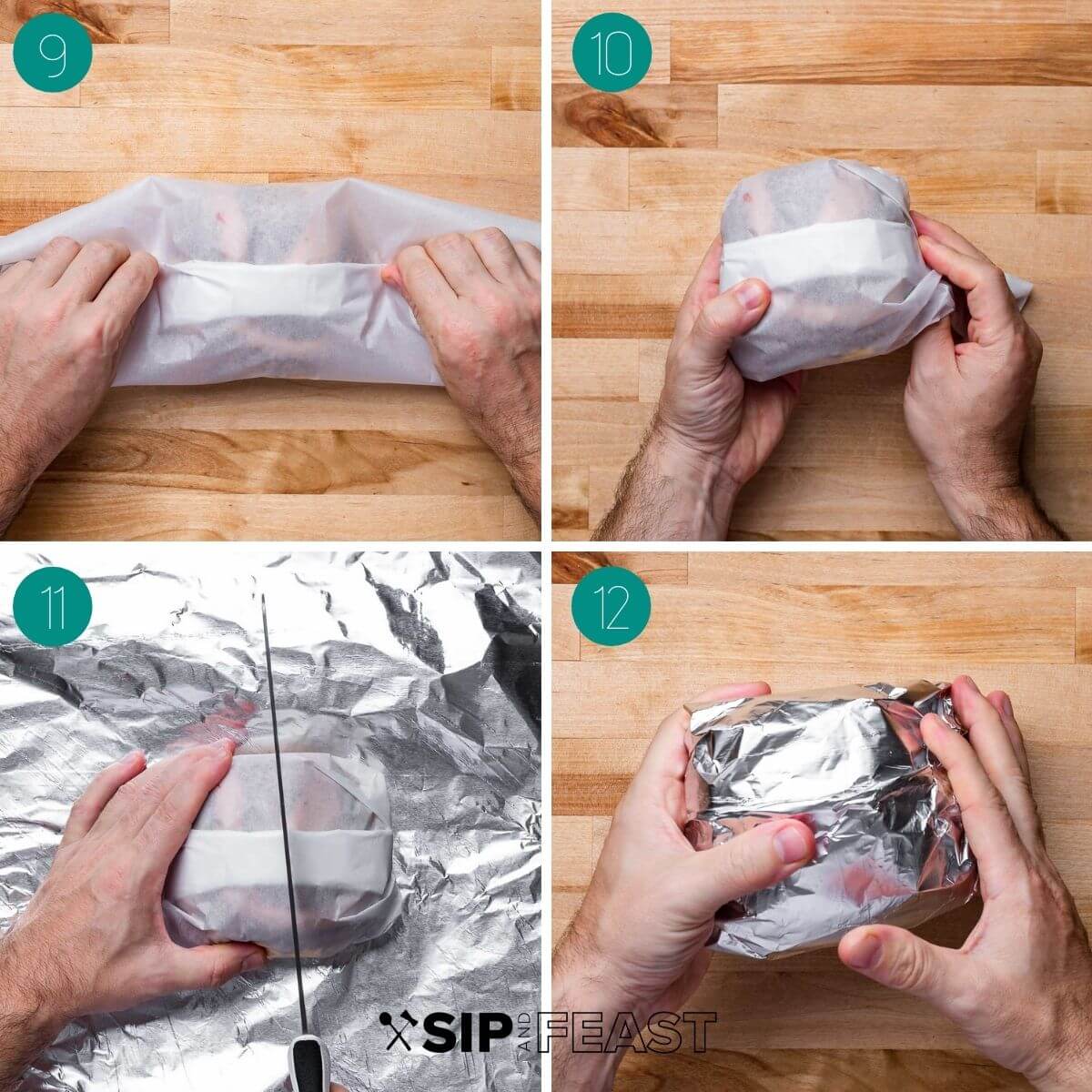 Cut the paper-wrapped sandwich in half if you want.
And then repeat the same original wrapping process with the foil. You can now cook the rest of your sandwiches and they will all be hot at the same time!
What makes the bacon egg and cheese sandwich so special?
When I was younger, I spent a number of years working in Long Island delis, making thousands of bacon egg and cheese sandwiches.
When I left the metro area to attend college in Albany, NY, and when I left again to live in Minnesota for 3 years, I realized both times how special the bacon egg and cheese actually is.
Because it's almost impossible to get one outside of the NY metro area.
It sounds cliched, but this sandwich is actually "often imitated, rarely duplicated".
And that's why I wanted to provide these steps for you to get the best possible homemade version of the NY bacon egg and cheese at home.
Especially for those of you who are homesick for New York.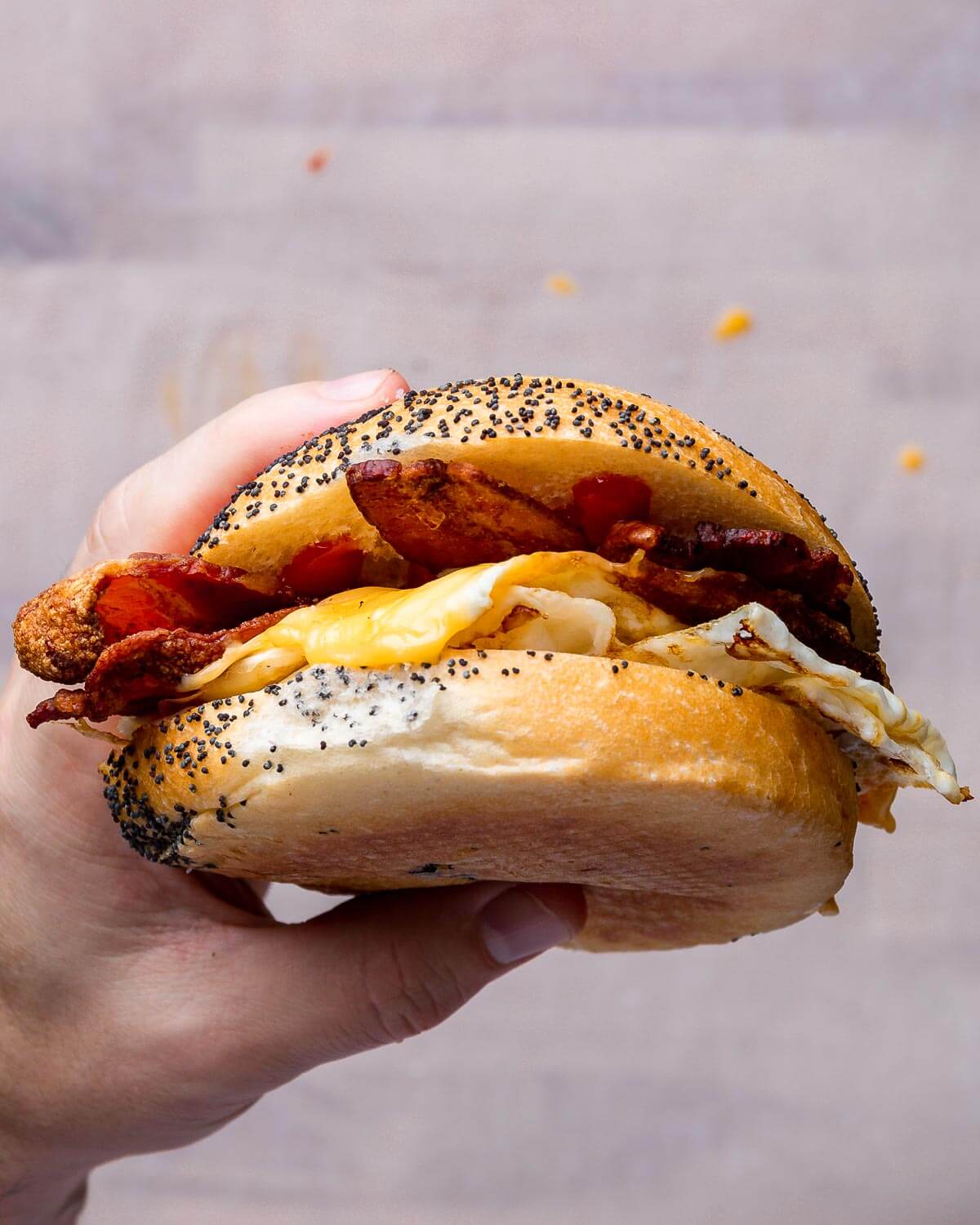 I have a few theories on what makes this sandwich so special:
The roll. The bacon egg and cheese is best served on a plain or poppy seed sandwich roll. The kind you'd find in a NY deli, or in a grocery store in NY. In my quest for rolls, I've found that the ones sold at Guinta's Meat Farms on Long Island most closely mimic those you'd get in a deli. If you're not in NY, I'd try to find a kaiser roll as that will be closest to this type of roll. Costco sold a good roll when we lived in Minnesota.
The cheese. New York delis use Boar's Head or Deitz and Watson yellow American cheese. When you order bacon egg and cheese you'll never be asked what type of cheese you want, because it's just known that the C in the BEC is always American. If you can't find Boar's Head where you are, I'd recommend using whatever yellow American cheese you can get from your grocery's deli counter. I'd avoid using Kraft singles for authenticity's sake.
The method. Most delis keep their grill tops slick with Kaola Gold or a similar product (grill shortening sold in large cans), combined with any bacon grease that may make its way from the warmed pile of bacon sitting in the top corner of the grill. For our home version, I use butter as it's something I always have on hand. While it's not exactly the same, it serves the same purpose of creating a slick surface to cook your eggs exactly as you'd like. And healthier too, though there is nothing too healthy about this sandwich! Some prefer over-easy, others preferred fried. If you want fried with a cooked yolk, simply crack the yolk with your spatula after you've flipped it once.
There are plenty more reasons why this sandwich is so special, and if you've ever eaten one, I'm sure you have a reason or two. Drop me a comment below and let me know what you enjoy most about the baconeggandcheese!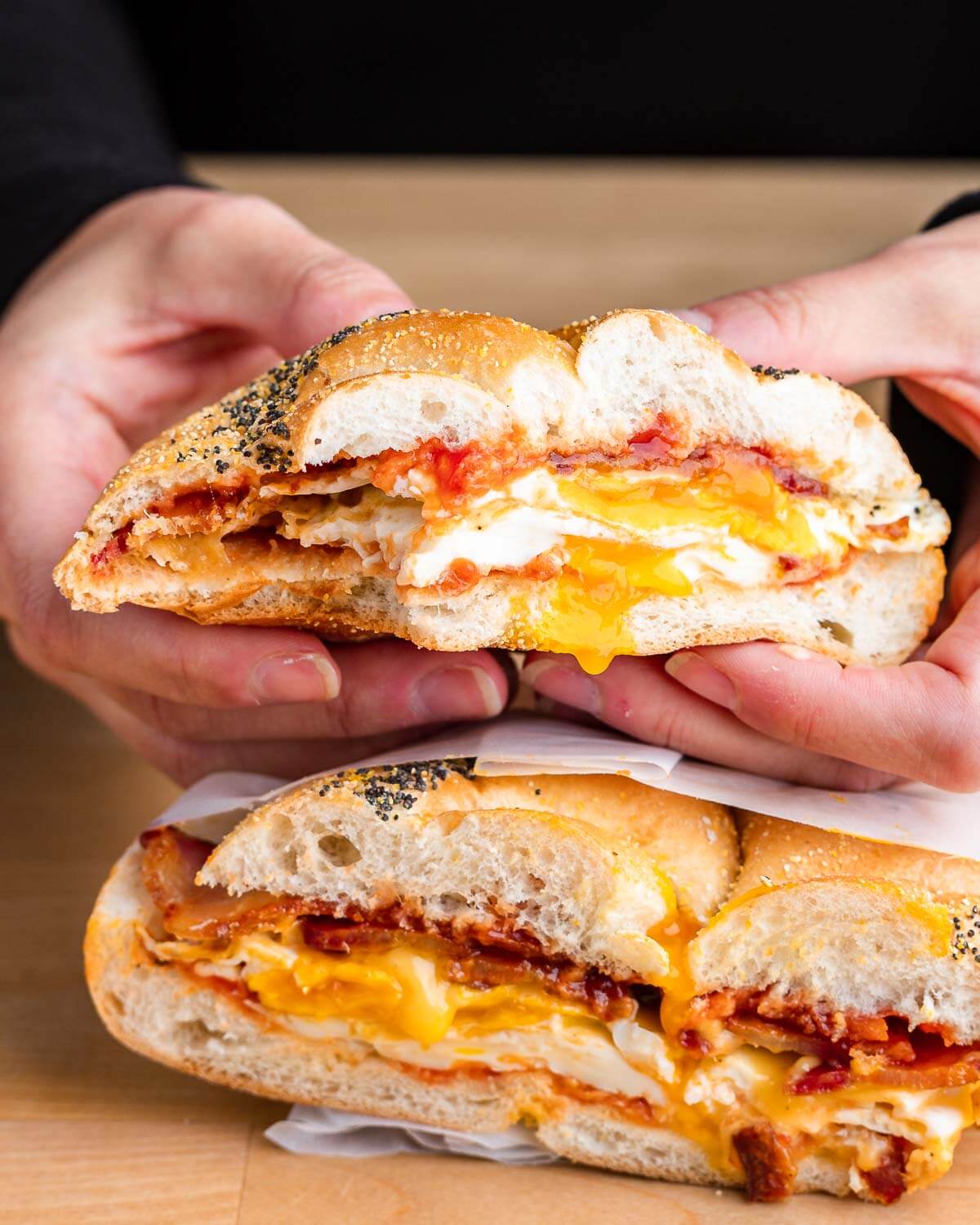 More New York-style sandwiches (and other NY favorites)
I've accumulated way more information than anyone should ever really have about sandwiches, as evidenced by my waist. 😉
And here are a few of our most beloved New York-style sandwiches – the type you'd grab from a deli or pizzeria while on your way to work, the beach, or the morning after a night of too much fun in the city.
If you've enjoyed this bacon egg and cheese sandwich recipe or any recipe on this site, give it a 5-star rating and leave a review.
Watch the video below where Jim will show you how to make this recipe with easy-to-follow instructions.
Some people learn by watching. If you're that type of person, you can find most of our recipes on YouTube and our Facebook Page.
Bacon Egg and Cheese Sandwich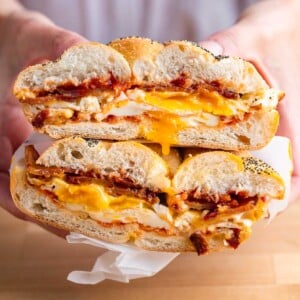 The classic New York deli breakfast that combines fried eggs, crispy bacon, and melted American cheese on a poppy seed roll.
Ingredients
8

slices

thick-cut bacon

see notes below

4

large

deli-style hard rolls

see notes below

4

teaspoons

butter

divided

8

large

eggs

8

slices

yellow American cheese

4

teaspoons

water

for melting cheese

salt and pepper

to taste

ketchup

optional, to taste
Instructions
Preheat the oven to 400f and arrange racks in the center. Cover 2 baking sheets with foil then place wire racks on top. Evenly spread thick-cut bacon out onto wire racks and bake for 20-25 minutes or until crispy and done to your liking.

Once the bacon is finished set aside and cover with foil to keep warm. Slice the 4 rolls in half and arrange each cut roll on a large piece of parchment paper for easy wrapping.

Heat a large nonstick pan or flat griddle to medium heat, then add a teaspoon of butter. Crack 2 eggs and cook for 2 minutes on one side then flip. If you want the egg yolks cracked, break it with the edge of a spatula or leave it alone for an over-easy egg sandwich.

Place two slices of cheese on only one of the eggs.

Sprinkle a teaspoon of water into the pan, then cover with a tight-fitting lid. Remove lid after 30 seconds and place the egg without cheese onto the roll's bottom. Place the egg with cheese on top. Top with bacon, salt, pepper, and ketchup then wrap in parchment paper. Wipe pan of any remaining water then repeat the same cooking process for the next three sandwiches.

After all 4 sandwiches are cooked, cut in half through the paper and wrap in foil to keep warm or serve right away. Enjoy!
Notes
Thick-cut bacon will take approximately 20-25 minutes to cook at 400f. Thin cut will only take about 12-15 minutes. Watch the bacon carefully during the cooking process.
New York-style deli rolls are sometimes seeded but don't have to be. They are soft and large and can be purchased in most supermarkets and any deli in the New York metro area. If you can't find these rolls, use your favorite roll, bagel, or bread.
Sandwiches should be eaten within 30 minutes of cooking and wrapping but can be reheated inside the wrapping in a 300f oven until hot.
Nutrition
Calories:
490
kcal
|
Carbohydrates:
5.2
g
|
Protein:
44.9
g
|
Fat:
31.7
g
|
Saturated Fat:
13.4
g
|
Cholesterol:
443
mg
|
Sodium:
1600
mg
|
Potassium:
210
mg
|
Sugar:
5
g
|
Calcium:
226
mg
|
Iron:
3
mg
Nutrition information is automatically calculated, so should only be used as an approximation.