Giardiniera is the Italian pickled vegetable condiment that's a must for sandwiches, burgers, and so much more! This crunchy combination of carrots, celery, cauliflower, and peppers is so easy to make at home you'll never use store-bought giardiniera again!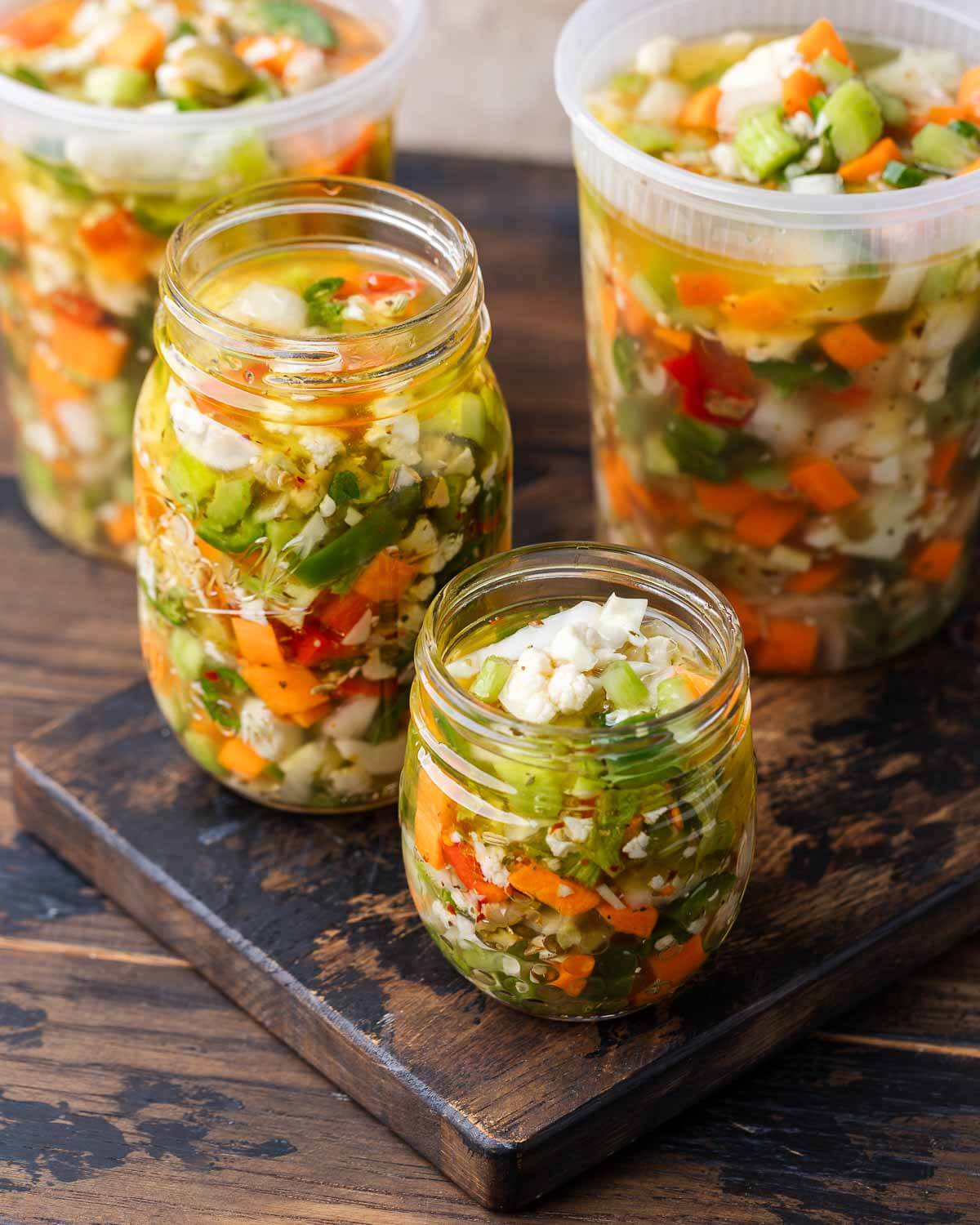 I've had store-bought giardiniera many times throughout my life and while it's always been good, it never had that "wow factor".
And then I made it at home and haven't looked back.
Not only is homemade giardiniera surprisingly easy to make at home, it's entirely customizable which means you can make it as mild or hot as you'd like.
While giardiniera is the traditional accompaniment to Chicago-style Italian beef sandwiches, it's also great on top of potato frittatas, pepper and egg sandwiches, grilled steak, pizza, and just about anything else you can think of!
Table of Contents
Recipe Ingredients
All ingredients for this recipe are shown in the pic below and special notes are made in this bulleted list to assist you.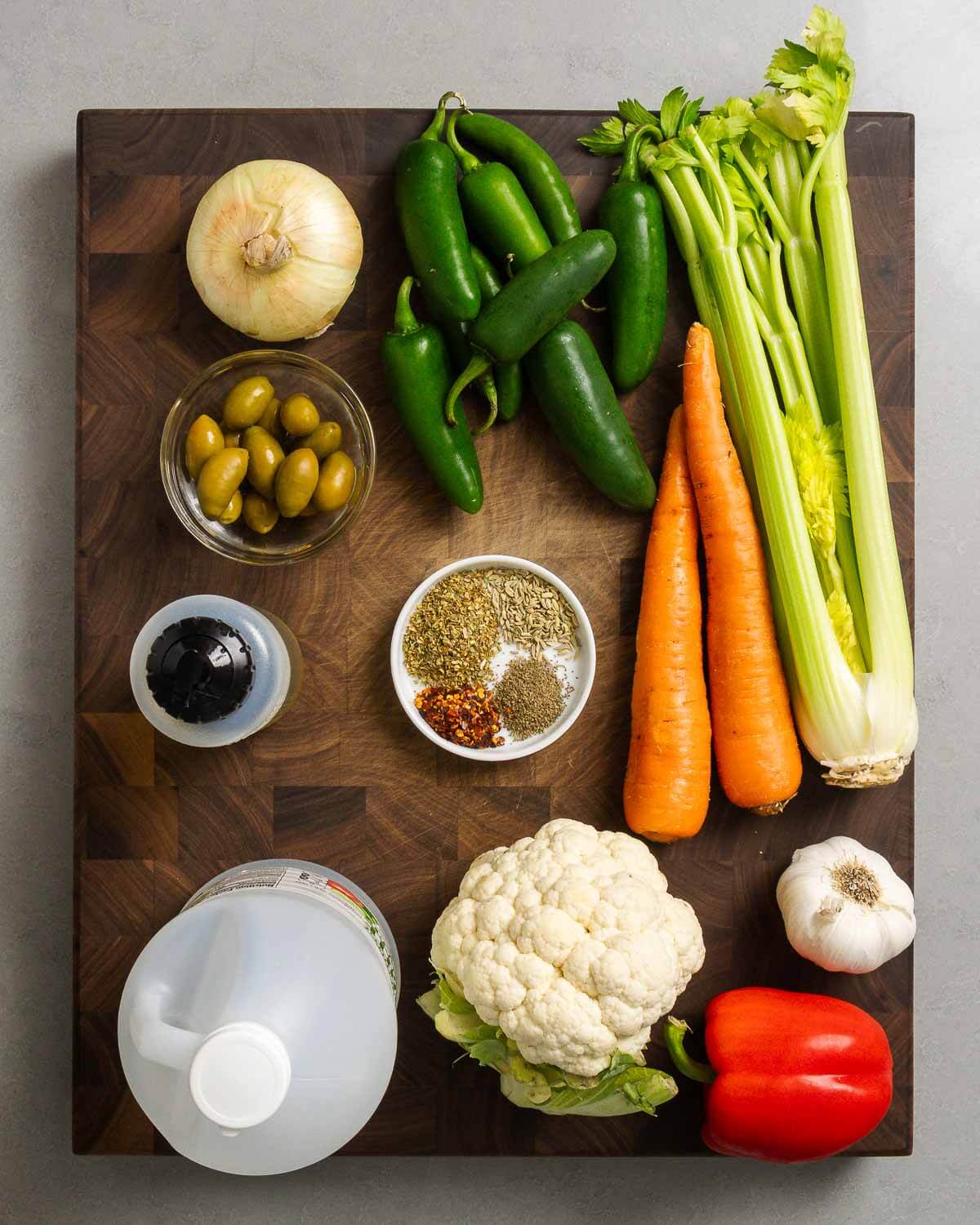 Cauliflower, carrots, and celery. These 3 are the main stars of the show and a must for traditional giardiniera.
Jalapeños and serranos. Spicy peppers are great in giardiniera, especially for those who like some heat. If you prefer no spice, simply omit them or replace them with a green bell pepper.
Green olives. While green olives aren't a requirement in giardiniera, they add great flavor.
Olive oil. You can use regular olive oil or extra virgin.
Vinegar. White vinegar is preferred and will preserve better than water, which believe it or not, is often used over vinegar in Chicago Italian beef joints. I personally prefer vinegar.
Seasoning. We're using a combination of celery seeds, dried oregano, fennel seeds, and hot red pepper flakes to elevate the flavors in our homemade giardiniera.
See the recipe card for complete information on ingredients and quantities.
How to make it
Each number corresponds to the numbered written steps below.
Chop 4 cups worth of cauliflower (approximately 3/4 of a head), and dice 5 celery ribs and 2 large carrots. Dice 1 large sweet onion, 1 large red bell pepper, and chop 1/2 cup of pitted green olives (Photo #1).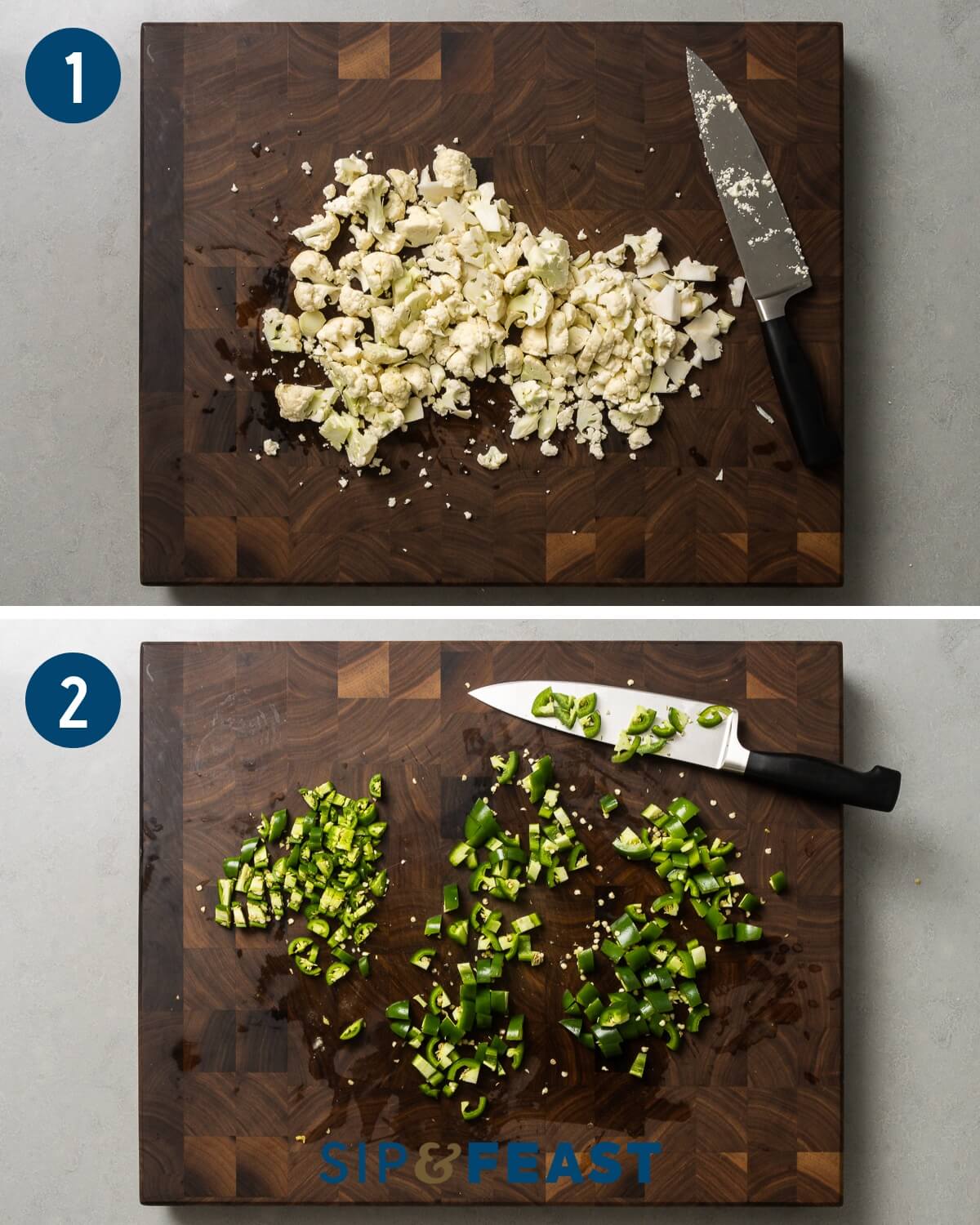 Dice 3 serrano peppers and 8 jalapeño peppers (Photo #2).
Place the chopped vegetables into a large bowl, add 1/4 cup of salt, and mix to distribute evenly (Photo #3).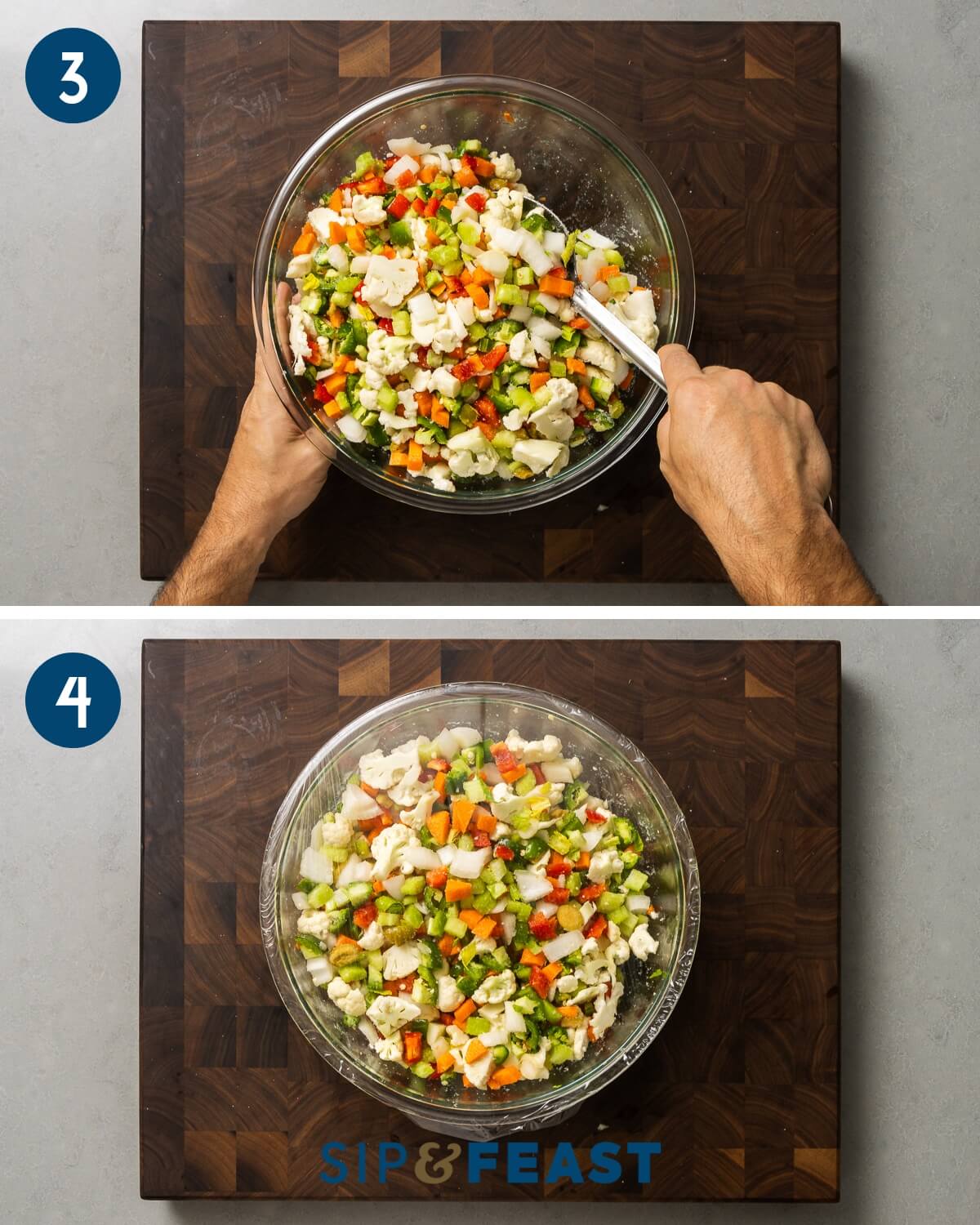 Cover a lid or plastic wrap and refrigerate for at least 8 hours, but preferably overnight (Photo #4).
Once the vegetables have sat overnight, they will have released much of their water. Rinse them well in a colander to remove the excess salt and drain (Photo #5). While they're draining, mince 5 cloves of garlic.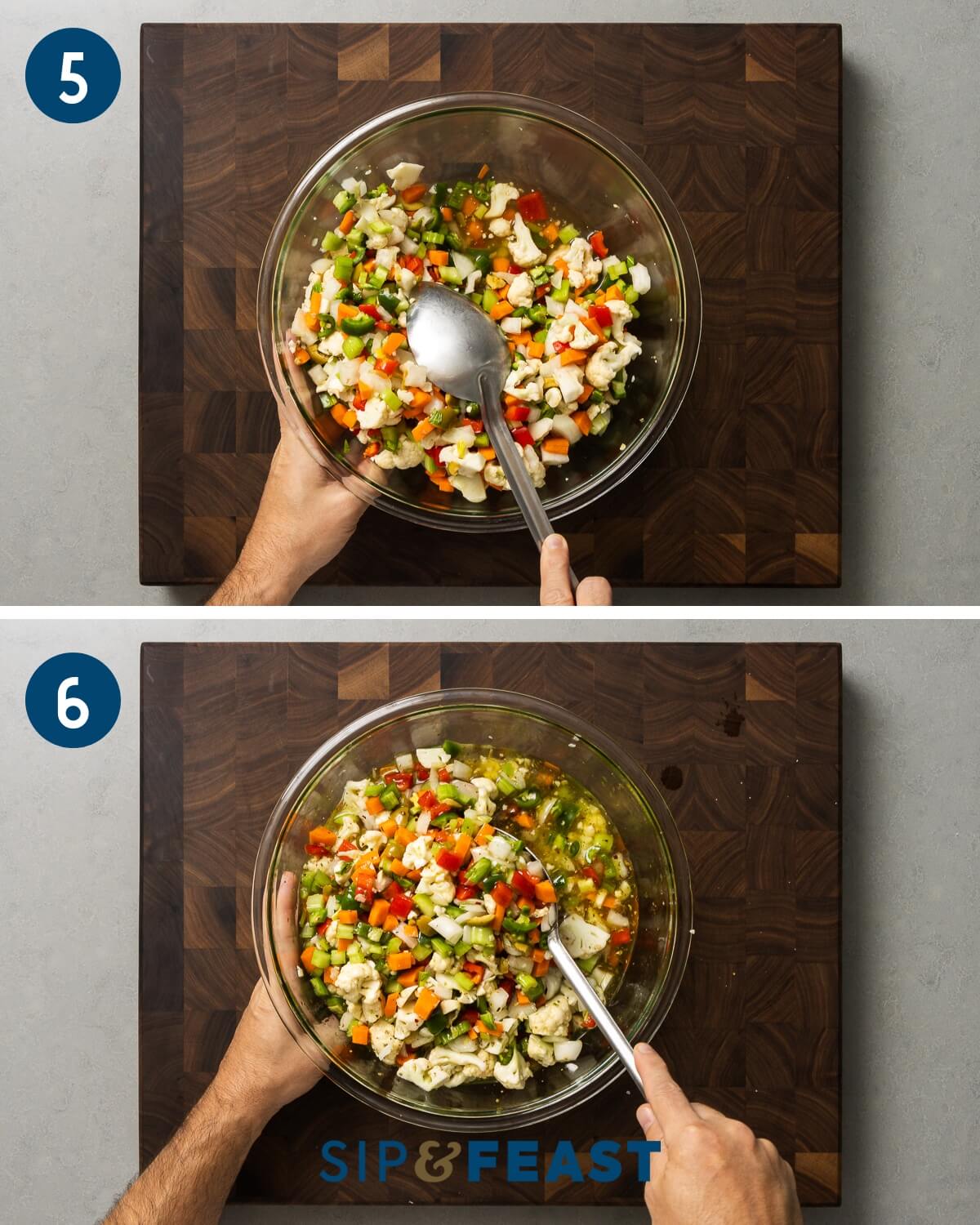 Place the vegetables into a clean large mixing bowl and combine with 2 cups of olive oil, 2 cups of white vinegar, the minced garlic, 1/2 teaspoon of celery seeds, 2 teaspoons of dried oregano, 1 teaspoon of hot red pepper flakes, and a 1/2 teaspoon of fennel seeds. Taste test and adjust salt and pepper, but I doubt you will need either. Place the giardiniera in clean jars and top with vinegar. Refrigerate for 2 days prior to serving so the flavors have time to mingle (Photo #6). Enjoy!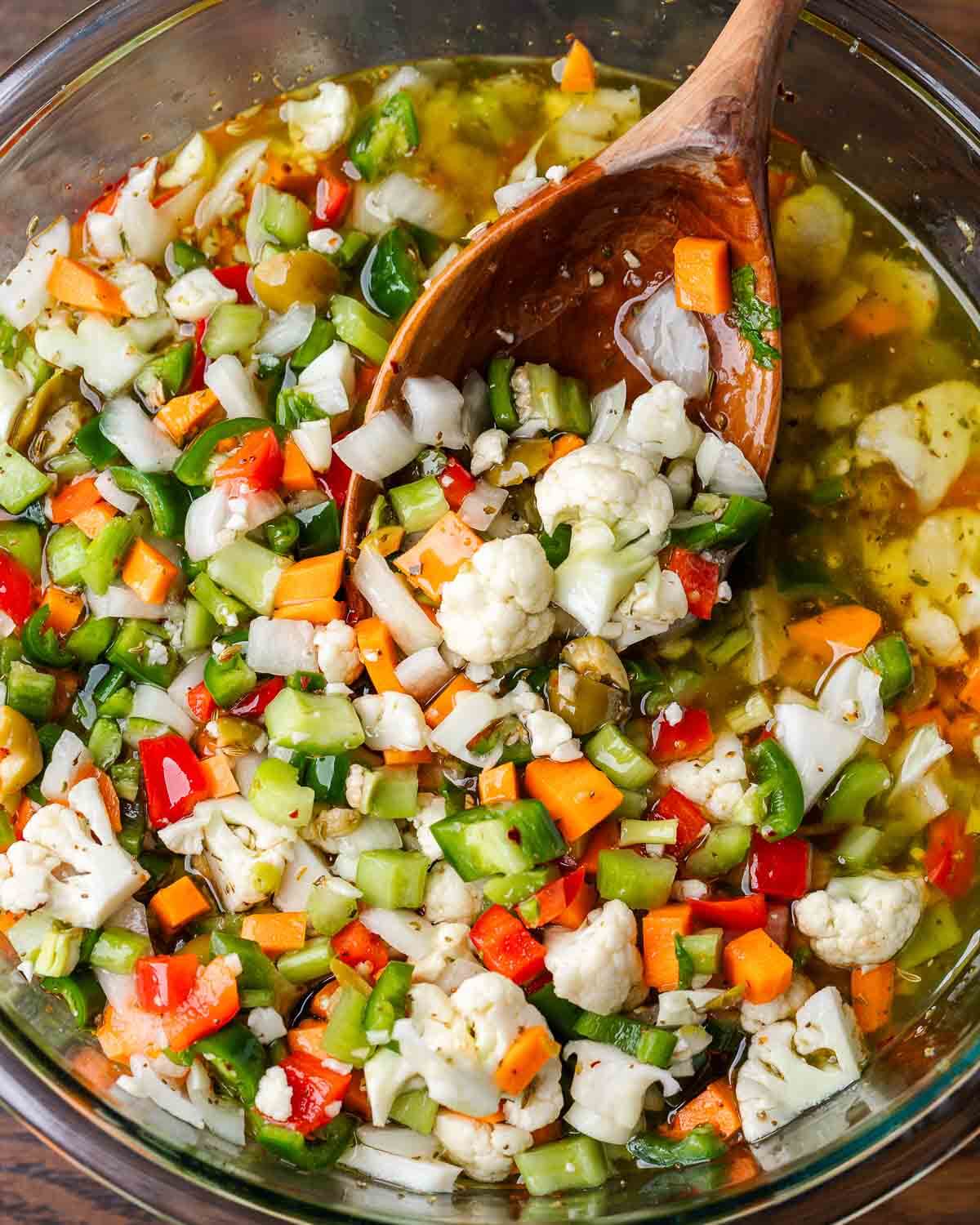 Top tips
Ingredient size. I did an average-sized cut for my giardiniera veggies. If you prefer them smaller, which works well for Italian beef sandwiches, feel free to cut them into even smaller pieces, and likewise for larger pieces.
Brine. It's really important to let the veggies sit with the salt brine for at least 8 hours, but the giardiniera will be even better when brined overnight and up to 2 days. Just don't forget to rinse the salt away before combining with the vinegar, oil, and spice mixture!
Let it sit. Though it's tempting to eat the giardiniera right away, it will be even better after it has sat in the fridge for 2-3 days.
How should I store giardiniera?
Giardiniera should be stored in an airtight container in the refrigerator and can be kept for up to 3 weeks. As you use the giardiniera, you can continue to add a bit of vinegar to ensure the veggies remain covered.
What does giardiniera mean?
Giardiniera is Italian for "gardener" which makes sense considering this condiment is essentially a medley of diced pickled veggies straight from the garden!
If you've enjoyed this giardiniera recipe or any recipe on this site, give it a 5-star rating and tell us about it in the comments below.
We strive to satisfy a number of learning styles. If you are someone who prefers to learn by watching, you can find most of our recipes on YouTube and our Facebook Page.
A medley of pickled chopped vegetables, giardiniera is a versatile condiment that adds some zing to whatever it's added to! Great with sandwiches, frittatas, salads, and so much more, homemade giardiniera is so easy to make you'll never buy store bought again!
Ingredients
Brine the vegetables
4

cups

cauliflower flourets

chopped, (about 3/4 head of cauliflower)

5

ribs

celery

diced

2

large

carrots

diced

1

large

sweet onion

diced

1

large

red bell pepper

diced

8

jalapeno peppers

diced

3

serrano chili peppers

diced

1/2

cup

pitted green olives

chopped

1/4

cup

salt
Finish the giardiniera
2

cups

olive oil

2

cups

white vinegar

5

cloves

garlic

minced

1/2

teaspoon

celery seeds

2

teaspoons

dried oregano

1

teaspoon

hot red pepper flakes

or to taste

1/2

teaspoon

fennel seeds
Instructions
Place the vegetables in a large bowl and mix with the salt. Refrigerate for at least 8 hours but prefereably overnight.

Rinse the vegetables in a colander and drain.

Place all of the vegetables into a large mixing bowl and combine with the olive oil, vinegar, garlic, celery seeds, oregano, and hot red pepper flakes.

Taste test and adjust salt and pepper if required. Place the giardiniera in clean jars and top with vinegar. Refrigerate for 2 days before serving so that flavors meld together. Enjoy!
Notes
Though you can brine the veggies for as little as 8 hours it is recommended to brined overnight or for 2 days. Also, let the finished giardiniera sit in the fridge for 2-3 days before serving for optimal flavor.
Any type of vegetable can be used for this recipe. If you like more cauliflower or pepper, feel free to make those adjustments.
For a mild giardiniera, simply omit the hot peppers and/or hot red pepper flakes.
Giardiniera can be saved in the fridge for up to 3 weeks.
Nutrition
Calories:
1309
kcal
|
Carbohydrates:
24.6
g
|
Protein:
4.1
g
|
Fat:
137.3
g
|
Saturated Fat:
19.6
g
|
Sodium:
2443
mg
|
Potassium:
941
mg
|
Fiber:
7.8
g
|
Sugar:
11.5
g
|
Calcium:
112
mg
|
Iron:
3
mg
Nutrition information is automatically calculated, so should only be used as an approximation.