Sometimes the simplest things are the best things. And there is nothing simpler than this martini with blue cheese olives. The salty olives and the pungent cheese marry perfectly with the gin and vermouth. Come along friends, as I show you how to put a twist on a very classic cocktail with the addition of a few delicious blue cheese stuffed olives.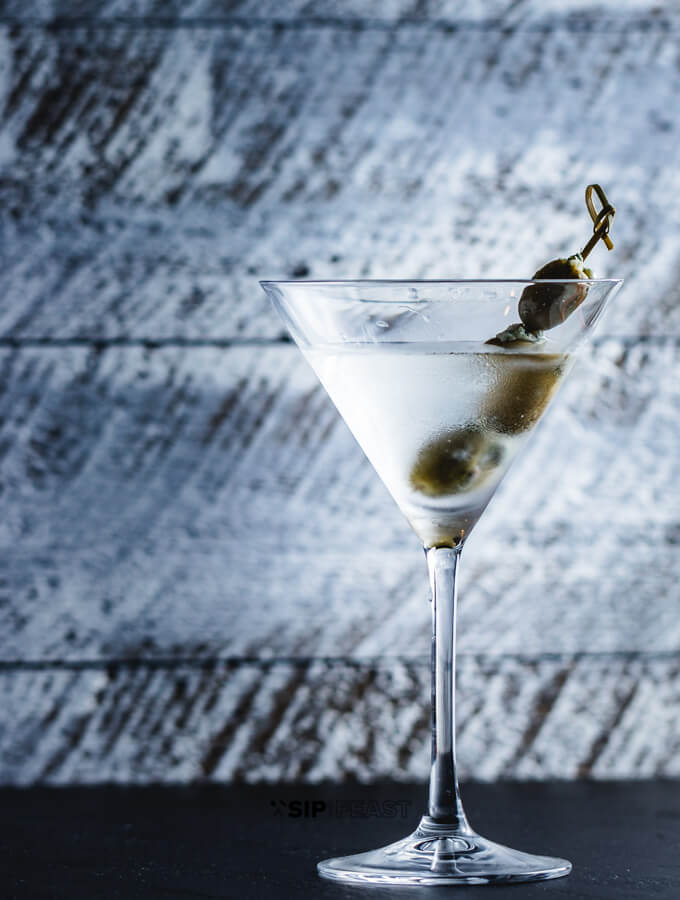 Stuffed Blue Cheese Olives and Martinis?
If you're anything like me, olives and cheese could easily replace two of the major food groups. In fact, I've often joked that I could live off olives, cheese, some crusty french bread and wine and be pretty happy.
Given my affinity for olives, the classic martini is definitely one of my favorite cocktails. And my love for this cocktail has certainly evolved through the years.
When James and I first graduated college and were hitting the Manhattan bar scene, there were two drinks that were trending: Cosmopolitans (a la Sex and the City) and the Dirty Vodka Martini. You were either a cosmo person, or a martini person.
I was the latter. I'd order a Ketel One extra dirty martini with 3 olives. I actually wanted the olives to over power the taste of the alcohol. I'd also occasionally have it on the rocks to further water it down.
It wasn't until more recent years that my taste buds grew up and I came to realize that this drink wasn't meant to be prepared with vodka. This started as a gin based drink, and forever shall be a gin based drink.
You see, the botanicals in the gin marry perfectly with the saltiness of the olives. In fact, once I switched over to gin martinis, I no longer needed to make them "dirty". Because I finally understood and appreciated the symbiotic relationship between both ingredients.
And sure, there are other non-gin based cocktails you can throw a few olives into, such as a Bloody Mary, or our variation we like to call Cesar's Blood and Dirt (future blog post on this). But if you're wanting a straight up classic, with a minor twist, this martini with blue cheese stuffed olives is the one.
Good Blue Cheese, Good Olives – The Simple Things!
As I said, I could happily live off cheese and olives. They make a great combination across a variety of different dishes and plates. So naturally, it made sense to combine them into not just a garnish, but a vital ingredient in this drink.
I started by getting one of the best blue cheeses I could find from the local cheese shop (aka Whole Foods), as well as delicious green Sicilian olives from the olive bar.
When there are only a few ingredients in a drink, or a dish, it is even more imperative that you're using the best ingredients available to you. Don't skimp on this one – go for the good stuff.
And since only very little cheese is needed, you can splurge and get something a bit pricier. Ask the cheesemonger which one they'd recommend pairing with olives.
Alternately, some grocers do sell premade blue cheese olives, and some even jarred, but whenever possible, I recommend getting both ingredients separately and doing a little extra work to stuff them yourself.
Begin by taking a bit of cheese from the block and gently work it into the cavity of the olive. The olive may break slightly at the opening, which is ok. I used three olives for this drink, and skewered them, but you could easily just let them float in the bottom of the glass as well.
Ice Cold Classic Martini
Ice is an often overlooked ingredient in a drink, yet it is one of the most important ingredients. And for this Classic martini with blue cheese olives, there is no exception to that rule.
One of my favorite movies of all time is Ted Demme's Beautiful Girls. My favorite scene is when Uma Thurman and Timothy Hutton are in the ice fishing hut following an evening at the local bar. Hutton is shamelessly hitting on Thurman, and she's gently fending him off by explaining just how great life is with her boyfriend back in Chicago, and that there is really nothing better than the things she does with him – reading the Sunday papers, listening to Van Morrison, and ice cold martinis.
Watching this scene always leaves me wanting just that, an ice cold martini. Uma's character, Andera, understood the importance of the ice, just as I do. Perhaps she is my spirit animal.
So please make sure you not only have enough ice to chill the gin and vermouth, but that you have plenty to fill the glass to ensure that it is extra cold when you are ready to begin pouring.

To shake or not to shake?
I prefer to stir my martinis so as to not permeate the drink with too much excess water.
You can feel free to shake if you prefer.
I begin by filling my cocktail shaker with ice. Then add your vermouth and gin. Stir for about 30 seconds.
Remove the ice from your chilled martini glass. Grab a strainer and pour the gin and vermouth mixture into the glass.
Garnish with your blue cheese olives. Drink immediately.
And, if you're into it, listen to some Van Morrison while reading the papers.
Cheers friends!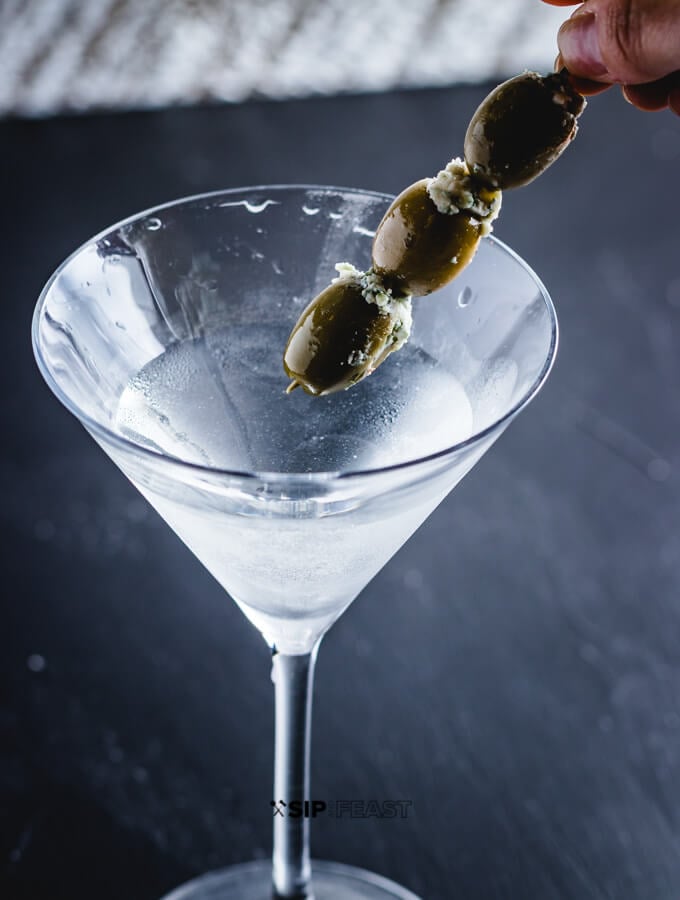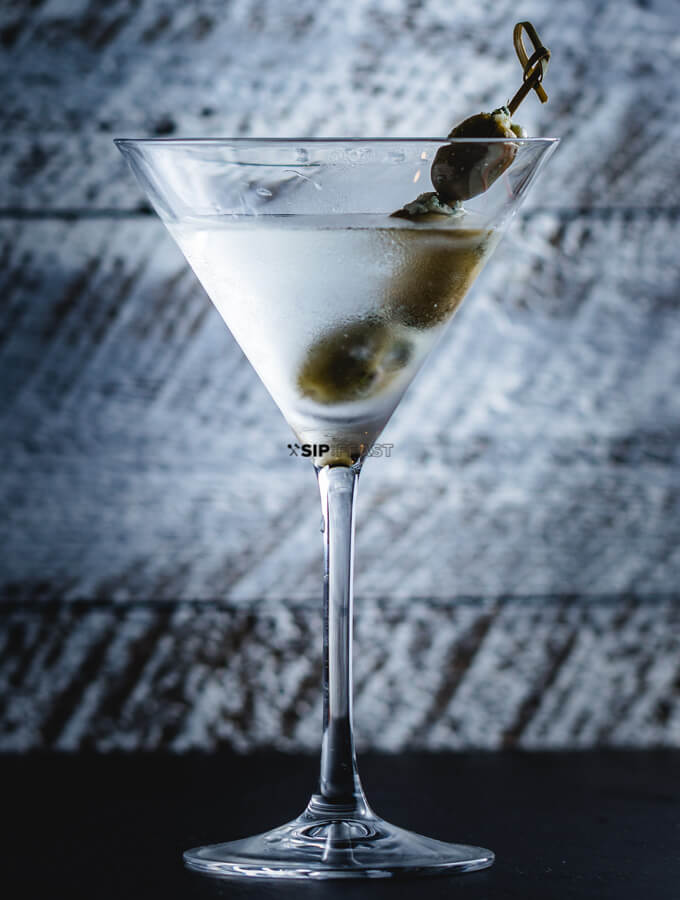 Do you have a martini story? Tell us all about it in the comments below. Looking for another classic cocktail recipe? Check out my recipe for the best Negroni.
Follow Sip and Feast on Instagram and Pinterest, share this, and sign up to receive other great recipes directly to your inbox.
Martini with Blue Cheese Stuffed Olives
The classic gin martini with blue cheese stuffed olives.
Keyword:
blue cheese olives
Ingredients
1/2

oz

Extra Dry Vermouth

2 1/2

oz

Gin

3

green

olives

1

tbsp

blue cheese

2

cups

ice
Instructions
Gently stuff blue cheese into the cavities of the olives. Set aside.

Place 1 cup of ice in martini glass to chill.

Place 1 cup of ice in cocktail shaker.

Add the vermouth and gin to the cocktail shaker and stir for 30 seconds.

Remove the ice from the martini glass and strain the gin and vermouth mixture into the glass.

Garnish with the blue cheese stuffed olives and serve immediately.
Nutrition Facts
Martini with Blue Cheese Stuffed Olives
Amount Per Serving
Calories 200
* Percent Daily Values are based on a 2000 calorie diet.