Stuffed tomatoes are a perfect side dish for really any meal. They are super easy to put together and can be made ahead of time! These tomatoes are stuffed with ricotta salata, parsley and breadcrumbs to make a light and delicious Italian appetizer or side dish.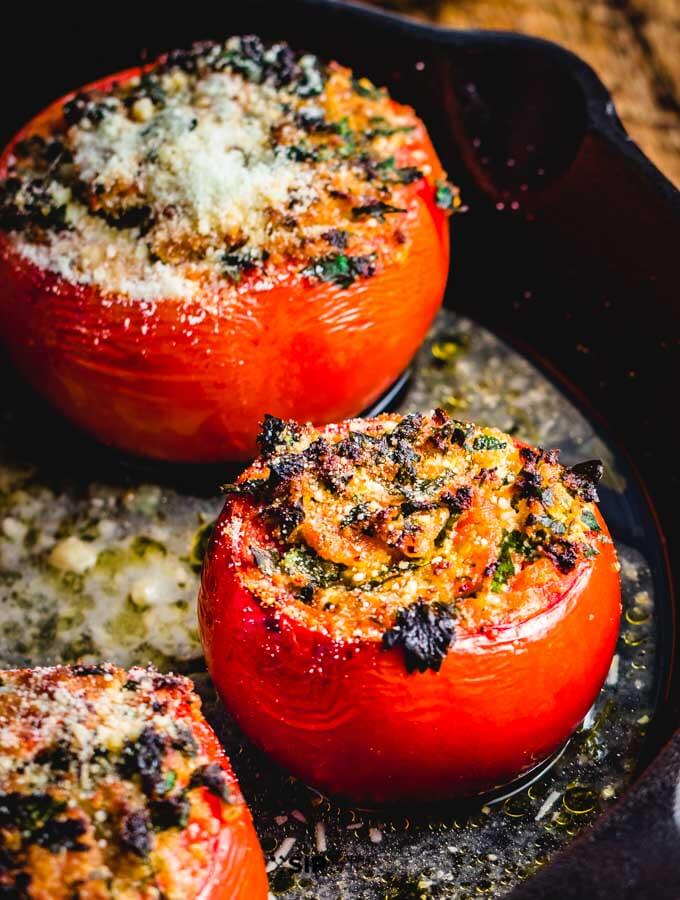 I love these Italian stuffed tomatoes with a steak or a roast.
They also go well on top of roasted potatoes. Both could be made at the same time for a perfect side dish.
Ingredients For Italian Stuffed Tomatoes
It's all about simple ingredients in this recipe.
Get some real fresh and juicy tomatoes. I used big beefsteak tomatoes, though any fresh tomato would work.
I like the bigger ones because it's less work than stuffing 30 cherry tomatoes, but buy and use what you like!
2 bunches of parsley will be needed, 5 cloves of garlic, extra virgin olive oil, crushed red pepper flakes, Italian breadcrumbs and cheese.
The cheese I used is ricotta salata. It is super flavorful. It compares nicely to feta cheese but it's not as salty and briny.
If you cannot find ricotta salata, feta would be a good substitute.
The other cheese that finishes off these easy stuffed tomatoes is pecorino romano. Pecorino is my favorite cheese and I usually opt for it over parmigiano-reggiano but both are great.
The final ingredient and it's totally optional is 1 cup of dry white wine such as Chardonnay or Pinot Grigio.
The cup of wine and 1 cup of water help keep the tomatoes moist while baking and combine to create a great sauce with some of the stuffing mixed in.
Don't fret over the wine. This dish can be made with great results either way. I like to provide the option in advance.
How To Stuff Tomatoes: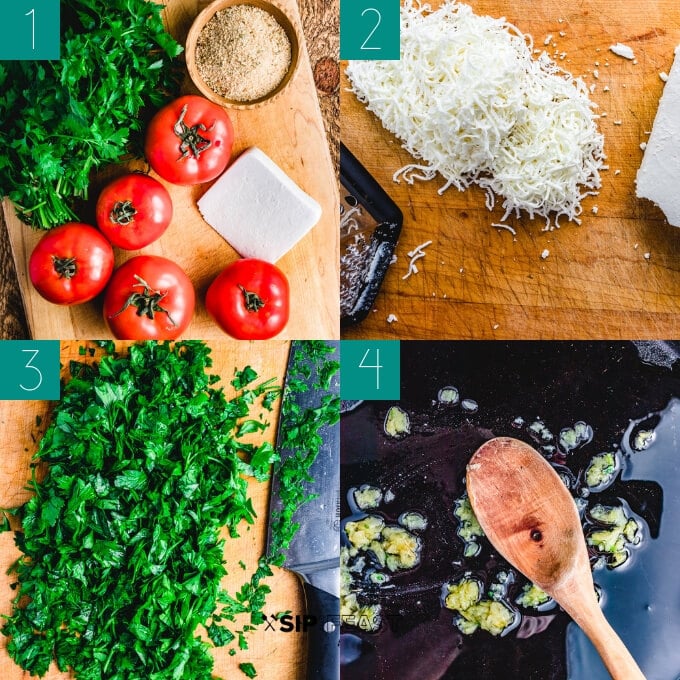 Italian Breadcrumbs, lots of parsley, block of ricotta salata, and 5 large tomatoes.
Grate 1 cup of ricotta salata.
Chop 1 cup of parsley.
Mince and begin sauteing garlic in a ¼ cup of extra virgin olive oil for 2-3 minutes on medium-low.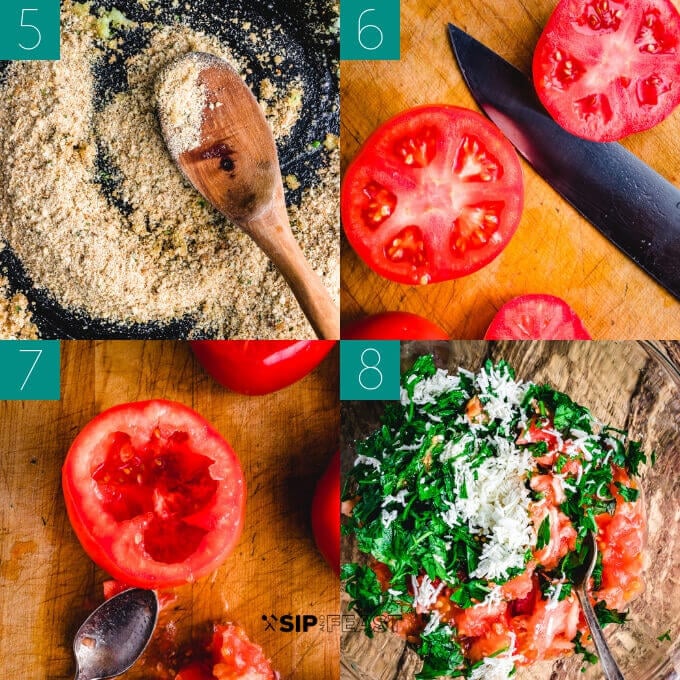 Add the cup of bread crumbs to the pan with the garlic and mix to incorporate. Turn off heat and set aside.
Cut off the tomato tops.
Cut around the top of the tomatoes' sides and gently scoop out pulp and seeds. Save and chop the pulp up coarsely.
Add the tomato pulp into a bowl with the grated ricotta salata and parsley.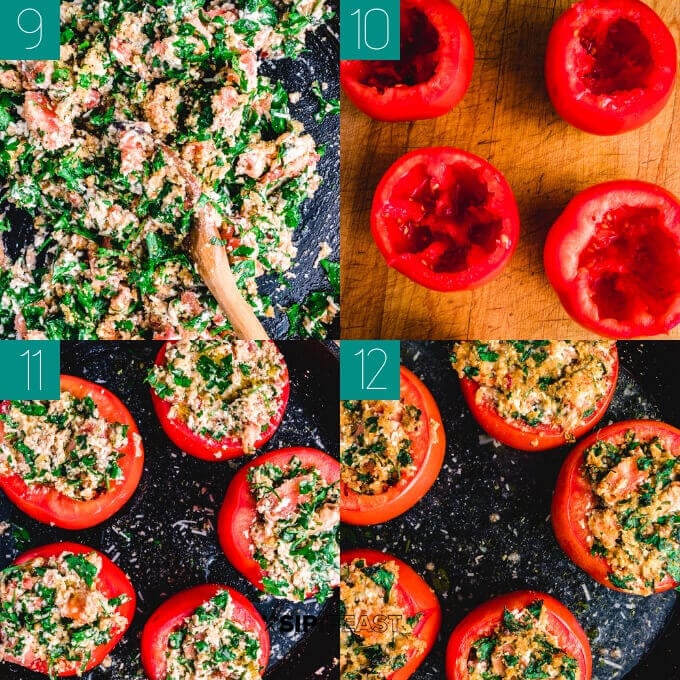 Add all the contents of the bowl into the pan along with the crushed red pepper flakes. Mix thoroughly.
Season the Tomato cavities with a ½ teaspoon of kosher salt.
Stuff all the tomatoes and leave any remaining stuffing in the bottom of pan. Pour the wine and water into the pan and bake in oven for 30 minutes covered with foil.
After 30 minutes remove foil and check that the tomatoes are nice and soft. If they are still a little hard continue baking for 5-10 more minutes. Finally broil the tomatoes for 3-5 minutes to crisp them up.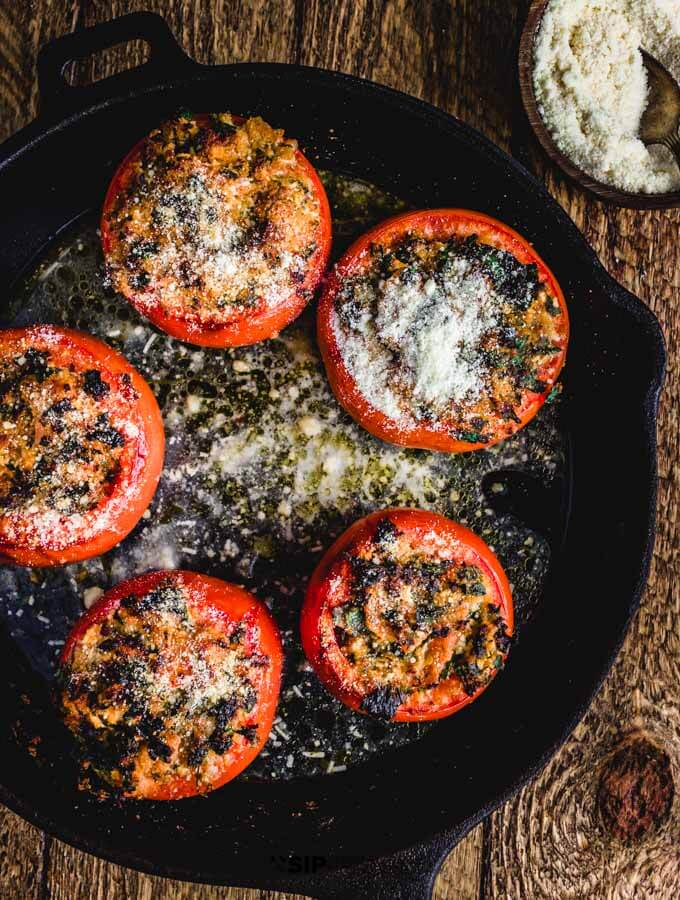 After broiling the stuffed tomatoes, add a healthy drizzle of extra virgin olive oil and a nice sprinkle of the pecorino romano all over them.
Serve the tomatoes with more cheese and if you like mix some cheese into the wine and water mixture and spoon it all over the tomatoes.
What To Serve With Italian Stuffed Tomatoes
What Else Can You Stuff Tomatoes With?
Ground beef stuffed tomatoes are awesome. They are a lot more filling than this recipe and two of them would make a whole meal.
Risotto stuffed tomatoes are great as are tomatoes stuffed with Italian sausage.
I've stuffed them with so many different ingredients. Zucchini, caponata, tuna. Just use your imagination!
Substitutions
If you can't find ricotta salata use feta like stated previously, or use something like provolone.
If you don't like parsley use basil or if you want a more dense filling, double the breadcrumbs.
No hard rules on this one.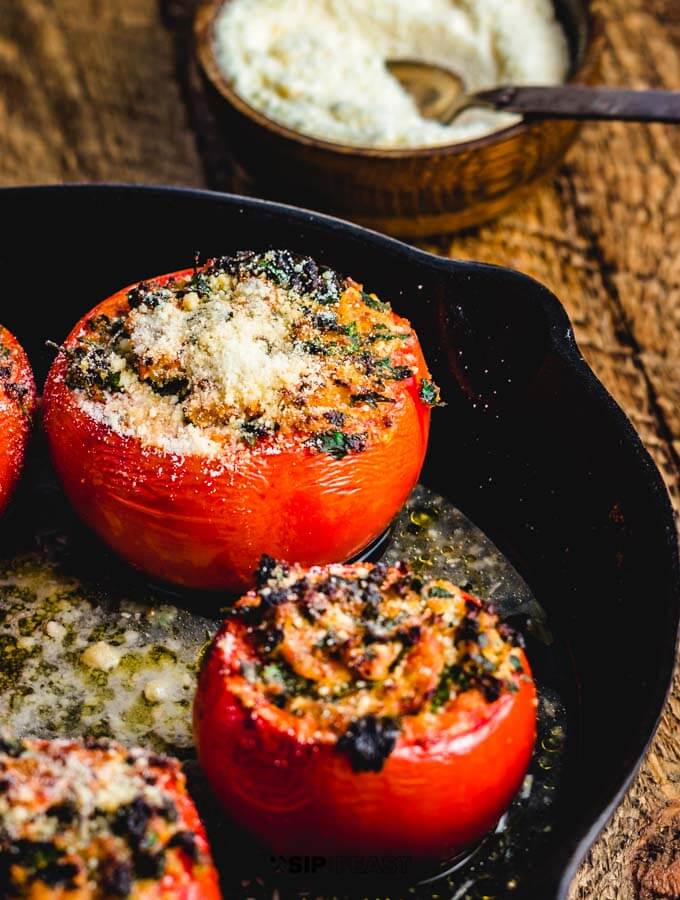 If you've enjoyed this Italian Stuffed Tomatoes Recipe or any recipe on this site please let us know in the comments. We would love to hear how you did and it's nice to show others as well. Thanks!
FOLLOW US on Instagram, Pinterest, and Facebook. Share this recipe on your favorite social platform. We really do appreciate it
📖 Recipe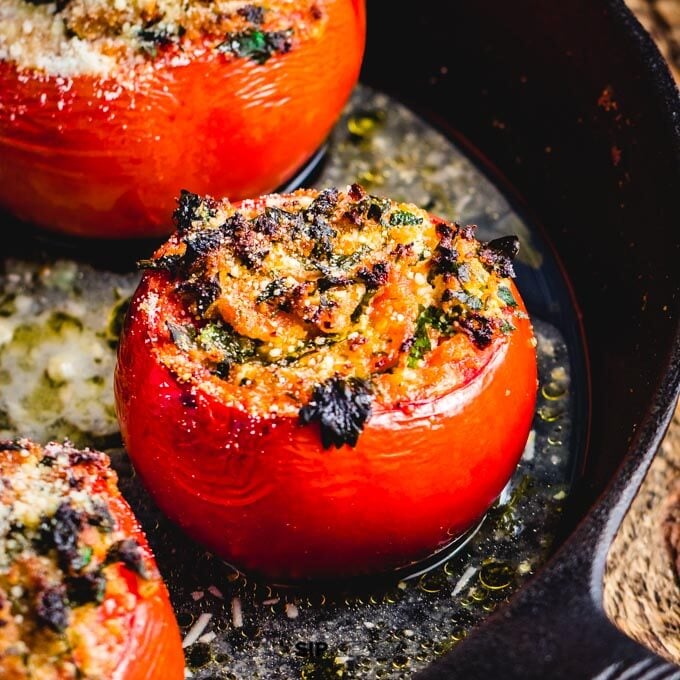 Ingredients
4

large

Tomatoes

1

cup

Italian seasoned breadcrumbs

1

cup

grated ricotta salata

¼

cup

pecorino

1

cup

chopped parsley

⅜

cup

extra virgin olive oil

5

cloves

minced garlic

1

cup

water

1

cup

dry white wine

½

tsp

kosher salt

¼

tsp

crushed red pepper flakes
Instructions
Preheat oven to 400f and place oven rack in middle. Chop parsley and mince garlic cloves. Grate 1 cup of ricotta salata and ¼ of pecorino.

Saute garlic in cast iron or other oven proof baking pan for 2 minutes on medium-low heat in ¼ cup of extra virgin olive oil.

Add cup of breadcrumbs to the garlic and mix. Turn off heat and set aside.

Cut off tops of the tomatoes and core out the pulp and seeds. Chop the pulp and seeds and place in a bowl with the ricotta salata, parsley and crushed red pepper. Mix well.

Add the bowls mixture to the garlic and breadcrumbs. Stir well to make the stuffing.

Season the inside of each tomato with the ½ tsp of salt.

Stuff each tomato and place in an oven safe pan. Pour 1 cup of wine and 1 cup of water into the pan so that the liquid is about 1 inch high. If any stuffing is leftover place in the liquid.

Cover the tomatoes with foil and bake in oven for 30 minutes or until fork tender. Remove foil and broil the tomatoes for 5 minutes more being careful to pay attention and not burn them.

Plate the tomatoes with a drizzle of extra virgin olive oil and a sprinkle of the pecorino. If desired spoon the wine mixture over the tomaotes. Enjoy!
Notes
There might be some leftover stuffing mixture that can be left in the pan with the wine and water to make a sauce.
If choosing to not use the wine just increase the water to 2 cups.
If using a different cheese be careful with the salt level. Feta is very salty and I would not add any more salt to the dish.
Nutrition
Calories:
360
kcal
|
Carbohydrates:
26
g
|
Protein:
11
g
|
Fat:
25
g
|
Sodium:
370
mg