Mozzarella en carrozza is a favorite appetizer that is basically an Italian version of grilled cheese. Mozzarella cheese is stuffed between two slices of battered bread and fried until golden and crisp on the outside, and melty and decadent on the inside. Traditionally served with an anchovy sauce or lemon wedges these tiny sandwiches are perfect to dip in a simple marinara, or as a side to dunk in your favorite soup.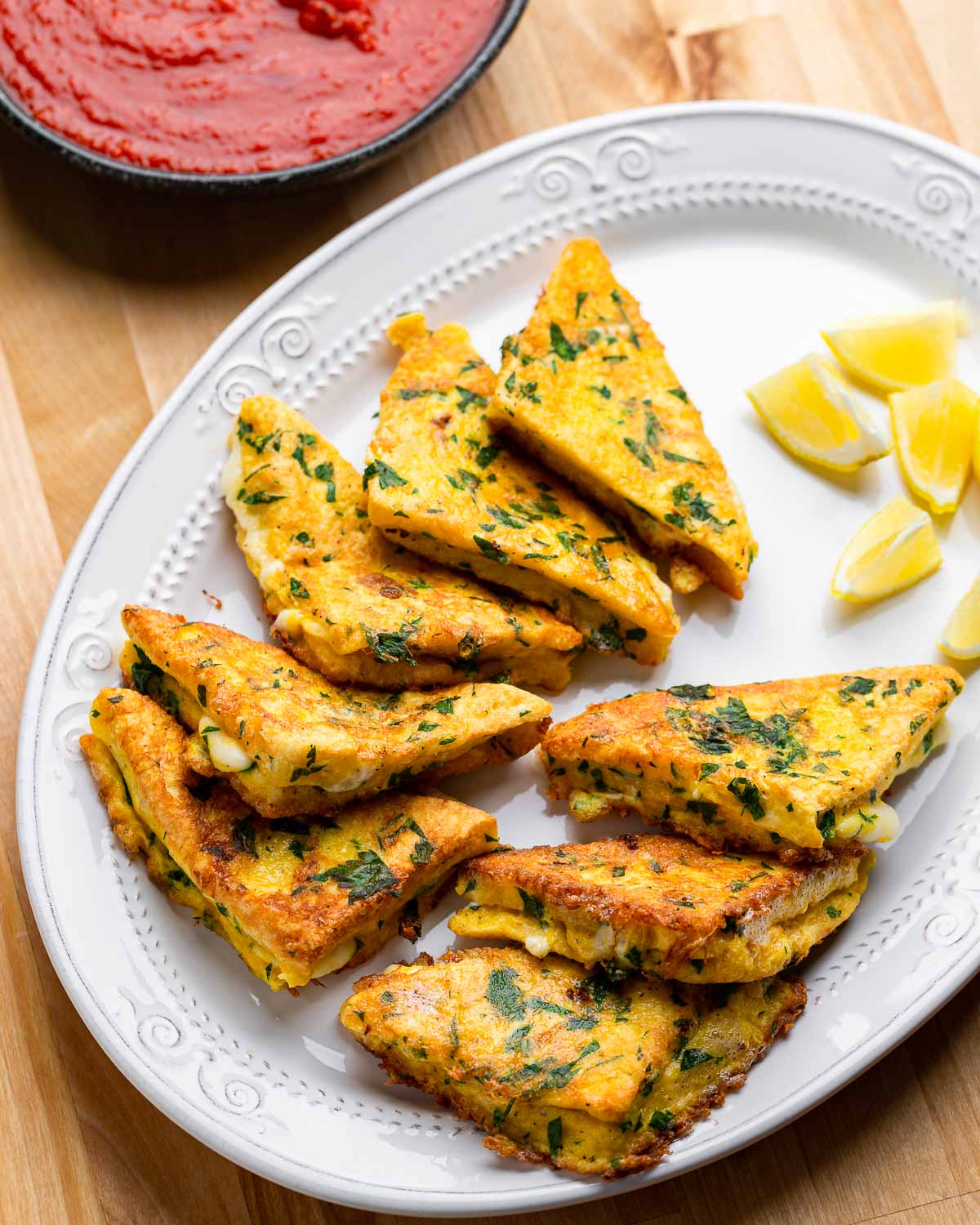 Mozzarella en carrozza in Italian translates to "mozzarella in a carriage" in English, the carriage being the egg battered bread.
It is served in many well-known Italian restaurants, such as Da Nico in NYC's Little Italy, Tony's Di Napoli, and many others.
It is quite simply, Italian grilled cheese, for lack of a better description. But it is so much more than that too.
The egg and parsley batter that encases the sandwich triangles creates a super crisp coating on the outside that seals in the heat to keep the mozzarella warm and melty.
I love serving mozzarella en carrozza alongside a simple marinara, but also with the traditional accompaniments of anchovy sauce or just some lemon wedges.
It's also perfect to dunk in Italian lentil soup, spicy sausage potato and kale soup, or butternut squash soup.
How to make mozzarella en carrozza
Each number corresponds to the numbered written steps below.
Beat 5 eggs, 2 tablespoons of milk, ¼ cup of Pecorino Romano, ½ teaspoon kosher salt, ½ teaspoon black pepper, and a ¼ cup of minced parsley together and set aside. Slice one block of mozzarella into ¼" thick pieces.
Cut off the ends of 8 slices of white Italian sandwich bread, essentially making squares, and place the mozzarella onto one side. If required cut the mozzarella to fit. Note: You'll have some leftover mozzarella pieces, so make a few more sandwiches or save for another use.
Create a sandwich, then cut into triangles.
Heat a ¼ cup of olive oil in a large pan over medium to medium-low heat. Once the oil is hot, grab a triangle and dip it into flour on all sides. Shake off the excess and move on to the next step. Note: The triangles are not being deep-fried and the oil does not need to be super hot. The goal is golden sandwiches and melted cheese.
Beat the eggs again, then place the floured triangle into the egg mixture. Press it down and let it sit in the egg mixture for 10 seconds or so, then flip and let it soak for another 10 seconds.
Drag the triangle out of the egg batter on the side of the dish (so that not too much egg batter drips) and place it into the hot oil.
Once the sandwich is nice and golden, carefully flip and continue to cook until the other side turns golden.
Place the mozzarella en carrozza onto a wire rack to drain (you can also use a dish lined with paper towels). Repeat for the next batch.
Serve immediately alongside your favorite soup, a simple marinara for dipping, or an epic green salad.
While mozzarella en carrozza differs slightly from the famed ham and cheese sandwiches served at Harry's in Venice, these would be fantastic with a bellini to wash them down!
Top tips
Mozzarella en carrozza is traditionally made with fresh mozzarella. However, in this recipe, I've opted to veer a bit from tradition and use block mozzarella as it makes it far easier to prep and fry. The added bonus is block mozzarella stays melted longer giving you more wiggle room between making and serving.
The oil doesn't need to be overly hot. A medium to medium-low flame will do the trick. The goal is to get the crust golden without burning it and for the cheese to melt. In order to achieve this, the triangles need to cook long enough.
Keep the oven warm at 175f and place the mozzarella en carrozza into the oven on the wire rack. The cheese will remain melty while you prepare an anchovy sauce, cut lemons, or heat up some marinara.
To make the anchovy sauce, simply chop one tin of anchovy fillets and heat on low with a ¼ cup of water. While not traditional, I like to add a squeeze of lemon to the sauce as well.
More beloved Italian appetizers
I'm a big fan of Spanish tapas, and sometimes I borrow that concept and just make a bunch of Italian appetizers for dinner.
Mozzarella en carrozza is definitely one of my top apps, but these are a few more of my favorites. Which are your favorite appetizers?
If you've enjoyed this mozzarella en carrozza recipe or any recipe on this site, give it a 5-star rating and leave a review.
Some people learn by watching. If you're that type of person, you can find most of our recipes on YouTube and our Facebook Page.
Ingredients
8

slices

white bread

crust removed

1

pound

block mozzarella

sliced ¼" thick, see notes below

2

tablespoons

whole milk

5

large

eggs

beaten

¼

cup

parsley

minced

¼

cup

olive oil

for frying

¼

cup

flour

½

teaspoon

kosher salt

¼

teaspoon

black pepper

¼

cup

Pecorino Romano
Instructions
Beat the eggs, milk, salt, pepper, Pecorino Romano, and parsley together and set aside.

Lay 2 slices or enough mozzarella to cover one slice of bread, then lay another slice on top and cut in half diagonally. Repeat for a total of 8 triangles.

Heat a large nonstick pan to medium to medium-low heat with 2 tablespoons of olive oil.

Dredge the triangles into the flour on all sides and shake off the excess.

Beat the egg mixture one more time then soak the triangles in the egg mixture for 20 seconds, flip and soak the other side for 20 seconds

Fry the egg battered triangles until golden on both sides (about 2 minutes per side). Place the finished fried sandwiches on a wire rack or paper towel lined baking sheet to drain. Do not overcrowd the pan. Work in batches and use the remaining olive oil for subsequent batches.

The sandwiches can be kept warm in a 170f oven while waiting to finish more sandwiches or if making a big batch. Serve with lemon wedges, anchovy sauce, or marinara sauce on the side.
Notes
Traditionally mozzarella en Carrozza uses fresh mozzarella. Block mozzarella is easier to melt and stays melted longer. Use what you like!
The oil doesn't need to be overly hot. A medium to medium-low flame will do the trick. The goal is to get the crust golden without burning and for the cheese to melt.
A simple anchovy sauce can be prepared by chopping and heating 1 tin of anchovies with a ¼ cup of water and a squeeze of lemon.
Sandwiches should be eaten right away, but can easily be refried in a low heat pan to warm up if necessary.
Leftovers can be saved for up to 3 days.
Nutrition
Calories:
611
kcal
|
Carbohydrates:
12.8
g
|
Protein:
36.9
g
|
Fat:
46.3
g
|
Saturated Fat:
20.1
g
|
Cholesterol:
302
mg
|
Sodium:
1298
mg
|
Potassium:
182
mg
|
Fiber:
0.4
g
|
Sugar:
2.7
g
|
Calcium:
728
mg
|
Iron:
2
mg