Angelo Azzurro, meaning "blue angel" in English, is a gorgeous and sophisticated cocktail whose color is similar to the breathtaking blue grotto in Capri, Italy. The cocktail gets its color from Blue Curacao, which is combined with gin and triple sec.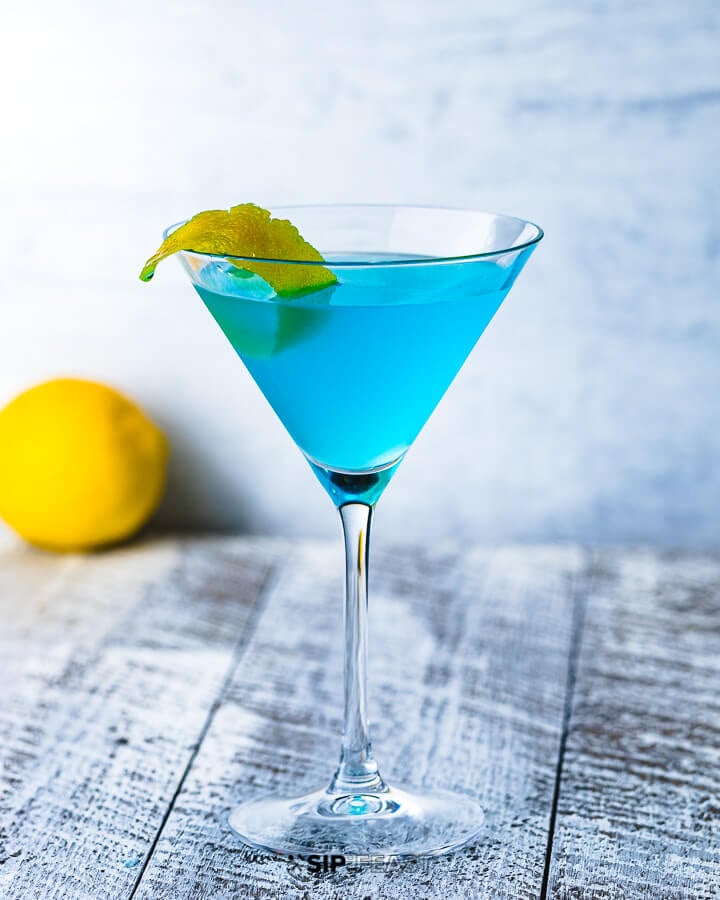 Angelo Azzuro, che bello!
With its striking blue color, the Angelo Azzurro might be one of the most beautiful drinks we have made.
And its taste is equally beautiful! The combination of the citrus flavors in the triple sec and blue curacao combined with the botanical notes in the gin make this an ultra sophisticated and sexy cocktail.
But proceed with caution as it is quite strong and definitely packs a punch.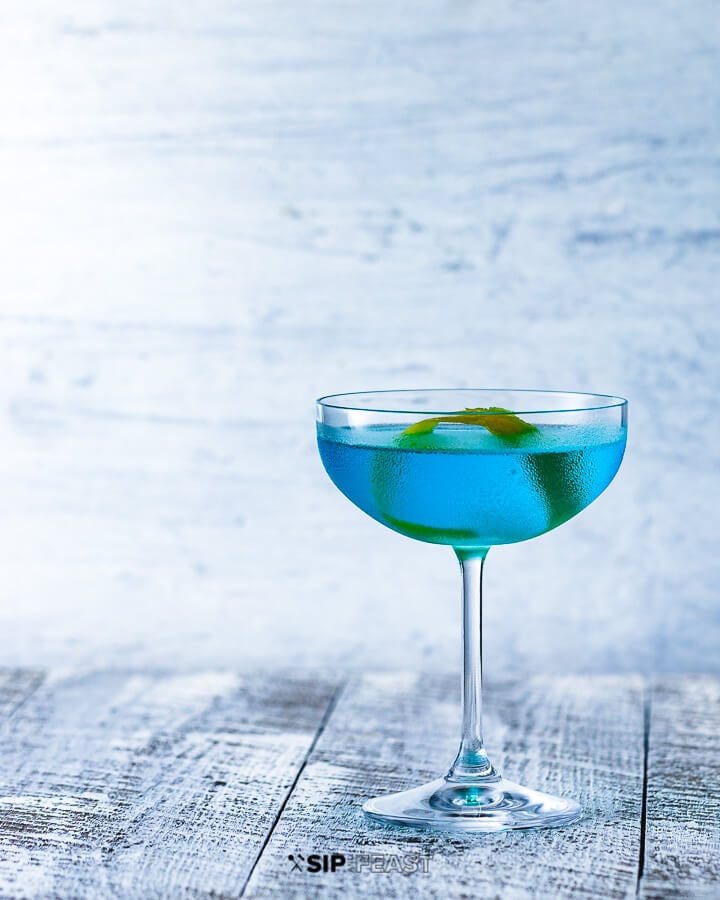 What Is An Angelo Azzurro Cocktail?
This cocktail originated in Italy. Although the exact location and timing of its origin is a bit obscure, until recently it was much less well-known in the US than other Italian cocktails, such as the Negroni or the Bellini.
The formula for an Angelo Azzurro is easy to remember:
3 parts gin
1 ½ parts triple sec
½ part blue curacao
Our recipe is for 1 drink, but knowing the formula helps when you're making more than 1 of these beauties.
It's traditionally served in a martini glass with a lemon peel.
How to Make an Angelo Azzurro
Gather your ingredients:
Blue curacao
Triple Sec
Gin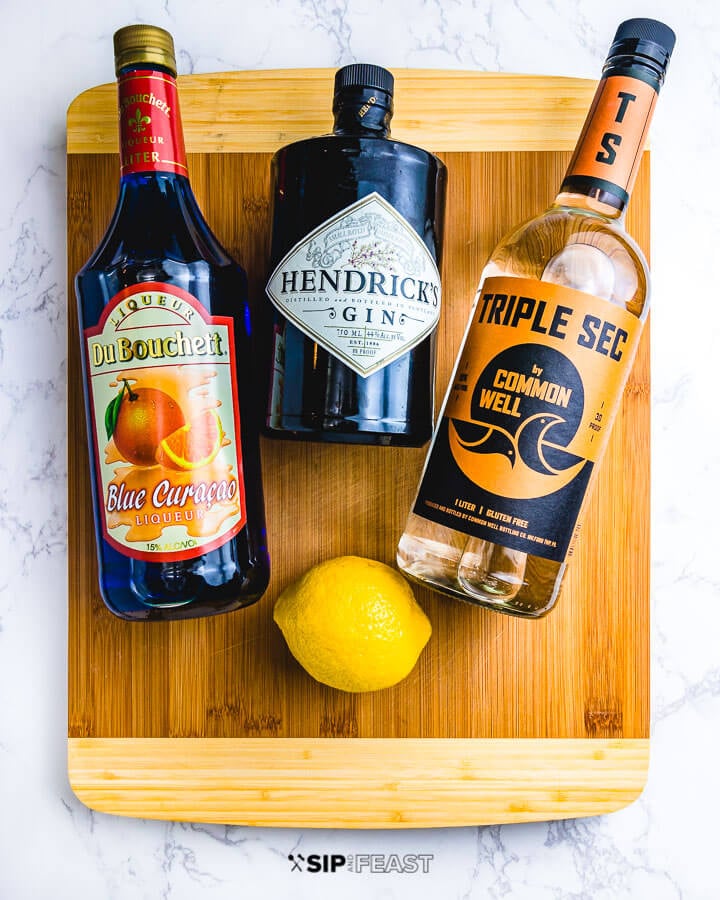 Next, grab a cocktail shaker, jigger/measuring cup, martini or coupe glass and some ice.
Add the ice to the shaker, followed by the blue curacao, triple sec and gin. Shake vigorously, strain and pour into the glass.
Garnish with a lemon peel, or lemon slice.
Serve immediately.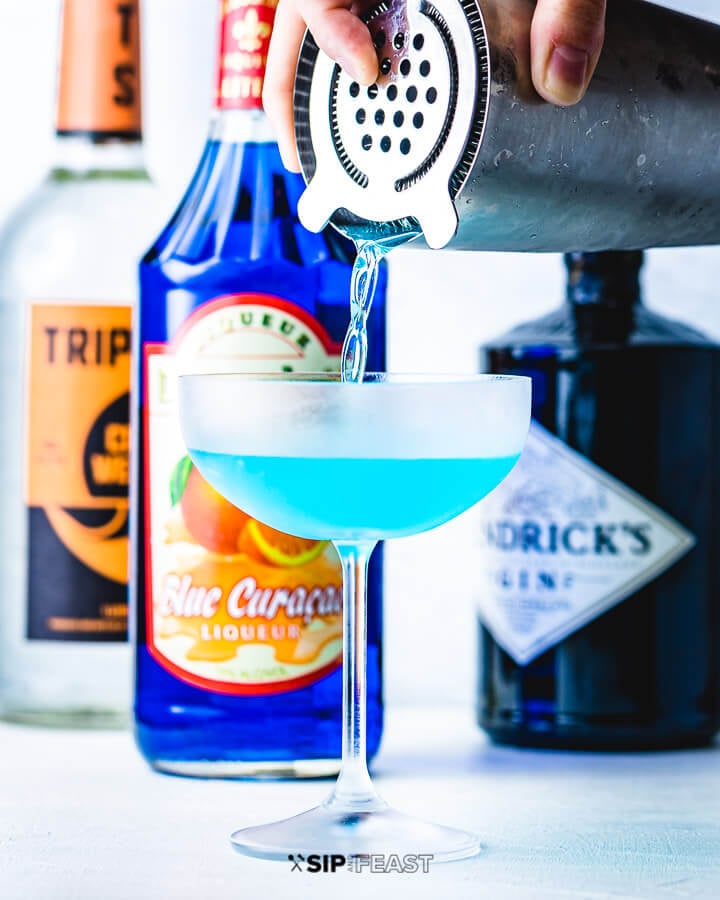 Other Italian Inspired Gin Cocktails
If you have gin on hand for the Angelo Azzurro, you may also want to try these other Italian cocktail recipes:
Food To Serve With
Because this is a strong drink, you'll definitely want to have this with some food, or even after some appetizers. Consider pairing this with any of the following:
If you've enjoyed this Angelo Azzurro Cocktail or any recipe on this blog please let us know in the comments! We would love to hear how you did and it's nice to show others as well. Thanks! FOLLOW US on Instagram, Pinterest, and Facebook.
📖 Recipe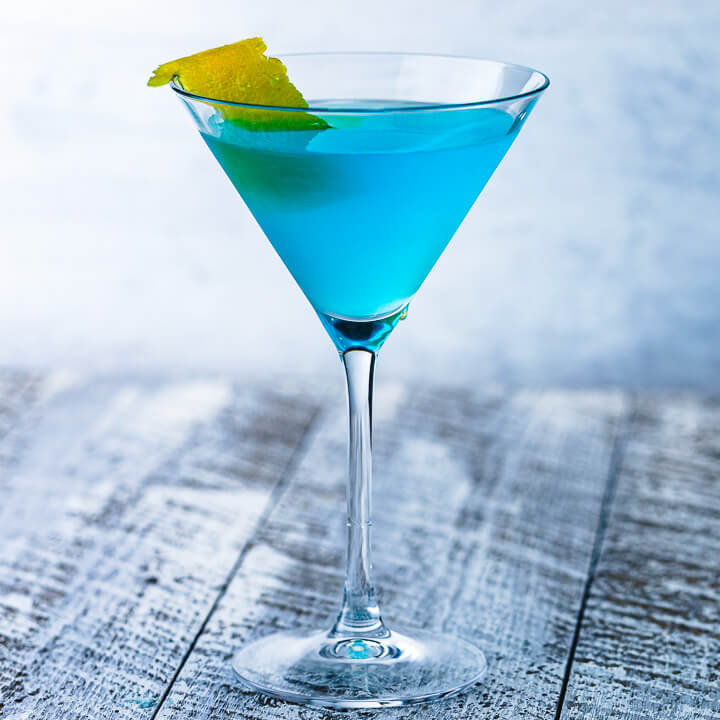 Ingredients
3

oz

Gin

1 ½

oz

Triple Sec

½

oz

Blue Curacao

1

cup

ice

1

peel

lemon (for garnish)
Instructions
Add ice to a cocktail shaker.

Add the blue curacao, triple sec, and gin.

Shake for approximately 20 seconds.

Strain and pour into a martini or coupe glass.

Twist and add the lemon peel as a garnish. Serve immediately.
Notes
There are not many variations available on this drink since it is a classic Italian recipe, however, you could consider any of the following:
Serve on the rocks and add club soda for a lower alcohol drink.
Instead of using a lemon peel, you can garnish with a slice of orange, or orange peel.
I would not recommend substituting Grand Marnier or Gran Gala for the triple sec in this recipe as it will alter the color of the drink. The triple sec works because it is colorless.
Consider chilling your martini or coupe glass for a few minutes before serving by either placing it in the freezer, or filling it with ice. This will help keep the drink cooler and will give it that nice, frosty look.
Nutrition
Calories:
306
kcal
|
Carbohydrates:
21.5
g
|
Sodium:
2
mg
|
Potassium:
1
mg
|
Sugar:
21.5
g