This artichoke pizza with a touch of anchovy makes a super delicious and easy snack. Add a salad to the mix and you've got a full meal.
This recipe is sponsored by Reese Specialty Foods
We are always looking for different pizza flavor combinations. Often, we will make a few different combos at the same time, give them a whirl, and see which ones stick. This combo was a winner getting multiple thumbs-up from 3 different generations of eaters in my family!
This artichoke pizza with anchovy oil was done two different ways. One had ricotta and mozzarella the other was just mozzarella based. Both were delicious!
Artichoke Pizza Ingredients:
½ pound pizza dough - This makes 1 decent size pizza.
6 ounces grated mozzarella
4 ounces ricotta
2 cloves garlic
½ can Reese quartered artichoke hearts
4 Reese flat fillet anchovies
salt/pepper/hot red pepper to taste
¼ cup olive oil
¼ tsp crushed red pepper flakes - Optional if you like it spicy.
Artichoke and Anchovy Pizza Process:
Before starting the artichoke and anchovy pizza make sure to remove the pizza dough from the fridge.
Preheat the oven to 450f degrees and place the rack in the middle of oven. Chop the garlic and anchovies. With the back of the knife apply pressure and create an anchovy and garlic oil paste.
In a small pan saute the garlic and anchovies in a ¼ cup of olive oil for 2-3 minutes on medium heat to release their flavor and create the anchovy oil.
Set the anchovy oil aside and roll out the pizza dough. Make sure to use flour on the rolling pin, cutting board, and your hands when working with the dough to avoid sticking.
Roll out the dough to about ¼" thick.
Place dough on either an oiled sheet pan or parchment paper. The parchment paper makes an easy non stick surface for the anchovy and artichoke pizza.
Brush a liberal amount of the anchovy oil all over the dough. Add some pieces of the anchovies for those who really like that anchovy flavor! Bake the dough with the oil in the oven for 5 minutes.
Remove the dough and place tablespoons of ricotta all over the top in an irregular manner. Sprinkle the mozzarella all over, avoiding the edges. Add the artichoke hearts on top of the mozzarella. Season with hot pepper flakes if desired. Bake in the oven for 12-15 minutes more until the cheese is bubbly and the dough is cooked through.
So that's how you make an easy, delicious artichoke and anchovy pizza! Use good quality simple ingredients and you will have an excellent pizza pie in no time.
Substitutions And Additions:
Capers - Capers would go perfectly with the briny anchovy flavor. Use 1 Tablespoon - they pack a punch, so you don't want to overdo it.
Mozzarella only - If you don't like ricotta or can't find it, feel free to omit it. The other pizza pic below was made with mozzarella only. It was a little flatter and lighter but still so good!
Parsley sauce - A simple parsley sauce consisting of finely minced parsley, extra virgin olive oil and a touch of sea salt adds some fresh flavor to this anchovy pizza. Drizzle a little on top or serve it on the side for anyone who would like to try it.
Roasted garlic - A few cloves of roasted garlic on top of the pie makes another great addition.
Crust - If you like a crust just pinch the circumference of the dough slightly raising it up. Another addition for nice texture is to add some sesame seeds to it like this Pizza Bianca or this Margherita Pizza.
How do Anchovies Taste?
They taste great and are not overpowering in the manner they are used in this pizza. Go slow with them or add a lot depending on your personal preference. I personally love them and eat them straight from the tin, but realize that they are quite an acquired taste. They have a salty, briny, seafood flavor that is so good! Give them a try!
Artichoke And Anchovy Pizza Difficulty level
On a scale of 1-5 with 1 being easy, this pizza is a 2. Only 2 potential issues:
Rolling out the dough - Take the dough out for 1-2 hours before working with it. Doing this makes it much easier to roll the dough and stretch it.
Oven temp and baking - No two ovens are the same, so use the 20 minutes total cooking time as a general guideline. Start watching the pizza during the last 5 minutes and remove it if it seems to be done. Conversely, let it cook for a few more minutes if required.
Want More Pizza Recipes?
DID YOU TRY THIS RECIPE?
Give it a star rating!
If you liked this artichoke and anchovy pizza we would really appreciate it if you would share it on Instagram or Facebook using #sipandfeast.
We would love to know how you did and it's nice to show others as well. Thanks!
Follow us on Instagram, Pinterest, and Facebook. Sign up to receive great recipe ideas in your inbox.
This recipe was sponsored by Reese Specialty Foods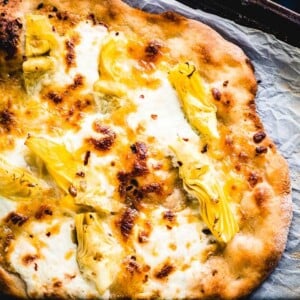 Ingredients
½

pound

pizza dough

6

ounces

grated mozzarella

4

ounces

ricotta

2

cloves

garlic

7

ounces

Reese artichoke hearts

4

small

Reese anchovy fillets

¼

cup

olive oil

¼

tsp

crushed red pepper flakes
Instructions
If possible remove pizza dough from refrigerator for 1 hour before rolling. Preheat oven to 450f and place rack in the middle of oven.

Chop 2 cloves of garlic and 4 anchovy fillets. With back of knife, press and spread the garlic and anchovies on cutting board to make a paste. In a small pan saute the garlic/anchovy paste in a ¼ cup olive oil on medium heat for 2-3 minutes until garlic is golden. Turn off and set aside.

Roll dough out to ¼" thickness with a rolling pin. Use flour for hands, rolling pin, and cutting board to avoid sticking. Place pizza on an oiled or parchment paper lined baking sheet. Bake the pizza dough in the oven for 5 minutes and remove.

Brush the anchovy and garlic oil onto the partially cooked dough liberally. Add tablespoons of ricotta, then top with mozzarella. Finally add the artichoke hearts. Additionally add the crushed red pepper if desired. Bake the pizza for 12-15 minutes more until the cheese is bubbly and the pizza is fully cooked through.
Notes
Store bought pizza dough was used to speed up the process.
No salt was added due to the anchovies, mozzarella and ricotta already being quite salty.
Crushed red pepper is optional
Overall cooking time for a ¼" thick pizza will be about 20 minutes, but pay attention to your own oven and adjust accordingly.
Nutrition
Calories:
556
kcal
|
Carbohydrates:
32.2
g
|
Protein:
20.1
g
|
Fat:
39.9
g
|
Cholesterol:
31
mg
|
Sodium:
610
mg