Butternut squash gnocchi are a delightful autumnal variation of the original. This version uses butternut squash instead of potatoes to create these airy pillows of flavor. Tossed in a sage brown butter sauce and topped with Parmigiano Reggiano and grated amaretti cookies, this is fall-flavored comfort food at its very best.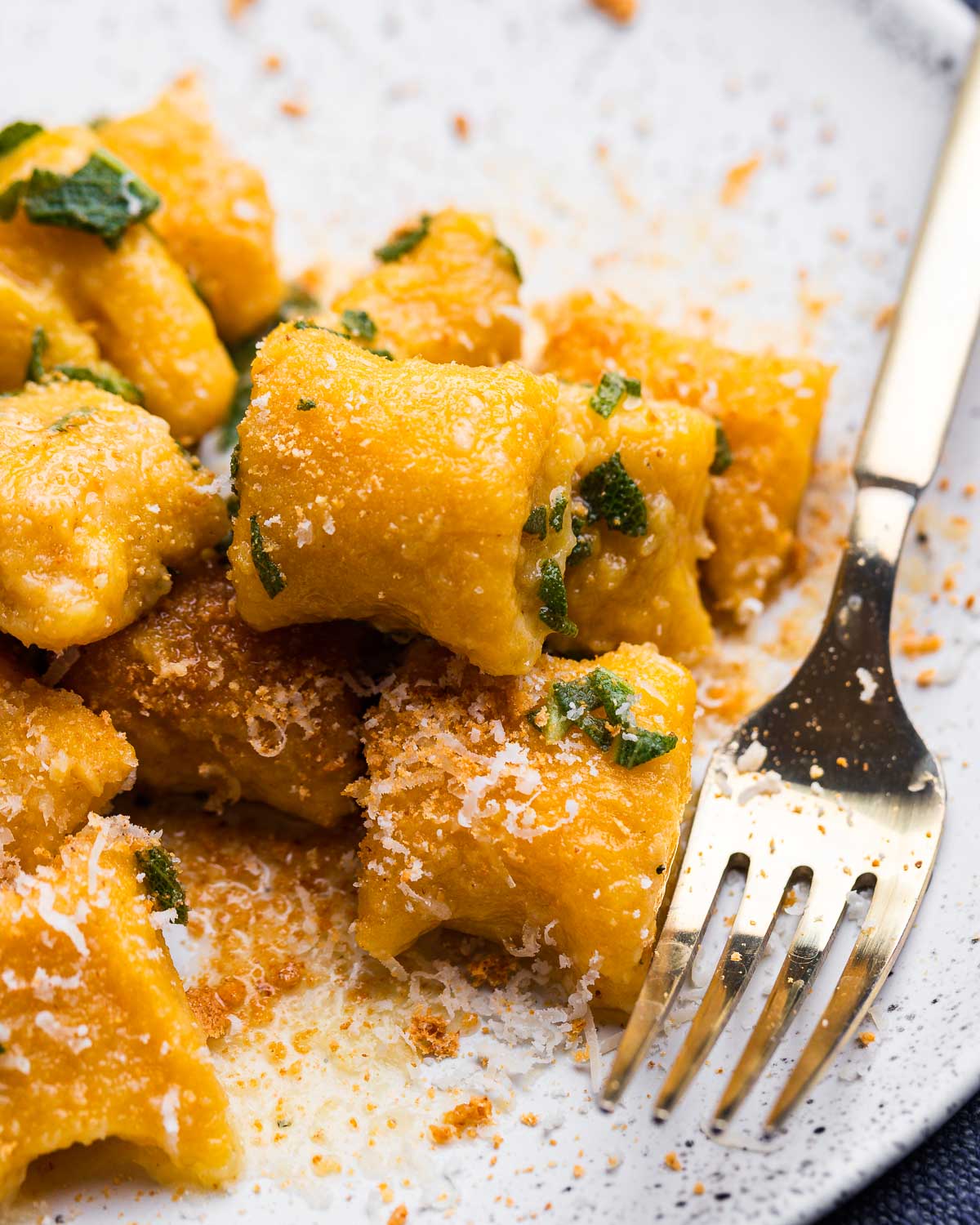 I know what you're thinking.
"Butternut squash gnocchi sounds complicated", or maybe "I should just buy premade gnocchi from the store and call it a day".
I'm here to tell you that butternut squash gnocchi is NOT hard to make, and in the time it takes to drive to the store, shop, wait in line, and get back home, you can make this meal all in the comfort of your own home with just a few ingredients, and tools.
And these step-by-step instructions will walk you through the entire process so you feel confident enough to do this on your own.
Some important info
If you've ever made traditional potato gnocchi before, you likely understand the sense of satisfaction that comes from creating these incredible little dumplings.
While they are easier to make than others would have you believe, there are still some tips or guidelines to follow to help you have the most successful experience possible.
First, the key to light and airy gnocchi is minimizing the amount of water, and therefore flour, needed in this dish.
Make sure to squeeze out ALL the excess moisture from the butternut squash after roasting them.
If you skip this step, you'll need too much flour and that will make them too dense, which you don't want.
Second, the dough does not need to be kneaded for longer than 20-30 seconds. You want to knead until it is formed, but not longer. In fact, it doesn't even require kneading as you can simply use a bench knife as I've pictured below.
The reason for this is that kneading creates gluten which can change the texture from light and airy to dense and tough.
Lastly, fresh butternut squash gnocchi should be made and served right away, however, you can absolutely freeze them for later use.
If you plan to freeze them, it's important that you first place them on a floured cookie sheet in the freezer so they do not touch for the first 2 hours.
After 2 hours, they'll be frozen enough where they'll no longer stick to each other. At this point, you can place them in freezer bags and keep for up to 3 months.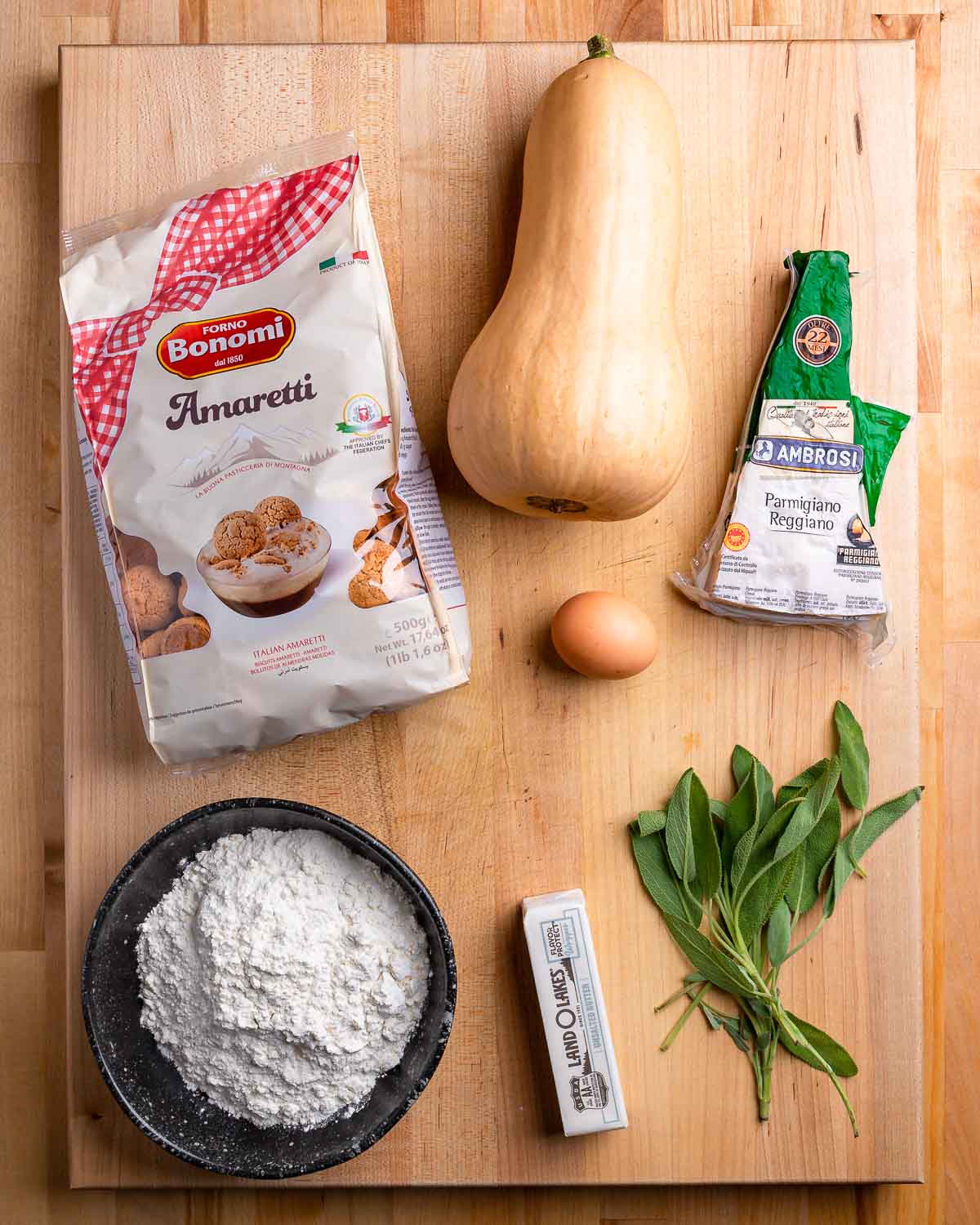 How to make it
Each number corresponds to the numbered written steps below.
Preheat the oven to 400f and set the rack to the middle level. Cut the butternut squash in half and remove the seeds.
Place the squash cut side down on a parchment paper lined baking sheet. Roast in the oven for 40-45 minutes or until fork tender. Pro tip: Roasting the squash face down will speed up the roasting time dramatically.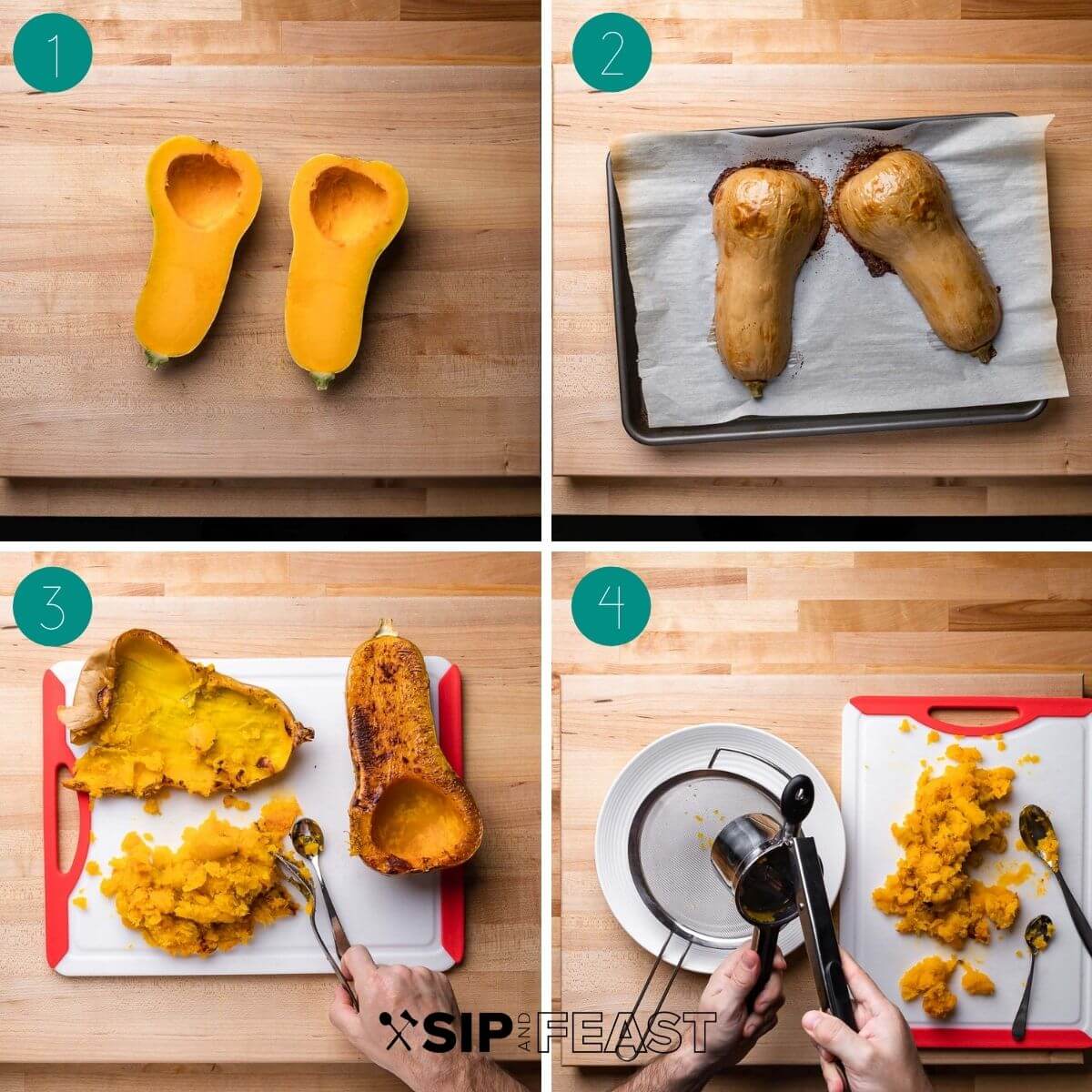 Once cool enough to handle, remove the squash and scoop out the soft insides and discard the skin.
Using a ricer tool, rice the squash. Alternatively, you can use a masher or food processor.
Take the riced butternut squash and place it in a clean kitchen towel. Twist it up and squeeze.
Do you see how much water has been removed? It's important to remove the water otherwise the butternut squash gnocchi will require much more flour and will not be as light and airy.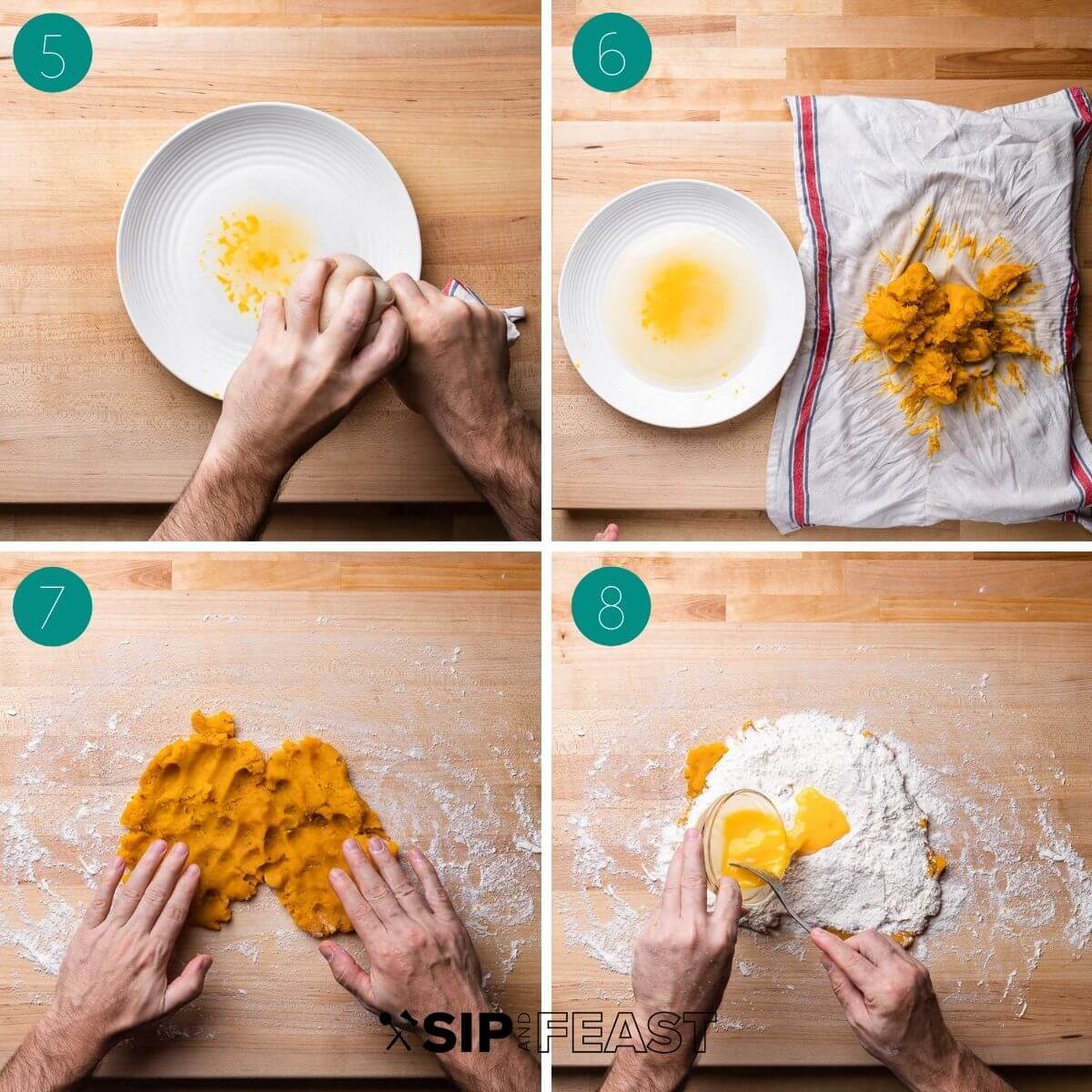 Sprinkle all-purpose flour onto a clean work surface and spread out 2 cups worth of the butternut squash puree. Any extra can be saved for another purpose.
Sprinkle 1 teaspoon of kosher salt and 1 1/2 cups of all-purpose flour onto the puree. Drizzle the egg on top and mix together.
The easiest way to mix together without overworking the dough is with a bench knife. Cut into the flour and fold it all together.
Form a ball of dough like shown. If the dough is too wet and sticking to your hands, add more flour a bit at a time. Try not to add too much though as that will dilute the butternut squash flavor and make the gnocchi tougher.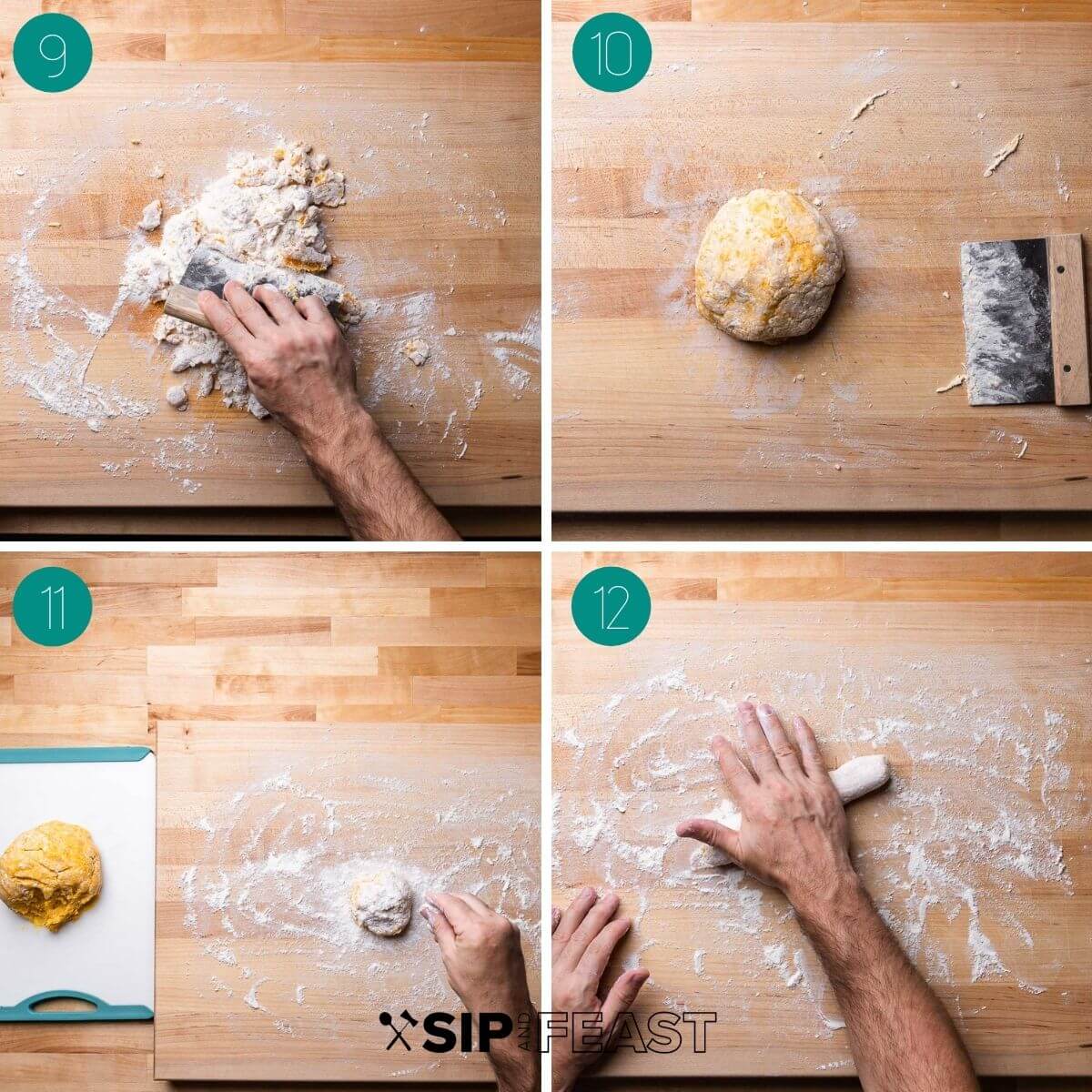 Clean the work surface completely and sprinkle with flour once more. Grab 1/5 of the dough (about the size of a lemon) and place it onto the work surface. Sprinkle more flour on top and onto your hands.
Roll the dough into a rope that is 1/2 to 3/4 inch wide. Try to use the palm of your hands instead of the fingertips. That helps to avoid flattening the rope.
With a very thin sharp knife cut into 1 inch long pieces.
Use a scraper to pick up the butternut squash gnocchi and place on a parchment paper lined baking sheet that has been sprinkled with semolina flour. Note: If you don't have semolina, just use all-purpose flour.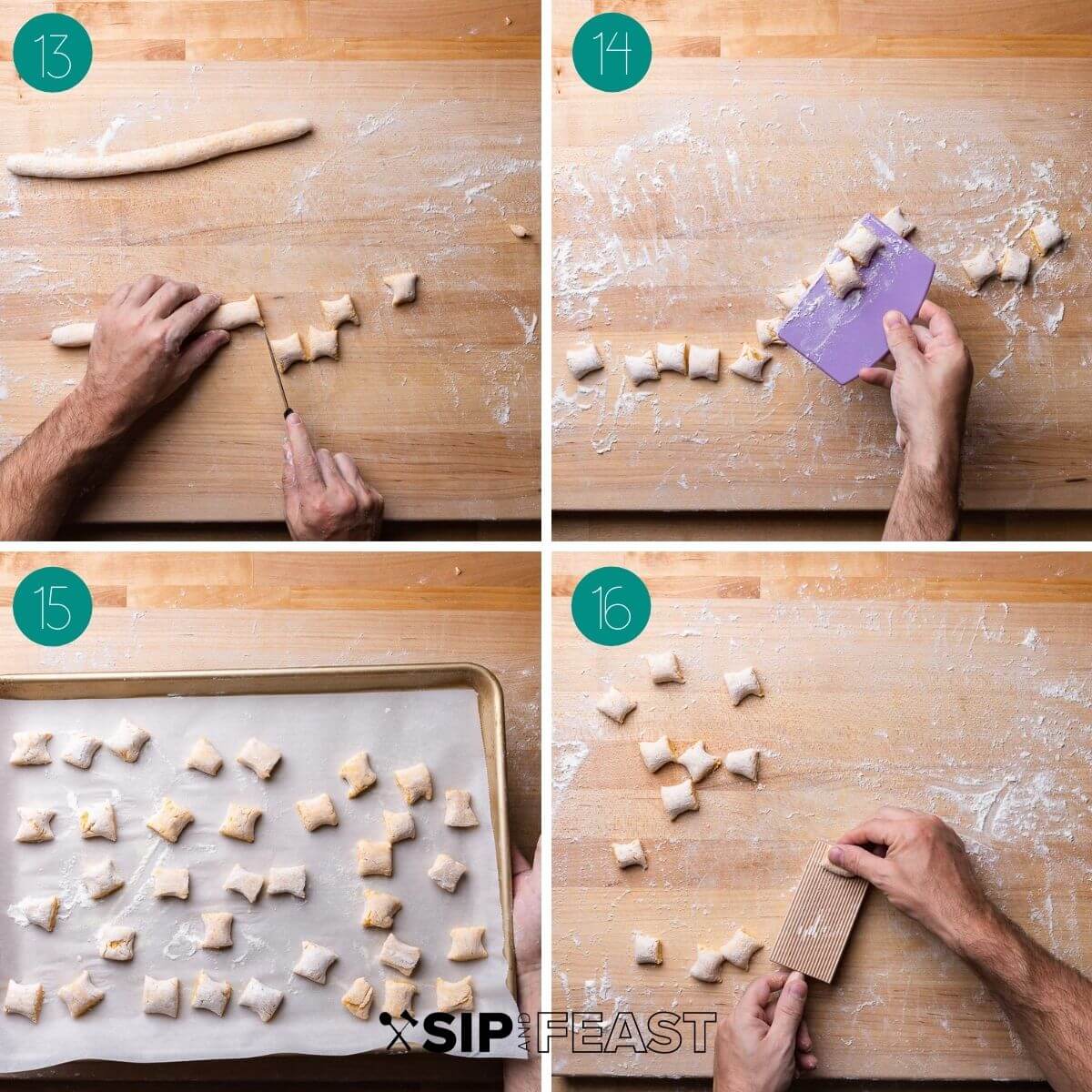 Make sure they do not touch each other because they will stick together almost immediately. Sprinkle with more all-purpose flour or semolina to prevent any sticking. The butternut squash gnocchi should be cooked in boiling water immediately or frozen. To freeze, place the baking sheet in the freezer for 2 hours. After 2 hours they can be placed in freezer bags and stored for up to 2 months.
Prior to cooking, use a gnocchi paddle, fork, or finger to shape. But for delicate butternut squash gnocchi, I like to leave them as is.
The above steps outline how to make the butternut squash gnocchi. But you're probably looking for a sauce that would pair perfectly with it.
Pumpkin pie spice, maple syrup, and any other fall spices you like work well, but I love the version below!
Butternut squash gnocchi with butter, sage, parmesan, and amaretti
Here I have a bag of frozen gnocchi ready to be cooked.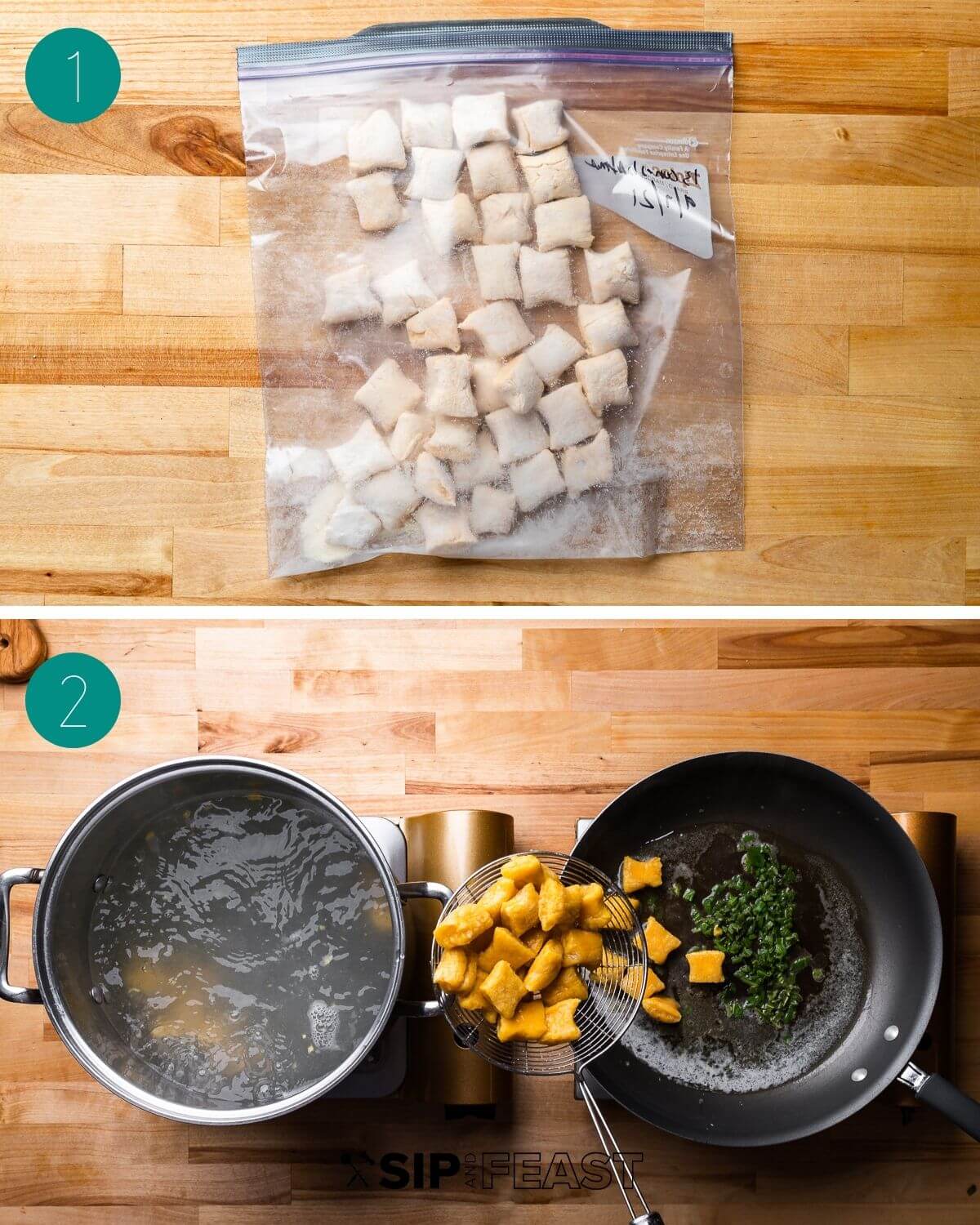 Bring a large pot of water to boil with 2 tablespoons of kosher salt. Heat a frying pan with 1 stick of butter over medium heat. Once it starts to bubble add in the sage. Drop the butternut squash gnocchi (work in batches, don't boil too many at once) into the water, and once they float to the top use a pasta spider or slotted spoon and place in the butter and sage.
Add 2-3 ounces of cooking water to the pan, turn off the heat, and continue to cook the next batch of gnocchi in the boiling water before placing them in the butter and sage mixture.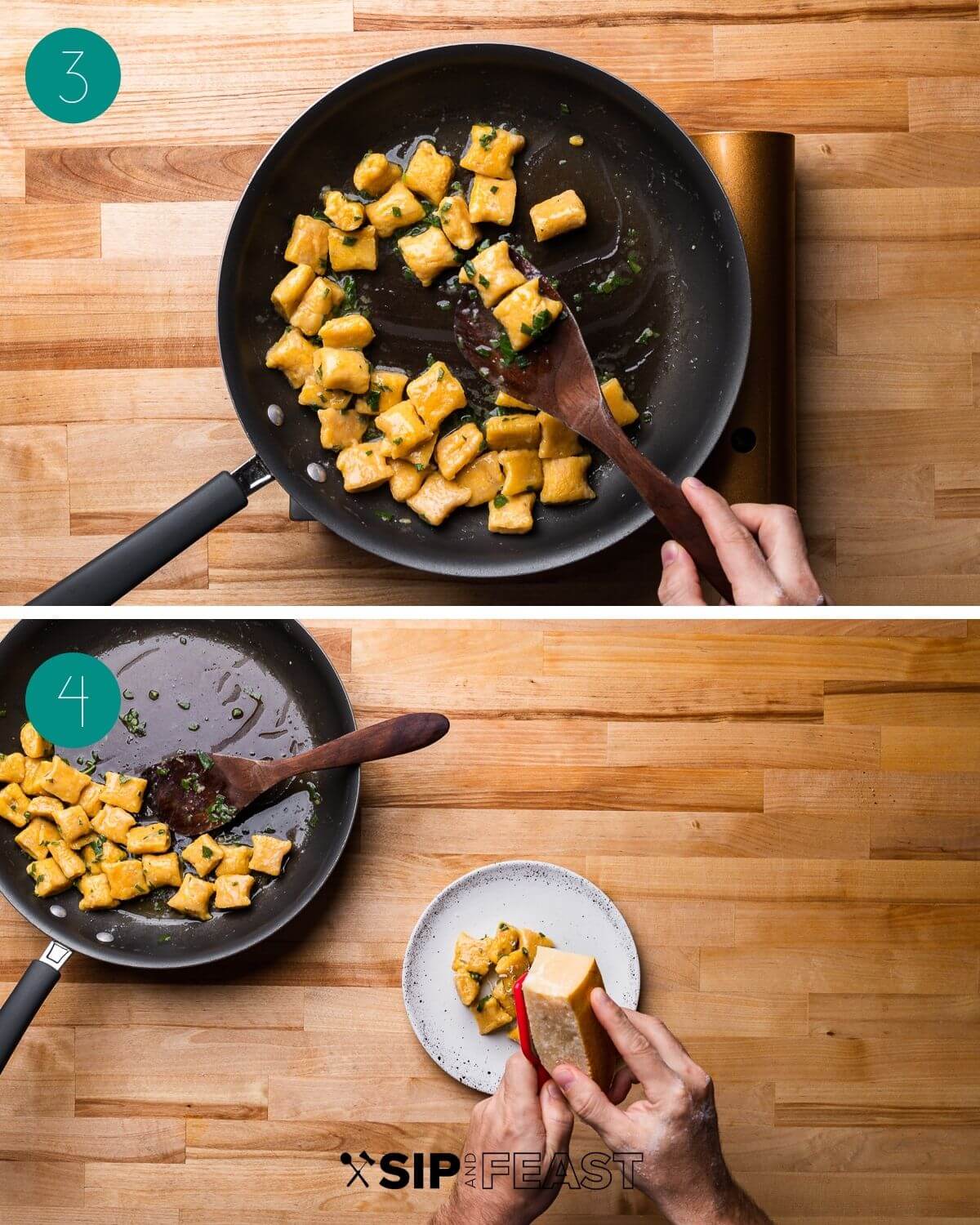 Plate and grate Parmigiano Reggiano on top.
Grate 1-2 amaretti cookies on top of each plate.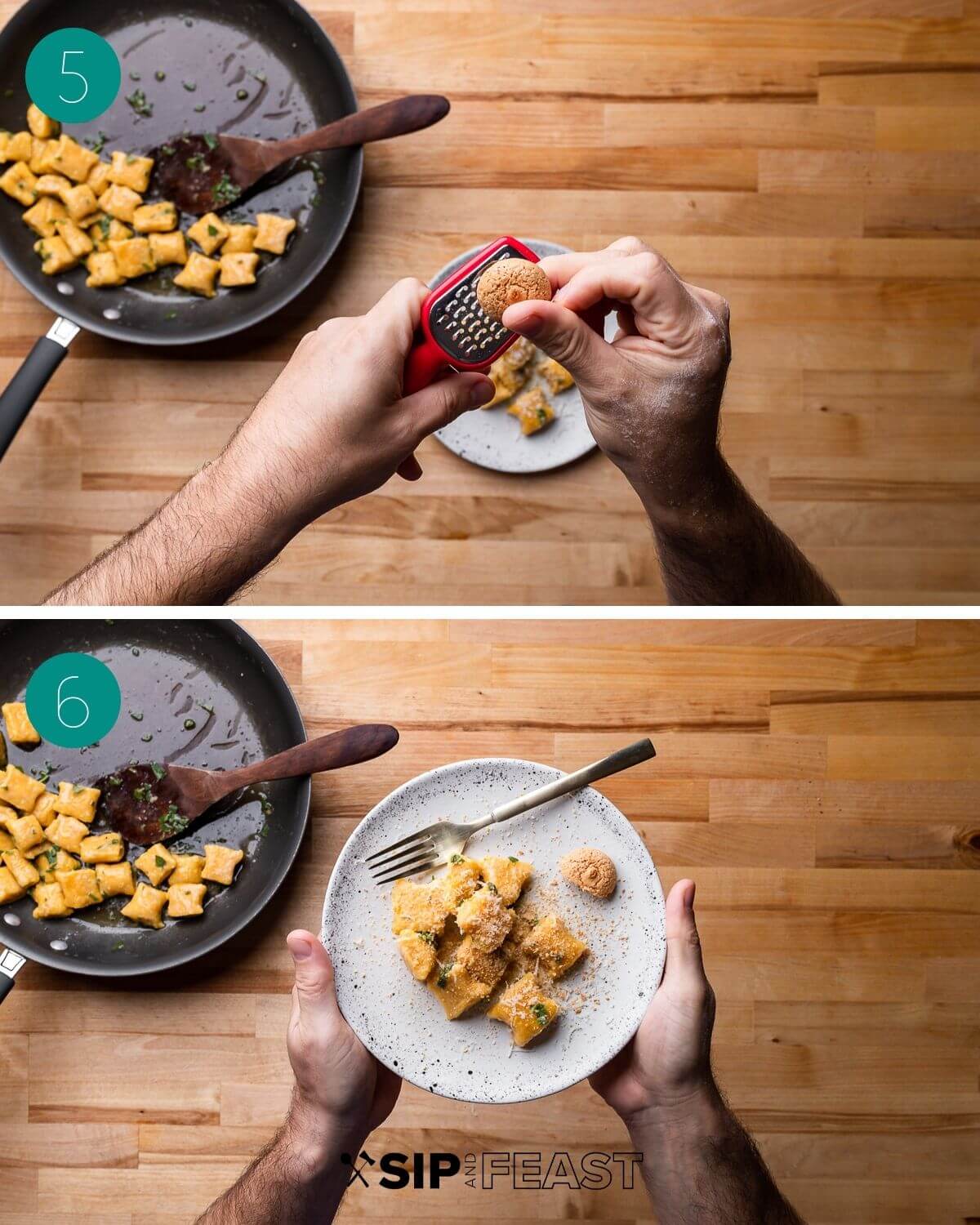 Leaving an extra amaretti cookie or two on each plate is a nice touch.
What to serve with butternut squash gnocchi
I love serving this dish as an appetizer or first course. It's the perfect way to entice the palate and get your dinner guests excited about what is coming next!
Some of my favorite dishes to serve after, or alongside butternut squash gnocchi include: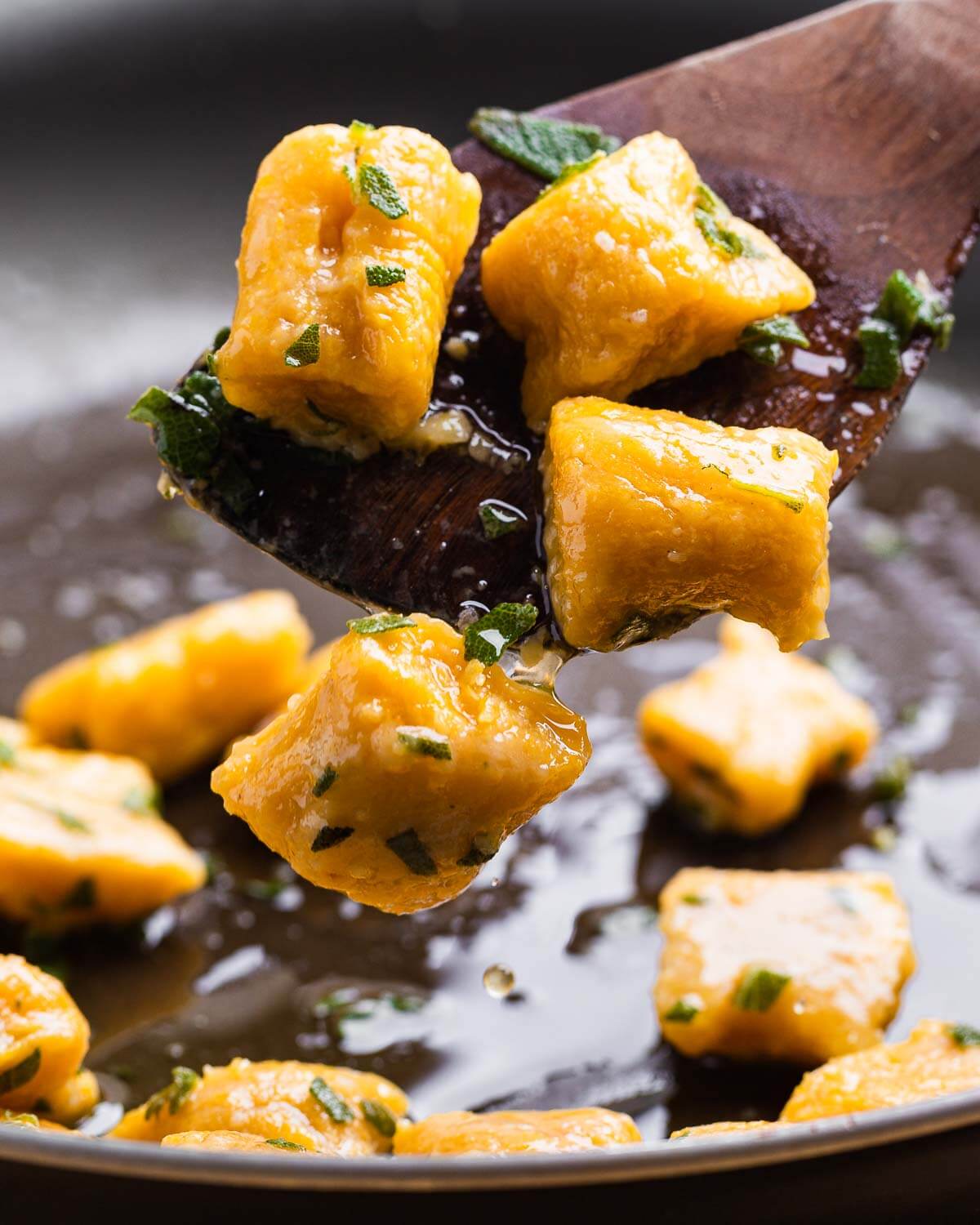 More butternut squash recipes
If you just can't get enough butternut squash, join the club! We've got a few recipes here that we think you'll love.
If you've enjoyed this butternut squash gnocchi recipe or any recipe on this site, give it a 5-star rating and tell us about it in the comments below.
We would love to hear how you did and it's nice to show others as well. Thanks!
Follow us on YouTube, Instagram, Pinterest, and Facebook.
Step-by-step instructions to make tender butternut squash gnocchi, and how to prepare a sage brown butter sauce with crumbled amaretti cookies to serve with them.
Ingredients
1

large

butternut squash

need 2 cups worth of cooked and drained puree

1 1/2

cups

all-purpose flour

plus more if needed and for dusting

1

teaspoon

kosher salt

1

large

egg

beaten

3

tablespoons

semolina flour

for dusting, can also use regular all-purpose flour
Sauce
1

stick

unsalted butter

3

tablespoons

sage

chopped

2

ounces

cooking water

salt and pepper

to taste

1/2

cup

amaretti cookies

grated

1/2

cup

Parmigiano Reggiano

grated
Instructions
How to make butternut squash gnocchi
Preheat oven to 400f and set rack to middle level. Cut squash in half, remove seeds, and roast cut side down on parchment paper for 40 minutes or until fork-tender.

Once able to handle squash, remove the pulp and discard skin. Run the pulp through a ricer or pulse in a food processor. Place the butternut squash in a clean kitchen towel and squeeze the water out of it.

Use 2 cups of the puree and reserve the rest for another use. Spread flour on a work surface, then place the puree on top. Sprinkle the salt and flour on top and drizzle the egg. Form a rough mass with a bench knife or hands. Knead for 20-30 seconds to just form the mass. If too wet add a bit more flour.

Place the butternut squash gnocchi dough to the side and clean work surface well. Sprinkle more flour onto the work surface then grab 1/5 of the dough (about the size of a lemon) and roll into a 3/4" rope.

Cut the rope into 1" long pieces with a sharp knife. Place the cut pieces onto a baking sheet lined with parchment paper and sprinkled with semolina flour (the semolina will prevent sticking). Do not let the cut pieces touch each other.

Repeat for the remaining dough and place filled baking sheets in the freezer for 2 hours and then into freezer bags or cook the butternut squash gnocchi right away.
How to make the sauce
Bring a large pot of salted water to boil.

Before dropping in the gnocchi, make the sauce by heating butter on medium heat until just foaming.

Cook gnocchi in salted boiling water. Add 3 ounces of the cooking water to the butter and sage, cook for 30 seconds, then turn off the heat.

Once the gnocchi float to the top, remove with a slotted spoon and place into the hot butter and sage. Cook gnocchi in small batches (they only take 2-3 minutes) and place in the pan.

Season with salt and pepper to taste. Plate butternut squash gnocchi and top with Parmigiano Reggiano cheese and the crumbled or grated amaretti cookie. Enjoy!
Notes
The recipe makes roughly 1 1/2 pounds of butternut squash gnocchi.
Makes 4 large or 6 small servings.
Squeezing out excess moisture from the butternut squash is a crucial step. Without doing this, too much extra flour will be required.
The exact amount of flour will vary due to humidity and moisture levels. Use just enough to form a cohesive workable dough.
Use as much extra bench flour as needed to roll out and dust the gnocchi.
Formed butternut squash gnocchi should be cooked immediately. Alternatively, they can be frozen, however, if freezing, be sure to keep them separate during the first 2 hours of freezing so they do not stick to one another. After the 2 hours, they can be placed in freezer bags and stored for up to 3 months.
Grooves can be made with a rigagnocchi, fork, or finger, but leaving them as is works great too.
Nutrition
Calories:
506
kcal
|
Carbohydrates:
59.6
g
|
Protein:
8.5
g
|
Fat:
25.6
g
|
Saturated Fat:
15.2
g
|
Cholesterol:
103
mg
|
Sodium:
838
mg
|
Potassium:
72
mg
|
Fiber:
3.3
g
|
Sugar:
18.2
g
|
Calcium:
50
mg
|
Iron:
3
mg
Nutrition information is automatically calculated, so should only be used as an approximation.