Rigatoni alla Gricia is a Roman pasta that's made with just a few ingredients. Crispy guanciale, coarse black pepper, salty Pecorino Romano, and extra starchy pasta water form the alla gricia sauce that's tossed with al dente pasta. So good, and so incredibly simple.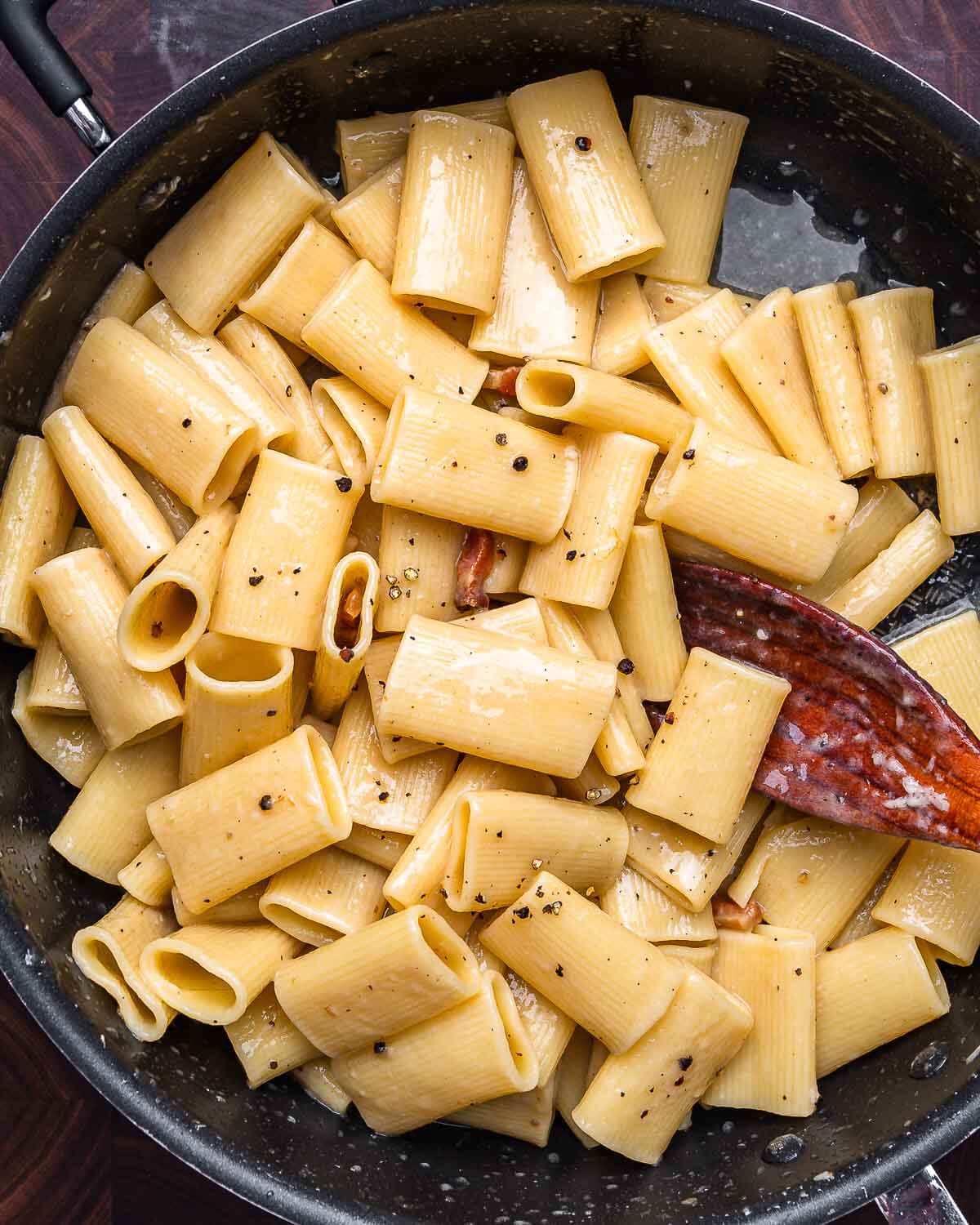 The first time I ever made rigatoni alla gricia I was surprised by how easy it was, but also how explosive the flavors were.
With only 4 ingredients, 5 if you count the pasta water, it's further proof that simple oftentimes equals extraordinary.
Each ingredient shows up in pasta alla gricia and with each bite you know exactly which flavors you're tasting.
The salt in the Pecorino and the fat in the guanciale play incredibly well with the punchy black pepper and starchy pasta.
Much like the other Roman pastas, such as Carbonara, rigatoni alla gricia is best served immediately after cooking, so be sure to have your people close by and ready to eat!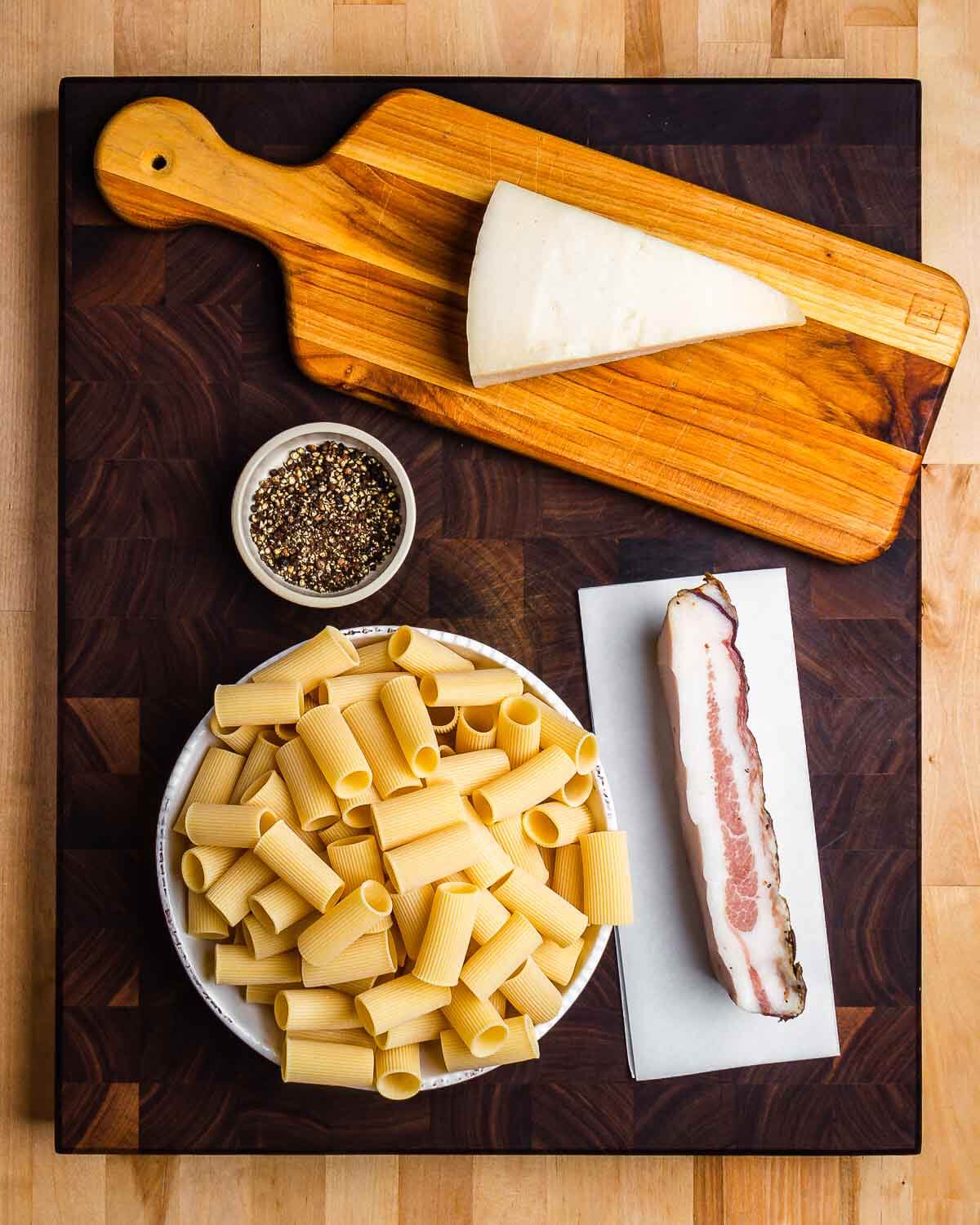 How to make it
Each number corresponds to the numbered written steps below.
Fill a large pot with 8 cups of water and 1 ½ teaspoons of kosher salt and bring to a boil. While waiting for the water to boil, remove the outer hard edge of 8 ounces of guanciale and slice it into lardons (¼ inch by ¼ inch strips). Note: We are using less water and salt here to form extra starchy cooking water to use later on.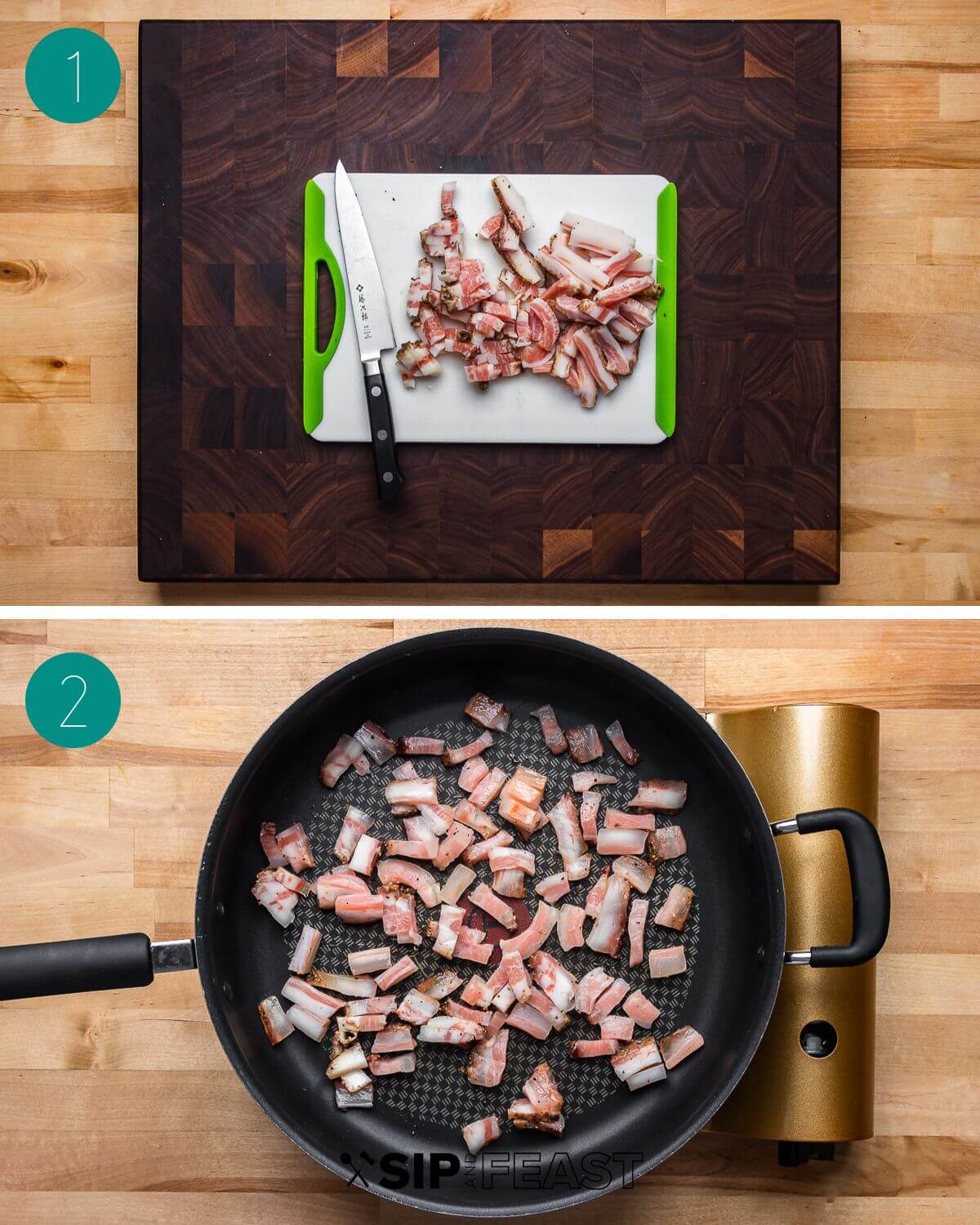 Heat a large pan to medium and saute the guanciale until most of the fat has rendered (about 10-12 minutes).
Once the fat has rendered and the guanciale is crisp, remove half the guanciale with a slotted spoon, place on a paper towel-lined plate to drain, and set aside.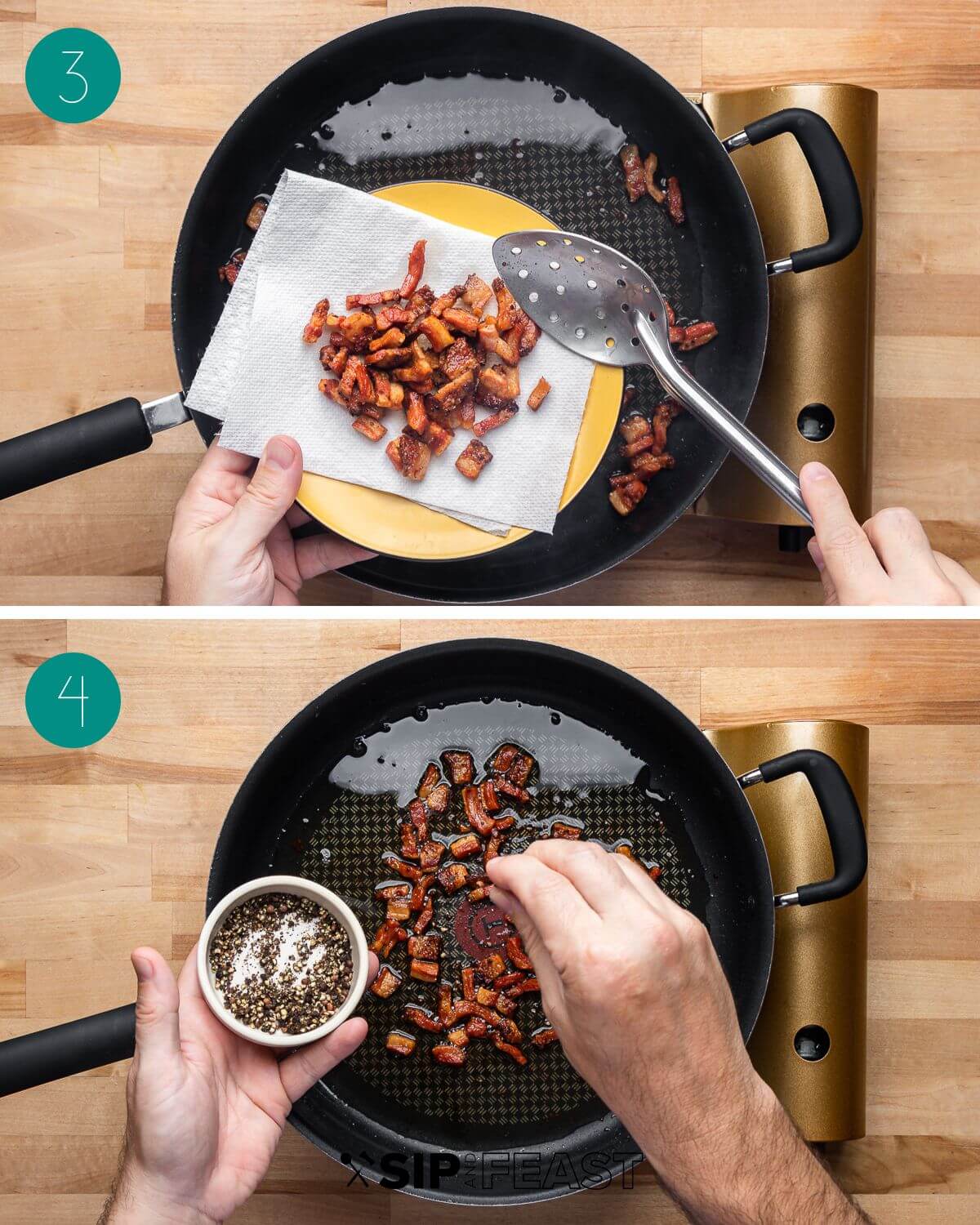 Begin to cook 1 pound of rigatoni until it is about 3 minutes less than al dente. Since there's less water being used you will need to stir the pasta more frequently than usual. At this point add about ½ teaspoon of very coarse black pepper to the guanciale fat.
Add 1 cup of pasta water to the pan along with the firm pasta and cook until it reaches al dente.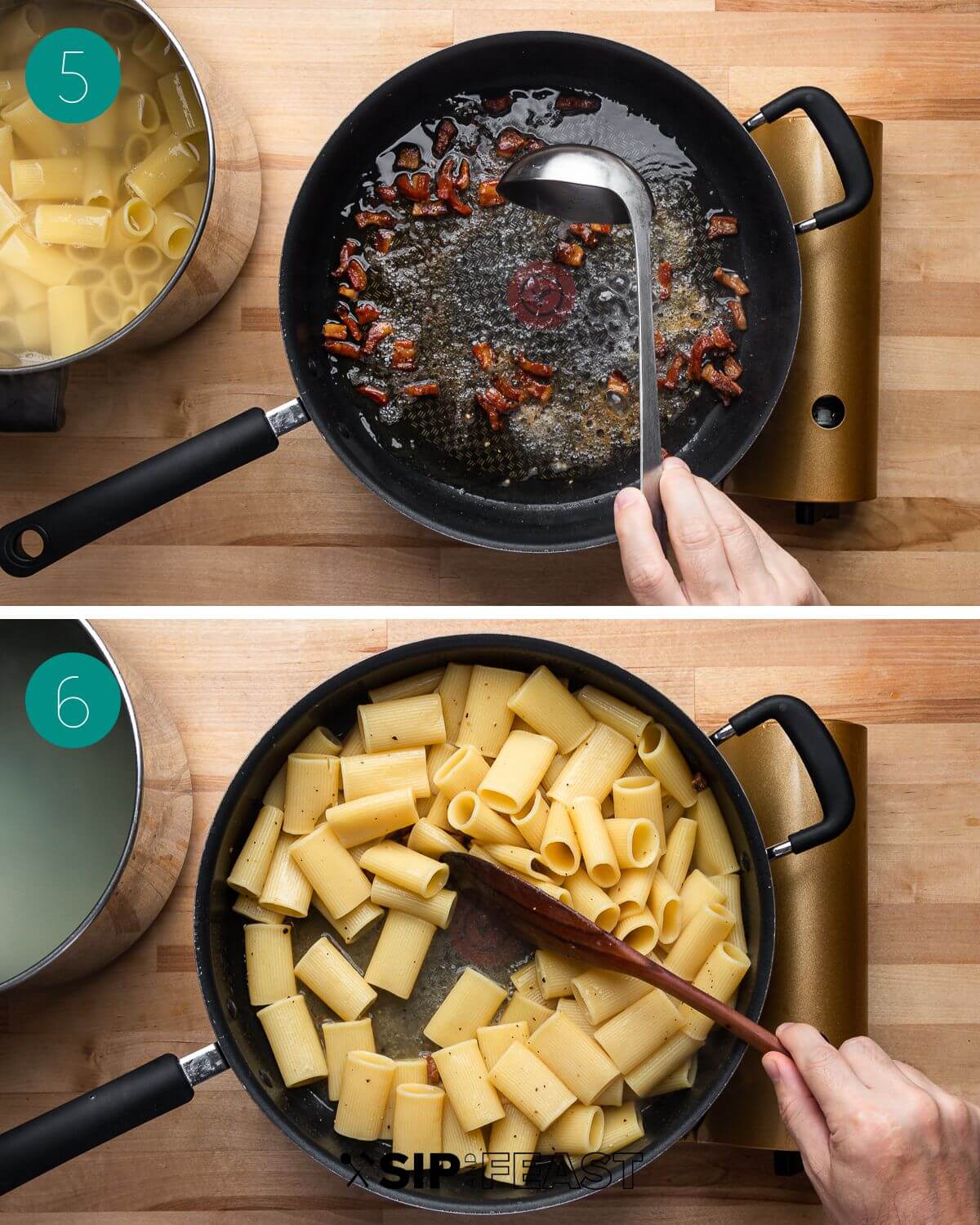 Add more pasta water as needed since the pasta will continue to absorb the water as it cooks.
Once the pasta reaches al dente, remove the pan from the heat and add ¾ cup of grated Pecorino Romano cheese. Mix and/or flip to emulsify the sauce. Add a touch more liquid if needed to loosen up the pasta.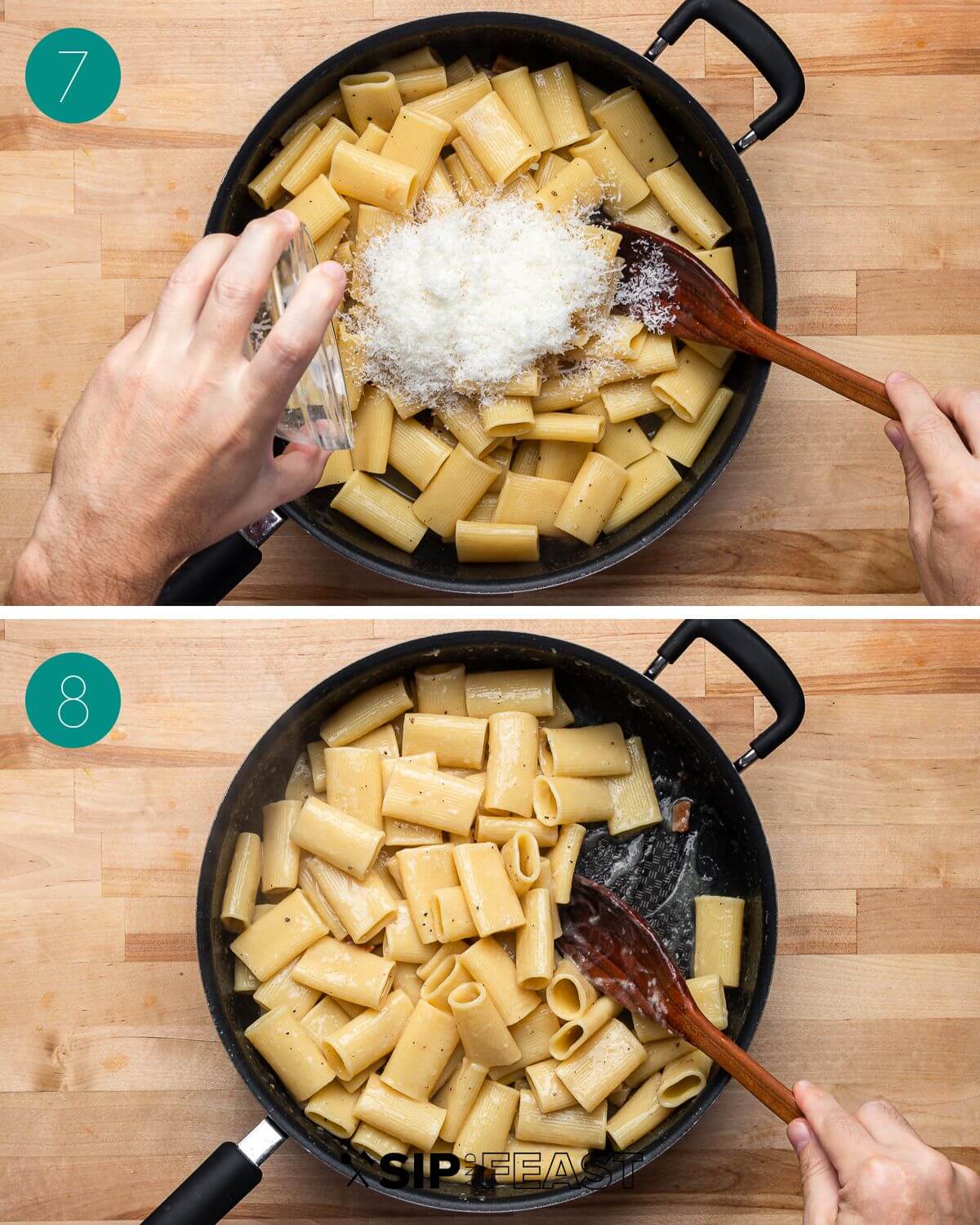 Taste test your pasta and adjust salt and pepper levels. You'll likely not need any additional salt since the guanciale and Pecorino are very salty. Serve in bowls with a good coarse grind of black pepper, more Pecorino Romano, and some of the reserved crispy guanciale. Enjoy!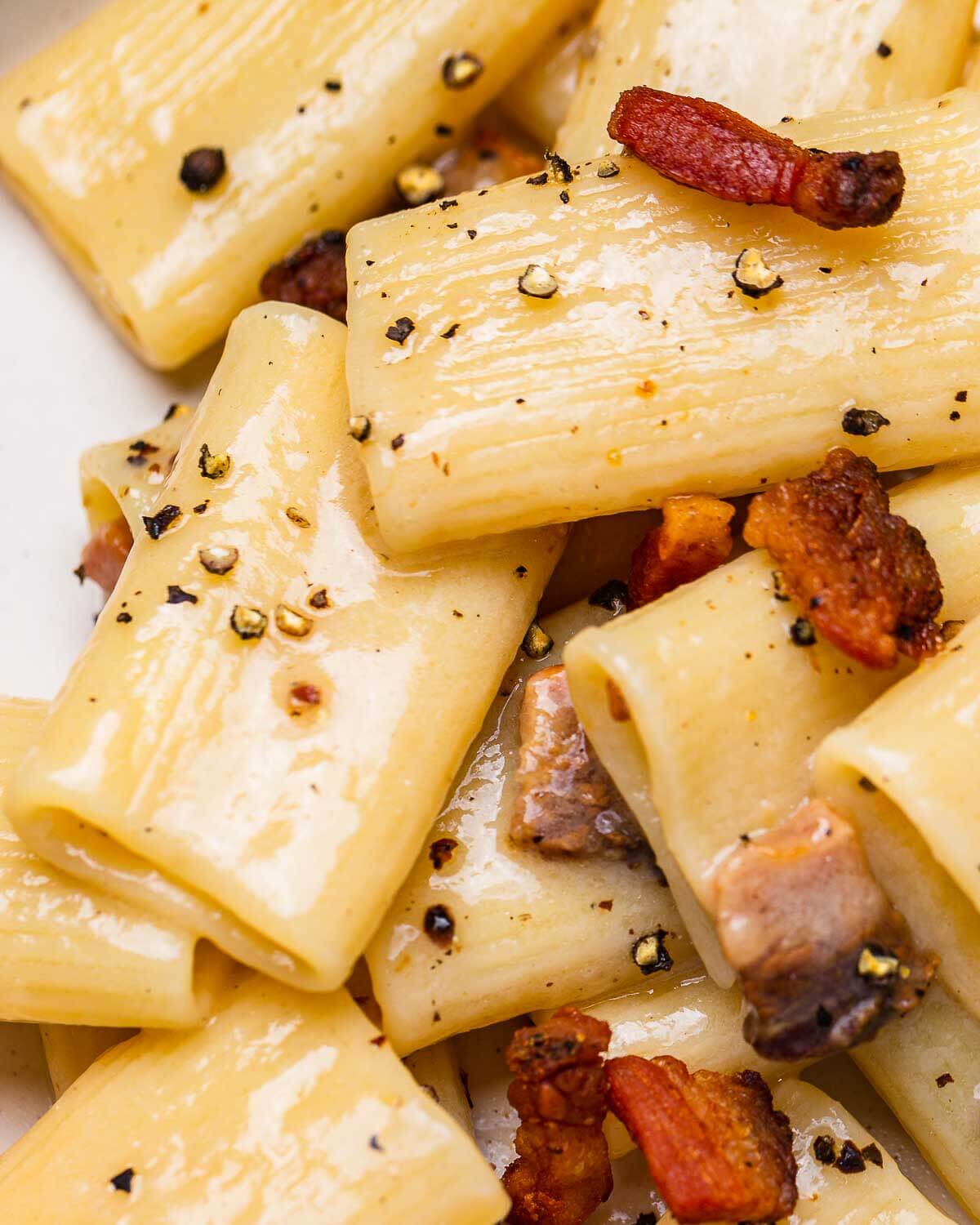 Top tips for perfect rigatoni alla gricia
The pasta water. To make a great pasta alla gricia it's really important to have very starchy pasta water as it is a major component of the sauce. To achieve a good starch level I strongly recommend following the recipe card and using only 8 cups of water or even less. Since that is less water than would typically be used for other pastas, I also recommend using less salt (1 ½ teaspoons of kosher salt). In addition, the Pecorino and guanciale are both quite salty so there isn't a need to add as much salt to the pasta water as usual.
The guanciale. To make an authentic pasta alla gricia, guanciale should be used. Guanciale is from pork jowls and has a salty and slightly funky taste that the Roman pastas are known for. Guanciale can be hard to find in areas where there are no Italian specialty stores so if you can't find it, pancetta would be a good substitute. Pancetta is also pork, but from the belly as opposed to the jowl.
How to serve. I strongly recommend serving and eating this dish as soon as it's done. As mentioned above, I also recommend saving half the guanciale to sprinkle on top of each bowl when serving. I like to serve pasta alla gricia with extra coarse ground black pepper and Pecorino Romano.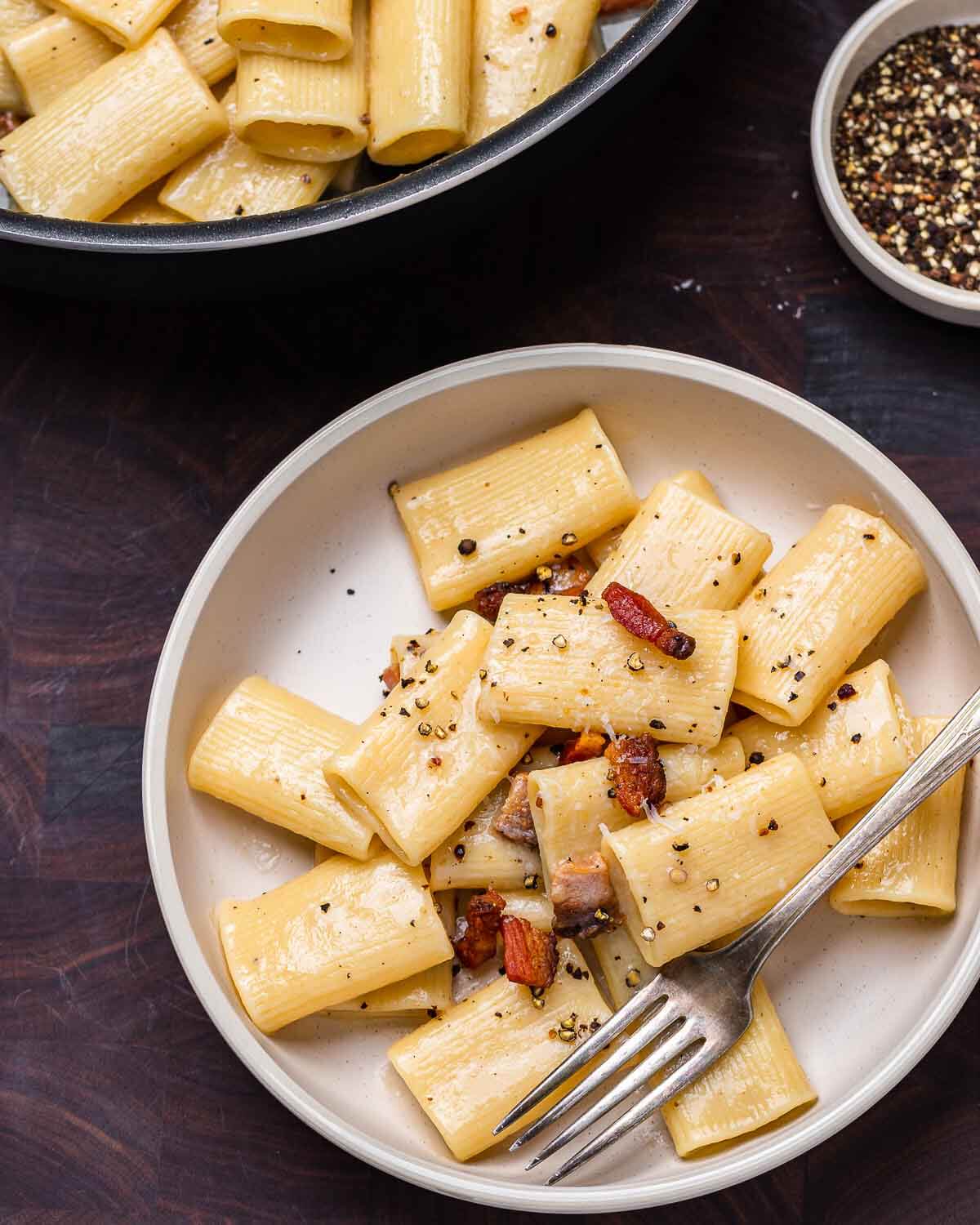 More Roman Pastas
Pasta alla Gricia is one of the 4 Roman pastas, and perhaps the oldest. I've provided step-by-step instructions for you to make all of these and hope you enjoy them as much as I do!
Bucatini Amatriciana - guanciale (or pancetta) with pasta in a spicy white wine and tomato sauce topped with Pecorino Romano cheese.
Spaghetti Carbonara - crispy guanciale tossed with pasta, fresh eggs, and Pecorino Romano cheese.
Cacio e Pepe - pasta tossed with a simple sauce made from Pecorino Romano cheese, black pepper, and starchy pasta water.
If you've enjoyed this rigatoni alla gricia or any recipe on this site, give it a 5-star rating and leave a review.
We strive to satisfy a number of learning styles. If you are someone who prefers to learn by watching, you can find most of our recipes on YouTube and our Facebook Page.
Ingredients
8

ounces

guanciale

cut into lardons

salt and pepper

to taste

1

pound

rigatoni

¾

cup

Pecorino Romano

grated

3

cups

reserved pasta water

will not neet it all but best to have extra
Instructions
Bring a large pot with water (only use 8 cups of water) to boil with only 1 ½ teaspoons of kosher salt.

Remove the outer hard edge of guanciale then slice into lardons (¼ inch by ¼ inch strips).

Heat a large pan to medium and saute the guanciale until most of the fat has rendered (about 10-12 minutes). Remove half of the crispy guanciale pieces to a plate and set aside.

Meanwhile, cook the pasta until it is about 3 minutes from al dente. It will still be rather hard.

Add some coarsely ground black pepper and the pasta along with 1 cup of pasta water to the pan and cook until the pasta reaches al dente. Add more pasta water if needed since it will absorb the liquid as it cooks.

Once the pasta reaches al dente, remove the pan from the heat and add the Pecorino Romano. Mix well and/or toss to emulsify. If needed add more pasta water, a touch at a time, to get the consistency just right.

Taste test and adjust salt and pepper levels. Most likely no salt will be needed, but a good coarse grinding of black pepper is recommended.

Serve in bowls with more grated Pecorino and top each plate with some of the reserved crispy guanciale. Enjoy!
Notes
Less salt and water is used to help make the sauce easier to emulsify with the extra starchy pasta water. Make sure to stir the pasta as it cooks since it will tend to stick to the bottom of the pot with a limited amount of water.
Guanciale is recommended but pancetta can 100% be substituted with great results.
Leftovers can be saved for up to 3 days and can be reheated in the microwave though pasta alla gricia is best eaten immediately after cooking.
Nutrition
Calories:
766
kcal
|
Carbohydrates:
85.3
g
|
Protein:
41
g
|
Fat:
29.8
g
|
Saturated Fat:
10.5
g
|
Cholesterol:
76
mg
|
Sodium:
1330
mg
|
Potassium:
320
mg
|
Fiber:
4
g
|
Sugar:
4
g
|
Calcium:
174
mg
|
Iron:
4
mg