Spaghetti alla Nerano is a creamy and comforting pasta dish featuring spaghetti tossed in a Provolone del Monaco cheese (we are substituting the easier to find Caciocavallo), zucchini, and butter sauce, and topped with lightly fried zucchini discs, basil, and more Caciocavallo. The perfect simple pasta for summer nights when you have a shortage of time, and an abundance of zucchini!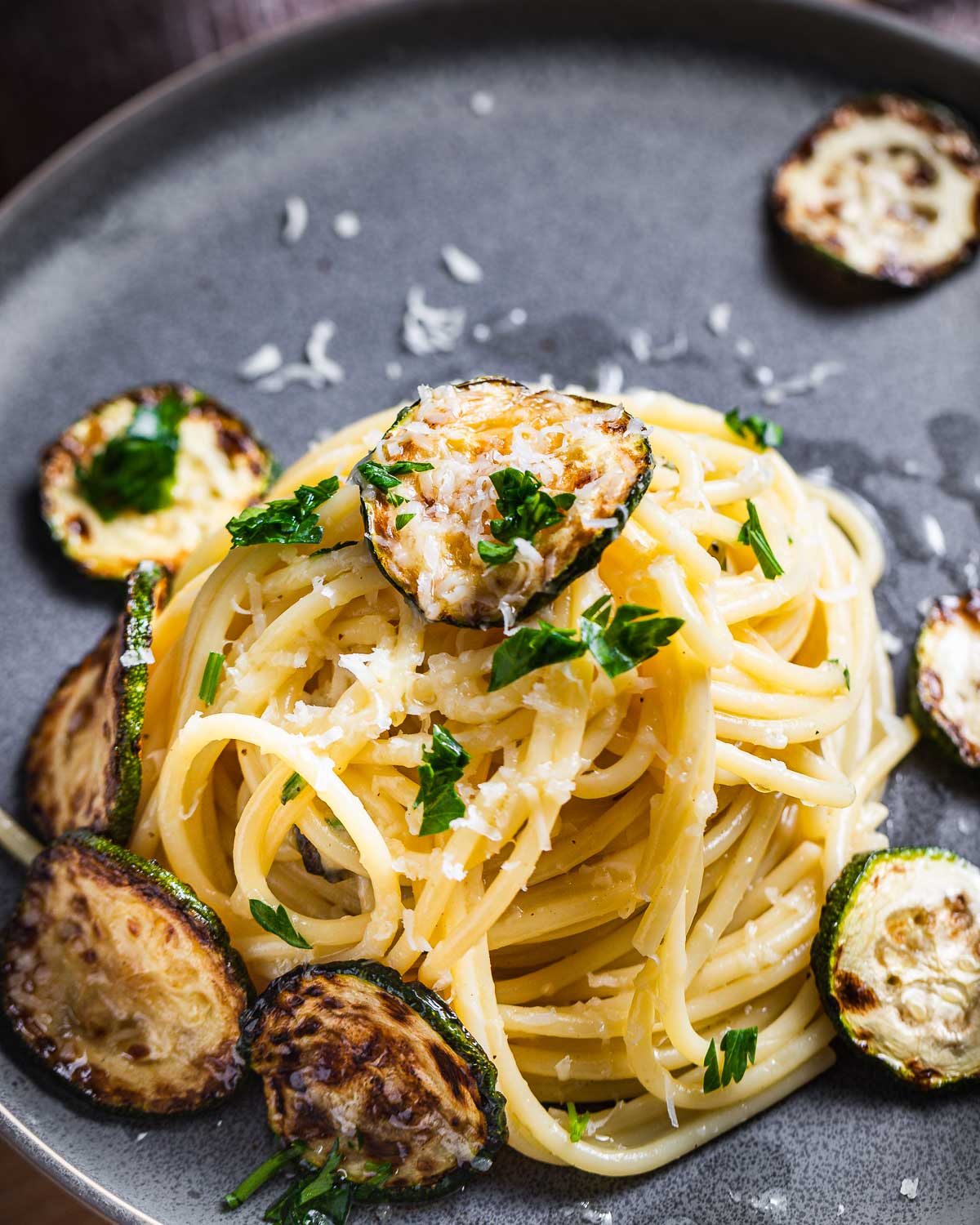 Stanley Tucci may have popularized this Spaghetti alla Nerano in his Searching for Italy series, but this dish has always been a regular in my home.
Growing up, my grandmother would make this for us on the regular. She called it "Fried Zucchini Pasta".
I can still remember coming in for dinner after playing soccer all day. Sweaty and starving, she'd place a bowl of this in front of me and tell me to eat. As if I needed any coaxing.
She'd make this using zucchini she grew in our yard, and it always tasted like summer, with a touch of magic.
Spaghetti alla Nerano origin
I always knew that fried zucchini pasta was something special, but what I didn't know was its origin.
I actually thought my grandmother invented the dish, to be honest.
But Spaghetti all Nerano originated in 1952 in a restaurant owned by Maria Grazia in the beach town, Nerano, on the Sorrentine peninsula in southern Italy.
Ingredient variations
The original dish may have included a cheese that is local to Nerano, named Provolone del Monaco.
This cheese is not easy to find in the US, which is why I opt for Caciocavallo which can be found in Italian grocery stores, and specialty markets in the New York metro area.
If you cannot find Caciocavallo, you can use high-quality mild provolone.
Alternatively, since this dish is so similar to Cacio e Pepe, but with zucchini, Pecorino Romano would be a perfectly suitable substitution.
As far as zucchini go, home grown are the best for this recipe.
But not everyone has access to grow it themselves, so grocery store or farmer's market zucchini are absolutely fine.
I strongly recommend using the smallest zucchini you can find. They will be more tender, have less seeds, less water, and just plain taste better.
I do use a small knob of butter in my Spaghetti alla Nerano, however, you could omit if you'd like.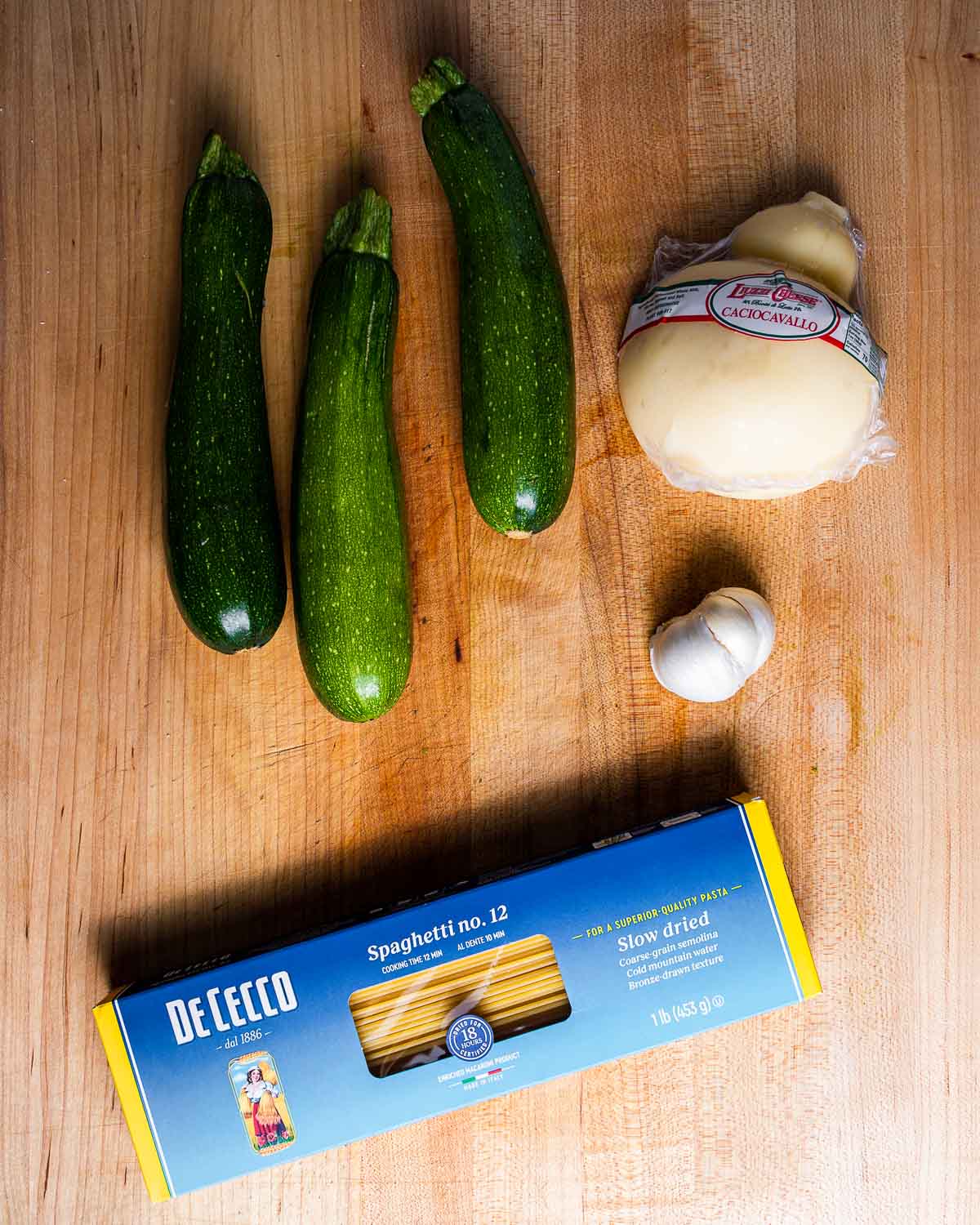 How to make it
Each number corresponds to the numbered written steps below.
Begin by slicing the zucchini (about 5 medium to small zucchini) into 3/16" discs.
Grate 1 ¼ cups of Caciocavallo cheese and set it aside.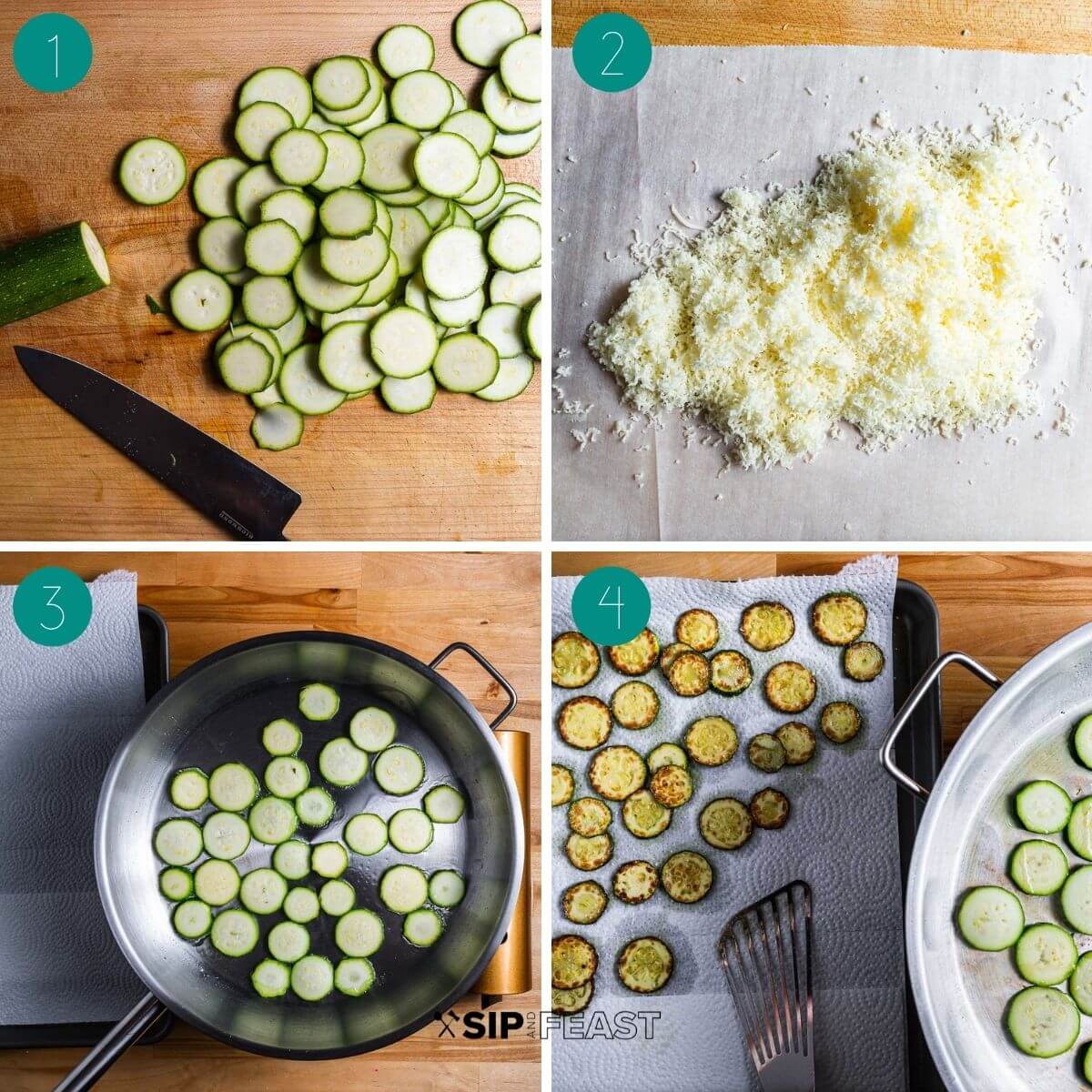 In a frying pan, sear the zucchini in olive oil until golden brown, about three minutes per side. This should be done in batches to prevent overcrowding. If you have the means, consider using multiple pans to speed up the frying time. Tip: If you are using a stainless steel pan as I did (pictured above), allow the pan to heat up for a few minutes before adding the oil. This will ensure a non-stick surface.
Remove the zucchini and place on a paper towel-lined baking sheet to drain. At this stage, sprinkle the zucchini with salt. The hot zucchini will more readily absorb the salt and taste better!
For the pasta, fill a large pot with water and bring to a boil. Once boiling, add 2 tablespoons of kosher salt, add your spaghetti, and cook until al dente. In a large, clean pan, saute the garlic in olive oil over medium-low heat. Once golden, remove the garlic from the pan and either discard, or just eat them if you desire!
Add the butter to the olive oil.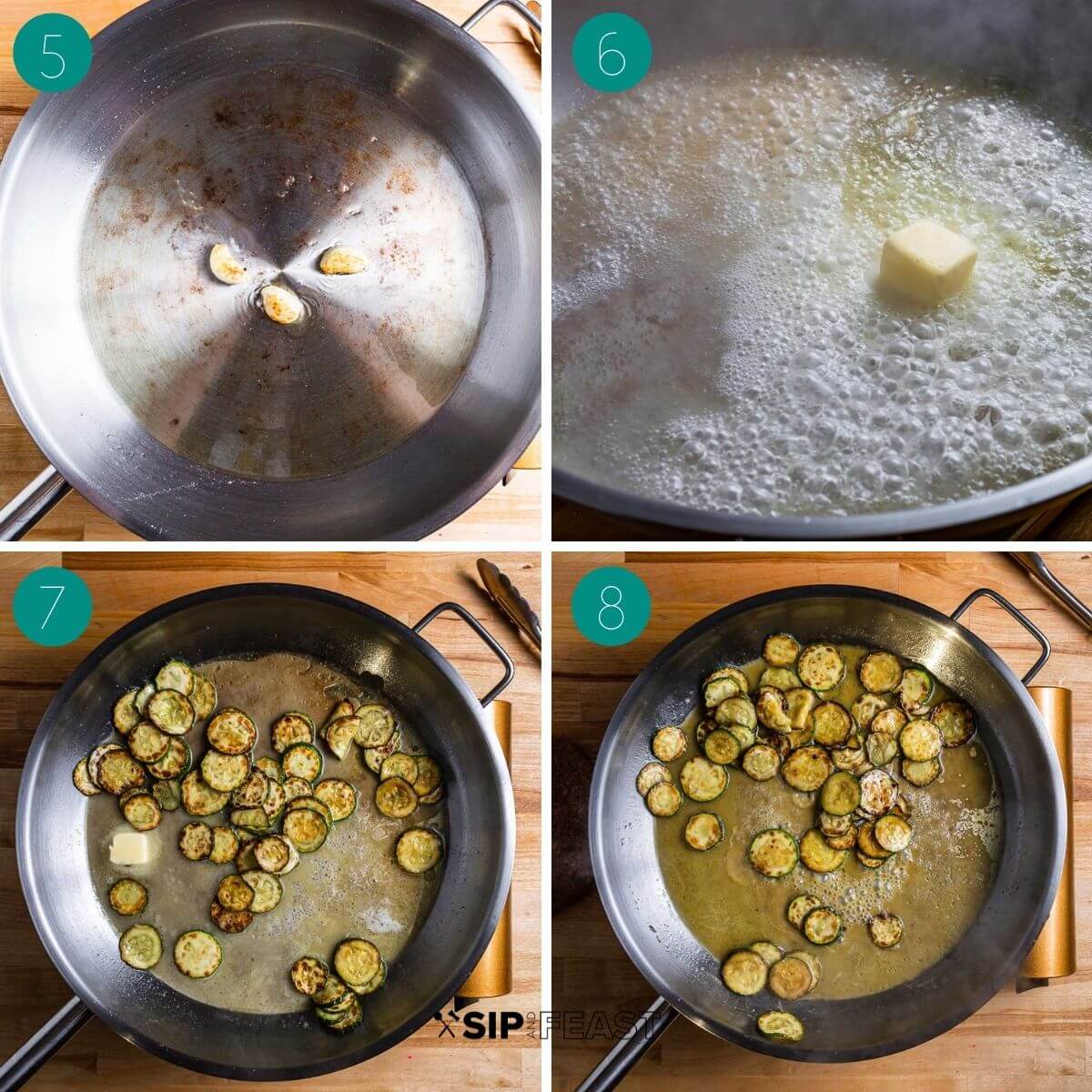 Add half the zucchini to the pan.
Add a ladle of pasta water and bring to a simmer. Mash the zucchini with a wooden spoon on the side of the pan to create a loose zucchini sauce.
Remove the al dente pasta with tongs from the pasta water so it is still wet, and add to the pan with the zucchini sauce. Cook for an additional minute or so, making sure to not overcook the pasta.
Turn off the heat and add the Caciocavallo cheese. Toss to emulsify and form a creamy sauce. If the pasta is too dry at this stage, add a few tablespoons of pasta water at a time, then toss once more, to get a perfect consistency.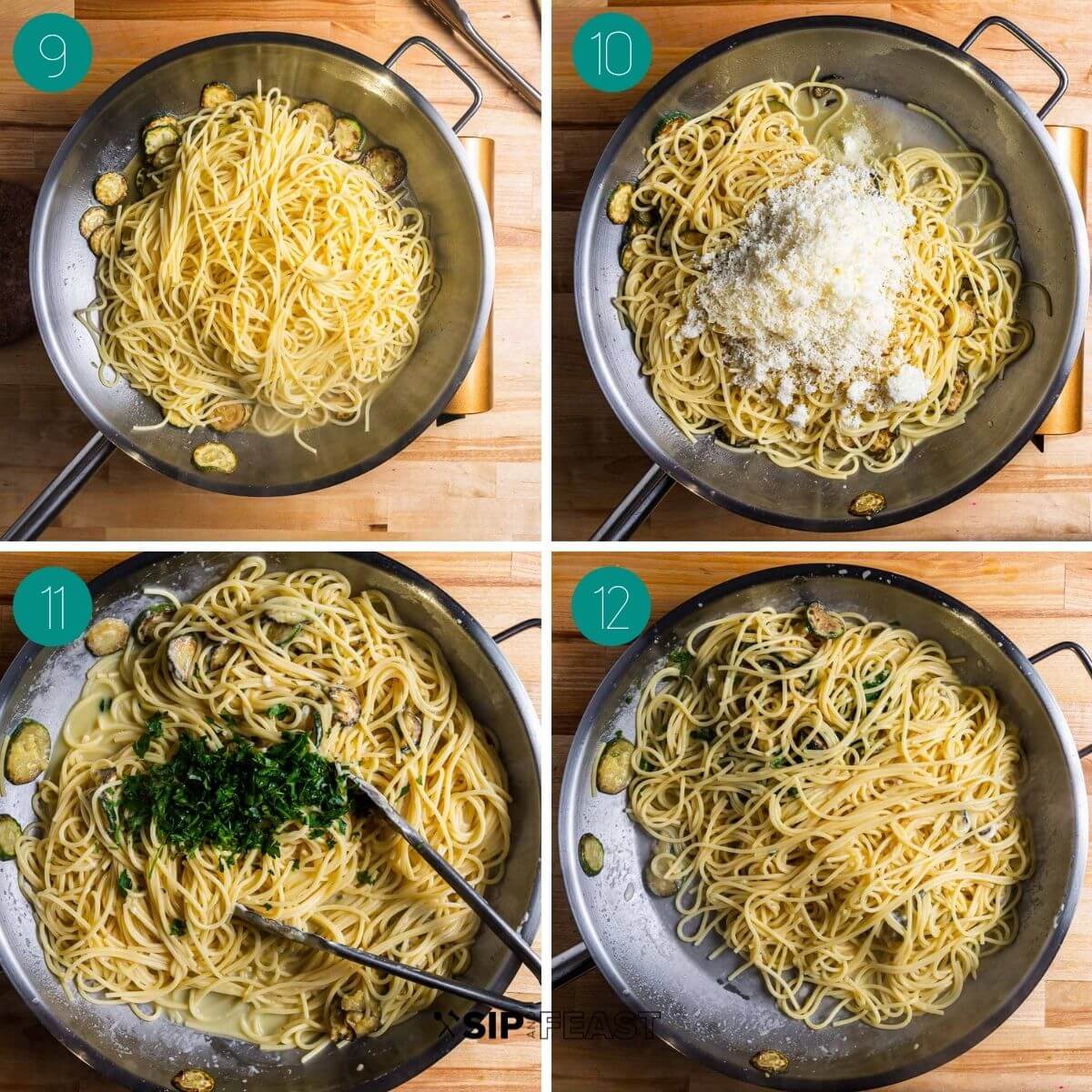 Taste test and make any final adjustments to salt or pepper levels, then add in the parsley or basil.
Give the pasta a quick toss, then plate and serve immediately. Top each individual plate with the remaining zucchini rounds, and more Caciocavallo, or Pecorino Romano cheese. Enjoy!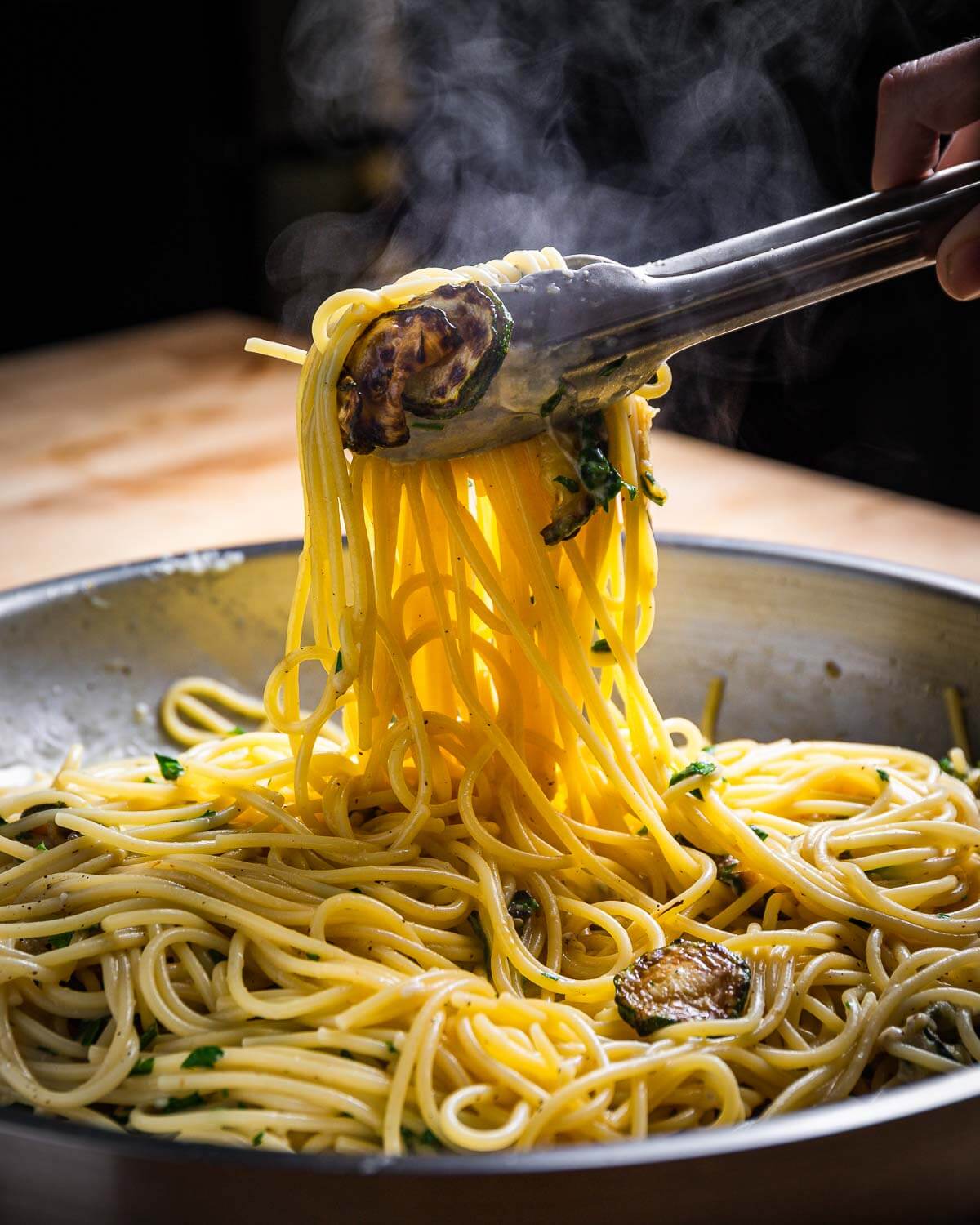 How to create a creamy (not clumpy) sauce for spaghetti alla Nerano
I mentioned above that fried zucchini pasta is similar to cacio e pepe, and that is mainly because of the method in which it is made.
Contrary to some belief, cacio e pepe does not contain any cream. Just cheese and pasta water.
The pasta alla Nerano is different in that it contains a small amount of butter, but that doesn't change the similarities in cooking method, known as mantecare, to create the emulsification.
Be sure to remove the pan from the heat prior to adding the cheese.
Once the cheese is added, toss to emulsify. This will help prevent the cheese from clumping.
Adding some of the cooled-down pasta water will also help to loosen the cheese.
You can even use cool tap water. Cheese tends to clump with boiling water, but not nearly as much with cooler water.
For visual instructions on making spaghetti alla Nerano, I encourage you to watch my YouTube video where I demonstrate how to get this perfect.
If you've never tossed a pan of pasta, I encourage you to learn how to do so since it is key for creating the emulsification you need for this dish and so many others.
Practice with uncooked dried pasta (such as rigatoni), or uncooked dried beans in a pan, until you feel comfortable.
And getting splashed and losing some pasta or sauce is what cooking is all about.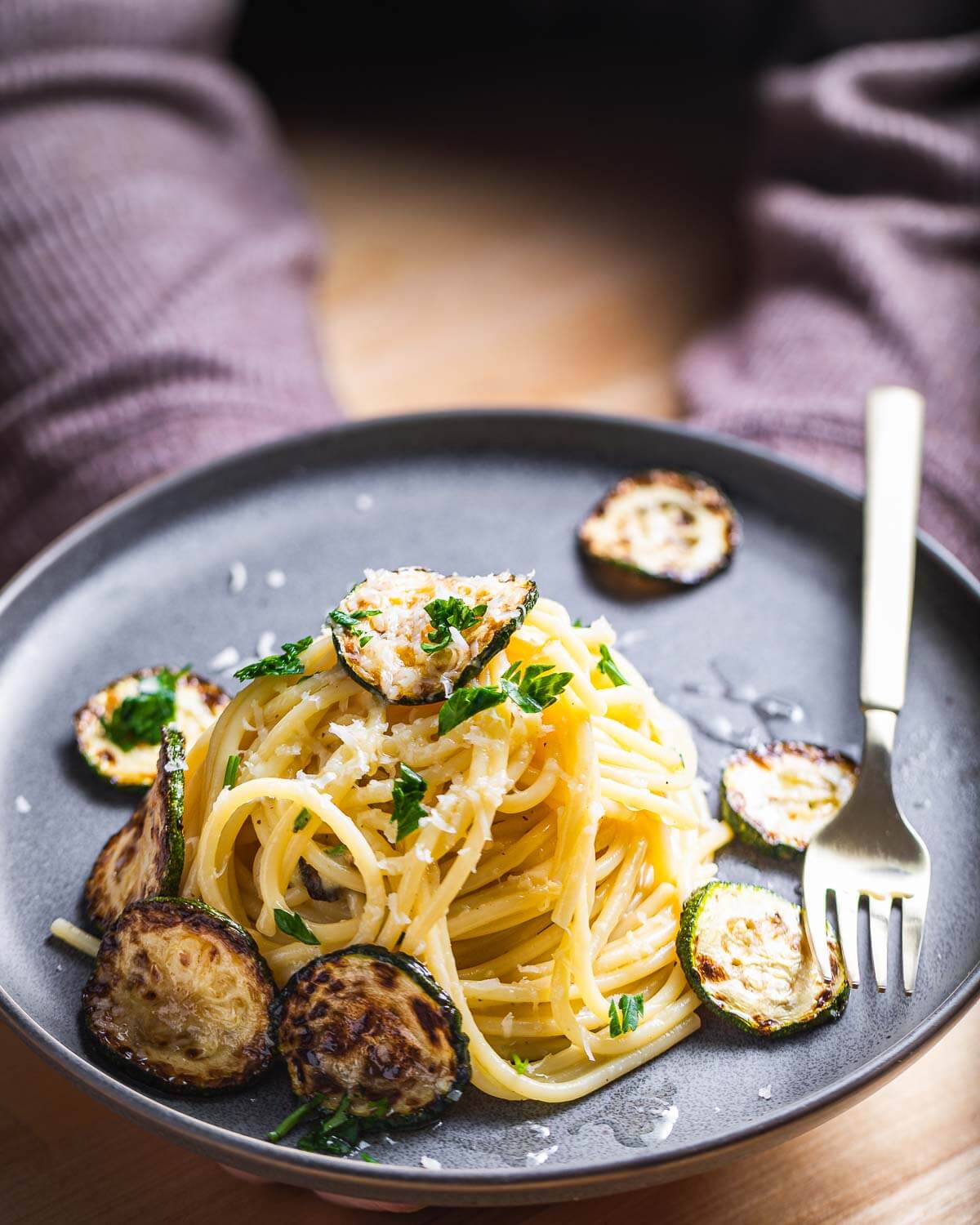 More zucchini recipes
If you're here reading this Spaghetti alla Nerano recipe, you are probably a fan of zucchini. And if you love zucchini, you've come to the right place.
I love zucchini and use it for many things. Some of my favorite zucchini recipes are listed below.
If you've enjoyed this pepper and Spaghetti alla Nerano recipe or any recipe on this site, give it a 5-star rating and tell us about it in the comments below.
We would love to hear how you did and it's nice to show others as well. Thanks!
Watch the video below where Jim will show you how to make this recipe with easy to follow instructions. Some people learn by watching. If you're that type of person, you can find most of our recipes on YouTube and our Facebook Page.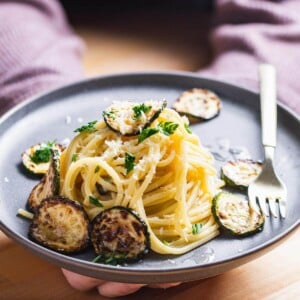 Ingredients
1

pound

spaghetti

5

small/medium

zucchini

sliced into ~3/16" discs

1 ¼

cups

Caciocavallo cheese

grated - see note below

4

cloves

garlic

¼

cup

basil

chopped

3

tablespoons

extra virgin olive oil

¼

cup

olive oil

for frying zucchini

1

tablespoon

unsalted butter

2

teaspoons

kosher salt

divided

pepper

to taste

2

cups

pasta water

reserved
Instructions
Fry the zucchini in olive oil until golden brown (about 3 minutes per side) then place in a large pan lined with paper towels. Salt the zucchini right after frying each batch. Working in batches or use multiple pans to speed up the cooking process.

Cook the spaghetti until very al dente in salted water (2 tablespoons kosher salt per gallon of water).

Meanwhile, heat a large clean pan to medium-low and saute the garlic cloves in 3 tablespoons of extra virgin olive oil until golden. Once golden remove and discard the garlic cloves.

Add the butter, a ladle of pasta water, and half of the zucchini to the pan. Bring to a simmer. Mash the zucchini with a wooden spoon on the side of the pan to create a loose zucchini sauce. Add the pasta wet (pull it right out of the pot with tongs) and continue cooking the al dente pasta for 1-2 minutes.

Turn off the heat and add the Caciocavallo cheese. Toss to emulsify and form a creamy sauce. If too dry add a couple of tablespoons of pasta water at a time, then toss once more, to get the consistency just right.

Taste test and make any final adjustments to salt and pepper. Add in the basil or parsley, then serve right away with the remaining zucchini rounds divided into each plate. More grated Caciocavallo or Pecorino Romano can be served on the side. Enjoy!
Notes
The recipe traditionally uses basil. We used parsley in the pics due to availability.
When adding the cheese taking the pan off the heat and tossing will help avoid clumping cheese. Adding some of the cooled down pasta water (or even cold tap water) will help loosen the cheese up as well.
The traditional cheese Provolone del Monaco is too hard to find so Caciocavallo is a great substitute. Unfortunately, Caciocavallo could prove difficult to find as well. A more widely available cheese like Pecorino Romano can be used with great success too!
This recipe should really be eaten immediately. You can save leftovers for up to 3 days in the fridge and reheat in the microwave or gently in a pan on the stovetop.
The ingredient list indicates reserving 2 cups of pasta water. You may not need to use it all. You can discard the remaining unused pasta water.
Nutrition
Calories:
567
kcal
|
Carbohydrates:
71
g
|
Protein:
22.6
g
|
Fat:
23
g
|
Saturated Fat:
7.1
g
|
Cholesterol:
105
mg
|
Sodium:
851
mg
|
Potassium:
846
mg
|
Fiber:
2.7
g
|
Sugar:
4.2
g
|
Calcium:
242
mg
|
Iron:
6
mg