Zucchini alla parmigiana is the perfect excuse to use up all that beautiful zucchini growing in your garden. Strips of roasted zucchini are layered with a simple marina sauce, copious amounts of melty mozzarella and Parmigiano Reggiano cheese, and fresh basil, then baked until golden and bubbly. And because the zucchini are roasted instead of fried, this is truly the easiest parmigiana you will ever make.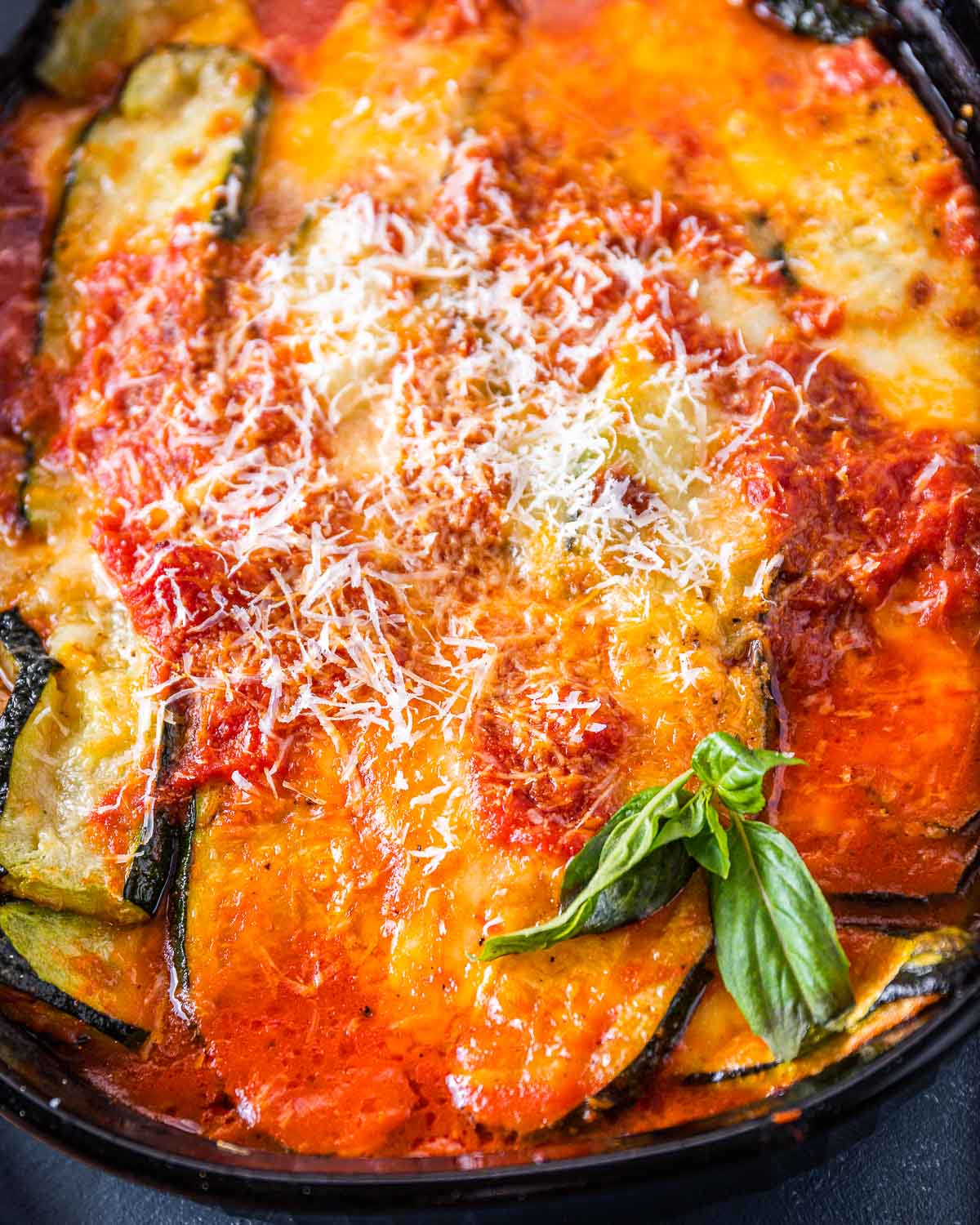 Zucchini alla parmigiana may not be as widely known as its more famous cousin, eggplant parmigiana, aka parmigiana di melanzane, but it is every bit as delicious.
In fact, some may even prefer this dish to the eggplant, since zucchini tends to have a more neutral flavor than eggplant.
I love both dishes, but I do find that zucchini parm is somewhat easier to make. And easier is good, especially for weeknights when everything else is not easy!
The secrets to my zucchini parm success
Making zucchini parm is anything but hard, but I really want to share some tips that will ensure you wind up with a top-notch dish.
Salt your zucchini
Much like eggplants, zucchini do hold quite a bit of water. For that reason, it is important that you salt and drain the zucchini prior to roasting.
This prevents the zucchini from releasing too much liquid when it is baking with the cheese and sauce. No one wants to eat watery zucchini parmesan.
To salt the zucchini strips, you can layer them in a colander, sprinkling a bit of salt over each layer. Allow them to sit for 30-45 minutes, then rinse with cold water and pat until completely dry.
The secret is in the sauce
Another tip to making successful zucchini parmigiana, is to use a slightly thicker marinara sauce.
Since the zucchini tends to release a bit of water, even in spite of the salting, it will contribute to the viscosity of the sauce. If you start with a thin sauce, it will wind up too watery. If you start with a thicker sauce, it will likely end up with the perfect consistency.
Patience pays off
Lastly, as with any parmigiana or lasagna, you must let the dish settle before serving.
Give it a good 20 minutes to sit after it comes out of the oven. It will allow the ingredients to congeal a bit. Trust me, it will be worth the wait!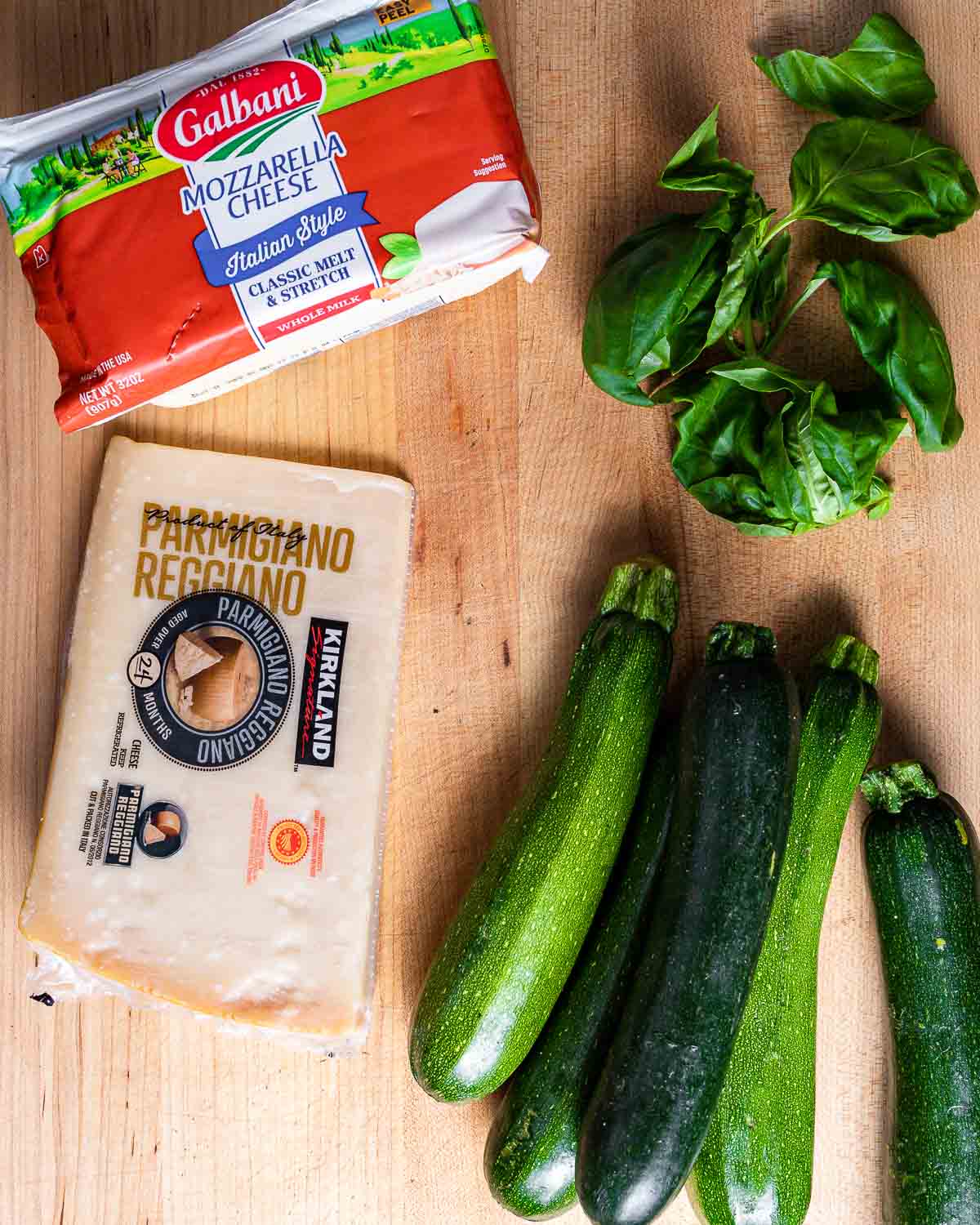 How to make zucchini alla parmigiana
Each number corresponds to the numbered written steps below.
Slice 5 medium-sized zucchini into ¼" pieces.
Layer the zucchini strips in a colander, sprinkling salt over each layer. Set aside for 30-45 minutes.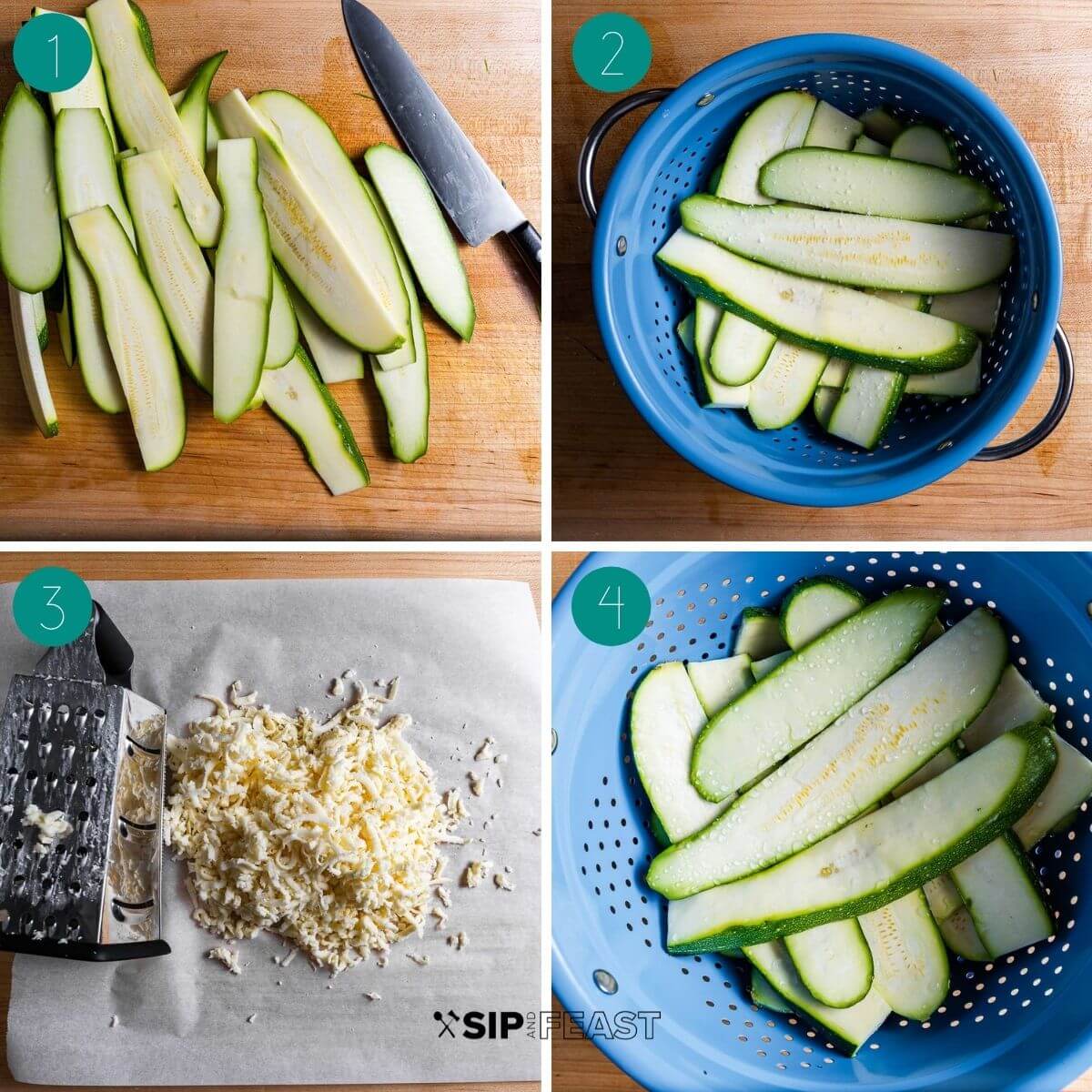 Using a cheese grater, shred the mozzarella, and grate the Parmigiano Reggiano cheese. If you are planning to make your own marinara sauce, now would also be the perfect time to start that.
After 45 minutes or so, the zucchini should have released a lot of water, as shown in the picture above.
Remove the zucchini strips and rinse with cold water to remove the salt. Then, pat with paper towels until completely dry. NOTE: Rinsing and drying them will not reintroduce water to the zucchini. They will still be less waterlogged than fresh cut zucchini.
Place the zucchini strips on a baking sheet lined with parchment paper. Coat the zucchini with olive oil, and season with ½ teaspoon of kosher salt, and ½ teaspoon of black pepper. Roast the zucchini in the oven for 25 minutes at 375f.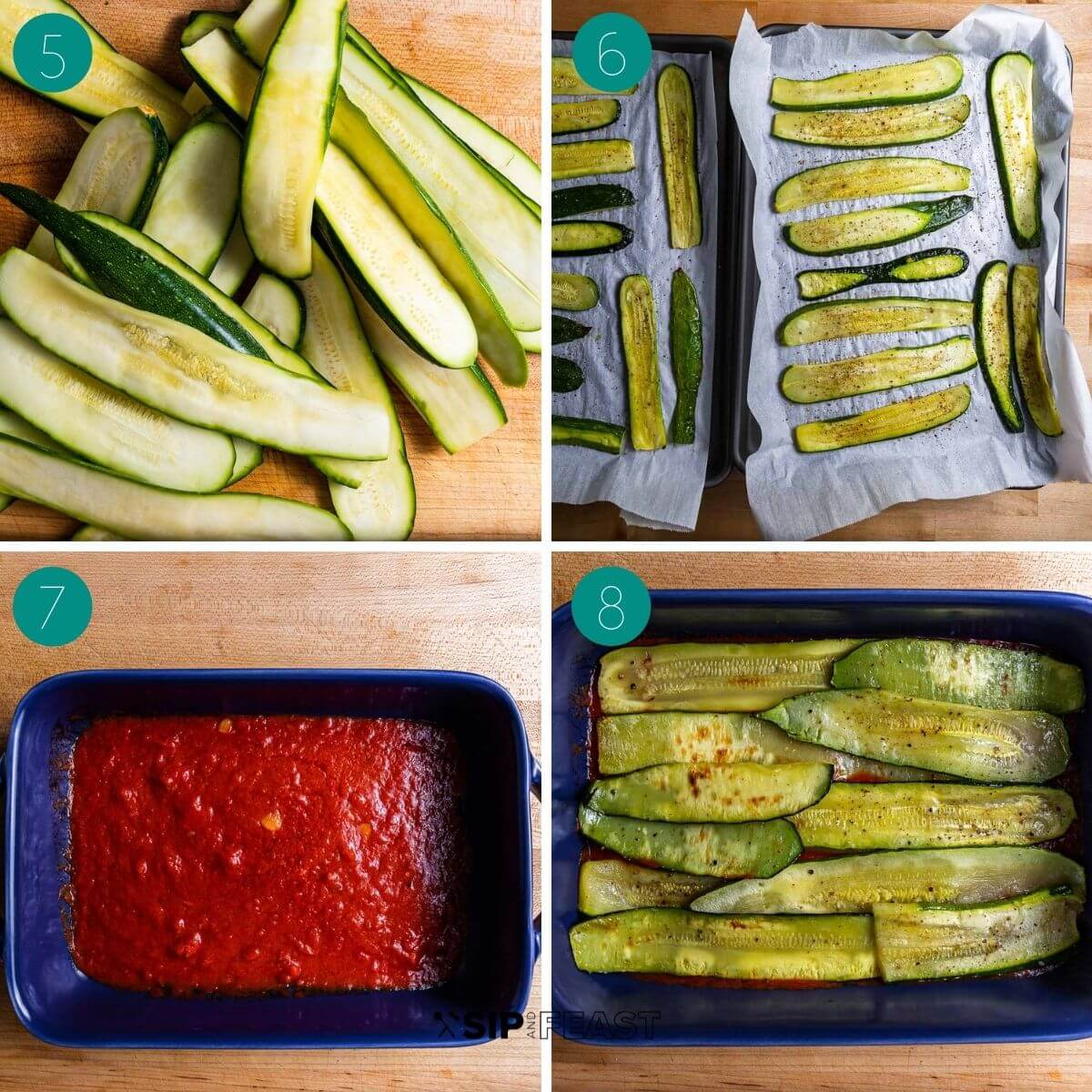 Spoon a thick layer of marinara sauce into a 9x13 baking dish.
Place one layer of the zucchini strips on top of the sauce.
Layer the mozzarella on top of the zucchini, sprinkle some Parmigiano Reggiano on top, as well as some torn basil leaves.
Begin your next layer by spooning more marinara on top.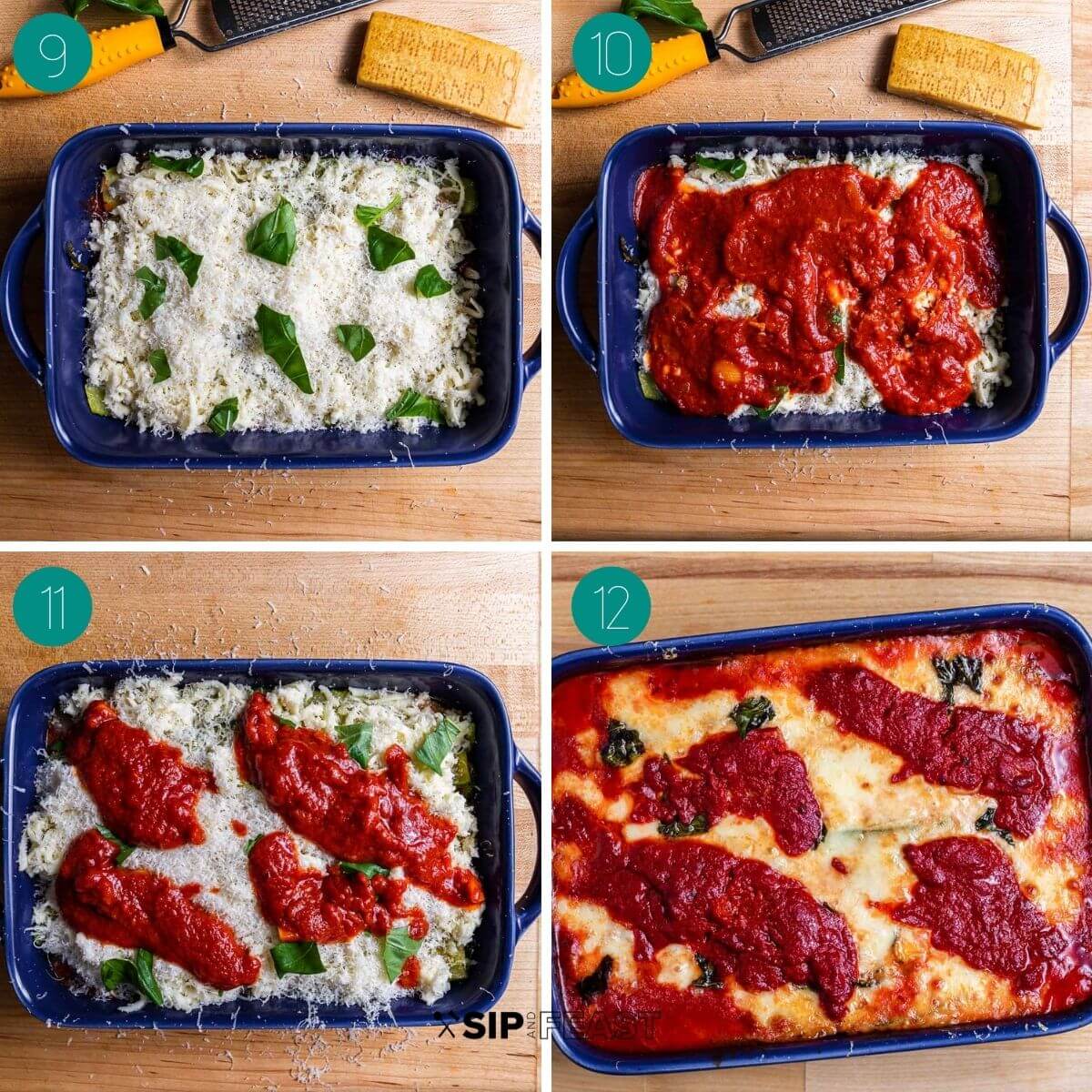 Repeat the layering process until your baking dish is full, and bake in the oven at 375f for 20-25 minutes.
After 25 minutes, if you'd like to achieve a golden top, carefully broil the zucchini alla parmigiana for 1-2 minutes, taking care to watch it the entire time to prevent burning. Let the parmigiana settle for 20 minutes prior to serving. Enjoy!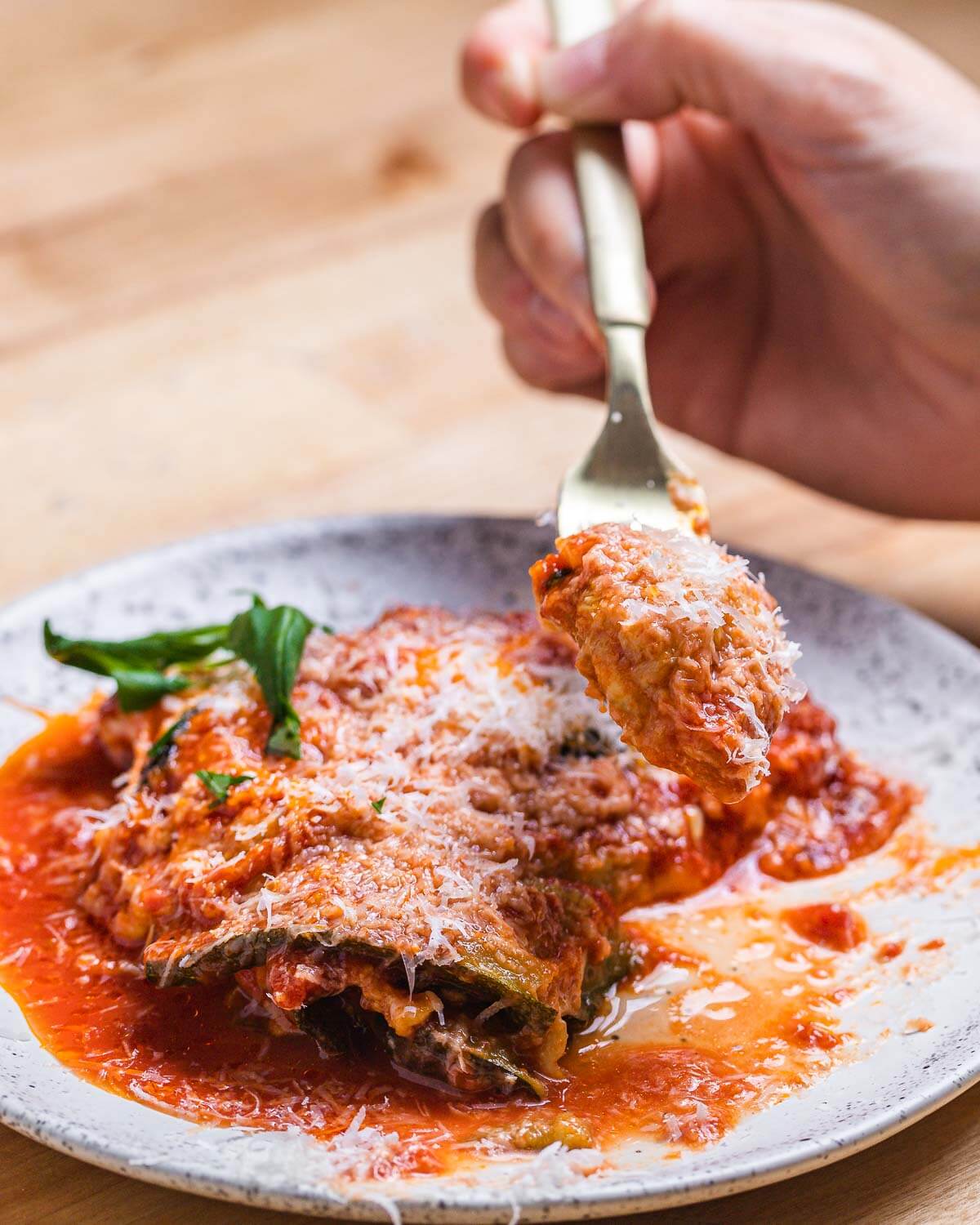 More zucchini dishes
If you love zucchini, you've come to the right place. Here are some of our favorite tried and true zucchini recipes. Which ones are your favorite?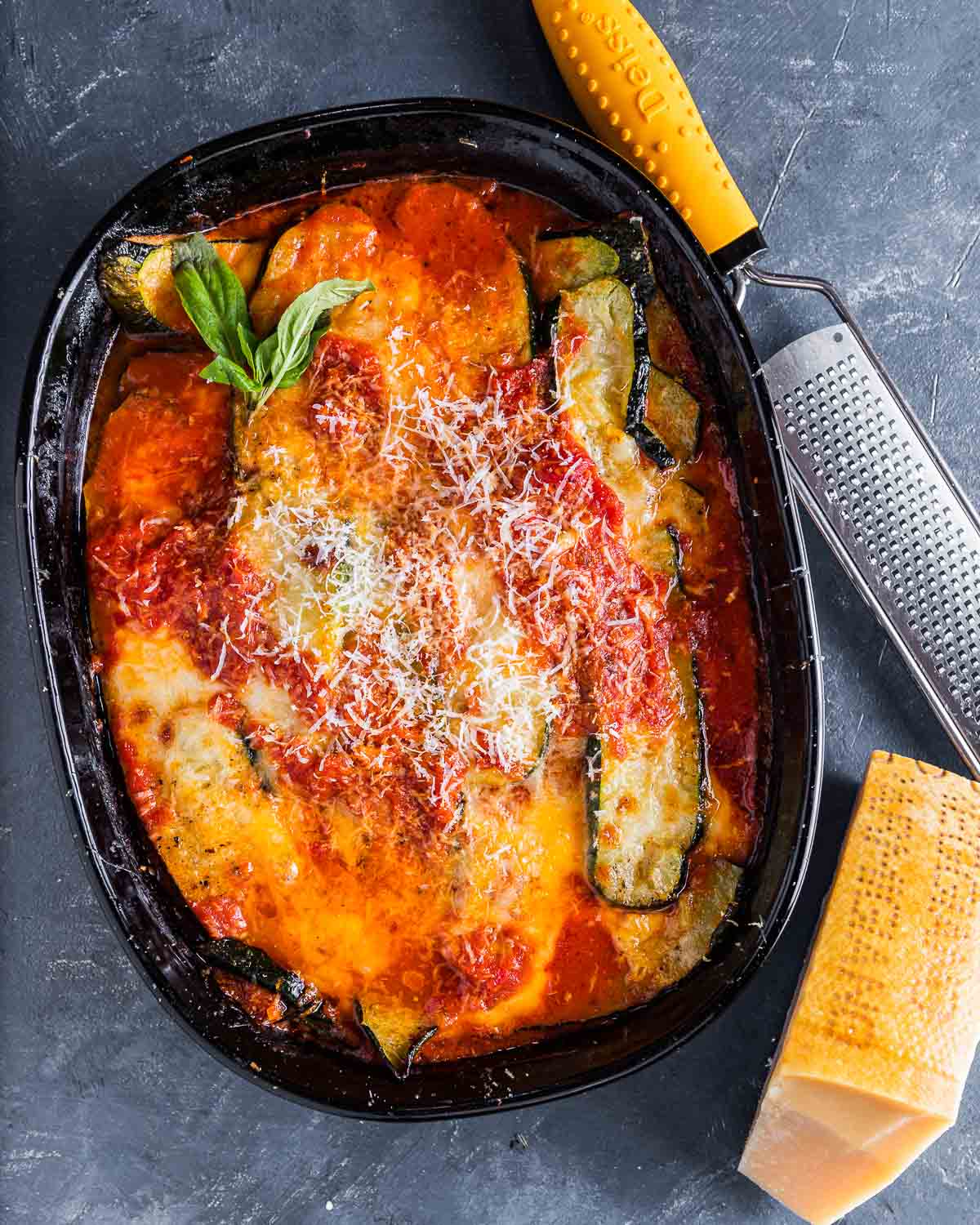 If you've enjoyed this zucchini parmigiana recipe or any recipe on this site, give it a 5-star rating and leave a review.
Watch the video below where Jim will show you how to make this recipe with easy-to-follow instructions.
Some people learn by watching. If you're that type of person, you can find most of our recipes on YouTube and our Facebook Page.
Ingredients
5

medium

zucchini

sliced into ¼" pieces

4

cups

marinara sauce

see notes below

1

pound

mozzarella

shredded

½

cup

Parmigiano Reggiano cheese

grated

¼

cup

olive oil

½

teaspoon

Kosher salt

to taste

½

teaspoon

black pepper

3

tablespoons

fresh basil
Instructions
Slice zucchini into ¼" strips. Layer in a colander and sprinkle salt over each layer. Let the zucchini sit for 30- 45 minutes to release water. Before moving on to next step rinse the zucchini to remove the salt and pat completely dry.

Place zucchini strips on a baking sheet (parchment paper prevents sticking). Coat the zucchini with olive oil and season with ½ teaspoon of Kosher salt and a ½ teaspoon of black pepper. Roast zucchini in the oven for 25 minutes at 375f.

Spoon a thick layer of marinara sauce into a 9 by 13 baking dish. Place roasted zucchini strips in one layer then the mozzarella (dividing equally between layers). Grate some Parmigiano Reggiano on top as well. Sprinkle some torn basil leaves and finally spoon more sauce onto the layer. Repeat process for subsequent layers.

Bake in the oven for 20-25 minutes at 375f until bubbly. If you want, carefully broil the parmigiana for 1-2 final minutes to make the top golden. Watch the whole time to prevent burning!

Wait 20 minutes before eating to let the parmigiana settle and solidify. Enjoy!
Notes
Use this marinara sauce. Or make your own or use a store-bought version.
A mandoline works great to get equal thickness zucchini slices.
Salting helps remove a lot of excess water from the zucchini. If in a rush you can skip this step, but the parmigiana will be much more watery.
Leftover zucchini parmigiana can be refrigerated for up to 3 days. Reheat in the oven at 350f until warm or in the microwave if in a rush.
Freeze for up to 6 months and reheat in the oven at 350f until hot.
Nutrition
Calories:
573
kcal
|
Carbohydrates:
24.8
g
|
Protein:
41.6
g
|
Fat:
37.1
g
|
Saturated Fat:
15.9
g
|
Cholesterol:
70
mg
|
Sodium:
1100
mg
|
Potassium:
654
mg
|
Fiber:
4.8
g
|
Sugar:
13.3
g
|
Calcium:
269
mg
|
Iron:
1
mg