Sauteed escarole and beans is a super easy side dish that goes well with just about any recipe! This is one of those dishes that is on the menu of almost all Italian restaurants in the New York metro area. Most of the time it will simply be sauteed in garlic and oil without the cannellini beans.
Escarole and beans will be on the menu right next to the garlic sauteed broccoli, sauteed broccoli rabe, string beans, etc.
You are probably wondering what escarole tastes like.
It's a slightly bitter green that's hearty and substantial. It takes braising well and is excellent in soups.
It would be great as an alternative or addition to kale in this Tuscan ribollita soup.
Don't let the bitterness deter you, it's not as bitter as the radicchio in this salad, which I might add is amazing! Bitter veggies are good, there's plenty of them used in Italian cooking!
Sauteed escarole makes a great side dish with or without the beans. We used cannellini, but any white bean will work. Down below we'll go over some common options and substitutions, but for now, let's get to the recipe!
You will need 1 bunch of escarole, garlic, chili flakes, white beans, regular and extra virgin olive oil.
How to make escarole and beans
Shown is a 1 head of escarole. Depending on where you purchased it, it could be quite gritty and dirty.
Use as much garlic as you like and give the cloves a rough chop. 6 cloves is a good amount for one head of escarole, but this is a matter of personal preference.
Cut off and discard the end of the escarole and any brown leaves. Cut the pieces into 2" ribbons. Soak the escarole in a large pot of water, (change the water a few times) allowing the grit to sink to the bottom. An easier way is to just use a salad spinner, either way get the escarole nice and clean.
In a large pan saute the garlic in a ¼ cup of olive oil over medium heat for 2-3 minutes or until lightly golden.
Add in the cleaned escarole and stir to coat well with the garlic and oil.
Add about 3 ounces of water to the pan and cover with a lid to allow the escarole to steam and cook through
After about 7 minutes remove the lid and add the ½ tsp of chili flakes and about 1 tsp of kosher salt (salt to taste). Cook for 2 more minutes.
Add in one 16 ounce drained and rinsed well can of cannellini beans and gently fold them in. Allow them to heat through. When the beans are hot give the escarole and beans a taste test and adjust salt and pepper if required. Turn off the heat and drizzle on a ¼ cup or more of great quality extra virgin olive oil.
So that's how to make an easy Italian side dish!
Substitutions and additions
Liquid - About a cup of chicken can be used for a soupier texture. Just add it in during the steaming stage. Make sure to use low sodium and hold back on the extra salt until taste testing.
Meat - Pancetta or guanciale can be used at the beginning of the saute process. Saute about 4 ounces on medium-low until rendered (approximately 10 minutes) , then add the garlic in and continue with the recipe.
Anchovies - Use 2 chopped fillets and saute them with the garlic for an added punch of flavor.
Lemon - Adds a nice fresh taste to the escarole. Often it will be served this way in restaurants. Use the juice of 1 lemon and a touch of the zest.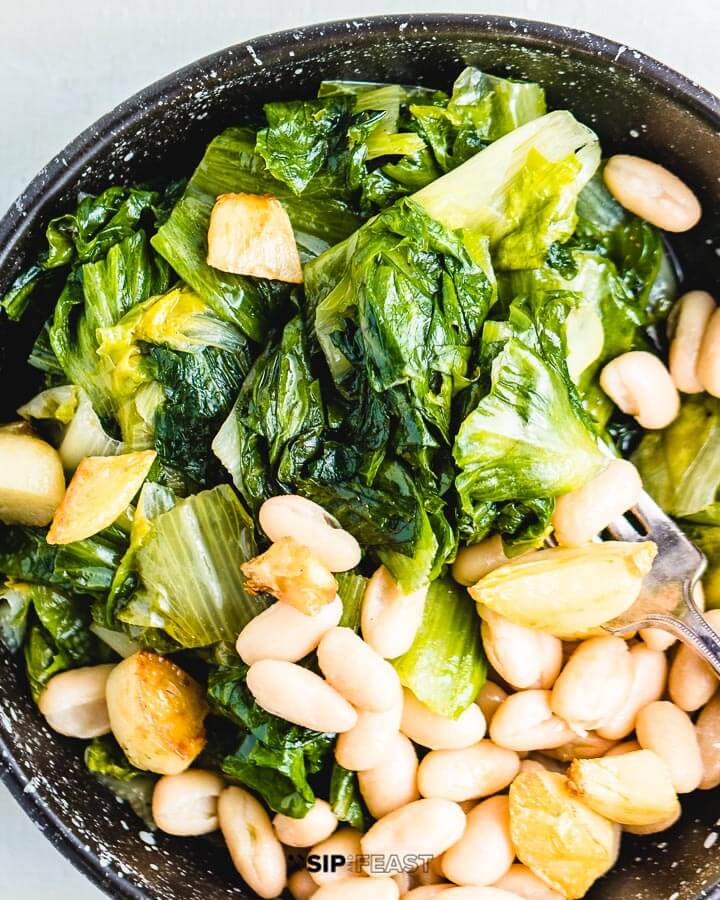 Top tips
Drain and rinse the cannellini beans to remove the high sodium solution.
Bitter veggies often need extra salt, don't hesitate to add more.
A large drizzle of extra virgin olive oil is extra important when finishing this dish.
Serve with crusty toasted bread on the side. We love a side of cherry peppers as you can see in the pics down below.
Want more Italian sides?
If you've enjoyed this escarole and beans recipe or any recipe on this site, we want to know so tell us in the comments below. We would love to hear how you did and it's nice to show others as well. Thanks!
Watch the video below where Jim will show you how to make this recipe with easy-to-follow instructions.
Some people learn by watching. If you're that type of person, you can find most of our recipes on YouTube and our Facebook Page.
Ingredients
1

head

escarole

end removed, washed, and cut into 2" ribbons

1

16 ounce

can of cannellini beans

6

cloves

garlic

sliced

¼

cup

olive oil

¼

cup

extra virgin olive oil

1

tsp

kosher salt

½

tsp

chili flakes
Instructions
Rough chop 6 cloves of garlic. Chop off and discard end of escarole. Cut escarole into 2" ribbons. Clean well to remove grit and dirt by either soaking in water (with multiple water changes) or via a salad spinner.

In a large pan saute the garlic until golden (approximately 3 minutes) in a ¼ cup of olive oil over medium heat. To the pan add the cleaned escarole, stir to coat, then add 3 ounces of water and cover.

After 7 minutes of steaming, remove lid and add a ½ tsp of chili flakes and 1 tsp of kosher salt. Give it a stir to thoroughly incorporate and cook for 2 more minutes.

Add the well drained and rinsed cannellini beans and gently mix them throughout. Cook a couple more minutes until heated through. Taste test and adjust salt or chili flakes if required. Remove escarole and beans from heat and add a healthy drizzle of extra virgin olive oil to finish the dish. Enjoy!
Notes
Escarole needs to be cleaned well before cooking.
Bitter greens like escarole sometimes need extra salt. Adjust accordingly.
If you prefer a more wet escarole and beans dish add a few more ounces of water or a touch of chicken stock.
Nutrition
Calories:
343
kcal
|
Carbohydrates:
23
g
|
Protein:
8.4
g
|
Fat:
25.5
g
|
Saturated Fat:
3.7
g
|
Sodium:
654
mg
|
Potassium:
665
mg
|
Fiber:
12.3
g
|
Sugar:
1.2
g
|
Calcium:
120
mg
|
Iron:
2.7
mg