Chorizo and eggs is a favorite breakfast in my home, though it's great really anytime of the day.  The spicy, smoky, and slightly chewy chorizo pairs perfectly with the pillowy texture of the eggs.  Tortillas, refried beans, cilantro and sour cream are all perfect accompaniments for chorizo and eggs.  Hosting brunch?  Take our grapefruit mint margarita along for the ride – it goes absolutely perfectly!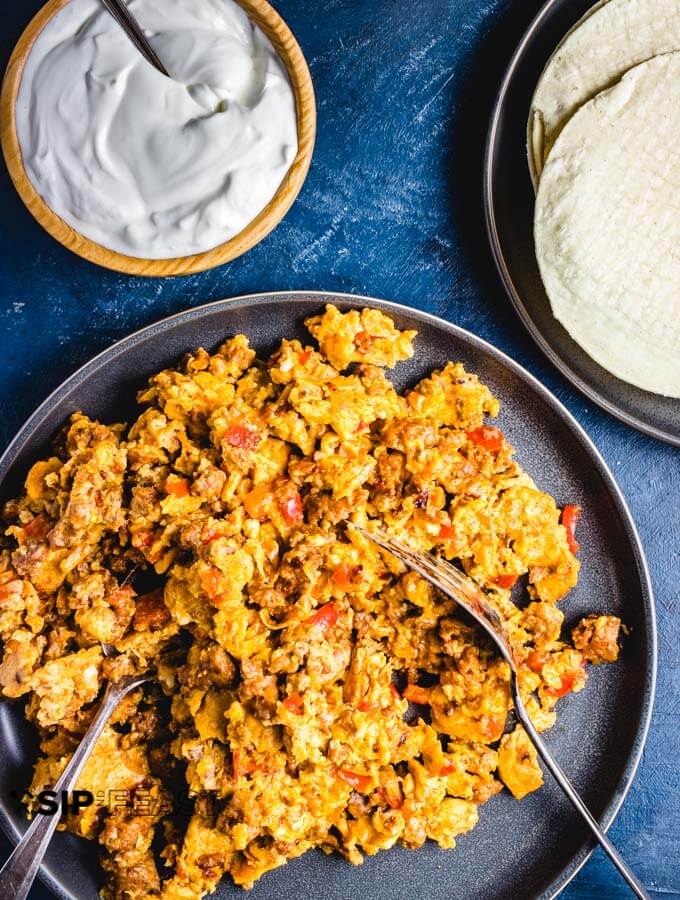 Simple. Delicious. Easy. 'Nuff said.
There's only a few ingredients in this dish, so it couldn't be simpler to gather everything up.
I love chorizo and use it often in other dishes.  Our Spanish shrimp with chorizo is another "no brainer" but jam packed with flavor recipe.
The chorizo adds so much complexity to any dish.  Since it's already heavily seasoned not many other spices or flavor agents are needed.
Chorizo info if you are a food geek like me can be found in this great Epicurious article.
What Is Chorizo?
It's pork sausage that's flavored with smoked paprika and a few other spices.  It has a distinct red color and can be sweet or spicy depending on the variety.  The one I use the most is from Whole Foods.  It is behind the meat counter and sold with their other sausage selections.  Their version is moderately spicy and very tasty.
Alternatives?
Spicy Italian sausage could work, but really try to find chorizo – especially if you're using it in a taco or burrito.  Sometimes supermarkets will only have the dried kind.  That can be used but will definitely have a different texture than the fresh.  If you can find the fresh – get it!  You won't be sorry.
More than ever before, stores are stocking ethnic ingredients so finding chorizo shouldn't be all that complicated.
Calories In Chorizo?
The same as any other sausage.  Roughly 1300 calories per pound.  Chorizo is made from pork so it has basically the same calorie and nutrition profile as any other pork sausage.
Serving Suggestions:
Add some potatoes for a nice variation of this recipe.  Whole chorizo sausages are great on hot dog buns with some peppers and onions.  Its versatility lends it to be used in so many different ways.  Mixing it in with half-beef in a taco meal is also killer!
Side note – I was disappointed when Chipotle removed chorizo from their meat options.  I loved getting a burrito bowl with chorizo and all the toppings -it would be a great idea to make these  yourself.
Anyway, How To Make Chorizo And Eggs Below: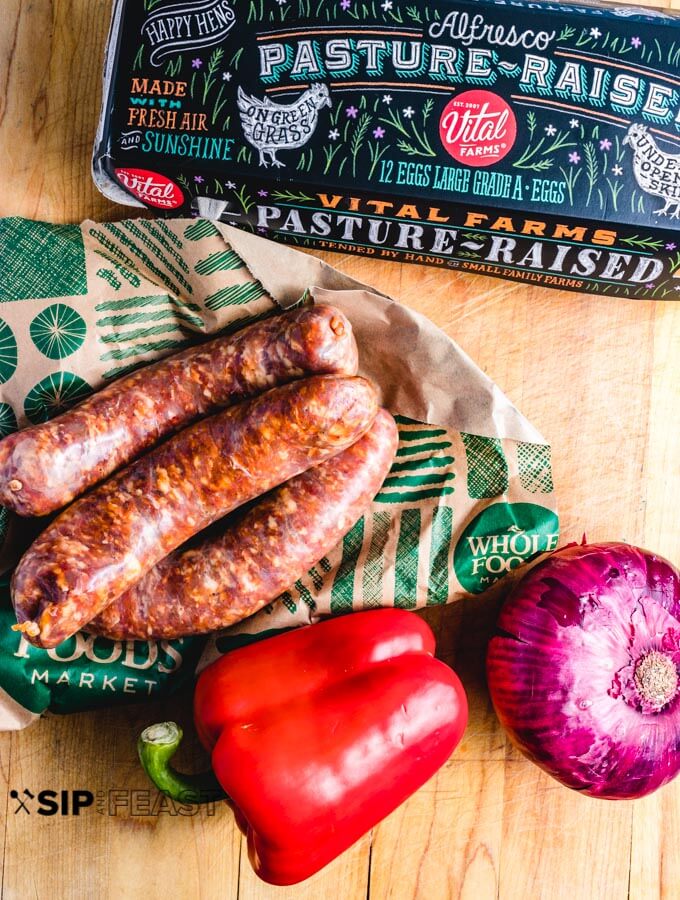 Sometimes the loose chorizo can be purchased.  If not, cutting the skin and releasing the ground chorizo is easy- peasy.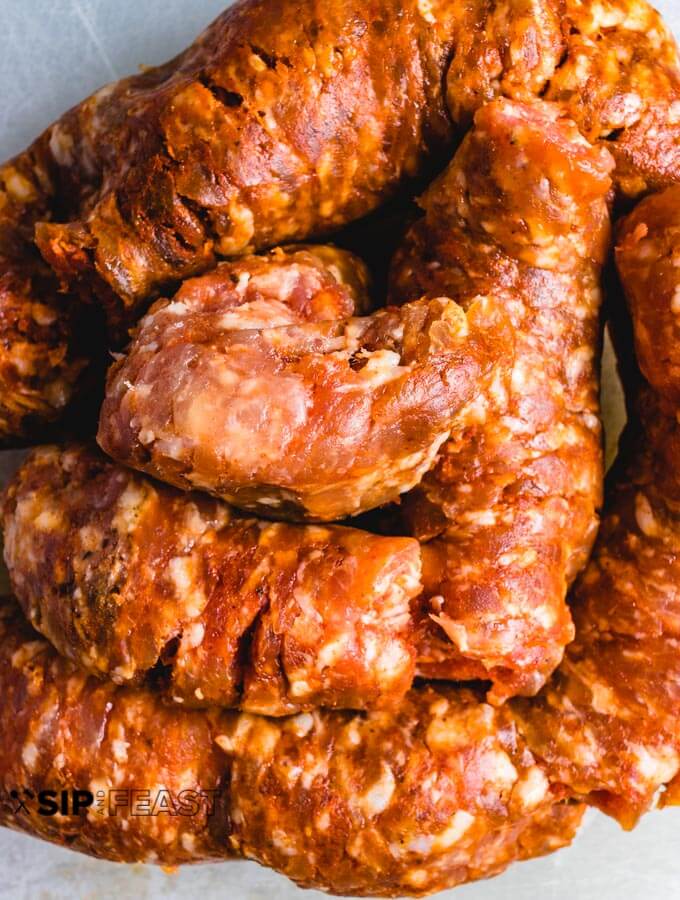 Here is the chorizo removed from the casing.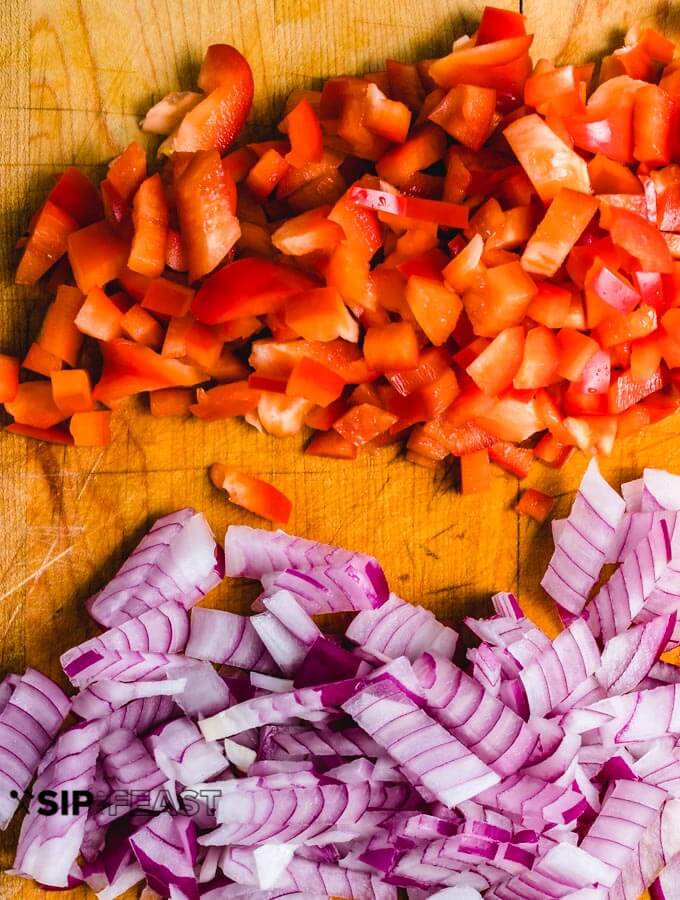 Dice up the peppers and onions.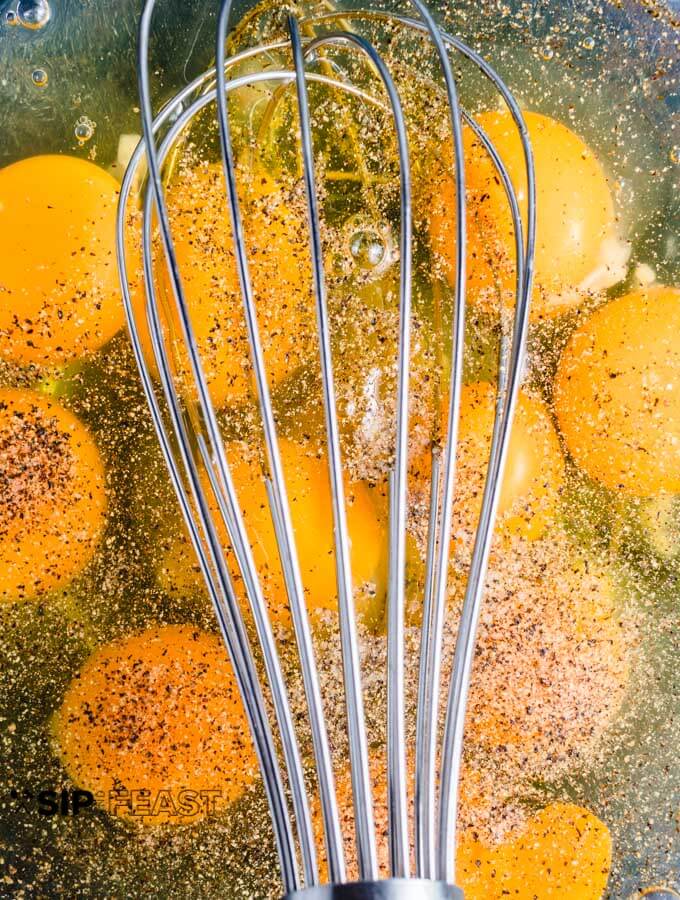 Season the eggs with a little salt and pepper and beat them up.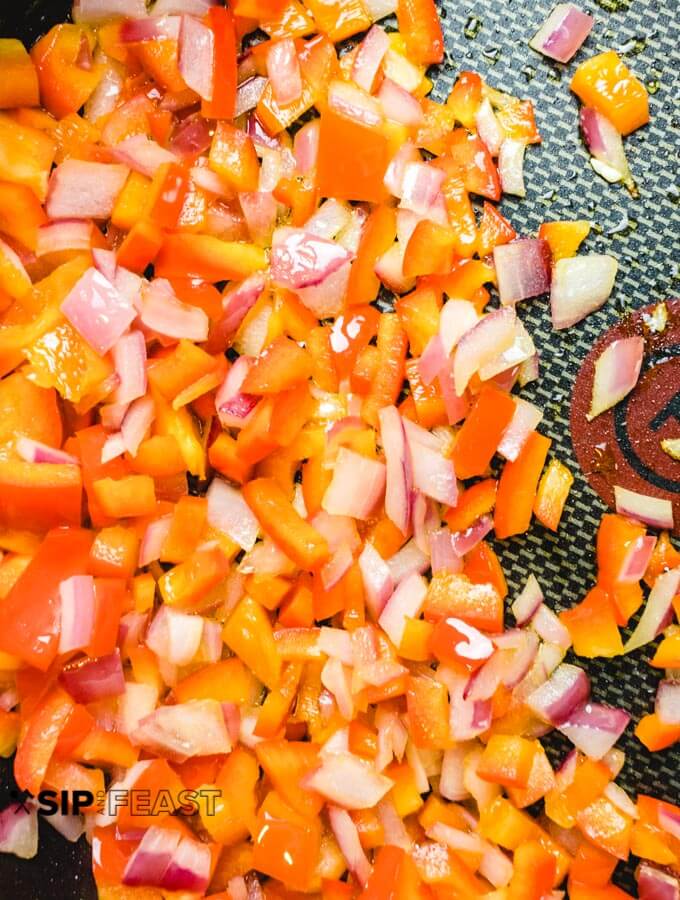 Saute the peppers and onions for a few minutes.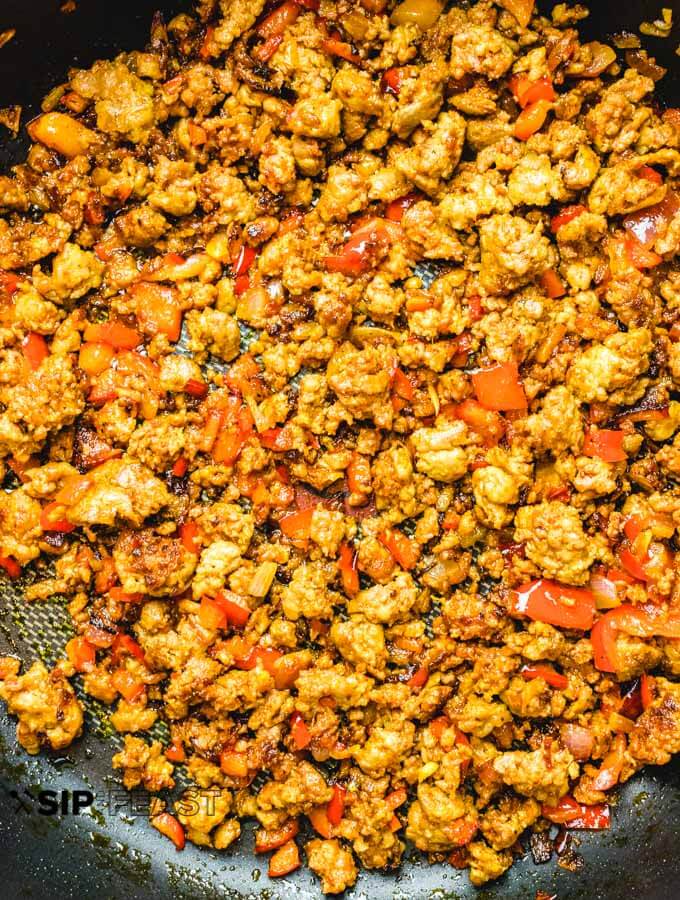 Saute the chorizo for 10-15 minutes.  Remember – this is raw pork and will take a while to cook it through.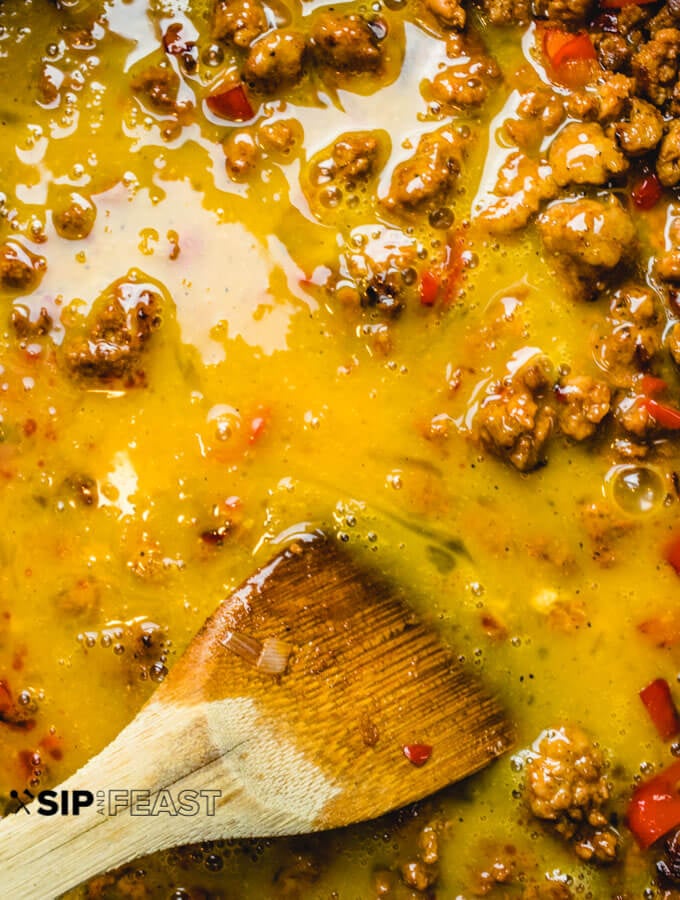 Add the beaten eggs to the chorizo, peppers, and onions and scramble it up.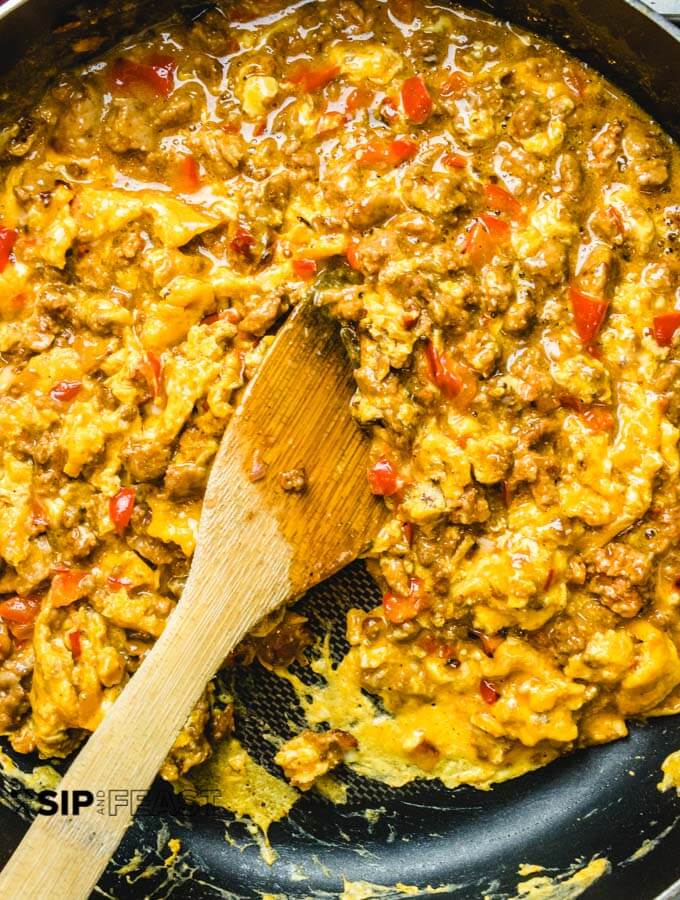 The chorizo and eggs are almost finished.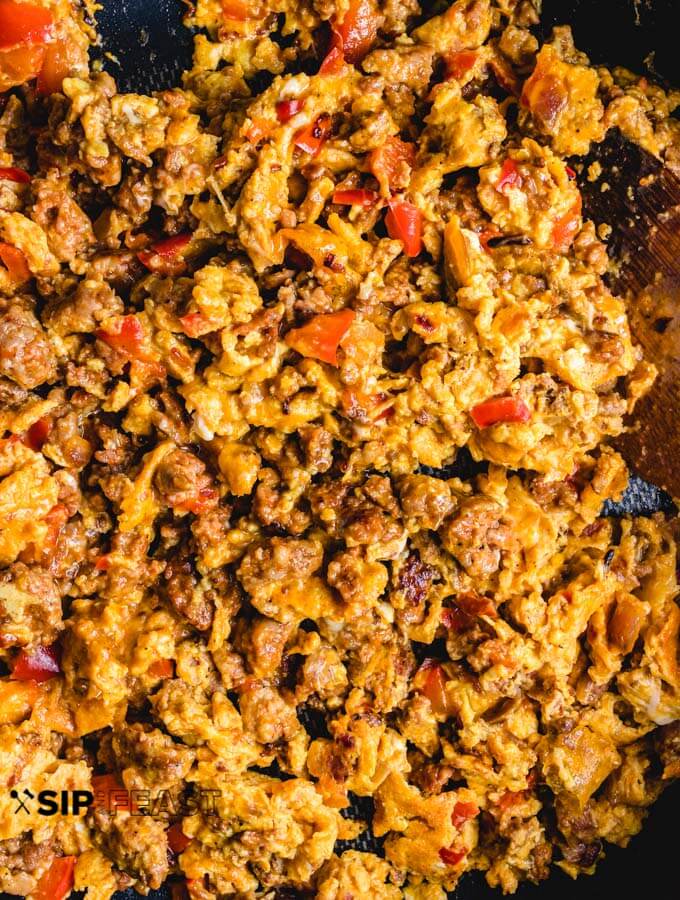 The chorizo and eggs are ready to be plated.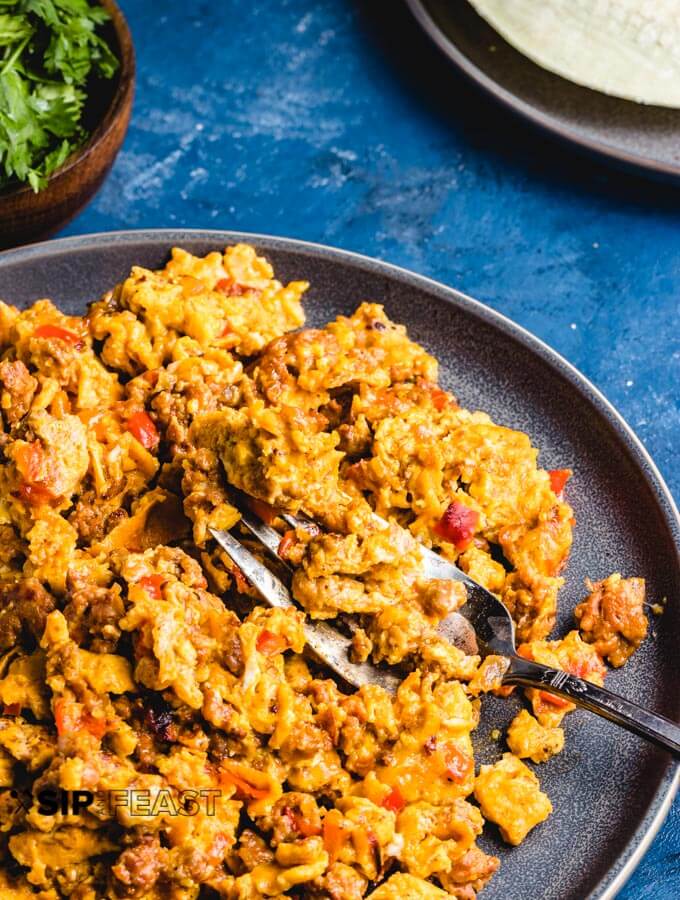 The dish is finished and ready to be served with warm tortillas, sour cream, and cilantro.  A little Tabasco wouldn't be bad either.  I love a side of rice and some refried beans with this meal, but have whatever you want.
DID YOU TRY THIS RECIPE?
Give it a star rating.
Ingredients
10

large

eggs

1

pound

chorizo

1

large

red pepper

½

medium

onion

½

tsp

kosher salt

⅛

tsp

black pepper

1

Tbsp

olive oil
Instructions
Dice up the pepper and onion into small pieces.

Remove chorizo from casing and set aside.

Beat ten eggs in a bowl with ½ tsp of salt and ⅛ tsp of pepper. Set aside.

Heat a large pan on medium heat with 1 Tbsp of olive oil. Saute peppers and onions for 3-4 minutes to soften.

Add chorizo to pan and saute for 10-15 minutes to cook the pork all the way through. Break up the chorizo with a wooden spoon into small pieces.

When chorizo is cooked through add beaten eggs to pan and scramble everything together for 3-4 minutes. Cook your eggs to how runny or dry you prefer.

While the chorizo and eggs are finishing, heat up some tortillas, wash some cilantro, and serve some crema or sour cream on the side.

Plate the eggs and serve. Enjoy!
Notes
If chorizo can not be found hot Italian sausage could be substituted. 
Chorizo is quite salty, so go easy on extra salt. 
Nutrition
Calories:
350
kcal
|
Carbohydrates:
2.6
g
|
Protein:
21
g
|
Fat:
29
g
|
Sodium:
565
mg
If you liked this egg and chorizo recipe we would really appreciate it if you would share it on Instagram or Facebook using #sipandfeast.
We would love to know how you did and it's nice to show others as well.  Thanks!
Follow us on Instagram, Pinterest, and Facebook.  Sign up to receive great recipe ideas in your inbox.