This eggplant dish is sweet, nutty, and delicious. If you've ever tried this Nobu style eggplant, you know how great it is, but you may not have guessed how simple it is to prepare. Have you been looking for vegan eggplant recipes? This miso eggplant satisfies that craving.
Miso Eggplant Is So Simple!
I just love eggplant. From the bright, almost indigo hue of the Japanese and Chinese varieties, to the mottled Sicilian, to the deep, almost jet hue of the Italian variety, these gorgeous vegetables are an absolute feast for the eyes.
Not only do they run the visual gamut, they are also extraordinarily versatile, lending themselves to be the stars of many a multi-cultural dish: Chinese stir fry, Italian eggplant parmigiana, Indian baingan bharta.
Plus, like I said above this is one of those vegan eggplant recipes that are hard to come by. Most of the time eggplant is a cheese affair, but this one is so satisfying from the miso paste.
You get the idea - eggplant is indeed special. While eggplant can be a challenge to prepare at times, this particular dish is super easy - all that is needed, is an oven.
No salting and drying out overnight. No egg and batter and deep frying. Just slice the eggplant into discs and within 25 minutes, it's done. Miso glazed eggplant has become a family favorite.
My husband and I first fell in love with this dish at our long time favorite Japanese restaurant in Smithtown, NY. The owner/chef and his namesake restaurant was Kazu. Unbelievable food that rivaled that of his homeland, he personally hand picked the freshest fish from the Fulton fish market in New York City and, being an avid fisherman would even pluck his porgies and fluke from the Atlantic himself. He served his hand rolls immediately, because he understood the importance of pairing of crisp nori and warm rice. Toro that melted on the tongue, tiny obscure little sweet shrimp, fried whole butter fish, and Usuzukuri (paper thin slices of fluke with dipping sauce) were some of the things we enjoyed most. Since we were usually the last patrons in Kazu, and accustomed to closing the place, each meal would be capped off with a toast of plum wine between Kazu's wife, Tatsuku, who we lovingly referred to as Tay, my husband, and I. "Campai!" was the perfect end to an always impeccable meal.
The Miso Glazed Eggplant Dish:
One dish Kazu would always prepare for us was nasu dengaku: broiled eggplant crackling with this delicious paste. The glazed eggplant with miso paste was such a great appetizer that I have been making it for years ever since first trying it. And each time we eat this together, we remember our dear friends Tay and Kazu, and all the wonderful meals they bestowed on us.
Drinks that pair well with miso eggplant/nasu dengaku:
The miso paste used in this dish is very versatile it works real well in this miso sweet potato recipe.
Some Other Vegan Dishes You Might Enjoy: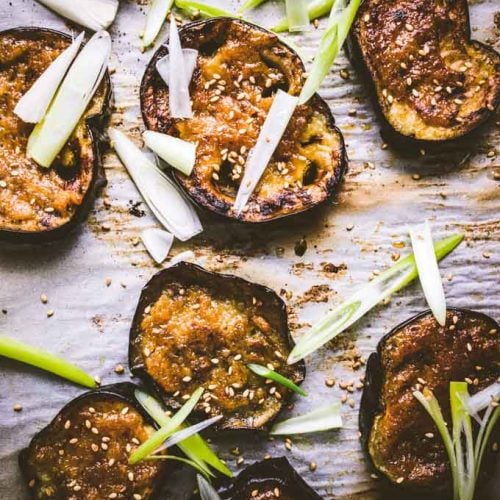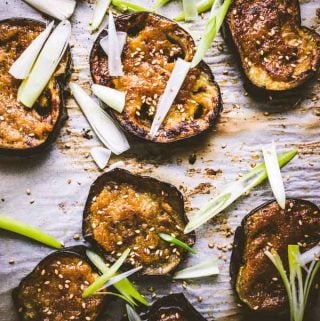 Ingredients
1

large

eggplant

4

Tbsp

olive oil

¼

cup

white miso paste

Red or yellow miso will work as well.

3

Tbsp

mirin

1

Tbsp

soy sauce

1

Tbsp

sugar

2

green onion

1

Tbsp

sesame seeds

1

tsp

sesame oil
Instructions
Cut eggplant into ¾" disks and place on baking sheet. Oil eggplant on both sides to avoid sticking.

Place eggplant in oven once it reaches 450 degrees. The eggplant will take 20 minutes to roast. Turn eggplant over at 10 min mark.

Chop green onion on a diagonal. Reserve for later.

While eggplant is cooking whisk miso paste, sugar, mirin, soy sauce, and sesame oil to combine.

Remove eggplant after 20 minutes and set oven to broil with the rack at second notch from broiler. Apply miso paste with a sauce brush. I like to use a lot of paste at this point.

Place eggplant with miso paste in broiler for roughly 3 minutes. Keep an eye on the eggplant and watch for burning. It should get nicely caramelized. Remove from oven.

Plate eggplant and top with sesame seeds and green onion. Enjoy!
Nutrition
Calories:
130
kcal
|
Carbohydrates:
24
g
|
Protein:
4
g
|
Fat:
4
g
|
Sodium:
350
mg
If you enjoyed this vegan miso eggplant recipe share it and leave us a comment. Use the hashtag #sipandfeast so we can see how you did.
We would love to hear from you.
Follow us on Instagram, Pinterest, and Facebook. Sign up to receive great recipe ideas in your inbox.