Looking for a sweet cocktail with a little bit of an edge? This perfect Manhattan recipe has got you covered. Rye, sweet vermouth, bitters and some amarena cherries combine to form a drink that is as epic as the city it was named for. We are all about the pairing - Our reverse seared ribeye steak recipe would go so well with this cocktail. Check it out if you're preparing this as a pre-dinner drink.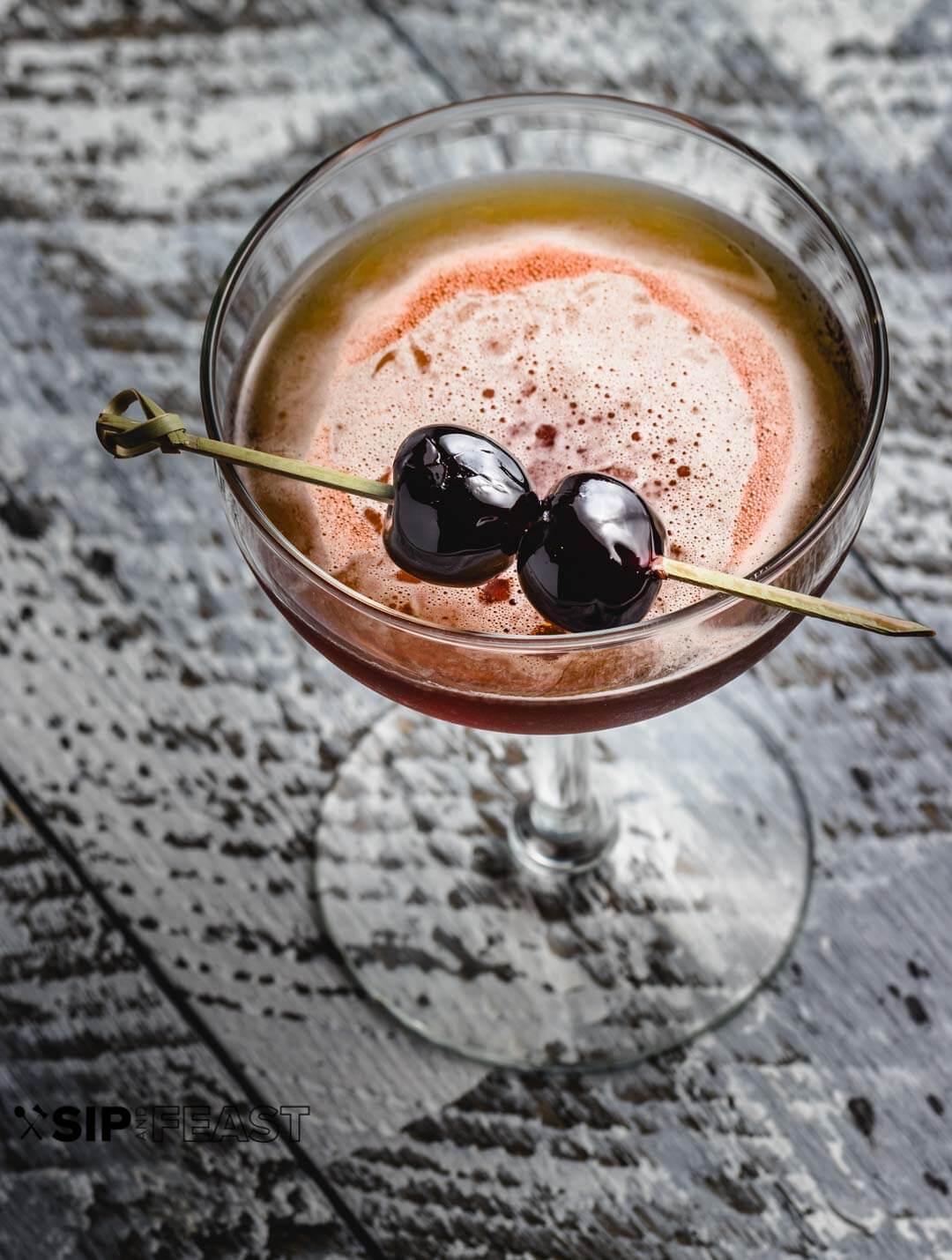 Sweet + bitter = the perfect Manhattan recipe
If you enjoy a sweet cocktail now and again, you will love this Manhattan.
Love bitters? You will love this Manhattan.
If cherries, cherry juice and the luxuriousness of cherry syrup sound good to you, you will love this Manhattan.
Are rye, bourbon and whisky based drinks your favorite? If so, you will love this Manhattan.
Get my point? This drink covers all bases and spans all types of palates. And with only a few ingredients needed, this will also appeal to anyone looking for a simple, but classy cocktail.
How To Make A Manhattan - Rye or Bourbon?
Traditionally, the Manhattan is made using Rye. Legally speaking, rye must be fermented from a mash whose majority is grain as opposed to bourbon which must be fermented from a mash whose majority is corn. Some state that bourbons are a bit sweeter, while ryes tend to be more grassy.
I am unable to tell the difference between the two. And I'm not alone. According to a study conducted by Drexel University, the average consumer cannot discriminate between the two flavors. If you are interested in geeking out on this topic and learning more about mashbills of ryes, bourbons and American whiskeys, check out this article from the Smithsonian which goes into greater detail.
The main reason I used rye in this recipe is because it was my great-grandmothers alcohol of choice for her Manhattans and she's the one who inspired me to make this in the first place. More on that in a few.
Maraschino or Amarena?
Maraschino cherries tend to get a bad rap, and I can see why. Often times, the more affordable brands are packed in high fructose corn syrup with lots of preservatives and get their color from Red 40. The brands with better ingredients, such as Luxardo can be pretty pricey - a 400g jar will run you anywhere from $18 - $24.
Enter the Amarena. These bold and tart beauties are my go-to for sweet cocktails, ice cream toppings and sometimes just pairing with cheese. And the best part is, I've found these at Trader Joe's for under $5. Even better, they use carrot and hibiscus as coloring agents yielding this gorgeous deep purple, almost black cherry.
So really, you could use either, but I adore these Amarenas for the perfect Manhattan recipe.
An Homage to Manhattan
Manhattan will always be my favorite borough of New York City. It is not only the birthplace of my parents and grandparents, but it has this incredible energy and vibe about it that makes it unique.
From its skyscrapers, to its cobblestone streets in the historic districts, this city has so much to offer those who visit. The city really doesn't sleep offering around the clock entertainment and dining options.
But I'm not writing this to try and convince you to visit Manhattan. As always, I have a story to go with this drink.
The Perfect Manahattan Recipe: My Story
My great-grandmother was born in Manhattan in 1917. A smart, shrewd and sassy woman, she rose through the ranks of the NY telephone company and was a financially independent, business-world pioneering, rock star of a woman. This was no small feat for that time, and I always admired her for that.
She passed away when I was 16 but I always remember her as a class act - almost a relic of the era and the city in which she came of age.
Her liquor of choice was rye, and her favorite cocktail, named after the city that both challenged and developed her, was the Manhattan.
When I make a Manhattan for myself, or a loved one, I am not just mixing a cocktail. I'm carrying on a matrilineal tradition, adding a dash of history to its contents.
Cheers Florence - this Manhattan's for you!
Let's Mix
To make this perfect Manhattan recipe, you'll need the following:
Rye - I used Bulleit
Sweet vermouth
Bitters
Amarena cherries plus their syrup
Ice
Cocktail Shaker
Coupe glass/Martini glass (or rocks glass if you prefer it with ice)
Add the rye, vermouth and bitters to your cocktail shaker along with a handful of ice.
Adding the rye.
Now for the bitters.
You are now ready to shake or stir your cocktail for at least 20 seconds.
You'll want to coat the bottom of the glass with a spoonful of the cherry syrup.
Grab a few cherries for your garnish. I like to skewer them but you can also place them in the bottom of the glass - the choice is yours! Strain and pour into your glass.
And there you have it friends. The Manhattan. The sweet cocktail with enough of an edge for a whiskey lover.
If you're looking for another classic cocktail that also has an edge, check out this awesome Negroni recipe.
DID YOU TRY THIS RECIPE?
Give it a star rating.
If you liked this Manhattan with amarena cherries we would really appreciate it if you would share it on Instagram or Facebook using #sipandfeast.
We would love to know how you did and it's nice to show others as well. Thanks!
Follow us on Instagram, Pinterest, and Facebook. Sign up to receive great recipe ideas in your inbox.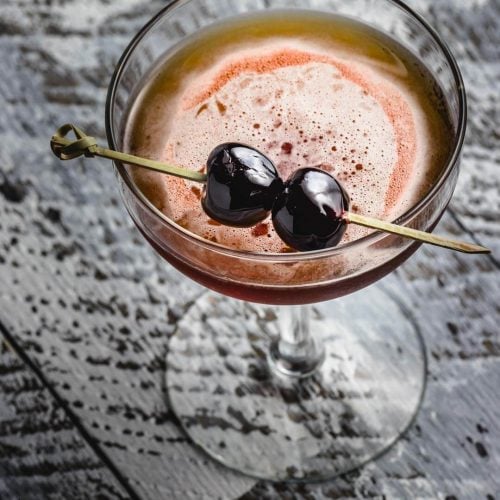 Ingredients
2

oz

Rye

1

oz

Sweet red vermouth

2

dashes

bitters

2

Amarena cherries for garnish

1

tsp

Amarena cherry syrup

1

cup

ice
Instructions
Add the ice, rye, sweet red vermouth and bitters to a cocktail shaker.

Shake or stir for at least 20 seconds.

Coat the bottom of a glass with the cherry syrup and skewer two cherries for garnish.

Strain the cocktail shaker ingredients and pour into a glass.

Serve immediately. Enjoy!
Notes
Bourbon may also be used.
Nutrition