Fettuccine Alfredo is a rich and creamy pasta dish comprised of butter, Parmigiano Reggiano, starchy pasta water, and of course fettuccine. Our version uses just a touch of heavy cream, a slight deviation from the original. Our easy-to-follow instructions show you how to make this simple pasta in under 30 minutes.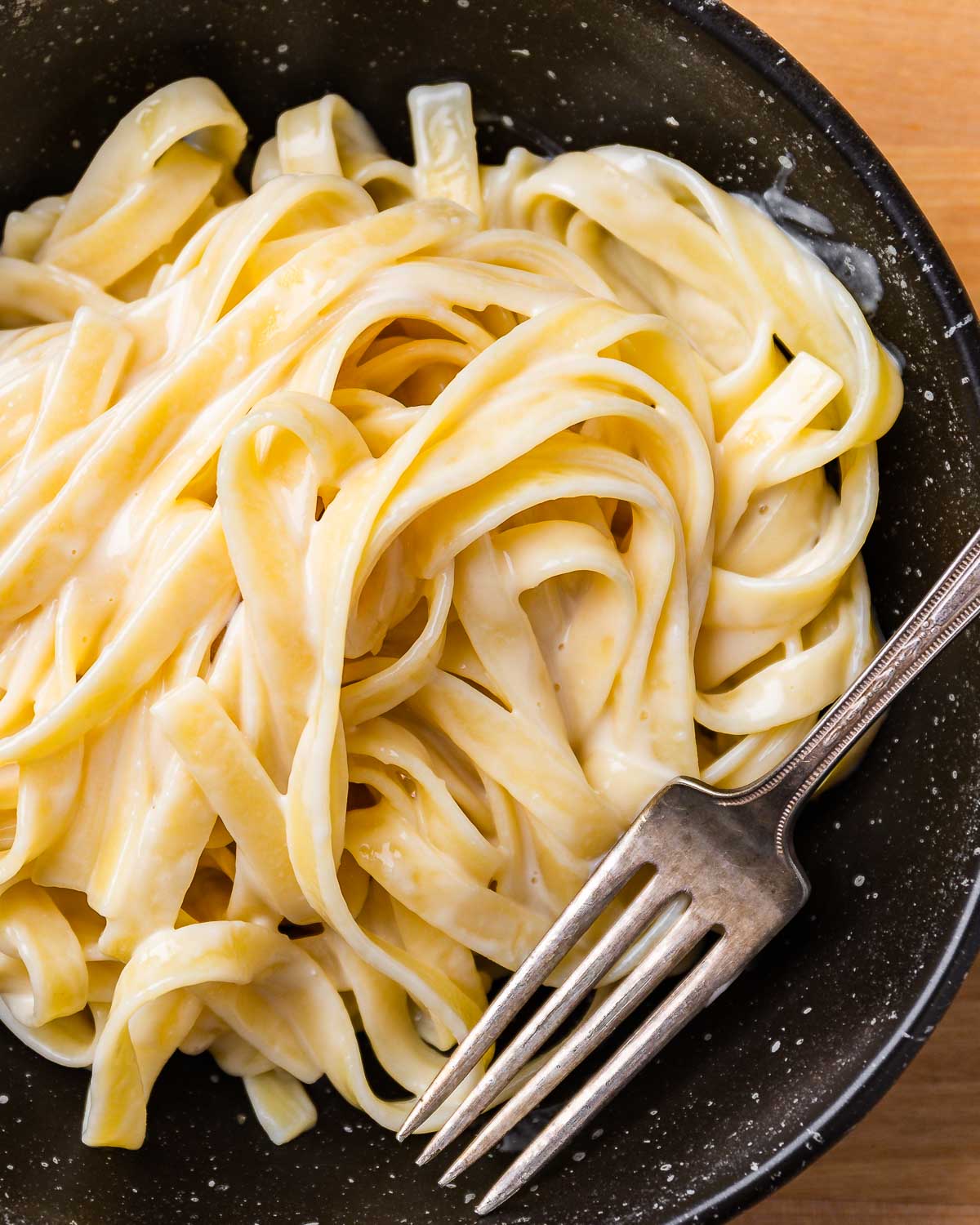 Some things in this world are best when kept simple.
One of the reasons I love Italian food so much is its sheer simplicity. There are usually not many ingredients needed for Italian dishes which really allows each individual ingredient to shine.
And one of the most simple dishes is fettuccine Alfredo.
Hailing from Rome, the original dish was made with fresh fettuccine noodles, butter, Parmigiano Reggiano, a touch of pasta water, and a pinch of salt. That was it.
Over the years folks have tried to improve upon the recipe by adding any number of things, like chicken or peas, but the original is still heralded as the best version.
I do deviate from the original with one ingredient, and that is a touch of heavy cream as I find it makes the consistency a little silkier, but in the recipe below you'll see that this is purely optional, especially for those who want to create the most authentic version of Alfredo sauce.
How to make creamy Alfredo sauce the easy way
Each number corresponds to the numbered written steps below.
Bring a pot of water to boil with a very small amount of water and 1 tablespoon of kosher salt. For a 6-quart stockpot use only 3 inches of water or less. You want to create very starchy pasta water that will easily hold an emulsion of the butter and cheese. Grate 1 cup of Parmigiano Reggiano on the finest box grater settings. Note: Using very starchy water and the finest grated cheese will ensure success!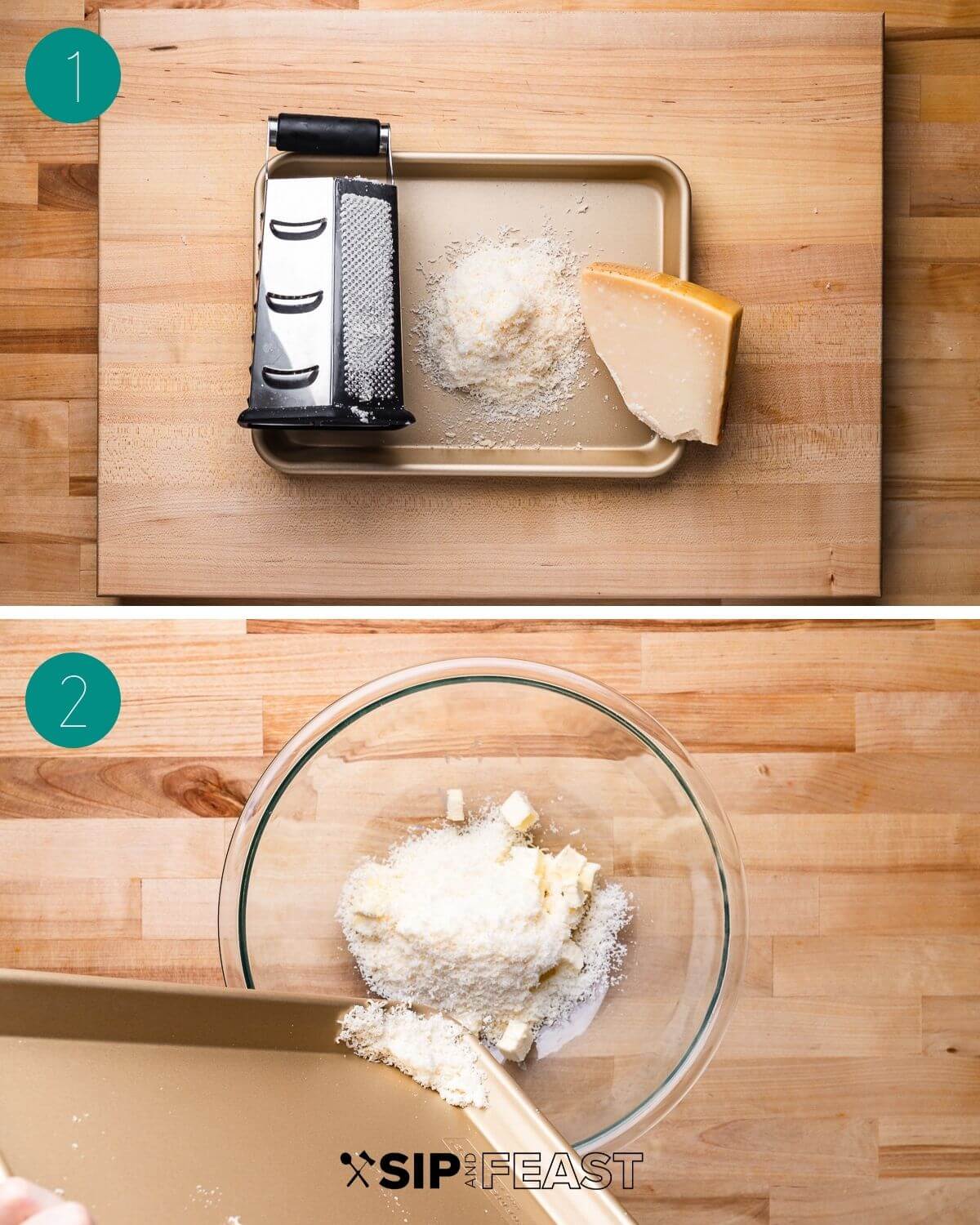 Cube 1 stick of unsalted butter and place it into a large bowl (large enough for 1 pound of fettuccine) with a 1/4 cup of cream and the grated Parmigiano.
Once the water comes to a boil drop in the fettuccine and stir frequently to prevent any sticking. Note: I'm using DeCecco semolina fettuccine. Even better would be homemade egg fettuccine or the storebought version that's sold in a bag of nests.
Once the pasta is cooked to al dente reserve at least 1 cup of pasta water. Placing it in a mug makes it easy.
Place the al dente fettuccine into the bowl along with a 1/2 cup of the pasta water and start mixing quickly with tongs.
It will become creamy with no clumping as shown in pic 6 above. If the pasta is at all dry, add reserved pasta water a couple of tablespoons at a time until the perfect consistency is achieved. Taste test and season with salt to taste. Serve immediately.
Note: Fettuccine Alfredo is super heavy thanks to the butter and cheese. It is best served as an appetizer or as a main course alongside a green salad, broccoli, or sauteed spinach.
Top Tips
Starchy water – The key to making a successful fettucine Alfredo is to make sure your pasta water is very starchy. The best way to accomplish this is to use as little water as needed to cook the pasta. So for a 6 quart pot, I recommend filling 3 inches up or less from the bottom for 1 pound of pasta. Because there is less water being used, you should also use less salt when salting the water.
The cheese – For this particular dish you'll want to use a younger Parmigiano Reggiano, such as 24 month or younger. Older cheeses, while fantastic, have more of a bite and this dish is meant to be a bit milder. Grana Padano or Reggianato can also be used.
Finely grate – Another important tip is to grate your cheese on the smallest hole of a box grater. This will allow the cheese to melt evenly and form a more perfect and emulsified sauce.
Eat promptly! – Fettucine Alfredo should really be eaten right away as with any other pasta that requires an emulsion. That being said if you have leftovers, they can be stored in the refrigerator for up to 3 days and are best when reheated in a pan. You can even make a pasta frittata with the leftovers.
Non-traditional additions to fettuccine Alfredo
As mentioned above, I add heavy cream to my version of Alfredo sauce as I prefer the added creaminess. This deviates from the traditional, but I like it so I do it.
For a more velvety texture, you can add the yolk of one egg, similar to Carbonara.
I know some folks love a bit of garlic in their Alfredo.
And while it's not meant to be topped with anything other than more Parmigiano Reggiano, I know plenty of people who just can't eat this without a healthy dusting of crushed black pepper.
No, these are not traditional, but much of what I love about cooking is that it's very much an art and if you find an ingredient that you want to add or one you want to omit, you have the freedom to do so.
As I say in all of my videos. Make the dish your own! You and your family are what matters. Not tradition.
More creamy pasta recipes
If creamy, velvety, silky pastas are what you crave, we've got some killer recipes we know you'll love.
If you've enjoyed this fettuccine alfredo recipe or any recipe on this site, give it a 5-star rating and leave a review.
Some people learn by watching. If you're that type of person, you can find most of our recipes on YouTube and our Facebook Page.
A decadent sauce made from Parmigiano Reggiano, butter, and starchy pasta water is tossed with fettuccine and topped with more cheese!
Ingredients
1

pound

fettuccine pasta

1

stick

unsalted butter

cubed

1

cup

Parmigiano Reggiano

finely grated, plus more for serving

1

cup

reserved pasta water

might not need it all but reserve just in case

kosher salt

to taste

1/4

cup

heavy cream

optional
Instructions
Fill a large pot with water and 1 tablespoon kosher salt to only 3 inches high and bring to a boil. Once boiling, cook pasta to al dente and make sure to reserve at least 1 cup of the very starchy pasta water.

While pasta is boiling set up a large bowl with the butter, grated cheese, and cream.

Place the al dente pasta into the bowl along with a ladle of pasta water. Toss quickly to melt the butter and cheese. If too dry, add more of the reserved pasta water a bit at a time to get the perfect creamy consistency.

Season with salt to taste and serve immediately.
Notes
Very starchy pasta water is key. Boil pasta with a very small amount of water. Fill a 6-quart pot no higher than 3 inches for a pound of pasta.
Use only 1 tablespoon of kosher salt for the pasta water since an extremely low amount of water is used.
Cream makes it better, but if you want traditional alfredo, feel free to omit it.
Grana Padano or Reggianato can be substituted for the Parmigiano Reggiano. Use a 24 month aged or younger cheese.
Fettuccine alfredo is best eaten right away so that the emulsion is maintained, but can be saved in the fridge for up to 3 days. Reheat in a pan or microwave.
Nutrition
Calories:
720
kcal
|
Carbohydrates:
85.1
g
|
Protein:
23.6
g
|
Fat:
33.9
g
|
Saturated Fat:
20.4
g
|
Cholesterol:
92
mg
|
Sodium:
1014
mg
|
Potassium:
13
mg
|
Fiber:
4
g
|
Sugar:
2.1
g
|
Calcium:
269
mg
|
Iron:
4
mg
Nutrition information is automatically calculated, so should only be used as an approximation.