Linguine with red clam sauce is a flavorful dish that combines littleneck clams, anchovies, garlic, white wine, plum tomatoes, fresh parsley, and al dente pasta. This dish is perfect all year round but is especially great as one of the courses in The Feast of the Seven Fishes.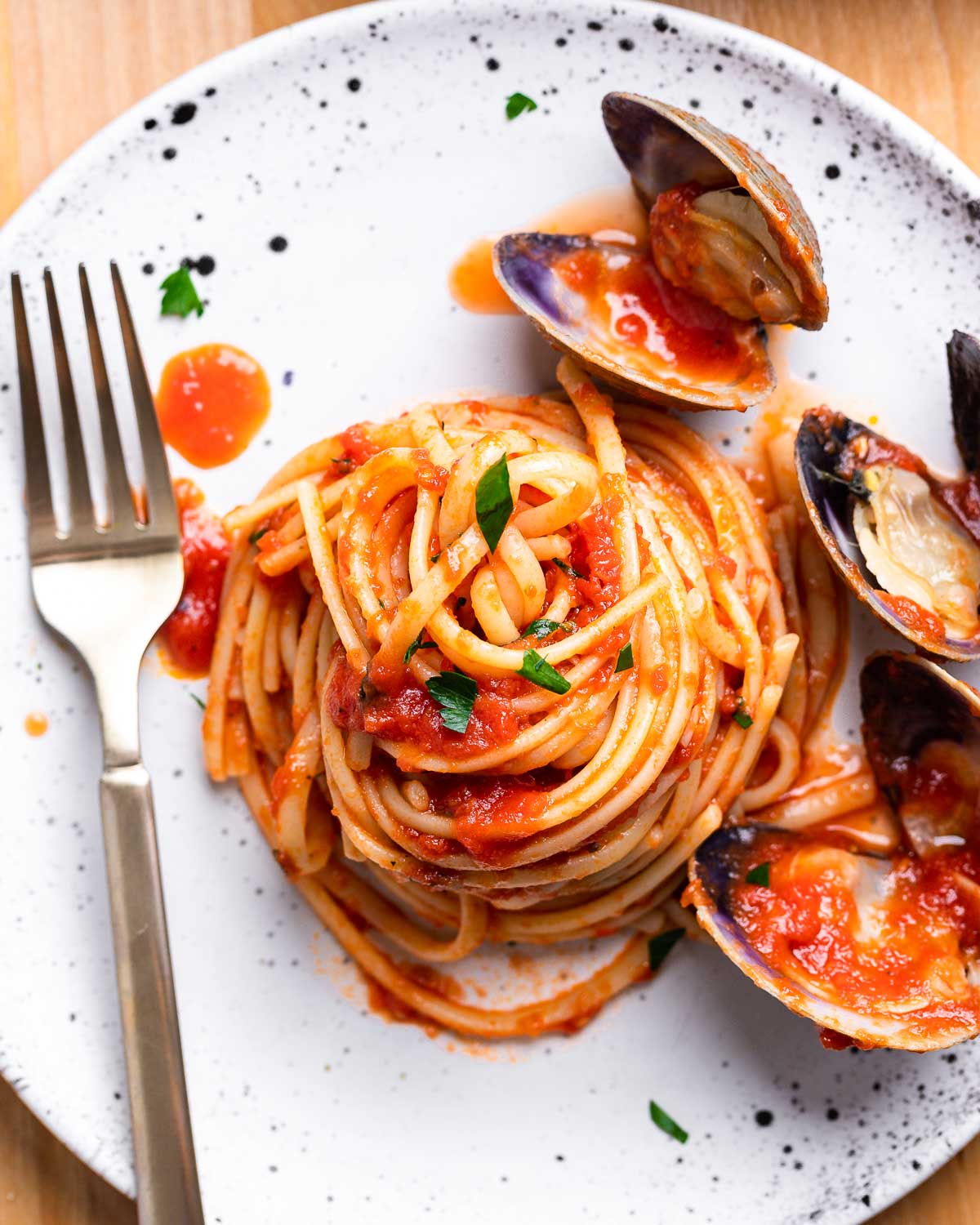 Linguine and red clam sauce is ranked high as one of my favorite Italian dishes.
And the combination of flavors might be the most winningest ever.
Sweet and briny clams meet the acidic tomatoes and white wine, pungent garlic, and just a slight touch of umami from the anchovies. Toss that all around in some perfectly cooked al dente pasta and fresh parsley, and the flavor doesn't get much better than that.
I make this for my family quite often and while linguine with red clam sauce is a hit at any time, we enjoy it most on Christmas Eve as one of our seven fishes.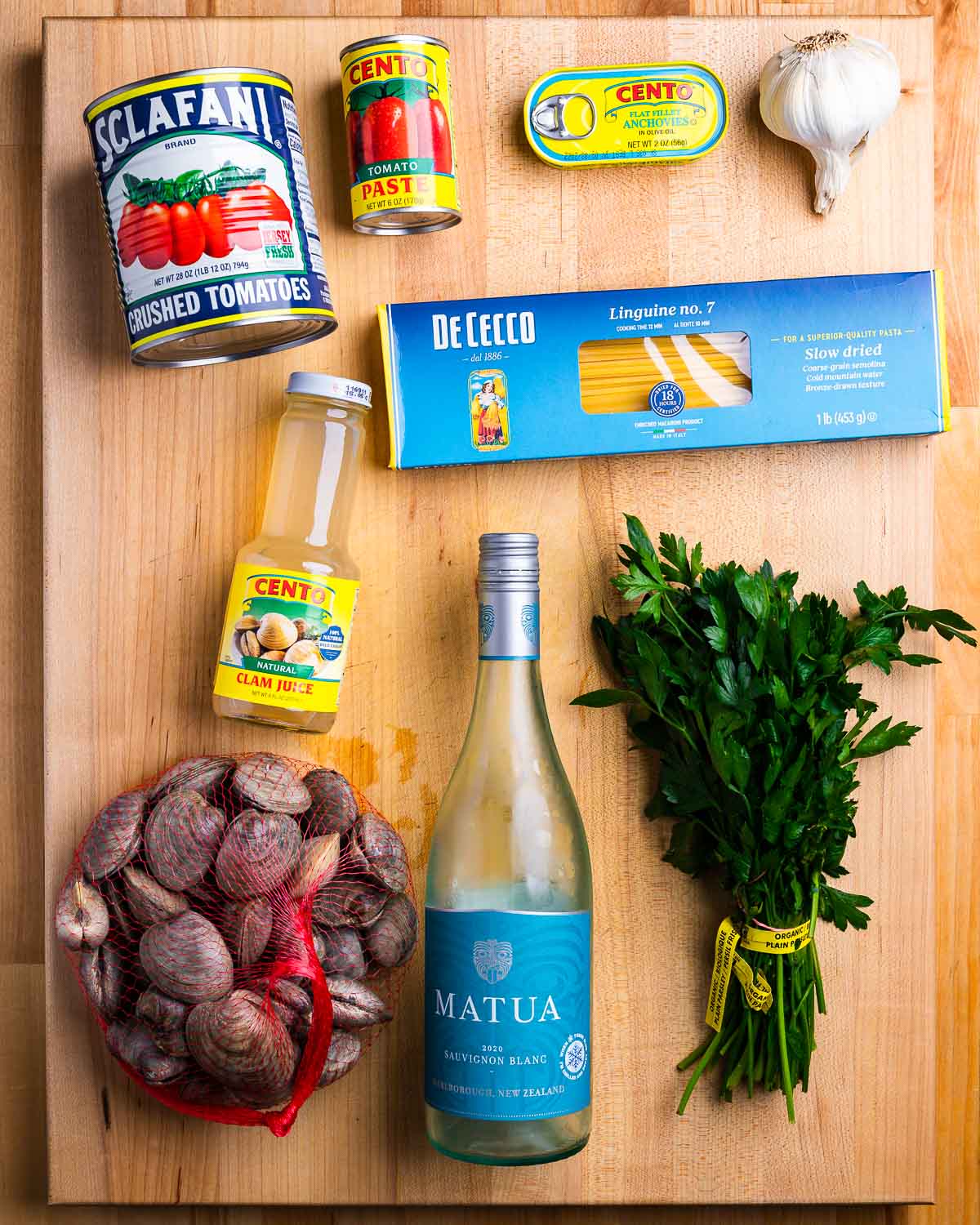 Linguine with red clam sauce step by step
Each number corresponds to the numbered written steps below.
Bring a large pot of water to boil with 2 tablespoons of kosher salt. Using the back of your knife, mash 3 anchovy fillets. Also, slice 6 cloves of garlic and chop a 1/4 cup of fresh parsley.
Heat a large pan to medium-low heat. Add a 1/4 cup of extra virgin olive oil to the pan along with the sliced garlic and anchovies.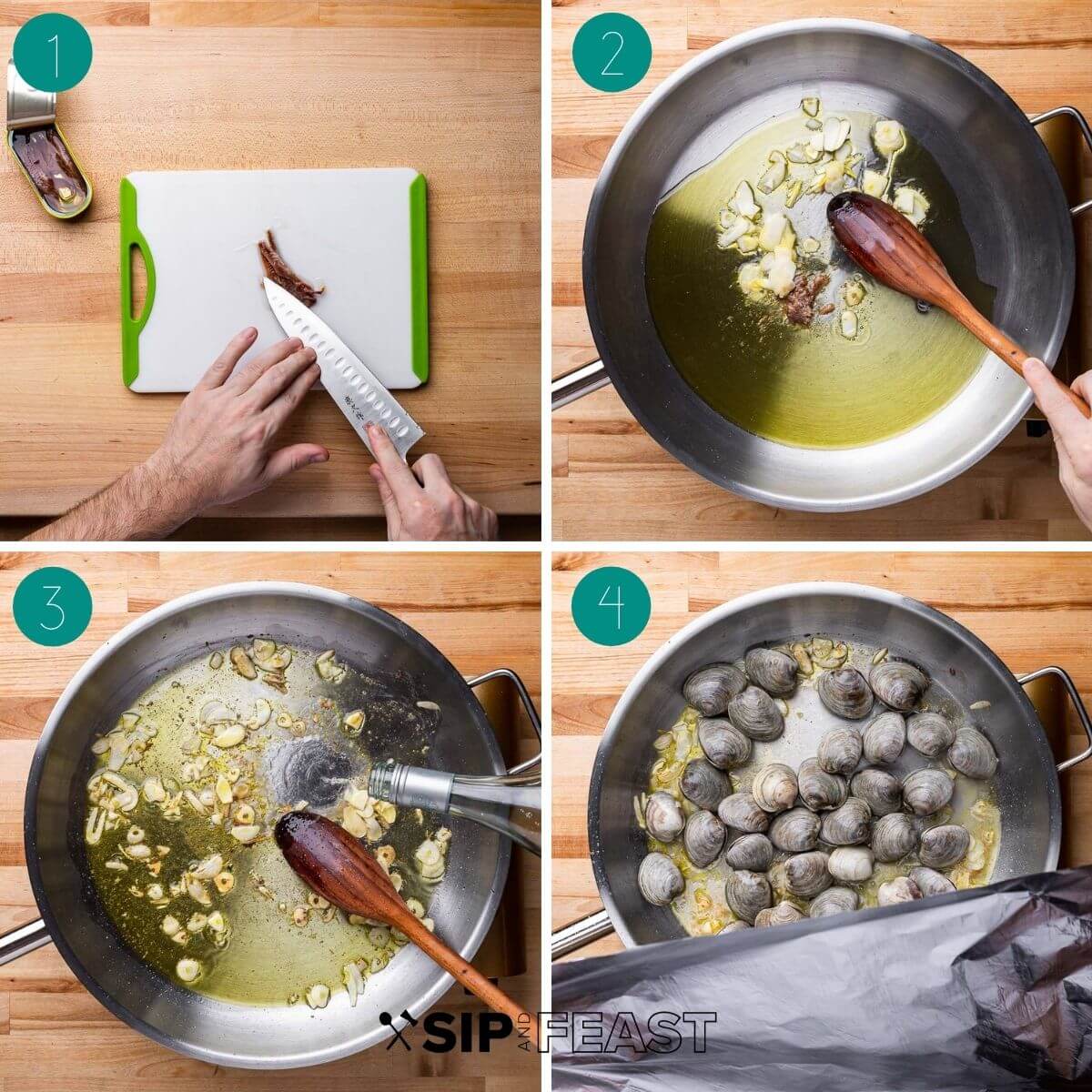 Once the garlic turns lightly golden and the anchovies mostly dissolve add a 1/4 teaspoon of red pepper flakes and cook for 15-30 seconds. Next, add a 1/2 cup of dry white wine and turn the heat to medium-high.
Add 3 dozen clean littleneck clams to the pan and cover. Note: I'm using my favorite 14″ stainless steel fry pan. It's large enough for a full pound of pasta and 3 dozen clams. I don't own a cover for it but foil works great.
As the clams open remove them to a dish with a slotted spoon and tent with foil to keep warm. They will all open at different rates. Just place the cover back on the pan and check back again every 2 minutes or so until they all open. Note: Clams that don't open after 7-10 minutes are most likely dead and should be discarded.
Turn the heat down to medium-low and add 3 ounces of tomato paste. Cook for 3 minutes, stirring frequently. After 3 minutes, add the plum tomatoes and the clam juice. Bring the sauce to a low simmer.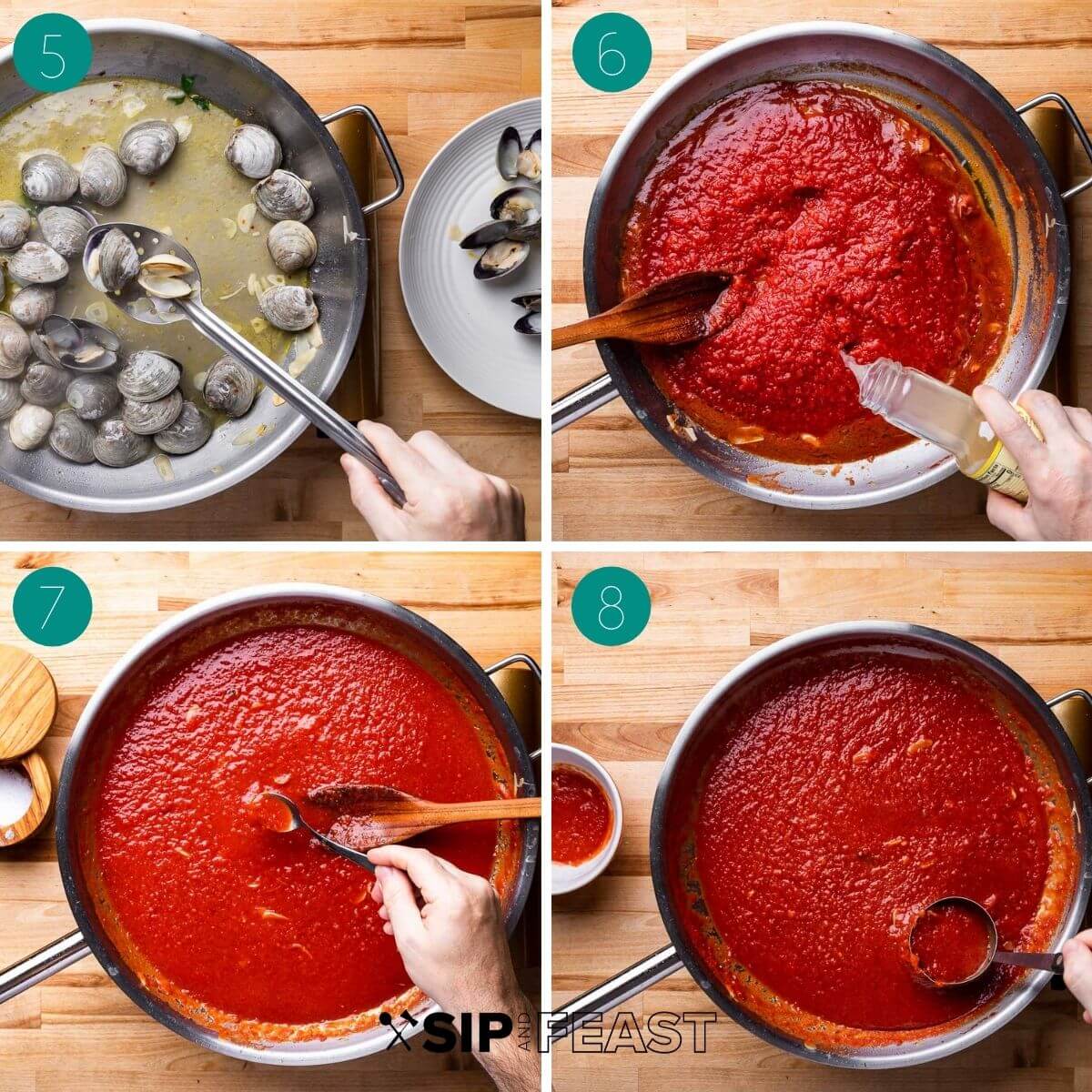 At this time start cooking the pasta in the salted boiling water. Taste test the sauce and make any adjustments to the salt and pepper levels if required.
Here I am ladling out some of the sauce. Extra sauce can always be added back, but it can't be taken out. With the addition of the clam juice and juice from the clams, there might be a bit too much sauce.
Make sure to reserve 2 cups of pasta water (put in a coffee mug) before draining the linguine. Once the linguine is almost al dente add it to the sauce.
Turn the heat to medium and toss the pasta with the red clam sauce. If you feel comfortable toss it or just use tongs to thoroughly coat the linguine.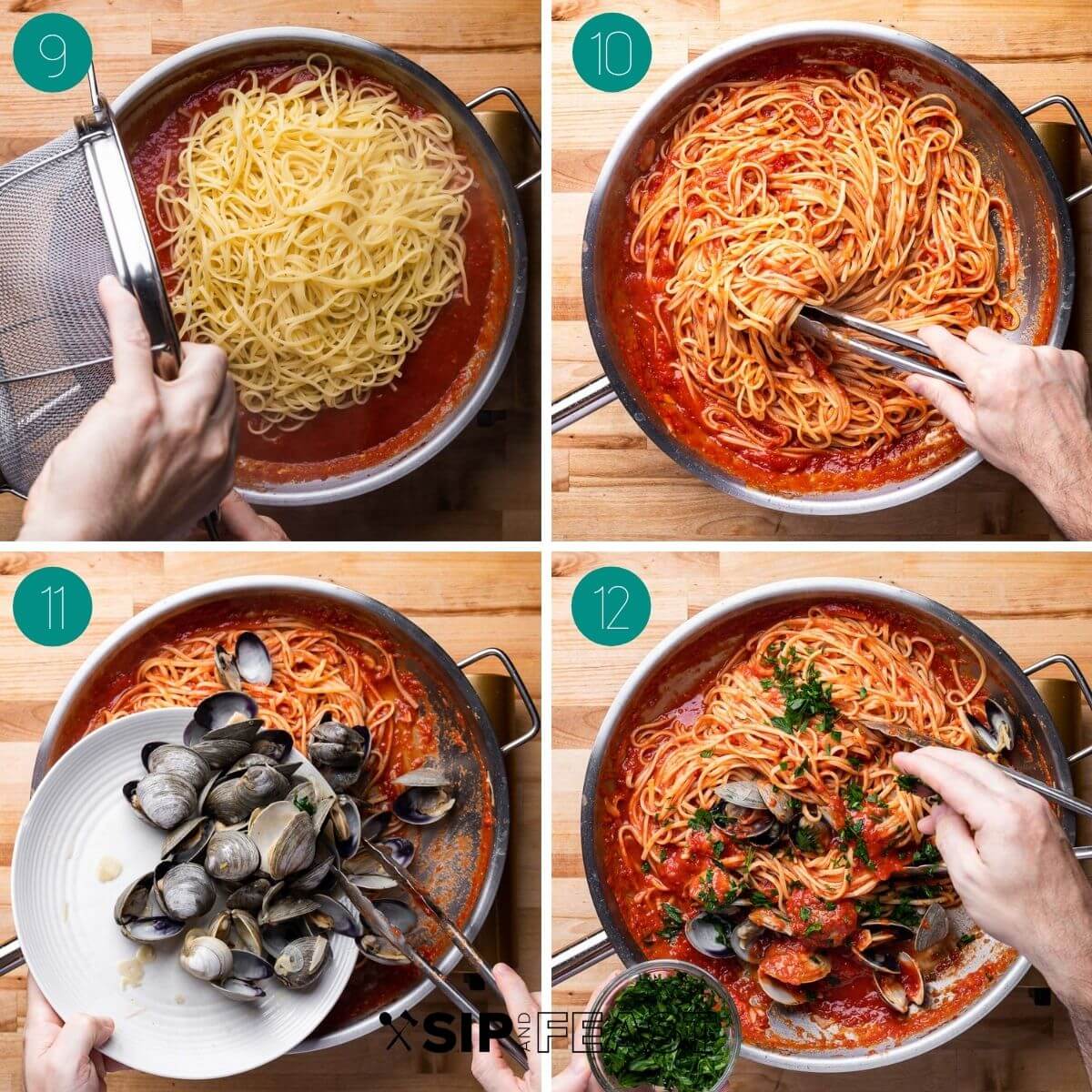 After 1-2 minutes of cooking return the clams to the pan. Give it all a toss and remove the pan from the heat.
Sprinkle the parsley on top and serve right away. If the linguine with red clam sauce is at all dry, add a few ounces of the reserved pasta water and toss/mix again to loosen things right back up. When serving drizzle a bit of extra virgin olive oil onto each bowl. Enjoy!
This recipe is for 4 servings, however, if you plan on serving this as an appetizer, you can get roughly 6 servings.
If you're planning to make this for Christmas Eve, I would suggest that this be one of the last dishes you make as it really does need to be served immediately and wouldn't hold up too well in a sterno.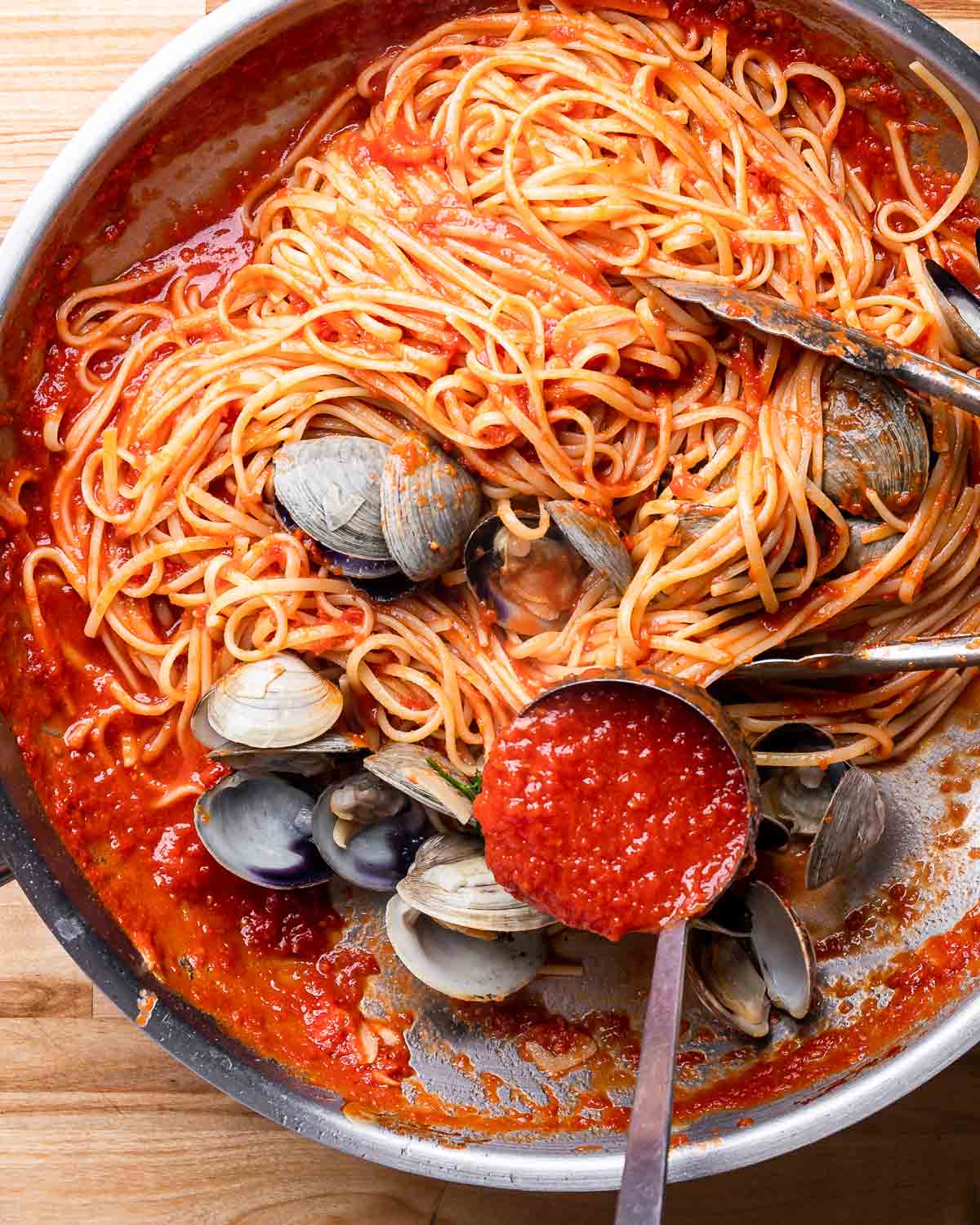 A note on clams
Fresh clams are wonderful in linguine in clam sauce, but they are not always available to everyone.
If you have trouble finding clams, you can absolutely make a fantastic version with canned clams.
I'd recommend using 2-3 (10) ounce cans of baby clams. Cento brand has good and affordable canned clams. If you decide to use just canned clams, forgo buying the clam juice and instead use 8 ounces of it from the canned clams.
Want another option to extend the dish even further? Use a combination of canned and fresh clams as I did in my linguine alle vongole, also known as linguine with white clam sauce.
If you are able to use fresh clams, I'd recommend using littlenecks, or cockles.
Larger clams can indeed be used, but for those, I would take them out of their shells and chop them up.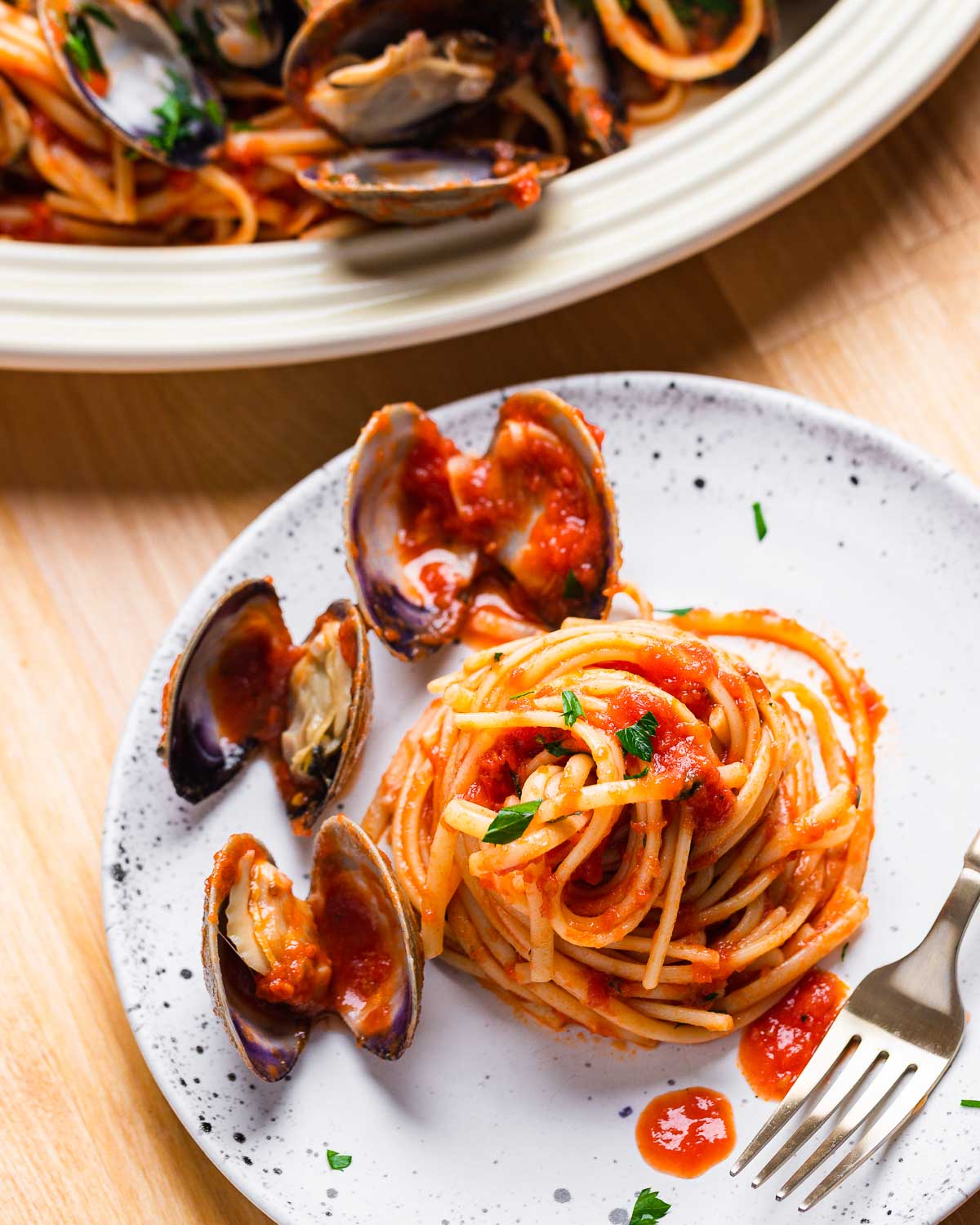 My favorite seafood recipes
Growing up in an Italian-American home on Long Island, I have a natural affinity for seafood. Here are some of my tried and true seafood recipes I've accumulated over the years.
If you've enjoyed this linguine with red clam sauce recipe or any recipe on this site, give it a 5-star rating and leave a review.
Watch the video below where Jim will show you how to make this recipe with easy-to-follow instructions.
Some people learn by watching. If you're that type of person, you can find most of our recipes on YouTube and our Facebook Page.
Linguine with Red Clam Sauce
Littleneck clams are tossed with al dente pasta in a garlicky tomato and white wine sauce.
Ingredients
1

pound

linguine

or spaghetti

3

dozen

littleneck clams

washed and scrubbed

3/8

cup

extra virgin olive oil

divided

3

anchovy fillets

mashed

6

cloves

garlic

sliced

1/4

teaspoon

crushed red pepper flakes

optional, to taste

1/2

cup

dry white wine

sauvignon blanc, pinot grigio, etc

3

ounces

tomato paste

1

28 ounce

can plum tomatoes

hand crushed or blender pulsed

1

cup

clam juice

salt and pepper

to taste

1/4

cup

parsley

minced

2

cups

reserved pasta water

will not need it all
Instructions
Bring a large pot of water to boil with 2 tablespoons of kosher salt. In a large pan over medium-low heat saute the garlic and anchovies in a ¼ cup of olive oil. Once the garlic turns golden (about 2 minutes) add the crushed red pepper flakes.

To the same pan add the clams and the white wine. Turn heat to medium-high and cover. Remove clams as they open and set aside in a bowl tented with foil to keep warm.

After all the clams have opened (discard any that do not open after 7-10 minutes) turn heat to medium-low and add the tomato paste. Cook for 3 minutes then add the plum tomatoes and 1 cup of clam juice. Bring sauce to a low simmer.

Meanwhile, cook pasta to very "al dente" in boiling water.

Add the very al dente pasta to the sauce and turn heat to medium. Thoroughly coat the pasta with the sauce for 1-2 minutes. Taste test and adjust salt and pepper levels if required. If required add a bit of pasta water to loosen up the sauce.

Finally, add the whole clams to the pasta and mix once more. Turn the heat off and serve in bowls dividing the clams equally. Top each bowl with a drizzle of extra virgin olive oil. Enjoy!
Notes
The recipe makes 4 large servings or 6 moderate ones.
No salt was added due to the inherent saltiness of the clams, anchovies, and the pasta water. Adjust according to taste right before serving.
Any clams that remain unopened after about 7-10 minutes of steaming are most likely dead and should be discarded.
The extra reserved pasta water can loosen up the sauce if it dries out while waiting for guests to be seated. Use only a few ounces at a time to get the right consistency.
Linguine with red clam sauce does not store well and should be eaten right away.
Nutrition
Calories:
778
kcal
|
Carbohydrates:
108.8
g
|
Protein:
33.1
g
|
Fat:
23.8
g
|
Saturated Fat:
3.2
g
|
Cholesterol:
42
mg
|
Sodium:
1447
mg
|
Potassium:
1070
mg
|
Fiber:
7.4
g
|
Sugar:
16.8
g
|
Calcium:
123
mg
|
Iron:
18
mg
Nutrition information is automatically calculated, so should only be used as an approximation.