Lemon garlic shrimp pasta is quick and easy with so much flavor.  This might become your new favorite shrimp recipe!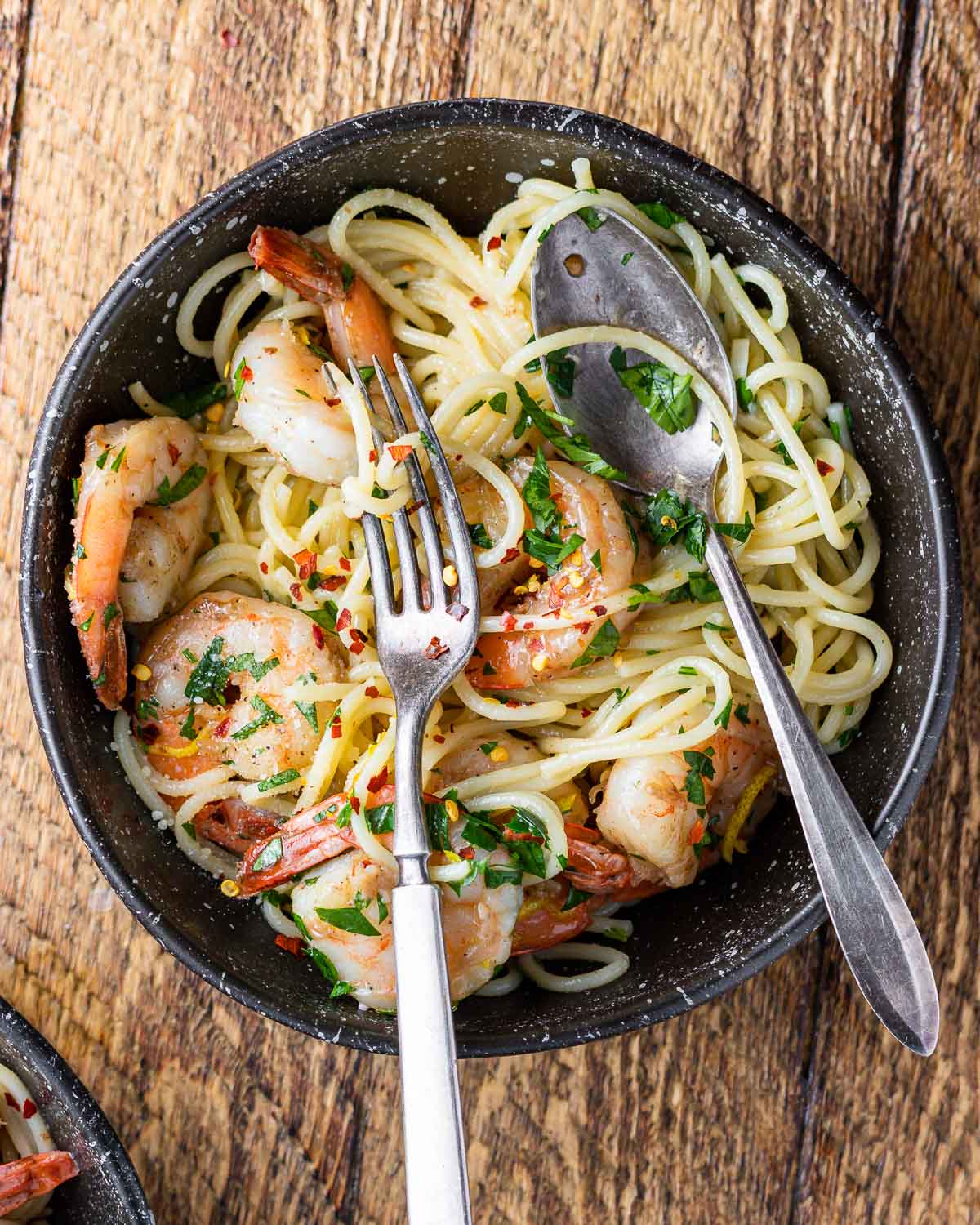 We reach for this lemon shrimp pasta during the week because it's super delicious yet quick at the same time.  We are always looking for that combination!
No doubt you're probably looking for the same thing.  I mean anyone can make mediocre food quickly, but to get a truly flavorful dish that everyone will love often takes a lot of time – this one does not.
This "might" become your number 1 favorite shrimp recipe.  But, I do have a few other good ones like…
And if you love all types of pasta go check out my my Instagram where I have about 150 of them!  They will all be here in full process shot form with detailed instructions as I create and publish them.
Lemon Garlic Butter Shrimp Pasta Ingredient List:
1 pound extra large shrimp –  26-30 size or bigger would be nice.  The number refers to the amount of shrimp per pound.  Costco sells cleaned frozen raw shrimp in various sizes and is always a great choice.
½ pound spaghetti – Use any long pasta you like.  Linguine, angel hair and fettuccine all work well.
½ stick unsalted butter
zest and juice of 1 lemon – Plus have a couple more lemons cut up for serving.
¼ cup olive oil – For sauteing.
extra virgin olive oil – For finishing the pasta.  A nice drizzle of extra virgin olive oil before serving can only make pasta in a bianca sauce better!
¼ cup chopped fresh parsley – For finishing and garnish.  Chopped fresh parsley adds so much vibrancy to a dish over dried.  I do not recommend dried parsley for anything.
6 cloves chopped garlic
kosher salt, pepper, crushed red pepper
½ tsp baking soda – Easy way to have nice plump shrimp.
2 cups pasta water – You will not need all of it, but it will be used to get the sauce consistency just right and to prevent having a dry pasta dish.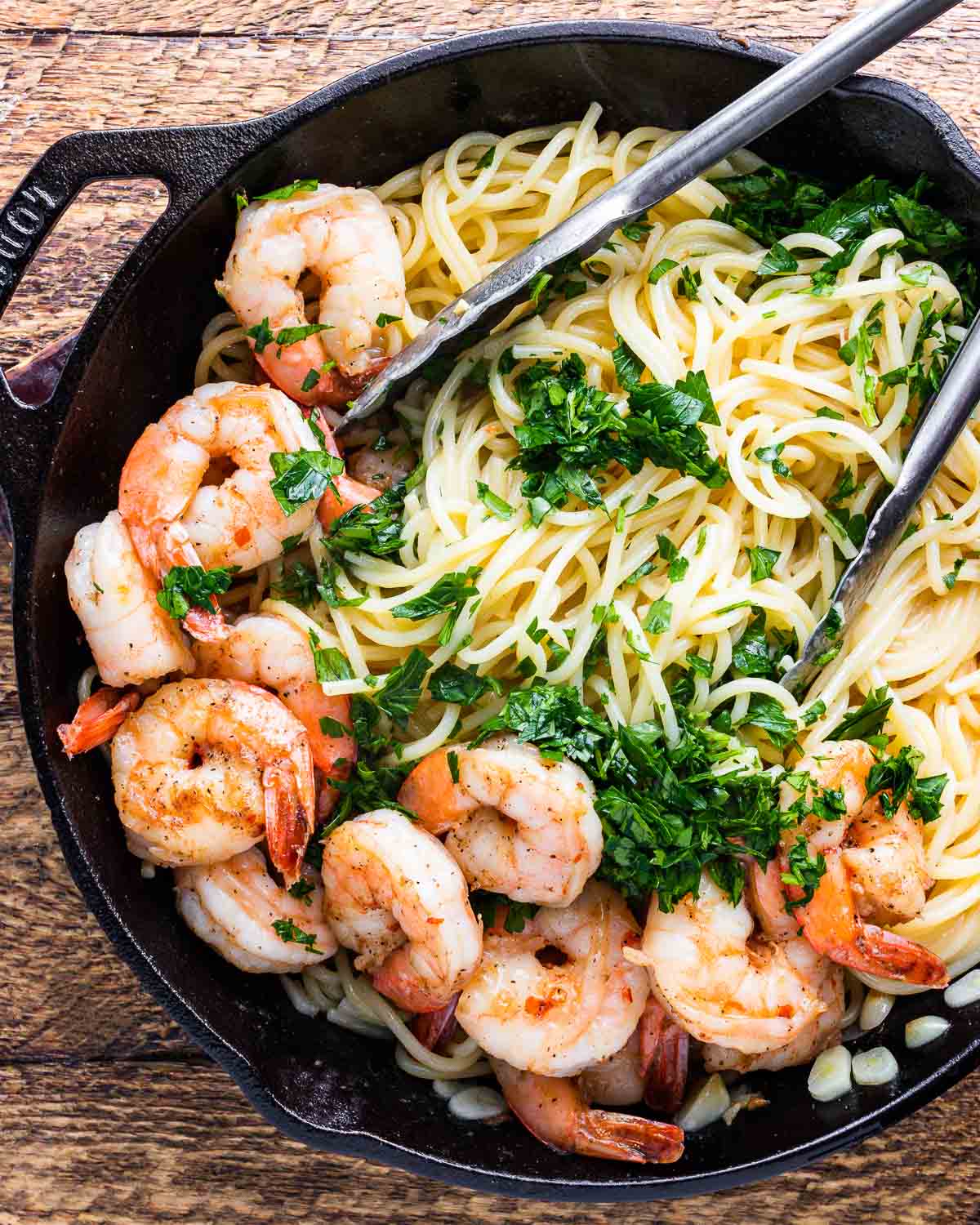 Lemon Shrimp Pasta Step By Step Instructions: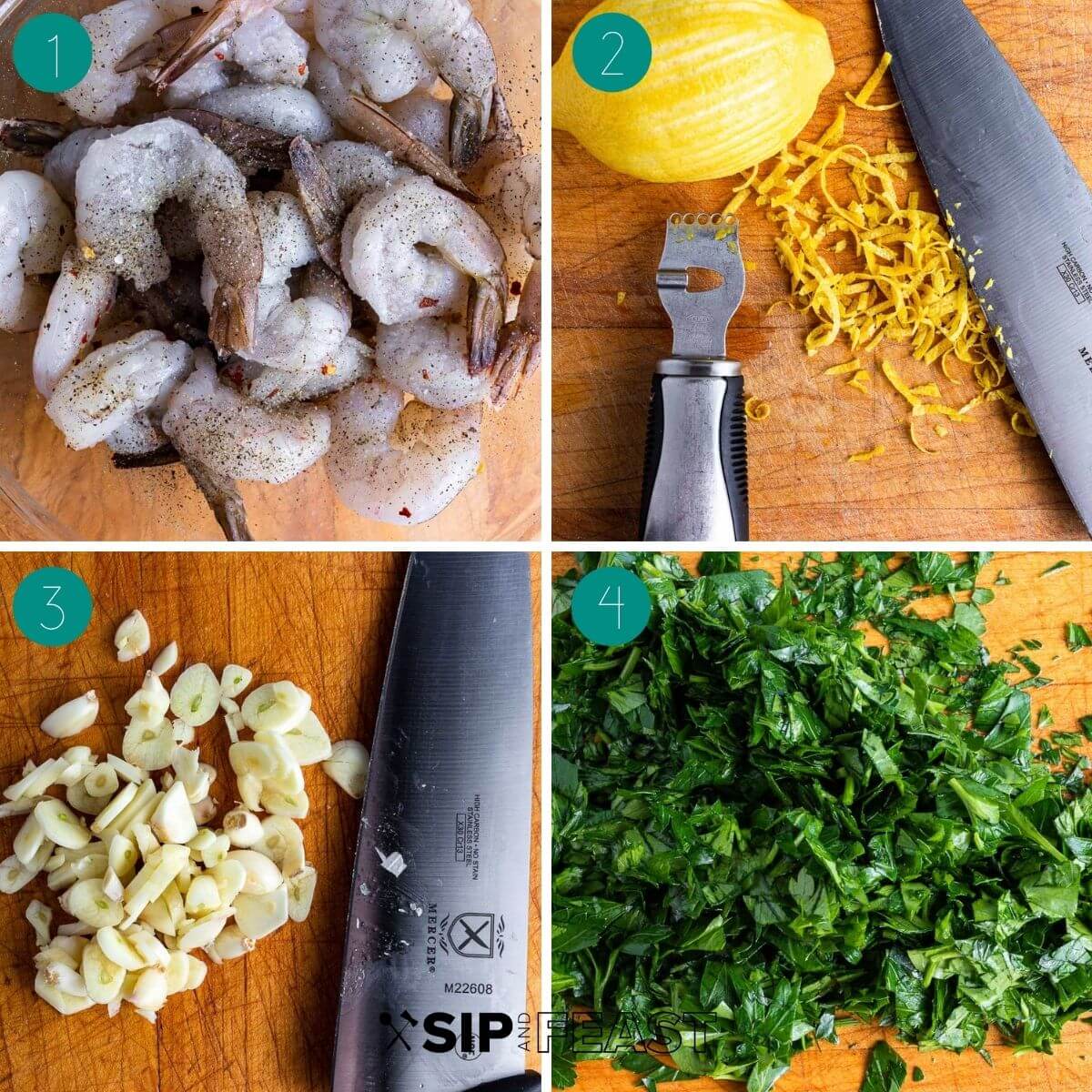 Place completely thawed and dried shrimp in a bowl with ½ tsp baking soda, ½ tsp kosher salt, ¼ tsp black pepper and ⅛ tsp crushed red pepper.  Mix well.
Zest the lemon and chop the long strands up.  Also, start boiling the pasta in salted water (2 Tbsp kosher salt per gallon of water) to "al dente".  Basically undercook the pasta by 1 minute.  One thing to note is that good pasta brands like De Cecco include the "al dente" time on the box.   Just set the stove timer to a couple minutes under the recommended time and start taste testing to be certain not to overcook it.
Chop or slice the garlic.
Chop the fresh parsley.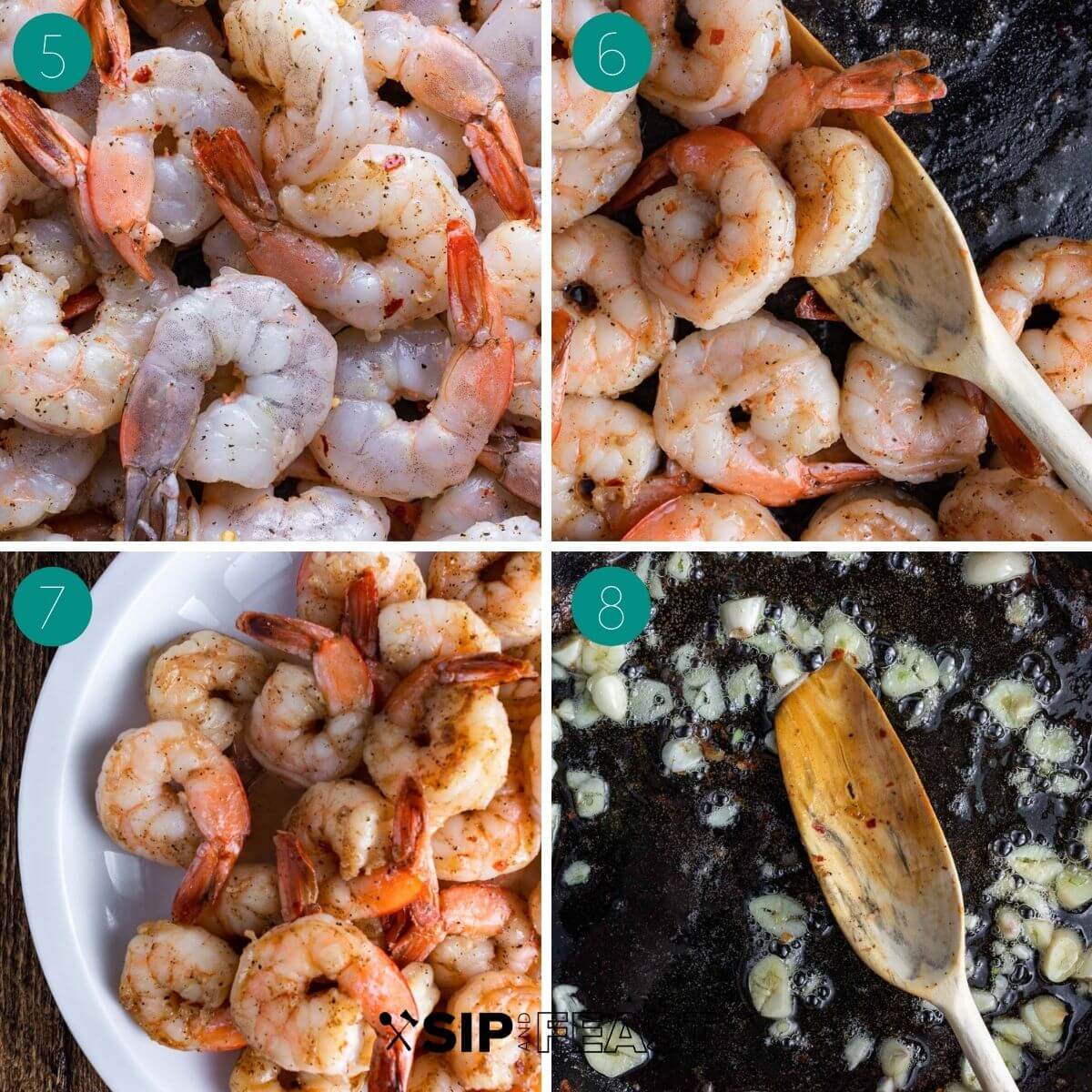 Heat pan to medium and add 2 Tbsp olive oil then shrimp.
Saute the shrimp until cooked through.  Roughly 4-6 minutes depending on their size.  A good way to cook shrimp is to spread them out and flip them after 2-3 minutes.  Don't be afraid to cut one open to check if they're done.  They will be non translucent and very firm and plump when touched.  The objective is to cook the shrimp right to the done point but not overcook them.
When finished place the shrimp in a plate and set aside.
To same pan add the remaining 2 Tbsp of olive oil and saute the garlic until nicely golden.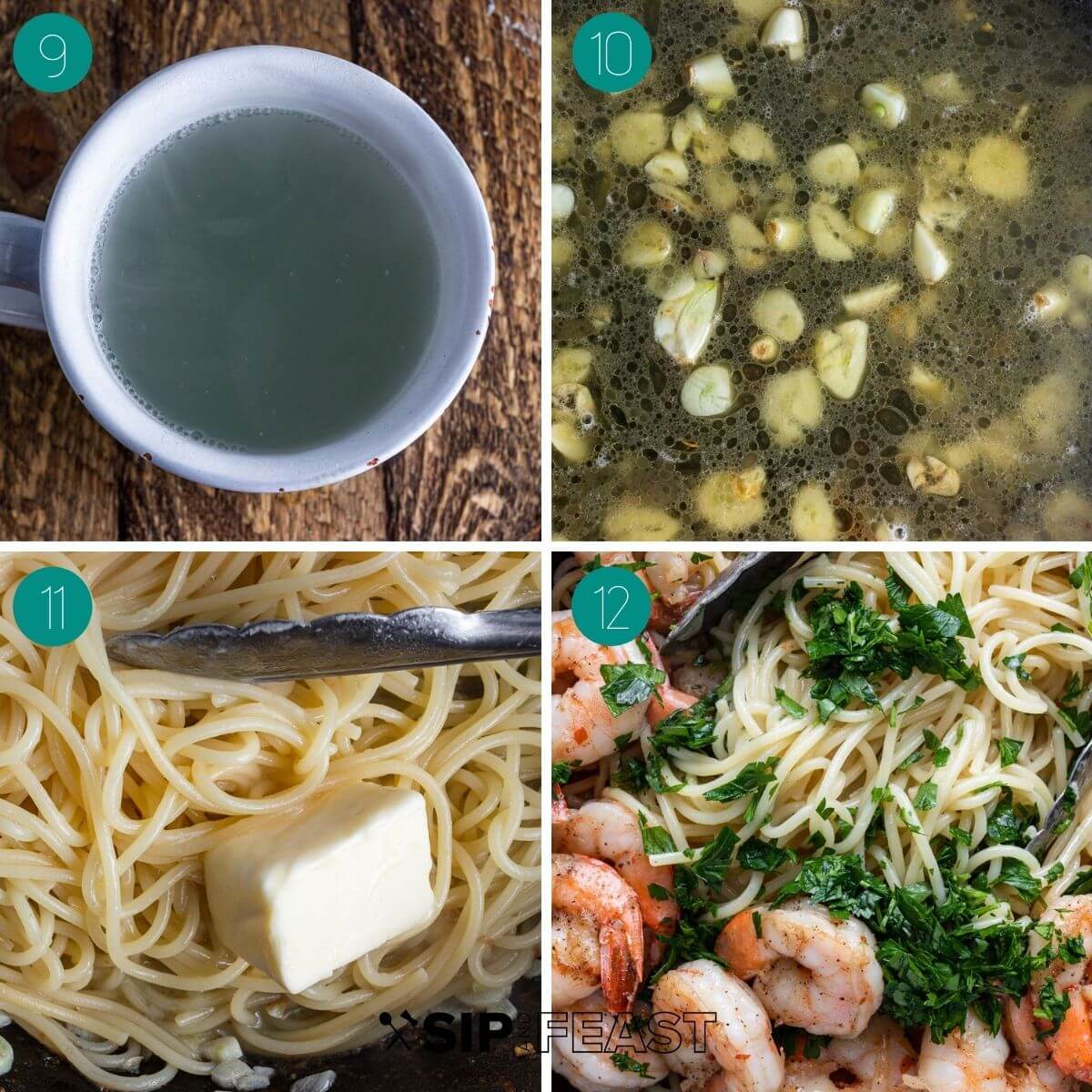 Reserve 2 cups of pasta water and set aside right before draining the pasta.
Add ½ cup of pasta water to the pan and mix with a wooden spoon.  Use the spoon to scrape up the good flavor bits on the bottom of pan.
Add the pasta into the pan and the ½ stick of butter.  Coat the pasta well, cooking for 1-2 minutes.
Add the shrimp, parsley, lemon juice and zest to the pasta, mix and toss together.  Taste test right now and adjust salt, pepper, and crushed pepper levels before serving.  If the pasta is dry add a couple of ounces of pasta water to loosen it up.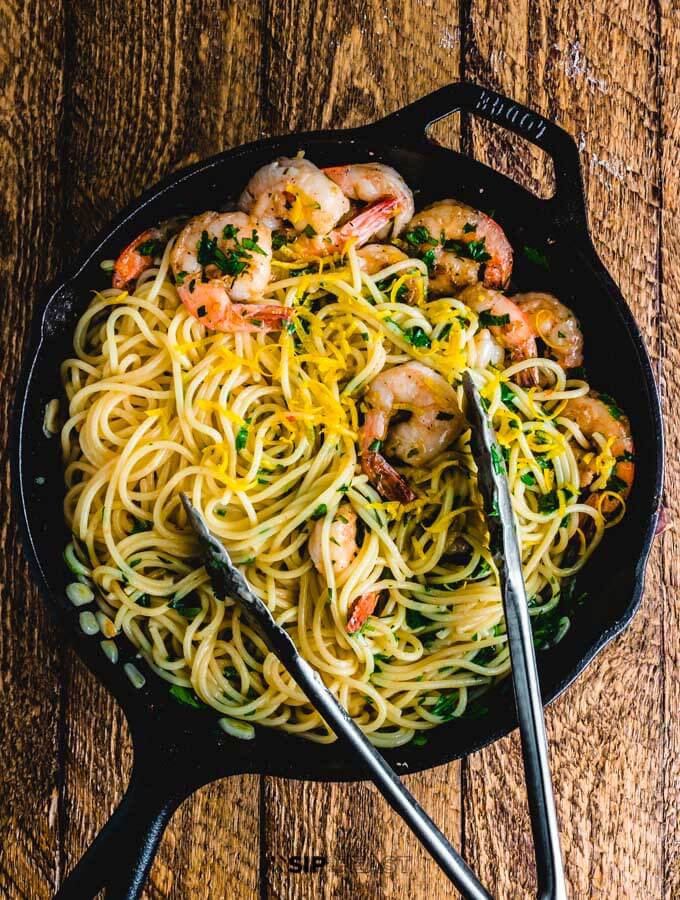 So That's How You Make Lemon Garlic Shrimp Pasta
Making a delicious shrimp recipe is really quite quick.  The trick is to have nice thawed shrimp and all the ingredients prepped and ready to go.
I hope you enjoy the numbered process shots and corresponding info.  I realize this is not for everyone as some people are more experienced in the kitchen than others.  I think the best thing I can do is provide detailed instructions that help a novice confidently make a pasta recipe like this.
For those that are more advanced the printable recipe card is always at the bottom of the page with the jump to recipe button.
Some Common Questions:
Substitutions And Additions:
capers – Adds a distinct briny flavor.  They are strong so go easy with them.  About 1-2 Tbsp of them rinsed should add a great flavor but not overpower the whole dish.
white wine – Wine adds a great flavor to many Italian pasta recipes and it absolutely will do the same in this lemon butter shrimp pasta.  Use a Pinot Grigio or dry white wine.   Add a ¼ cup of wine  during step 10 and only add ¼ cup of pasta water to start.  Bring the wine and pasta water to a simmer for 2 minutes and continue on in the recipe.
herbs – Basil adds a great flavor but is stronger and more pronounced than parsley.  If you like basil definitely use it!
Anchovies – One of the best kept secrets to making good Italian seafood is the use of Anchovies.  By sauteing a couple of chopped anchovy fillets with the garlic a more robust seafood flavor can be achieved.  Anchovy fillets are commonly used in red and white clam sauce to give it that extra zing.  You can buy Anchovy cans in five packs at Costco or tubes of anchovy paste at Trader Joe's.
What's The Deal With Baking Soda?
Baking Soda added to the shrimp keeps them plumper and prevents from drying out.  The baking soda has no taste and can only benefit any shrimp dish.  I learned this trick many years ago while working for a great chef.  I know Chinese restaurants do this all the time as well.  For more info check out this Serious Eats Article On How To Improve Any Shrimp Recipe.
Cheese On Seafood?
For a long time it was considered bad form to put cheese on seafood.  Many chefs use cheese now.  In Italy it supposedly is still not done.  I make Italian food from New York.  I can assure you that cheese is most definitely served on and with many seafood dishes in these New York restaurants.  Shrimp parmigiana and Shrimp Oreganata Both Come To Mind.  I say if you love some good parmigiano reggiano on your lemon garlic shrimp pasta, who am I to stop you.  Just don't ask for it in Italy!
Difficulty Level:
On a scale of 1-5 with 1 being easy this recipe is a 2.  There's only a few ingredients and two important steps:
shrimp – make sure they are completely thawed and that the baking soda trick is used.  You will have great shrimp every time!
pasta water and cooking – Reserve the pasta water always with any pasta dish.  In a dish like this the only sauce comes from the pasta water and butter combination.  The starchy pasta water and butter cling to the pasta and coat it so well during the last minute of cooking.  Make sure to not omit this step.  I cringe every time I see pasta with just some sauce on top.  It will never be as good as it can be, and the sauce will just fall right off.  Save the remaining water and use a few ounces to loosen up dry pasta if it takes too long for everyone to get to the dinner table.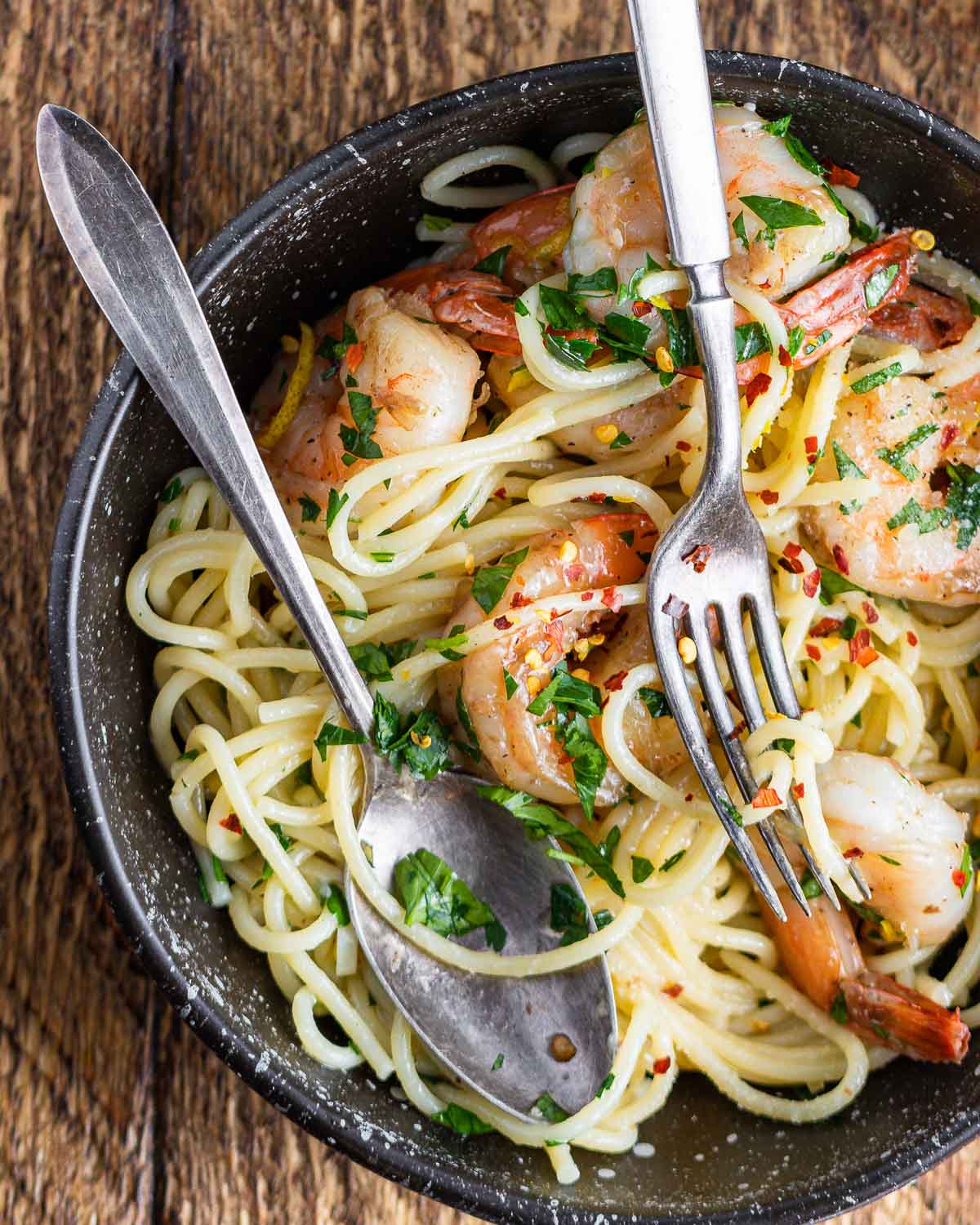 Other Great Pastas:
Drink Pairings:
White wines such as Pinot Grigio, Chardonnay or Sauvignon Blanc all go great with this garlic butter shrimp pasta.
DID YOU TRY THIS RECIPE?
Give it a star rating.
If you liked this lemon garlic shrimp pasta we'd really appreciate it if you would share it on Instagram or Facebook using #sipandfeast.
We would love to know how you did and it's nice to show others as well.  Thanks!
Follow us on Instagram, Pinterest, and Facebook.  Sign up to receive great recipe ideas in your inbox.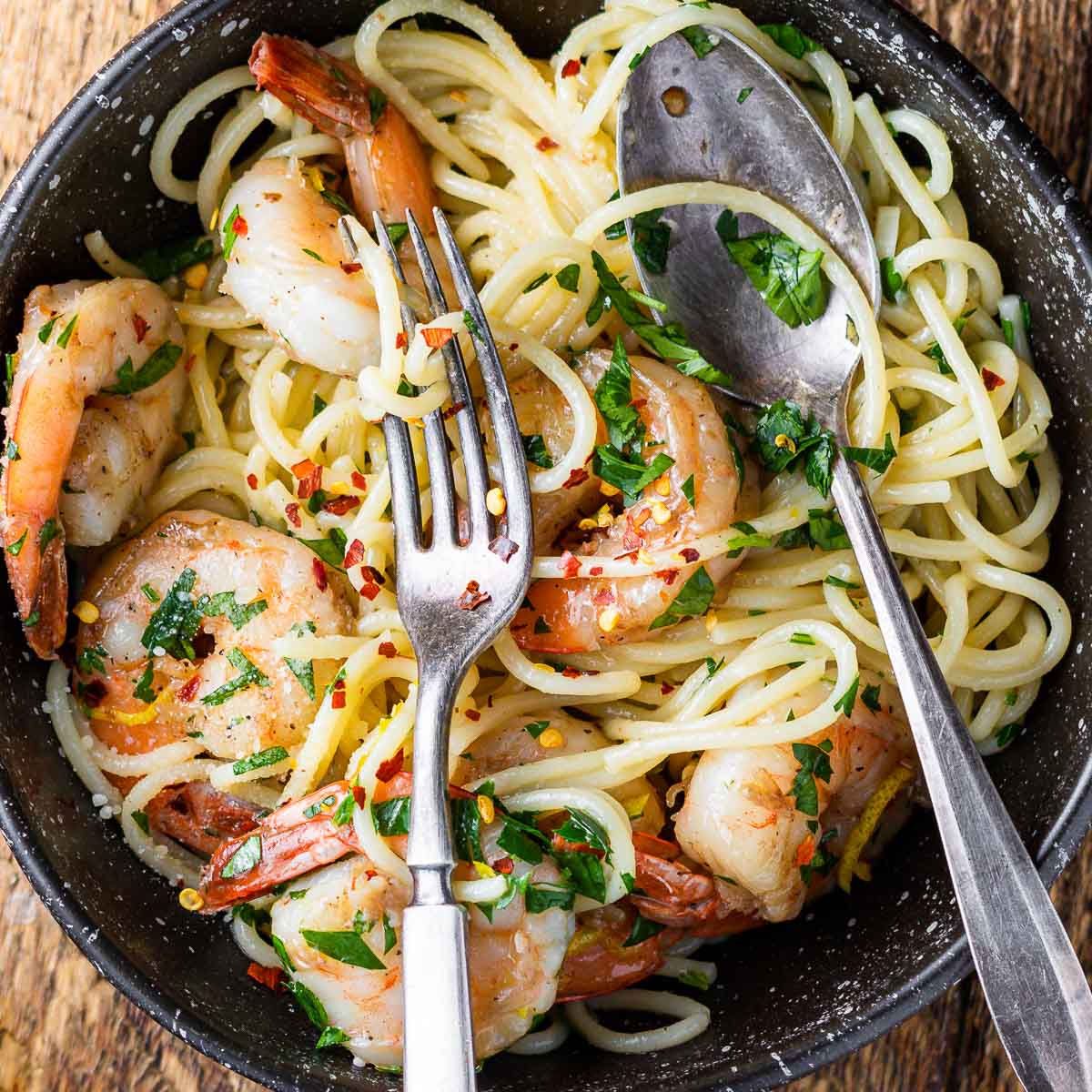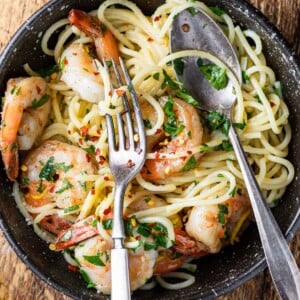 Ingredients
1

pound

large shrimp

½

pound

spaghetti

½

stick

unsalted butter

1

large

lemon juice and zest

¼

cup

olive oil

⅛

cup

extra virgin olive oil

¼

cup

fresh parsley

6

cloves

garlic

1

cup

pasta water

½

tsp

baking soda

¼

tsp

black pepper

⅛

tsp

crushed red pepper

1

tsp

kosher salt
Instructions
Cook pasta "al dente" in salted water (2 Tbsp kosher salt per gallon of water) and reserve at least 1 cup of pasta water before draining.

While pasta is cooking place cleaned and dry shrimp in a bowl with ½ tsp baking soda, ½ tsp kosher salt, ¼ tsp black pepper and ⅛ tsp of crushed red pepper. Mix well. Zest and juice 1 lemon. Mince garlic and chop parsley.

Heat large pan to medium heat with ⅛ tsp of olive oil and saute shrimp for 4-6 minutes until done. Remove shrimp and set aside. To same pan add another ⅛ tsp of olive oil and garlic. Saute garlic for 2-3 minutes until golden.

Add ½ cup pasta water to pan. Also, add the butter and the pasta. Cook for 1-2 minutes tossing to coat well so the sauce absorbs and clings to the pasta. Add the shrimp, parsley, lemon juice, lemon zest and toss/mix again.

Turn off the heat and taste test. Make final adjustments to salt, pepper and crushed red pepper. If the pasta gets dry add a couple more ounces of pasta water. Serve with a healthy drizzle of extra virgin olive oil on each plate and lemon wedges on the side. Enjoy!
Notes
The recipe easily doubles or triples.
The recipe calls for ½ cup plus pasta water.  Always reserve extra in case the pasta dries out while sitting and or waiting to serve.
Salt is kept to a minimum so adjust according to taste.
Serve with grated parmigiano reggiano if desired.
Nutrition
Calories:
561
kcal
|
Carbohydrates:
32.8
g
|
Protein:
32.4
g
|
Fat:
33.6
g
|
Cholesterol:
311
mg
|
Sodium:
373
mg