Pasta con broccoli (pasta with broccoli) is such an easy pasta dish that is so hearty and comforting. It's like mac and cheese, where you just can't stop eating it. Feel free to double the recipe- there are rarely leftovers with this one!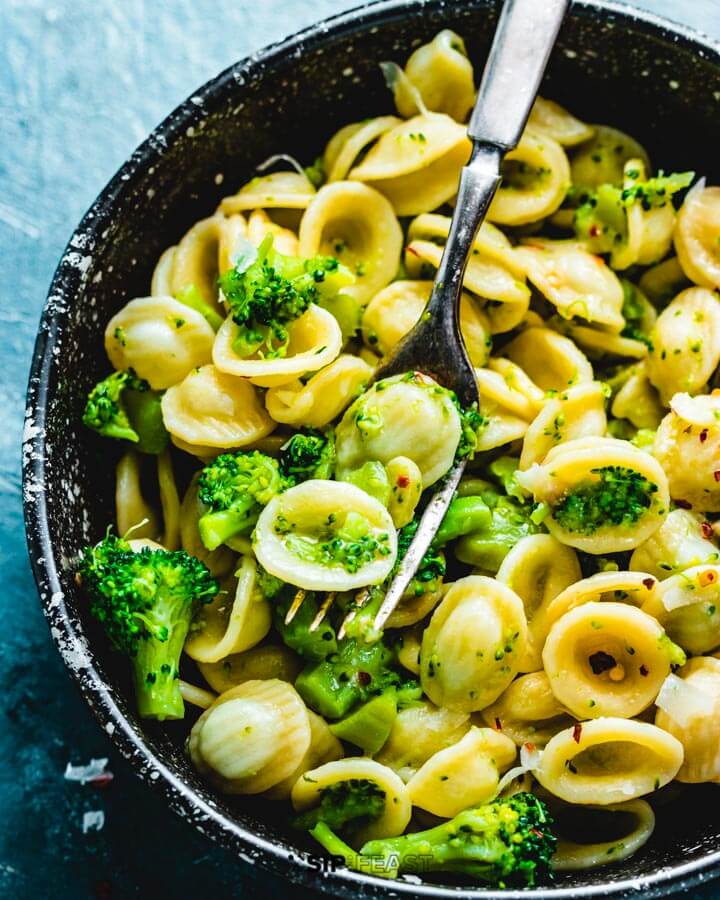 What is pasta with broccoli?
Pasta con broccoli is pasta with broccoli in a garlic, olive oil and pasta water sauce.
The broccoli is twice cooked, once in the pot, then sauteed in garlic and olive oil to make a creamy sauce that sticks to the pasta real well.
No cream is used in this broccoli pasta recipe. There's really no need for it.
The cooking process breaks down the broccoli and with the addition of the starchy pasta water, a great sauce is easily created.
Also to alleviate any confusion pasta con broccoli and pasta e broccoli (pasta and broccoli) are the same thing.
And for those who can't get enough of this winning combo, check out our macaroni and broccoli with tiny meatballs recipe!

How to make pasta con broccoli
Ingredients shown: broccoli, garlic, chili flakes, pecorino, and orecchiette pasta.
Start by bringing a large pot of salted water (2 Tbsp kosher salt per gallon of water) to a boil. Chop broccoli stems off and break into bite-size florets.
Chop 6 cloves of garlic.
When water comes to a boil add in all the broccoli florets and cook until tender - about 8 minutes or so. Once the broccoli has finished, (don't dump the water) remove with a slotted spoon and set aside. Begin boiling the pasta in the same water and cook to al dente.
In a large pan saute the garlic in 6 tablespoons of olive oil on medium to medium-low heat until golden. If using chili flakes, add them at this point to the pan.
Next, add the cooked broccoli to the pan and saute for 3-5 minutes in the olive oil.
Make sure to reserve 2 cups of pasta water before draining.
Add 1 cup of pasta water to the pan and cook for 1 minute. Then, add the pasta and a ½ cup of pecorino cheese. Mix well for 1 minute to incorporate the sauce. Taste test and adjust salt and pepper if necessary. Also, add more pasta water if required. The sauce should be quite moist and not at all dry. Finally, remove the pan from the heat and drizzle a ¼ cup or more of extra virgin olive on the pasta and broccoli.
Serve with more Pecorino Romano, chili flakes, and extra virgin olive on the side.
If the pasta drys out at all while waiting to eat, just add some more of the pasta water to bring the consistency right back to perfect.
So that's how to make pasta with broccoli. No extra salt was added, adjust accordingly.
Pecorino Romano cheese is quite salty and no doubt more will be added to each serving, so keep that in mind.
What type of pasta
For the pasta we used orecchiette. There are so many good shapes to use.
Rigatoni, penne, ziti and small shells are all great for this application.
Orecchiette and shells work particularly well at holding the broccoli sauce.
Flavoring the broccoli sauce
Anchovies - So good! Anchovies are definitely an acquired taste, but really add a special body to the pasta broccoli. If you would like to try it, start with 2 anchovies minced and sauteed in the olive oil with garlic. Work your way up from there, any time you remake the recipe - anchovy paste can also be used.
Pancetta - Pancetta will add a nice kick and is a good way to start off the dish. Just keep in mind it will definitely alter and compete with the broccoli flavor.
Garlic - One of the biggest differences between Italian food in Italy vs the New York area are the amounts of garlic used. Often in Italy one or two whole cloves will be smashed and lightly sauteed in olive oil before being removed. The garlic gently flavors the oil. If you don't like a lot of garlic do it that way, or use a lot like we do here in New York. Totally a matter of preference!
Cheese - Pecorino and parmigiano reggiano are both excellent in this pasta broccoli recipe. Pecorino is saltier. With parmigiano you might need to add a little bit more extra salt before serving.
Chili flakes - Add the crushed red pepper flakes to the oil when sauteing the garlic. A ½ tsp is a good amount for a moderate kick. Alternatively, just serve it on the side like shown in the pic directly above.
In this shot above the broccoli pasta was made with casarecce and the broccoli was not cooked as long. There are many ways to do things!
Use this recipe as a general guide - if you don't like the idea of super soft broccoli, just cook it for a few minutes less.
More simple comforting pasta recipes
If you've enjoyed this pasta with broccoli recipe or any recipe on this site, we want to know so tell us in the comments below.
We would love to hear how you did and it's nice to show others as well. Thanks!
Watch the video below where Jim will show you how to make this recipe with easy-to-follow instructions.
Some people learn by watching. If you're that type of person, you can find most of our recipes on YouTube and our Facebook Page.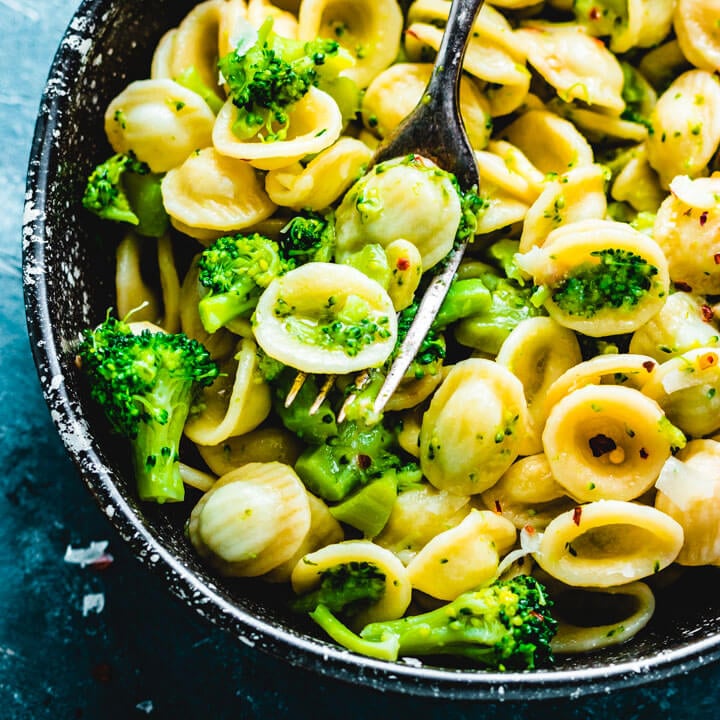 Ingredients
1

pound

orecchiette

1

large

head of broccoli

6

cloves

garlic

⅓

cup

olive oil

¼

cup

extra virgin olive oil

½

cup

pecorino cheese

½

tsp

chili flakes

2

cups

pasta water
Instructions
Bring a large pot of salted (2 Tbsp kosher salt per gallon) water to boil. Remove and discard lower stems from broccoli and break into bite size florets. Add florets to boiling water and cook for 8 minutes until tender. When finished, set cooked broccoli aside making sure to not drain boiling water.

Cook pasta in boiling water to 1 minute less than al dente. While pasta cooks, in a large pan saute 6 cloves of chopped garlic in a ⅓ cup of olive oil over medium-low heat until golden. After golden (about 2-3 minutes) add ½ tsp of crushed red pepper flakes to oil.

Add the precooked broccoli to the pan and continue to saute for 2-3 more minutes to further soften broccoli. Before draining pasta reserve at least 2 cups of pasta water.

Add 1 cup of pasta water to the pan to make the broccoli sauce and cook for 1 minute. Add the pasta into the pan along with a ½ cup of grated pecorino. Stir to thoroughly combine and continue to cook for 1 more minute.

Taste test the pasta and adjust salt and pepper if necessary. Also, add more pasta water if required to achieve a loose consistency. Remove pan from heat and drizzle the ¼ cup of extra virgin olive onto the pasta. Serve with more pecorino cheese, crushed red pepper, and extra virgin olive oil. Enjoy!
Notes
The sauce consistency will get creamier the longer the broccoli cooks. If you like the broccoli more firm just reduce the boiling time.
No extra salt was added, except for the salt in the pasta water and the pecorino cheese. Adjust accordingly.
Crushed red pepper flakes are optional.
Serve more crushed red pepper, pecorino cheese and extra virgin olive on the side.
Nutrition
Calories:
638
kcal
|
Carbohydrates:
71.1
g
|
Protein:
20.3
g
|
Fat:
32.2
g
|
Saturated Fat:
6
g
|
Cholesterol:
93
mg
|
Sodium:
348
mg
|
Potassium:
580
mg
|
Fiber:
3
g
|
Sugar:
2
g
|
Calcium:
150
mg
|
Iron:
4.7
mg