Macaroni and broccoli with tiny meatballs is a comforting soup that combines elbow pasta, loads of chopped broccoli, tiny meatballs, and plenty of Pecorino Romano cheese. Best served with a healthy drizzle of extra virgin olive oil and more grated Pecorino.
If pasta con broccoli and Italian wedding soup had a child, it would be macaroni and broccoli with tiny meatballs.
This soup was borne out of love for both recipes, and the desire to create a meal that was so incredibly soothing that it could be turned to whenever you're in need of a little extra comfort.
While this pasta with broccoli and meatballs recipe calls for a soupier consistency, you can certainly use less liquid and enjoy it as a pasta dish.
This soup is hearty and filling enough to be a full meal and we recommend serving it in bowls topped with freshly grated Pecorino Romano cheese, a drizzle of extra virgin olive oil, and some garlic bread.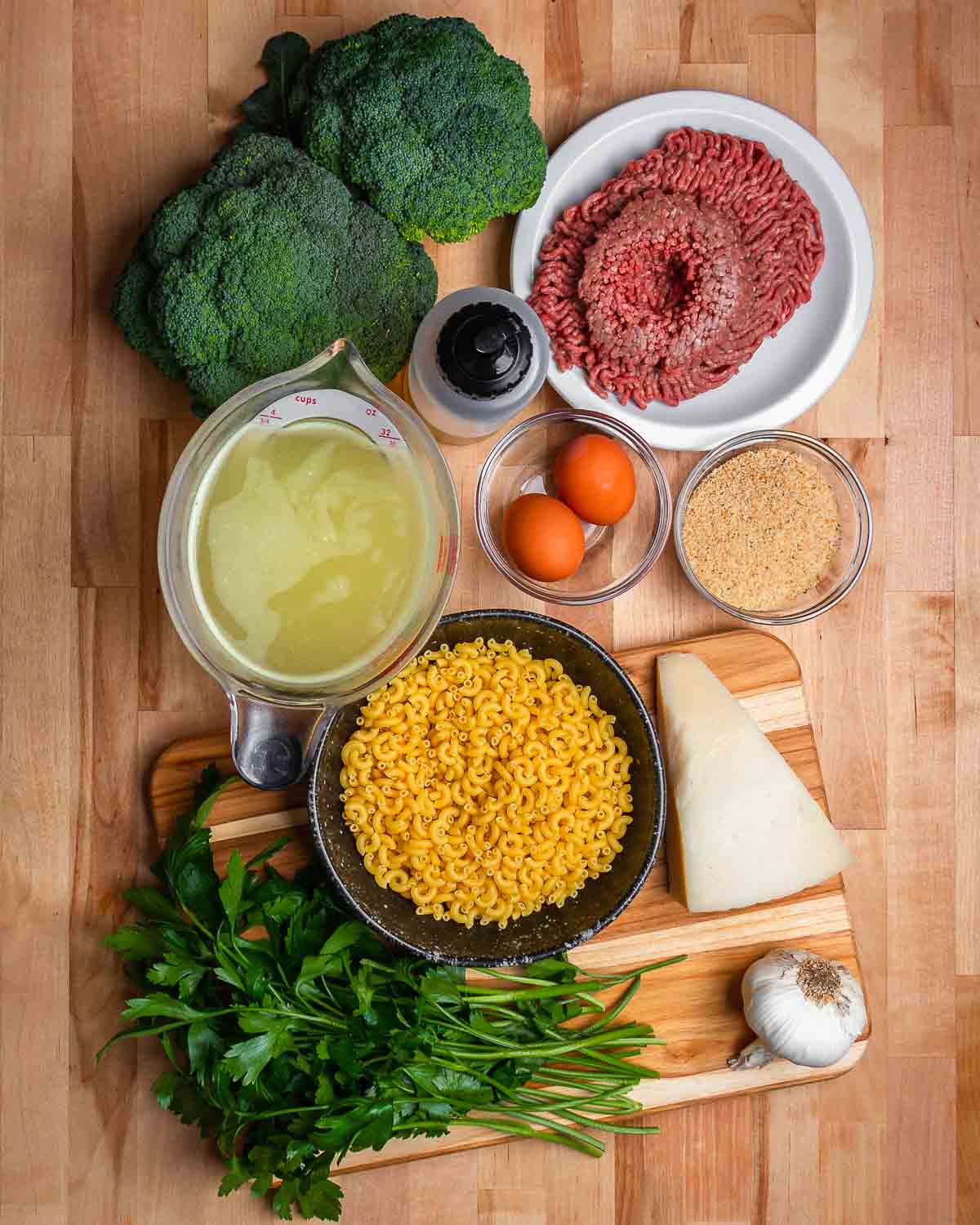 How to make it
Each number corresponds to the numbered written steps below.
Preheat your oven to 375f and set the rack to the middle level. Slice 6 cloves of garlic, and mince 1/4 cup of flat-leaf parsley. Grate the Pecorino Romano cheese and divide into 1/3 cup for the meatballs, and 1/2 cup for the soup (Photo #1).
Chop one large head of broccoli. Note: we used broccoli crowns here but if you have a full head, remove the bottom 2 inches of the stalk and chop the rest of the stalk along with the crowns (Photo #2).
Mix together 2 large eggs, 1 pound of ground chuck, 1/2 cup seasoned Italian breadcrumbs, the minced parsley, 1/3 cup of grated Pecorino, 1 teaspoon of kosher salt, and 1/4 teaspoon of black pepper (Photo #3).
Set a bowl of tap water beside the meatball mixture. Dip your hands into the water to moisten them and allow for easier and less sticky meatball formation. Begin to shape the mixture into tiny meatballs, about 1/2 – 3/4 inch in diameter. When your hands start to become sticky, dip your hands back into the water bowl (Photo #4).
Place the meatballs on a parchment paper-lined baking sheet and bake until they reach an internal temperature of 165f (approximately 15-20 minutes) (Photo #5).
Meanwhile, bring a large pot of salted water to boil and add the chopped broccoli to the boiling water for 5-7 minutes, or until tender. Use a slotted spoon to remove the broccoli and set it aside. Do not drain the broccoli water as you will need it later on. Heat a large pot or pan to medium-low and saute the garlic in a 1/4 cup of extra virgin olive oil until golden (about 2 minutes) (Photo #6).
Once the garlic is golden, add 1/2 teaspoon of red chili flakes and cook for another 20-30 seconds (Photo #7).
Add the cooked broccoli to the pot and saute along with the garlic for 3 minutes (Photo #8).
Add 4 cups of low sodium chicken stock to the pot and bring to a simmer (Photo #9).
Once simmering, add 8 ounces of elbow macaroni (or other small pasta) and stir well. Cook the pasta until just al dente then remove the pot from the heat (Photo #10).
Add the 1/2 cup of Pecorino Romano cheese to the pan and give a stir (Photo #11).
Add the meatballs to the pot and stir to combine. If needed, add some of the reserved water from the broccoli to thin to the desired consistency. Taste test and adjust salt, pepper, or hot red pepper levels to taste. Serve the macaroni with broccoli and meatballs in bowls with a drizzle of extra virgin olive oil and more grated Pecorino Romano on the side (Photo #12). Enjoy!