I'm done with the silly talk in these blog entries and am all about the food now. Seriously who wants to read me yammering when we can get down to the important stuff? And this blackened chicken sandwich with blistered shishito peppers is way more important than any kind of small talk I have to offer. On to the sandwich...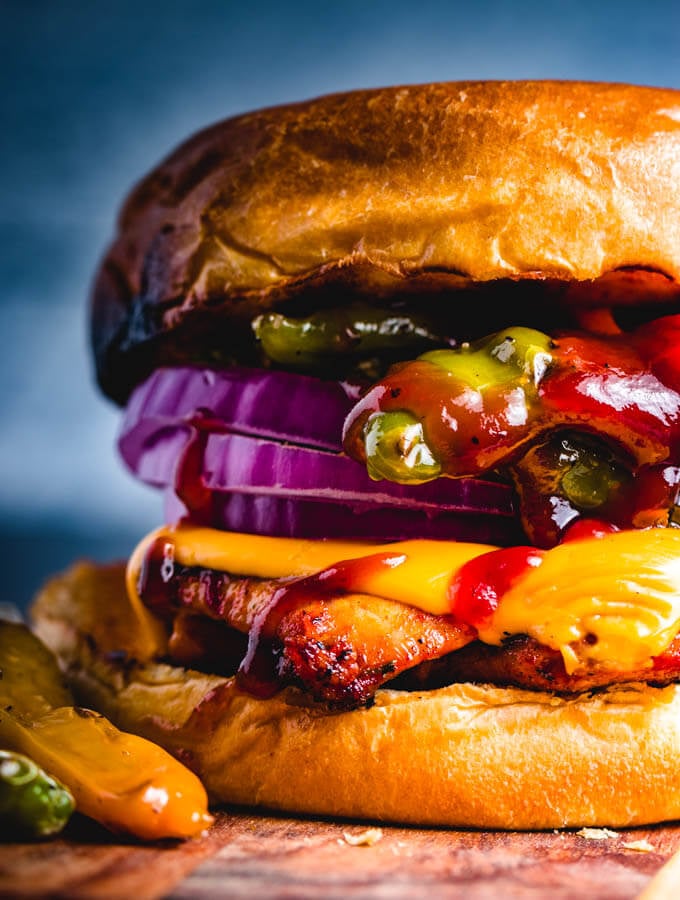 Blackened Chicken Sandwiches:
A blackened chicken sandwich or just a straight up piece of blackened chicken itself is awesome already.
The way it's fried or grilled in that blackened spice is a thing of beauty. It truly is one of the best ways to do chicken in my very humble opinion.
Lay the spice thickly on the chicken breasts or better yet, thighs, and it's perfect. Just writing about it makes me want to eat some right now!
Add the blistered shishito peppers and it really takes this sandwich to another level.
Some bbq sauce, red onion, and a nice piece of american cheese and I'm having 2 sandwiches at least!
Anyway let's get on with it.
Shishito peppers are amazing. And they are getting much easier to find the last few years. I lived in Minnesota for the last three years and was able to find them in several stores. We recently moved back to Long Island, NY (my home) and I was happy to see they are readily available here too.
If you can't find them, poblano peppers would be a good substitute. If you like things a little spicier get some jalapenos which are definitely the easiest to find of the bunch.
I like to use thighs for this sandwich. They are tastier and easier to cook than breasts. They are also cheaper which is great. I always use skinless and boneless thighs.
Apply about ½ tablespoon of blackened spice to each thigh.
If you like it spicier add more spice! Also there is no need to add any salt, because the blackened spice has plenty.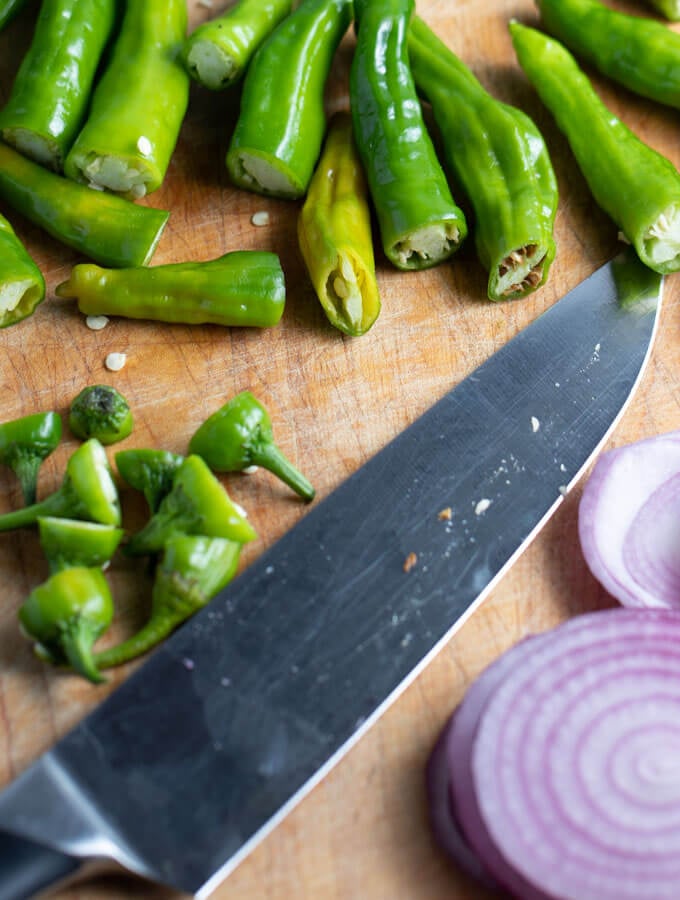 Cut off the ends of the peppers because they will be going straight on the blackened chicken sandwich. Also slice the red onion.
I used Sweet Baby Rays BBQ sauce, but use what ever you like. Also get the cheese and buns ready.
Grill up the thighs. Medium heat and about twenty minutes of grilling should do it. If you don't want to grill, pan fry them. They should take roughly 15 minutes on medium heat to cook through.
How to tell if the thighs are cooked through?
The easiest and surest way is to use a meat thermometer. 165f is done for chicken. On thighs I like to press them and see if they are firm. Cut in half for good measure, and make sure there is a cooked white/grey color and not a raw texture. Also a cooked chicken thigh will be about ⅔ the size of the original piece.
Place the cheese on the thighs during the last 2 minutes and close the grill. After that plate them and get ready to assemble the blackened chicken sandwich.
The shishitos only take 3-5 minutes on medium-high heat to blister. No need to kill them. 1 tablespoon of olive oil and a touch of salt is perfect for the frying process.
I like to lightly toast the bun and get a little bbq sauce on the top and bottom. Next, I place one piece of chicken with the melted cheese on to the roll and pile the red onion and blistered shishitos on top. That's it. Enjoy!
If you love the blackened chicken in this and want an awesome pasta dish with the same chicken check out this Creamy Cajun Chicken Pasta Recipe.
Simple Chicken Dishes:
Chicken Sandwich Pairings: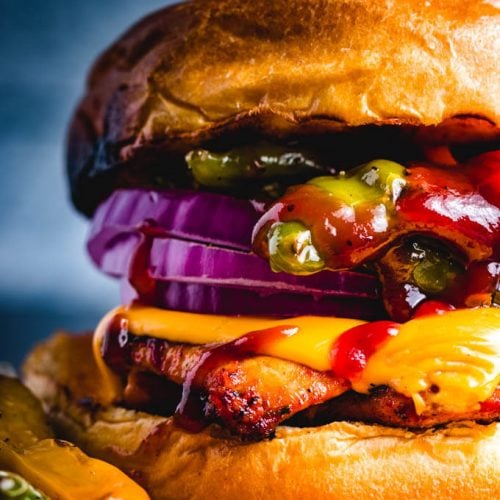 Ingredients
1

pound

boneless and skinless chicken thighs

.....Make sure there is at least 4 thighs - one for each sandwich.

4

large

brioche buns

1

pound

shishito peppers

2

Tbsp

blackened seasoning

.....Cajun or blackened seasoning.

4

slices

american cheese

1

medium

red onion

½

cup

bbq sauce
Instructions
Get a gas grill started on medium heat or use a cast iron pan on stove on medium heat. They both work great.

Season the thighs liberally on both sides with the blackened spice. Use ½ Tbsp per chicken thigh.

Cut ends off shishito peppers and slice red onion.

Cook Chicken thighs until 165f internal temperature. About 20 minutes on the gas grill or about 15 on the stove top. Flip Chicken at halfway point. Don't cook the chicken on high heat - take the time to cook it on medium so it doesn't burn.

During last 2 minutes of cooking place cheese on top of each thigh. Cover grill to melt it or place 1 Tbsp of water in the stove pan and cover. Both ways will give an excellent cheese melt.

Plate chicken pieces and set aside. While grill is hot and if desired brown the brioche rolls for 30 seconds.

Cook shishito peppers in a pan on medium - high heat for 3-5 minutes to get a nice blister then remove pan from heat.

Assemble sandwich - Place bbq sauce on both sides of bun. Next place chicken on bun, then red onion. Finally add the shishito peppers and top bun. Enjoy!
Nutrition
Calories:
550
kcal
|
Carbohydrates:
30
g
|
Protein:
28
g
|
Fat:
19
g
|
Sodium:
650
mg
Please share this blackened chicken sandwich recipe if you make it with #sipandfeast on Instagram and Facebook so we can see how amazing your sandwich looks. Thanks!
Follow us on Instagram, Pinterest, and Facebook. Sign up to receive great recipe ideas in your inbox.