Candy Canes are the beloved confectionary embodiment of Christmastime, so why not make a cocktail that tastes just like one? Combining vanilla vodka, white creme de cacao and creme de menthe, plus some pulverized candy canes to dust the rim of your glass makes for one fancy-schmancy cocktail that is perfect for the holidays!
Why Candy Canes At Christmastime?
Many of us grew up enjoying candy canes at Christmastime. My favorite candy cane memories always include the local fire station Santa who would hand out candy canes from atop his big red fire engine. Hearing those sirens and tasting the peppermint candy were sure signs that Christmas was around the corner.
But why are candy canes symbolic of Christmas? There were a few theories out there, but none that were 100% concrete.
One of the theories states that in the 16th century in Germany, a choirmaster had a local confectioner turn candy sticks into the "J" shape we know and love. This was to create a mini replica of a shepherds staff and its purpose was to occupy the children who were taking part in a living nativity scene.
Another theory suggests that the candy cane is shaped like a "J" for Jesus and the white background represents purity; the red represents the blood he shed for the salvation of mankind.
My own personal theory? I like to think that the white represents the blank page that is ahead of us in the coming year or even the return of the light following the Winter Solstice.
The red, to me, symbolizes either the love and kindness toward each other this time of the year, or the negative balance in my bank account...the jury is still out on that one.
And lastly, I associate peppermint with winter. Its flavor is cool, crisp, soothing and comforting much like a cold winter's day where you have nothing else to do but stay inside and be with the ones you love.
Candy Canes Reimagined
Over the past several years I've become a huge fan of incorporating candy canes in baked goods and drinks. It all started when my sister made a heaping pile of candy cane whoopie pies for Christmas Eve one year. Since then, I've been using them for so much more than hanging on trees.
Every year my daughter and I use this recipe from Sallys Baking Addiction to make the most incredible peppermint mocha cookies. And candy canes are a most welcome garnish to a steaming, marshmallowy mug of hot chocolate. So why not gussy them up a bit by incorporating all their wonder into a cocktail? And so the candy cane cocktail was born.
I was reluctant at first because I was afraid the creme de menthe would be overpowering, but the vanilla vodka and creme de cocoa really help to balance it out and I must admit that this cocktail has become a holiday favorite of mine. And it's super easy! I'm so excited to share it with you!
How To Make The Candy Cane Cocktail
Begin by gathering your ingredients: candy canes for the garnish, creme de menthe, vanilla vodka, and white creme de cacao. And of course some ice.
Before you begin to make your drink, you'll want to take a few moments to crush up your candy canes. Note - if you make the peppermint mocha cookies I mentioned above, you'll already have crushed up candy canes on hand! The perfect excuse to make some cookies!
Once your candy canes are pulverized into a powder, you'll want to rim your glass with it. To do so, you'll need to first moisten the rim in order to give the powder something to stick do. You can use water, or the vanilla vodka to do this. Then, dip the rim of your glass into the candy cane powder and set aside.
Next, to a cocktail shaker, add ice, the vanilla vodka, white creme de cacao, and the creme de menthe. Give it a good shake for about 20 seconds. Strain and pour into your glass and serve right away!
More Christmastime Cocktails
This candy cane cocktail is absolutely perfect for a Christmas gathering, or really any wintertime celebration. When entertaining we always like to offer options to suit all tastes and preferences. Here are a few more holiday-inspired cocktails you can add to your menu. There is something here for everyone!
If you've enjoyed this Candy Cane Cocktail or any recipe on this site please let us know in the comments. We would love to hear how you did and it's nice to show others as well. Thanks!
FOLLOW US on Youtube, Instagram, Pinterest, and Facebook. Share this recipe on your favorite social platform. We really do appreciate it!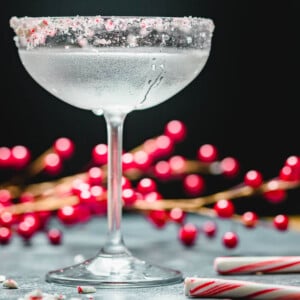 Ingredients
1

cup

ice

3

small

candy canes

1 ¼

ounce

vanilla vodka

1 ¼

ounce

white creme de cacao

¾

ounce

creme de menthe
Instructions
With a mallet, crush the candy canes into a powder leaving some pieces larger than others. Place in a small, flat dish large enough to accommodate the top of the martini or coupe glass.

Moisten a paper towel with some vanilla vodka and run it along the rim of your martini or coupe glass.

Dip the glass into the candy cane powder and set aside.

To a cocktail shaker, add ice, vanilla vodka, white creme de cacao, and creme de menthe.

Shake vigorously for 20 seconds.

Strain and pour into the garnished glass. Serve immediately!
Notes
For a clear drink as shown here, use white creme de cacao. If you use the dark, the drink will be brown.
Pulverize the candy canes as much or as little as you like! I like seeing some larger bits of candy cane on mine but do what works for you!
Martini and coupe glasses look the best but if you don't have those, a rocks glass can work well too.
Nutrition
Calories:
259
kcal
|
Carbohydrates:
14.7
g
|
Fat:
0.1
g
|
Sodium:
2
mg
|
Potassium:
1
mg
|
Sugar:
14.7
g