This Cranberry Moscow Mule puts a wintry twist on the classic by adding cranberry to the list of ingredients, which includes vodka, lime, and ginger soda. Add a sprig of rosemary and you've got a fragrant and beautiful drink that is just perfect for the winter holidays!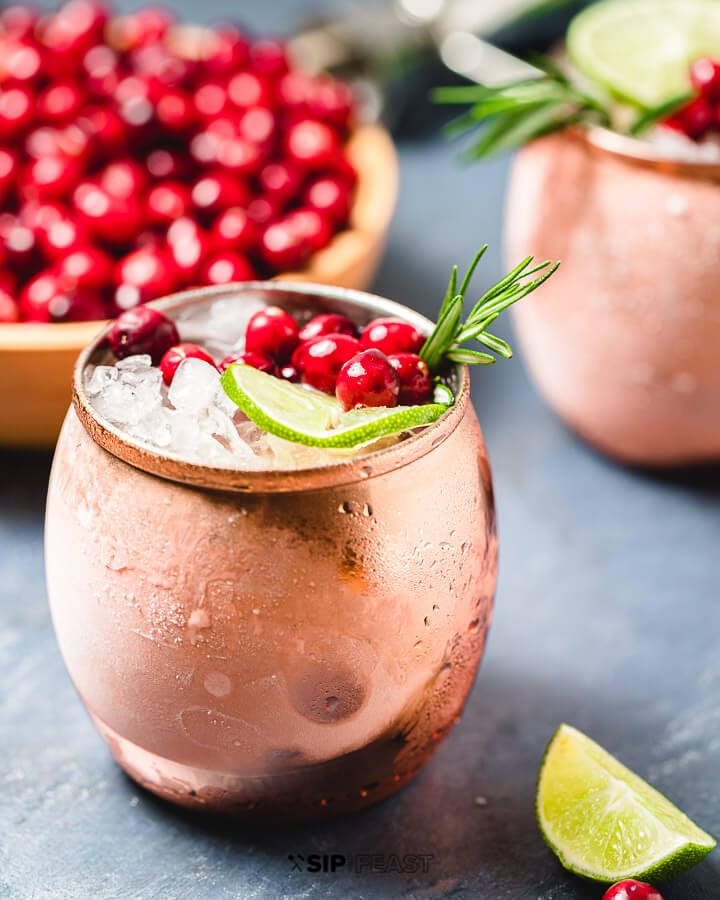 Holiday cheer and ginger beer!
I love a good Moscow Mule.
The combination of vodka, lime, and ginger beer is killer and the fact that you're supposed to drink it from a copper mug just makes it all the more enjoyable.
The shiny copper mugs have always reminded me of ornaments you might see on a Christmas tree, which is what helped inspire this drink.
The deep red cranberries, the piney rosemary, the green lime, and the frosty opaque crushed ice seem as though they were just meant to be combined and served in one of these gorgeous copper mugs!
Plus, ginger is just one of those winter holiday flavors you can't get enough of!
And in this holiday version, the rosemary sprig is a must! When we tested this recipe, we found that the rosemary brings such an incredible botanical scent that is reminiscent of a Christmas tree!
From Moscow with love
I am a total history geek, so when food or drink crosses my lips, I always need to know why or how it came to be.
And the tale of the mule is an interesting one. According to the Moscow copper company, the drink itself wasn't born in Russia, rather it was the copper mugs that were brought here from Russia by Sophie Berezinski, when she immigrated to the US in 1941.
On her quest to find a buyer for her mugs, Sophie found herself in the Cock 'n' Bull pub in California, where she met the pub's owner, John Martin.
John also happened to be the owner of a near failing vodka distillery known as Smirnoff.
After some time spent commiserating over their lack of sales, they put their head together and tried combining ginger beer with vodka in a copper mug, whose properties helped to keep the drink icy, and was said to help enhance the flavors of the drink.
And there you have it, the history of the beloved Moscow Mule.
When to serve it
This drink can be served any time of the year, however, you may run into difficulty finding cranberries outside of the late fall/early winter.
But luckily, cranberry juice is available year-round, so worst-case scenario, you could omit the cranberries as a garnish.
If you are serving this around the holiday season, you should be able to locate cranberries at your local grocery store.
These would be the perfect cocktail to serve at Thanksgiving, Christmas, Solstice, or any other wintry celebrations.
You might also want to check out these other festive concoctions that would also be great around the holidays.
How to make a cranberry Moscow Mule
You'll need the same ingredients as the original Moscow Mule, which includes crushed ice, ginger beer, vodka, and lime.
For our twist on this, you'll also need cranberry juice, as well as cranberries and rosemary for garnish.
Oh, and don't forget those copper mugs! If you can't find them, a rocks glass will do as well.
Begin by filling your mug with crushed ice. Add the lime juice, vodka, and cranberry juice.
Give it a quick stir, and then fill to the top with the ginger beer.
For our recipe, we used Whole Food's brand apple, pear, and ginger soda. But any ginger beer will do.
Give it another stir and garnish with fresh or frozen cranberries, a slice of lime, and a rosemary sprig.
As you bring the mug towards your mouth, inhale deeply - smell that rosemary? Now you know why it is a must-have for this drink!
More Vodka Cocktails
Here are some more cocktails you can make with vodka!
If you've enjoyed this Cranberry Moscow Mule recipe or any recipe on this site, give it a 5-star rating and tell us about it in the comments below.
We would love to hear how you did and it's nice to show others as well. Thanks!
Follow us on YouTube, Instagram, Pinterest, and Facebook.
Ingredients
1 ½

ounces

vodka

1

ounce

cranberry Juice

¾

cup

ginger beer

1

tablespoon

lime juice

1

sprig

rosemary

1

handful

cranberries

1

slice

lime

1

cup

crushed ice
Instructions
Fill the copper mug with crushed ice.

Add the lime juice, cranberry juice, and vodka. Give it a quick stir.

Add the ginger beer and give another stir.

Garnish with the sprig of rosemary, lime slice, and cranberries. Serve immediately.
Notes
For a stronger drink, add another ounce of vodka.
Rum is sometimes used as a variation, so if you don't have vodka, feel free to try the rum.
To make this non-alcoholic, eliminate the vodka and either add more ginger beer, or seltzer (plain or cranberry seltzer would pair well). Ginger beer is not alcoholic, despite its name.
Copper mugs really add to the presentation here, so if you can find them, use them. If not, this can be served in a rocks glass or stemless wine glass.
Nutrition
Calories:
176
kcal
|
Carbohydrates:
18.6
g
|
Sodium:
13
mg
|
Potassium:
50
mg
|
Fiber:
1
g
|
Sugar:
17
g
|
Calcium:
10
mg