Looking for a cocktail that nearly everyone will like but is also astoundingly easy? The combination of strawberry liqueur and lemonade is killer, while the vodka plays a more subtle role, allowing the strawberry and lemon flavors to shine.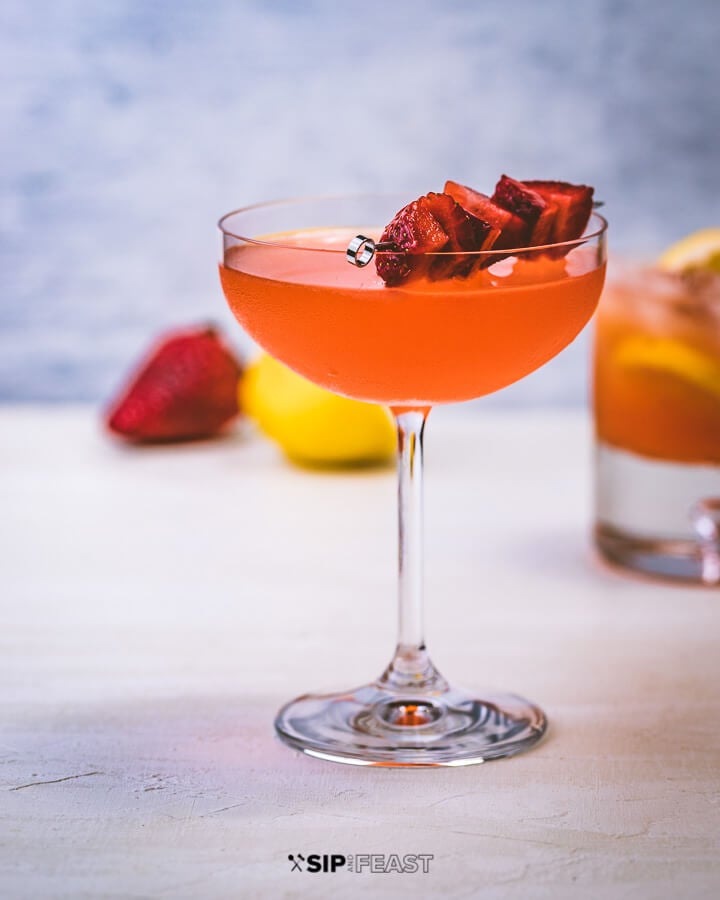 Strawberry Lemonade Vodka: No Brainer Combination
This gorgeous, sunset colored cocktail is so simple, and really requires little to no brain power. Sure, we fancied it up by putting ours in a coupe glass, but really, this drink could be served right out of a mason jar and taste every bit as good.
I love combining different fruits, or even vegetables with lemonade. Some of my favorites are cucumbers, raspberries, blueberries, and peaches. Lemonade just lends itself to being paired with other ingredients.
So in our quest for an easy cocktail, naturally lemonade, with some sort of fruit flavor and vodka, rose to the top.
What You'll Need For This Cocktail (Plus Substitutions)
Store bought lemonade
Vodka
Strawberry liqueuer (we used Fragola, an Italian strawberry liqueur from Povoletto, Italy)
Ice
Cocktail shaker (if serving "martini" style)
Club soda (if serving on the rocks - optional)
Coupe or martini glass for martini style; any other glass for on the rocks
Strawberries and/or lemon slices for garnish
I already listed variations above if you want to serve this on the rocks, but the substitutions and variations for this drink are pretty much endless.
If you can't find strawberry liqueur, use strawberry flavored vodka.
If you can't find strawberry flavored vodka, use strawberry lemonade (store-bought, or just add a bunch of strawberries to regular lemonade).
You could even use strawberry flavored seltzer.
Don't have vodka? Try this with gin, or even prosecco.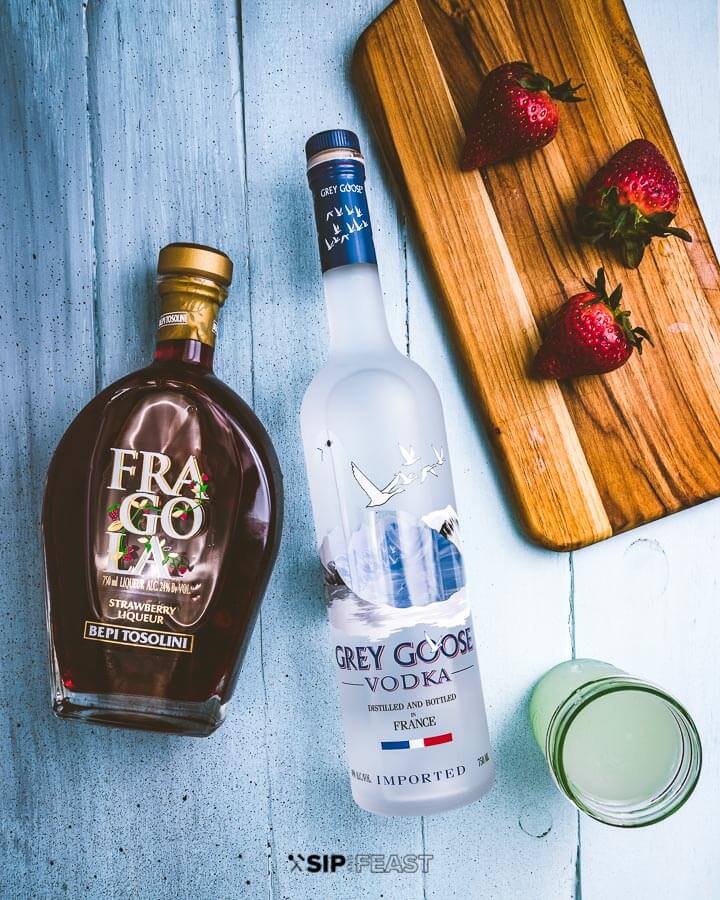 How To Make This Cocktail
Depending on how you are serving this, add ice to a cocktail shaker, or mason jar/rocks glass.
Add 2 ounces of vodka, 1 ounce of strawberry liqueur, and 2 ounces of lemonade.
If serving martini style, give the ingredients a good shake, then strain and pour into your coupe or martini glass.
If serving on the rocks, just give the ingredients a quick stir, and then top with club soda, or flavored seltzer.
Get as fancy or as simple as you want with your garnishes. You can use whole or sliced strawberries, lemon slices or lemon peel.
Serve and enjoy!
Yes, it is really that easy to make this drink and takes very little effort. Perfect for those lazy summer days!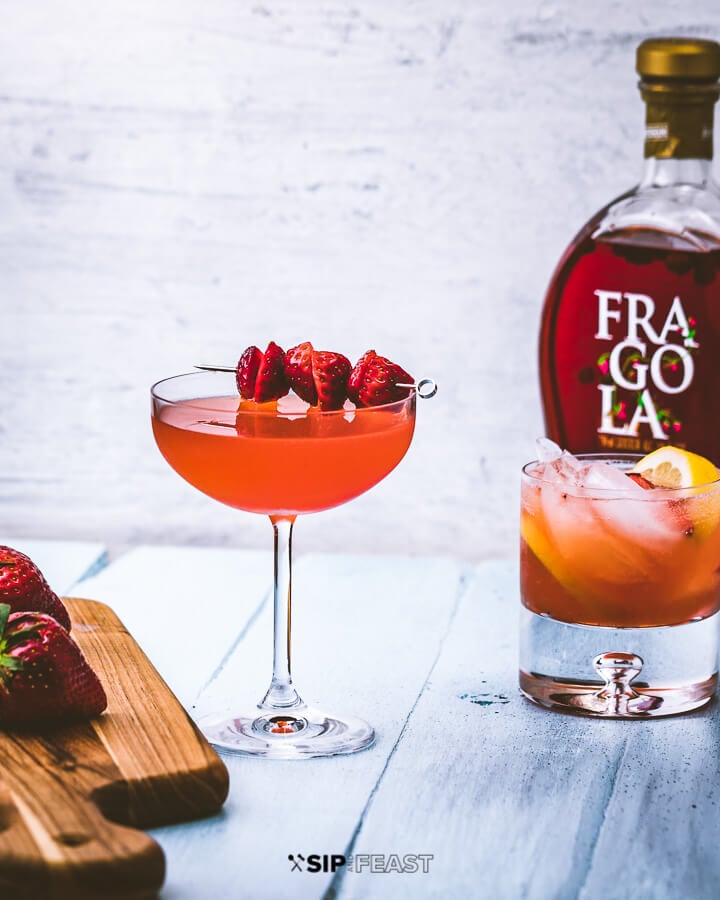 Looking For Other Cocktails?
I can't promise that all of the cocktails on our site are as easy as this one, but they are equally delicious!
Frosé - Blends frozen strawberries, agave, lemon, and rosé until slushy and delicious.
Strawberry Mojito - The classic with muddled strawberries.
What To Serve With This Cocktail
This drink is so simple so why not pair it with some snacks that are also easy, like our Stuffed Baked Portobello Mushrooms, or Easy Stuffed Tomatoes With Ricotta Salata, or even our Garlic Parmesan Wings?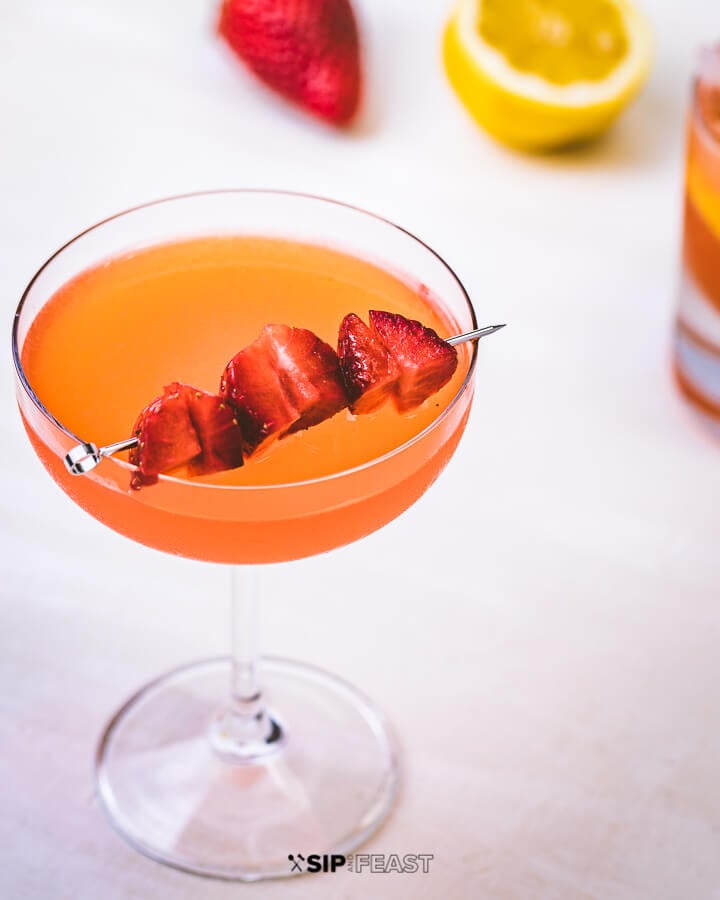 If you like this Strawberry Lemonade Vodka or any recipe on this blog please let us know in the comments! We would love to hear how you did and it's nice to show others as well. FOLLOW US on Instagram, Pinterest, and Facebook. Thanks!
Ingredients
2

oz

vodka

1

oz

strawberry liqueur

2

oz

lemonade

1

cup

ice

3

oz

club soda (optional)

2

medium

strawberries for garnish (optional)

1

medium

lemon for garnish (optional)
Instructions
Add ice to a cocktail shaker. If serving on the rocks, add the ice to the serving glass.

Add the vodka, strawberry liqueur and lemonade.

If using a shaker, shake for 20 seconds and then strain and pour into a glass. If serving on the rocks, stir the ingredients.

If serving on the rocks, fill to the top with club soda or seltzer.

Garnish with your choice of strawberries and/or lemon slices.
Notes
This recipe can be changed to fit whichever ingredients you have on hand. Any one of these variations can work:
Make it a mocktail by adding 1 oz strawberry syrup, to equal parts flavored seltzer or club soda and lemonade.
Substitute vodka for gin
Use strawberry lemonade and omit the strawberry liqueur - if doing this, you can increase the vodka to 3 oz, or keep it at 2 oz for a lower alcohol drink.
Use a strawberry flavored vodka and omit the strawberry liqueur - if doing this, you can increase the vodka to 3 oz, or keep it at 2 oz for a lower alcohol drink.
Nutrition
Calories:
199
kcal
|
Carbohydrates:
17.9
g
|
Potassium:
9
mg
|
Sugar:
17.7
g
|
Iron:
0.2
mg