Mimosas are for mornings, but these Caramel Apple Mimosas are really perfect for any time of day. In fact, they are versatile enough to serve for brunch, pre-dinner, and dessert! The bubbly prosecco, the tart apple cider, the smooth caramel vodka, and the ridiculously delicious garnish of caramel sauce, cinnamon, and sugar, marry together into one perfectly festive holiday cocktail.
Sticky, Sweet Memories
I think by now I have adequately conveyed to our readers my love of food and drink, and the way in which they allow us to connect with one another, with each gastronomical experience etching itself into our brains, creating new memories. If you've read my previous drink posts, you'll see that more often than not, the recipes shared are borne out of memories I've made in my time on this earth, and I intend to make many, many more!
And I am not the only one who feels this way! In fact, in his newest book, The Art of Making Memories, Meik Wiking (author of bestselling, The Little Book of Hygge and CEO of the Happiness Research Institute) talks about the importance of firsts, and multisensory experiences, and how they affect the brain's ability to store and easily retrieve data.
Candy Apples or Caramel Apples absolutely invoke memories of childhood. I remember my first one vividly.
My mom was usually strict on my sugar intake as a child. At the time, I would roll my eyes and assuredly proclaim, "One day when I am grown up, I am going to eat Fruity Pebbles every day for breakfast, lunch, and dinner!" Well, I've since eaten those words, and now my own kids are the ones rolling their eyes, but I digress.
So when we'd visit the grocery store in Fall, and see caramel apples in the produce aisle, I would beg my mom to buy me one, knowing she likely wouldn't. Well, one day she did. I can remember the sheer excitement I felt as she placed it in the shopping cart. Surely I was about to embark on something spectacular!
We went home and I couldn't wait to bite into it. I had built up an idea of how much richer my life would be once I consumed the apple. Well, I was hugely disappointed! The caramel was too sticky, and the apple was gritty and dry. Needless to say, I swore off candy apples for a while after that let-down of an experience.
So this drink is my own way of breathing new life into the candy apple. It is my way of making this combination of sticky and sweet everything that it should be, and more! And this one, well, let's just say that it does NOT disappoint.
Caramel Apple Mimosa – Dessert For Grown-Ups
Picture it, Thanksgiving Day (or insert any holiday in which over-eating is quintessential) and you've eaten more than you should have. As you loosen your belt buckle or slip into some comfy, cozy, stretchy and forgiving leggings, you wonder if you have any room, or energy for dessert.
I'm not saying that this is a healthy, or light alternative to dessert by any means. However, I will say that if you want to top off your night with something sweet, and forego heavier, butter-laden desserts, this drink might just be the perfect way to accomplish that.
Yes, the caramel vodka adds a bit of sweetness, but it is so perfectly balanced by the bubbly prosecco and perfectly tart cider, that it is not overpoweringly sweet at all.
And if you're all good with the buttery rich desserts, and want to pair it with one of these, I certainly won't think any less of you. This is a judgment-free zone! Cheers!
Other Holiday Concoctions
We love the Fall and Winter holidays and have curated a lineup of cocktails to suit a variety of tastes, all while celebrating the bounties of the season. Check out some of these other recipes:
How to Make A Caramel Apple Mimosa
You'll need a bottle of bubbly (we used Prosecco but any sparkling white will do), caramel apple vodka, apple cider, and caramel sauce, sugar, cinnamon, and apple slices for garnish. You'll also want to serve these in champagne flutes.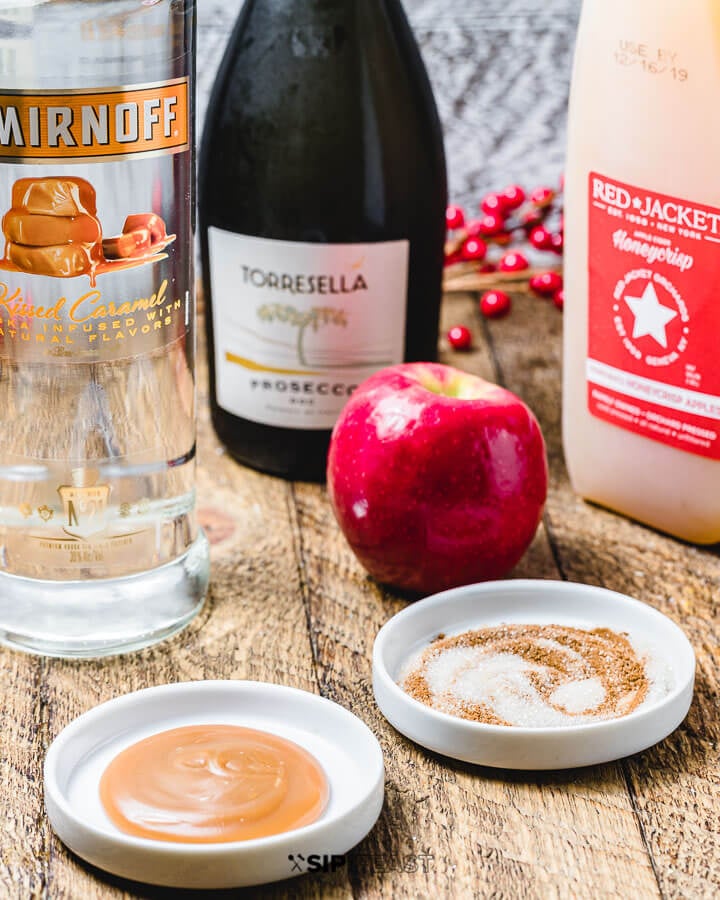 You can certainly make your own caramel sauce, but for efficiency's sake, I picked up the caramel sauce at Whole Foods in their produce aisle – it's specifically made to pair with apples. The first step is to rim your champagne flutes with the caramel sauce first. Don't be shy here – load those rims up! Next, you'll want to roll it in the cinnamon/sugar mixture. When they're done, they should look similar to the picture below.
Once the glasses are rimmed to your liking, add the vodka and apple cider to the glass. Then top off with prosecco. Slide a small slice of apple into the glass. Serve immediately and enjoy!
More Prosecco Cocktails
Looking to make use of the extra Prosecco you may have? Check out these other fizzy and delicious cocktails!
If you've enjoyed this Caramel Apple Mimosa or any recipe on this site please let us know in the comments. We would love to hear how you did and it's nice to show others as well. Thanks!
FOLLOW US on Youtube, Instagram, Pinterest, and Facebook. Share this recipe on your favorite social platform. We really do appreciate it!
This bubbly concoction combines some of the best fall flavors - apple cider and caramel - into one smooth drink that could easily be dessert!
Ingredients
1/2

tablespoon

caramel sauce

1

teaspoon

cinnamon

1

teaspoon

sugar

2

ounces

caramel vodka

3

ounces

apple cider

3

ounces

prosecco

1

slice

apple for garnish
Instructions
Rim your glass with the caramel sauce, then roll or dip into the cinnamon and sugar mixture.

Add the caramel vodka and apple cider to the glass and give a gentle stir.

Fill the glass with the prosecco.

Add the sliced apple for garnish.

Serve immediately and enjoy!
Notes
You will have leftover sugar and cinnamon mixture. Just roll the glass to thoroughly coat in the caramel sauce.
This drink is best served VERY COLD. Since we don't use a cocktail shaker and ice in this recipe, considering storing your caramel vodka in your freezer for a few hours before making this drink, and make sure the apple cider and prosecco are refrigerated.
You can use any apples for this recipe - we used Honeycrisp because they are my favorite but any would be great. You could even do one slice of green and one slice of red to make it even more festive!
We tend to use prosecco for most of our recipes requiring sparkling wine, but champagne, or any other sparkling white wine would work.
Nutrition
Calories:
255
kcal
|
Carbohydrates:
19.4
g
|
Protein:
0.2
g
|
Fat:
0.1
g
|
Sodium:
39
mg
|
Potassium:
110
mg
|
Fiber:
0.2
g
|
Sugar:
11.3
g
|
Calcium:
11
mg
Nutrition information is automatically calculated, so should only be used as an approximation.