This Italian salsa verde is amazing on a variety of foods. It's perfect for barbecue chicken or grilled steaks, but equally good on rice or a side of veggies.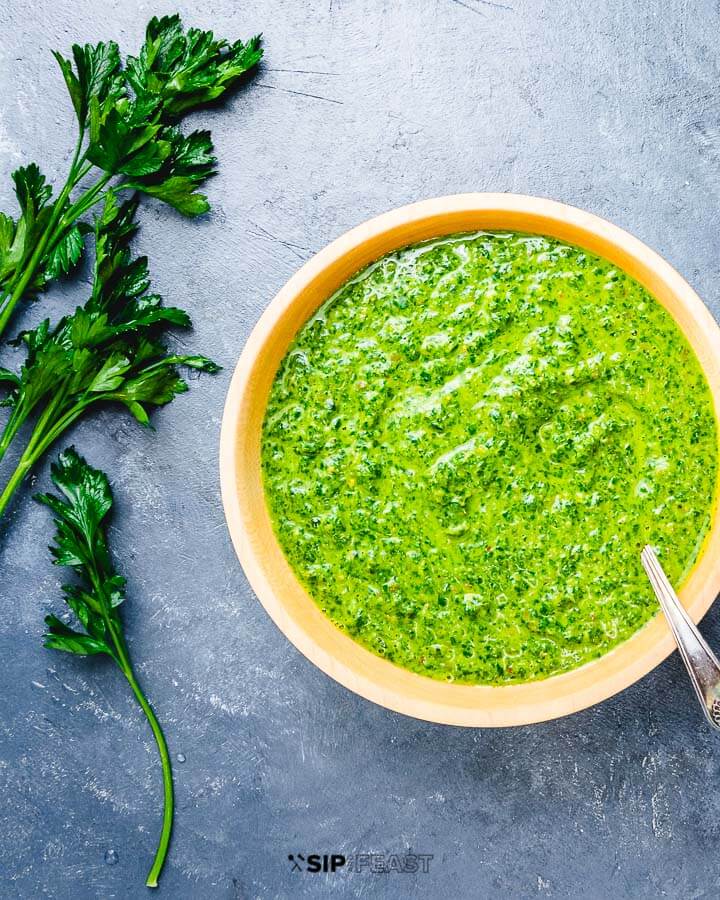 The best part is how easy it is to make! Grab the ingredients, blend them and serve.
The ingredients for this Italian parsley sauce are of course a whole lot of parsley, some capers, lemons, garlic, salt, chili flakes and good olive oil. That's it!
Down below we'll go over some nice substitutions and ideas for kicking up this basic salsa verde, but for now here are the instructions.

How To Make Italian Salsa Verde
Start off by zesting 1 lemon, peeling two garlic cloves and juicing 2 lemons.
Wash the parsley and if desired remove any large stems. A note about the stems - removing them is not necessary if blended smooth.
To a blender add the parsley, ¼ cup drained capers, juice of 2 lemons, 2 garlic cloves, lemon zest, ½ tsp chili flakes (optional), and a ½ cup of olive oil.
Blend it all and if too dry add some more olive oil. Add a ¼ cup of olive at a time to achieve a smooth consistency that easily falls off a spoon.
So that's how to make a super delicious garlicky Italian parsley sauce!
Salsa Verde Substitutions And Additions
Anchovies - They add an amazing flavor, and if your guests/family are on board go for it! For this recipe use 3 anchovy fillets. Just blend them with the rest of the ingredients. If using anchovies, do not add any extra salt, as they and the capers are quite salty.
Hot peppers - Blend in 2 large cherry peppers for added tangy flavor. For a much spicier salsa verde use 1 whole serrano chile. Be careful when working with serrano chiles and keep in mind they are quite spicy!
Red wine vinegar - Substitute the lemon juice for red wine vinegar. They are pretty much an interchangeable acid, with the red wine vinegar having a more robust flavor. Use a ¼ cup of red wine vinegar in place of the lemon juice.

What To Serve With Italian Salsa Verde
Tips
The sauce is best served fresh. Store it for up to 2 days in the fridge.
Serve it with any type of protein, or veggie dish.
Be careful with extra salt, as the ¼ cup of capers will be quite salty. They can be rinsed to remove some of their excess salt before blending.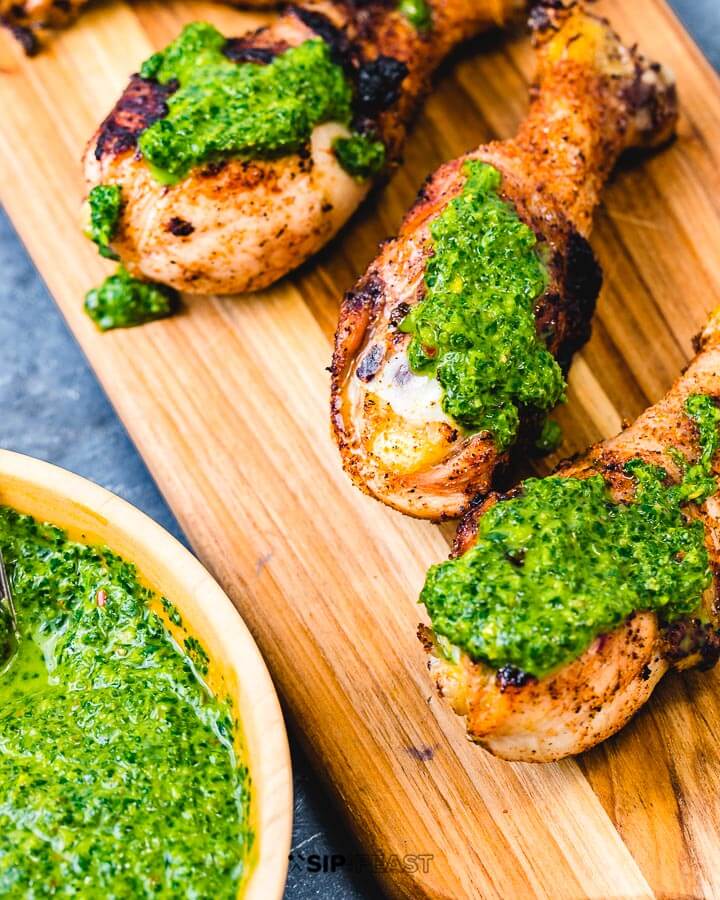 If you've enjoyed this Italian Salsa Verde Recipe or any recipe on this blog please let us know in the comments! We would love to hear how you did and it's nice to show others as well. Thanks! FOLLOW US on Instagram, Pinterest, and Facebook.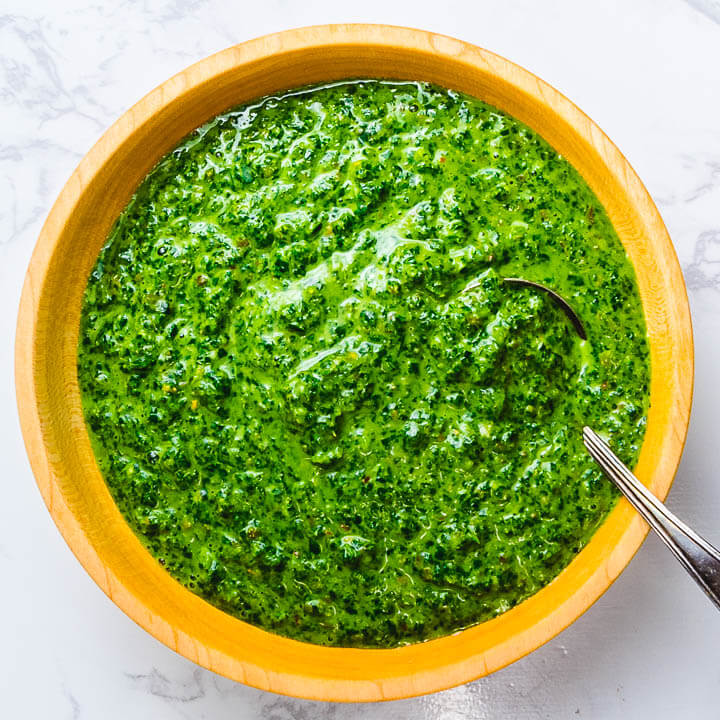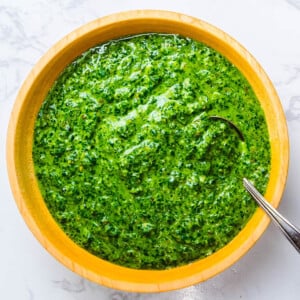 Ingredients
2

cups

fresh parsley

¼

cup

capers

2

large

lemons

2

cloves

garlic

1

cup

olive oil

½

tsp

chili flakes
Instructions
Zest 1 lemon and juice 2 lemons.

Wash parsley and remove any large stems.

Add 2 cups of parsley to a blender along with lemon juice, lemon zest, ¼ cup capers, ½ tsp chili flakes, 2 cloves garlic and a ½ cup of olive oil.

Pulse blend for 15-30 seconds. The salsa verde should be fairly loose. Add as much olive oil as necessary to achieve a loose consistency, a ¼ cup at a time. Blend until smooth. Enjoy!
Notes
Capers are very salty, so no extra salt was added. Taste test and adjust salt levels accordingly.
Chili flakes are optional.
The recipe starts with a ½ cup olive oil, but add as much as it takes to create a loose salsa verde that can be spooned easily.
Nutrition
Calories:
230
kcal
|
Carbohydrates:
3.2
g
|
Protein:
0.9
g
|
Fat:
25.5
g
|
Saturated Fat:
3.6
g
|
Potassium:
137
mg
|
Sugar:
2
g
|
Calcium:
30
mg
|
Iron:
1.4
mg