Pesto alla Genovese is a fragrant green sauce that blends fresh basil, pine nuts, cheese, olive oil, and garlic into a paste that can be tossed with pasta, but is also great spread on sandwiches and grilled meat. Pesto is easy to make and requires no cooking at all making it a great option for summer!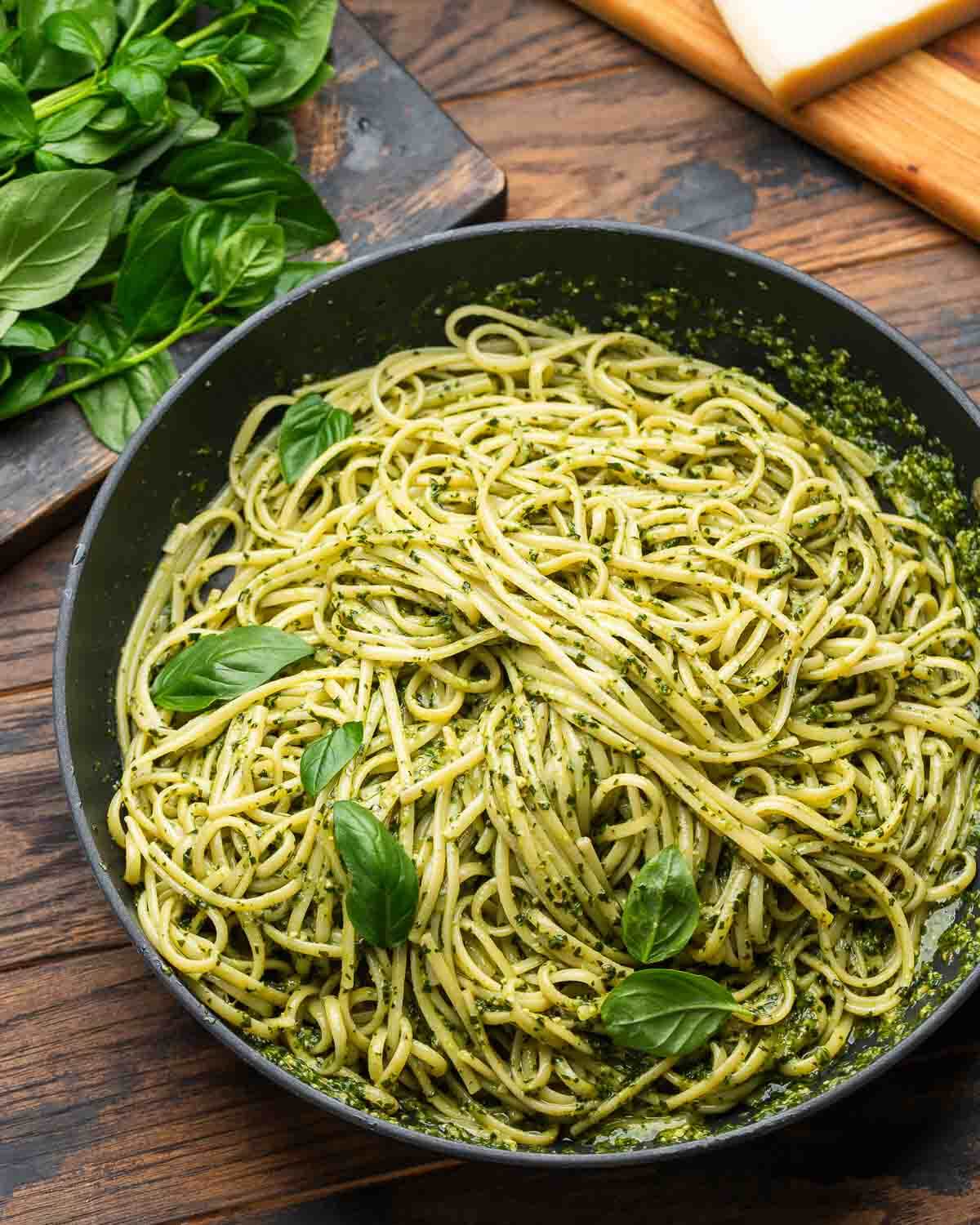 There are all sorts of "pesto" that can be made, but when we use the term pesto, Americans almost always think of the classic green pesto alla Genovese.
This pesto hails from the Liguria region of Italy which is said to produce the best basil, and whose capital is Genoa, hence the alla Genovese.
This garlicky green basil pesto is made with a handful of simple ingredients and is a prime example that good food doesn't need to be complicated.
We typically serve our pesto alla Genovese with al dente pasta or gnocchi, but it's so good drizzled on fresh mozzarella and tomato salad, cherry tomato crostini, grilled chicken thighs, and pretty much anything else you can think of!
We also use the same pesto in our chicken pesto pasta salad which can be served cold, warm, or at room temperature.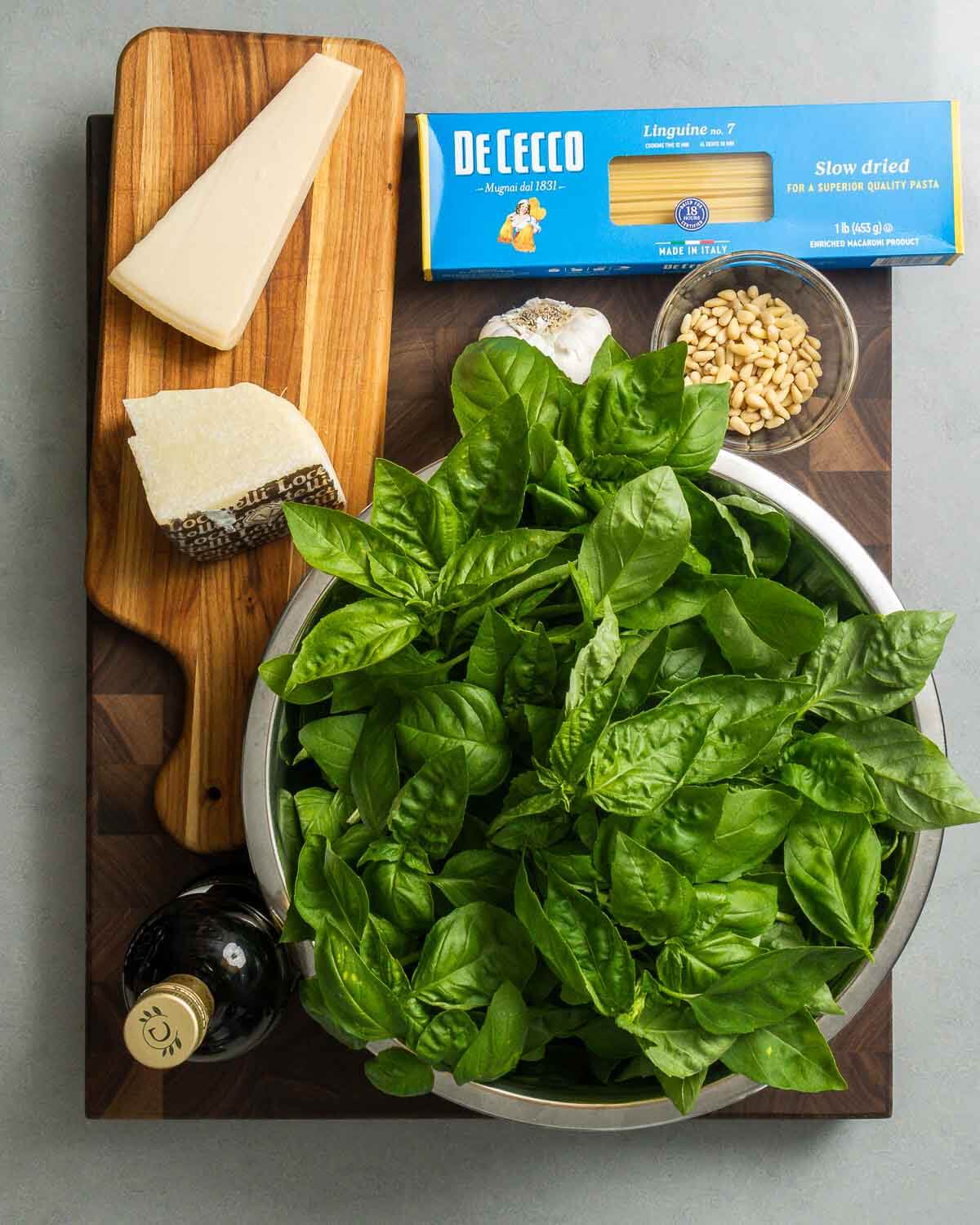 How to make it
Each number corresponds to the numbered written steps below.
Remove the stems from 4 cups (packed) worth of basil leaves and roughly chop 2 cloves of garlic.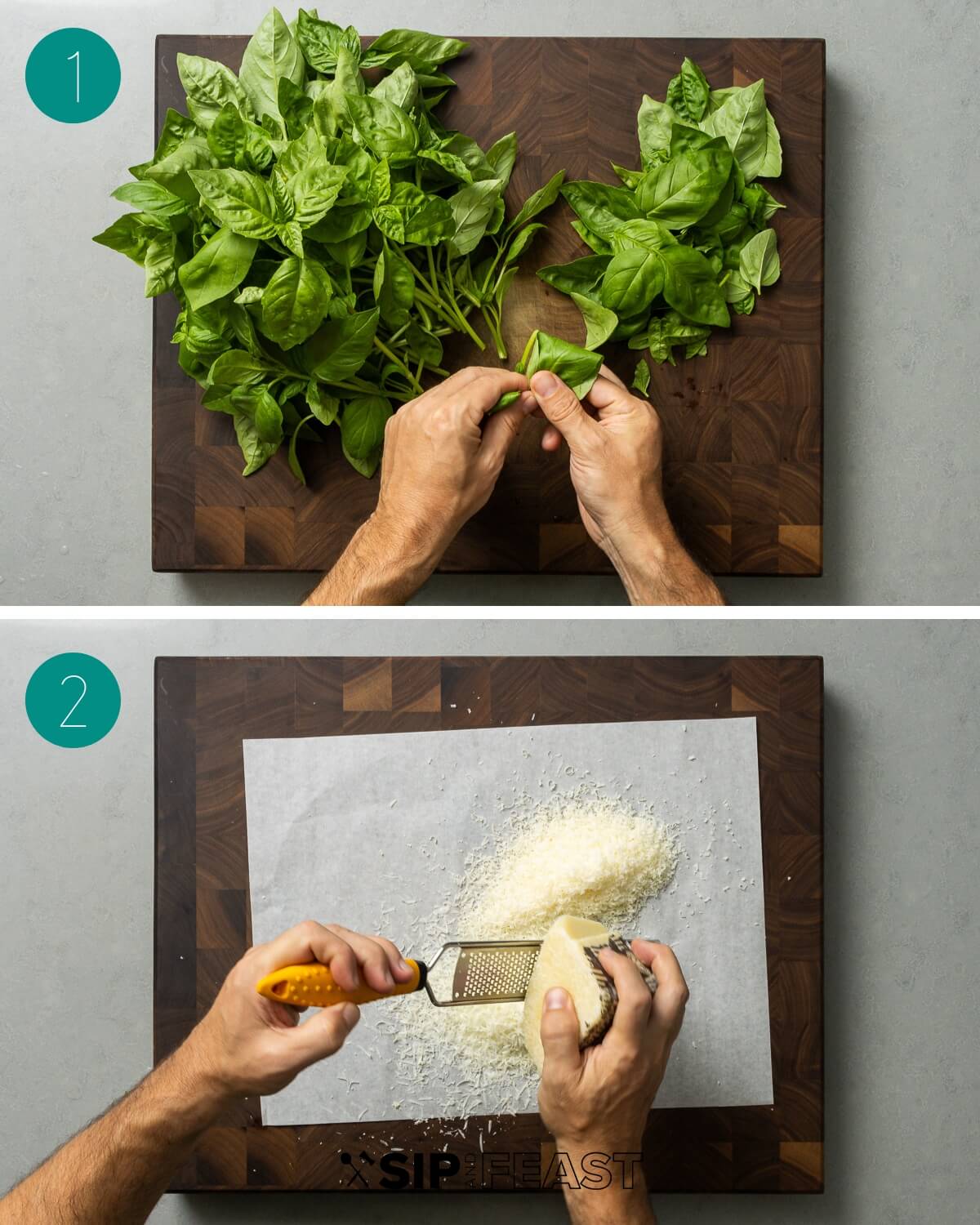 Grate 1/2 cup of Parmigiano Reggiano cheese and 1/2 cup of Pecorino Fiore Sardo cheese. Note: we are using Pecorino Romano instead which will be much easier for you to find. More on that in Top Tips below.
To the bowl of a food processor, add the garlic and 1/4 cup of pignoli (pine nuts) and pulse until a rough paste is formed.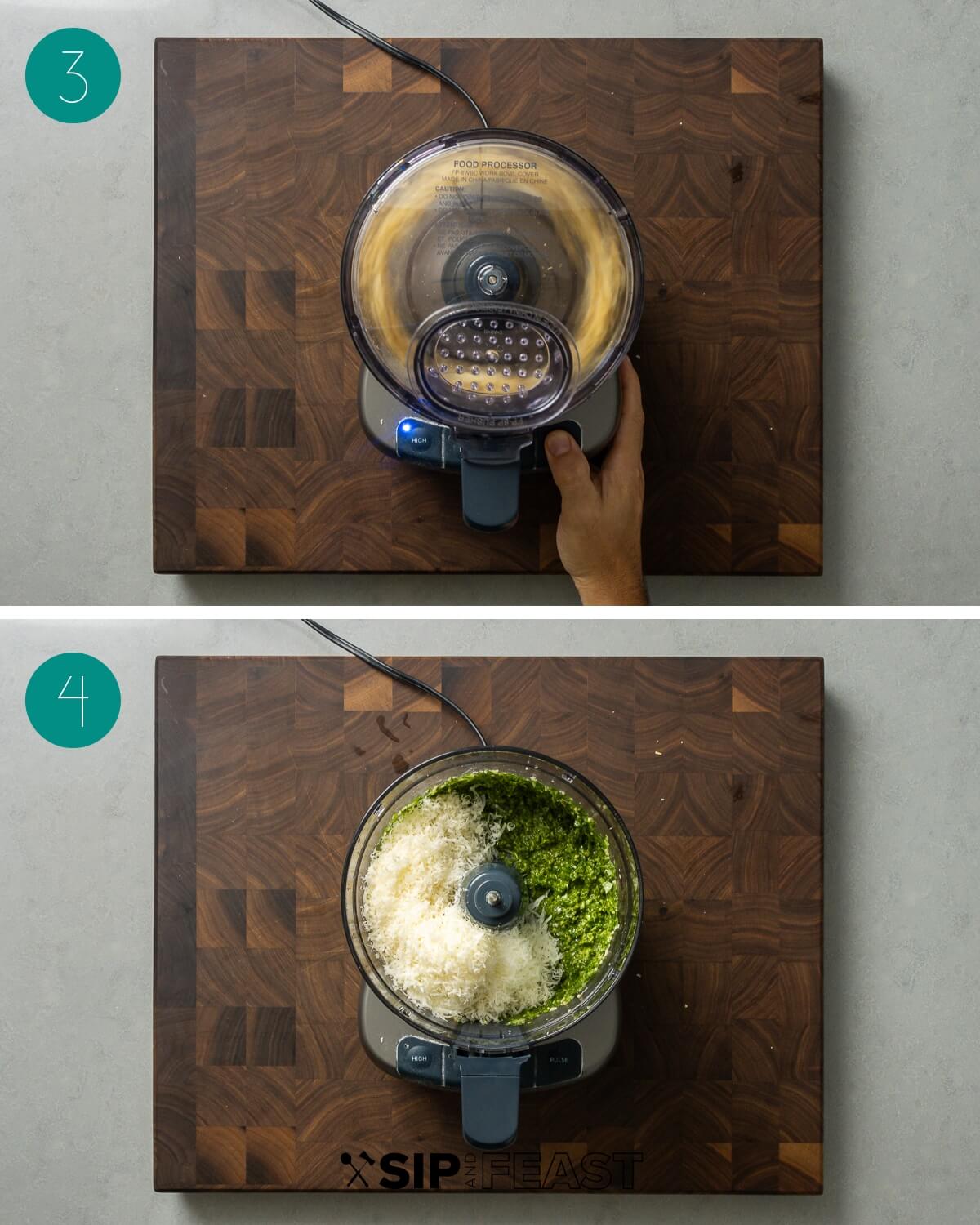 Add the basil along with 3/4 cup of extra virgin olive oil and pulse again until a rough paste is formed. Add the Pecorino and Parmigiano and pulse again to combine. Note: if more extra virgin olive oil is needed to aid in blending, add a little at a time.
Taste the pesto sauce and adjust the salt and olive oil as needed. If you're using your pesto alla Genovese to make pasta, proceed to the next step.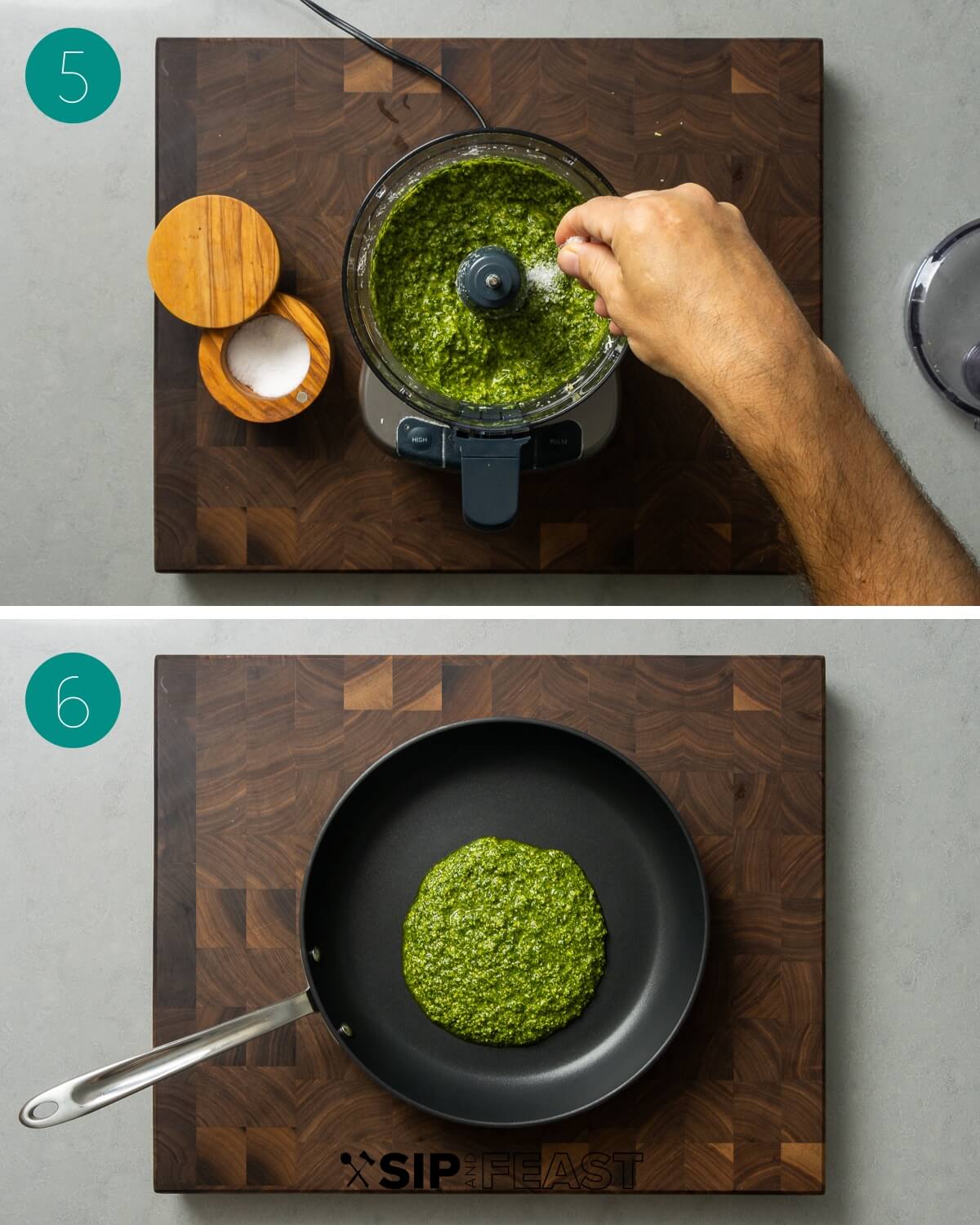 Bring a large pot of salted water to boil and cook 1 pound of pasta (we used spaghetti but fettuccine, penne, rigatoni, etc. are all great!) to al dente reserving 1 cup of pasta water. Add the pesto to a pan or bowl large enough to accommodate the pasta.
Drain the pasta and mix it with the pesto adding pasta water a little at a time to achieve the perfect creamy consistency.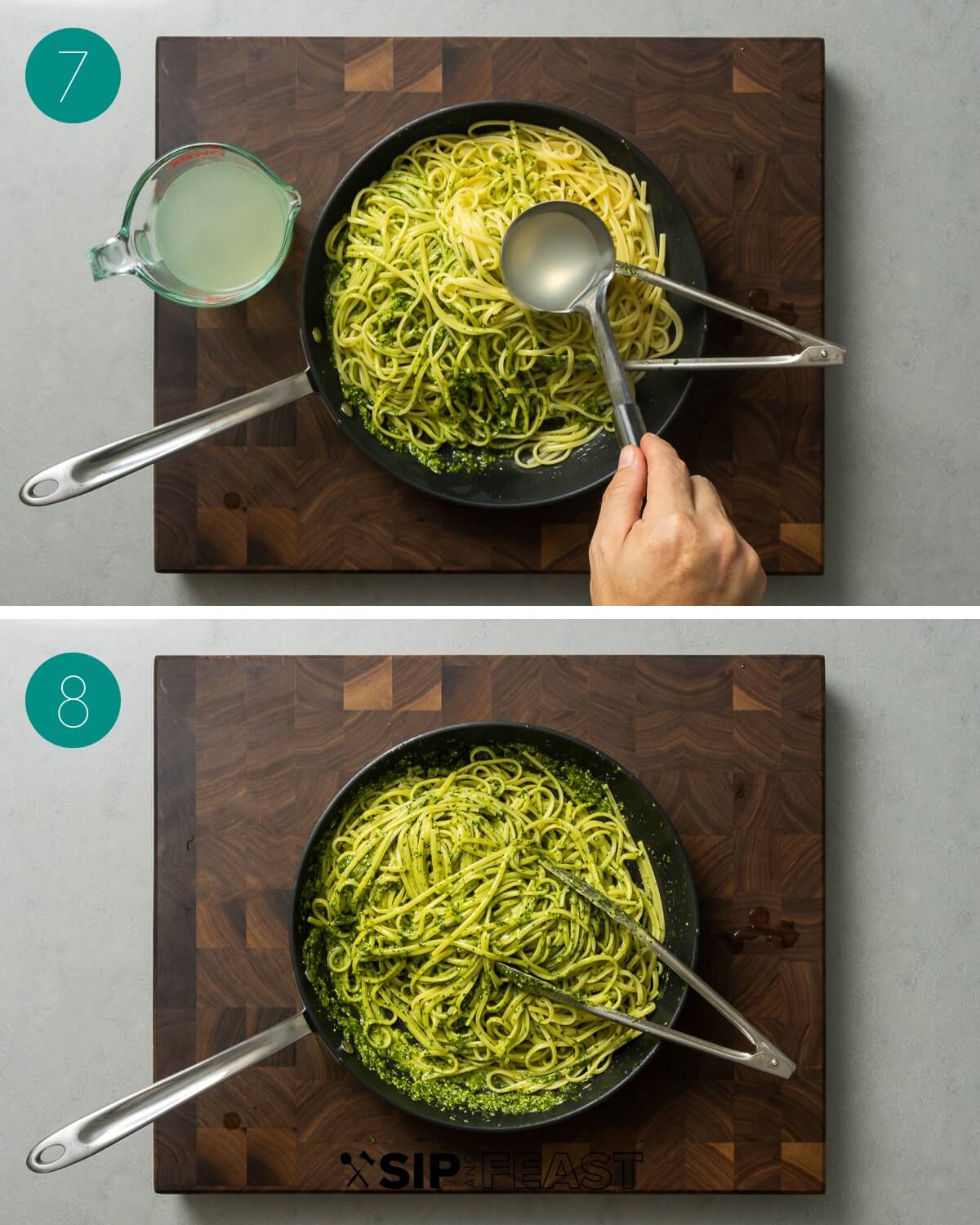 Toss the pasta together until fully combined with the pesto and serve with more grated cheese and basil to garnish. Enjoy!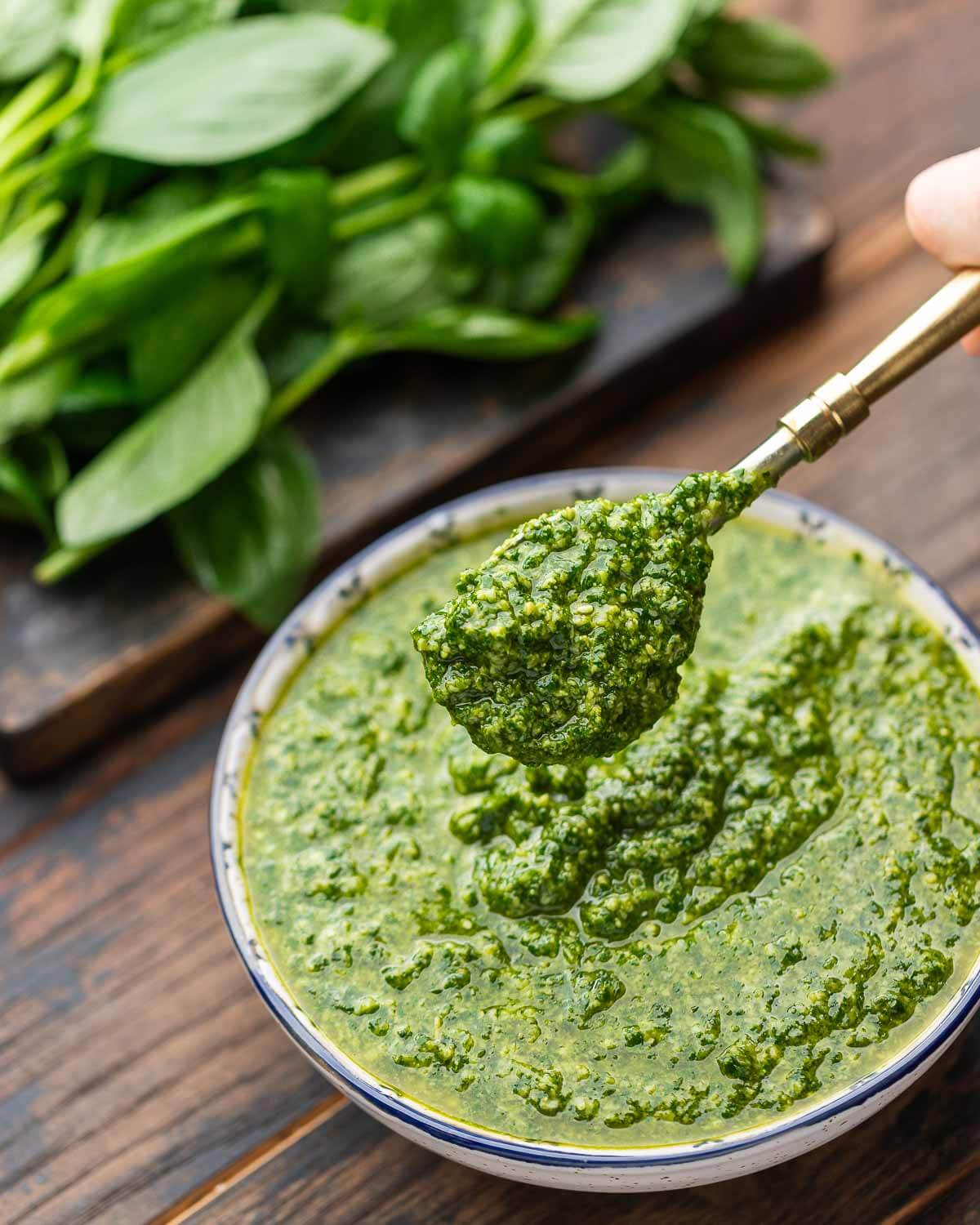 Top tips
Basil. Since basil makes up the majority of pesto alla Genovese, be sure to use really good, fresh basil. If you grow it yourself, even better because you'll need a lot of it!
Nuts. Pignoli, or pine nuts, are traditionally used in Ligurian pesto and we've used them here. They're more expensive than most nuts, but we've found the best prices are at Costco and Trader Joe's. If you can't find pignoli, you can use walnuts as a substitution.
Cheese. Traditionally, Pecorino Sardo is used in pesto, but if you cannot find it, Pecorino Romano can be used in its place. Additionally, Grana Padano can be subbed for the Parmigiano Reggiano.
Olive oil. Now is the time to break out your good extra virgin olive oil. Since pesto Genovese is not cooked and uses so few ingredients, the quality of each ingredient heavily influences the taste of the final product.
Method. The word "pesto" comes from the Italian verb, pestare, which means to crush, or press. Similarly, the word "pestle" in mortar and pestle is a derivative of that verb. Traditionally pesto is made in a mortar and pestle but with the availability of modern appliances like the food processor, and the scarcity of time, the food processor is the best tool to use here, in our opinion. If you want to use a mortar and pestle, you'll need one large enough to accommodate all the ingredients or you will need to keep adding a little basil at a time. A third day to make pesto is with a knife but it will need to be extremely sharp in order to prevent bruising the basil which turns it black.
Don't cook. Pesto is not meant to be cooked. All it needs is a bit of pasta water to emulsify it enough to mix with pasta.
Saving. Genovese pesto tastes even better the next day. Store the pesto overnight in the fridge to intensify the flavors. Pesto can also be stored in the freezer for up to 6 months. Simply store in Ziploc bags or an ice cube tray. This is great for when you want a taste of summer in the winter months!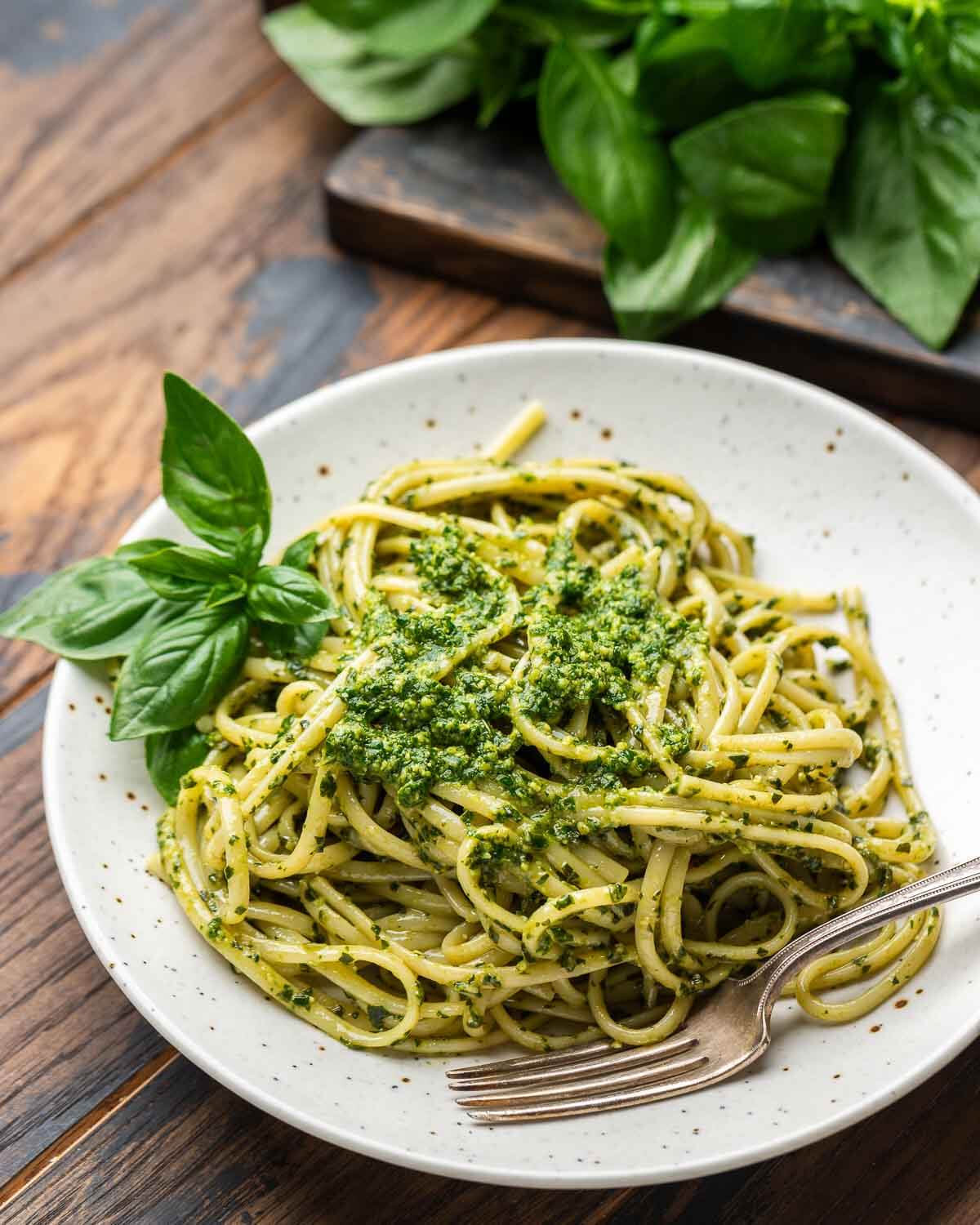 More pesto recipes
While pesto alla Genovese is the king of all pestos, here are a few more pesto recipes we think you'll love!
If you've enjoyed this Pesto alla Genovese recipe or any recipe on this site, give it a 5-star rating and leave a review.
We strive to satisfy a number of learning styles. If you are someone who prefers to learn by watching, you can find most of our recipes on YouTube and our Facebook Page.
Pesto alla Genovese is a traditional green pesto that combines basil, pine nuts, garlic, cheese, and olive oil. Pesto is wonderful tossed with al dente pasta, spread on sandwiches, or drizzled on grilled meat and salads!
Ingredients
2

cloves

garlic

chopped

1/4

cup (40g)

pine nuts

4

packed cups (80g)

basil leaves

stems removed

3/4

cup (180g)

extra virgin olive oil

plus more as needed

1/2

cup (40g)

Parmigiano Reggiano

grated

1/2

cup (40g)

Pecorino Fiore Sardo

grated, or Pecorino Romano

1

cup (240g)

reserved pasta water

will most likely not need all of it

salt

to taste

1

pound (454g)

spaghetti
Instructions
Add the garlic and pine nuts into a large food processor and pulse until a rough paste is formed.

Add the basil and extra virgin olive and pulse again until a rough paste is formed.

Add the Pecorino and Parmesan and pulse again. Taste test and season with salt to taste.

Place the pesto into a large bowl and add more extra virgin olive to thin it out if it's overly thick.

Bring a large pot of salted water to boil. Cook the pasta to al dente, saving 1 cup of reserved pasta water.

Drain the pasta and mix with the pesto. Add pasta water, 1-2 tablespoons at a time to get the perfect creamy consistency. Serve with more grated cheese. Enjoy!
Notes
Pesto all Genovese tastes even better the next day. Placing the pesto in the fridge overnight will really concentrate the flavors.
Walnuts can be subbed for pine nuts.
Leftovers can be saved for up to 5 days in the fridge. The pesto can be frozen in ziplock bags and will last up to 6 months.
Nutrition
Calories:
858
kcal
|
Carbohydrates:
86.2
g
|
Protein:
22.4
g
|
Fat:
51.1
g
|
Saturated Fat:
8.8
g
|
Cholesterol:
14
mg
|
Sodium:
377
mg
|
Potassium:
119
mg
|
Fiber:
4.7
g
|
Sugar:
4.4
g
|
Calcium:
216
mg
|
Iron:
5
mg
Nutrition information is automatically calculated, so should only be used as an approximation.