The Lavender French 75 is a super simple cocktail that tastes anything but simple. The addition of lavender simple syrup is a twist on the classic French 75, adding another layer of flavor reminiscent of the Provencal countryside.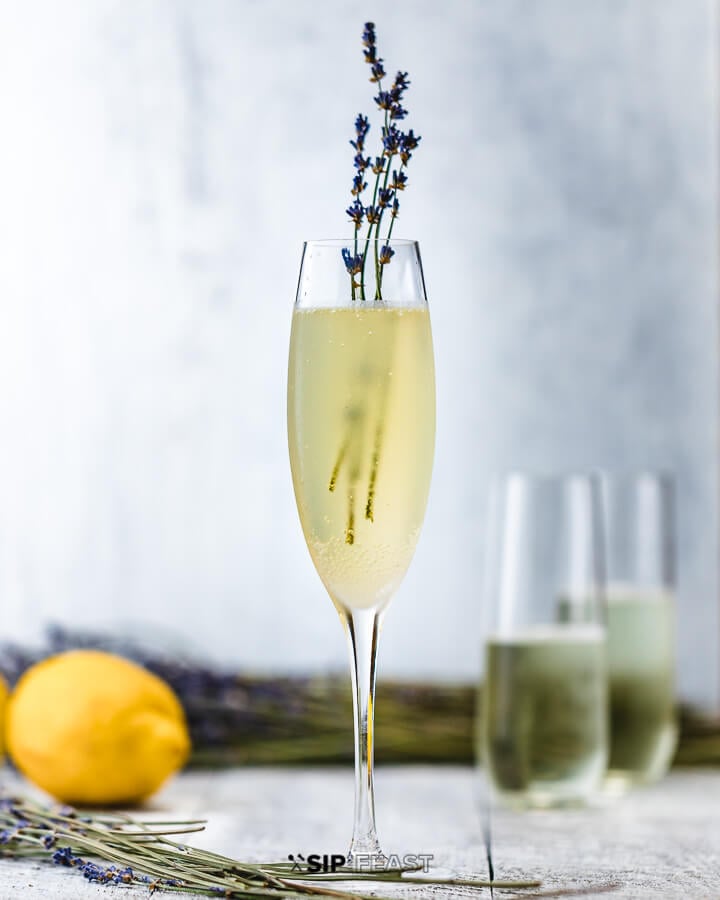 French 75: A History
Pairing lemons with gin and sparkling wine seems a bit of a no-brainer, but where did the French 75 actually originate, and where did it get its name?
There is a bit of uncertainty on when the combination of gin, lemons, sugar and champagne first arose, but it could have been used as early as the late 1800's.
As far as putting a name on this concoction, this seems to have taken place in the prohibition era circa 1930, in The Savoy Cocktail book. At the time it was said to be the strongest drink in the world, packed with the same power as a French 75mm field gun, hence its name.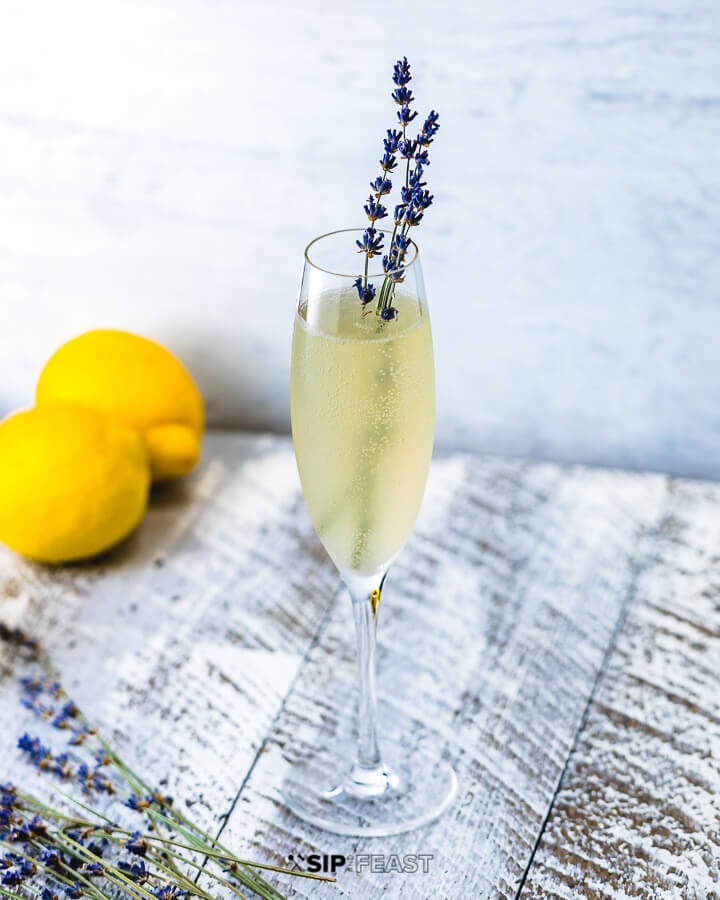 Lavender de Provence
Lavender is one of my favorite plants of all time. Just seeing it, or smelling it makes me happy, and helps me to feel relaxed.
Lavender is one of the herbs in the French blend of herbs known as "herbes de provence", which also includes marjoram, thyme and oregano.
Lavender is said to have many health benefits, specifically pertaining to stress and fever relief and I have used it for many years.
So when we were deciding to do a post on the French 75, and I spied a big bunch of fresh lavender from Whole Foods, it just seemed to make sense to add it to this drink, as both an ingredient and a garnish.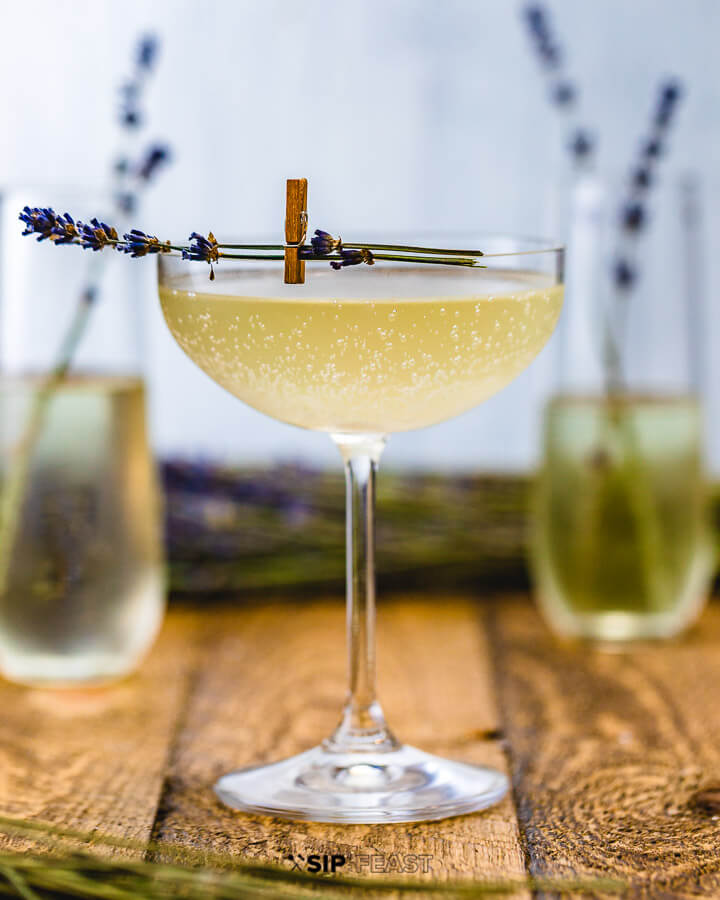 Champagne or Prosecco for the Lavender French 75?
Traditionally, the classic French 75 is made with champagne, but since we are already putting a twist on the classic, and since many of the recipes we do at Sip and Feast contain Italian ingredients, we decided to go with Prosecco.
Besides, we almost always have a bottle of Prosecco in the fridge for those rainy (or sunny) days. Don't judge. 😉
When to Serve a Lavender French 75?
This drink is strong, thanks to the gin. Usually, I'd say this might be too strong for a brunch cocktail, but it does have sparkling wine, so it could work.
Serve this as a before dinner drink – perhaps if you are hosting a cocktail party, a bridal shower, or at a wedding as an alternative to the usual butler-passed champagne and strawberries.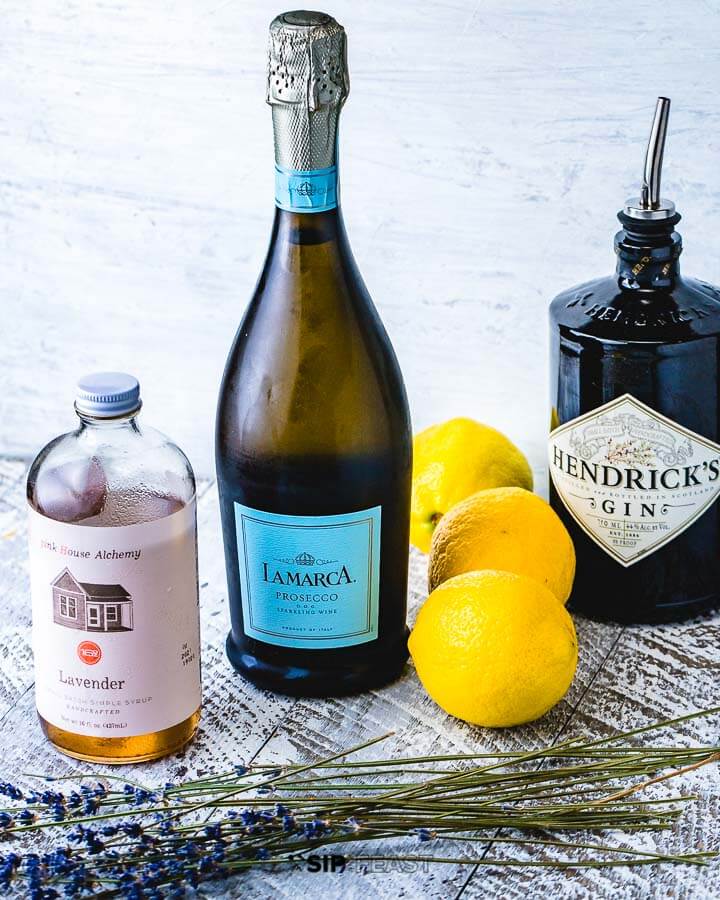 How to make the Lavender French 75
First, gather your ingredients: Prosecco (or other sparkling wine), gin, fresh lemon juice, lavender simple syrup, and if you are able to find it, fresh lavender for garnish. If you're not able to find lavender, you can absolutely garnish with a lemon peel.
The tools we used for this lavender French 75 recipe include cocktail shaker, jigger, citrus juicer, champagne flute or coupe glass and stirrer.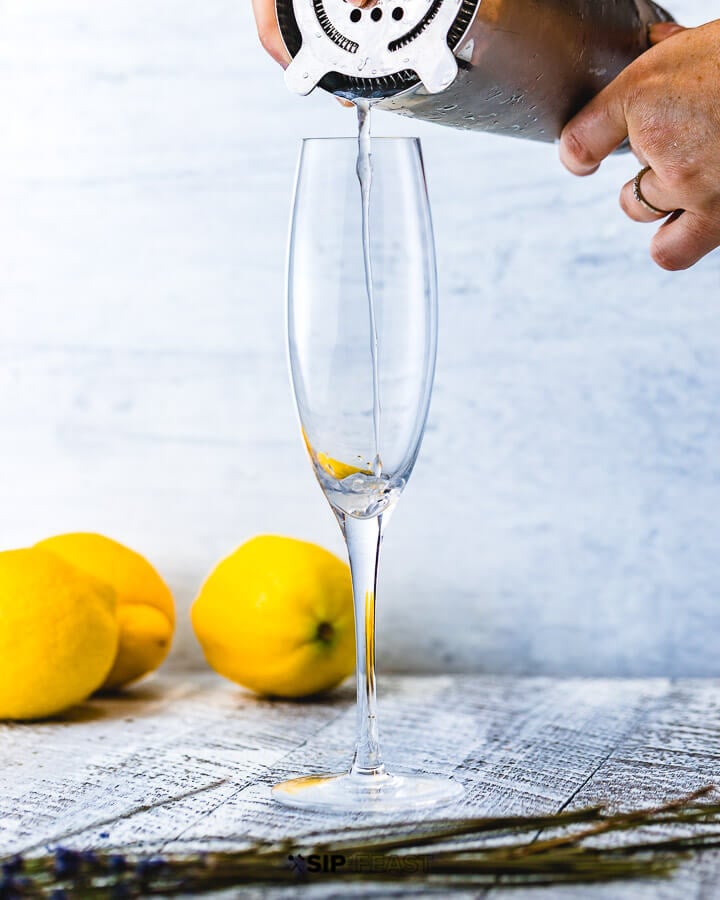 Begin by juicing your lemons. Add the juice, gin and lavender simple syrup to the cocktail shaker, along with some ice, and shake vigorously for about 20 seconds.
Strain and pour into a flute or coupe glass. Alternatively, you can also use a Collins glass if you'd like this served "on the rocks".
Top with the prosecco, then add your garnish whether it be lavender, lemon peel, or both.
Serve right away and enjoy!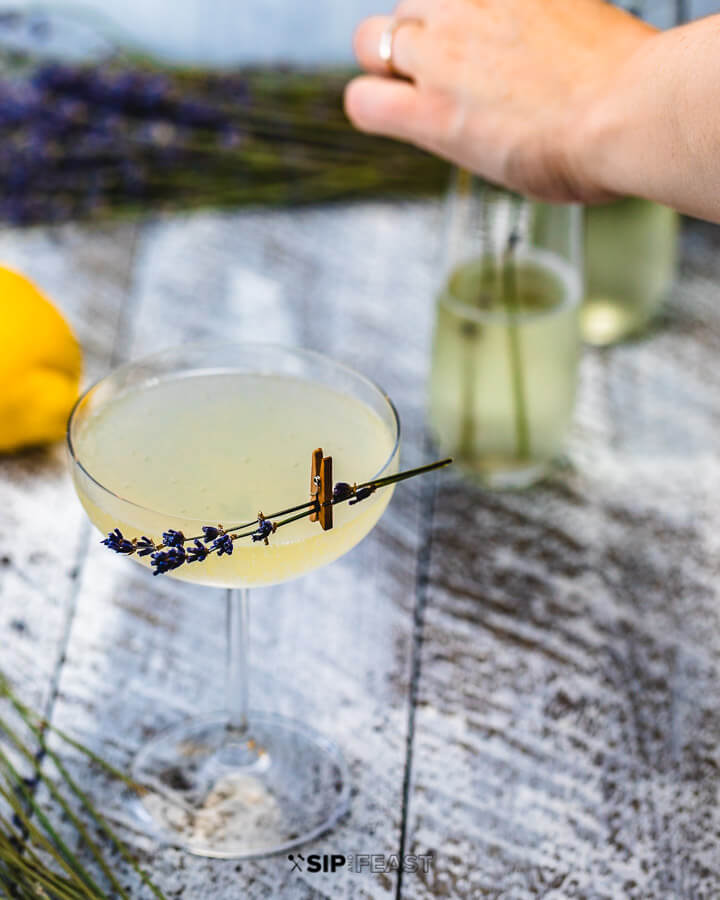 If you like this Lavender French 75, try these other cocktails:
If you've enjoyed this Lavender French 75 Cocktail or any recipe on this blog please let us know in the comments! We would love to hear how you did and it's nice to show others as well. Thanks! FOLLOW US on Instagram, Pinterest, and Facebook.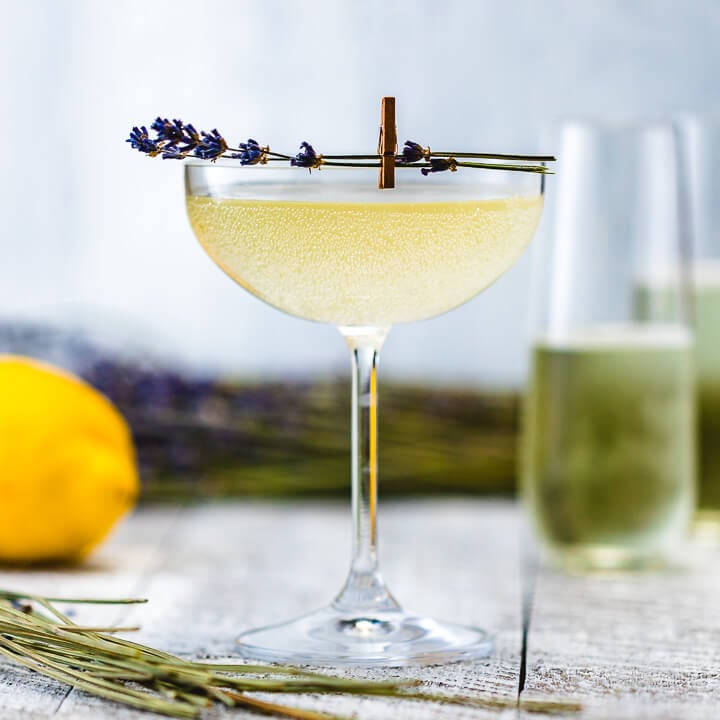 The addition of lavender simple syrup puts a unique spin on the classic French 75 cocktail.
Ingredients
2

oz

Gin

3/4

oz

Fresh lemon juice

1

oz

Lavender simple syrup

2

oz

Prosecco or champagne

2

sprigs

Fresh Lavender (optional for garnish)

1

cup

Ice
Instructions
Using a citrus juicer, begin to juice your lemons.

To a cocktail shaker, add ice, lemon juice, gin and lavender simple syrup. Shake for approximately 20 seconds.

Strain and pour the mixture into a champagne flute or coupe glass.

Top with Prosecco and give a quick stir.

Garnish with fresh lavender and serve right away.
Nutrition
Calories:
260
kcal
|
Carbohydrates:
24.8
g
|
Protein:
0.2
g
|
Fat:
0.2
g
|
Saturated Fat:
0.2
g
|
Sodium:
27
mg
|
Potassium:
53
mg
|
Fiber:
0.1
g
|
Sugar:
0.6
g
|
Calcium:
10
mg
Nutrition information is automatically calculated, so should only be used as an approximation.