Are you in the mood for an incredible, speakeasy-style craft cocktail with a floral twist? If so, this lime, gin and cucumber cocktail, also affectionately known as the Juliet and Romeo is for you. Come along as I show you how to make this.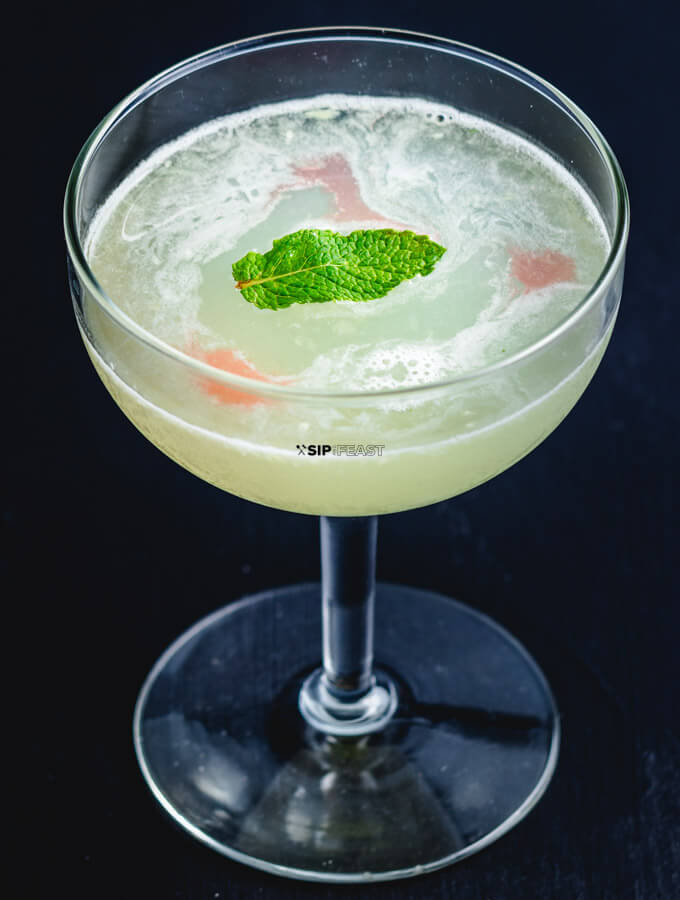 Lime, Gin Made Better
A few years ago I adopted gin as my liquor of choice. I love the botanical flavors it adds to any drink. Pairing lime, gin and tonic water was my go to, simple cocktail. That was, until I ordered the "Juliet and Romeo" and my life was forever changed.
My love affair with this drink began in the speakeasy style cocktail lounge, The Patterson House in Nashville. A dear friend suggested I order this drink. I read the description: lime, gin, mint, cucumber and rose water.
I've been a lover of rose-flavored food for as long as I could remember, but I had not seen it used in a cocktail until this moment. One sip, and I knew I was in love.
Floral and herbal, refreshing and delicious, its flavors paired remarkably well, and transported me briefly to an English garden. My mission was clear: I needed to find a way to replicate this drink at home.
A few simple ingredients are all that is needed to make this Juliet and Romeo recipe. I realize that not everyone has rose water lying around in their cupboard, so you may need to pick some up. I've had the bottle pictured above for years, and it's still halfway full. It lasts a long time because its flavor is so concentrated that you only need a small amount.
Any good gin will do, however, I highly recommend using Esmé gin in this particular recipe due to its cucumber and rose petal notes.
Fresh lime, cucumber, mint, simple syrup, plus bitters for the garnish complete the list of ingredients.
Start by squeezing fresh limes. You'll need about 1 oz for this Juliet and Romeo drink.
Next, add the cucumber slices and mint leaves to a cocktail shaker and muddle to release the fragrance and flavor of the mint and cucumber. Add the lime, gin, simple syrup, 2 drops of rose water and ice. Shake vigorously for about 20 seconds. Strain and pour into a glass.
I use a coupe glass, as that is how it was served to me at the Patterson House, and anytime I can replicate an amazing past experience, I try and do so. But other glasses could work as well, such as a rocks glass.
And by the way, I picked up my coupe glasses at Goodwill for 99 cents. No need to spend a ton on these.
Garnish by placing 1 smaller mint leaf in the center of the glass and carefully place 3 drops of bitters around the leaf. Since I'm a rose fanatic, I also usually add an additional drop of rose water on top of the mint leaf, but that is not required. I find that the two drops used in the drink are plenty.
Other Herbal Inspired Cocktails
If you've enjoyed this Juliet and Romeo Cocktail or any recipe on this blog please let us know in the comments. We would love to hear how you did and it's nice to show others as well. Thanks!
FOLLOW US on Instagram, Pinterest, and Facebook. Share this recipe on your favorite social platform. We really do appreciate it!
Ingredients
2

oz

gin

1

oz

fresh lime juice

1

oz

simple syrup

.....you can buy premade or make it yourself by combining equal parts sugar and water and bringing to a boil

3

drops

rose water divided

3

drops

bitters

1

sprig

mint

.....plus one small leaf for garnish

3

slices

cucumber

1

cup

ice
Instructions
Muddle cucumber and mint in the bottom of a cocktail shaker.

Add the lime juice, gin, simple syrup and two drops of rose water and ice.

Shake vigorously for 20 seconds.

Strain and pour into a glass.

Garnish with 1 mint leaf, 3 drops of bitters surrounding the leaf, and 1 drop of rose water on top of the leaf (optional).
Nutrition