Lemon garlic shrimp pasta is the perfect dish to make when you want to make an impression, with minimal effort. Shrimp are gently sauteed and then tossed with al dente pasta, in a buttery, garlicky concoction of parsley, lemon juice, and lemon zest. Whether you're a shrimp cooking veteran or a beginner, this is the perfect recipe, and the best part is this can be made in about 30 minutes!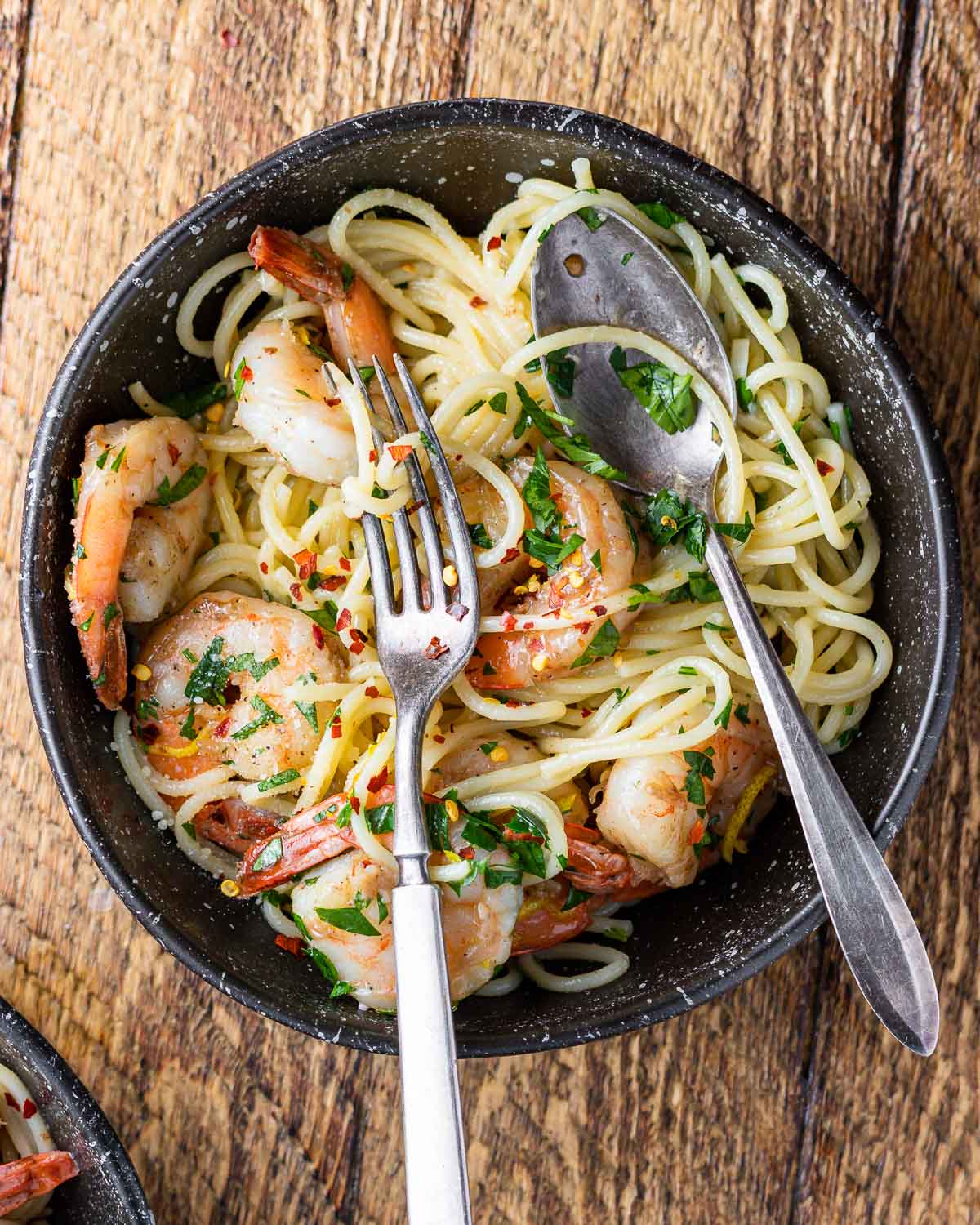 Editor's Note: Originally Published on January 24, 2019. Updated with full process shots and expanded info.
Life can be hectic at times, but for me, that doesn't mean I need to throw in the towel on dinner.
In the time it takes to pick up fast food, or order takeout, you can prepare lemon garlic shrimp pasta, provided you have a few key ingredients on hand.
For the most part, this recipe requires household staples, such as lemon, butter, and garlic.
Not everyone has fresh parsley or shrimp on hand, but I've made it a point to always include parsley on my weekly shopping list because I use it so frequently in many of our pasta recipes.
Pro Tip: If you buy a large bunch of parsley or it's growing too fast in your garden, divide it up, and freeze it. I take a good size handful, enough for 1 pound of pasta, and wrap it in foil. When I need some fresh parsley, I grab a pack or two from the freezer. My Grandmother and Mother always stored parsley this way.
I also try and keep shrimp on hand as well. I usually have a bag of uncooked frozen shrimp in my freezer to use in a pinch.
Costco and Whole Foods sell affordable 2-pound packs of frozen shrimp. I like to buy peeled and deveined raw 21-25 per pound size.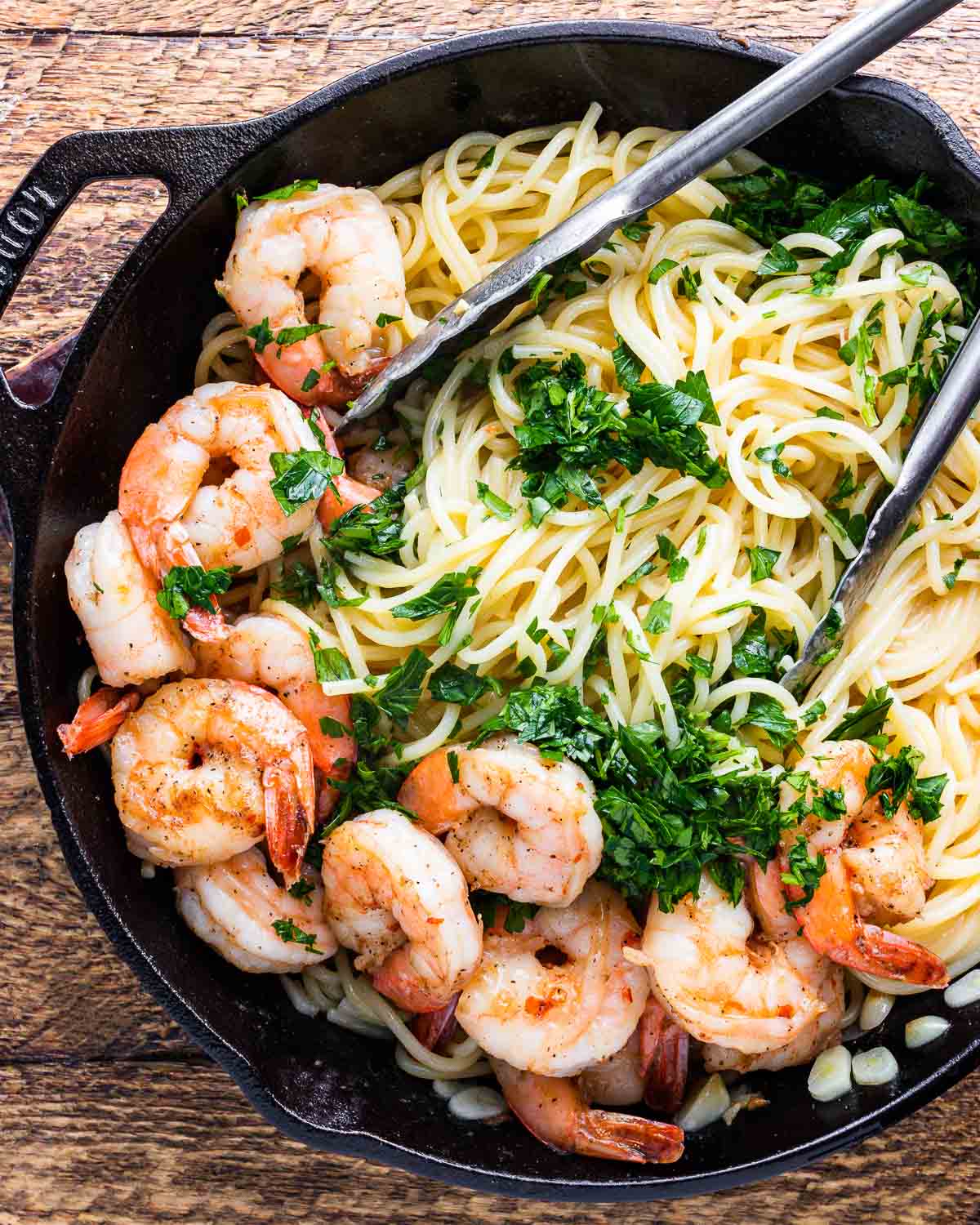 How to make lemon garlic shrimp pasta
Place clean and dry shrimp in a bowl with 1/2 teaspoon baking soda, 1/2 teaspoon kosher salt, 1/4 teaspoon black pepper, and 1/8 teaspoon crushed red pepper. Mix well and set aside.
Zest the lemon and give any longer strands a chop.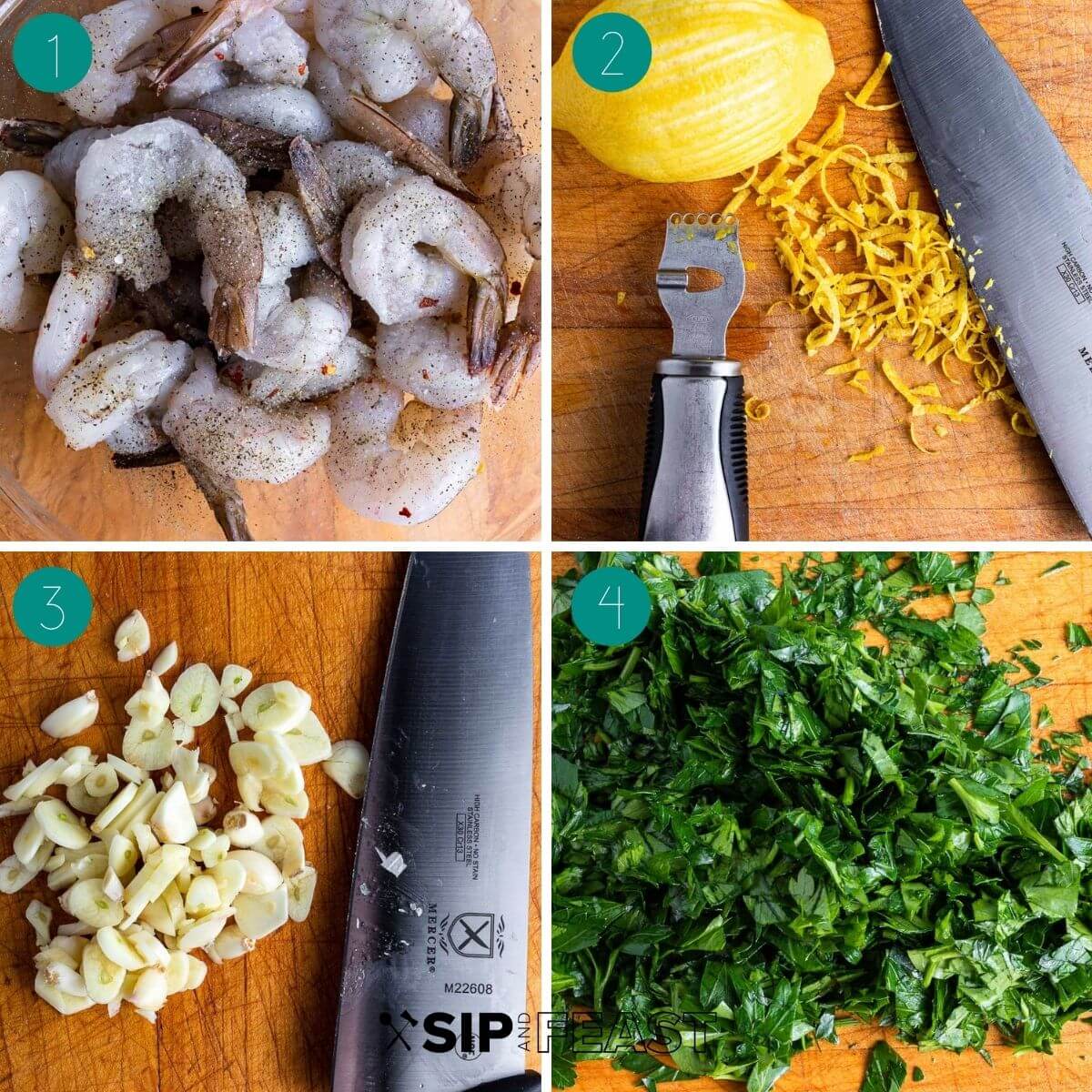 Chop or slice the garlic.
Mince the fresh parsley. Also, start boiling the pasta in salted water (2 tablespoons kosher salt per gallon of water) to "al dente". Basically, undercook the pasta by 1-2 minutes. Be sure to reserve at least 1 cup of pasta water before draining.
Heat a large pan to medium heat. Add 1/4 cup of olive oil, then the shrimp
Saute the shrimp until cooked through. Roughly 4 minutes depending on their size. A good way to cook shrimp is to spread them out and flip them after 2 minutes. Don't be afraid to cut one open to check if they're done. They will be nontranslucent and very firm and plump when touched. The objective is to cook the shrimp right to the done point but not overcook them.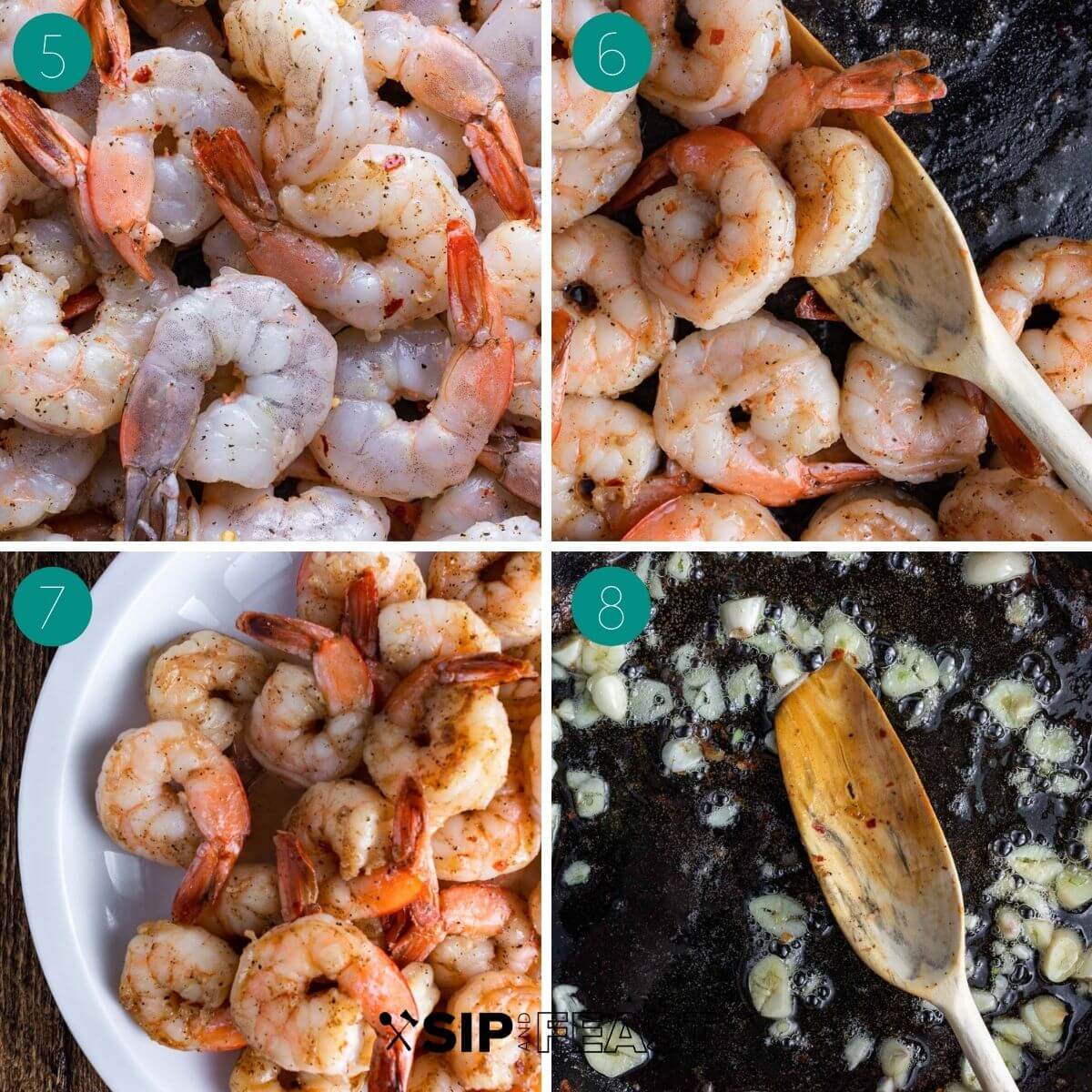 When finished place the shrimp on a plate, tent with foil, and set aside.
To the same pan add the remaining 2 tablespoons of olive oil and saute the garlic until nicely golden (about 2 minutes).
Reserve 2 cups of pasta water and set aside right before draining the pasta. You won't need all the pasta water, but it's good to save just in case.
Add 1/2 cup of pasta water to the pan and mix with a wooden spoon. Use the spoon to scrape up the good flavor bits on the bottom of the pan.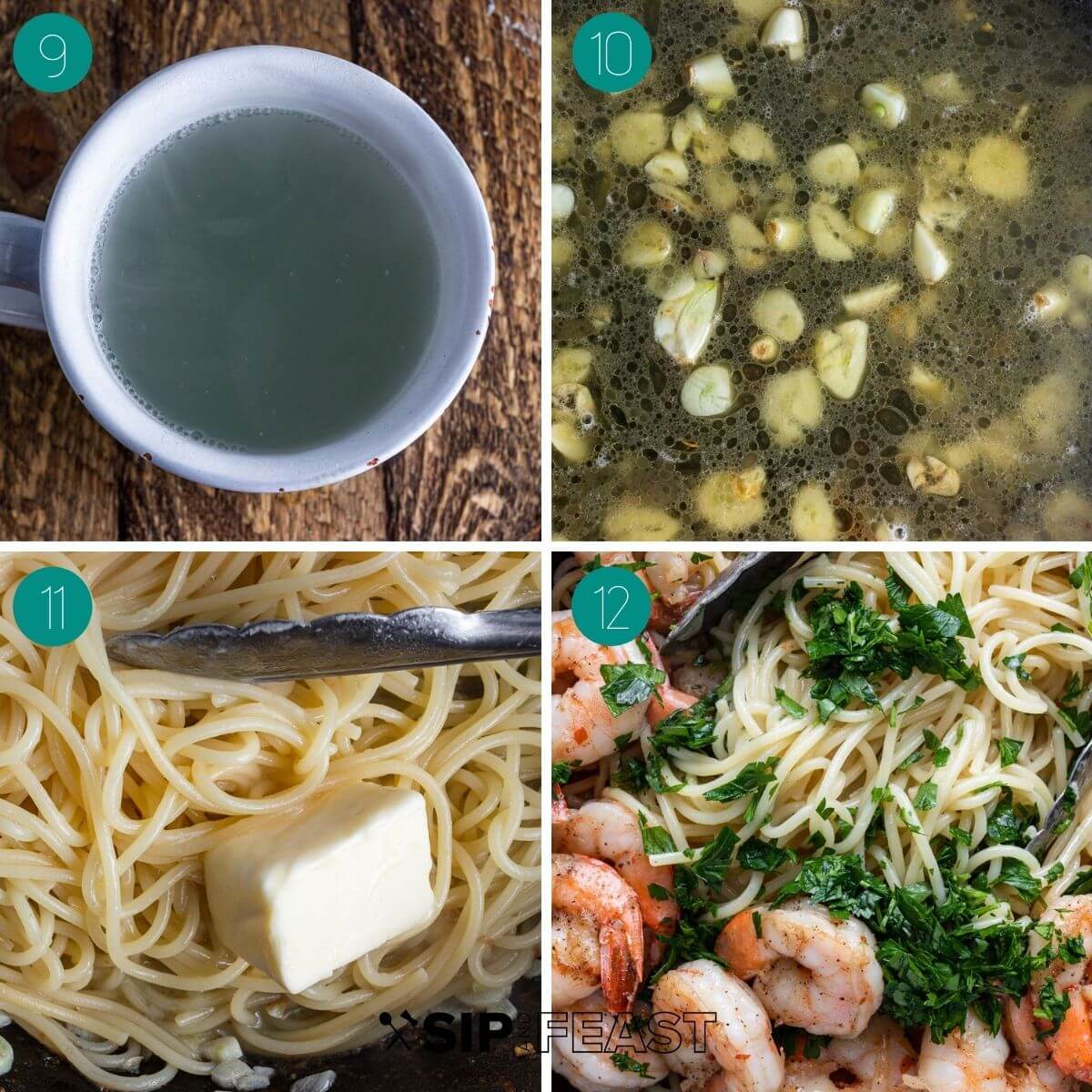 Add the pasta into the pan and the 1/2 stick of butter. Coat the pasta well, cooking for about 1 minute longer. If you can flip a pan, do it now to emulsify the pasta water and butter so that it clings to the pasta. Otherwise, coat it as well as you can with a wooden spoon.
Add the shrimp, parsley, lemon juice, and zest to the pasta, mix and toss together. Taste test right now and adjust salt, pepper, and crushed pepper levels before serving. If the pasta is dry add a couple of ounces of pasta water to loosen it up.
Substitutions and additions
Since there are minimal ingredients in this garlic shrimp pasta, most of which have flavors that pair well with others, this is the perfect dish to change-up or enhance depending on your personal preferences.
Some of my favorite ingredients to add include:
Capers add a distinct briny flavor. They are strong, so go easy with them. About 1-2 tablespoons, rinsed, should add great flavor but not overpower the whole dish. I use capers in many recipes, like chicken piccata, caponata, and chicken with capers and cherry tomatoes.
White wine adds a great flavor to many Italian pasta recipes and it absolutely will do the same in this lemon butter shrimp pasta. Use a Pinot Grigio or dry white wine, adding a 1/4 cup of wine during step 10. The wine will replace some of the pasta water, so if using wine, only add 1/4 cup of pasta water to start. Bring the wine and pasta water to a simmer for 2 minutes and continue on in the recipe.
Fresh herbs, such as basil add great flavor but can be more overpowering, so be cautious with how much you use. Use in addition to parsley, or replace it.
One of the best-kept secrets to taking Italian seafood dishes from good to great is using anchovy. By sauteing a few chopped anchovy fillets with the garlic, you will achieve a more robust seafood flavor. Anchovy fillets are commonly used in red and white clam sauce to give it that extra zing and umami flavor. You can buy anchovy cans in five packs at Costco or tubes of anchovy paste at Trader Joe's and other grocers.
What's the deal with baking soda?
Baking Soda added to the shrimp keeps them plumper and prevents them from drying out. The baking soda has no taste and can only benefit shrimp dishes. I learned this trick many years ago while working for a great chef. Chinese restaurants do this all the time as well. For more info check out this article on how to improve any shrimp recipe.
Tips for making flawless lemon garlic shrimp pasta
Shrimp – make sure they are completely thawed and that the baking soda trick is used. You will have great shrimp every time!
Pasta water – with any pasta dish, I recommend reserving some pasta water. In this particular dish, the sauce is actually made from the pasta water and butter combination. The starchy pasta water and butter concoction cling to the pasta and coat it so well during the last minute of cooking. Save the remaining pasta water, and if required, use a few ounces to loosen everything up if you're not serving immediately. I do however recommend you serve right away.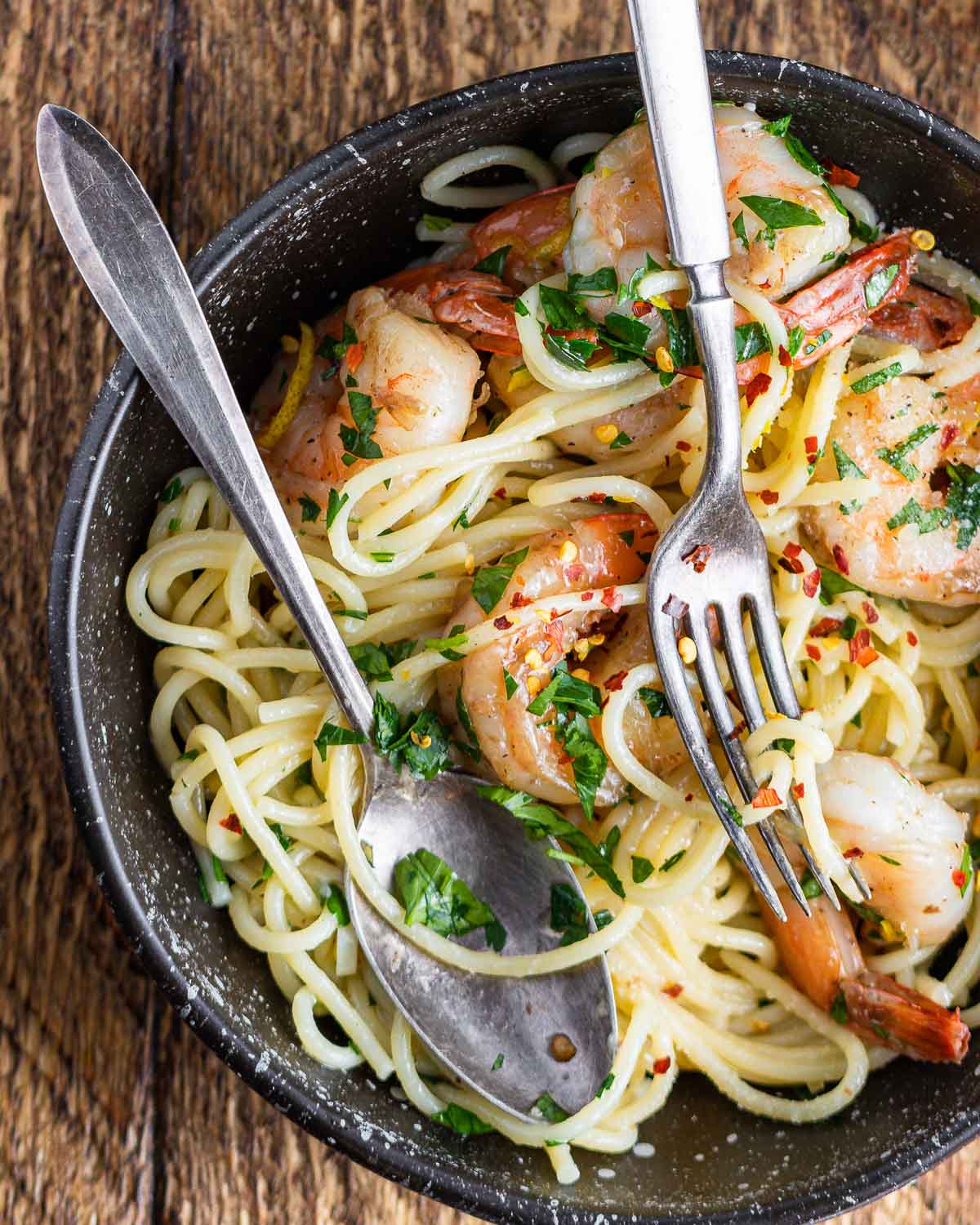 If you love shrimp and pasta, give these recipes a try
If you've enjoyed this lemon garlic shrimp pasta or any recipe on this site, we want to know so tell us in the comments below. We would love to hear how you did and it's nice to show others as well. Thanks!
Follow us on YouTube, Instagram, Pinterest, and Facebook.
Lemon Garlic Shrimp Pasta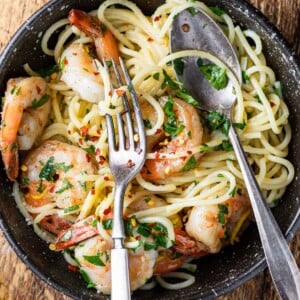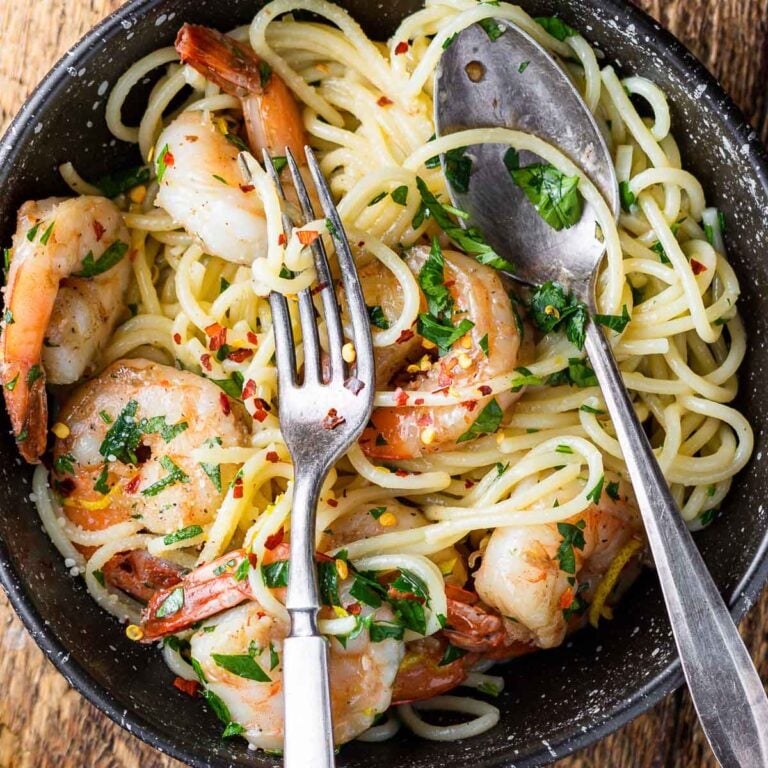 Sauteed shrimp and al dente pasta are tossed in a garlicky lemon butter sauce and topped with fresh parsley.
Ingredients
1

pound

large shrimp

21/25 count

1/2

pound

spaghetti

1/2

stick

unsalted butter

1

large

lemon juice and zest

1/4

cup

olive oil

2

tablespoons

extra virgin olive oil

for finishing

1/4

cup

fresh parsley

minced

6

cloves

garlic

sliced

1

cup

pasta water

reserved

1/2

teaspoon

baking soda

1/4

teaspoon

black pepper

1/8

teaspoon

crushed red pepper

1

teaspoon

kosher salt
Instructions
Place cleaned and dry shrimp in a bowl with 1/2 tsp baking soda, 1/2 tsp kosher salt, 1/4 tsp black pepper and 1/8 tsp of crushed red pepper. Mix well.

Meanwhile cook pasta "al dente" in salted water (2 Tbsp kosher salt per gallon of water) and reserve at least 1 cup of pasta water before draining.

Heat a large pan to medium heat. Add in a 1/4 cup of olive oil and saute shrimp for about 4 minutes or until done (when the shrimp are firm and pink). Remove shrimp and set aside tented with foil to keep warm. To the same pan add the garlic. Saute garlic for 2-3 minutes until lightly golden.

Add a 1/2 cup of pasta water to the pan. Also, add the butter and the al dente pasta. Cook for 1 minute tossing to coat well so the sauce absorbs and clings to the pasta. Add the shrimp, parsley, lemon juice, lemon zest, and toss/mix again.

Turn off the heat and taste test. Make final adjustments to salt, pepper and crushed red pepper. If the pasta becomes too dry add a couple more ounces of pasta water. Serve with a healthy drizzle of extra virgin olive oil on each plate and lemon wedges on the side. Enjoy!
Notes
The recipe easily doubles or triples.
Always reserve extra pasta water just in case the pasta dries out while sitting and or waiting to serve.
Salt is kept to a minimum so adjust according to taste.
Leftovers can be saved for up to 3 days and reheated in the microwave. Though, I recommend eating all the shrimp on the same day. Shrimp doesn't reheat too well.
Nutrition
Calories:
561
kcal
|
Carbohydrates:
32.8
g
|
Protein:
32.4
g
|
Fat:
33.6
g
|
Saturated Fat:
10.7
g
|
Cholesterol:
311
mg
|
Sodium:
560
mg
|
Potassium:
297
mg
|
Calcium:
115
mg
|
Iron:
2
mg
Nutrition information is automatically calculated, so should only be used as an approximation.
This recipe was originally published on January 24, 2019. It was completely updated on July 13, 2021.