Pasta alla Norcina is a creamy pasta full of the comforting flavors of pork sausage, white wine, Pecorino Romano, and just a touch of nutmeg. The velvety texture of the sauce pairs perfectly with the al dente pasta and crumbled sausage. Relatively simple to make, this dish is perfect for a weeknight when you want just a bit of decadence.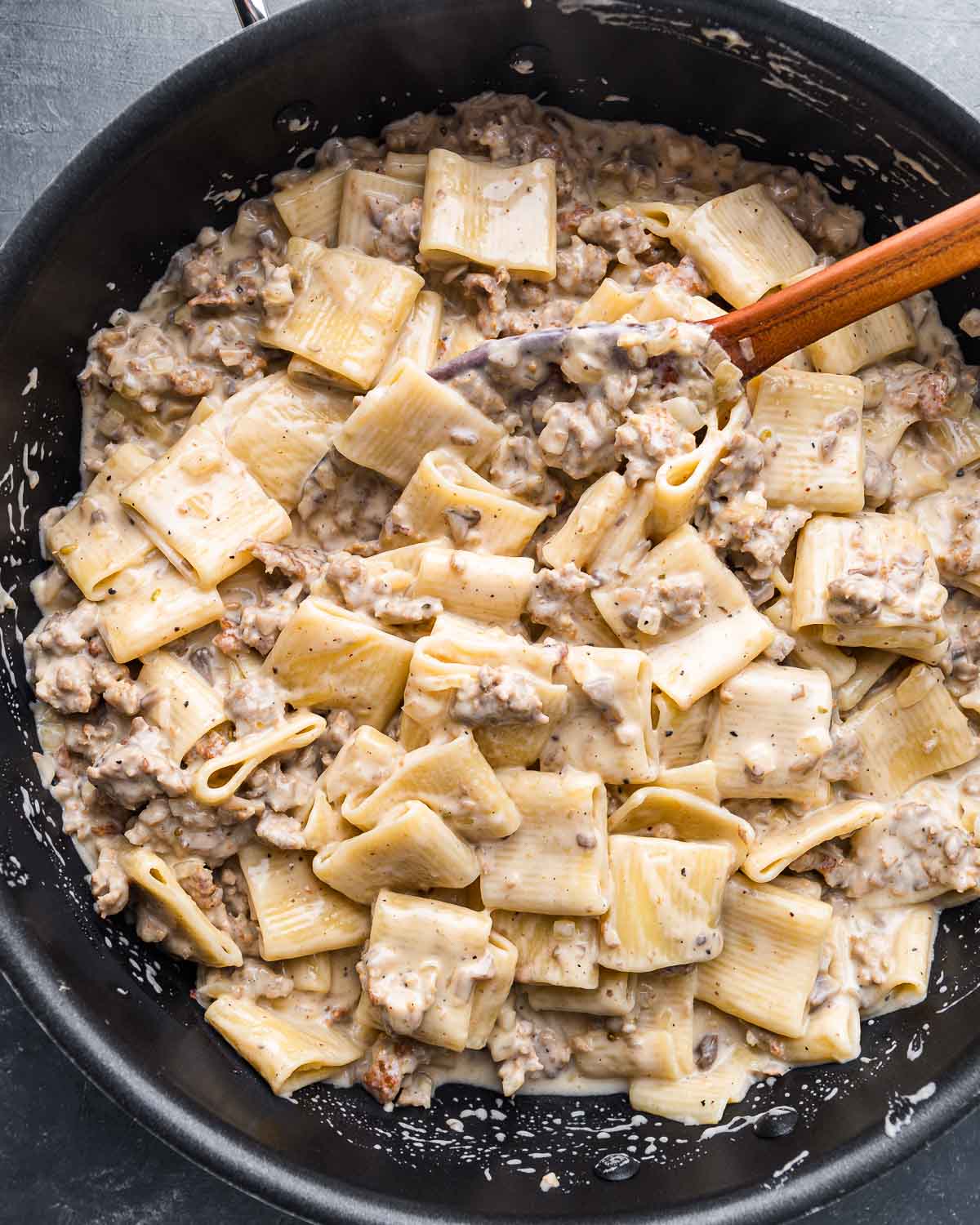 Pasta alla Norcina may be the most underrated pasta EVER.
Underrated because with one exception, I have not seen this on the menu of Italian restaurants here in New York, and I think it damn well deserves to be! 😉
Perhaps that is because this dish hails from the city of Norcia in Italy's Umbria region, where most of the Italian immigrants who came to the US (my ancestors included) were from Southern Italy and Sicily.
Want to learn more? We discuss the roots of this dish and more in episode 16 of The Sip and Feast Podcast – Pasta Norcina.
Traditionally, pasta alla Norcina is made using a pork sausage made in Norcia using a combination of white wine and nutmeg. A bit different from the typical fennel pork sausage available here in New York.
In addition to Norcia sausage, the dish is also typically topped with a shaving of black truffles, which are also foraged in Norcia.
So my attempt here is to deviate slightly from traditional while (hopefully) still maintaining the overall integrity of the dish.
I'm using bulk mild pork sausage and baby Bella mushrooms in the sauce along with some nutmeg, white wine, and heavy cream.
The result is quite possibly the most creamy, velvety, flavorful pasta you'll ever eat.
Fun Fact – The city of Norcia is known for its pork products, specifically cured and smoked pork, so much so that shops carrying such goods are often referred to as norcinerias after the name of the city.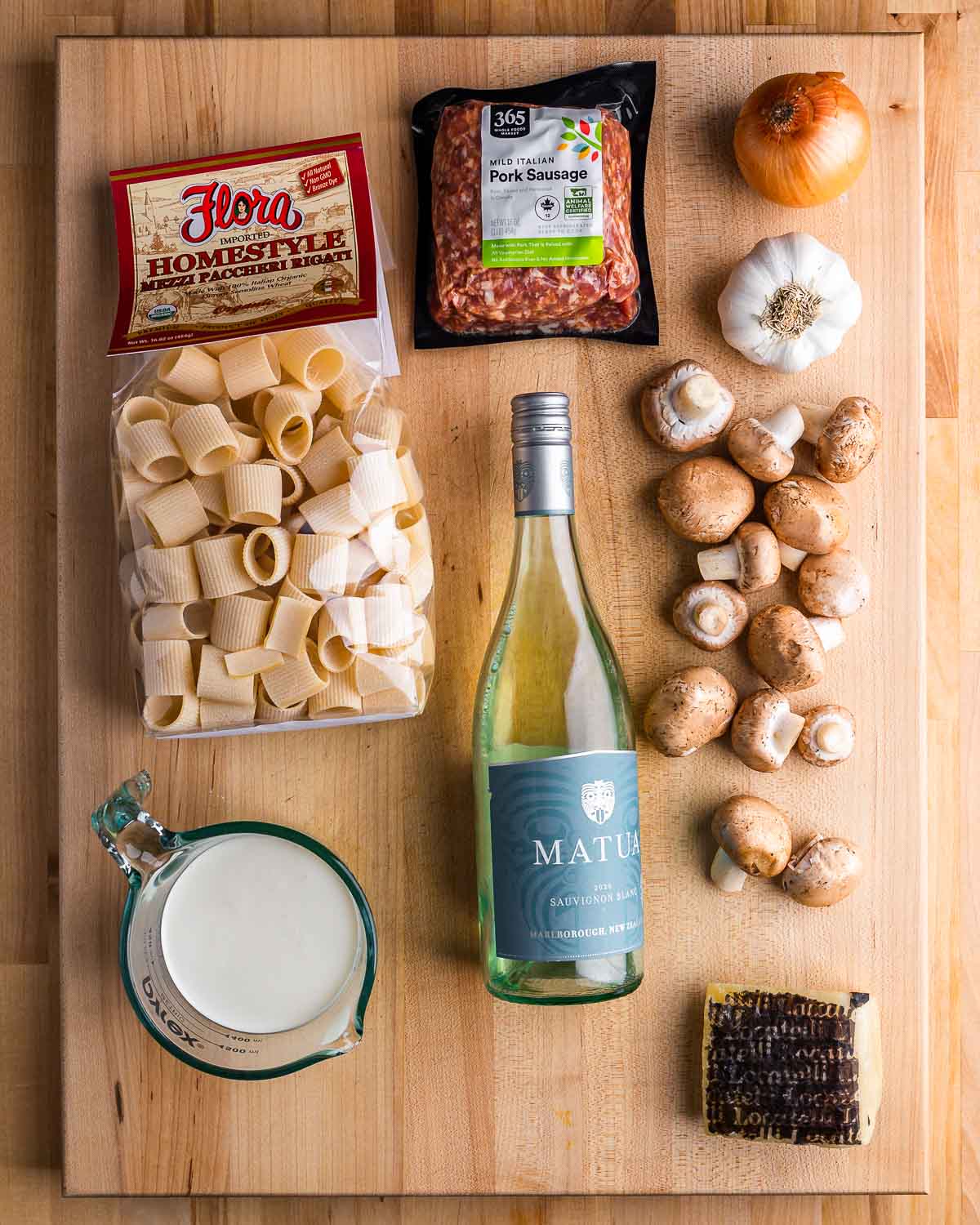 How to make pasta alla Norcina
Each number corresponds to the numbered written steps below.
Bring a large pot of salted water (2 tablespoons kosher salt) to boil. Chop up 8 ounces of mushrooms. Note: I'm using baby Bella mushrooms but use any fresh mushrooms you can find. Dried mixed mushrooms, that have been reconstituted also work very well for this dish.
Finely dice 1 small onion and remove the skin from 3 cloves of garlic.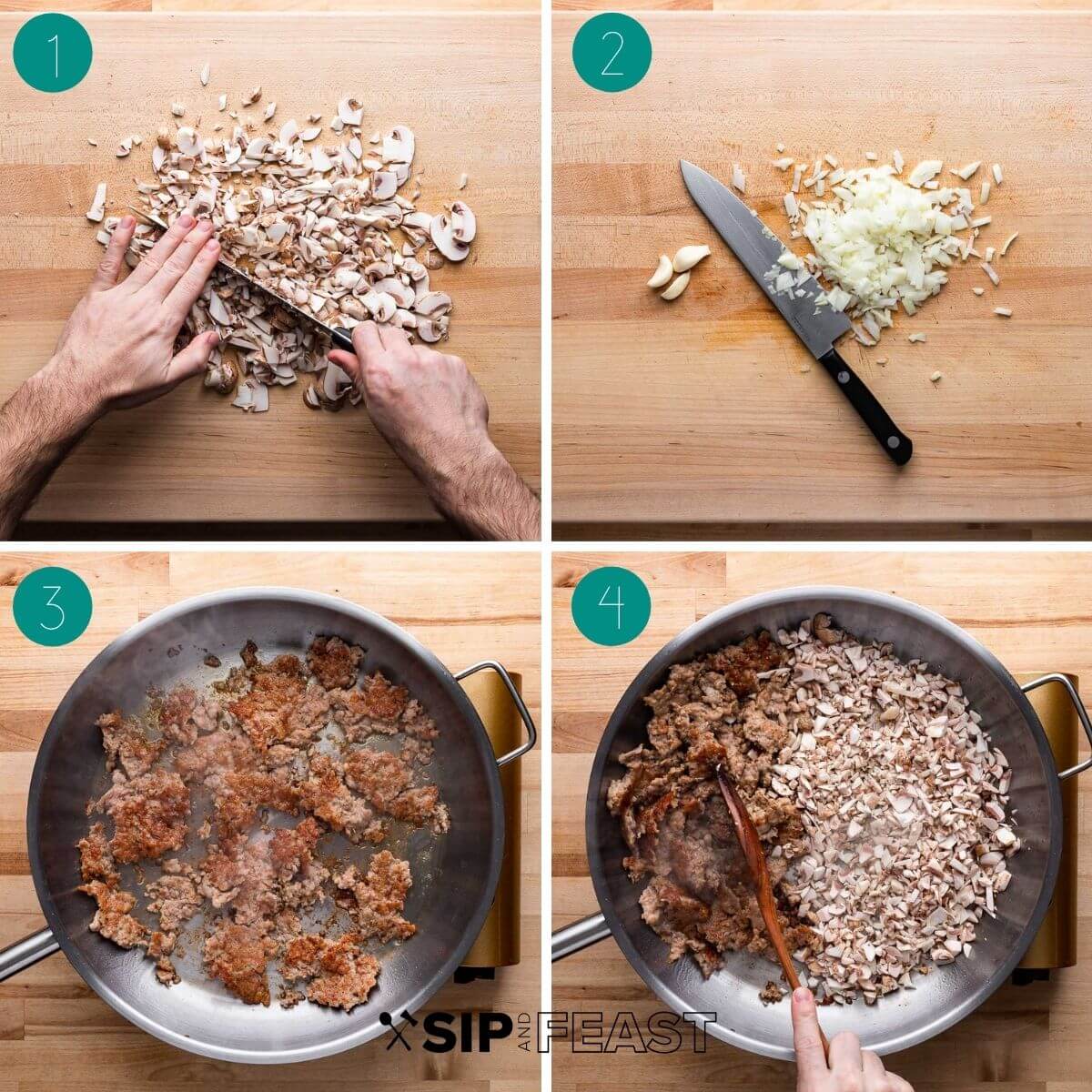 Heat a very large stainless steel pan to medium heat. Wait 3 minutes then add 2 tablespoons of olive oil and the sausage. Brown the sausage while breaking it up with a wooden spoon.
Once the sausage is brown and almost cooked (about 5-7 minutes) move it to the side and add the mushrooms. Spread them out so that they sear and release their water. Note: If you don't have a large enough pan, (I'm using a 14″ stainless steel pan) sear the sausage first then remove and set aside. The sausage can then be added back to the pan later after the mushrooms and onions have cooked.
Once the mushrooms release their water and brown a bit (about 5 minutes) mix them in with the sausage and push both to the side. If needed, add a couple more tablespoons of olive oil along with the onions and garlic and saute until soft (about 3-5 minutes). Once the garlic turns golden, remove it and discard.
Mix everything together and add the wine. Turn the heat up to medium-high and cook the alcohol out for about 60-90 seconds. Scrape the bottom of the pan with a wooden spoon to remove all of the browned flavor bits.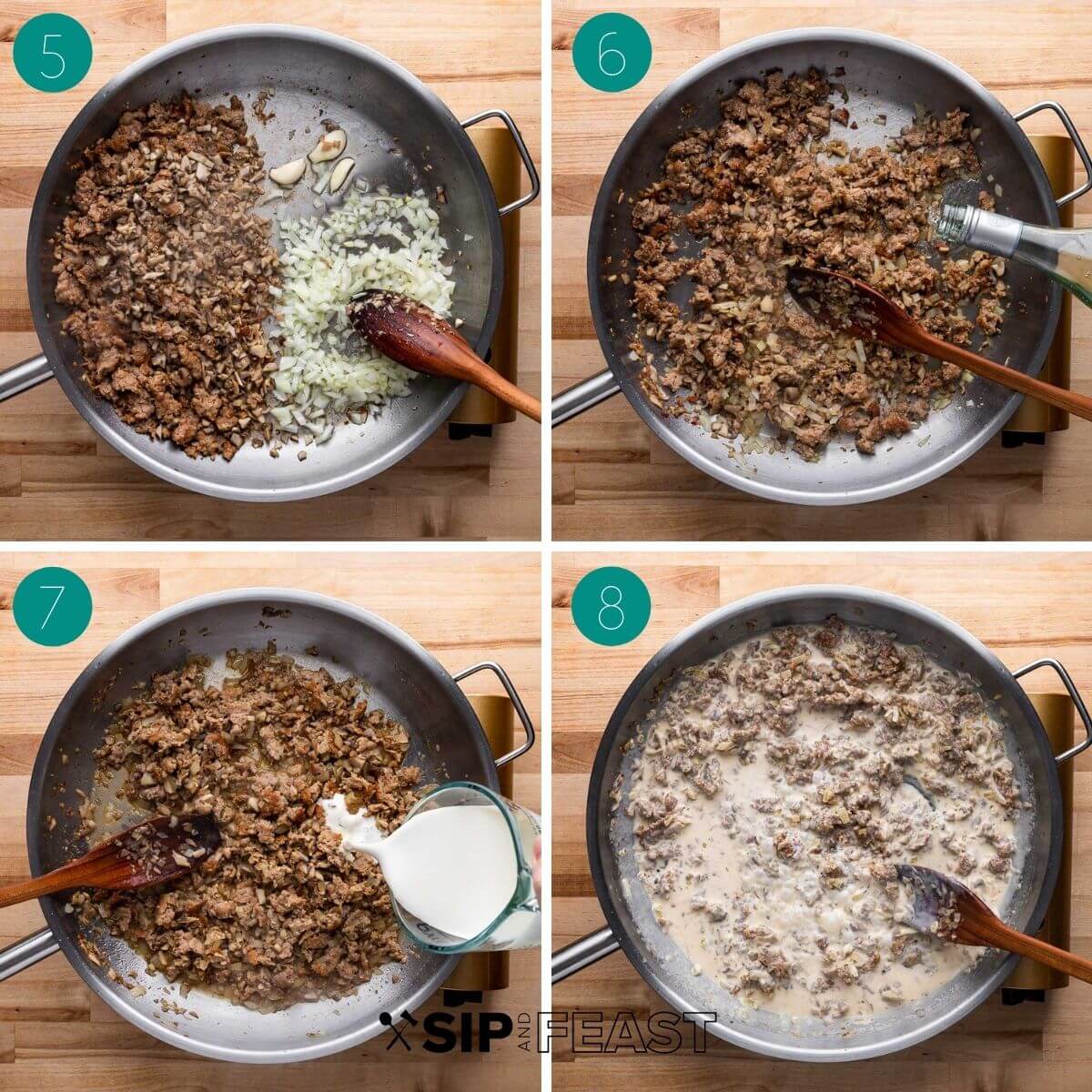 At this point, you can begin cooking your pasta in the salted boiling water. Add in the cream and bring the sauce to a simmer.
Once the sauce is simmering and has slightly thickened (about 2 minutes) turn the heat down to low.
Let the sauce simmer on the lowest setting, then add a half cup of pasta water and stir together.
Add the pasta to the sauce when it isn't yet quite al dente. Turn heat to medium. Stir well and cook the pasta with the sauce.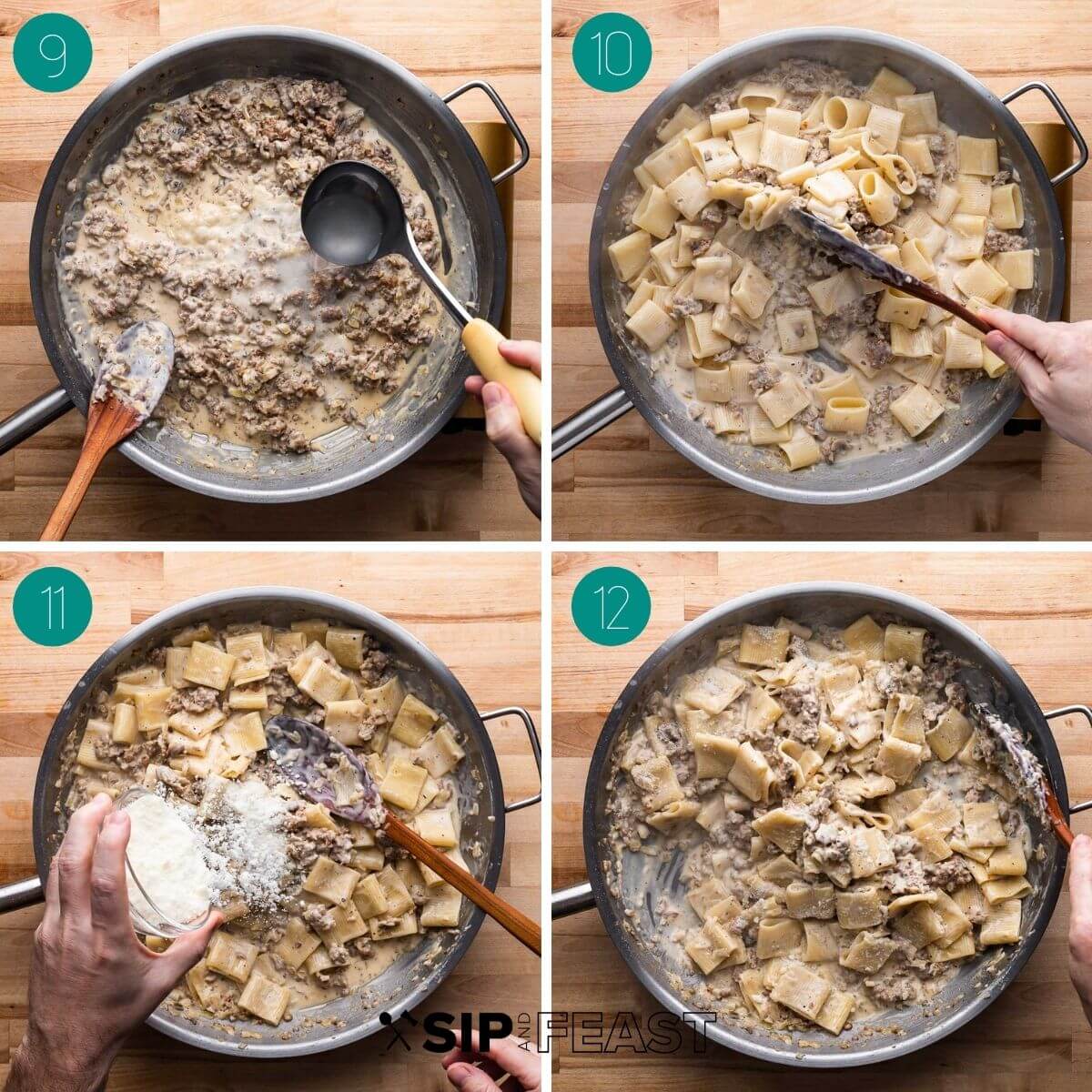 Cook the pasta until it reaches just al dente. If you need more pasta water to loosen things up, add a bit at a time. When the pasta is finished cooking remove the pan from the burner and add the Pecorino Romano.
Stir well and if too thick, again add a touch more of the reserved pasta water. Season with a good amount of cracked black pepper and salt to taste. Sprinkle a pinch of nutmeg into the pasta Norcina as well. Serve with more grated Pecorino Romano and nutmeg on the side. Note: It's important to go easy on the nutmeg since it is so powerful. Serve extra at the table to allow guests to season to their own personal tastes.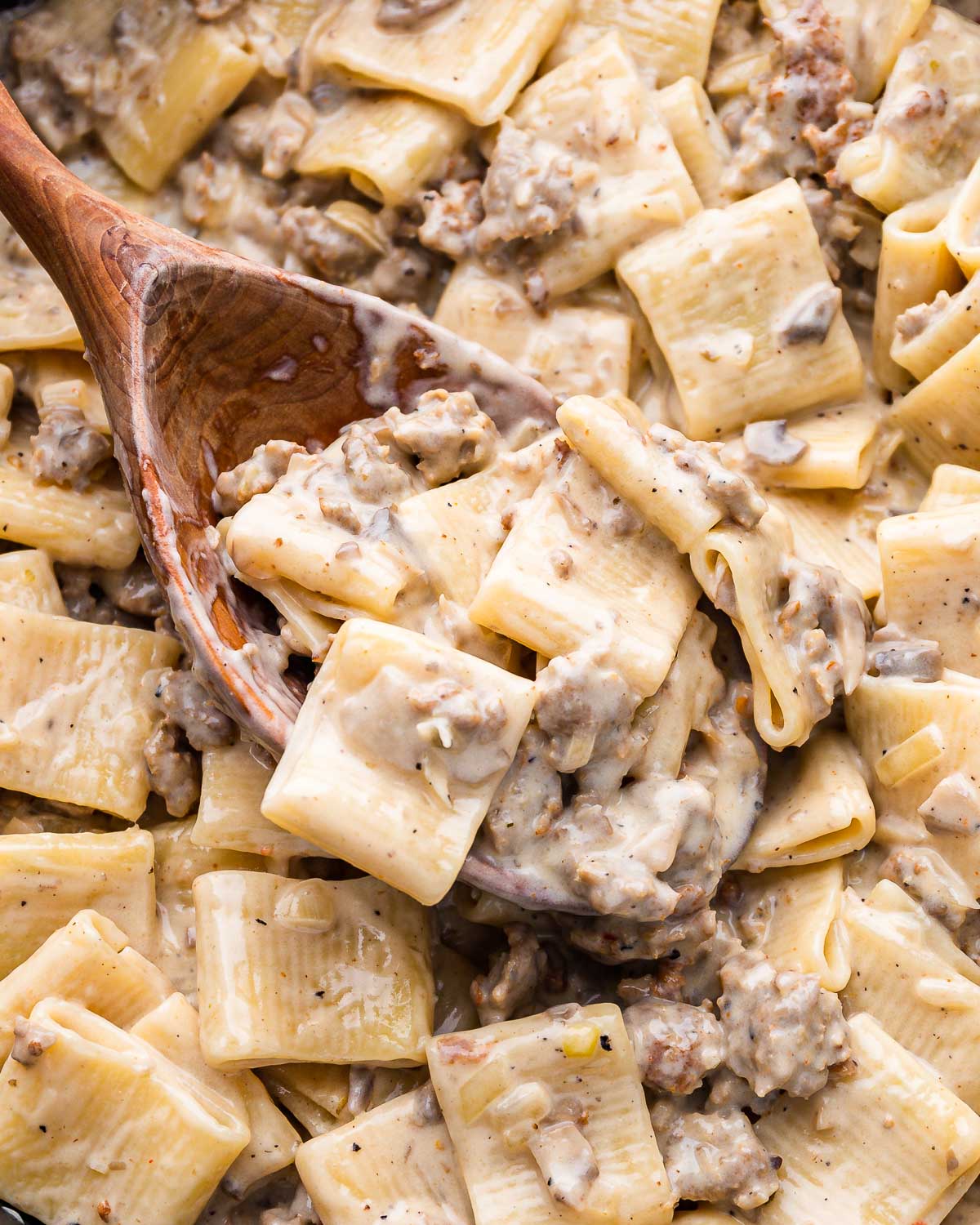 Top tips for amazing Norcina sauce
Go easy on the nutmeg. Nutmeg is a strong spice and can be overpowering. I'm usually not too prescriptive with my recipes and typically encourage folks to take liberties, but nutmeg is one of those ingredients you're better erring on the side of caution. Start by adding just a pinch and serve more on the side for those who would like more.
Reserve your pasta water (always). This is good practice for any pasta dish, however, it's of major importance for dishes light on sauce (like aglio e olio) and cream-based dishes like this alla Norcina. If you're waiting for your dinner companions to join you and the pasta starts to dry out, you can simply ladle a bit more pasta water to loosen it back up and bring it to its ultra creamy ideal state.
Use what's available to you. Unfortunately, Norcia sausage and black truffles aren't available to most of us so improvising a bit is just fine. If all you can find are sausage links with fennel, use them. Just remove the sausage from the casing. If you can't get your hands on Pecorino Romano, you can use a Grana Padano or a Parmigiano Reggiano. If you dislike mushrooms, don't use them. I just find that they add incredible texture to the dish and love the added flavor.
Use tubular pasta. Most of the time this dish will be made with rigatoni, penne, or tortiglioni. In the pics, I used a mezzi paccheri which was absolutely delicious. Basically, for a heavy sausage cream sauce like this, you want a heavy pasta that can hold up to it.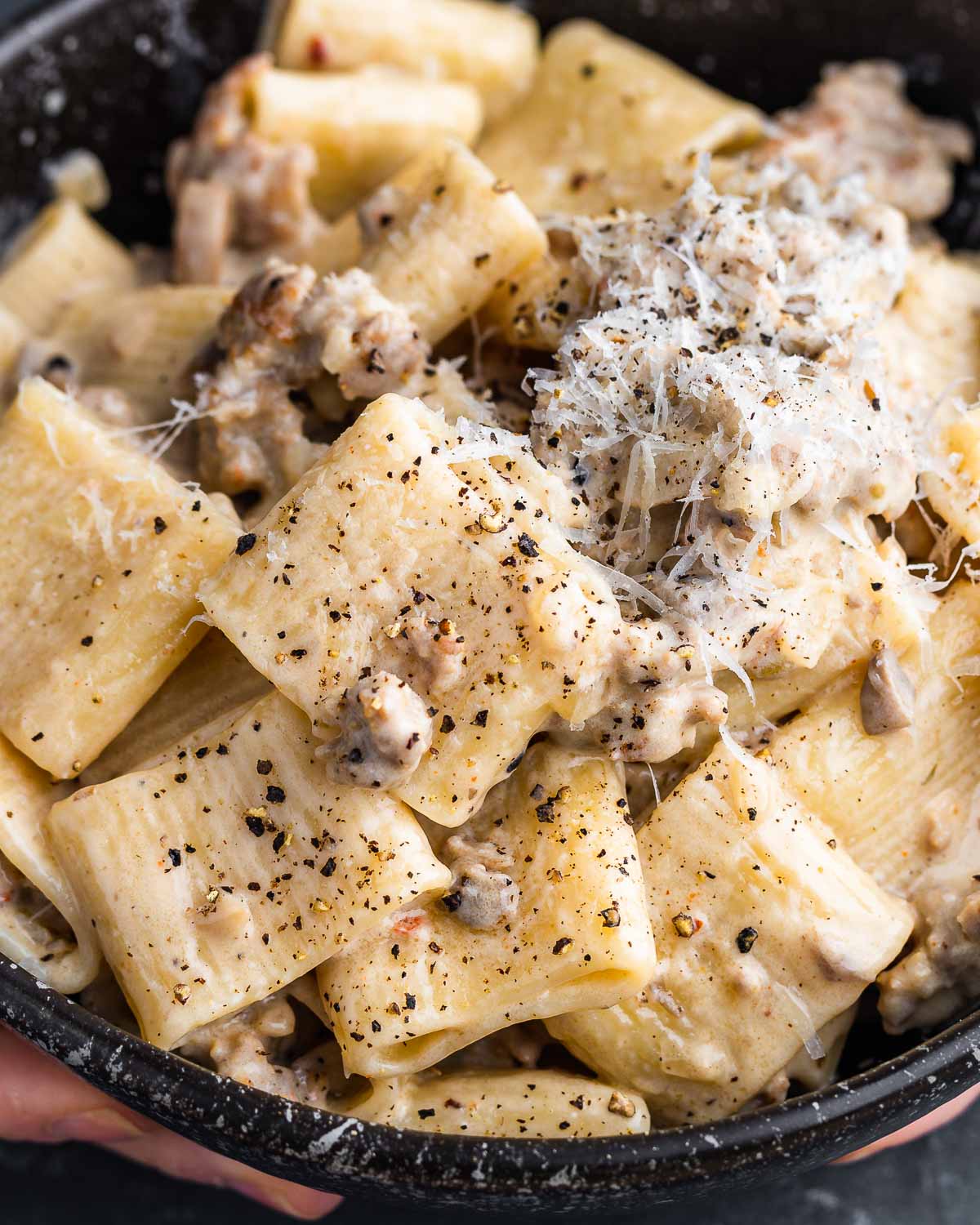 More creamy pastas you'll love
While pasta alla Norcina is now at the top of my list for creamy pastas, I think you'll also love these other ones as well. Let me know which is your favorite!
If you've enjoyed this pasta alla Norcina recipe or any recipe on this site, give it a 5-star rating and leave a review.
Some people learn by watching. If you're that type of person, you can find most of our recipes on YouTube and our Facebook Page.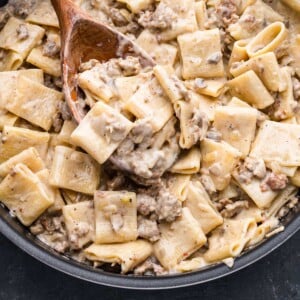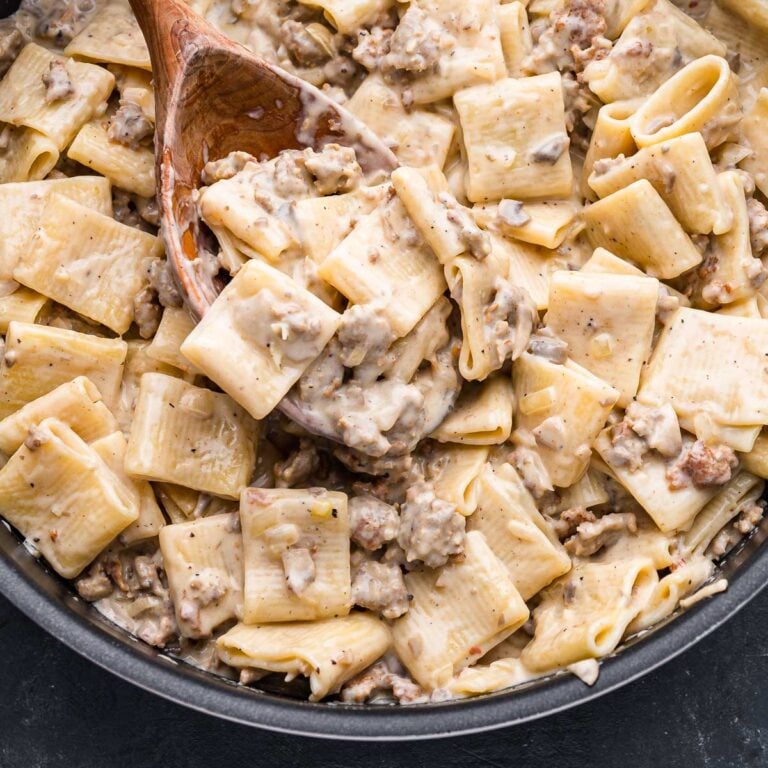 Creamy and comforting pasta dish made with sausage, mushrooms, white wine, heavy cream, Pecorino Romano, and a pinch of nutmeg.
Ingredients
1

pound

rigatoni

or other tubular pasta

8

ounces

baby Bella mushrooms

diced

1

pound

bulk mild Italian sausage

1/4

cup

olive oil

1

small

onion

diced

3

cloves

garlic

1/2

cup

dry white wine

1 1/2

cups

heavy cream

2

cups

reserved pasta water

will not need it all

1

pinch

nutmeg

3/4

cup

Pecorino Romano

grated

salt and pepper

to taste
Instructions
Bring a large pot of salted (2 tablespoons kosher salt) water to boil.

Heat a large pan to medium heat then add in the olive oil and sausage. Brown the sausage (about 5-7 minutes) then make some room in the pan and add the mushrooms and continue to cook until they brown as well.

Once the sausage and mushrooms are brown add the onion and garlic. After 2 minutes remove the garlic from the pan and discard. Continue cooking for a few more minutes until the onions are soft.

Turn heat to medium-high and add the wine. Cook for a minute to reduce the wine by about half. Scrape the bottom of the pan with a wooden spoon to remove all the brown bits. At this time begin cooking pasta to a bit less than al dente.

Add the cream and bring sauce to a simmer while stirring. Once simmering turn the heat down to low.

Once pasta is almost al dente add it to the sauce and mix to coat. Turn heat to medium. Add a bit of pasta water if needed to loosen things up. Continue to cook, stirring frequently, until the pasta is perfectly al dente.

Turn the heat off and remove the pan from the heat. Add the Pecorino, mix well, then taste test. Season with a good amount of black pepper, a pinch of nutmeg, and salt to taste. Serve with grated Pecorino. Enjoy!
Notes
Makes 4 very large servings or 6 normal size ones.
If the pasta dries out at all just add a touch of the reserved pasta water to loosen it up and mix well before serving.
Serve with extra grated Pecorino Romano cheese and nutmeg. Nutmeg can be overpowering so it's best to let the individual add more if they like.
Leftovers can be saved for up to 3 days and can be reheated on the stovetop or the microwave.
Nutrition
Calories:
766
kcal
|
Carbohydrates:
59.8
g
|
Fat:
45.2
g
|
Saturated Fat:
16.9
g
|
Cholesterol:
114
mg
|
Sodium:
703
mg
|
Potassium:
283
mg
|
Fiber:
3
g
|
Sugar:
2
g
|
Calcium:
154
mg
|
Iron:
4
mg
Nutrition information is automatically calculated, so should only be used as an approximation.