Salsa di Noci or walnut sauce is a very simple but delicious recipe that can make a full meal in under 30 minutes. This Ligurian walnut sauce is such a simple dish that goes so well on many different types of pasta. I recommend spaghetti or linguine but really any type of pasta works.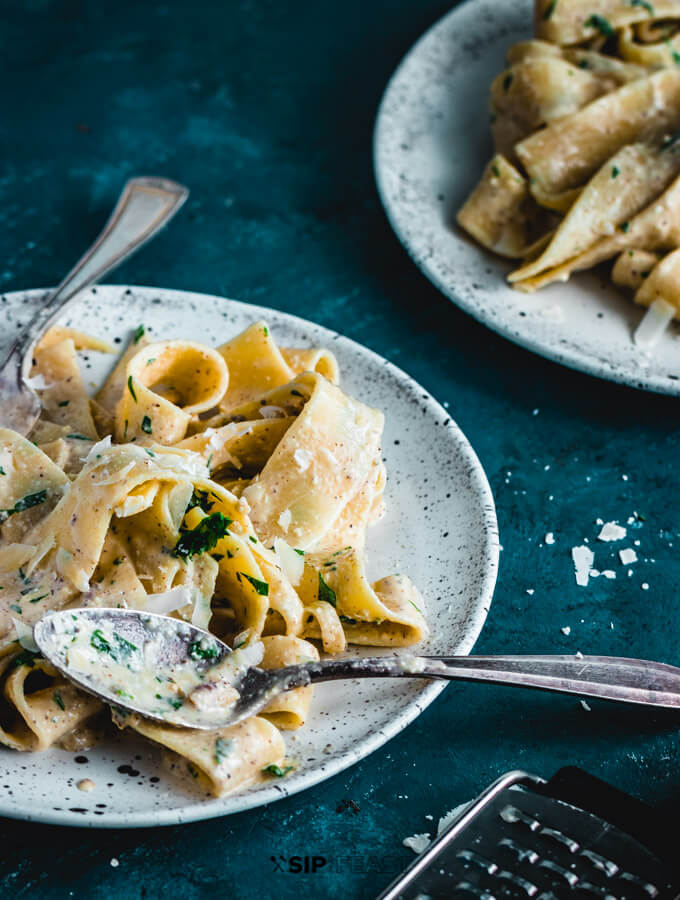 This Italian walnut sauce can also be used on gnocchi or ravioli. In Italy it is often served over pansotti which are ravioli filled with green bitter herbs. Like making homemade ravioli? Spinach, kale, endive or other greens and cheese such as Parmigiano Reggiano or pecorino would be a nice filling.
Salsa di noci is really quite versatile. The recipe I will provide can of course be modified to your exact liking.
My recipe is based off the one from the book A Thousand Days In Venice by Marlena De Blasi. My wife read it about 15 years ago and had to make it. It's since been a recipe that we reach for when we want something quick and easy, especially during the week.
Walnut Sauce Ingredients:
1 pound of pasta - Spaghetti or linguine work well. Pappardelle is used in the photos.
2 cups shelled walnuts - Roasting the nuts can add a different flavor - for this recipe just regular shelled walnuts are used.
¼ cup Moscato white wine - An Italian sweet wine.
¼ cup heavy cream - Milk can also be used - Cream is preferred.
¼ cup water - To thin the sauce in the blender if necessary.
¼-1/2 cup extra virgin olive oil - Will vary based on blender.
1 clove garlic - Just a touch of garlic.
¼ cup Parmigiano Reggiano - Preferred but good quality parmesan or pecorino is great too.
1 cup pasta water - Always reserve pasta water. Depending on the consistency the sauce might need a couple ounces of pasta water when tossed with the pasta.
1 tsp kosher salt - Plus more to taste.
¼ tsp black pepper - Plus more to taste.
⅛ cup parsley - optional for garnish.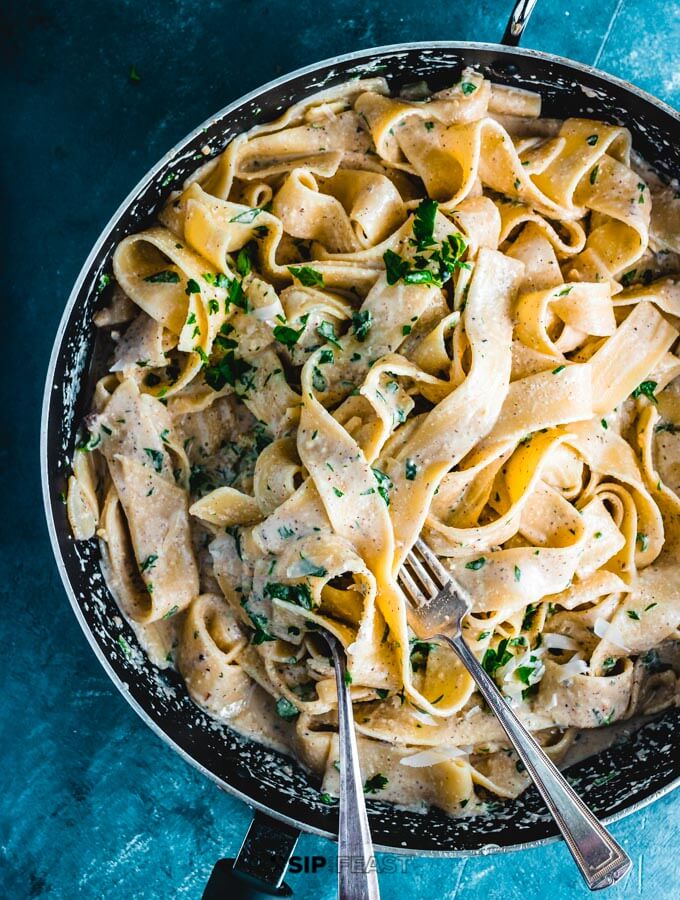 How To Make Walnut Pasta Sauce Instructions:
Picture of ingredients. First step is to boil pasta "al dente" in salted water (2 Tbsp kosher salt per gallon) and reserve 1 cup of pasta water.
Grate the Parmigiano Reggiano cheese - the walnut pesto sauce calls for ¼ cup but grate more for serving at the table.
Chop fresh parsley and set aside.
Place 2 cups walnuts, ¼ moscato, ¼ cup cream, ¼ cup parmigiano reggiano, 1 clove garlic, 1 tsp salt, ¼ tsp black pepper and ¼ cup extra virgin olive oil into blender. Blend until smooth. Add some water and more extra virgin olive oil to thin if it won't blend.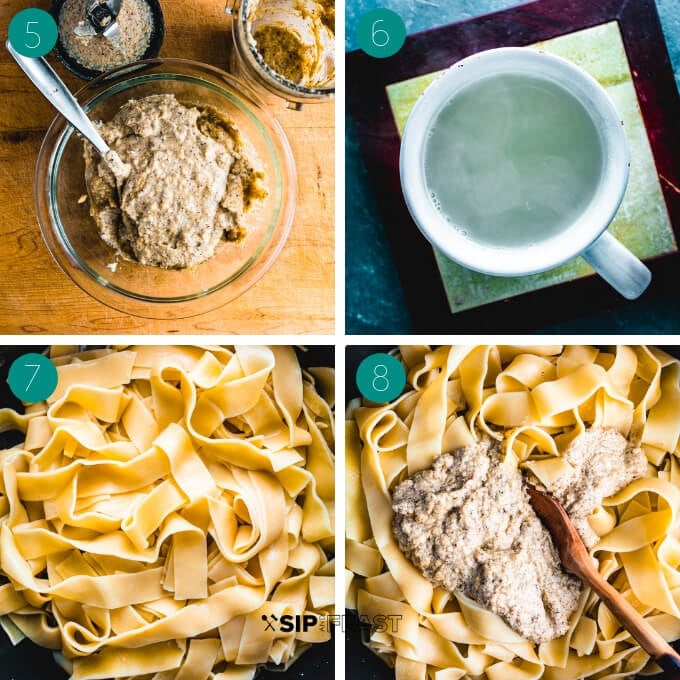 Place the walnut pesto in a bowl and taste it. Adjust salt/pepper to your liking. The sauce will be quite thick at this point.
Picture of reserved pasta water - This will be a familiar picture if you have read any of my recipes. Pasta water is added insurance and is used in almost all pasta recipes to finish correctly.
Place the pasta in a clean pan and turn heat to medium and add a couple Tablespoons of pasta water.
Add the salsa di noci to the pasta and stir it all together. Cook for 1-2 minutes stirring and mixing to coat the pasta well. If too thick, add some more pasta water to achieve the perfect consistency. Remove from heat and give it a taste. Add more salt or pepper if necessary. Finally add the optional parsley if you like.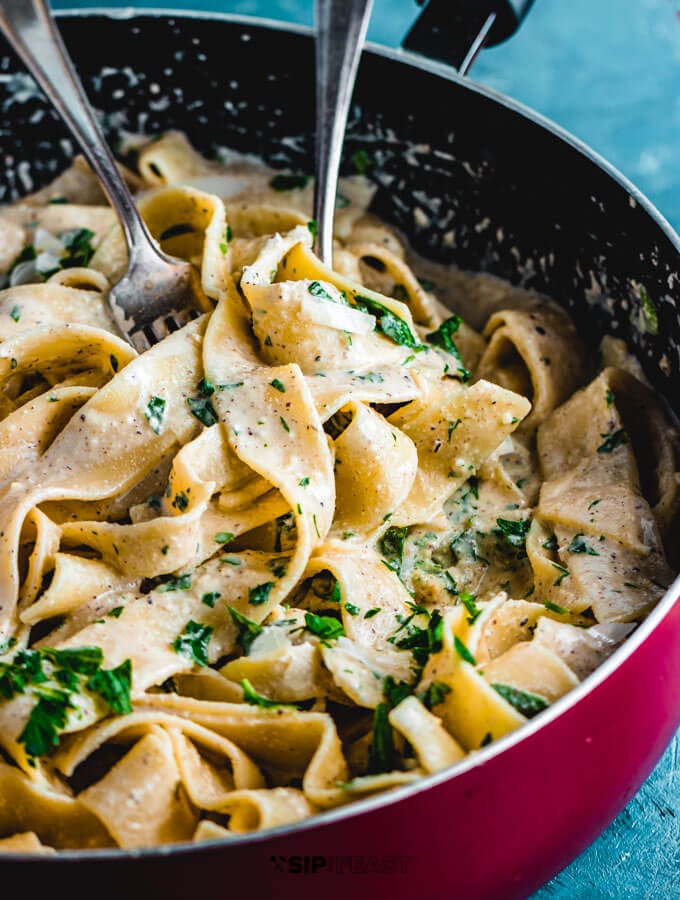 So here is the walnut pesto or sauce and it looks perfect...
If it dries out a little bit while waiting for your family and/or guests to sit down, use some of the reserved pasta water to loosen it up. I always keep my pasta water in a mug for this exact reason.
Questions And Concerns:
Substitutions:
Bread soaked in milk can be added to the sauce. Breadcrumbs are also a good option. If using breadcrumbs, more pasta water will be needed at the end.
Herbs such as thyme, marjoram or sage all add a nice flavor.
Toasted pine nuts are a nice touch and a good ingredient in any type of nut sauce.
Ricotta would add a nice creaminess to the sauce.
Getting The Walnut Pesto Taste Just Right:
Any time you take sauce and put it on a pound of pasta, seasoning adjustments will be required. The sauce no doubt tastes perfect after being blended and is so flavorful. But, when that flavorful sauce is added to a pound of pasta the dish can be a little bland.
To combat this, always salt the pasta water. Two Tablespoons of kosher salt per gallon of water should be used when boiling any pasta. Even after doing this the walnut pesto on top of the pasta might need some more salt, pepper and/or cheese adjustments. Just taste it right at the end when it's all combined, and make those final adjustments. Easy as that!
What Else Can Walnut Sauce Be Used For?
With the walnut pesto base, many dishes can be made. A real simple one is to pan fry either chicken cutlets or, my favorite, boneless skinless chicken thighs.
After they are completely cooked through, remove them from the pan and add the nut sauce in to heat up. Add ½ cup of chicken stock and 1 cup of heavy cream and bring to a simmer. Adjust salt and pepper, then add the chicken in and you will have a simple delicious weeknight dish.
Walnut Sauce Difficulty level:
On a scale of 1-5 with 1 being easy this recipe is a 2. I base this rating not just on cooking techniques, but speed. Because of how fast it can be made, it's a 2. Only issue would be saucing the pasta correctly. As I stated previously, just make sure to finish the pasta in the pan with the sauce and a touch of pasta water to get that perfect consistency.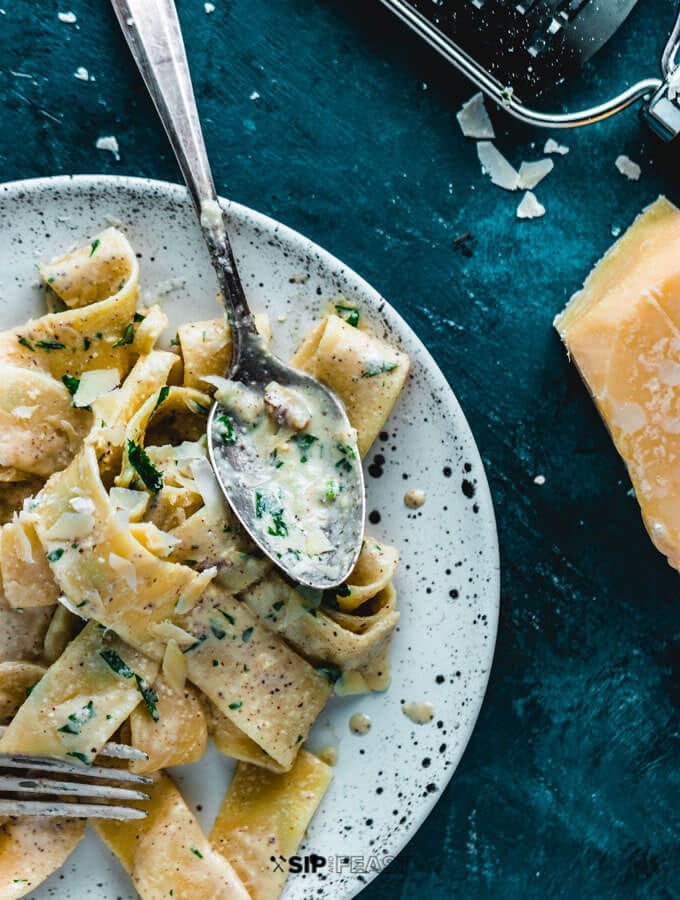 Other Great Pasta Recipes:
Drink Pairings:
Moscato which was used in the sauce would be a great choice to pair with this Italian walnut sauce, but is a bit on the sweet side. White wines such as Sauvignon Blanc or Pinot Grigio would also go nicely.
White Wine Sangria - Love this pear and apple sangria with the nutty pasta sauce.
Sparkling Thyme Cocktail - A nice sparkling lemon cocktail that pairs well.
DID YOU TRY THIS RECIPE?
Give it a star rating.
If you liked this walnut sauce recipe we'd really appreciate it if you would share it on Instagram or Facebook using #sipandfeast.
We would love to know how you did and it's nice to show others as well. Thanks!
Follow us on Instagram, Pinterest, and Facebook. Sign up to receive great recipe ideas in your inbox.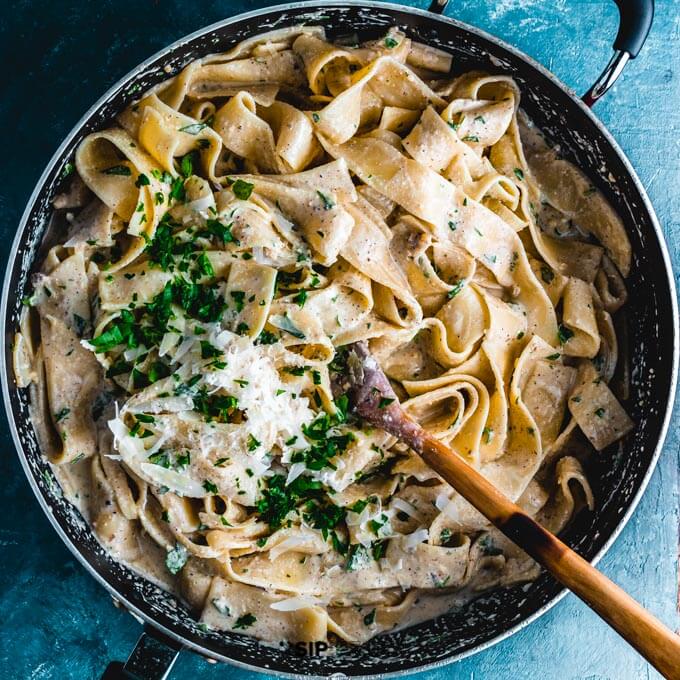 Ingredients
1

pound

pasta

2

cups

shelled walnuts

¼

cup

Moscato white wine

¼

cup

heavy cream

¼

cup

extra virgin olive oil

1

clove

garlic

¼

cup

Parmigiano Reggiano

1

cup

pasta water

¼

cup

tap water

1

tsp

kosher salt

¼

tsp

black pepper

⅛

cup

parsley
Instructions
Cook pasta in salted water to "al dente" or 1 minute less than package instructions. Reserve 1 cup of pasta water.

Blend 2 cups walnuts, ¼ cup Moscato, ¼ cup cream, ¼ cup cheese, 1 clove garlic, 1 tsp salt, ¼ tsp black pepper and ¼ cup extra virgin olive oil. If too thick add a little bit more oil and/or Tablespoons of water. Use just enough to allow the sauce to be blended smooth.

Place 2 ounces of pasta water and the pasta in a clean pan and turn heat to medium. Add the walnut sauce and stir to coat well. If too thick add a little bit more pasta water at a time to achieve a perfect consistency. Cook for 1-2 minutes.

Remove from heat and taste test. Adjust salt, pepper, and/or cheese. Add the parsley, stir and serve. Serve with more Parmigiano Reggiano and black pepper. Enjoy!
Notes
Taste test and adjust salt after combining with pasta.
Make sure to reserve plenty of pasta water as the pasta can dry out in minutes after being tossed. Pasta water is a great insurance policy!
Definitely serve with more Parmigiano Reggiano.
The sauce can be kept for up to 5 days in the refrigerator.
Nutrition
Calories:
884
kcal
|
Carbohydrates:
69
g
|
Protein:
30
g
|
Fat:
56.8
g
|
Cholesterol:
98
mg
|
Sodium:
174
mg