Braising pork chops with vinegar peppers is simply one of the best ways to cook pork chops.
They are tender from the braising and so flavorful from the white wine, cherry pepper vinegar and chicken stock sauce. Topped with vinegar peppers they make one heck of a dish.
They are real easy too! You can use hot or sweet cherry peppers. By the way, vinegar peppers or cherry peppers are the same thing. Depending on the brand you buy, they might be labeled either way.
What's The Deal With Pork And Cherry Peppers
This is a dish I have been eating my whole life. The combination of pork and pickled peppers is pretty much the perfect flavor match. Check out our Italian Potatoes With Sausage And Cherry Peppers for another classic pork and vinegar pepper combo.
If you have an Instant Pot definitely make this Italian style pulled pork recipe and top it with vinegar/cherry peppers or pepperoncini.
These peppers are extremely popular here in the northeast. We used them in the potato recipe referenced above. We also used them in this Shrimp Arrabbiata recipe and this easy Roasted Broccolini And Sausage Sheet Pan Dinner.
How To Make Italian Pork Pork Chops With Vinegar Peppers
Dry the pork chops off with paper towels and season with salt and pepper on both sides.
Picture of the vinegar or cherry peppers. These are hot as indicated on the bottle. They are about 5000 on the scoville scale. You can sometimes find sweet cherry peppers. Often they use high fructose corn syrup to take out some of the heat.
Chop 4 large cherry peppers into quarters and remove most of the seeds.
Chop 4 cloves of garlic and mince 1/4 cup fresh parsley.
Heat pan to medium-high heat and add a touch of olive oil. Sear the chops for 2-3 minutes per side. Do not crowd the chops and/or sear in batches to avoid them touching.
Set chops aside when finished searing.
Lower pan heat to medium, add 3 Tbsp of olive oil and saute the garlic. After 2 minutes add the vinegar peppers and cook for 1 minute more.
Next, turn heat to high and add 3/4 cup of white wine. After 2 minutes, add the 3/4 cup chicken stock and 1/4 cup of vinegar from the jar. Let the sauce boil for a minute.
Turn the heat down to medium-low
Add the chops into the sauce, spreading them out.
Cover and cook for 1-1 1/2 hours minimum or until tender. Make sure to turn the chops over every 30 minutes to achieve even cooking.
When the chops are finished they will be smaller and more tender. If they are not quite tender enough, feel free to cook them for another 15- 30 minutes or so. Finish by mixing the fresh parsley into the sauce.
So that is how to cook pork chops with cherry peppers. The longer the chops cook the better they will get. If most of the liquid evaporates, just add some water to the pan to keep the braising process moving along.
Depending on the type of chop used (thickness, variety, overall toughness) the cooking time can vary. If the chop cooks for too long it can fall apart, so keep that in mind. Definitely not a problem, if you like them that way.
Make sure to serve more cherry peppers and vinegar on the side. Also, some Italian bread to mop up all the pan sauce would be a great addition.
Type Of Pork To Use
Pork chops – If you can find premium chops with a good fat content they will not need to be braised as long. A standard blade chop will take over an hour to get tender though, so do keep that in mind.
Pork tenderloin – Works well by cutting 1″ thick pieces and following the recipe as is.
Ways To Cook Pork Chops And Cherry Peppers
Oven – For the most part, can be cooked the same as the stove top. Set the oven for 325f and cook for 1-1.5 hours after searing the chops. Cooking them in a lidded dutch oven would work perfectly.
Instant Pot – Sear them off in the pot first, then add the garlic to saute and finally all the ingredients. Stir it around and add the chops back in. Set to manual pressure cook for 15 minutes. When finished, let the pot naturally release for 15 minutes. The chops will be fork tender this way.
Grill – If you have access to premium chops this would be a great way to make cherry pepper pork chops. Season with salt and pepper, grill chops to 145f internal and serve either just cherry peppers and vinegar on the side or make a sauce with the same ingredients in this recipe.
Substitutions And Additions
Breaded chops – Frying the pork chops in an egg and bread crumb mixture can give great results. What's nice about this particular way is all you need is cherry peppers and vinegar. The breaded chops absorb the vinegar quite nicely.
Broccoli rabe – Serve on the side with chops. Broccoli rabe is simply one of the best vegetables to serve with this dish.
Fresh mozzarella – After the chops are finished braising turn the broiler on and in a broiler safe pan layer one chop, a few pieces of cherry peppers and a nice slice of fresh mozzarella. Broil for a couple minutes until cheese is bubbly. Serve the sauce on top.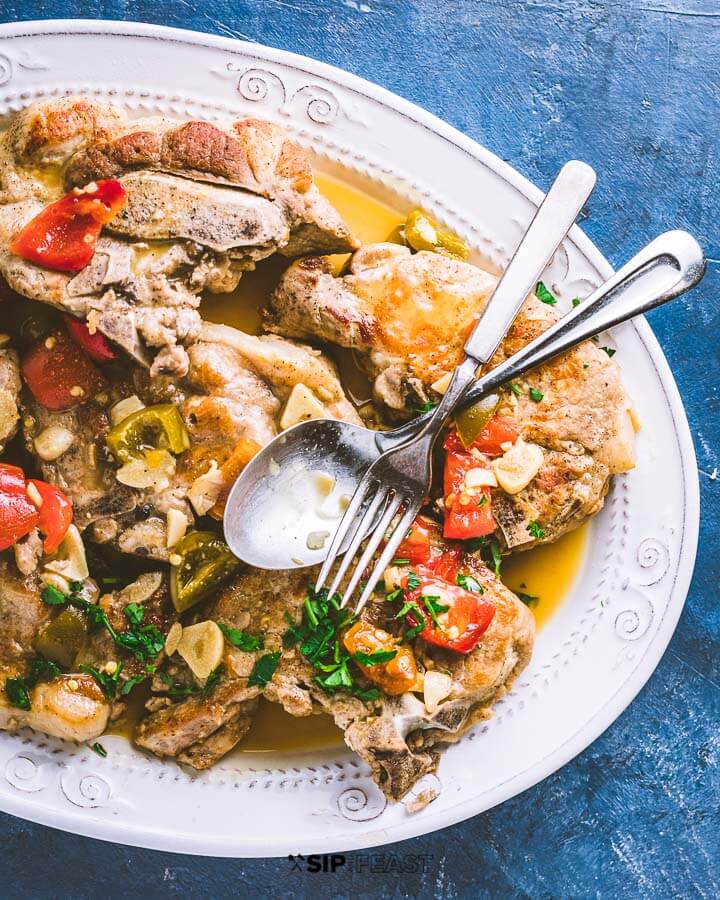 Vinegar Pork Chops Difficulty Level
On a scale of 1-5 with 1 being easy this recipe is a 3. The common problem issue will be getting the chops tender. Pork should be cooked to 145f most of the time if it's a good cut (besides pork shoulder of course). Most pork chops (unless high quality like Berkshire or other heritage breed) will be tough at 145f. If using a blade chop, braising them long enough will make them nice and tender.
Bottom line, just make sure to cook the chops long enough to get that perfect texture and tenderness!
Serve With These Side Dishes
Did You Try This Recipe?
Give it a star rating.
Please share this pork chops with vinegar peppers recipe using #sipandfeast.
We would love to know how you did and it's nice to show others as well. Thanks!
Follow us on Instagram, Pinterest, and Facebook. Sign up to receive great recipe ideas in your inbox.
Pork Chops with Vinegar Peppers
Classic pork chops with vinegar peppers in a tangy white wine, chicken stock, vinegar and garlic sauce.
Ingredients
6

1" thick

bone in pork chops

4

cloves

garlic

4

large

cherry peppers

1/4

cup

parsley

3/4

cup

dry white wine

3/4

cup

low sodium chicken stock

1/4

cup

vinegar from cherry peppers

1

tsp

kosher salt

1/2

tsp

black pepper

1/4

cup

olive oil
Instructions
Pat dry and season pork chops on both sides with total of 1 tsp kosher salt and 1/2 tsp black pepper evenly. Chop 4 cloves garlic and quarter 4 vinegar peppers removing seeds.

Heat a large pan to medium-high and sear pork chops in 1 Tbsp olive oil on both sides for 2-3 minutes. Remove chops and set aside.

Lower pan heat to medium and saute the garlic in the remaining olive oil for 2 minutes. Next, add the cherry peppers and give the pan a stir. Add the wine, stock and vinegar to the pan and turn heat to high. Bring the sauce to a boil for 2 minutes then lower heat down to medium-low.

Place all the pork chops into the sauce spreading around evenly. Cover and let simmer for 1-1 1/2 hours or until the pork is very tender. Every 30 minutes, turn the chops over to achieve even cooking.

Mix the parsley into the sauce. Serve the pork with sauce spooned over the top of each chop. Enjoy!
Notes
The chops cooking time will vary based on thickness. The longer they cook the more tender they will get. 60-90 minutes will ensure a tender chop.
If all the sauce evaporates towards the end of braising process just add a 1/2 cup of water and stir to combine.
Serve with extra vinegar and peppers on the side, along with a loaf of Italian bread for the pan drippings.
Nutrition
Calories:
363
kcal
|
Carbohydrates:
3
g
|
Protein:
30.9
g
|
Fat:
21.8
g
|
Saturated Fat:
5.9
g
|
Potassium:
46
mg
|
Sugar:
0.4
g
|
Calcium:
30
mg
|
Iron:
1.1
mg
Nutrition information is automatically calculated, so should only be used as an approximation.