Tuna Pasta (Pasta Al Tonno) is a quick, easy, and most importantly, delicious pasta dish. The whole recipe can be completed in under 30 minutes and it has only a few ingredients!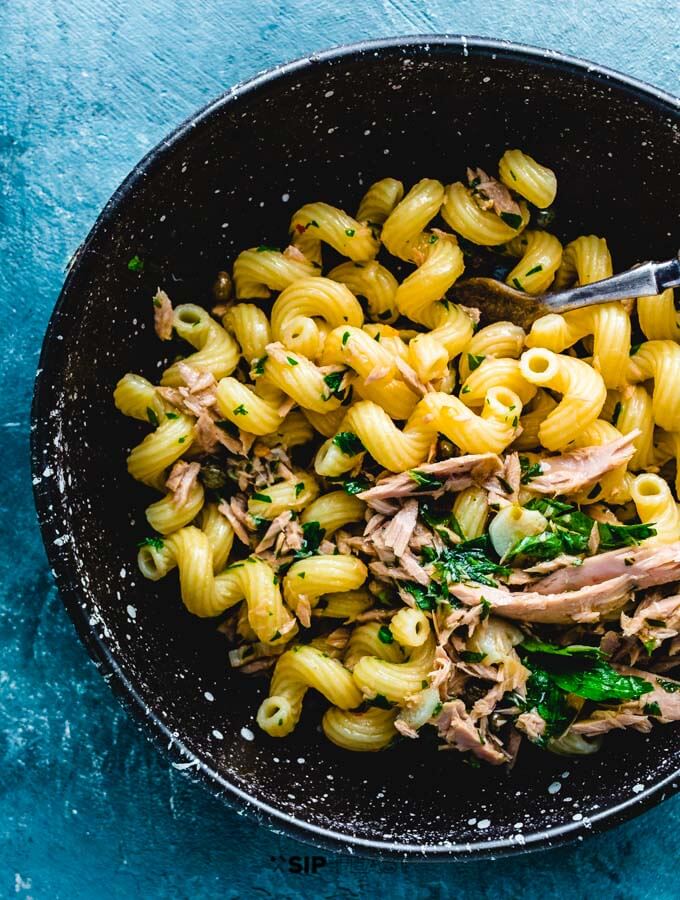 This recipe is for pasta al tonno in bianco. Basically this is the pasta in white tuna sauce. The red pasta al tonno is also great and my recipe includes olives and capers!
This bianco tuna sauce only has a few ingredients. For that reason, the quality of the ingredients is so important! I do not recommend making this with albacore tuna in water. Now, it can be done, but really the results will most likely be sub-par, and will definitely not resemble the pasta al tonno that is eaten in Italy.
Ingredients:
1 pound pasta – Use any type you like. Tuna Spaghetti is probably the most popular version. We used cavatappi in ours.
10-12 ounces yellowfin tuna in olive oil – There are many quality brands. Common ones are Genova, Tonnino, As do Mar and Ortiz. Depending on where you live, check an Italian specialty store for a larger selection.
2 Tbsp capers – Adds a nice flavor that compliments the tuna.
1/4 cup fresh parsley – Try to use fresh parsley if at all possible.
5 cloves garlic
1/2 tsp crushed red pepper – Use a lot more if you like!
1/4 olive oil – For sauteing the garlic
1/4 cup extra virgin olive oil – For finishing the tuna pasta.
salt/pepper – To taste – not much extra salt was used because of the salty capers, but definitely do not be shy and get the taste just the way you like it!
1 1/2 cups pasta water – Save a large mug of pasta water to make and thin the sauce if necessary. Most of the water will not be needed, but it's good insurance to save some if the pasta dries out before serving.
How To Make Italian Tuna Pasta
Cook pasta to "al dente" in salted (2 Tbsp kosher salt per gallon of water) water.
Chop a 1/4 cup of fresh parsley.
Remove the tuna from the jar. Remove 2 Tbsp of capers from the jar and give them a light rinse to remove some of the salt.
Slice 4-5 cloves of garlic and saute until lightly golden in a 1/4 cup of olive oil on medium heat. After the garlic turns golden, add the rinsed capers.
Add the tuna fillets into the pan and start to break them apart with the back of a wooden spoon. Also, add the crushed red pepper flakes.
Reserve 1 1/2 cups of pasta water before draining.
Add 1/2 cup of pasta water to the pan and bring to a simmer. Let the tuna cook into a sauce with the pasta water (about 2 minutes) then add the parsley and cook for 1 more minute.
Add the pasta and cook with the tuna sauce for 2 minutes until well coated. Taste test and adjust salt, pepper, and crushed red pepper levels to desired taste. Turn the heat off and add the 1/4 cup of extra virgin olive oil to the pasta. If the pasta gets a little dry before serving, add a couple ounces of pasta water to bring back that perfect consistency!
So That's How To Make Pasta With Tuna Or Tuna Spaghetti Or Any Type Of Pasta You Like…
It really doesn't matter what type of pasta you choose. The most common way we had this growing up was the spaghetti and tuna version, but so many pastas works well.
Orecchiette, penne, rigatoni and linguine are all good choices for this simple Italian recipe.
Substitutions And Additions:
Capers – Omitting them is fine. If doing so, more salt might be required.
Lemon – Lemon is a great addition too in bianco tuna sauce. Feel free to add the juice of 1 lemon and its zest as a good starting point.
Black olives – An excellent addition in both red and white pasta with tuna sauce. Use Nicoise olives if you can find them. Kalamata and oil cured black olives are both good too. 1/2 cup of pitted olives chopped up would be a good start.
Anchovies – Anchovies add a ton of flavor to many Italian seafood dishes. We use them almost always in our Linguine Alle Vongole and recommend them when looking for more of a seafood flavor! If finding good quality olive oil packed tuna fillets proves difficult, use a couple of anchovies to help improve the dish. Saute 2-3 chopped anchovy fillets along with the garlic.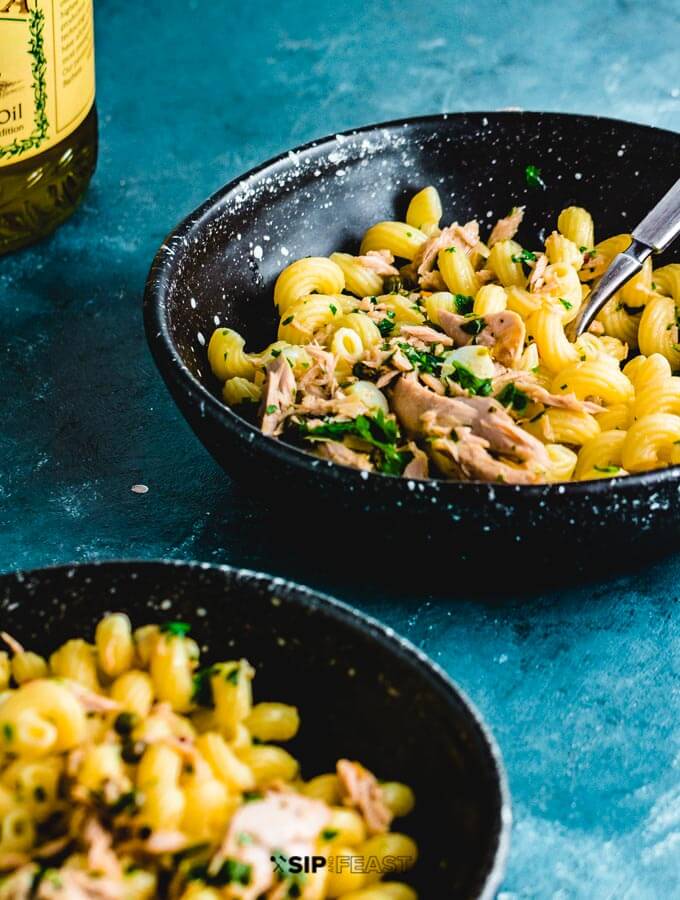 Can Tuna And Pasta Be Reheated Or Used Leftover?
It can, but it will have a more intense taste that might be a little too fishy for some people if microwaved. I love and prefer it leftover cold. Skipping the reheating process preserves the flavors and gives it a fresh, light taste. A squeeze of lemon juice and some extra virgin olive oil will make it perfect.

What Goes With Tuna Pasta:
Other Great Pasta Dishes:
DID YOU TRY THIS RECIPE?
Give it a star rating.
If you liked this pasta with tuna sauce recipe we'd really appreciate it if you would share it on Instagram or Facebook using #sipandfeast.
We would love to know how you did and it's nice to show others as well. Thanks!
Follow us on Youtube, Instagram, Pinterest, and Facebook. Share this recipe on your favorite social platform. We really do appreciate it!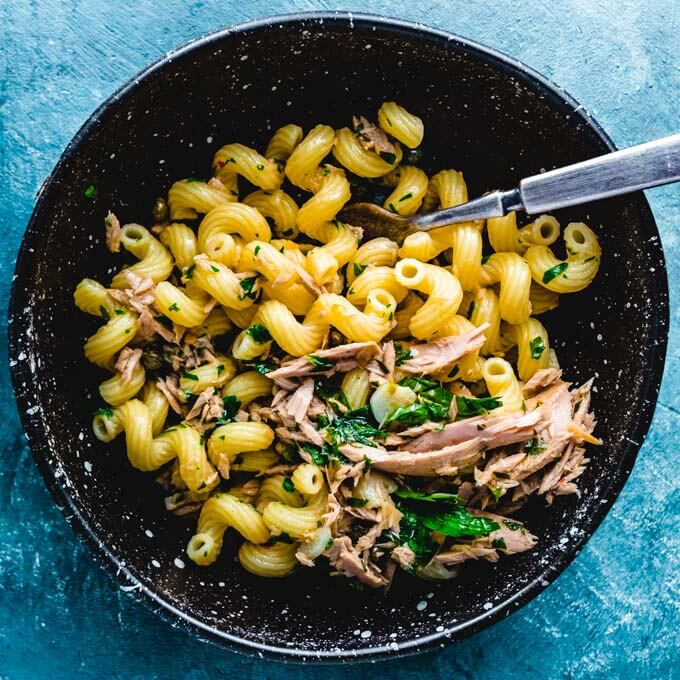 Tuna pasta is a super simple Italian recipe bursting with a ton of fresh flavor! It takes under thirty minutes to make and only has a few ingredients.
Ingredients
1

pound

pasta

10-12

ounces

canned yellowfin tuna

2

Tbsp

capers

1/4

cup

parsley

5

cloves

garlic

1/2

tsp

crushed red pepper flakes

1/4

cup

olive oil

1/4

cup

extra virgin olive oil

1 1/2

cups

pasta water
Instructions
Cook pasta to al dente in (2 Tbsp per gallon) salted water. Finely chop parsley. Slice garlic cloves and rinse 2 Tablespoons of capers to remove salt.

In large pan saute garlic until golden (about 3-4 minutes) on medium heat in a 1/4 cup of olive oil. After garlic is golden add the capers to the pan.

Next add the tuna pieces and crushed red pepper flakes to the pan. Break the tuna apart with a wooden spoon.

Reserve pasta water before draining and add half a cup of it to the pan. Bring to a simmer with the tuna and cook for 1-2 minutes. Add the parsley and cook 1 minute more.

Add the al dente pasta to the tuna sauce and toss to coat well. Cook for 1-2 minutes in the tuna sauce, then turn off the heat. Taste test and adjust salt/pepper and crushed pepper levels if required. Add the 1/4 cup of extra virgin olive oil and mix once more.

Before serving, if dry, use some of the pasta water (1 ounce at a time) to thin out the pasta and get the perfect consistency. Enjoy!
Notes
No extra salt was added due to the addition of the capers. Adjust according to personal taste.
Use the pasta water to get the sauce just right and to avoid it drying out before serving.
Yellowfin tuna fillets packed in oil are preferred, but canned albacore can be used.
Nutrition
Calories:
651
kcal
|
Carbohydrates:
62.1
g
|
Protein:
32.9
g
|
Fat:
30.3
g
|
Cholesterol:
119
mg
|
Sodium:
375
mg
Nutrition information is automatically calculated, so should only be used as an approximation.