This easy white wine sangria recipe with pears and apples is sure to be a hit in your home. Packed with all the flavors of Fall, this is the perfect drink for gatherings both large and small.
Fall has arrived and with it my cravings for ALL the things that make me think of turning foliage, hayrides, and pumpkin patches.
This is also the time of year we gather with loved ones to celebrate and give thanks for all life has offered us during the year.
Gatherings call for food and drink, and I can't think of a better way to please a crowd (large or small!) than with this super simple holiday sangria.
I first made this simple sangria recipe 7 years ago during a Fall party we hosted at our home.
I couldn't keep the punch bowl filled quickly enough! My guests loved it and a few lucky ones left with the recipe.
But I'm here today to broadly share this recipe with you - I know you'll love it as much as I do!
Top 5 reasons to make this sangria
This is quite possibly, the simplest drink recipe ever!
This is perfect for a crowd - doubling or tripling the recipe and serving from a punch bowl so your guests can help themselves - basically a set it and forget it!
It can and should be made in advance. Prepping this the night before will only enhance all those flavors.
It's chock full of autumnal flavors, like pears, apples, and cinnamon making this the quintessential holiday sangria.
It's delicious!
You'll need a few ingredients to make this Fall sangria recipe.
When making any sangria, I typically use a combo of brandy and Gran Gala or Grand Marnier.
This time around, to maximize the Fall flavors, I eliminated the brandy and used an apple-flavored vodka. I still used the Gran Gala though - I just love the way the orange liqueur enhances the flavor of the fruit.
If you don't have apple vodka, you could also use pear-flavored vodka. I wouldn't deviate much more from that though. I do think these are essential flavors in this recipe - especially if you're going for the Fall flavor.
You'll need a bottle of white wine as well (more on that in a moment).
You'll also need some fruit - apples and pears. Any type will do! Fruit juice or nectar is also needed - I use pear nectar in mine but apple cider could work well too!
Some cinnamon sticks, and if you have them, fresh cranberries!
I included fresh cranberries when I originally made this and the colors are just gorgeous!
My local grocery store didn't have any in yet and I didn't want to wait to get this recipe out there for you, hence the missing cranberries!
You'll also want to add seltzer at the end - flavored would be fine, but I used plain seltzer.
Dice the fruit, add the booze, give it a whirl, and let it sit overnight in the fridge. Before you are ready to serve, add ice and seltzer. That's it!
Best wine
So, you're not going to want to use an expensive white wine here. You'll also want to select one that's a bit on the sweeter side.
Rieslings, Moscato, and late harvest white wines tend to work well. This time around, I picked up a bottle of Pindar's Winter White.
Pindar is one of the larger wineries here on Long Island and their Winter White works especially well with the flavors in this sangria.
Process
As far as tools go, all you'll need is a knife, a spoon to mix, some measuring cups, and either a pitcher or if making for a larger crowd, a punch bowl.
Gather your ingredients.
Begin by cutting your apples and pears.
I used a combination of diced fruit as well as some slices.
Add the fruit to the bottom of the pitcher and throw in a cinnamon stick.
You could also add some other fall spices if you want - cloves and star anise would also work beautifully here.
If you're using cranberries, add those as well.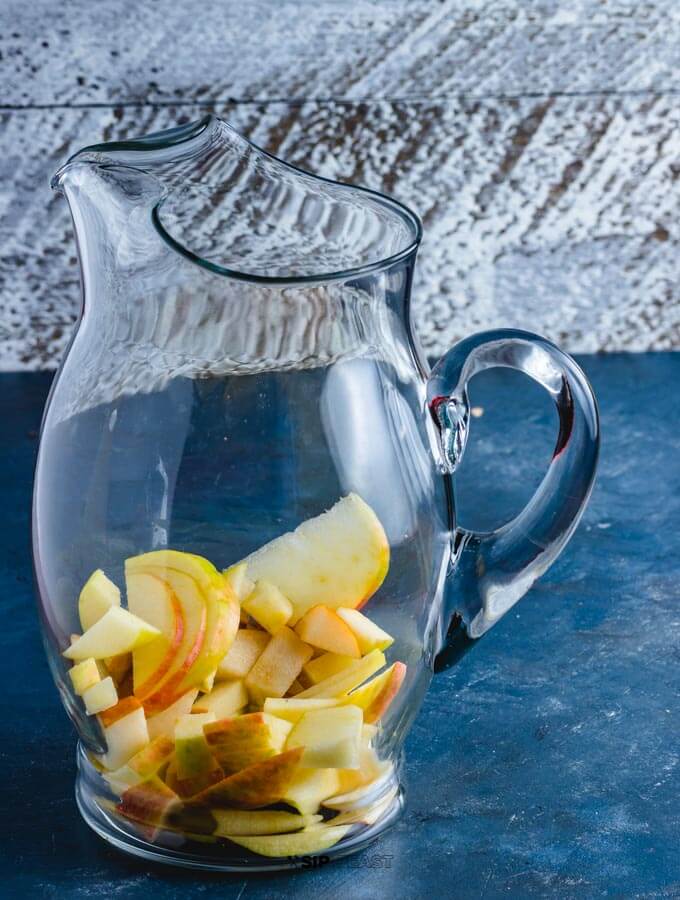 Add the apple vodka, Gran Gala, and pear nectar, giving a quick stir to coat the fruit with the booze.
Add the bottle of wine, cover and let sit in the fridge overnight.
When you're ready to serve, add some ice cubes and the seltzer. Enjoy!
More fall cocktails you'll love
These dishes pair wonderfully
If you've enjoyed this white wine sangria recipe or any recipe on this site, give it a 5-star rating and tell us about it in the comments below.
We would love to hear how you did and it's nice to show others as well. Thanks!
Follow us on YouTube, Instagram, Pinterest, and Facebook.
Ingredients
1

bottle

Semi Sweet White Wine

¼

cup

Gran Gala or Grand Marnier

2

tbsp

Apple Flavored Vodka

¼

cup

Pear Nectar

2

large

Apples

2

large

Pears

1

stick

Cinnamon

10

oz

Sparkling Water or Seltzer

2

cups

Fresh Cranberries...

Optional (not pictured)

1

cup

ice
Instructions
Dice and slice the apples and pears and toss into the bottom of a sangria pitcher.

Add the cinnamon stick, cranberries (optional) and vodka, Gran Gala and pear nectar. Give a stir to coat the fruit.

Add the entire bottle of white wine and stir.

Cover and let sit in the refrigerator overnight (if possible). If you're pressed for time, you do not need to let it sit but it will taste better if it sits for several hours.

Before serving, add ice cubes and sparkling water to pitcher. Stir and serve immediately.
Nutrition
Calories:
180
kcal
|
Carbohydrates:
15
g