Baked portobello mushrooms are great as a side dish or appetizer. Bruschetta with mozzarella is placed in each mushroom and broiled to perfection. A simple, quick, and beautiful recipe that you can make in 30 minutes!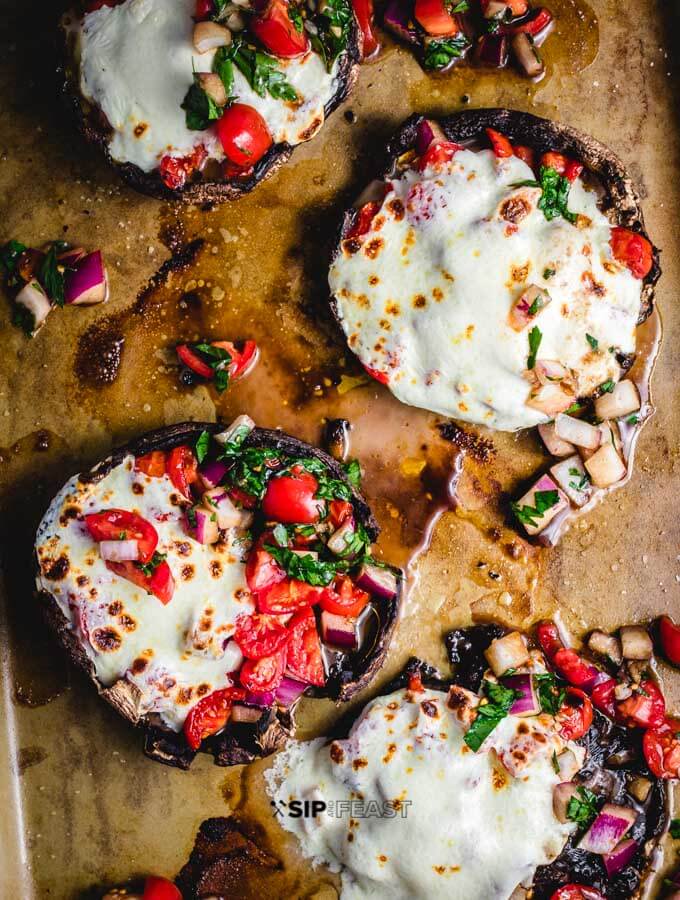 Baked Portobello Mushroom Recipe Italian Style
Everyone loves a good stuffed mushroom dish, but we've all had the usual breadcrumb, garlic, and parsley recipe.
I've got nothing against that one, but sometimes a change is in order. This baked portobello mushroom recipe delivers the change you need.
Balsamic bruschetta with mozzarella – love it. Stuffed into some portobellos – even better!
Balsamic vinegar with tomatoes is so fresh and tangy – the flavor goes amazingly well with the portobellos.
The fresh mozzarella broiled on top just makes it one level better. Honestly, even without the cheese it's good, so this could easily be adapted to a vegan dish.
They look so nice too.
One per person is plenty. No more need to stuff 50 mushrooms – what a bonus!
These are a great appetizer to pair with a big pot of Sunday Sauce with Pasta and Meatballs.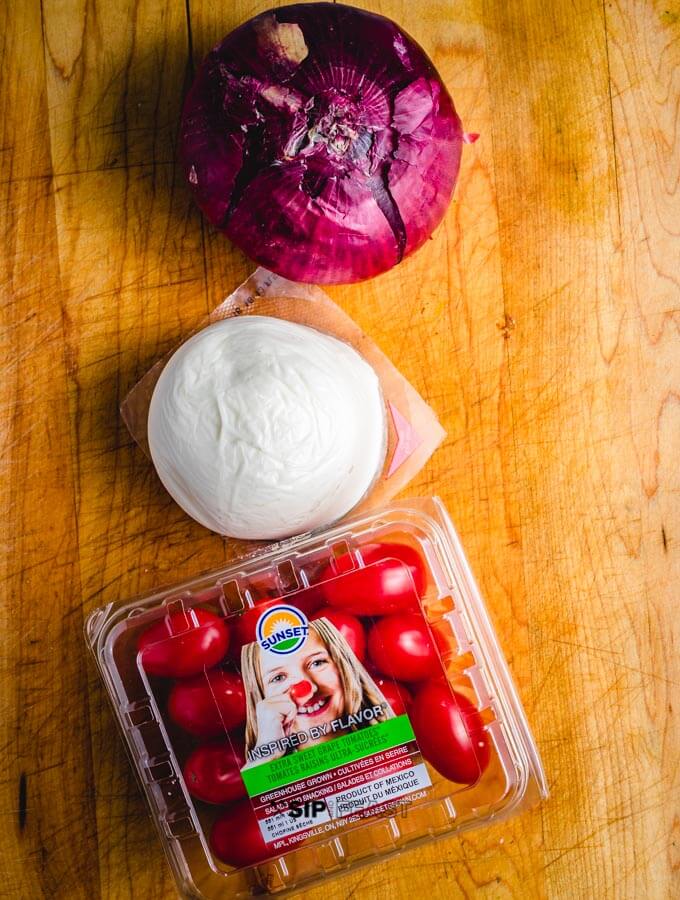 Baked Portobello Mushrooms With Bruschetta And Mozzarella Process: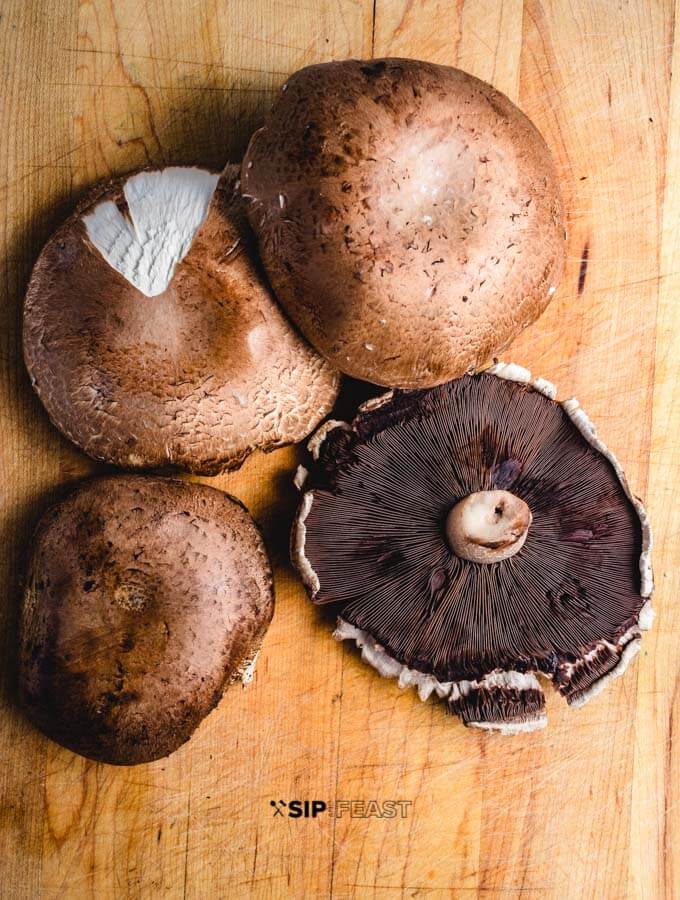 The first step is to clean the mushrooms. How do you clean a mushroom? Use a paper towel to gently wipe off any dirt. Mushrooms are grown in dirt – clean dirt – but dirt nonetheless. Use a dry towel.
Wetting them will only hurt the roasting process, since the mushrooms act like a sponge. Whenever any vegetable is roasted it's best done dry, so the oven doesn't have to work at evaporating the water.
The longer the water takes to evaporate, the longer it will be before the roasting process gets on its way, so try to keep them nice and dry.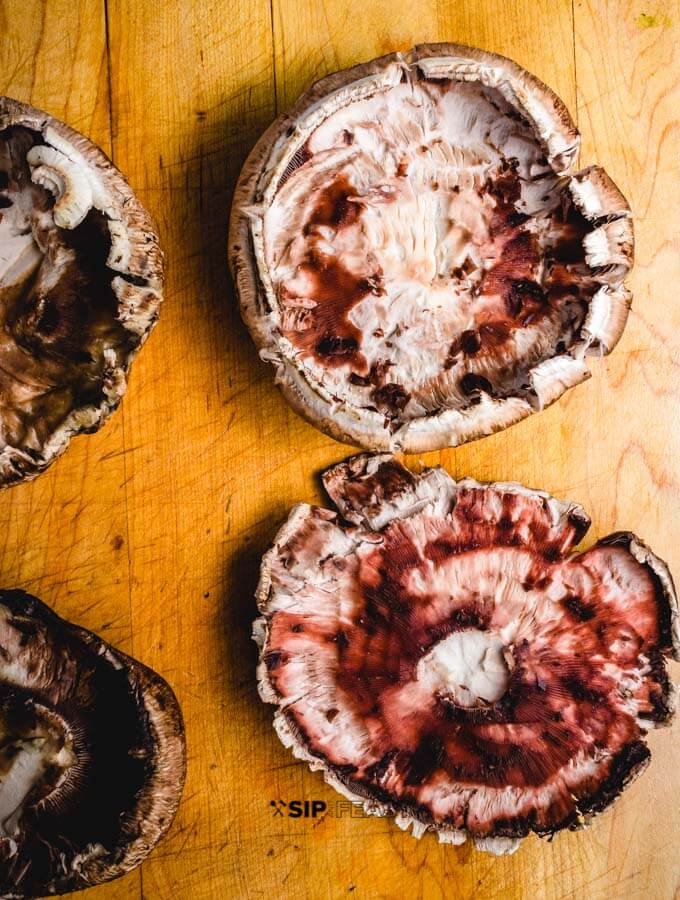 Next remove all the gills and stems of the portobello mushrooms with a small metal spoon. Try to keep the mushroom intact. As you can see I managed to screw one up. It's all good – it's cooking and nothing is ever perfect.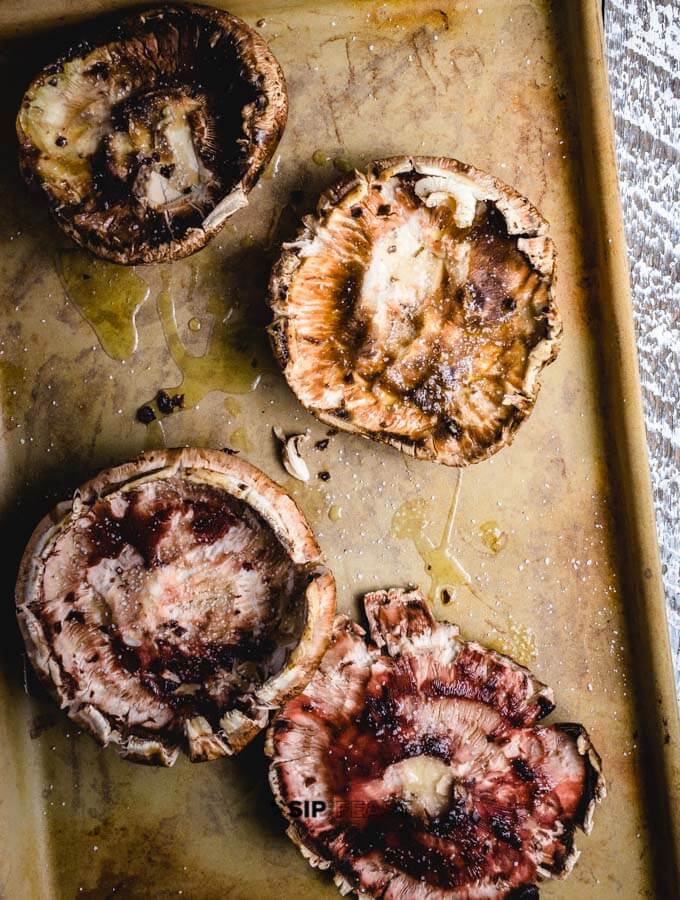 Next, place the cleaned mushrooms on a sheet pan. Season them with a couple tablespoons of olive oil and a 1/4 tsp of kosher salt and a 1/8 tsp of black pepper.
Bake the portobellos for 10 minutes at 375° on the middle oven rack.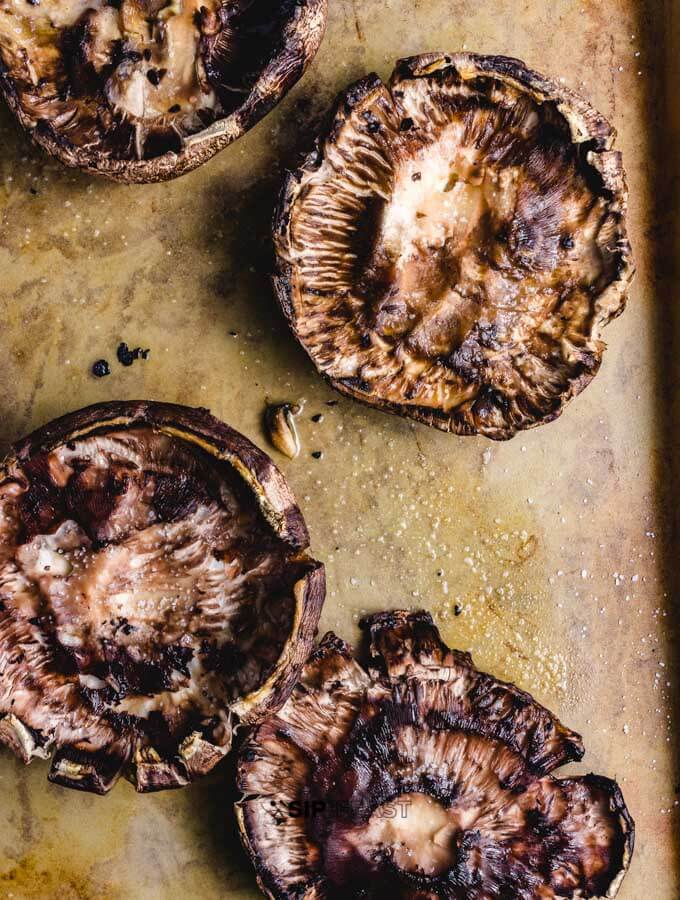 Remove them from oven and pat dry to remove any water that was released.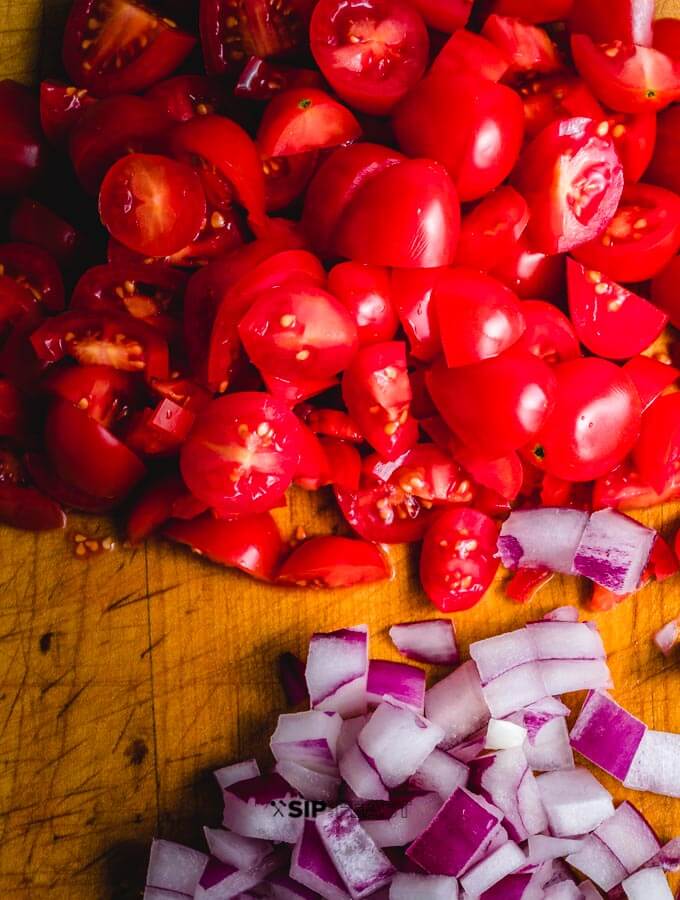 Chop up 1 pint of cherry tomatoes and a 1/2 cup of red onion. Mince 3 cloves of garlic.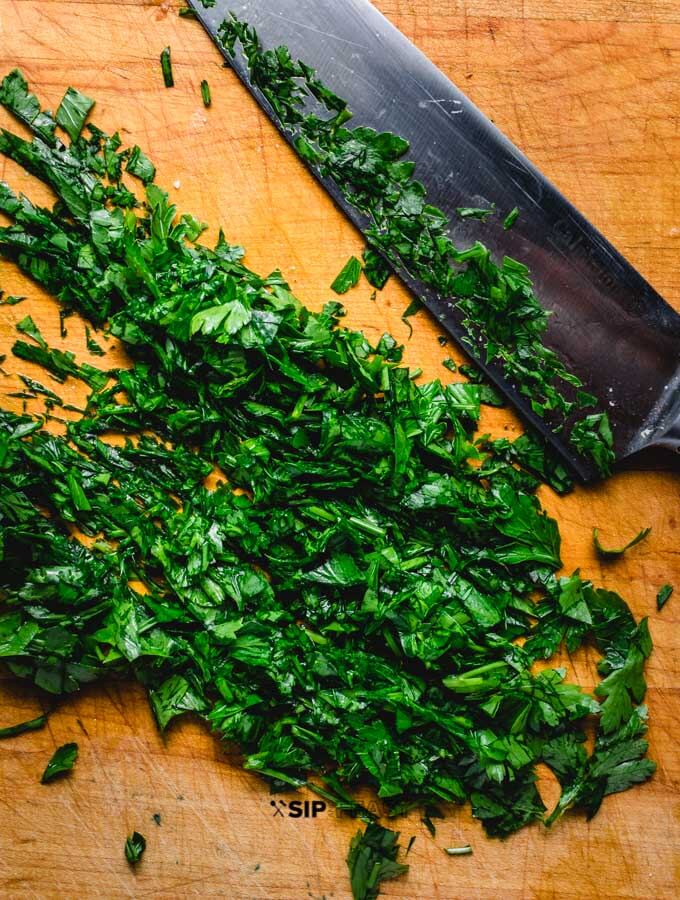 Chop roughly a 1/4 cup of parsley.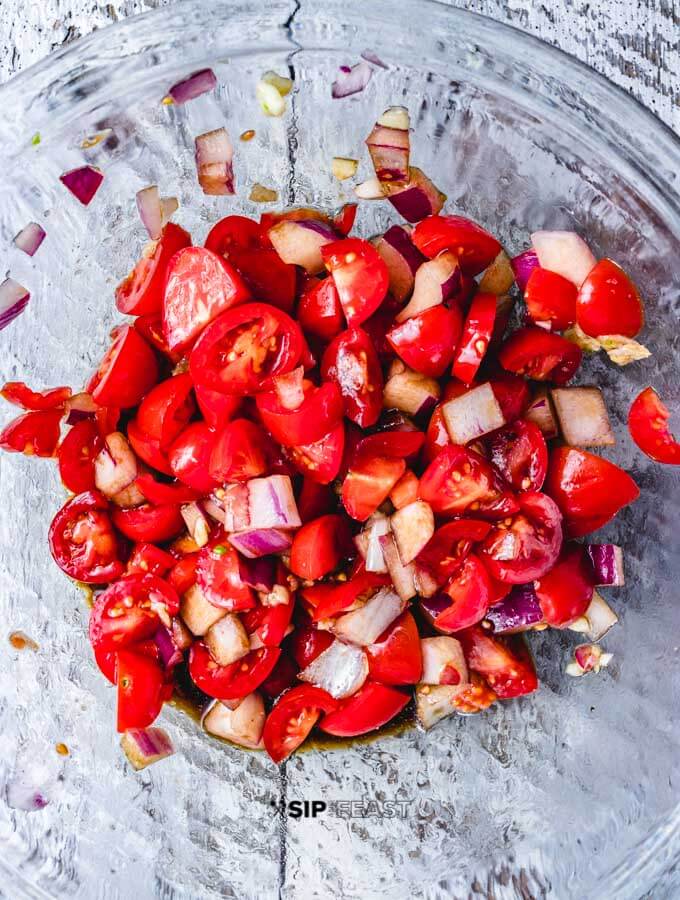 Combine the tomato, red onion, and garlic into a bowl. Add 1/4 tsp of salt and 1/8 tsp of pepper. Add 2 Tbsp of balsamic vinegar and 2 Tbsp of olive oil and mix the bruschetta together.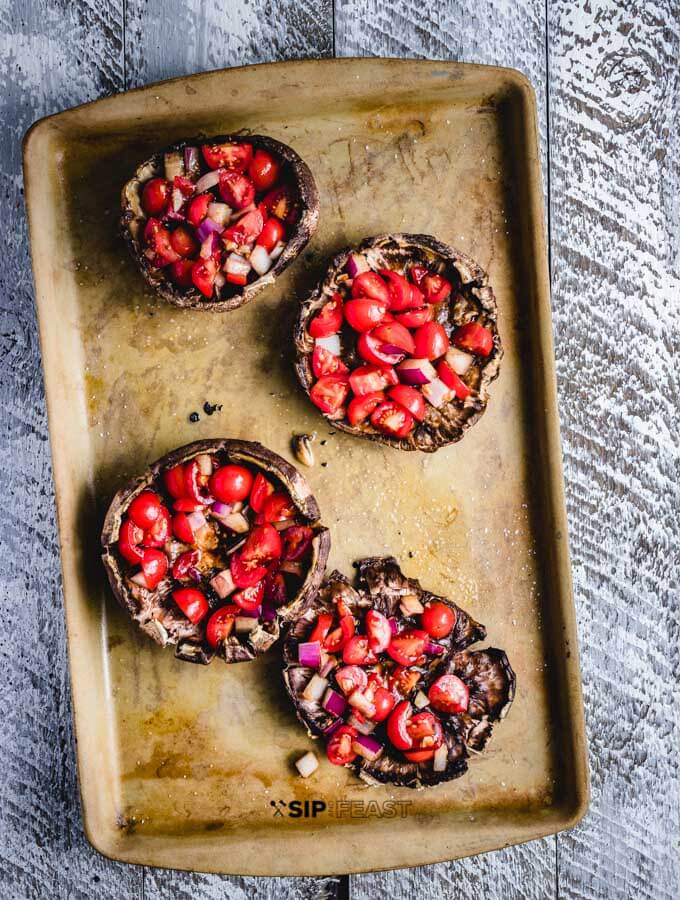 Stuff the bruschetta into the portobellos.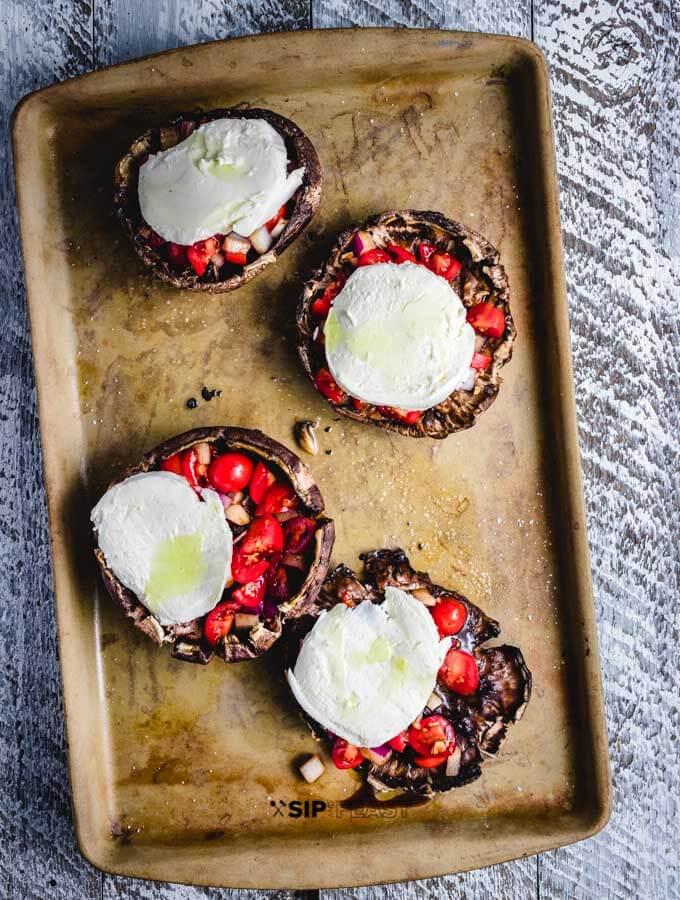 Add the fresh mozzarella slices onto the stuffed portobellos and add a drizzle of olive oil to each one. Bake for 5 minutes more.
After 5 minutes remove pan and move oven rack to highest level. Turn broiler on high.
Return mushrooms to oven and watch carefully as they broil.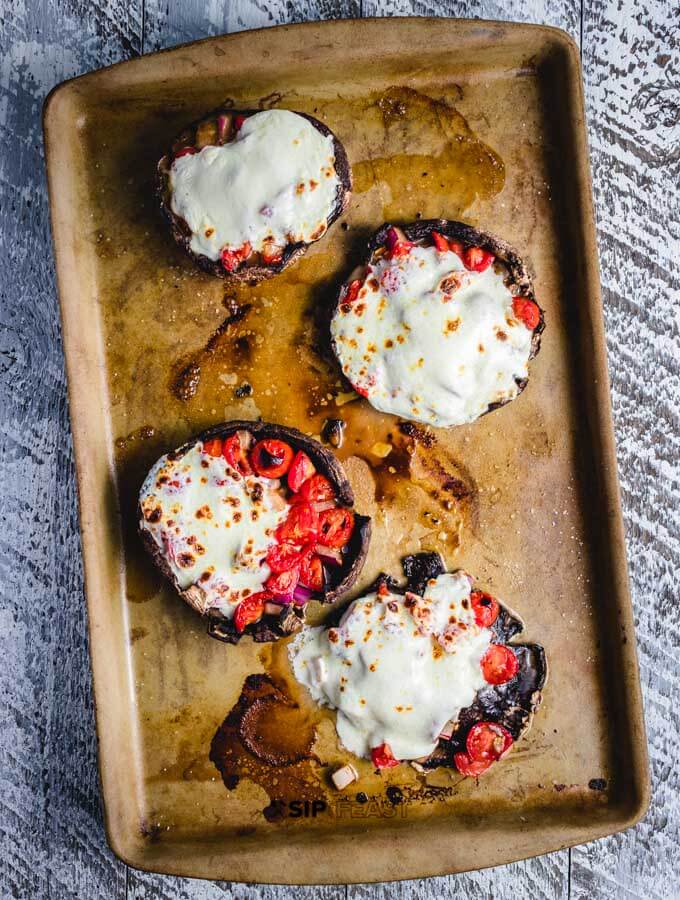 This is after 3 minutes of broiling on the top rack of my oven. Your oven will be different. The objective is to get a nice bubbly cheese mixture.
Top the portobellos with fresh parsley. A healthy drizzle of extra virgin olive oil and a little more balsamic wouldn't hurt either.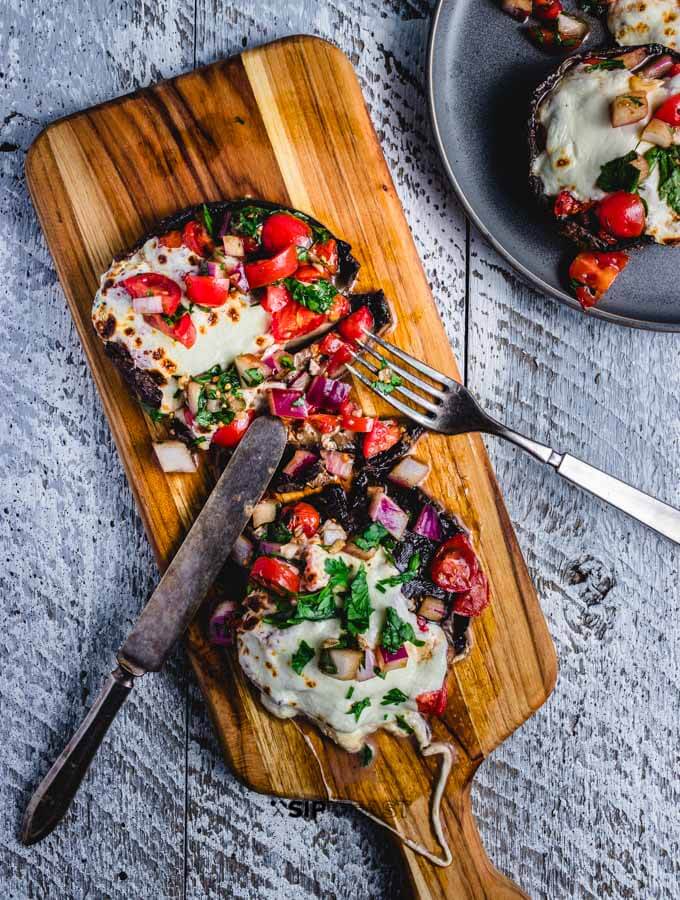 We are all about the pairings here at Sip and Feast. Check out these other Italian recipes!
Italian Food Pairings:
Drink Pairings:
Did you try this recipe?
Give it a star rating.
Baked Portobello Mushrooms With Tomato And Mozzarella
A balsamic bruschetta is stuffed into baked portobello mushrooms and finished with broiled fresh mozzarella and parsley.
Ingredients
4

large

portobello mushrooms

4

slices

fresh mozzarella

1

pint

cherry tomatoes

1/2

cup

red onion

1/4

cup

parsley

3

cloves

garlic

1/2

tsp

kosher salt

1/4

tsp

black pepper

2

Tbsp

balsamic vinegar

1/4

cup

olive oil
Instructions
Heat oven to 375f and move oven rack to middle.

Clean portobello mushrooms with a dry paper towel to remove dirt. Remove gills and stem of each mushroom with a metal spoon. Place mushrooms on baking sheet.

Season each mushroom with half the olive oil, salt, and pepper and place mushroom tray in oven to bake. Set timer for 10 minutes.

Slice fresh mozzarella into 1/4" pieces. Set aside.

Cut cherry tomatoes into quarters. Chop a 1/2 cup of red onion. Mince 3 cloves of garlic.

Combine the tomatoes, onion, and garlic in a mixing bowl. Add 2 Tbsp of olive oil and 2 Tbsp of balsamic vinegar. Add remaining salt and pepper to bowl and stir it all together.

Remove mushrooms at ten minute mark and dry off the excess moisture with a paper towel. Evenly distribute the bruschetta to each mushroom and top with one slice of the fresh mozzarella.

Drizzle a tiny bit of oil onto each mushroom and return to oven for 5 more minutes.

Chop up a 1/4 cup of fresh parsley.

Remove mushrooms again at 5 minute mark. Move oven rack to highest setting. Turn broiler to high.

Place mushrooms in oven and broil. Watch that the cheese does not burn. 2-3 minutes should get the cheese nice and bubbly.

Remove and plate the Portobello mushrooms and top with the fresh parsley. Serve balsamic and extra virgin olive oil on the table for anyone who wants more of either. Enjoy!
Nutrition
Calories:
180
kcal
|
Carbohydrates:
14
g
|
Protein:
10
g
|
Fat:
11
g
|
Sodium:
350
mg
Nutrition information is automatically calculated, so should only be used as an approximation.
Please share this stuffed portobello mushroom recipe on Instagram or Facebook using #sipandfeast, to let us know how you did and to show others as well. Thanks!
Follow us on Instagram, Pinterest, and Facebook. Sign up to receive great recipe ideas in your inbox.