The blackberry bramble is a refreshing gin-based cocktail infused with flavors of blackberry and lemon. Our version combines blueberry syrup, crème de mûre, fresh lemon juice, and gin to form a cocktail whose flavors are perfect for spring and summer sipping, but whose color has just the right spookiness factor for the days leading up to Halloween.
The first time I laid eyes on the Bramble, I immediately thought it would make the perfect cocktail for a Halloween party.
The drizzle of purple-black crème de mûre amidst the otherwise colorless drink conjured some vivid images: creepy science experiment, a witch's concoction, or even something in the vampiric vein (pun intended).
And since I like to add my own twist to the classic cocktails, my mind instantly went to the bottle of blueberry syrup in my pantry that I've been saving for a rainy day.
And so our version of the Bramble was born.
What is a Bramble?
Merriam-Webster defines a bramble as "any of a genus of usually prickly shrubs of the rose family including the raspberries and blackberries".
This aptly named drink was originally created in the 1980s in London by Dick Bradsell who had wanted to create a drink that invoked cherished childhood memories of blackberrying amidst the brambles on the Isle of Wight.
I just love it when there is a story to go with a cocktail.
What is crème de mûre?
In French, mûre translates to blackberry. Crème de mûre is a blackberry liqueur that is similar to crème de cassis, which is made from black currant and used in a variety of cocktails.
Neither of these liqueurs contain actual cream, however.
If you're not able to find crème de mûre in your local liquor store, you can make a homemade version. There are various sources online that can help guide you through the process, such as this one from the BBC.
You can also substitute a standard blackberry liqueur or Chambord for the crème de mûre.
How to make the Blackberry Bramble
Note: The classic version combines gin, fresh lemon juice, simple syrup, and crème de mûre.
Our version is tweaked ever so slightly: we skipped the simple syrup and went straight for the full-on flavor of Stonewall Kitchen's Wild Maine blueberry syrup made in one of our favorite vacation spots, York, Maine.
Lucky for us all, Stonewall Kitchen's products are sold in stores in most parts of the US. If you aren't able to find it, you can certainly use another brand of blueberry syrup or you can simply just use simple syrup. Either way, the drink will be incredible!
First, gather your ingredients. You will need gin, freshly squeezed lemon juice, crème de mûre, blueberry syrup, crushed ice for your glass, plus more ice for your cocktail shaker, and a few blackberries for garnish.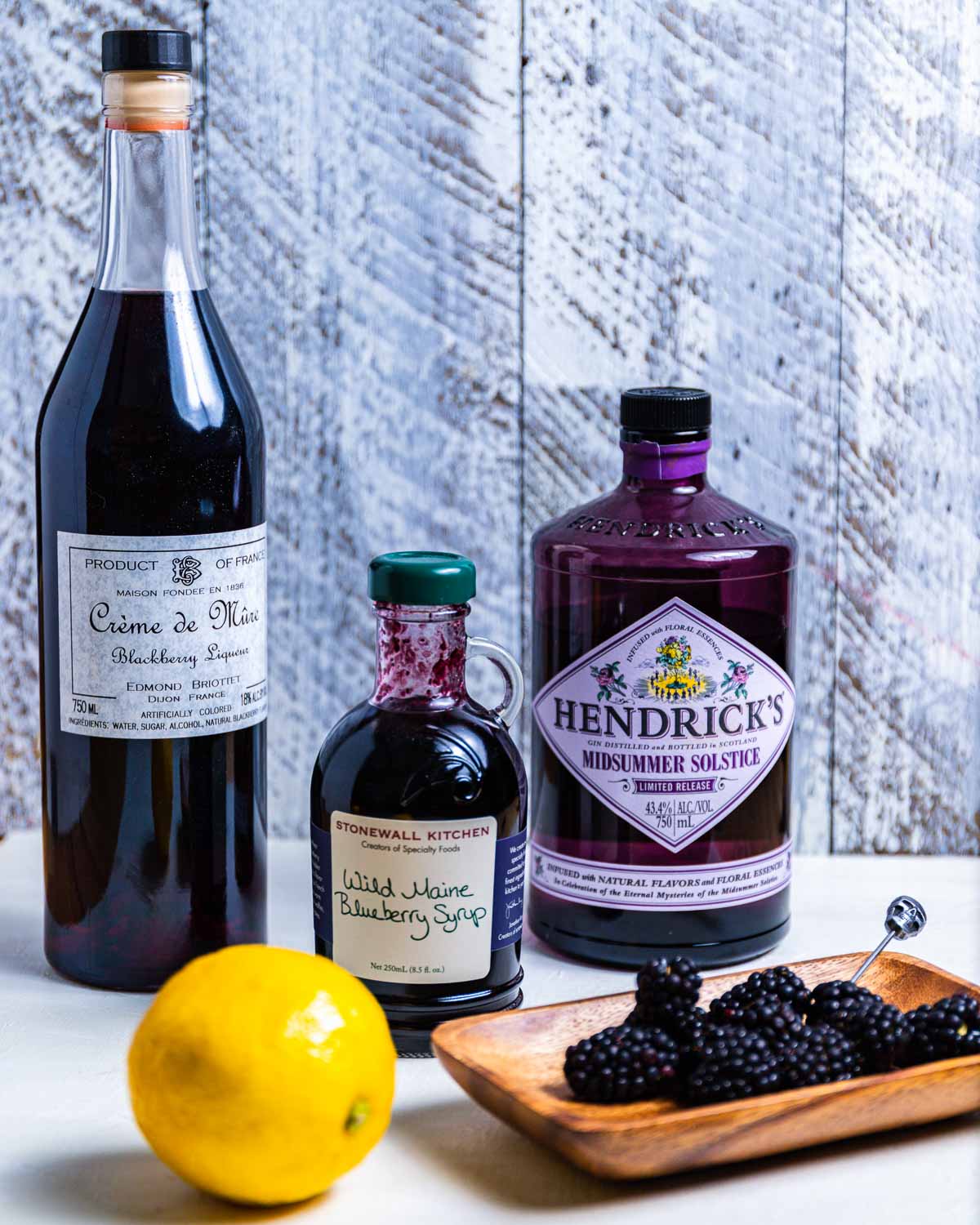 Begin by filling a rocks glass with crushed ice.
Then, combine the gin and lemon juice in a cocktail shaker giving it a quick shake before pouring over the crushed ice.
Next, drizzle the crème de mûre over the back of a bar spoon and over the crushed ice.
Repeat with the blueberry syrup. This will create a marbling effect as the syrup is placed unevenly throughout the drink.
Finally, add your blackberry garnish.
We chose a skull skewer since it's October, but use any skewer you'd like, or none at all.
You can also add a lemon slice, or even a sprig of thyme, depending on your mood!
Other Gin-Based Cocktails
If you're a gin lover, be sure to check out some of our favorites like the Juliet and Romeo cocktail which pairs the gin with lime, cucumber, mint, and just a bit of rosewater, or the Angelo Azzuro, a sophisticated Italian cocktail that combines gin, triple sec, and Blue Curacao.
And of course, there are the classics like the Negroni and the Olive Martini.
If you've enjoyed this Blackberry Bramble or any recipe on this site please let us know in the comments. We would love to hear how you did and it's nice to show others as well. Thanks!
Follow us on Youtube, Instagram, Pinterest, and Facebook. Share this recipe on your favorite social platform. We really do appreciate it!
The Blackberry Bramble is a refreshing cocktail that combines gin, fresh lemon juice, crème de mûre, and blueberry syrup.
Ingredients
2

ounces

gin

1

ounce

crème de mûre

1

ounce

lemon juice

.5

ounce

blueberry syrup

1

cup

crushed ice

plus more for your shaker

3

whole

blackberries

for your garnish
Instructions
Fill a rocks glass with crushed ice.

To a cocktail shaker, add additional ice, gin, and lemon juice.

Shake quickly and pour over the crushed ice in the rocks glass.

Drizzle the crème de mûre over the back of a bar spoon to achieve a marbled effect.

Drizzle the blueberry syrup over the back of a bar spoon to achieve the same effect.

Garnish with blackberries and serve immediately.
Notes
You can substitute blackberry liqueur or Chambord for crème de mûre.
The classic version uses simple syrup instead of blueberry syrup. If you choose the classic version, add the simple syrup to the shaker with the gin and lemon juice. The simple syrup does not need to be drizzled.
We used blackberries for our garnish, but feel free to be creative here - blueberries, a lemon peel, or even a sprig of thyme would all be great additions to garnishes.
If you don't have a bar spoon, you can use the back of any spoon for these purposes.
Nutrition
Calories:
238
kcal
|
Carbohydrates:
12.5
g
|
Protein:
0.2
g
|
Fat:
0.2
g
|
Saturated Fat:
0.2
g
|
Sodium:
17
mg
|
Potassium:
44
mg
|
Fiber:
0.1
g
|
Sugar:
0.6
g
|
Calcium:
5
mg
Nutrition information is automatically calculated, so should only be used as an approximation.