This grilled fennel salad is the perfect summer dish and it's really simple to make. It goes particularly well with grilled meats. Prepping this one is easy, but we'll show you how to cut the fennel and get it ready for the grill in the step-by-step photos below.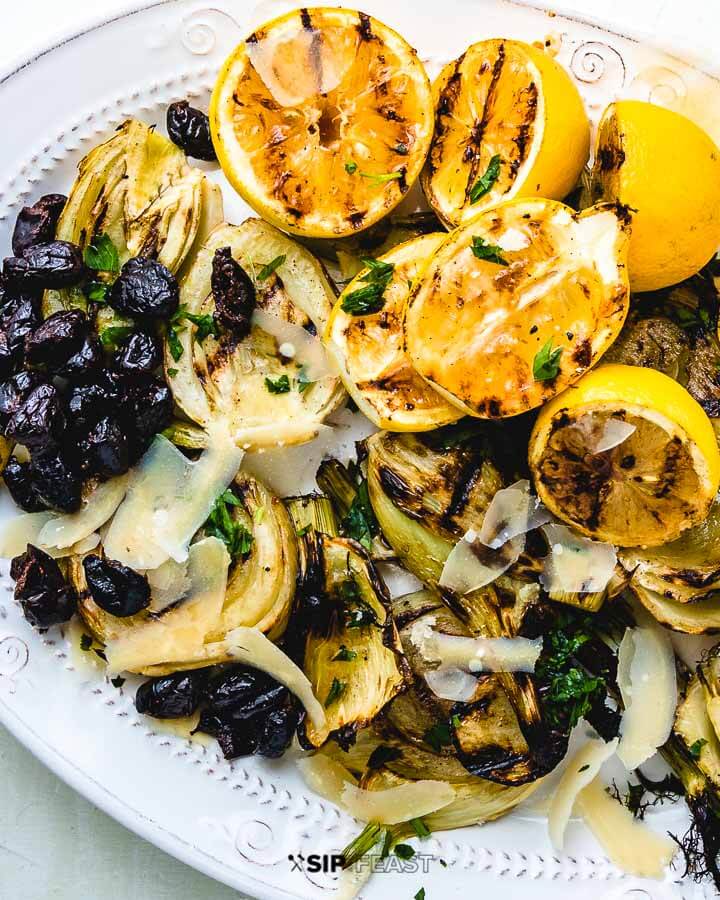 Fennel is a versatile ingredient. It can be cooked like we'll be preparing it in this recipe or use it cold for a delicious orange fennel salad.
For this Italian fennel salad, you will need fennel, oil-cured black olives, lemons, parmesan cheese (use Parmigiano Reggiano), regular and extra virgin olive oil, salt, pepper, and parsley.
Down below we'll discuss options and substitutions, but for now on to the recipe.
How to make grilled fennel salad
Ingredients shown: lemons, fennel, block of Parmigiano Reggiano, and a small bowl of oil-cured black olives. Rinsing the olives under cold water will remove some of the salt.
Begin by cutting off the stalks of the fennel like shown. The fronds (green ends that look like dill) can be saved for a garnish or they can be used in other salads.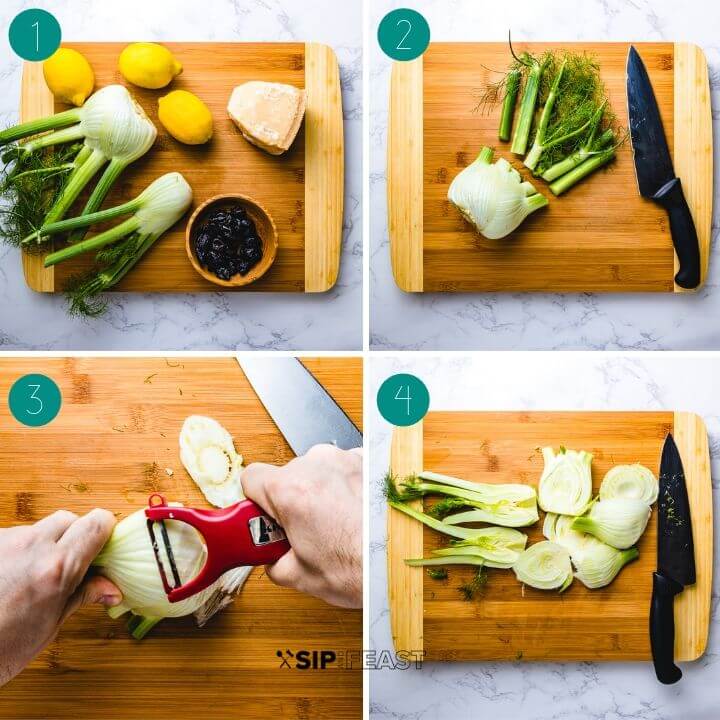 Cut off the very bottom of the fennel and with a vegetable peeler shave off any brown ends or bad spots.
Cut the fennel into ½" thick slices.
Place the cut fennel in a bag or bowl and toss with a ¼ cup olive oil and 1 tsp of kosher salt and ¼ tsp of black pepper.
Grill the fennel over medium to medium-high heat until well charred on both sides. If needed, baste a touch more olive oil onto the pieces to avoid sticking.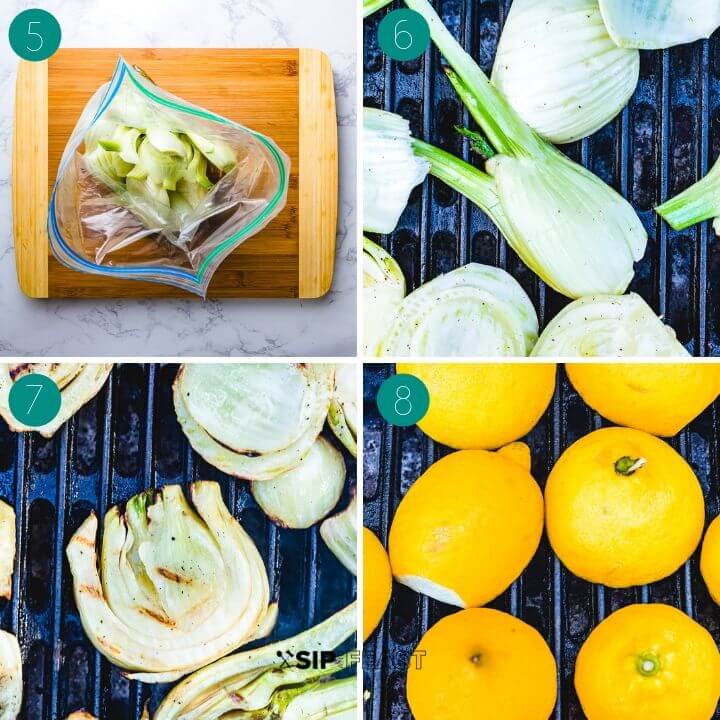 After about 10 minutes, remove the fennel into a large platter.
Grill the lemons for a couple of minutes until they're nicely charred as well.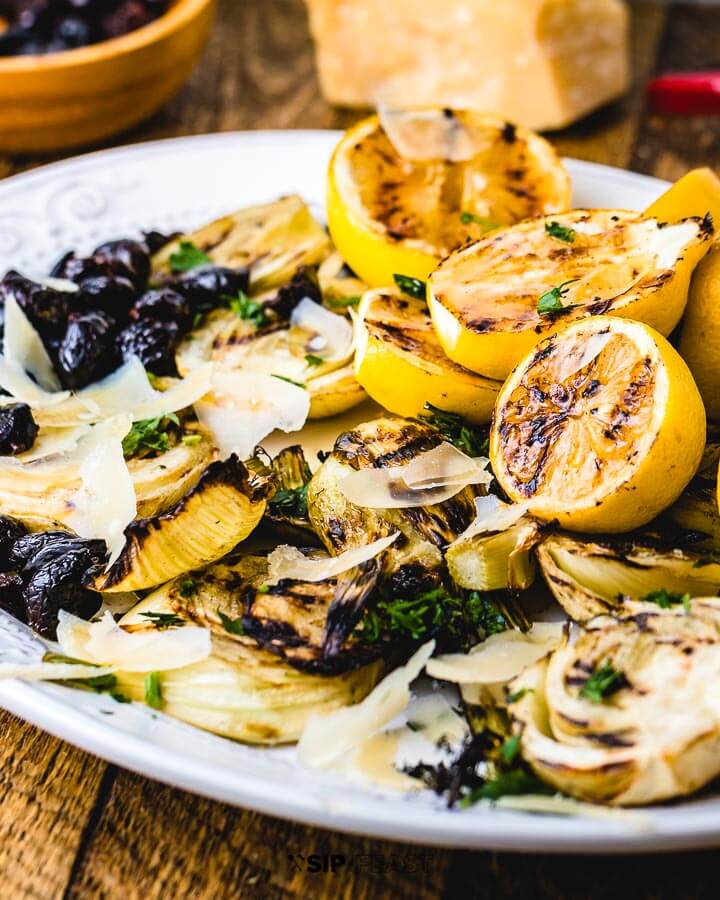 Shave a nice amount of cheese all over the salad. Sprinkle the grilled fennel with the oil-cured black olives and drizzle a ¼ cup of extra virgin olive oil all over. Finally, add a touch of fresh parsley and a sprinkle of coarse sea salt.
All these flavors go absolutely perfectly together. Grill enough lemons so everyone gets one to squeeze on top of their portion. Grilling lemons makes them extra juicy and delicious!
How to prepare and cut fennel for grilling
Trim the stalks. Save the fronds for salads or garnish.
Shave off any brown spots with a vegetable peeler - often not necessary.
Trim a ¼" off the bottom and slice the fennel into ½" thick pieces for grilling.
For salads and other uses, fennel can be diced or shaved with tools such as a veggie peeler or mandolin.
The fennel core, which is sometimes removed, is perfectly edible. In fact, the whole fennel is perfectly edible.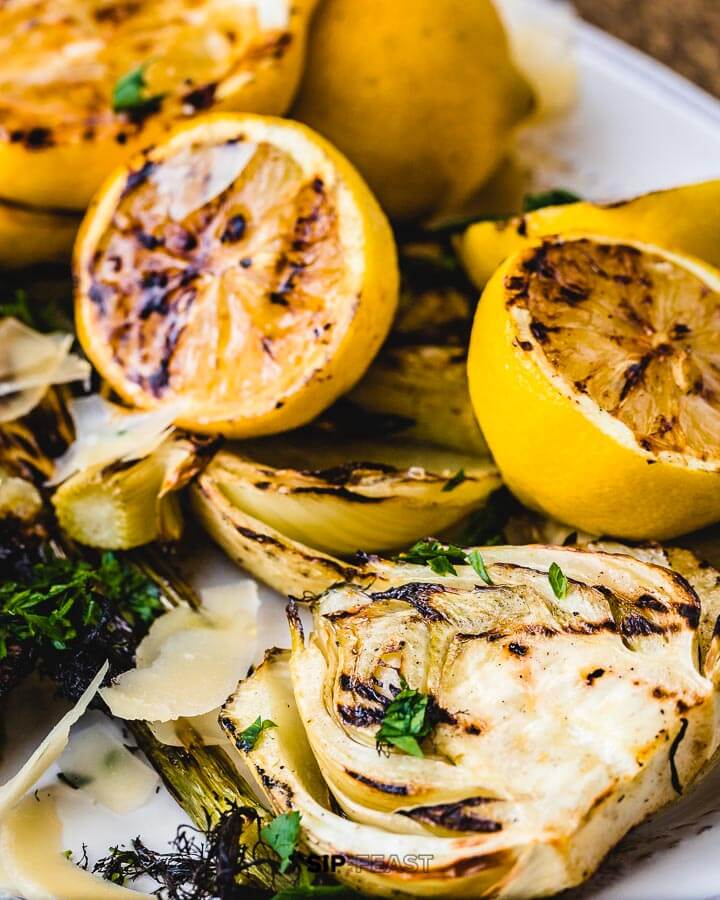 What does fennel taste like
Fennel has a licorice and anise taste.
It's delicious raw or cooked. When raw, use it for salads where a crunchy texture is desired. Cooked, the fennel will soften dramatically but retain the wonderful licorice flavor.
Substitutions and additions
capers - Add 1-2 Tbsp of rinsed capers on top of the salad.
red roasted peppers - Adds a punch of color to the dish and complements the grilled fennel quite well.
cheese - Plenty of other cheeses such as Grana Padano, Pecorino Romano, and feta can be used, each giving their own unique taste. Alternatively, remove the cheese for an awesome vegan side dish.
anchovies - If you're a fan of our other recipes you know I love anchovies. Not to sound like a broken record, but they would work well here as well. Use 2 anchovies, minced, and mix with the extra virgin olive oil. Spoon that on top of the salad for an amazing kick!
herbs - Fresh basil and/or thyme would work wonderfully.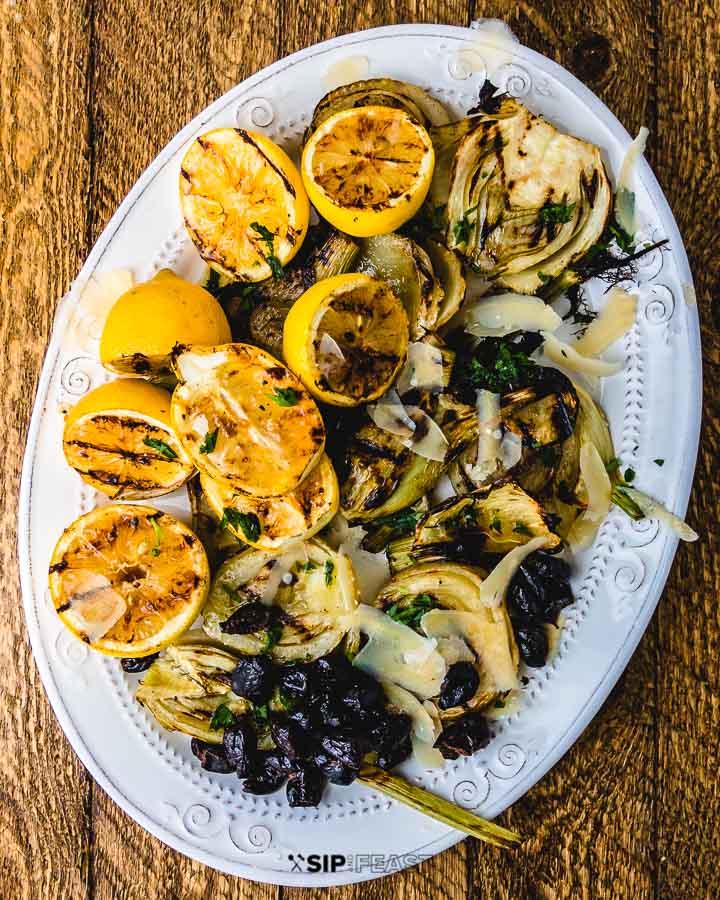 More Italian salads
If you like this Italian grilled fennel salad give it a star rating and a share!
We would love to know how you did and it's nice to show others as well. Thanks!
Follow us on Instagram, Pinterest, and Facebook. Sign up to receive great recipe ideas in your inbox.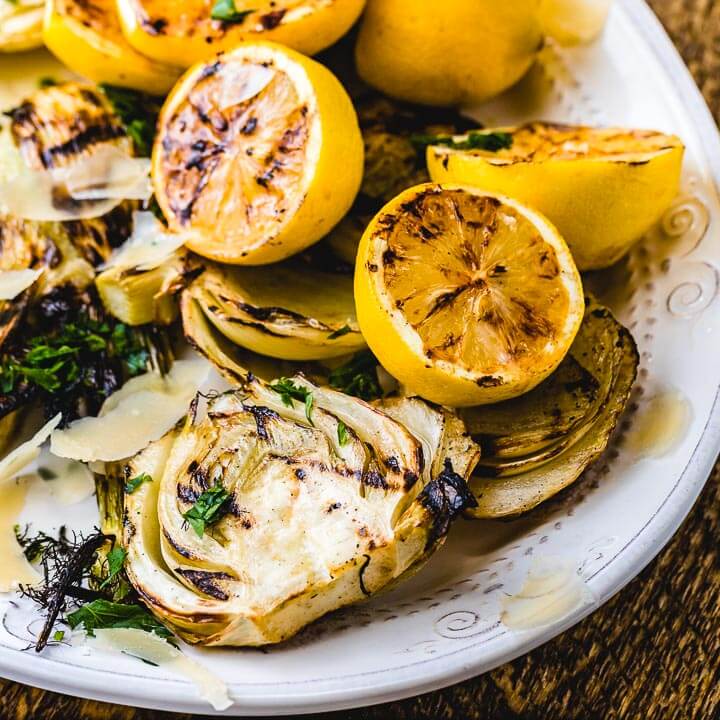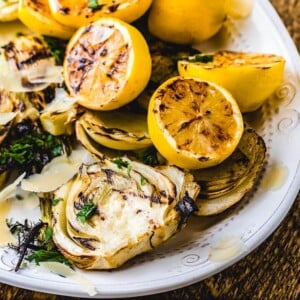 Ingredients
2

medium

fennel bulbs

sliced into ~½" pieces

4

large

lemons

halved

1

block

Parmigiano Reggiano

shaved

¼

cup

olive oil

¼

cup

extra virgin olive oil

¼

cup

oil-cured olives

pitted

1

tsp

kosher salt

¼

tsp

black pepper

¼

cup

parsley
Instructions
Cut off the stalks of the fennel. With a vegetable peeler, remove any brown spots, then cut off the bottom ¼" of the fennel. Cut the fennel into ½" thick slices.

Toss the fennel with a ¼ cup olive oil, 1 tsp kosher salt and ¼ tsp black pepper. Chop a ¼ cup of fresh parsley and cut the lemons in half.

Grill the fennel for 5 minutes per side over medium to medium-high heat until nicely charred. Grill the lemon halves (flesh side down) until nicely charred as well (about 3- 5 minutes).

Arrange the fennel and lemons in a large platter. Sprinkle the ¼ cup of oil-cured olives on top. Shave a healthy amount of the Parmigiano Reggiano onto the salad. Drizzle a ¼ or more of the extra virgin olive oil and sprinkle with the fresh parsley. Taste test and if desired add a touch of coarse sea salt to finish. Enjoy!
Notes
Oil-cured olives are quite salty. Rinsing them in a strainer will remove some of their salt.
The entire fennel bulb is edible, but the recipe uses the bigger cut pieces of the bulb.
Good quality parmesan or Grana Padano can be substituted for the Parmigiano Reggiano.
Nutrition
Calories:
297
kcal
|
Carbohydrates:
9
g
|
Protein:
5.5
g
|
Fat:
28.8
g
|
Saturated Fat:
5.6
g
|
Cholesterol:
8
mg
|
Sodium:
728
mg
|
Potassium:
485
mg
|
Fiber:
3.7
g
|
Calcium:
140
mg
|
Iron:
0.9
mg