Linguine Aglio e Olio, aka garlic and oil, is one of the simplest of all Italian pastas, containing only garlic, olive oil, fresh parsley, red pepper flakes, pasta, and pasta water. But don't let the simplicity fool you – this is a comforting dish that is full of flavor and can be on the table in the time it takes you to boil the pasta.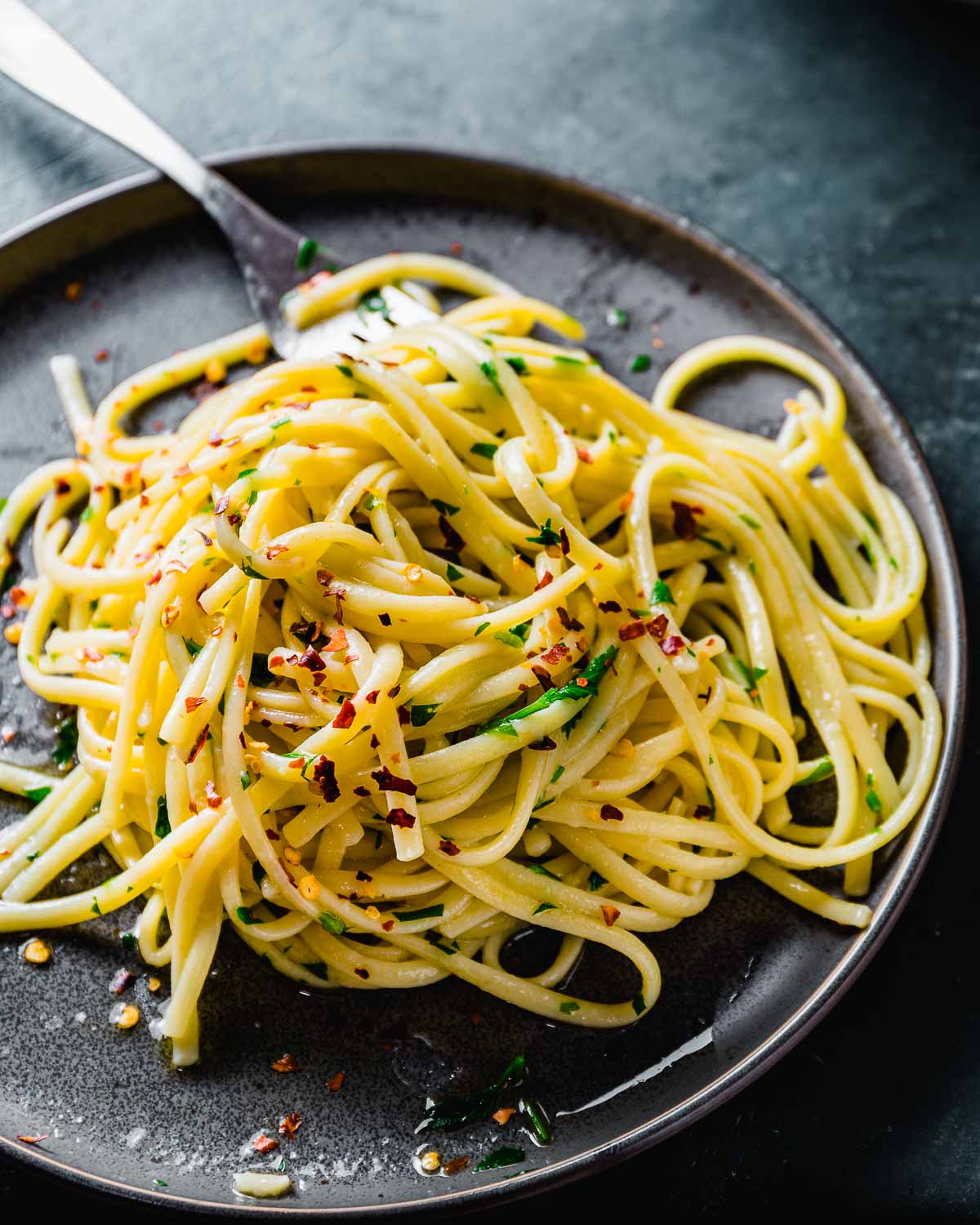 Aglio e Olio literally translates to "garlic and oil" in Italian and truly, you need not much more to make this dish.
Red chili flakes and fresh parsley help complete this dish, along with a healthy dose of pasta water, but the garlic and the oil are the true stars.
It is beloved by many Italian-Americans and is super easy on your wallet.
In fact, this dish costs less than $6 to make and can easily feed a family of four.
Linguine aglio e olio: my weeknight savior
It's a Wednesday, hump day, if you will, and we still have a few days to go until the weekend.
By the middle of the week, I'm usually ready to just make something simple and call it a day!
Linguine Aglio e Olio, aka Linguine with garlic and oil, is almost always the answer to "I'm not in the mood to cook, I don't want to order food – what should I make?".
This may just be the King, or Queen, of easy weeknight meals dating back to my childhood! Since I was a kid, I remember my grandma or my mom making this dish at least once per week. It never disappointed.
Some of my other easy weeknight go-to dishes include rigatoni alla gricia, chicken with tomatoes and capers, and pasta con broccoli.
In fact, pasta con broccoli is pretty much aglio e olio plus broccoli, so if you can make one, you can make both!
How to make it
Each number corresponds to the numbered written steps below.
Fill a pot with cold water and put it on the stove to boil. While you're waiting for the water to boil, slice or mince the garlic, depending on your preference.
Run your knife through the fresh parsley and give it a good mince.
Once the water is boiling, add salt (2 tablespoons kosher salt per gallon of water). Then, add your pasta and give it a mix for 30 seconds to help prevent sticking.
Begin to saute the garlic in olive oil until lightly golden.
Once the garlic is golden, add the red pepper flakes and cook for another 30 seconds.
Add a ladle of your pasta water to the pan, forming a sauce. Be sure to reserve extra pasta water as you may need more at the end.
Once your pasta is al dente, remove from the water and add to the pan with the garlic, olive oil, and red pepper flakes. Begin to mix it around to help emulsify and thicken the sauce. If you feel comfortable flipping the pasta, do it now. This will help emulsify the sauce.
Remove pan from the heat and add your parsley, topping with additional extra virgin olive oil. Taste test and add salt to taste. If you like, serve with freshly grated Parmigiano Reggiano, or Pecorino Romano.
Variations
Since I make this pretty frequently, sometimes I change it up to keep things exciting. Some of my favorites are:
Anchovies – to add some umami flavor to this dish, add either a squeeze of anchovy paste, or a filet or two (mash with the back of knife) of canned anchovies to the garlic when you are sauteeing.
Lemon – I love adding lemon to linguine aglio e olio as it adds another dimension. Use the juice and the zest!
Olives – Occasionally, I will toss a few olives into this Italian classic. I love the saltiness of olives and they really help enhance the dish.
What type of oil for aglio e olio?
Since the ingredients in this dish are minimal, it's important to use the best quality ingredients that are available to you.
For aglio e olio, I like to use extra virgin olive oil.
Another more economical option would be to use regular olive oil for sauteing the garlic, and then finish the dish with the extra virgin. I prepared it on YouTube in this manner.
I would advise against using any other oil for this dish.
The flavor in the olive oil is an important, and irreplaceable, component.

More easy pasta recipes
If you've enjoyed this linguine aglio e olio recipe or any recipe on this site, give it a 5-star rating and leave a review.
Some people learn by watching. If you're that type of person, you can find most of our recipes on YouTube and our Facebook Page.
Linguine aglio e olio is the best past dish to make when pressed for time but still looking to make a great meal! All you need is pasta, garlic, parsley, olive oil and a few minutes.
Ingredients
6

cloves

garlic

minced

1/2

cup

extra virgin olive oil

salt

to taste

1/2

teaspoon

crushed red pepper flakes

1

pound

linguine

1/4

cup

fresh parsley

minced

1 1/2

cups

pasta water

reserve a lot just in case
Instructions
Cook Linguine to al dente in salted (2 tablespoons kosher salt per gallon) boiling water. Reserve pasta water.

Heat a large pan to medium-low and saute the garlic in a 1/4 cup olive oil until lightly golden. Once the garlic turns godlen (about 2 minutes) add in the red pepper flakes. Cook for 30 seconds more.

Add in 1 ladle of pasta water to the garlic and oil. Turn heat to medium.

Add in the linguine and toss to coat. Stir quickly to emulsify the pasta water and oil. Flip the pasta if you feel comfortable to increase emulsification. Cook until the pasta is just done (around 1 minute) then remove the pan from the heat.

Taste test the pasta and add salt to taste. Add a big drizzle of extra virgin olive oil and all the parsley to the pan. Toss once more. If the pasta is at all dry add a couple ounces at a time of the reserved pasta water to get the consistency just right. Serve immediately. Enjoy!
Notes
Leftovers can be saved for up to 3 days.
Salt to taste right before serving.
Use high-quality extra virgin olive oil, at least to finish, but preferably for sauteing the garlic as well.
Always reserve pasta water. If the pasta dries out before serving, just add a few ounces of the pasta water to bring the consistency back to perfect.
Nutrition
Calories:
549
kcal
|
Carbohydrates:
63.6
g
|
Protein:
13.1
g
|
Fat:
27.8
g
|
Saturated Fat:
4
g
|
Cholesterol:
83
mg
|
Sodium:
300
mg
|
Potassium:
221
mg
|
Fiber:
0.1
g
|
Sugar:
0.1
g
|
Calcium:
25
mg
|
Iron:
4
mg
Nutrition information is automatically calculated, so should only be used as an approximation.