Calabrian-style potatoes and peppers is a spicy side dish that is full of flavor and just the right amount of heat. Made using Long Hot peppers, red onion, red bell peppers, and Yukon Gold potatoes, this is the perfect dish to serve alongside grilled meat, sausage, or even scrambled eggs.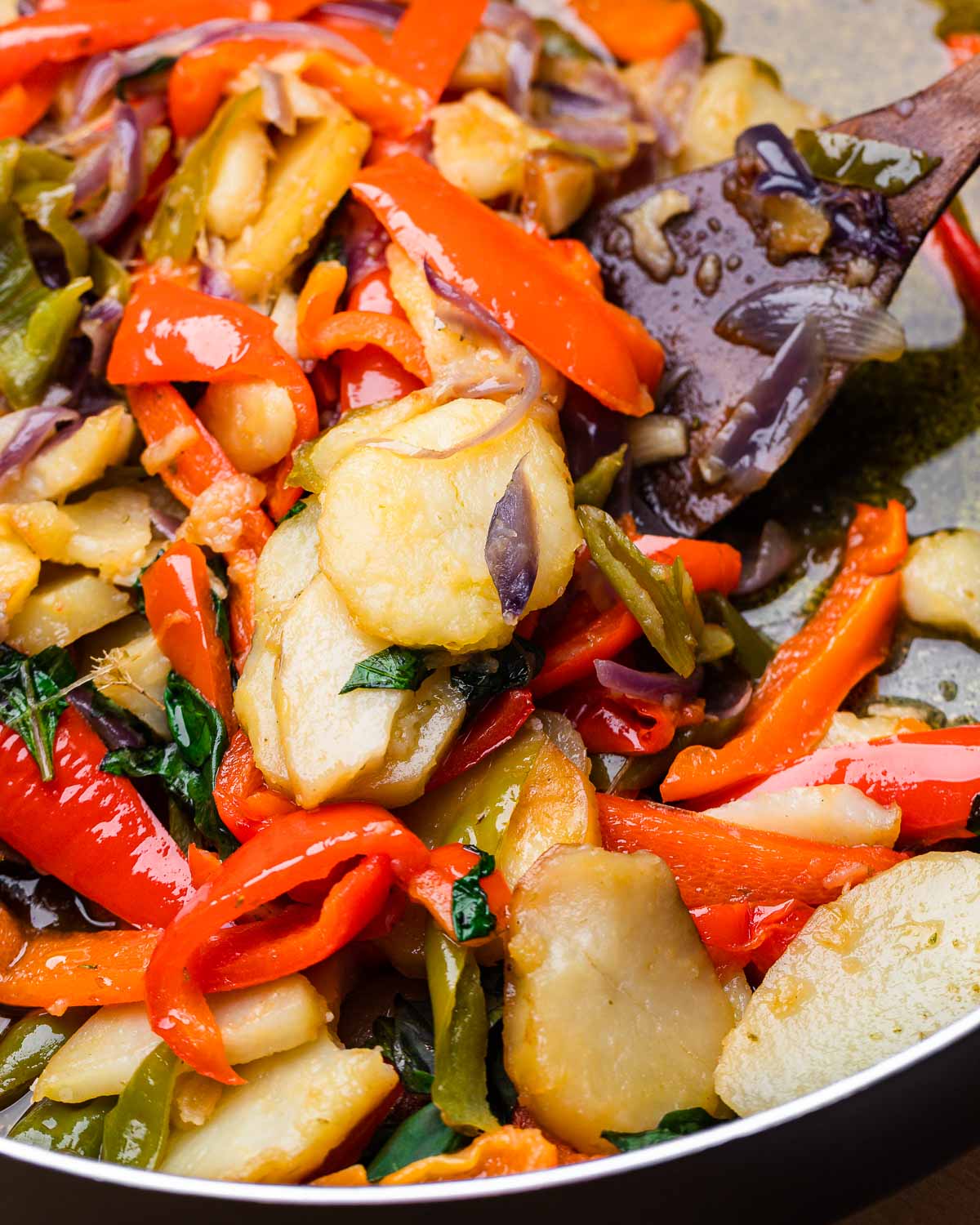 If you know me at all, you know I love spicy food.
Whether it's pork chops and cherry peppers, spaghetti arrabbiata, or shrimp fra diavolo, I'm always down for a meal with some heat.
And this is why I adore food from the Calabrian region of Italy, especially their most well-known condiment, chili paste.
I use Calabrian chili paste in many dishes when I'm looking to add heat, and while I do use it in this potatoes and peppers recipe, there is a decent amount of heat from the Long Hot peppers, that you may not even need to add any more.
Be sure to do a taste test to determine if the level of heat is sufficient before adding the chili paste.
If you're not a fan of spice, that's ok too! Instead of Long Hots, you can absolutely substitute cubanelle peppers, or simply add more bell pepper. The dish will be just as good!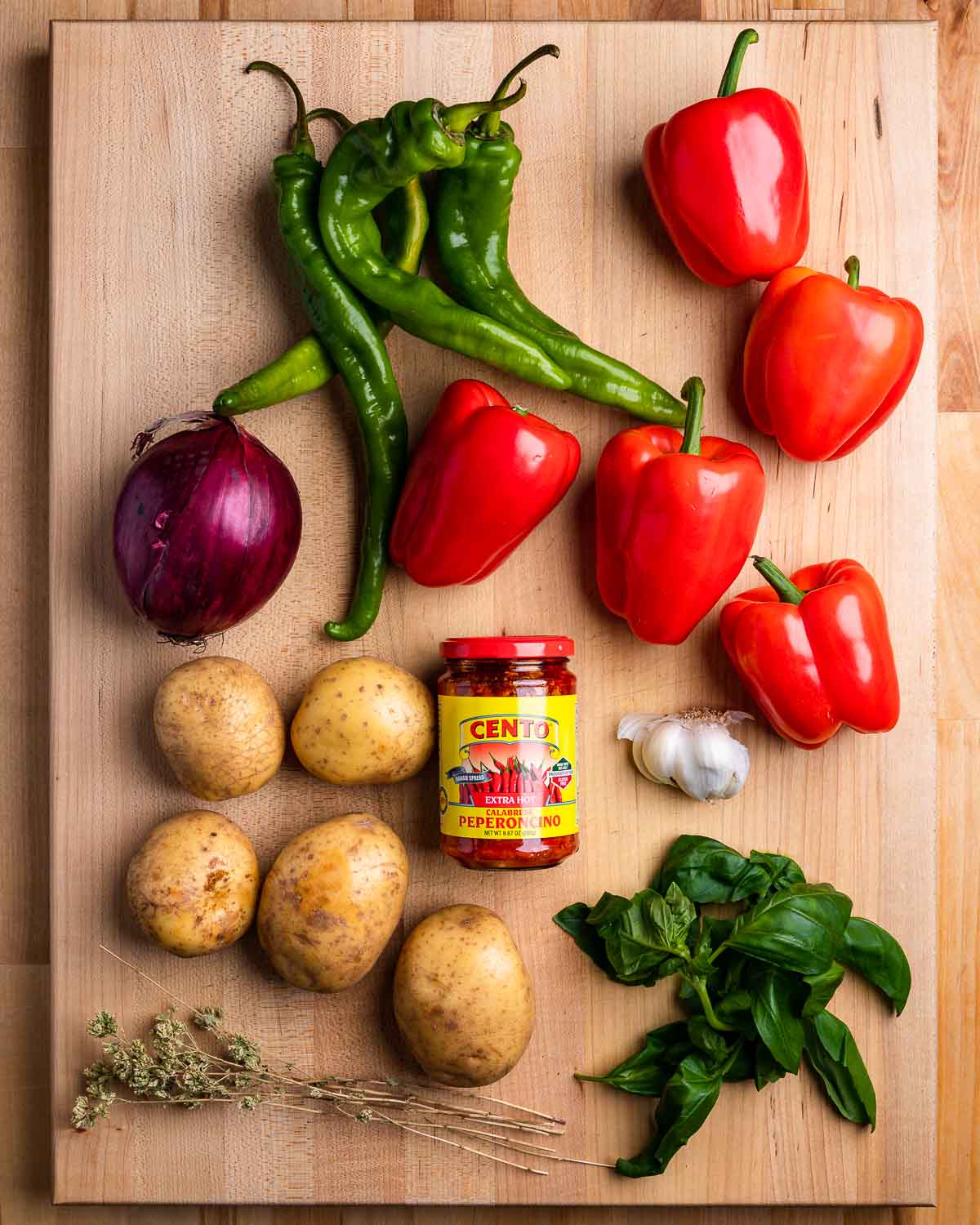 How to make it
Each number corresponds to the numbered written steps below.
Slice 5 medium (approximately 2 pounds) Yukon Gold potatoes about a quarter-inch thick. Note: Really any white or yellow potato can be used.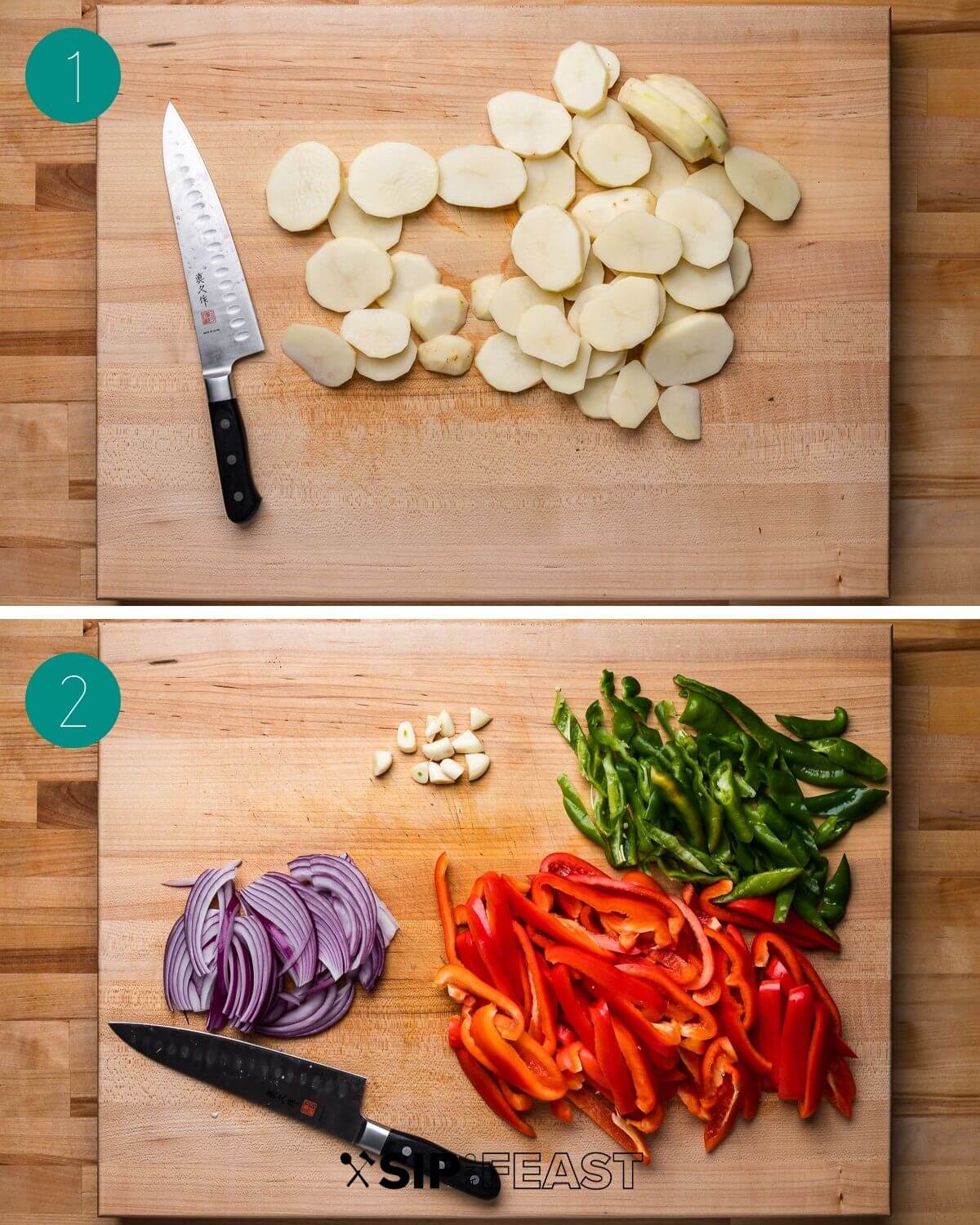 Slice 1 medium red onion and roughly chop 5 cloves of garlic. Also, remove the seeds and slice 5 red bell peppers and 5 Long Hot peppers.
In your largest pan, (this is my favorite 14" pan) heat a ½ cup of extra virgin olive oil over medium heat and add the potatoes. Spread them out and cook for 10 minutes. Note: You will get some color on the potatoes as shown below, but don't worry about getting the potatoes too brown.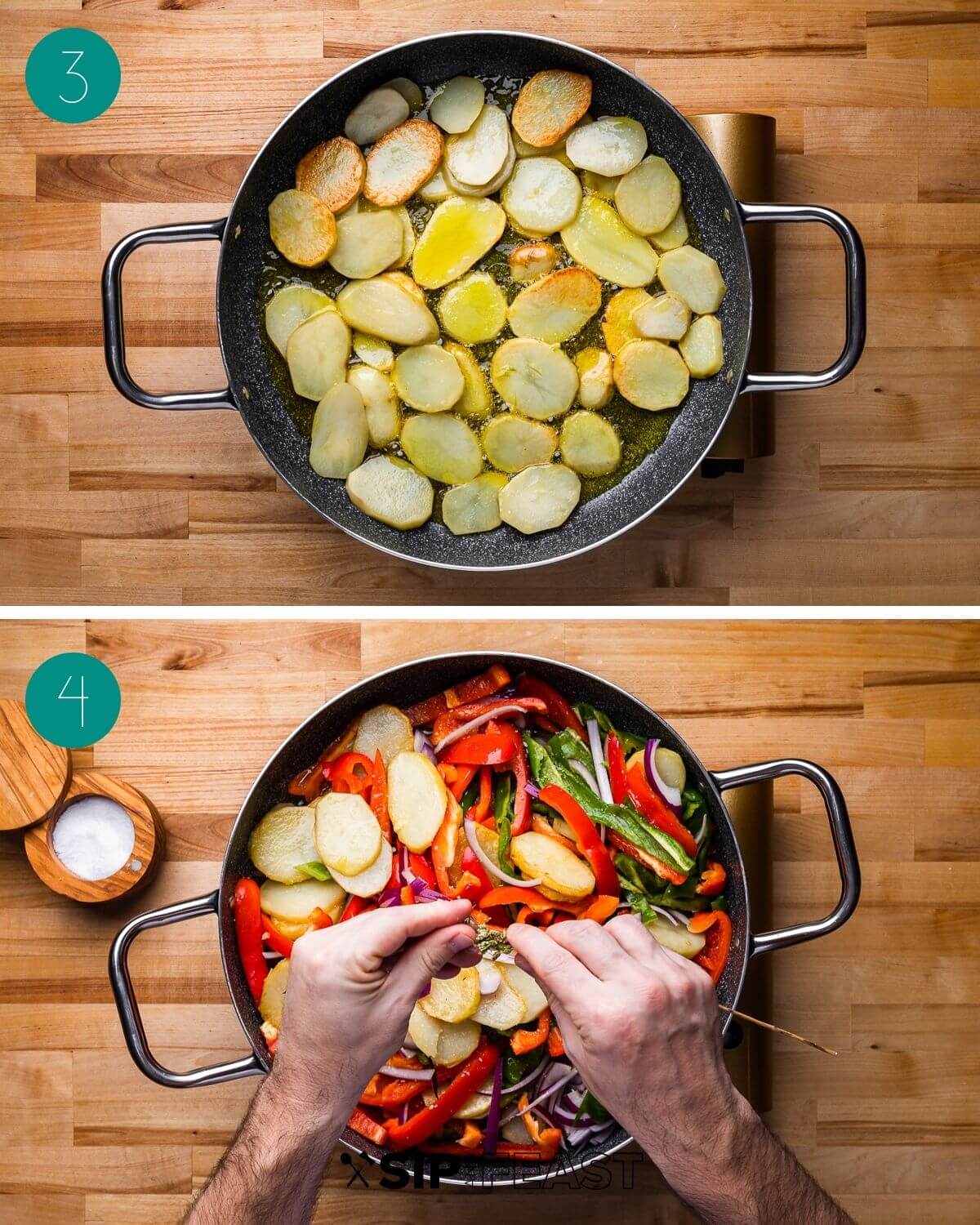 After cooking the potatoes for 10 minutes add in all the peppers, onions, and garlic. Add a teaspoon of Sicilian oregano (or any high-quality Italian oregano), and season with salt and pepper. Saute for 5 minutes and mix well to get everything coated with the olive oil.
Add a ¼ cup of water to the pan and cover with a tight-fitting lid.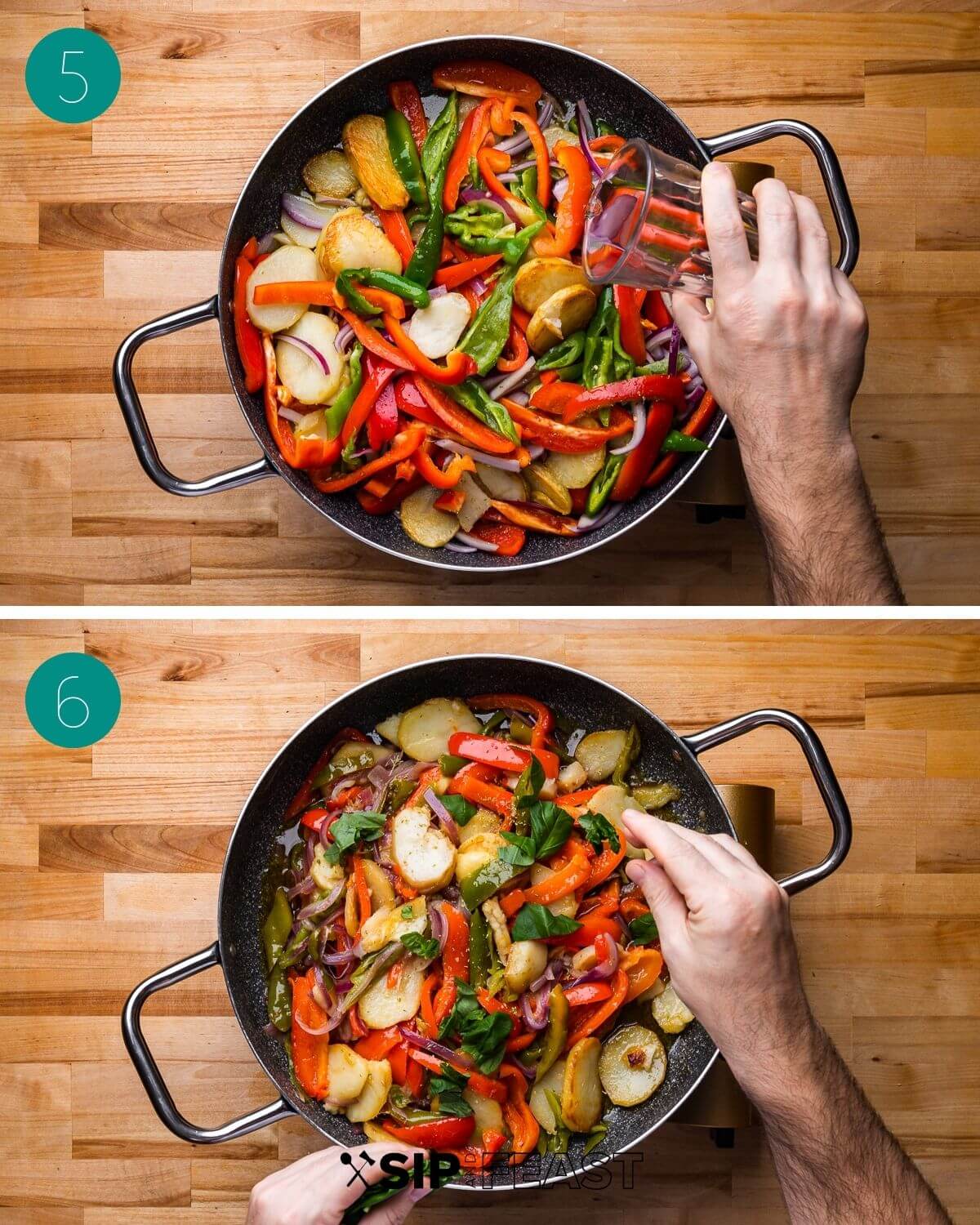 Remove the lid after 10 minutes. The peppers should be very soft. If they are not soft enough, give the potatoes and peppers a stir and cover again for about 5 more minutes. Once satisfied, turn off the heat and taste test. Make final adjustments to salt and spice levels. If you want the dish extra spicy add a teaspoon or more of Calabrian chili paste. Tear and sprinkle a ¼ cup of basil, mix together, and serve with crusty Italian bread.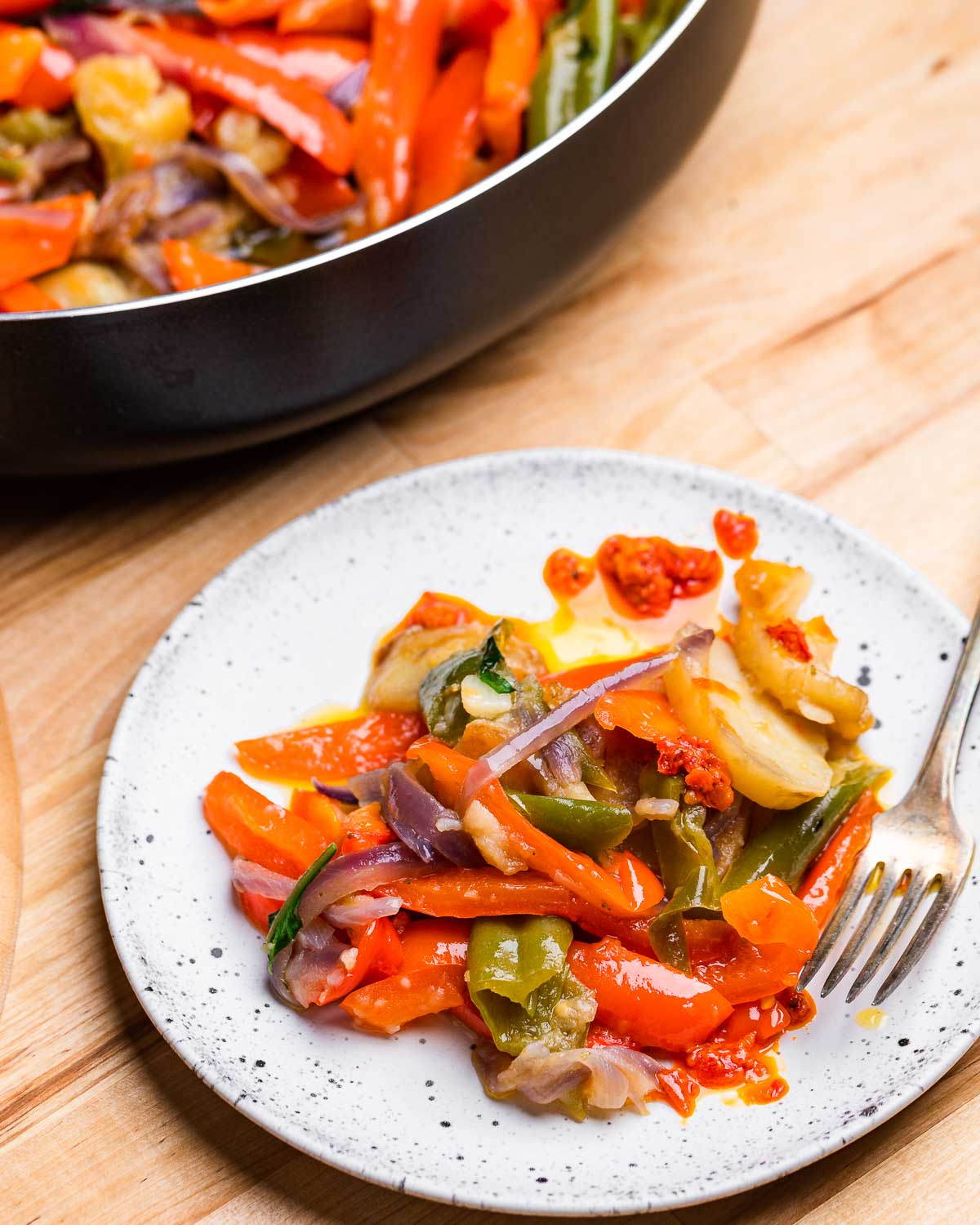 How to serve Calabrian potatoes and peppers
One of the reasons I love potatoes and peppers is that it is such a versatile side dish that nearly everyone, picky eaters included, enjoys it.
I will often serve this alongside some grilled sausage, or grilled chicken thighs, or a juicy ribeye steak.
If I have any leftovers, I'll scramble some eggs along with the potatoes and peppers to make a fantastic breakfast or lunch.
These potatoes and peppers would also be great on a sandwich with eggs and mozzarella, similar to this Italian pepper and egg sandwich.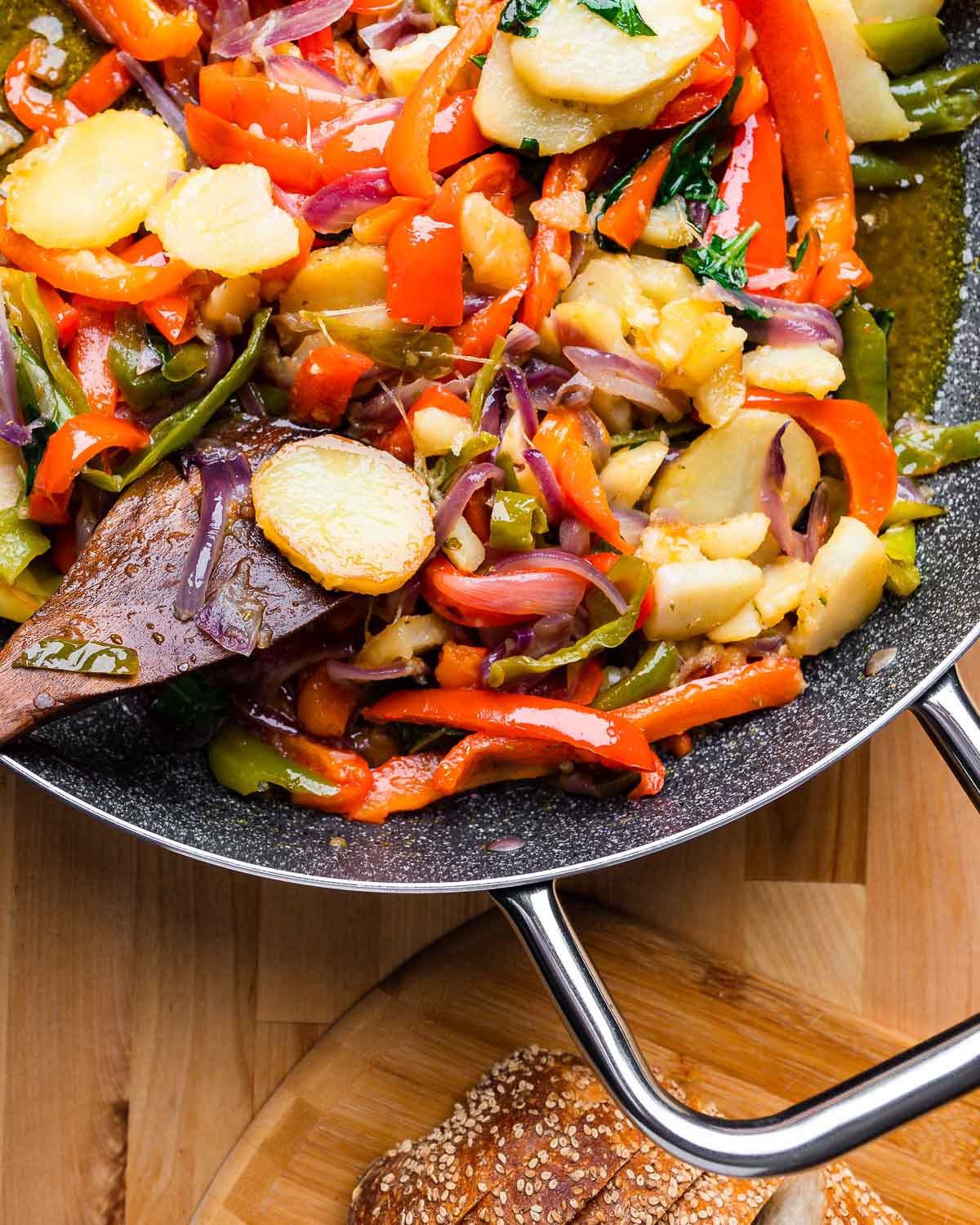 If you love peppers and potatoes...
Here are some of our favorite recipes that include one or both of these versatile ingredients! Which is your favorite?
If you've enjoyed this potato and peppers recipe or any recipe on this site, give it a 5-star rating and leave a review.
Some people learn by watching. If you're that type of person, you can find most of our recipes on YouTube and our Facebook Page.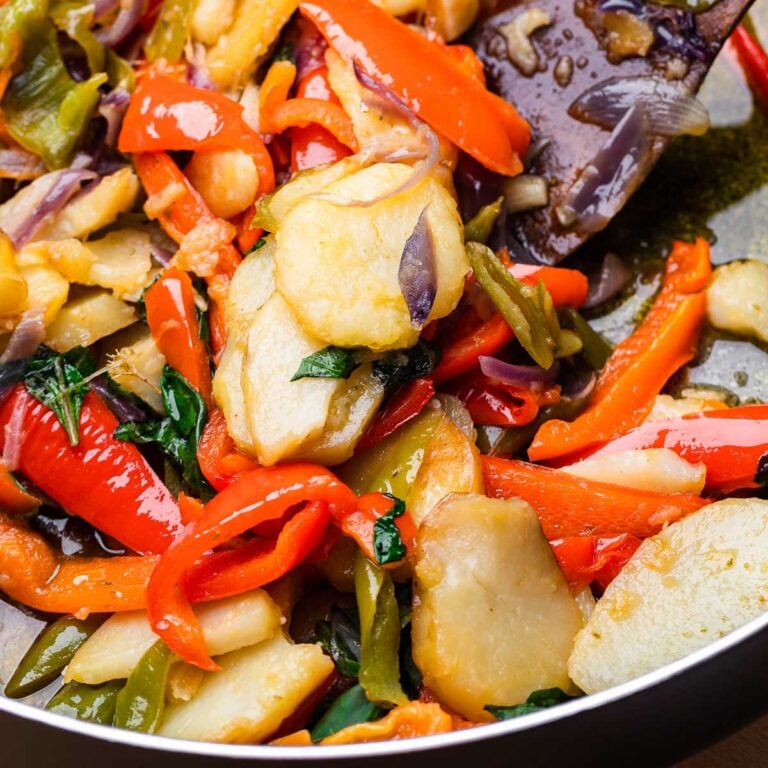 Ingredients
5

large

Yukon Gold potatoes

sliced, about 2 pounds

5

large

red bell peppers

sliced

5

large

long hots

sliced, see notes below

1

medium

red onion

sliced

¼

cup

basil leaves

torn

¼

cup

water

1

teaspoon

Sicilian oregano

5

cloves

garlic

rough chopped

1

teaspoon

Calabrian chili paste

optional, to taste

½

cup

extra virgin olive oil

salt and pepper

to taste
Instructions
Heat a very large pan to medium heat and add the olive oil then the potatoes. Saute the potatoes for about 10 minutes or until browned a bit.

Next, add the peppers and onions. Season with salt and oregano and saute stirring frequently for 5 minutes.

Next, add the water to the pan and cover. Cover and cook for 10 minutes or until the peppers and onions are soft. Remove the cover and continue to cook until the water has evaporated.

Taste test and adjust salt to taste. Add the Calabrian chili paste now if you want the dish even spicier. Turn off the heat and add the basil leaves and stir. Serve with crusty Italian bread.
Notes
Cooking times are approximate. You want the peppers to be very soft. If they are still a bit hard just cover and cook for a few more minutes.
Use any peppers you like. Multicolored bell peppers, Italian frying (cubanelle), Long Hots, etc. all work great.
Add the Calabrian chili paste if the dish is not spicy enough for your liking. Spice levels will depend on what type of peppers were used.
Make sure to serve with plenty of crusty Italian bread to mop up the oily drippings.
Leftovers can be saved for up to 5 days and can be reheated in the microwave or on a stovetop at moderate heat.
Nutrition
Calories:
307
kcal
|
Carbohydrates:
37.5
g
|
Protein:
4.4
g
|
Fat:
17.4
g
|
Saturated Fat:
2.4
g
|
Sodium:
401
mg
|
Potassium:
944
mg
|
Fiber:
6.2
g
|
Sugar:
10.5
g
|
Calcium:
33
mg
|
Iron:
2
mg