These flank steak pinwheels are super simple and delicious. They are excellent on the grill and take only about 15 minutes to cook!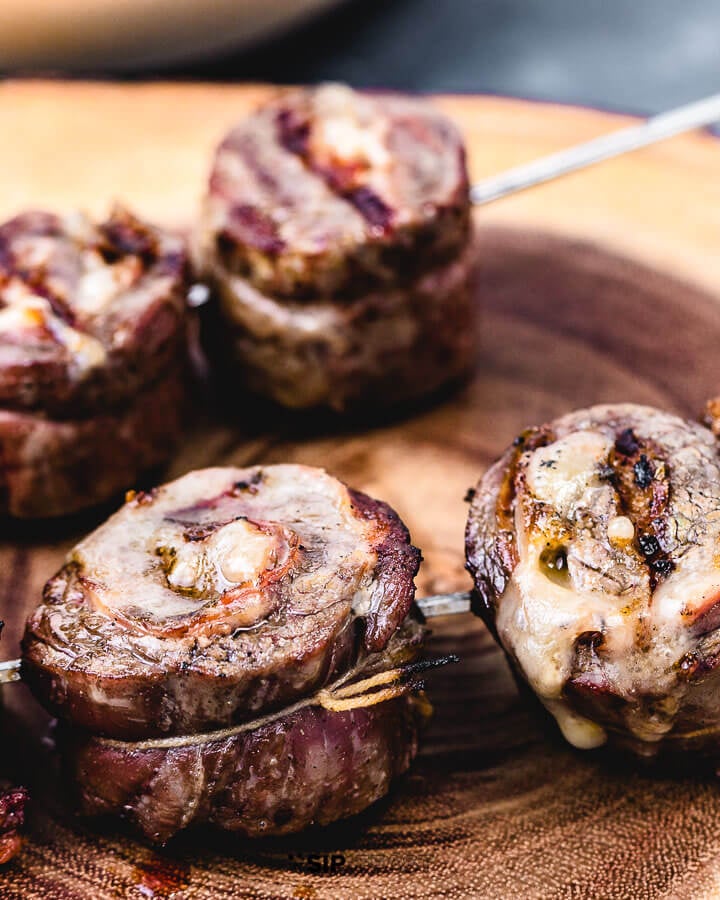 The prep takes a little bit of time, but what's nice is they can be made ahead and just thrown on the grill whenever you want.
We like to make them in the morning, put them in the fridge and then cook and serve them with Italian pasta salad or rice later in the day.
They are amazing with or without this Easy Italian Salsa Verde. We use that sauce a lot during grilling season, and often serve it with grilled chicken or steaks and of course these beef pinwheels.

You will only need:
1 1/2 pounds of flank steak
3/8 pound of prosciutto
3/8 pound of provolone
How To Make Flank Steak Pinwheels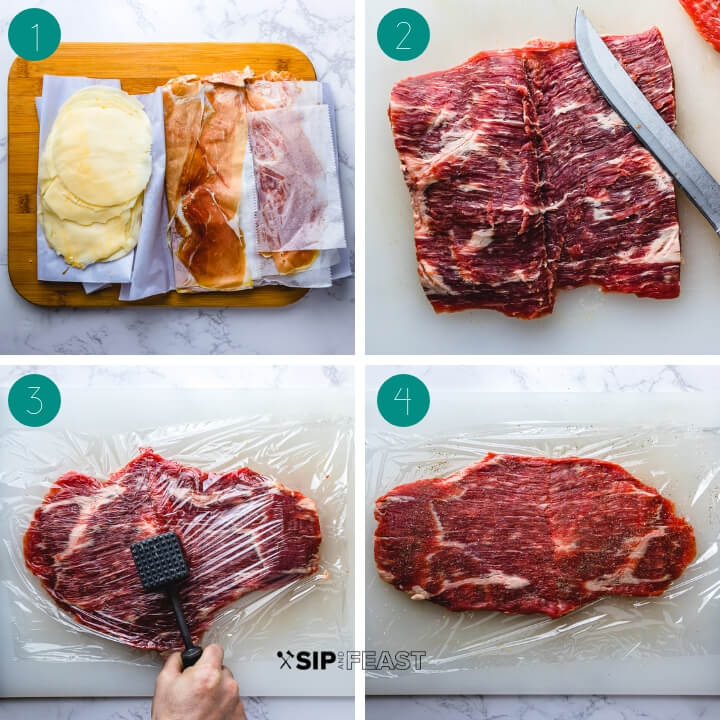 Ingredients shown: provolone and prosciutto
Begin by butterflying the flank steak with a sharp knife. If you do not feel comfortable doing this ask your butcher to do it for you or buy a thinner cut that can be pounded out to about 3/8″ thick. A thicker piece can be pounded out somewhat and still be used so do not let this deter you.
Take the butterflied flank steak and pound it out with plastic wrap on top of it and a meat mallet to about 3/8″ thick. The thickness does not need to be exact.
Season the beef with a 1/2 tsp of kosher salt and a 1/2 tsp of pepper. Trim up any loose ends and place it on top of plastic wrap.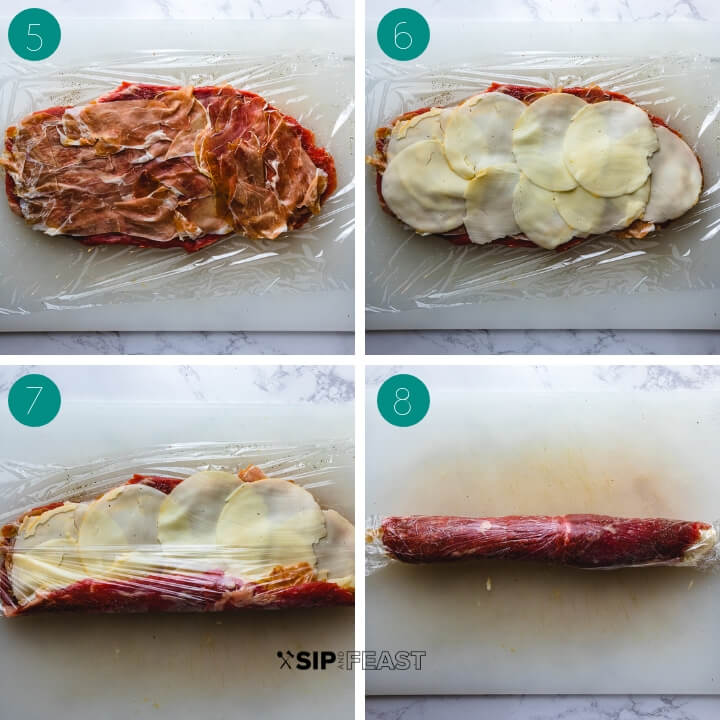 Begin by layering the prosciutto to within a half inch of the sides.
Layer the provolone on top of the prosciutto.
Begin rolling the flank steak with the help of the plastic wrap. As you roll it remove the plastic wrap before it gets trapped and continue to make a roll.
A nice flank steak roll will be created like shown.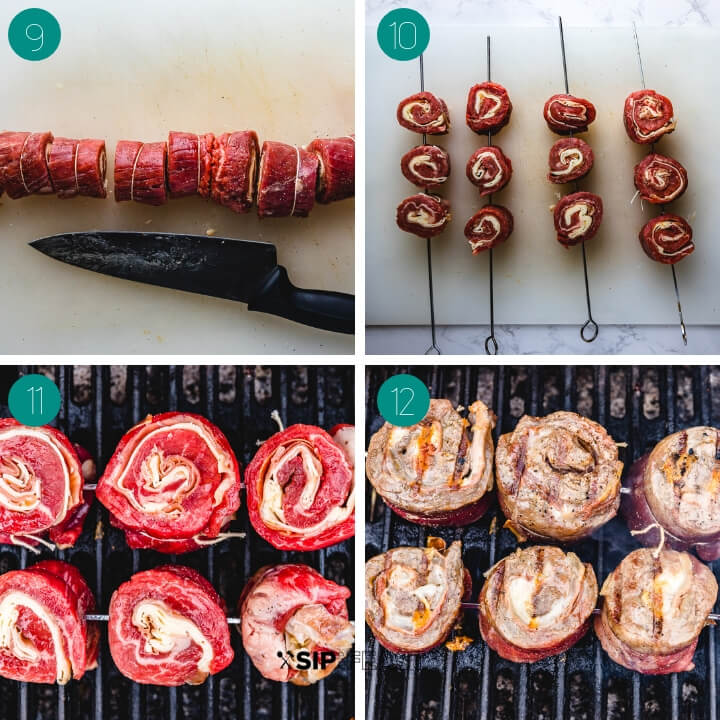 Cut the roll into roughly 1 1/2″ thick steak pinwheels. If you want, you can use a piece of butcher twine for each roll to make sure they stay together.
The twine is not that important if you skewer the pinwheels like shown, or alternatively by using toothpicks.
The pinwheels cook easily on the grill. On a gas grill heat one burner to medium high heat and sear the pinwheels for two minutes per side.
Lower the heat to medium-low, close the grill and continue cooking for another 7-10 minutes or until the flank steak is cooked to your personal preference. Medium rare is 130-135. If you have a digital thermometer use it. Here is a temperature Chart From Our Reverse Seared Ribeye Steak Recipe.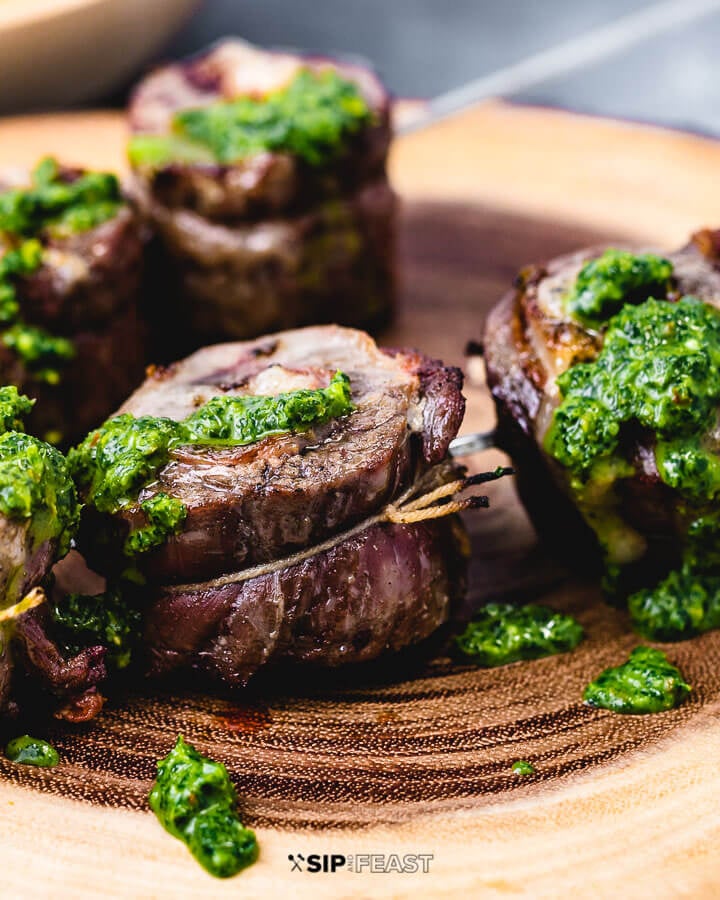 So that's how to make stuffed flank steak with prosciutto and provolone. Real simple and real delicious!
Like I mentioned above they are amazing with or without the green sauce in the pics.
Tips For Italian Beef Pinwheels
Do not worry about the thickness not being perfect all the way around. I have made them with a perfect cut and sometimes I make a mistake filleting and end up with a hole in it. Do your best and they will be great!
Prosciutto is often cheaper at the deli counter than the pre-sliced pieces sold in 1/4 pound packages. Also, if you have a Costco near you they have great prices on good quality prosciutto. They will have the provolone and flank steak there as well!
The pinwheels do not have to be cut at all. The whole rolled flank steak can be cooked as is on the grill. If choosing this method tie it up or use toothpicks so that it stays intact.

Steak Pinwheels Substitutions And Additions
Beef – Sirloin butterflied and pounded out thin is an excellent substitute. Ask your butcher if they have thin cut pieces to save some time.
Pesto – A nice thick pesto or just a whole bunch of basil leaves gives nice color and flavor to these flank steak rolls.
Prosciutto and provolone – Alternatives such as mortadella, ham and mozzarella work beautifully.
Spinach and garlic – Spinach and chopped garlic layered between the prosciutto and provolone is also a tasty option.
Difficulty Level
On a scale of 1-5 with 1 being easy these Italian beef pinwheels are a 3. Only potential issues are filleting the flank steak and rolling the pinwheels. The actual cooking process is quite easy. Cooking them to an exact internal temperature is not critical, which is a relief. As long as they stay below 145-150f they will be tender and juicy.
More Summertime Recipes
Summer Drinks
If you've enjoyed this Prosciutto And Provolone Steak Pinwheel Recipe or any recipe on this blog please let us know in the comments! We would love to hear how you did and it's nice to show others as well. Thanks! FOLLOW US on Instagram, Pinterest, and Facebook.
Italian steak pinwheels stuffed with prosciutto and provolone.
Ingredients
1 1/2

pounds

flank steak

3/8

pound

prosciutto

3/8

pound

provolone

1/2

tsp

kosher salt

1/2

tsp

pepper
Instructions
Fillet and pound out flank steak to roughly 3/8" thick.

Season flank steak with salt and pepper on both sides then lay the flank steak on top of plastic wrap.

Layer the prosciutto on top of the steak, then layer the provolone leaving a 1/2" of steak exposed on all sides.

With the help of the plastic wrap tightly roll the flank steak, paying attention to not trap the plastic wrap in the roll.

Remove the plastic wrap and cut the roll into 1 1/2" thick pinwheels. Skewer the pinwheels or use toothpicks or butcher twine to keep them together.

On a hot gas grill sear the pinwheels on medium high heat for 2 minutes on each side. Lower the heat to medium-low, close the grill and continue to cook for 7-10 minutes or until the pinwheels reach an internal temperature of 130-135f for medium rare. Enjoy!
Notes
The recipe is for a gas grill. If using charcoal prepare a cool spot to finish them for 7-10 minutes of indirect heat after the initial searing process.
Prosciutto is quite salty. Only a 1/2 tsp of kosher salt was used, adjust accordingly.
An instant read thermometer will ensure perfect cooking time. 130-135f is medium rare, but cook to personal preference.
Nutrition
Calories:
541
kcal
|
Carbohydrates:
1.6
g
|
Fat:
27.8
g
|
Saturated Fat:
14
g
|
Cholesterol:
145
mg
|
Sodium:
1270
mg
|
Potassium:
756
mg
|
Sugar:
0.2
g
|
Calcium:
270
mg
|
Iron:
4
mg
Nutrition information is automatically calculated, so should only be used as an approximation.