Pasta alla Siciliana puts an Italian-American twist on Sicily's iconic Pasta alla Norma. Combining roasted eggplant, melty mozzarella, basil, and mint with pasta in a garlicky, plum tomato sauce, Pasta alla Siciliana is as flavorful as it is comforting.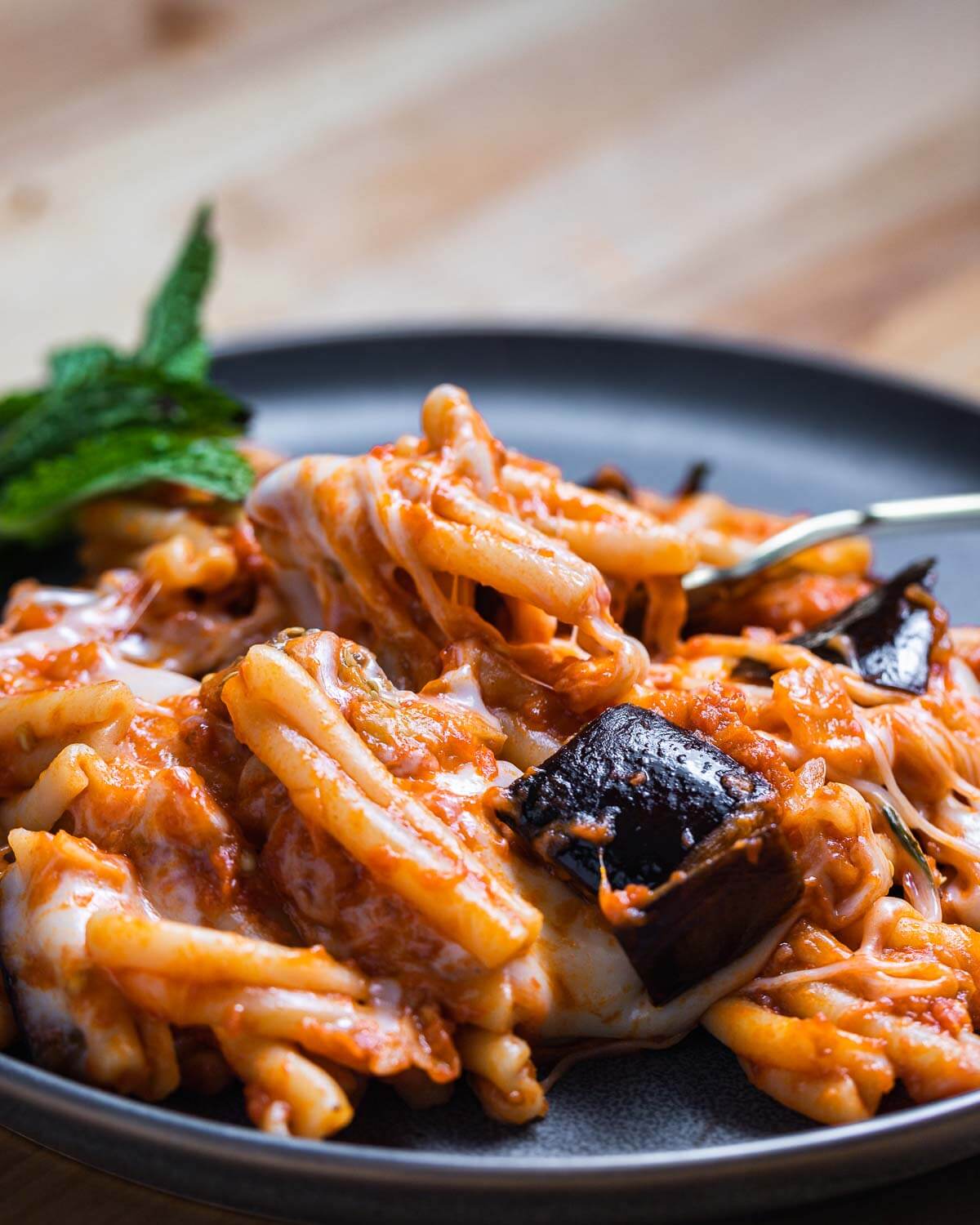 Whenever I'm in the mood for baked ziti but don't have the time to spend baking it, I make Pasta alla Siciliana.
It has the same melty factor as baked ziti, but with a special twist - roasted eggplant. You can fry the pieces, but roasting is just as good, and a whole lot easier!
The mint and basil in this dish just make it so good!
This dish is similar to the Sicilian classic, Pasta alla Norma, but instead of using Ricotta Salata, Pasta alla Siciliana uses mozzarella cheese. Most New York restaurants serve it this way, though some will substitute the mozzarella for ricotta.
What type of pasta?
I used casarecce for this recipe, but you could easily use a variety of other shapes.
Some favorites that would be perfect for pasta Siciliana include rigatoni, ziti or penne rigate, fusili, or paccheri.
Basically, any short, tube-shaped pasta.
Five ways to change up Pasta alla Siciliana
One of the reasons I love this dish is that it can be made in so many different ways.
Besides changing up the pasta shape, you can add or take away as you see fit.
Here are some variations to consider:
Add some ground sausage to this dish for some extra protein
Add a few dollops of ricotta cheese to the mix. You can either top each plate with a dollop, or stir around to evenly distribute. You could also use just ricotta, and forgo the mozzarella.
Change up the herbs. If you don't have basil or mint, you can certainly use parsley or even oregano. Fresh or dried oregano is fine. If using dried, go easy, and if you can use the Sicilian variety.
To make it vegan or dairy-free, simply omit the cheese. It will still be delicious as the roasted eggplant imparts such wonderful flavor and texture.
To up your veggie intake, toss in some fresh baby spinach.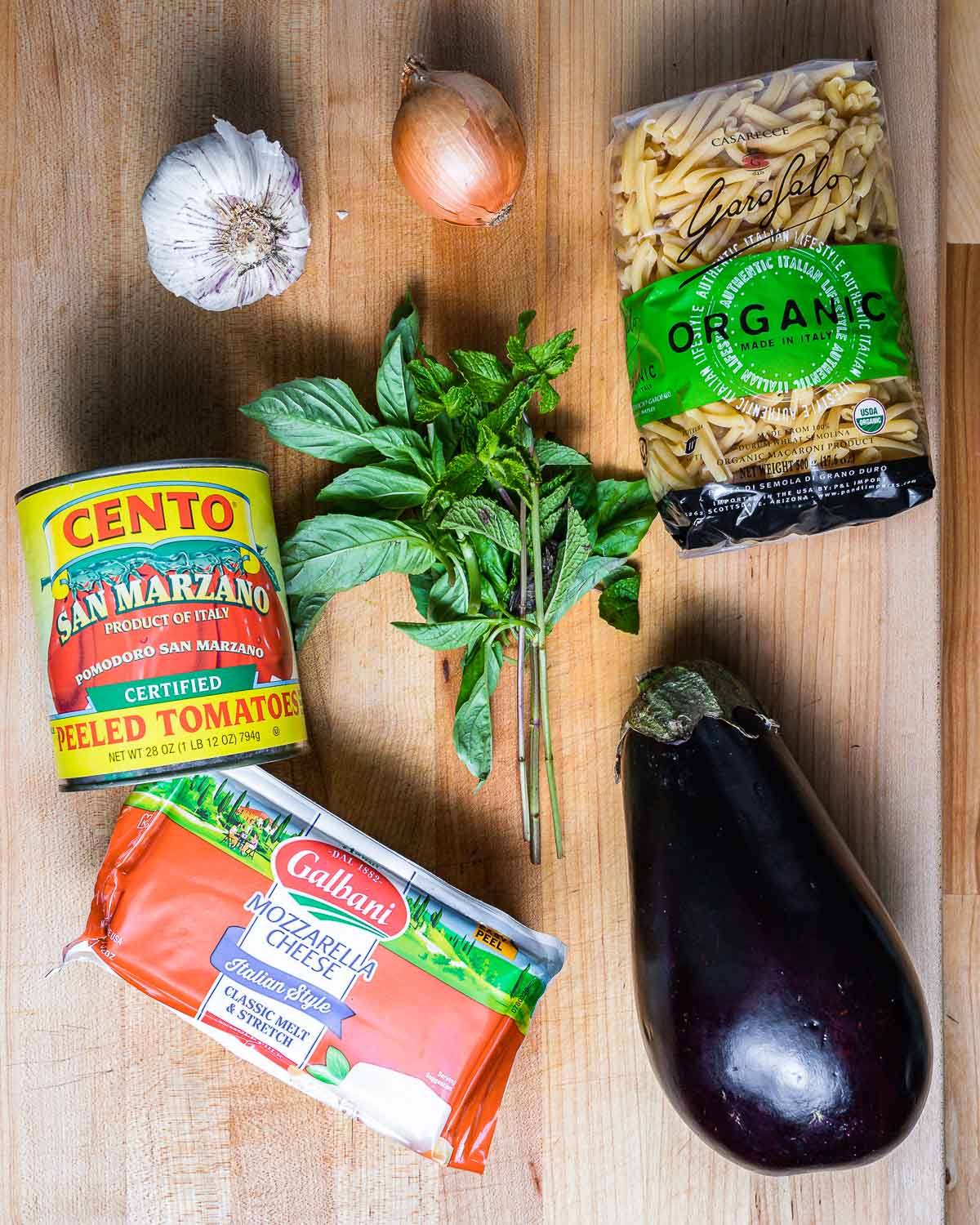 How to make Pasta Siciliana
Each number corresponds to the numbered written steps below.
Cube the eggplant, and toss it with a ¼ cup olive oil, kosher salt, and black pepper. Spread it out onto a baking sheet and bake for 25 minutes at 400f. Be careful to not overcrowd the eggplant on the baking sheet. You may need to use two baking sheets to avoid crowding.
While the eggplant is roasting, bring a large pot of salted water to boil. While you're waiting for the water to boil, slice your garlic, and dice the onion.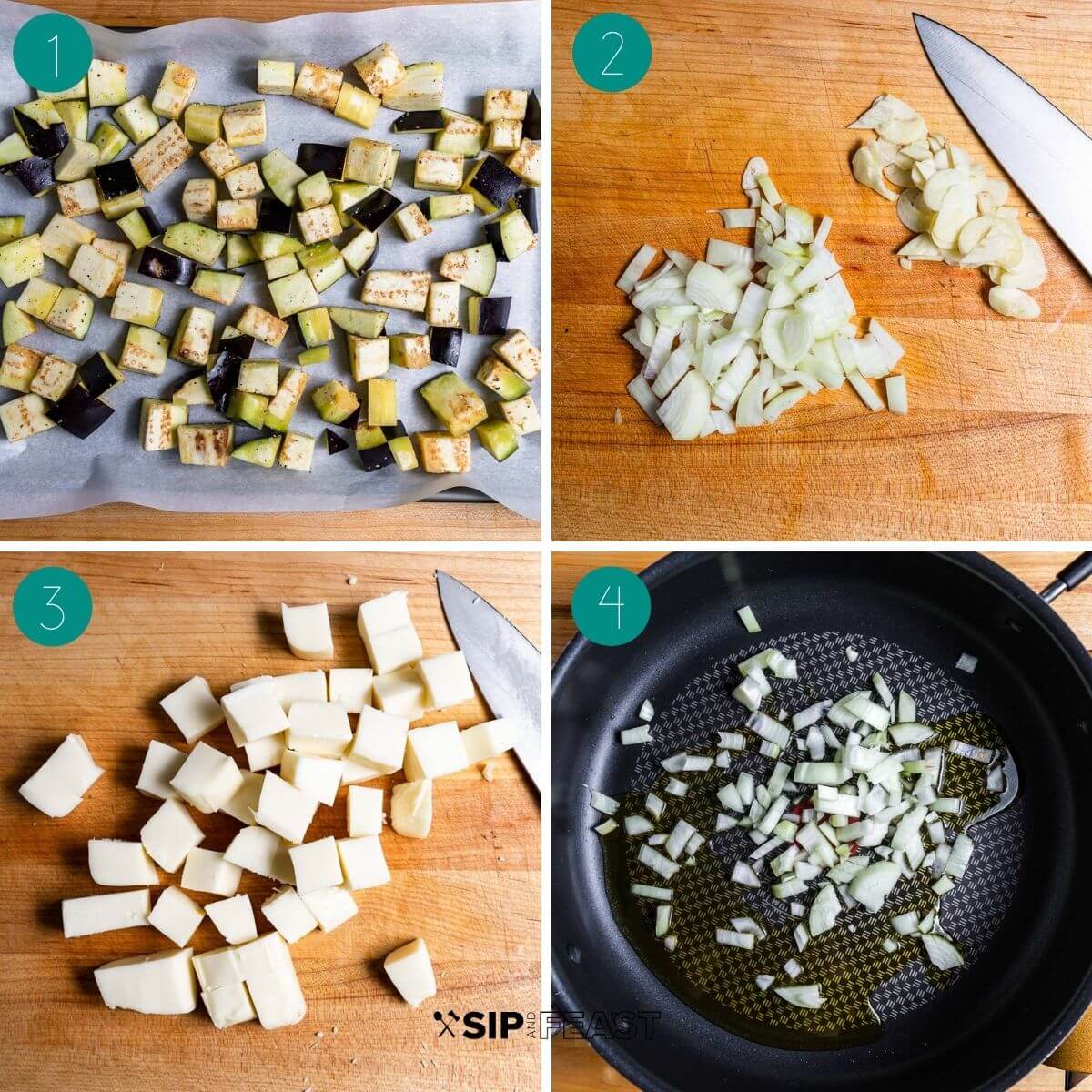 Blender pulse or hand crush your plum tomatoes and set them aside. Cube 2 cups of mozzarella cheese. Note: Mozzarella cheese is easier to cut when it's very cold and firm.
In a large pan, saute the onions in a ¼ cup of olive oil over medium-low heat until translucent. This usually takes about 5 minutes.
Add the garlic, and continue to saute for an additional 2-3 minutes until lightly golden.
Add the crushed red pepper flakes and continue to cook for another 30 seconds.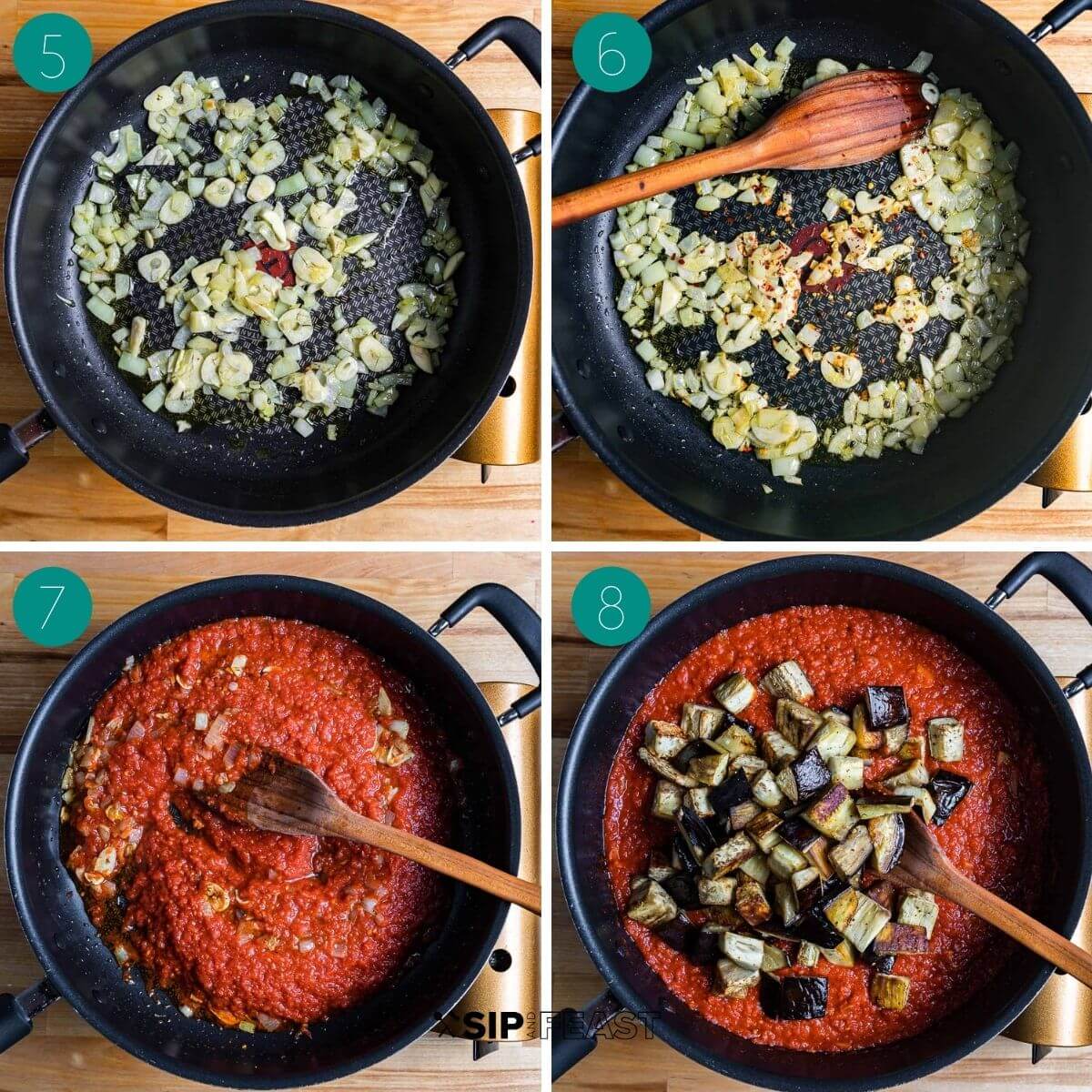 Add in the crushed plum tomatoes, and bring the sauce to a simmer. While the sauce is simmering, cook the pasta until al dente.
Season the sauce with kosher salt, and give it a taste test. If more salt or crushed red pepper is needed, add it now. Add in the roasted eggplant.
Using your hands, tear the basil and mint and add to the sauce.
Add the al dente pasta to the sauce and cook for 1 more minute while stirring it all together. If the pasta is too dry, add a few ounces of pasta water, and mix.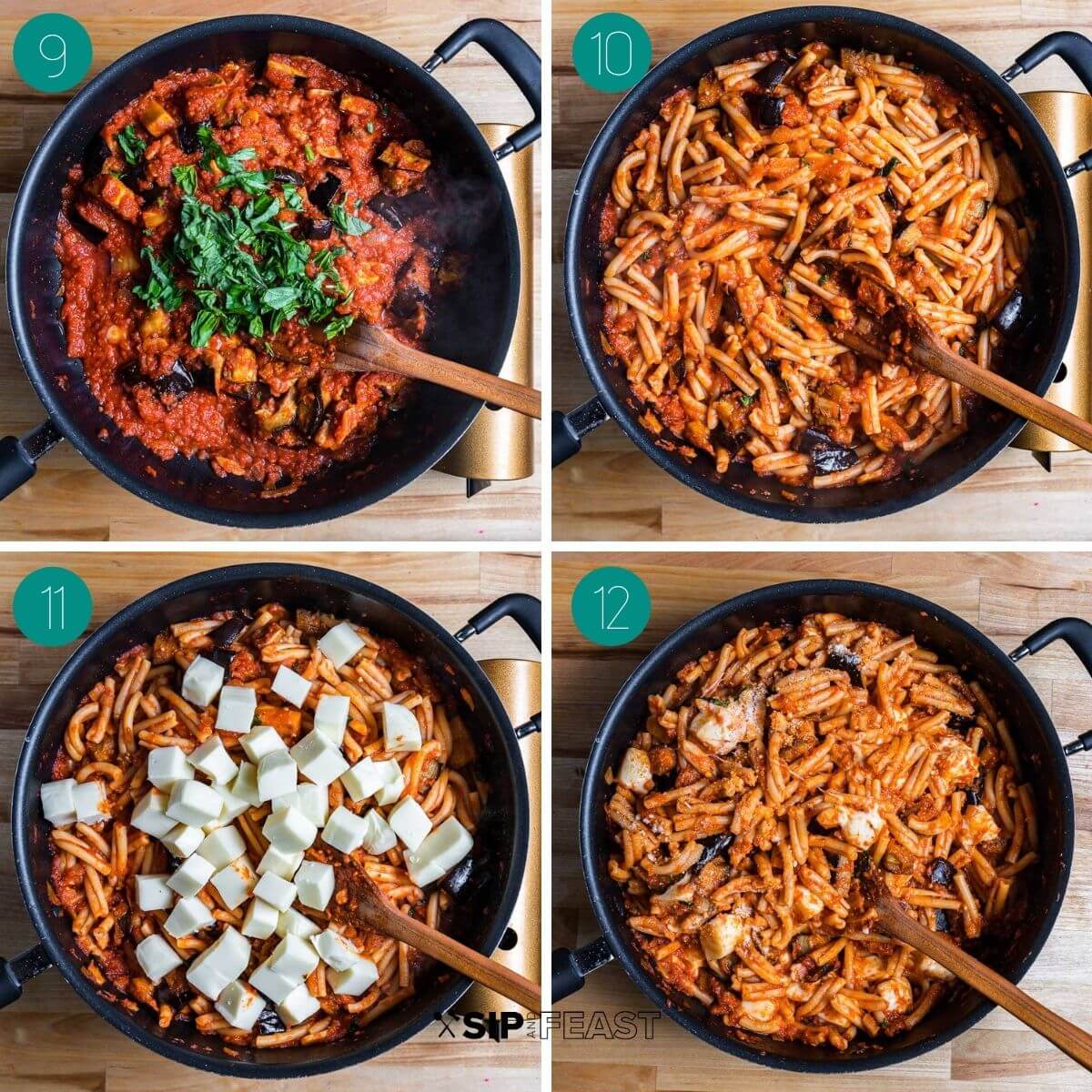 Remove the pasta from the heat and toss in the cubed mozzarella, mixing gently. The mozzarella will begin to melt as a result of the heat.
To finish, add the grated Pecorino Romano cheese, and serve immediately.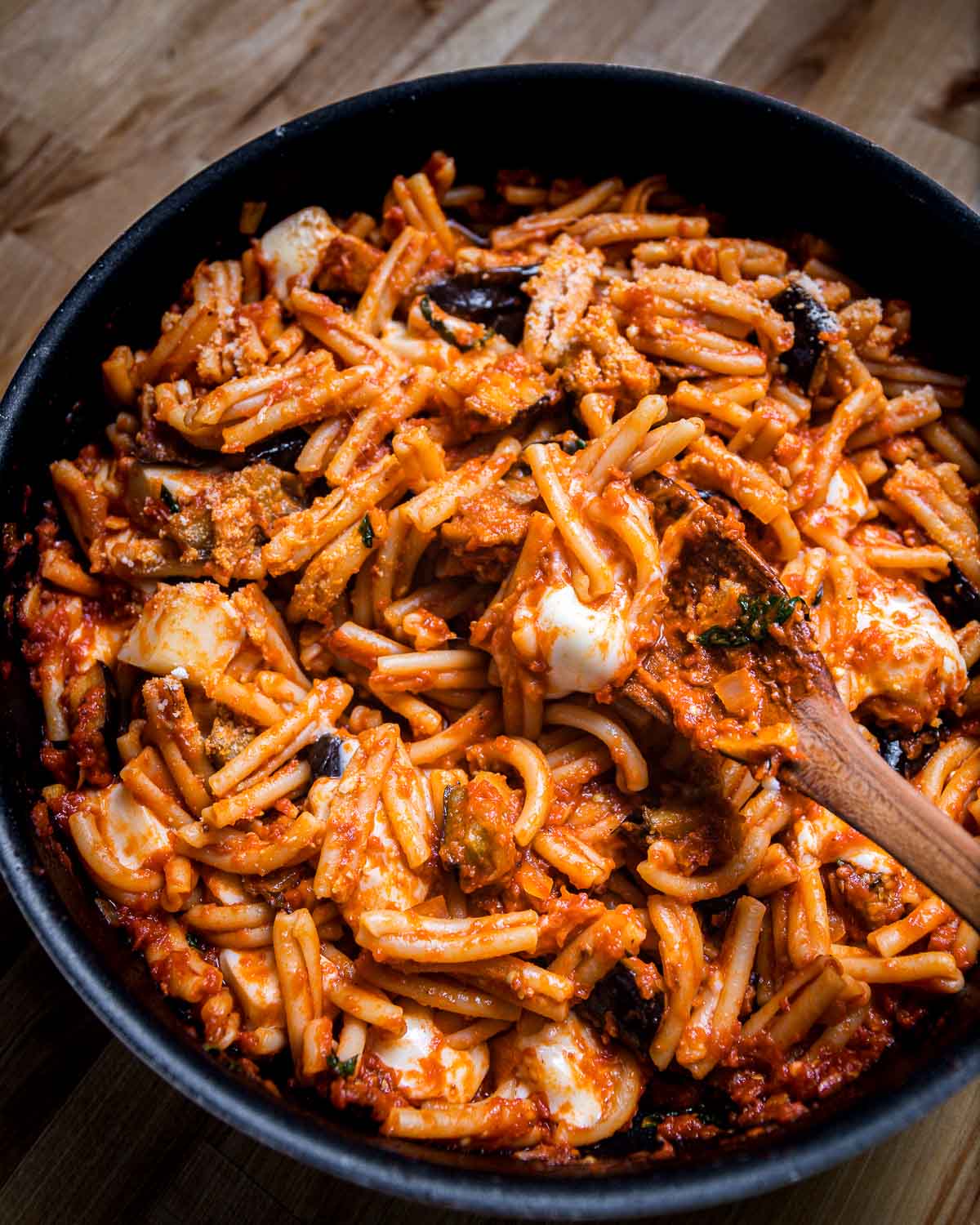 What to serve with Pasta alla Siciliana
This dish is filling, thanks to the cheese! So I often make this as the main meal and serve it alongside a salad or vegetable.
My go-to veggies include sauteed broccoli rabe, Italian green salad, and broccoli with garlic and oil.
This would also go so well with a Sicilian orange fennel salad.
I usually serve this with a loaf of seeded Italian bread, and a glass of red wine, such as a Chianti.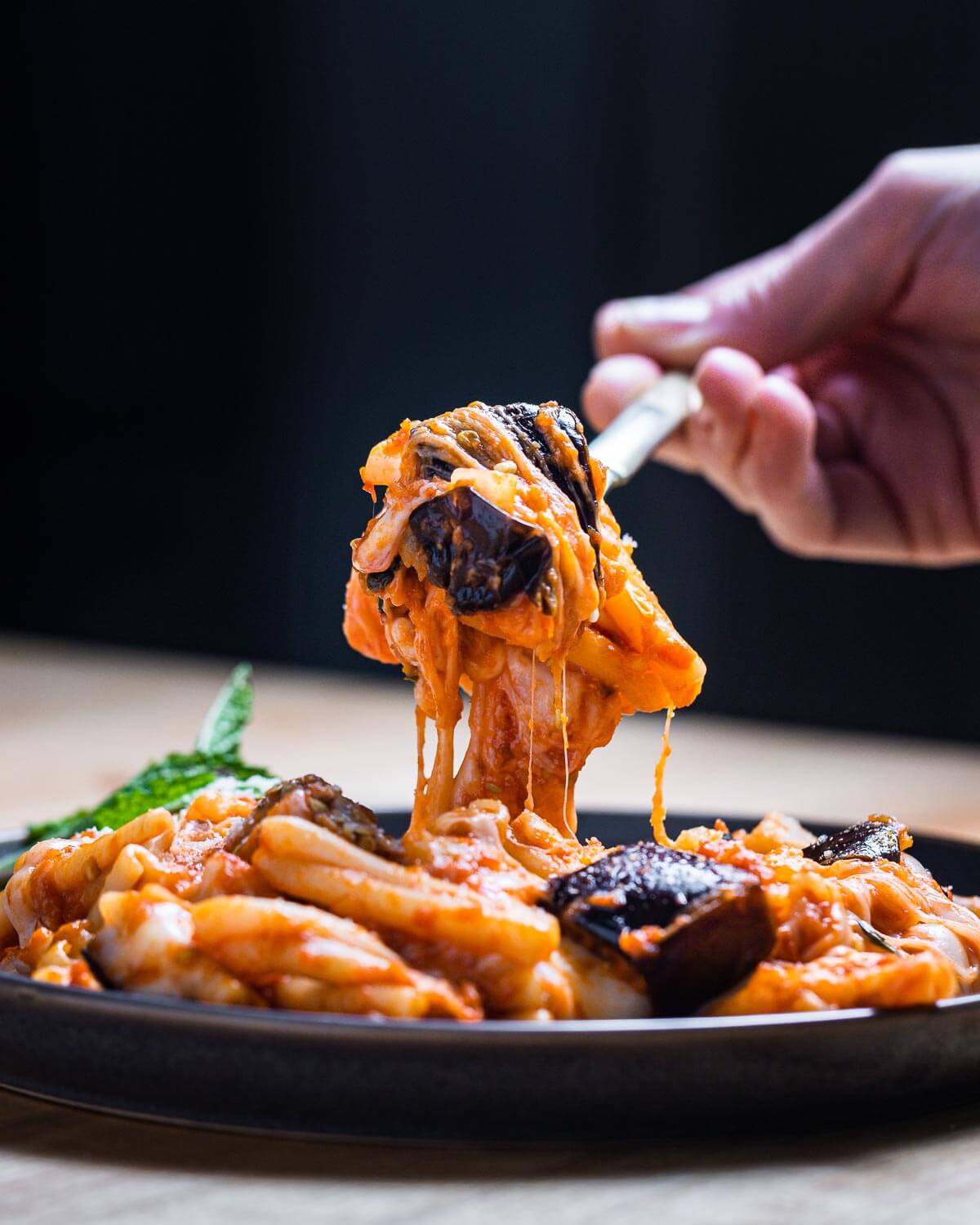 More Italian eggplant recipes
Eggplant is a favorite ingredient in our house, and we use it in a variety of ways.
For an appetizer or topping to sandwiches, pickled eggplant is fantastic and simpler than it sounds.
Another appetizer option is the Sicilian classic, eggplant caponata. Made with pine nuts, and raisins, this sweet and sour dish is full of flavor and is perfect for spreading on bread, crostini, or by itself.
Some other favorites include eggplant parm (without breadcrumbs), no-meat eggplant meatballs, and this simple roasted eggplant with tomato sauce.
If you've enjoyed this recipe for Pasta alla Siciliana, or any recipe on this site, we want to know so tell us in the comments below. We would love to hear how you did and it's nice to show others as well. Thanks!
Watch the video below where Jim will show you how to make this recipe with easy to follow instructions. Some people learn by watching. If you're that type of person, you can find most of our recipes on YouTube and our Facebook Page.
Ingredients
1

pound

pasta

casarecce, penne, rigatoni, etc.

½

cup

olive oil

divided

1

28 ounce

can plum tomatoes

hand crushed or blender pulsed

1

large

eggplant

cubed

1

medium

onion

diced

4

cloves

garlic

sliced

2

cups

mozzarella

cubed

¼

cup

Pecorino Romano

grated

¼

cup

basil

torn

¼

cup

mint

torn

2

teaspoon

kosher salt

plus more to taste

½

teaspoon

crushed red pepper flakes

optional
Instructions
Toss cubed eggplant with a ¼ cup olive oil, 1 teaspoon kosher salt, and a ½ teaspoon of black pepper. Spread eggplant out, without crowding, on a baking sheet (use 2 if necessary) and bake in the middle of oven for 25 minutes at 400f.

Meanwhile, bring a large pot of salted water (2 tablespoons kosher salt per gallon of water) to boil.

In a very large pan saute the onions in a ¼ cup of olive over medium-low heat until translucent (about 5 minutes). Add in the garlic and saute for 2-3 minutes more until lightly golden, then add in the red pepper flakes and cook for 30 more seconds.

Add in the crushed plum tomatoes and bring the sauce to a simmer. While the sauce is simmering cook the pasta until al dente.

Season the sauce with a bit of kosher salt and taste test it. If more salt or pepper is needed, add it now. Add in the roasted eggplant, basil, mint, and the al dente pasta to the sauce. Cook for 1 minute more while stirring it all together. If the pasta is too dry add a couple of ounces of pasta water and mix.

Turn off the heat and add in the cubed mozzarella and grated Pecorino Romano cheese. Serve immediately. Enjoy!
Notes
Casarecce was used, but any tubular shaped pasta works well.
If you can find it, smoked mozzarella is even better than regular in this pasta.
Leftovers can be saved for up to 3 days and can be reheated in the microwave.
Nutrition
Calories:
676
kcal
|
Carbohydrates:
77.5
g
|
Protein:
21.8
g
|
Fat:
32.9
g
|
Saturated Fat:
7.3
g
|
Cholesterol:
98
mg
|
Sodium:
1200
mg
|
Potassium:
796
mg
|
Fiber:
5.1
g
|
Sugar:
10.7
g
|
Calcium:
123
mg
|
Iron:
5
mg