Eggplant rollatini is an ultra comforting, creamy, cheesy dish that consists of thinly sliced eggplant that has been breaded and fried until golden, then rolled around a ricotta, mozzarella, and parsley filling, and topped with a simple marinara sauce. This is the version you'll find in pizzerias, delis, and catering halls all over the New York metro area.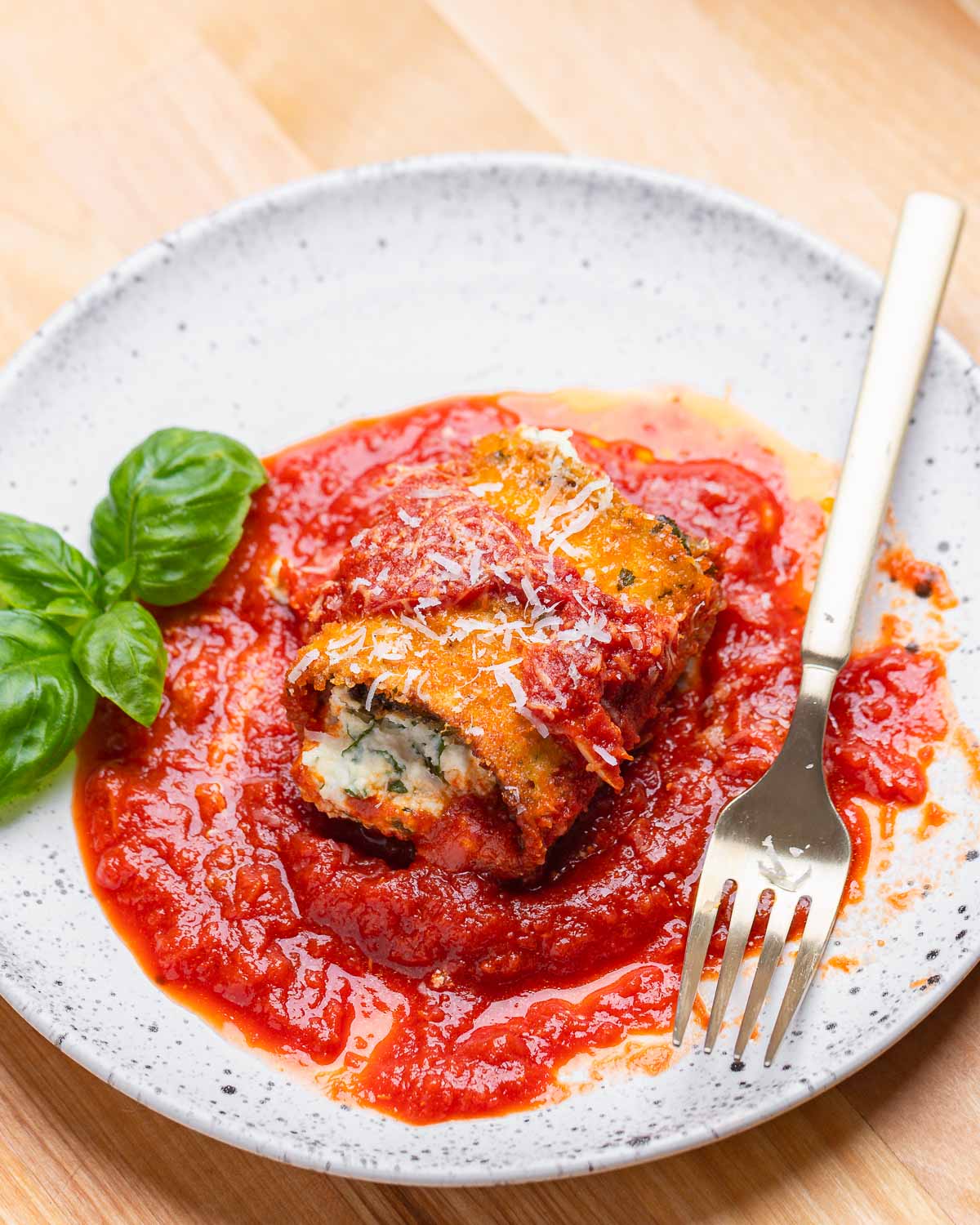 Growing up on Long Island, I've eaten eggplant rollatini, aka eggplant involtini, so many times.
If you walk into any deli or catering establishment on any given day, you're likely to find fried eggplant rollatini hanging out, waiting to be eaten.
Attending a family event like a christening, graduation, or holiday dinner, and you could always count on a tray of eggplant rollatini showing up, perched atop its Sterno rack amidst a sea of other Italian-American favorites, like sausage and peppers, baked ziti, and chicken Francese.
These dishes when present, eggplant rollatini included, usually meant you were surrounded by those you love: la famiglia.
And every time I make eggplant rollatini for my family, they know something special is in store.
Can I skip the breadcrumbs?
The short answer is yes, and you may find other recipes that omit the breading and frying step for eggplant rollatini.
Those versions, while tasty in their own right, are not too representative of the eggplant rollatini you will find in most New York establishments.
The New York version is typically breaded and fried before being rolled around the ricotta mixture.
While my recipe for eggplant rollatini doesn't account for the omission of the breadcrumbs, if you're looking for a breading-free, no frying recipe that is similar, I recommend checking out my zucchini rollatini, which is gluten-free, and equally fantastic!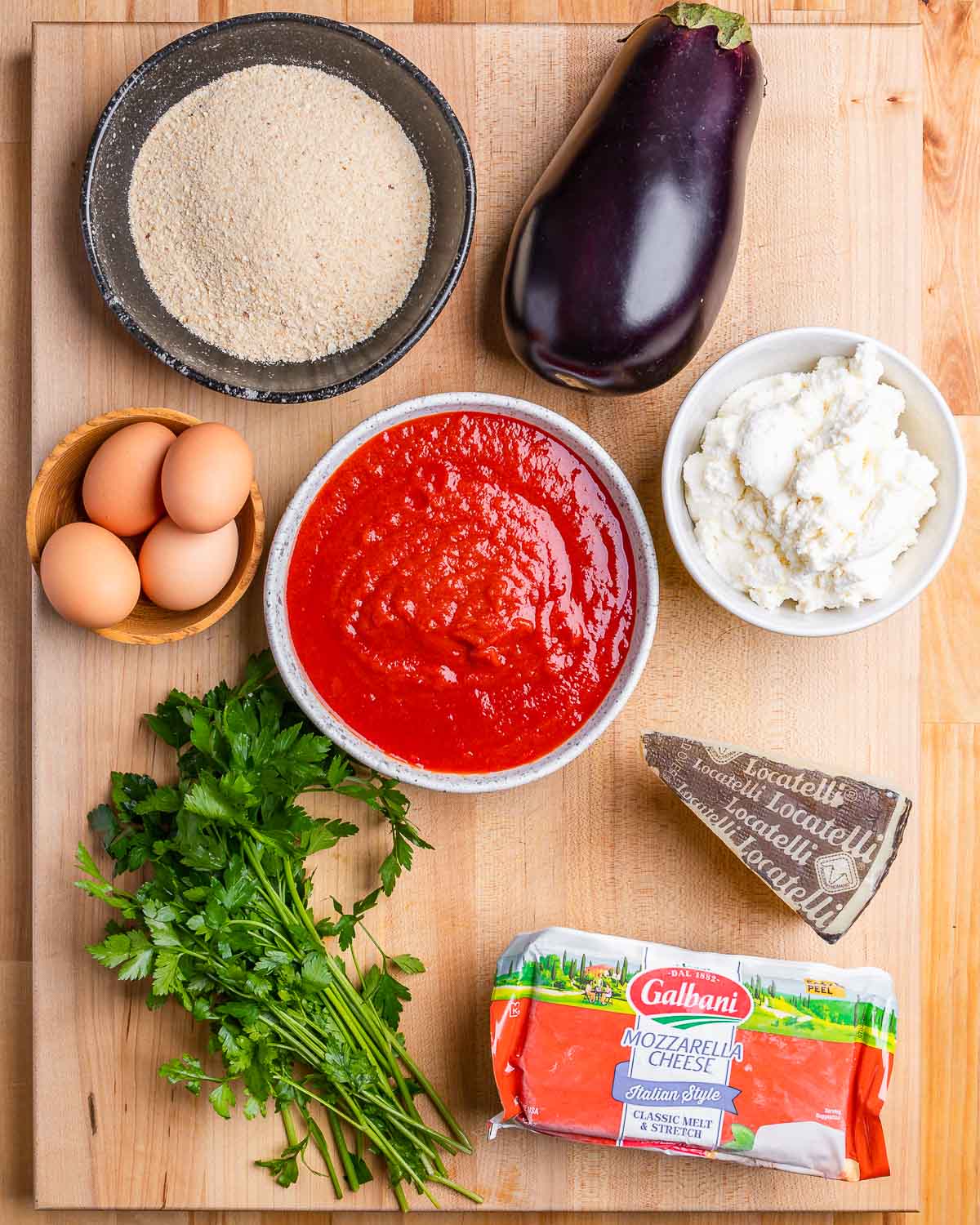 How to make eggplant rollatini
Each number corresponds to the numbered written steps below.
Begin by slicing 1 large eggplant into thin (about 1/8″ thick) slices. If you have a wide mandoline, use it, but otherwise, take your time with a sharp knife. You'll need 20 slices of eggplant. If you have extra, save for another purpose or increase the amount of ricotta mixture and sauce below.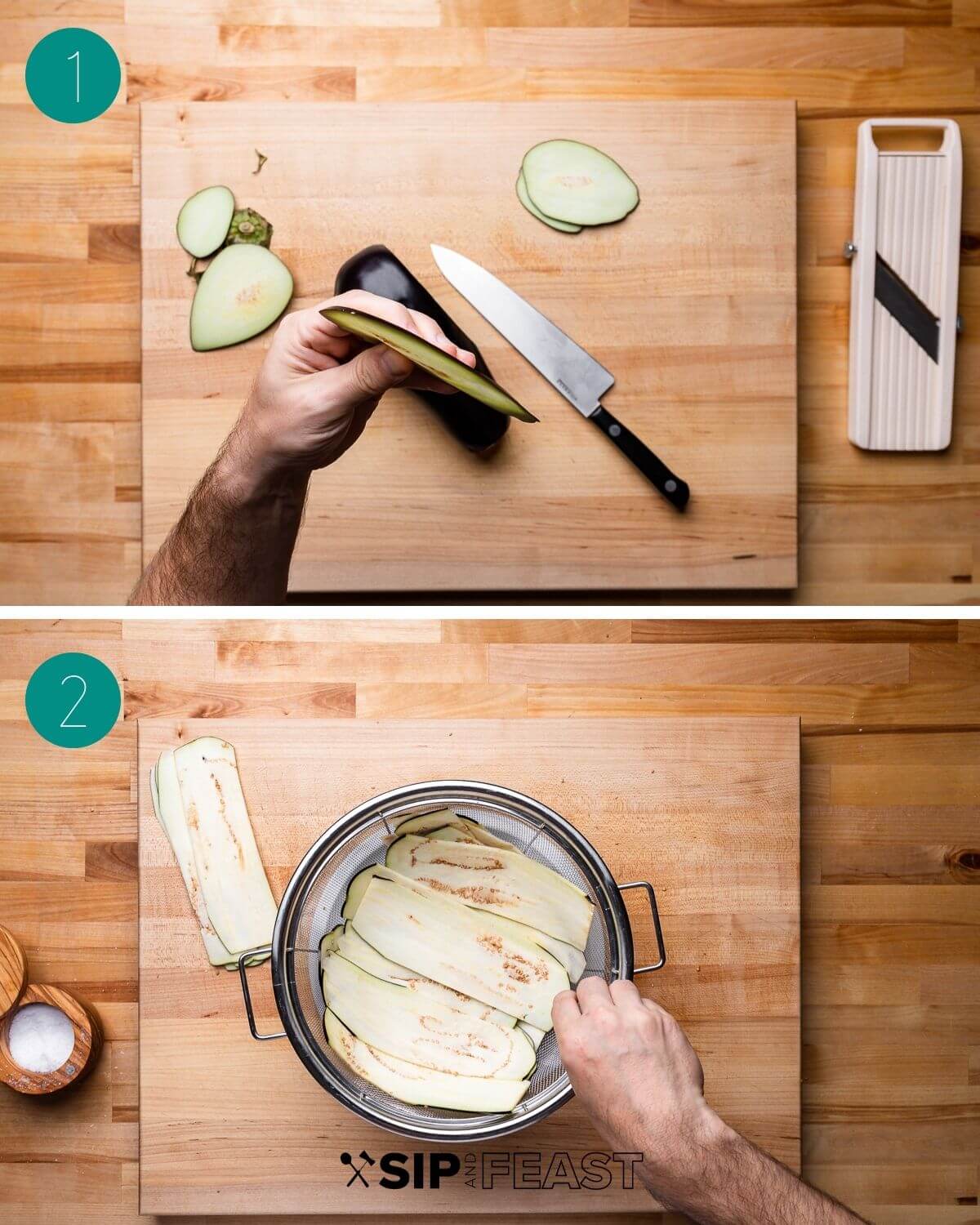 Place a plate below a colander or leave colander in the sink. Place 1 layer of eggplant down in colander and sprinkle with salt. Repeat for each layer. Set aside for 1 hour.
Meanwhile, mix together 1 1/4 pounds ricotta, 1/2 pound shredded mozzarella, 1/4 cup grated Pecorino Romano, 1/4 cup minced parsley, 1 egg, and a 1/2 teaspoon of kosher salt. Set aside.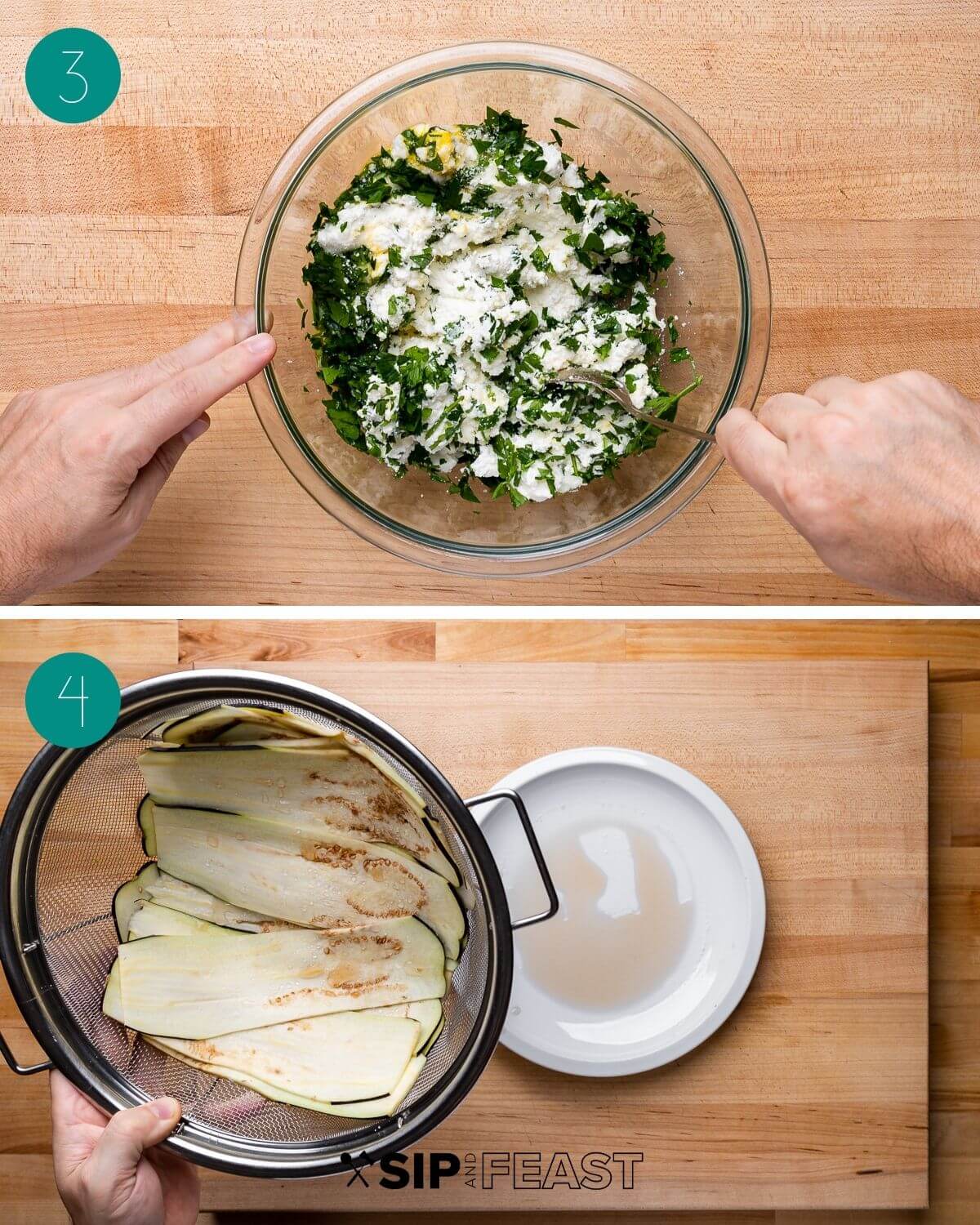 After 1 hour the eggplant will have released some of its water. Rinse the eggplant to remove excess salt, then thoroughly pat dry with paper towels.
For the seasoned breadcrumbs mix together 3 cups plain breadcrumbs, 1/4 cup minced parsley, 1/2 teaspoon garlic powder, 1 teaspoon kosher salt, and a 1/2 teaspoon of black pepper. Set up a plate with the eggplant, a plate of 1 1/2 cups flour, a bowl of 5 beaten eggs, and a large bowl or dish of the seasoned breadcrumbs. Dredge eggplant into flour and shake off the excess. Place floured eggplant into the egg, coat on both sides, then place into the breadcrumbs. Coat the eggplant well on both sides with the seasoned breadcrumbs and place on a baking sheet lined with parchment paper. Note: If you need another egg, flour, or a bit more breadcrumbs, just add it right in.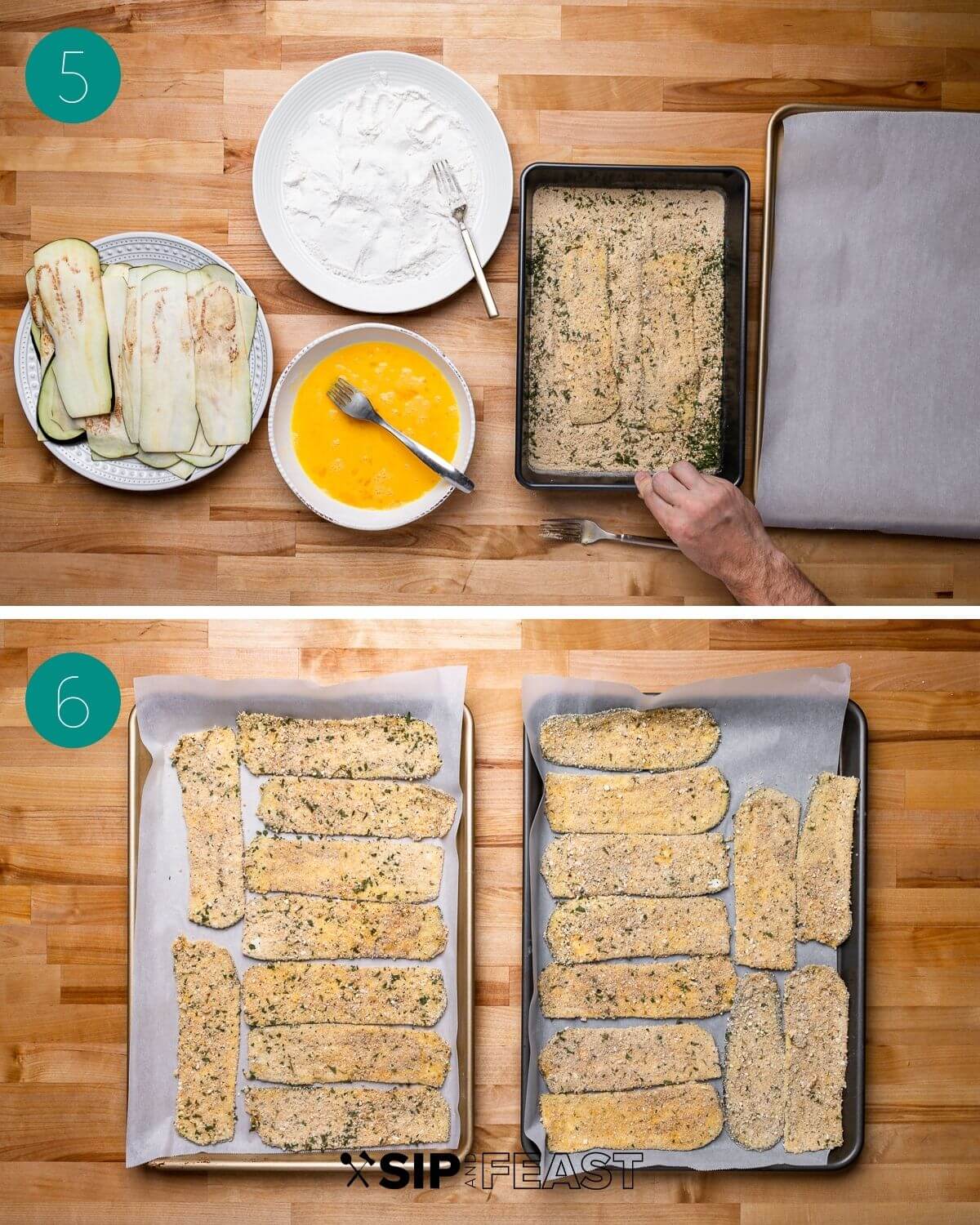 Repeat the process for all the eggplant and begin to set up for frying. For frying use your largest heavy pan (Dutch oven or cast iron fry pan work well) and fill with a 1/2″ of olive or vegetable oil and heat to 350-360f. Medium heat should work but use an oil thermometer to be certain the oil is ready for frying.
Fry the eggplant until golden on both sides (about 2 minutes per side) then place on a wire rack or a paper towel lined tray to drain.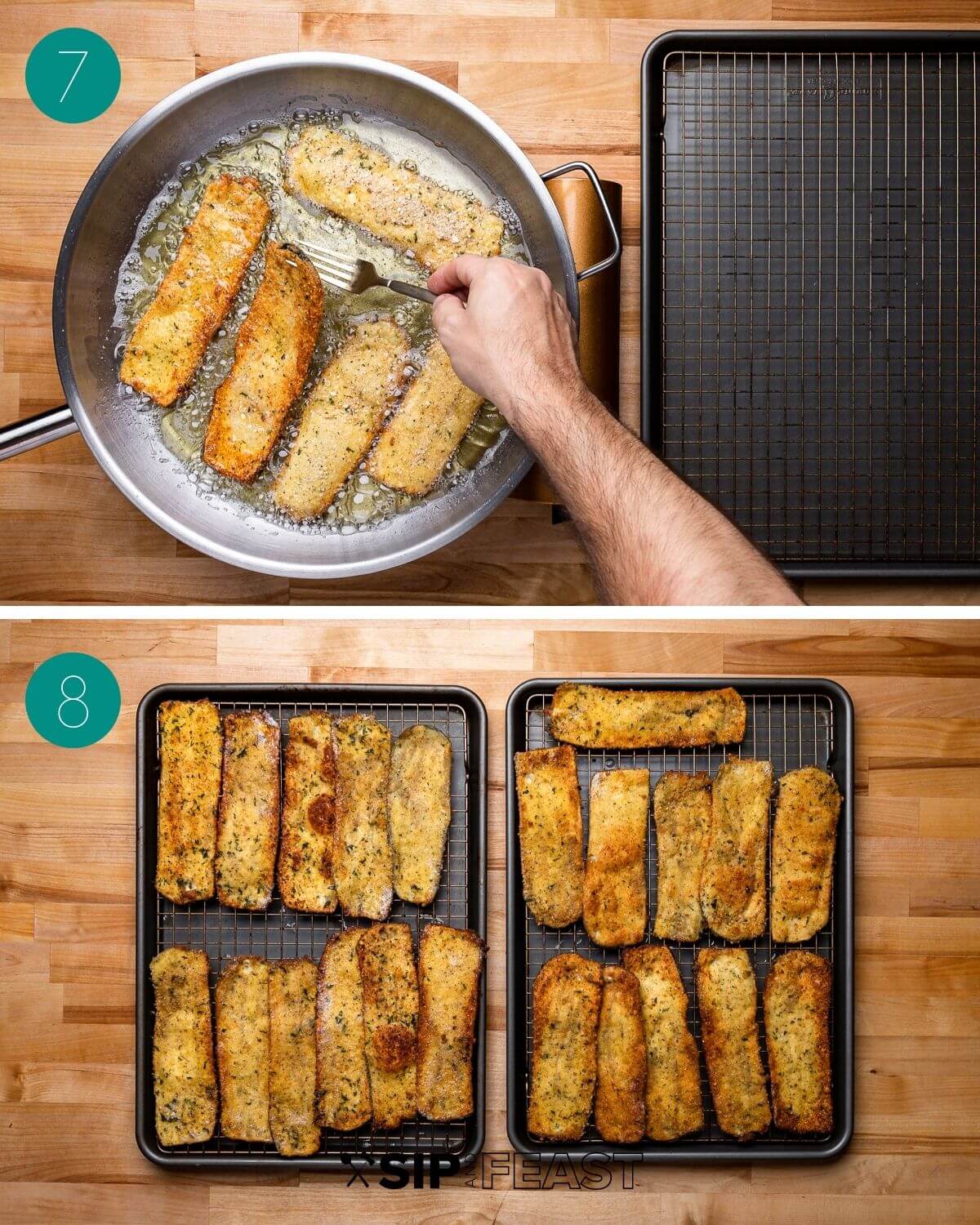 Repeat for all the eggplant then move on to assembling the rollatini. At this point preheat the oven to 375f and set the rack to the middle level.
Spoon a 1/4″ layer of marinara sauce into the bottom of a 10 by 15″ baking dish. Place a few of the eggplant pieces onto a large work surface and spoon 2-3 tablespoons of the ricotta mixture into the middle.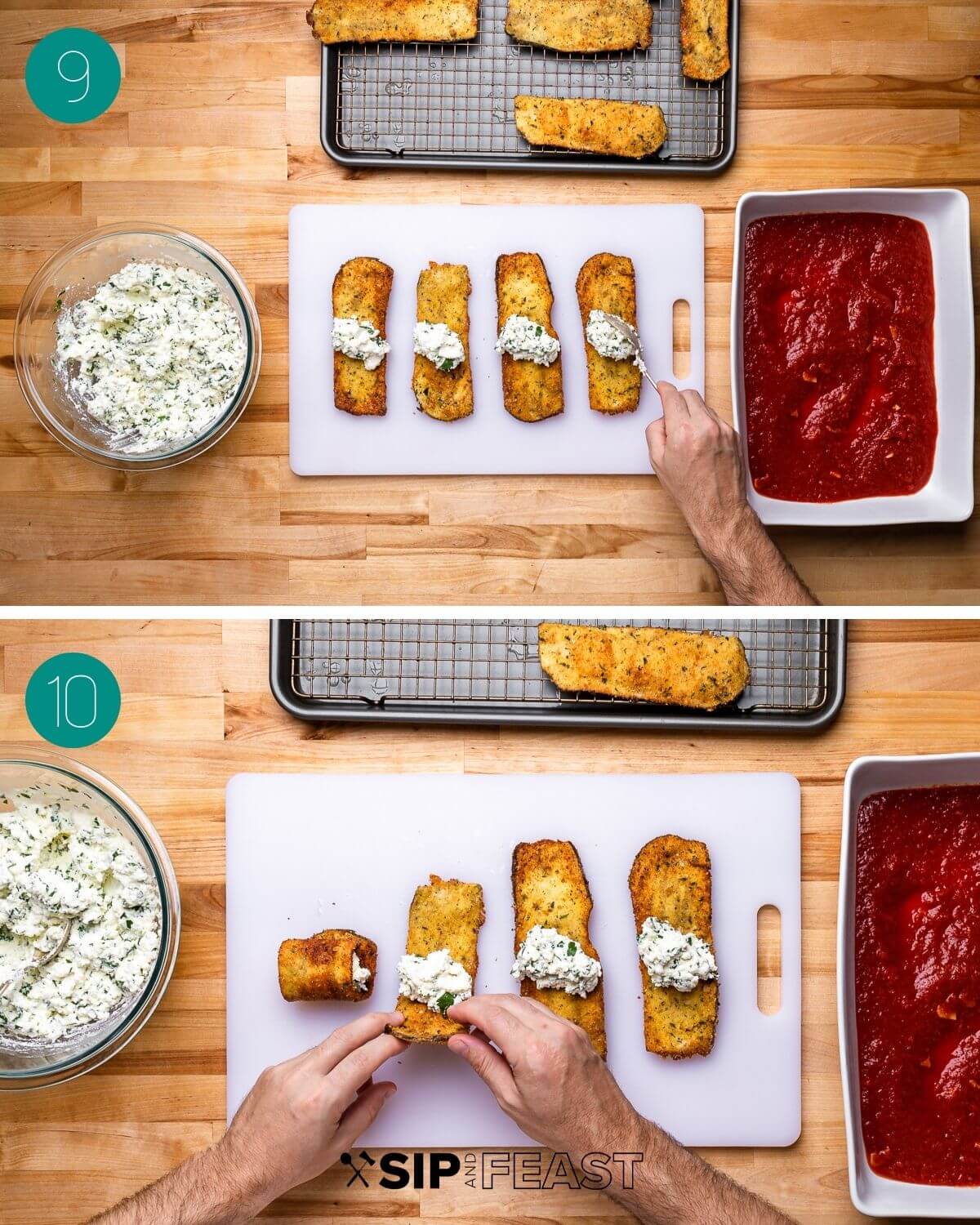 Roll the eggplant around the ricotta mixture and leave the seam side down.
Place the rollatini into the baking dish seam side down and repeat for the remaining pieces. Spoon more sauce onto the top of each piece (try not to over sauce). Grate a bit more Pecorino Romano (around 2 tablespoons) on top of the rollatini and bake for 20 minutes until warm all the way through. If desired, broil for the last 60 seconds, but watch carefully. Note: You might need two baking dishes.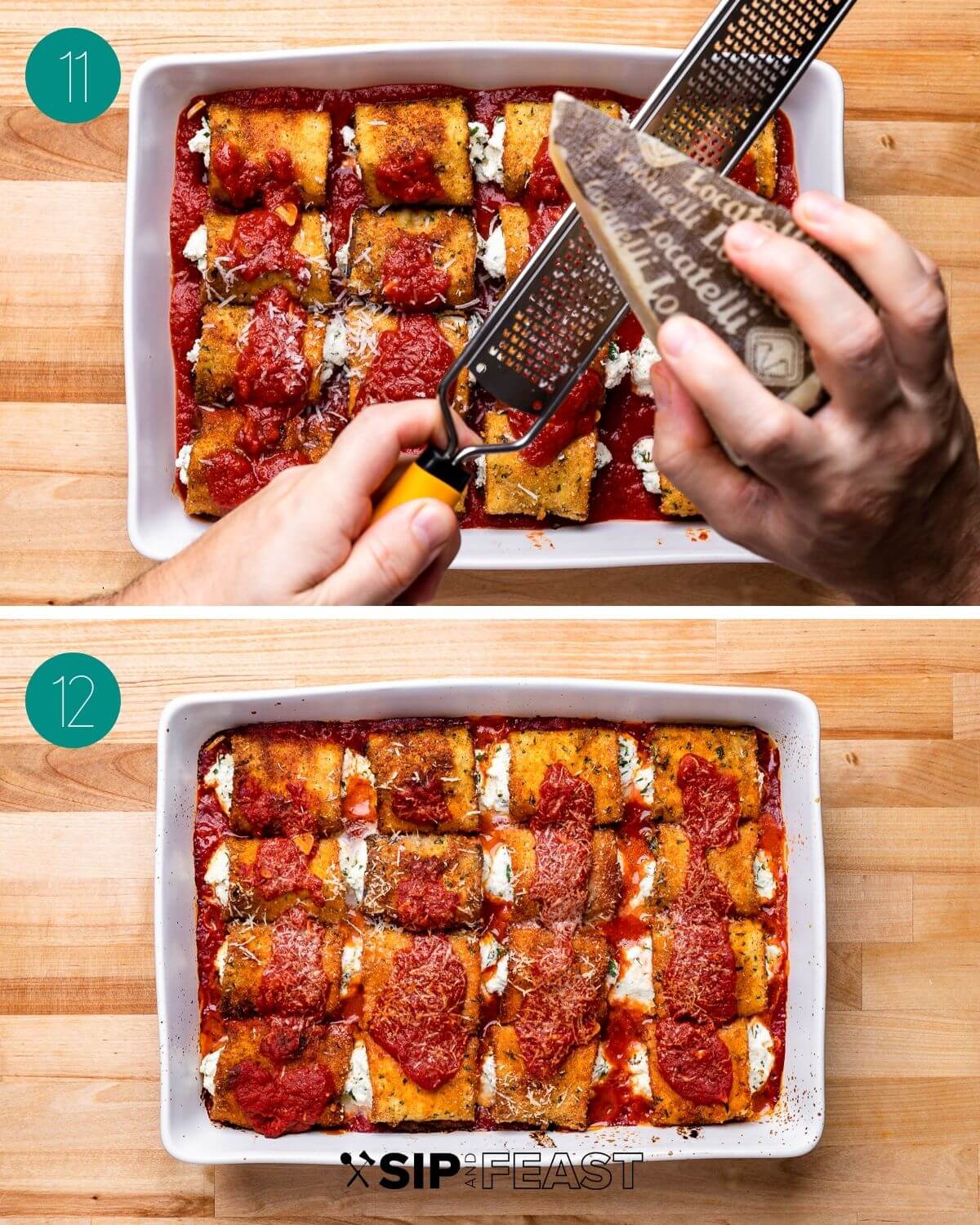 Here is the finished eggplant rollatini. The sauce will dry out a bit while baking, but it's better than to the over sauce and bake. More marinara sauce can be served on the bottom of each plate or on the side.
Top tips
Breaded eggplant rollatini can be a time-consuming dish to make.
This is not something you whip up quickly on a weeknight.
Rather, eggplant rollatini is something you can make ahead of time and either serve guests by reheating on a Sterno, freeze for a rainy day (up to 3 months), or serve as a vegetarian option with Sunday Sauce and Meatballs.
That being said, one thing you could do to help speed up the process is to employ the use of a mandoline.
You'll be able to get uniform slices. Always use the guard with this special kitchen tool.
This wide Benriner mandoline is my favorite.
If you don't have a mandoline, a good sharp knife can be used, and I do use one in my YouTube video.
I am often asked if the salting process can be skipped. While it certainly can be, you do so at your own risk.
If I am taking the time to make eggplant rollatini, I am always going to salt the eggplant to remove the moisture. It makes the dish so much better.
Lastly, be sure to make enough marinara sauce so you have extra.
It comes in handy to serve on the side, or on the bottom of individual servings as pictured above.
The baking process can dry out the eggplant and the extra marinara sauce can be a huge help!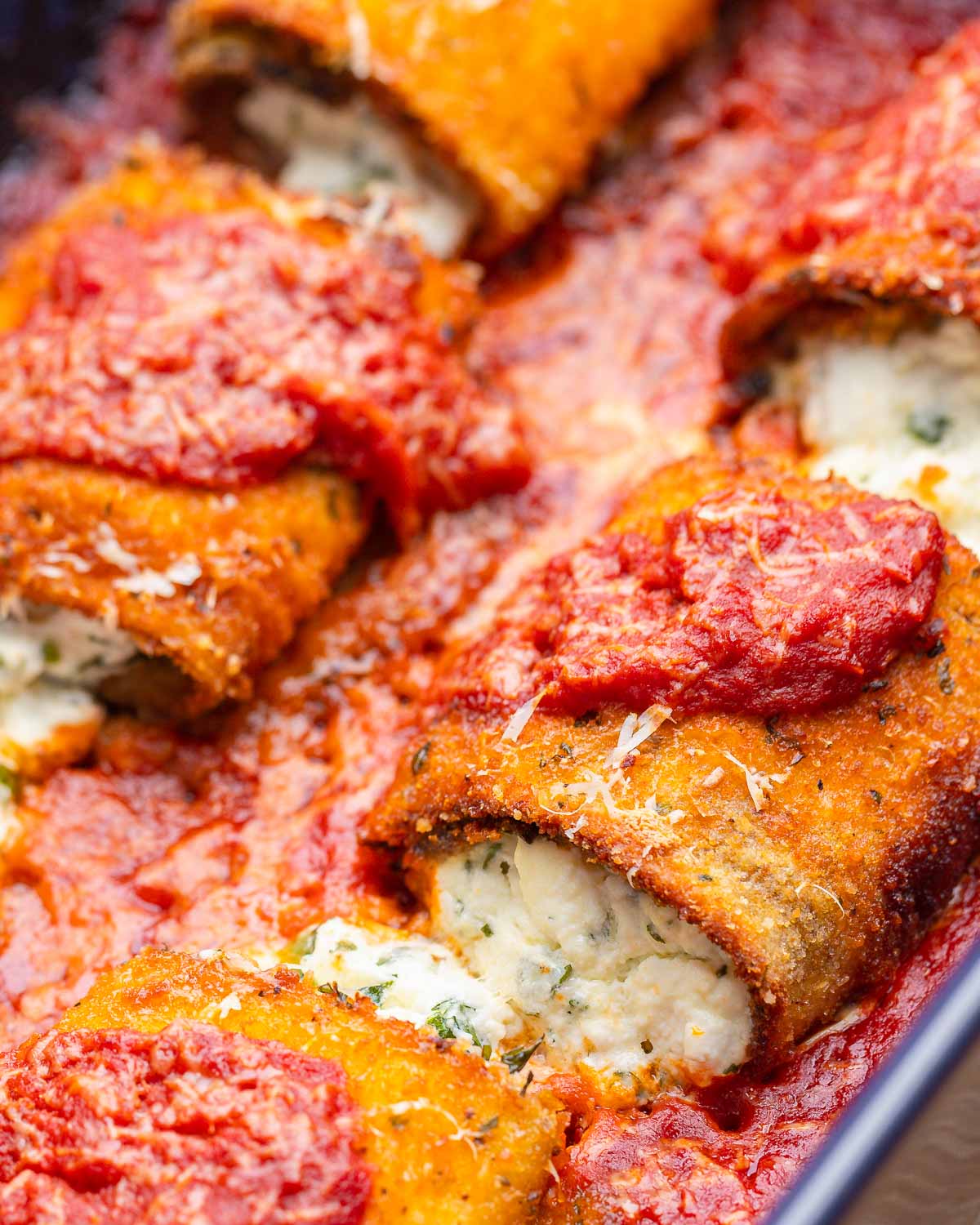 What to serve with eggplant rollatini
All of these light green veggies pair perfectly with the hearty rollatini.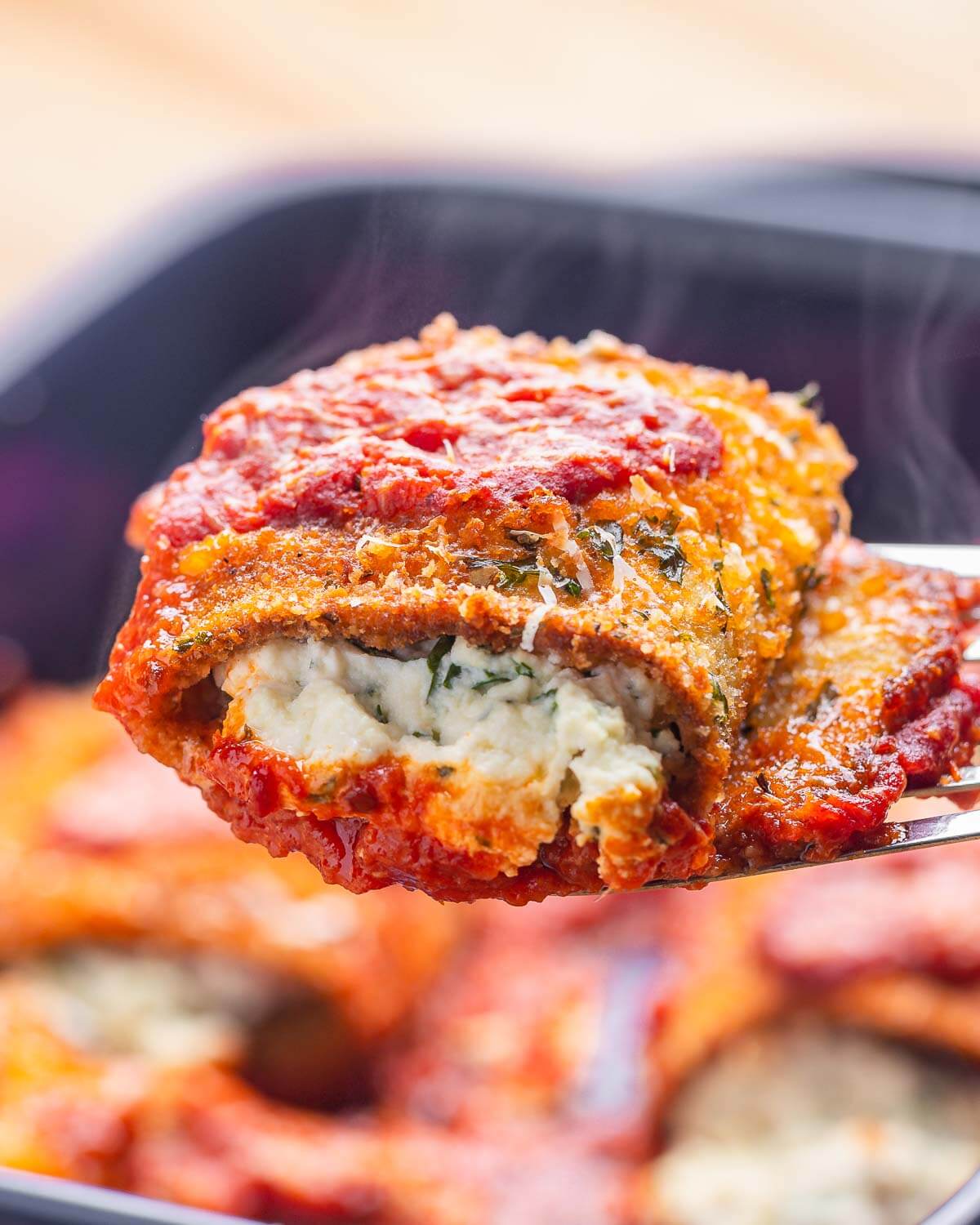 Try these other great eggplant recipes
If you like eggplant, you will love these other dishes. Let us know in the comments below which is your favorite!
If you've enjoyed this eggplant rollatini recipe or any recipe on this site, give it a 5-star rating and leave a review.
Watch the video below where Jim will show you how to make this recipe with easy-to-follow instructions.
Some people learn by watching. If you're that type of person, you can find most of our recipes on YouTube and our Facebook Page.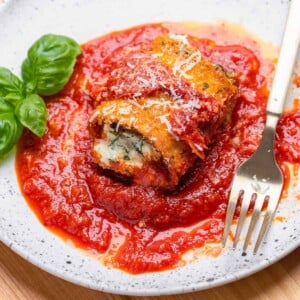 Crispy fried eggplant slices wrapped around a creamy ricotta mixture, and topped with marinara and more cheese.
Ingredients
1

large

eggplant

sliced 1/8" thick, (or 20 pieces)

1

tablespoon

kosher salt

for salting eggplant

1 1/2

cups

all-purpose flour

for dredging

5

large

eggs

beaten

olive oil

for frying

4

cups

marinara sauce

see notes below

2

tablespoons

Pecorino Romano

grated
For the filling (mix together)
1 1/4

pounds

ricotta

1/2

pound

mozzarella

shredded

1/4

cup

Pecorino Romano

grated

1/4

cup

parsley

minced

1

large

egg

beaten

1/2

teaspoon

kosher salt
For the seasoned breadcrumbs (mix together)
3

cups

plain breadcrumbs

1/4

cup

parsley

minced

1/2

teaspoon

garlic powder

1

teaspoon

kosher salt

1/2

teaspoon

black pepper
Instructions
Peel and slice eggplant into ⅛" thick pieces. A mandoline really helps! Salt eggplant pieces in a colander with kosher salt in layers. Do this for 1 hour, then rinse eggplant to remove excess salt. Thoroughly pat dry the eggplant pieces.

Next, dip eggplant pieces into flour and shake off excess. Then dip into egg and shake off, and finally the seasoned breadcrumbs. Place breaded eggplant pieces on a parchment paper lined tray and prepare oil for frying.

Add a 1/2" olive or vegetable oil to a large heavy pan and heat to 350f. Fry eggplant pieces until golden on both sides (about 2 minutes per side) and place on a wire rack or paper towel lined tray. At this point, preheat the oven to 375f and set a rack to the middle level.

Place a 1/4" of marinara sauce into the bottom of a 10 by 15" baking dish.

Place 2-3 tablespoons of the ricotta mixture into the middle of each eggplant piece and roll. Place all the filled eggplant rollatini seam side down into the baking dish.

Spoon a bit more sauce on top of each piece of rollatini (don't completely cover) and grate 2 tablespoons of Pecorino Romano on top. Bake for 20-25 minutes or until hot. Serve eggplant rollatini with remaining sauce. Enjoy!
Notes
Makes 4 large or 6 moderate-sized servings.
Use this marinara sauce. Or make your own or use a store-bought version.
Use 2 baking dishes if required to fit all of the rollatini.
The exact oil amount will vary. You will need enough to fill your pan a 1/2" high.
A mandoline speeds up and makes the slicing process far easier for this recipe, but a sharp knife can 100% be used with success.
Salting the eggplant can be skipped, but removing the water from the eggplant helps with achieving a better fry, taste, and texture.
Leftovers can be saved for up to 3 days and can be reheated in the oven at 325f until warm or in the microwave.
Extra marinara sauce is helpful to serve on the side or on the bottom of individual plates since the eggplant rollatini can get dry from the baking process.
Nutrition
Calories:
985
kcal
|
Carbohydrates:
91.4
g
|
Protein:
39.6
g
|
Fat:
52.3
g
|
Saturated Fat:
15.7
g
|
Cholesterol:
259
mg
|
Sodium:
1460
mg
|
Potassium:
1228
mg
|
Fiber:
11.8
g
|
Sugar:
24.3
g
|
Calcium:
633
mg
|
Iron:
7
mg
Nutrition information is automatically calculated, so should only be used as an approximation.