Beef braciole is Italian-American comfort food at its best! Comprised of thinly sliced beef rolled with breadcrumbs, cheese, pine nuts, and raisins, this is truly a dish that you will crave every time you're making a pot of sauce.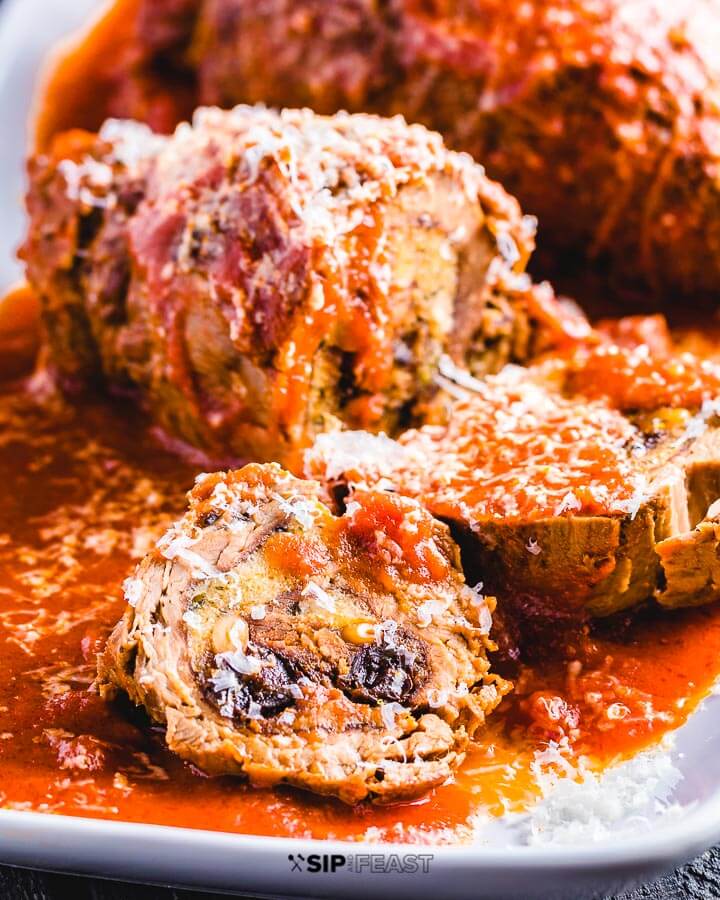 Editor's Note: Originally Published May 16, 2018. Updated with full process shots and expanded info.
The sauce takes on the flavor of the braciole as the beef slowly tenderizes during the braising process. And for this braciole recipe you will definitely want to make a big pot of Sunday Sauce and Meatballs!
They just go so well together. It's rare that we don't cook braciole and meatballs at the same time. Don't forget the pork chops and the Italian sausages. Use a big pot!
This recipe has complete process shots down below with the added bonus of showing how to make pork braciole as well.
Do not be intimidated by this dish – it's simply rolled Italian beef braised in sauce.
Rolling beef or chicken is a great way to make an impressive-looking dish.
And before I go on, there are a million ways to make "authentic beef braciole". Recipes will differ from one part of NYC to the next, and most Italian-American families have a recipe for it, no doubt thinking theirs yields the best braciole. This is my family's recipe. We love it, and hope you do too!
And if you do like this braciole recipe be sure to try these Sicilian meatballs with similar ingredients.
Ingredients shown above: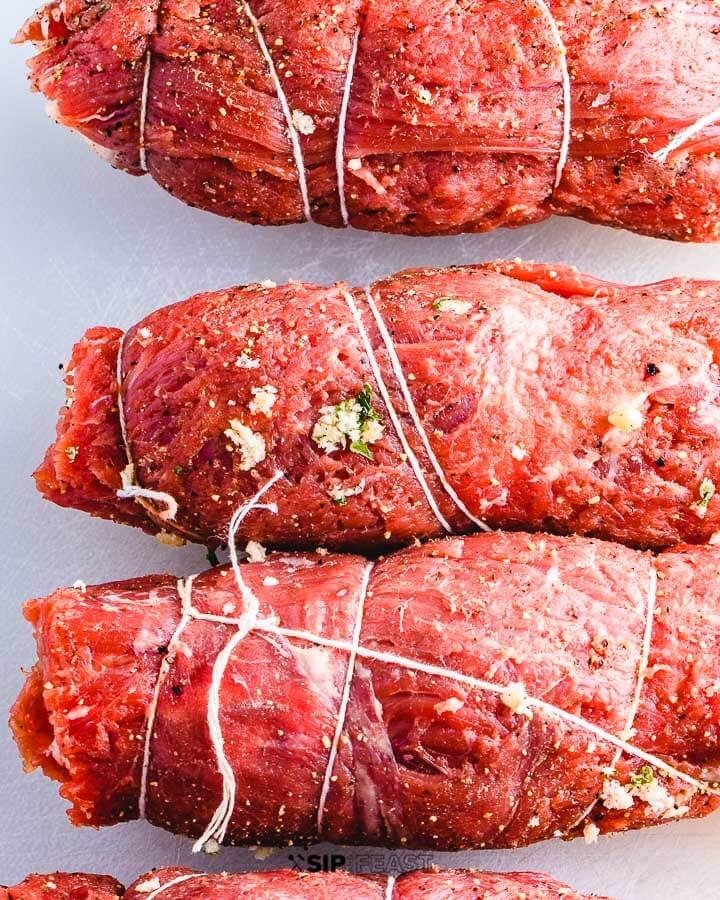 How to make beef braciole
Note: Each number corresponds to the numbered pic in the process collage.
Start by toasting 3 Tablespoons of pine nuts in a pan on medium-low heat, being careful not to burn them. This should take about 5-7 minutes.
Grate a 1/2 cup of parmigiano reggiano or good quality parmesan cheese.
Make a paste from 2 cloves of garlic with the back of your knife or by using a garlic press.
Mince a 1/2 cup of fresh parsley.
Shown are 4 pieces of top round steak sliced thin.
If any of the pieces are thicker than about 3/8″, pound them flat with a meat mallet.
Aim to get the pieces as flat as possible and to about a 1/4″ thick. They do not have to be perfect!
Place kitchen twine beneath each piece of meat like shown. Sprinkle each piece with a touch of salt and pepper and spread the garlic paste onto each piece.
Sprinkle a layer of breadcrumbs then layer the cheese. Try to keep the ingredients a touch away from the meat's edge to help in the rolling process.
Add the parsley, pignoli nuts and raisins.
Roll the braciole like shown and tie them off.
Trim the excess twine.
Heat a large pan coated with olive oil heat to medium heat.
After the pan is well coated and hot, add the braciole, making sure to not crowd them. Sear the braciole meat on all sides until nicely browned (about 10-15 minutes).
Add the seared beef into the sauce and let them braise slowly with the lid slightly ajar. Keep the sauce on a low simmer and make sure to turn the braciole every so often.
After about 2 hours (longer is better) they will be nice and tender.
Pork braciole – why not?
Making pork braciole is just as easy. Only difference is to trim the fat and butterfly the boneless pork chops like shown in pic 1 below. Pound them flat like pic 2 below, fill them, tie them and sear them. Cook the pork braciole in the sauce for a minimum of 2 hours.
What to serve with beef braciole
Serve braciole with Sunday Sauce, Meatballs, and the pasta of your choice. Make it all together, the sauce is quite simple and just improves with the braciole addition. All of these sides are great:
Top tips
Questions & concerns
How to properly cook braciole in sauce: Braciole should be cooked low and slow in a pan deep enough to completely submerge the meat. Ideally, cook braciole in a large pot of sauce/gravy.
Types of braciole fillings: Braciole are filled with a variety of ingredients. Variations include breadcrumbs, grated Parmigiano Reggiano or pecorino, parsley, raisins, pignoli nuts, layered prosciutto, layered mortadella and hard boiled eggs.
Can you overcook braciole? If the sauce is kept too high, yes, they could fall apart. Keep the sauce real low. Low and slow is the goal!
More beef dishes that you'll love
If you've enjoyed this beef braciole recipe or any recipe on this site, give it a 5-star rating and leave a review.
Some people learn by watching. If you're that type of person, you can find most of our recipes on YouTube and our Facebook Page.
A classic in many Italian-American households. A thin coating of breadcrumbs, cheese, raisins, and pine nuts is spread on pounded flank steak. Roll up, sear and cook in red sauce, the longer the better.
Ingredients
1.25-1.5

pound

top round

3

Tbsp

pine nuts

1/2

cup

chopped parsley

1/2

tsp

pepper

1

tsp

kosher salt

1

cup

breadcrumbs

1

Tbsp

garlic paste

3

Tbsp

raisins

3

Tbsp

olive oil

1/2

cup

grated parmigiano reggiano

1

roll

kitchen twine
Instructions
Pound out beef into 4 equal pieces roughly 1/4" thick. Using plastic wrap on bottom and top of meat makes it easy to flatten meat and avoid a mess. A good size for the meat is 5" by 7". This allows for an easy roll up and ability to tie them up like in the picture.

Arrange the 4 pieces of meat out on a cutting board and spread a 1/4 of the garlic paste on each piece. Next, sprinkle them with salt and pepper.

Then sprinkle 1/4 of the breadcrumbs, raisins, cheese, parsley, and pine nuts onto each piece.

You should have a thin layer of the mixture on each of the 4 pieces. Roll them up tightly and tie kitchen twine around them to keep them together. Don't be shy with the twine, it will all be taken off before the meat is served. Toothpicks can also be used.

Heat a large pan on medium heat with olive oil. Sear the pieces on all sides, turning them every 2 minutes or so to brown them nicely. The whole frying process should take roughly 10-15 minutes.

After the braciole is fried, add to pot of sauce and braise for 2-3 hours on low heat with lid left slightly ajar.

Remove braciole from sauce and cut away twine with knife or kitchen scissors. Serve with grated parmagiano reggiano, bread, and pasta for a complete meal. Enjoy!
Notes
meat - Many cuts of beef can be used like top round, bottom round, eye of round or flank steak. They should all be pounded flat to within a 1/4-3/8" thick.
breadcrumbs - Seasoned or unseasoned are fine. Use a good amount but don't go too heavy as it could make it difficult to roll the braciole.
cooking time - The longer the braciole braises, the better. The meat goes from tough to tender as it cooks. 2-3 hours is a good amount of time, but longer will definitely not hurt. Just keep the tomato sauce set to a very low simmer.
leftovers - Italian beef braciole can be stored in the fridge for up to 3 days. It will taste even better the next day. Just reheat on a stovetop until completely heated through. Freeze for up to 3 months.
Nutrition
Calories:
390
kcal
|
Carbohydrates:
30
g
|
Protein:
50
g
|
Fat:
13
g
|
Sodium:
550
mg
Nutrition information is automatically calculated, so should only be used as an approximation.
This recipe was originally published on May 16, 2018. It was completely updated on July 17, 2019.